Most of us millennials grew up dreaming about how our future houses will be; all the kinds of rooms, furniture, colours and posters that we will keep in our house. Such was the case with Dattatreya and Niharika as well. Their 3-floors house design is symbolic of the same spirit that most of us want in our homes. The couple already knew exactly what they wanted in their villa interior design to be like. What's more, our Livspace designer Ankita Gupta understood their needs, their habits and their future plans before giving them the home of their dreams.
"We had a very good experience with Livspace, to be honest. Because we were very particular about a lot of things about how the house should look, and they helped us get exactly what we wanted." — Niharika Behura, Livspace homeowner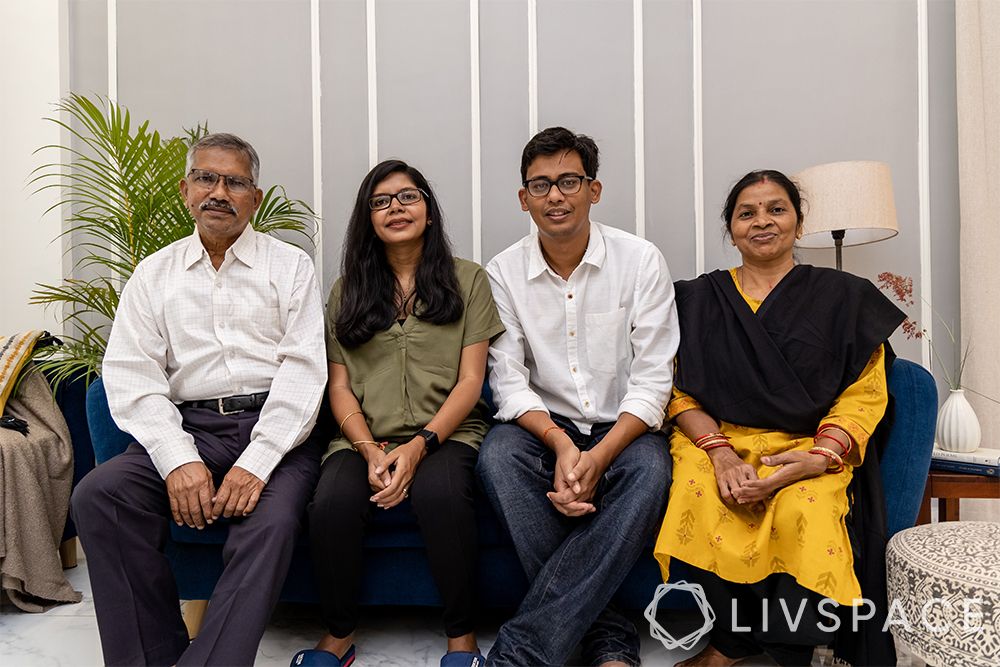 ---
Who Livs here: Dattatreya and Niharika Behura
Location: Mahaveer Horizon, KR Puram, Bengaluru
Size of home: A 4BHK villa spanning 3,000 sq. ft. approx.
Design team: Interior designer Ankita Gupta and project manager Kiran Mohammed
Livspace service: Full home design
Budget: ₹₹₹₹₹
---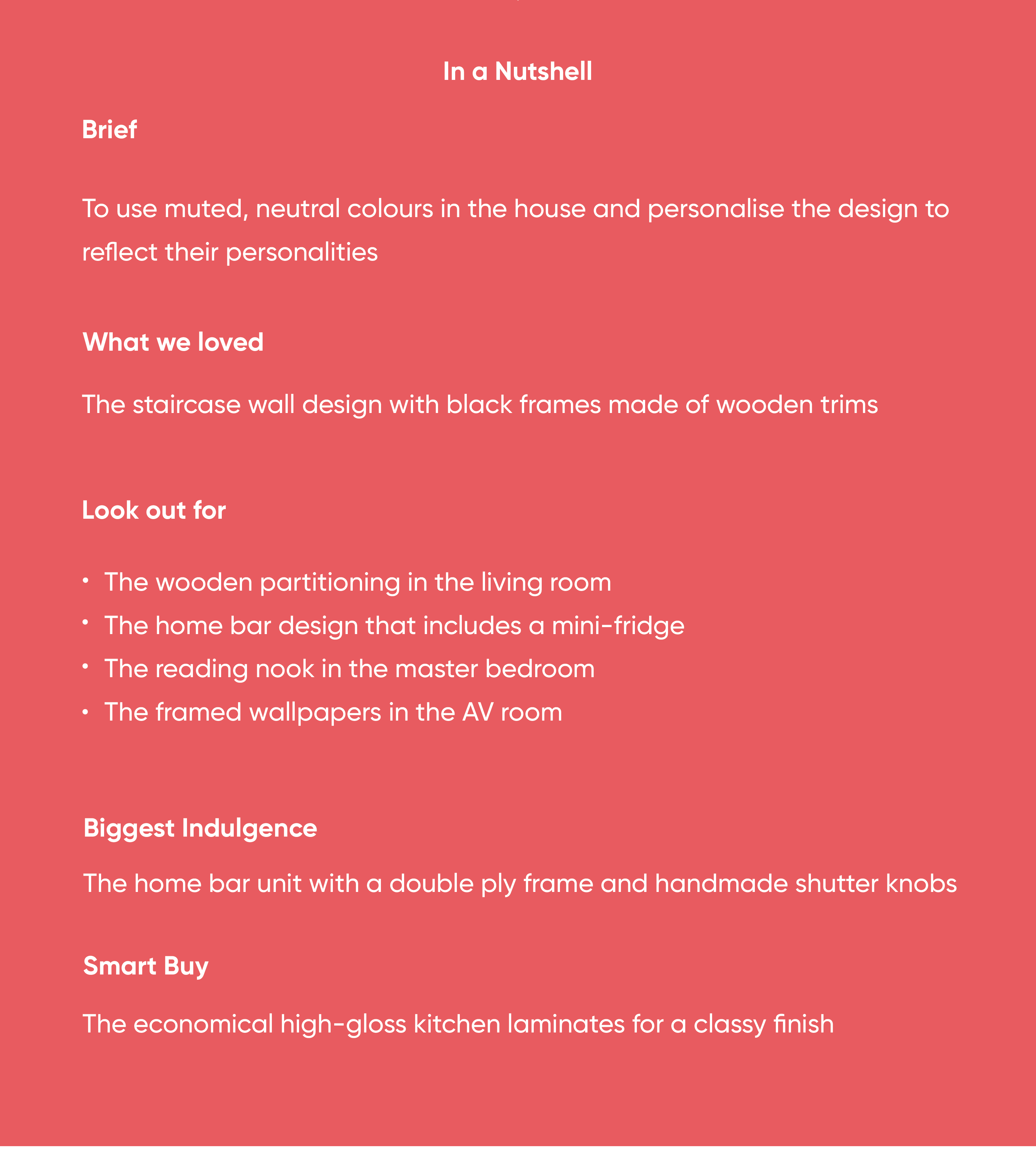 This 3-floors house design comprises a master bedroom, a guest bedroom, a baby's room and an AV room apart from the kitchen, the pooja room, the study room and the two living rooms. (We know! Talk about a dream come true huh?) Let's get touring.
Greetings from Their Formal Living Room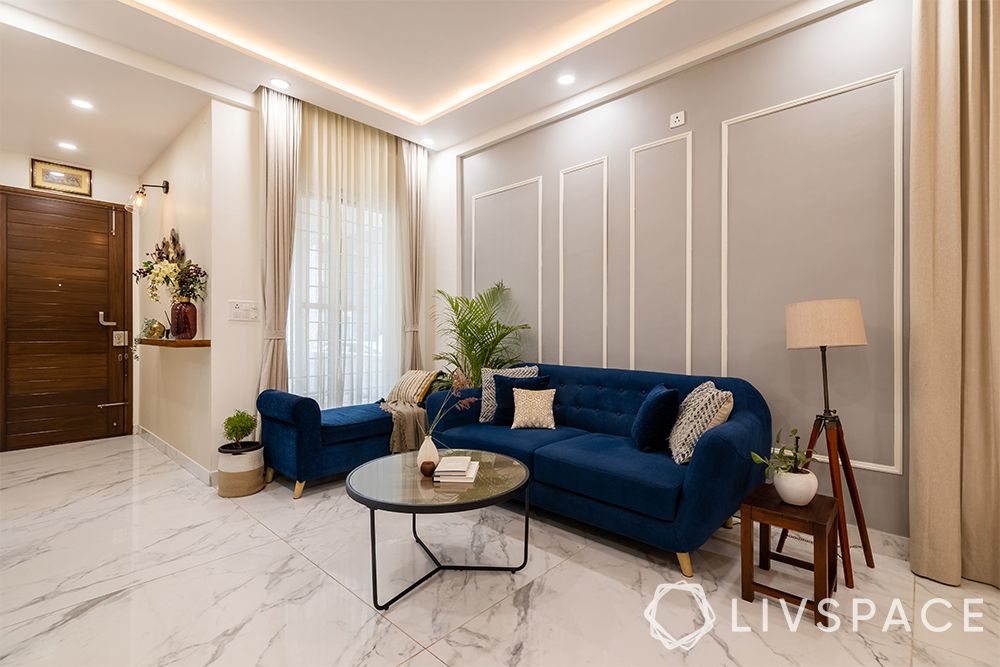 All projects come with some challenges of their own. The limitation in this 3-floors house design was the elongated shape of the plot. The width of the house restricted the circulation on the ground floor to be linear, along the depth of the house. So to make the ground floor look spacious, all the furniture had to be pushed to the edges, away from the main path of movement originating from the entrance.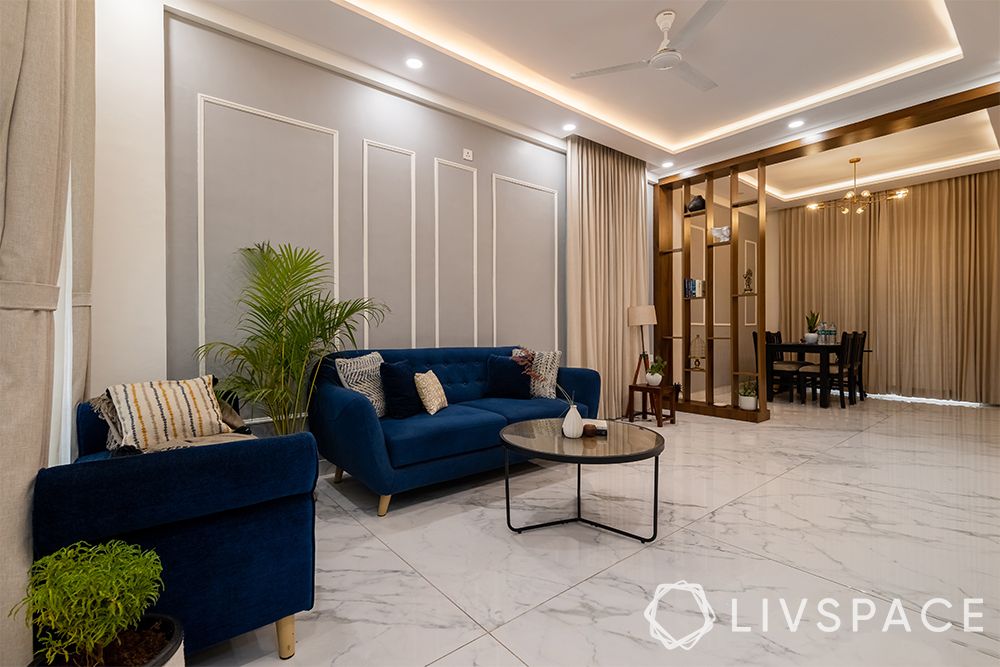 The other challenge that presented itself was finding a way to shield the dining area from the direct line of sight without compromising the sense of spaciousness. Ankita suggested a wooden partition that is relatively see-through but at the same time offers some privacy in this 3-floors house design. The open ledges in this partition are used to store some plants and other collectibles that the couple is fond of.
An Easy-to-Maintain Kitchen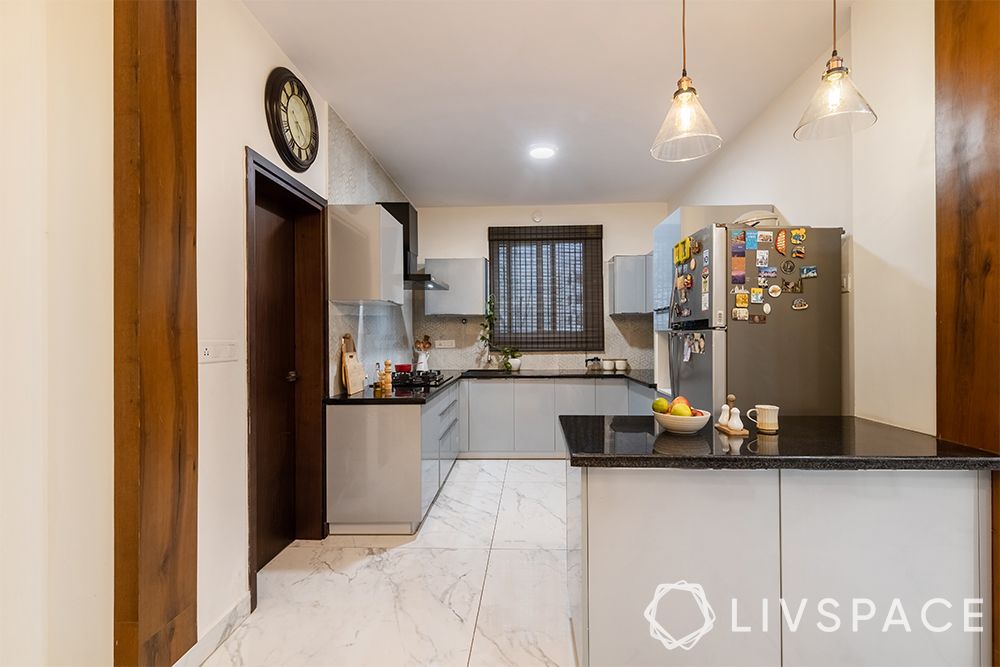 The kitchen in this 3-floors house design, although furnished with some shiny and neutral-coloured surfaces, is extremely easy to maintain. This is mostly because of the high-gloss laminate that gives it a classy touch and the black stone countertop that offers a delightful contrast to the muted colours of the kitchen.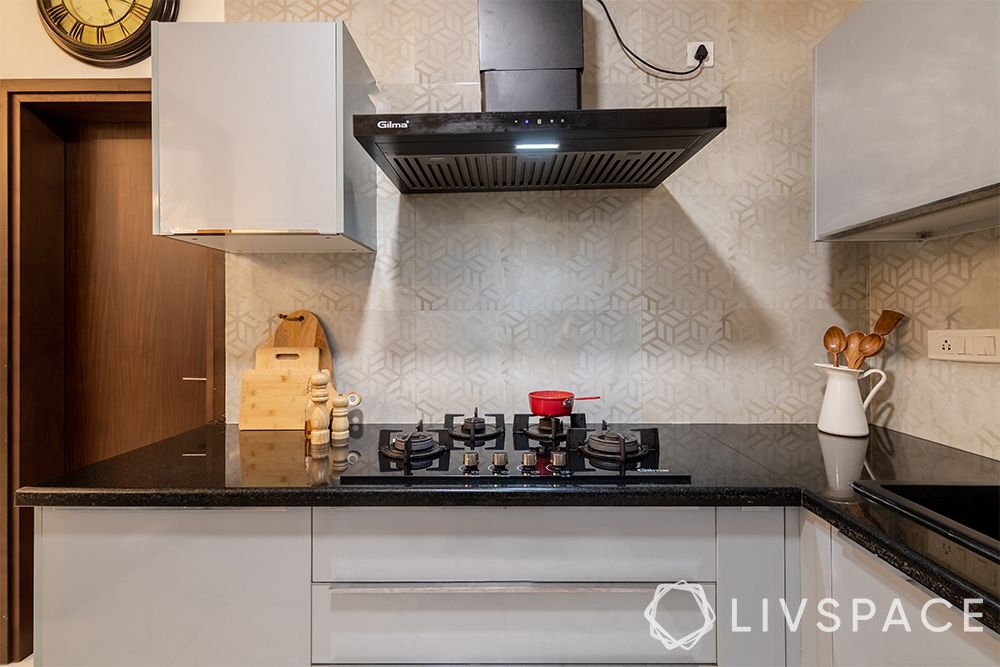 A 3-Floors House Design Staircase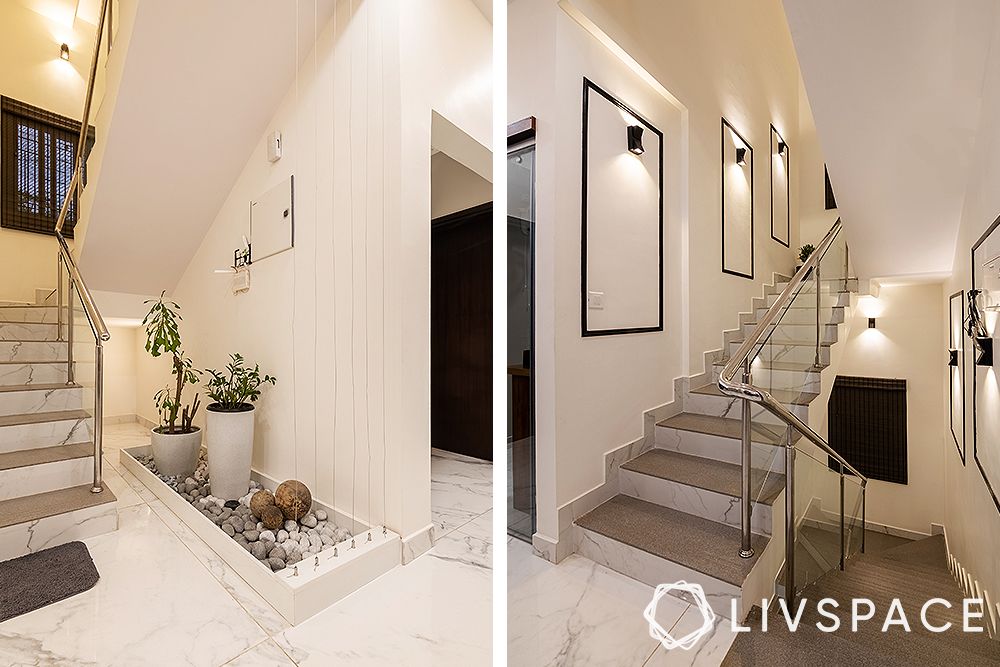 This modern staircase is lit by wall sconces that are framed with wooden trims. This furnishes the staircase wall minimally when still adding a touch of luxury here. The rest of the elements used here include a glass balustrade and stainless-steel railings that supplement the look.
A Loungy Family Room with a Modern Bar Cabinet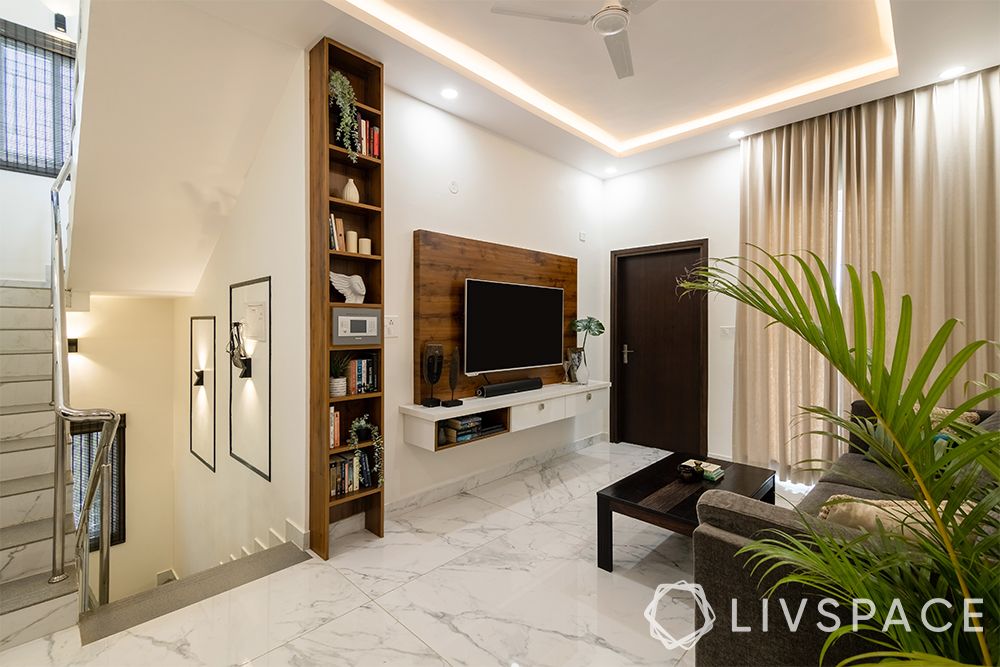 The family room is designed to include an open ladder-shelf stocked with books and a TV unit with souvenirs from Dattatreya and Niharika's travels. There is something of interest for every family member in the family room of this 3-floors house design.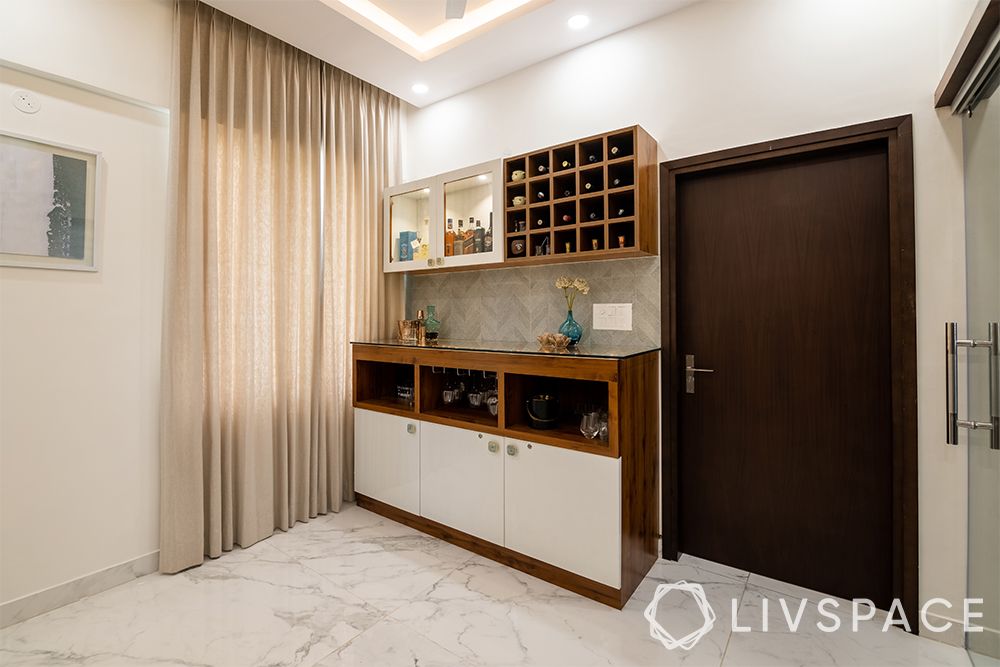 While everything in this room evokes comfort and sparks interest, what will take your breath away is their modern bar cabinet. There are cove lights inside the display cabinets and under the countertop. Also, Niharika got the Marauders' Map, a piece of memorabilia from the Harry Potter books, laminated under the glass-topped bar counter. And that is just one of the many ways this 3-floors house design is personalised.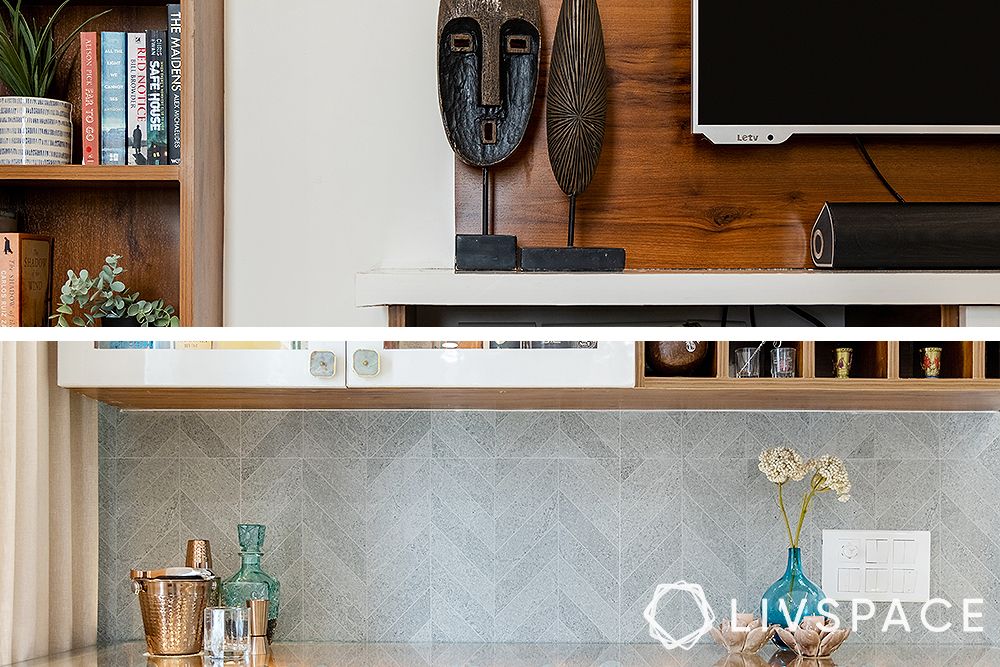 Their Highly Entertaining AV Room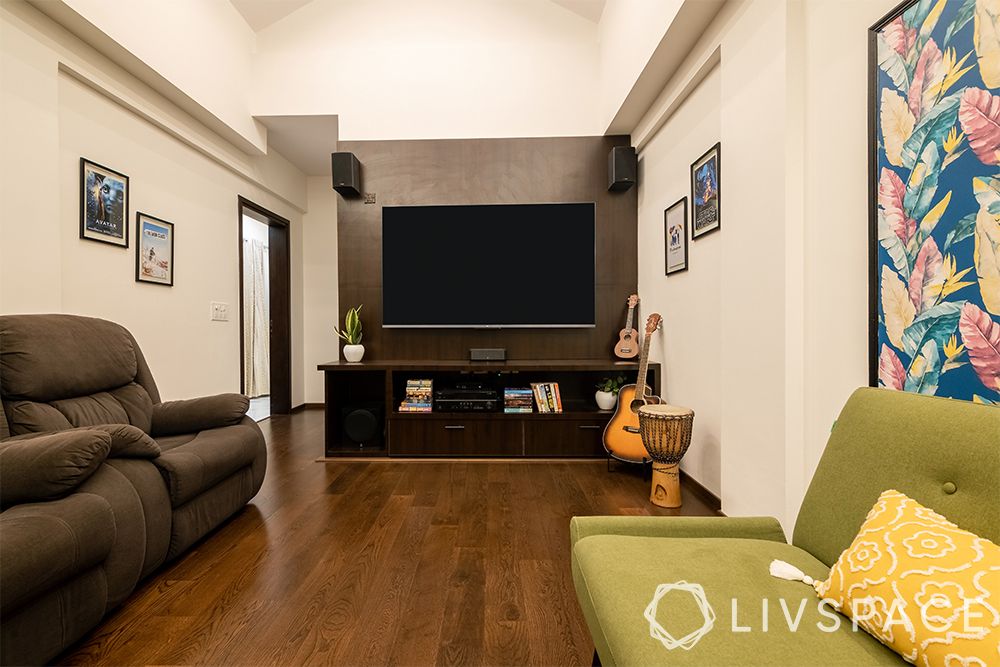 Dattatreya and Niharika converted one of the bedrooms in this 3-floors house design into an AV room for entertaining their family and friends. The villa has a gable-style roof and hence this room has a matching false ceiling design with wooden rafters. Additionally, they have furnished this room with comfortable furniture to make the room feel welcoming to their guests. There is also the framed wallpapers where the duo wants to put their favourite posters and pictures in the villa interior. Black wooden trims frame these wallpaper cutouts to serve as a background to the couple's posters and pictures.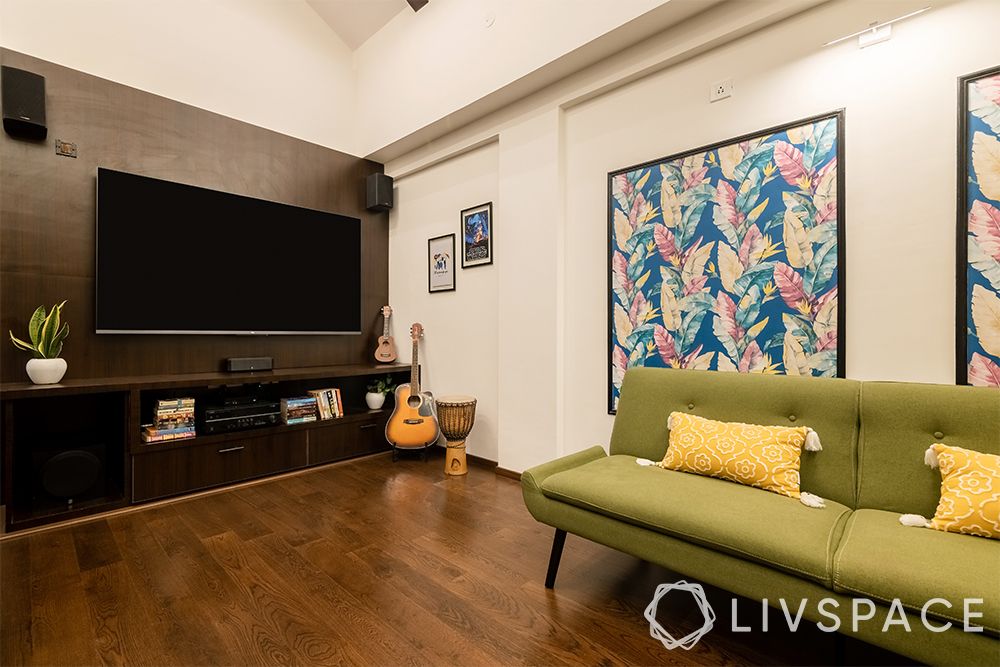 Their Work From Home Setup in this 3-Floors House Design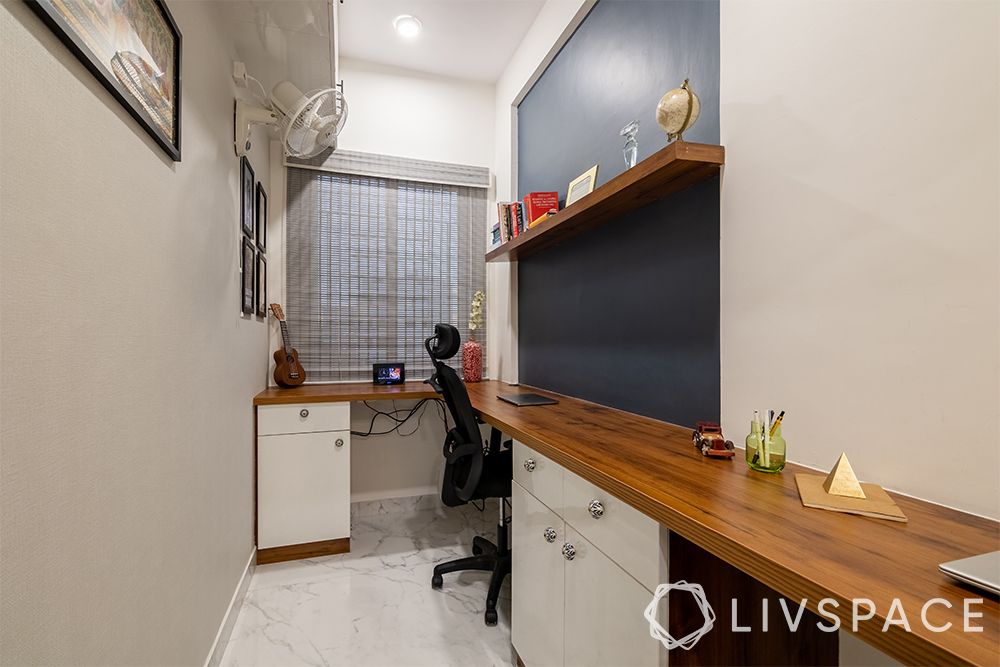 The couple carved out a workspace from one of the other rooms in this 3-floors house design. They then worked with Livspace designer Ankita to create this L-shaped work from home setup for two to meet modern-day demands. Moreover, the colour scheme in this room is continued from the rest of the house to maintain consistency in the villa interior.
A Comfortable Master Bedroom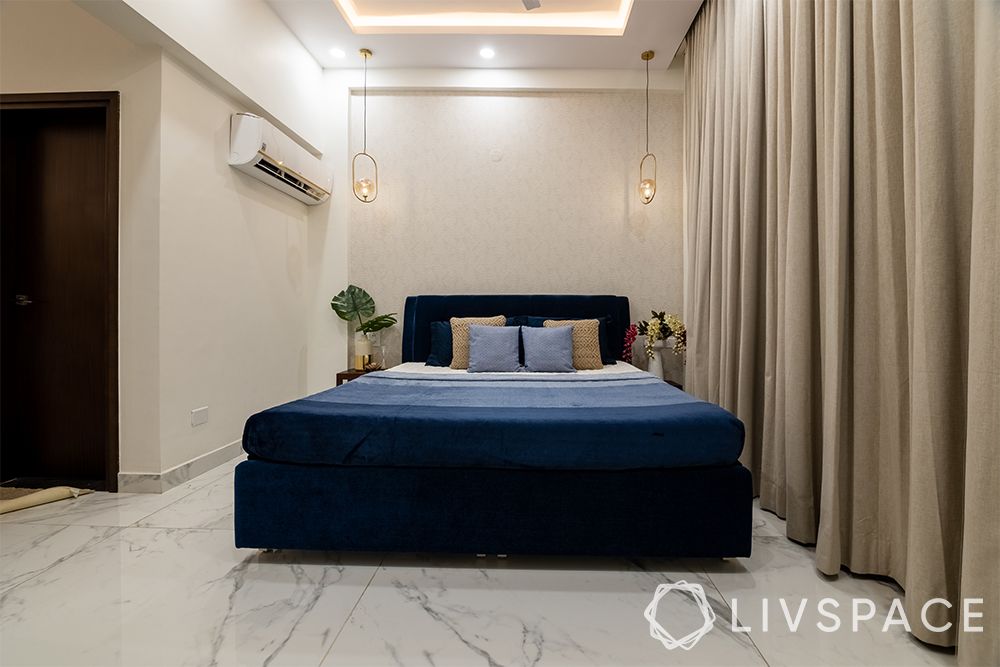 Most furnishings in the bedroom, as a matter of fact, in this entire 3-floors house design, have a warm tone with some occasional, contrasting cool tones to balance the warm looks. For example, the blue-upholstered wing-back bed adds to the sense of cosiness and offset the neutral shades used here. Since the side edges of the wing-back headboard turn inward, it offers extra comfort upon resting on it. There is also a reading nook for Niharika who loves to stay in for a good book every now and then.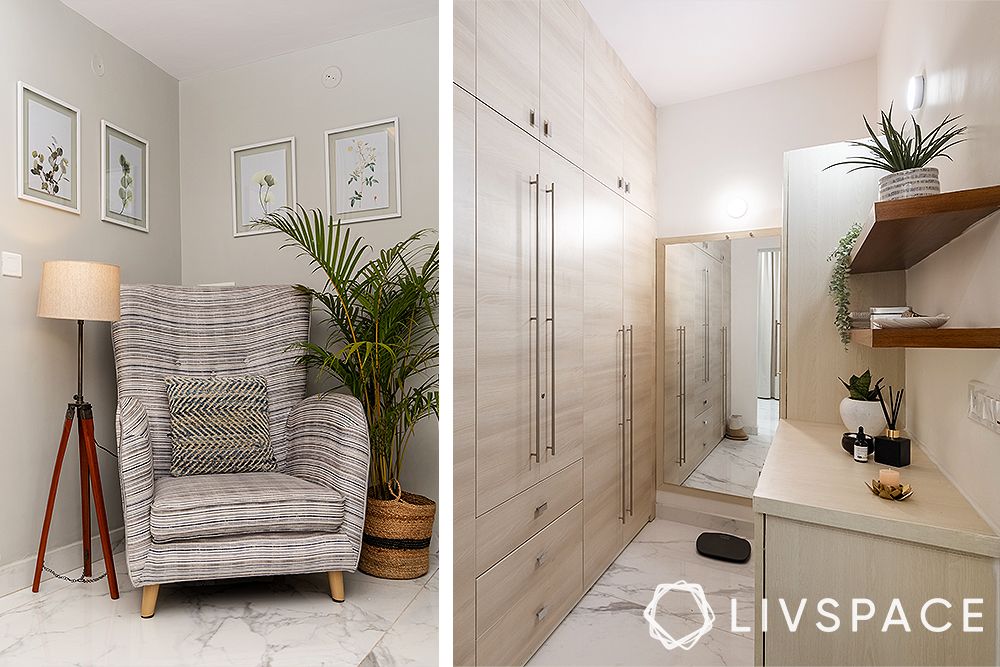 A Warm Welcoming Guest Bedroom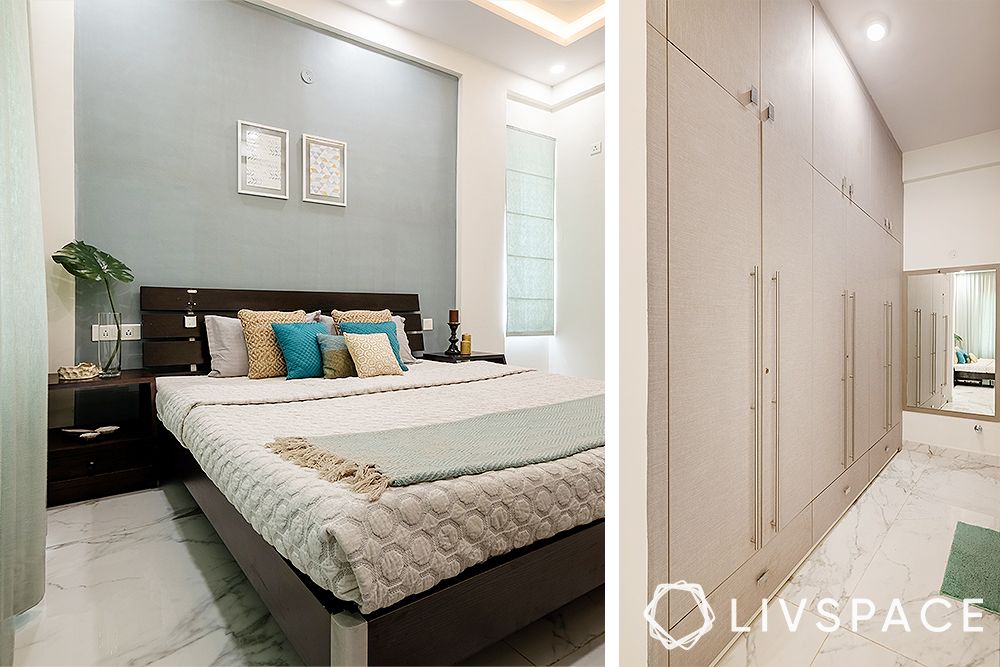 Their guest bedroom, unlike most spaces in this 3-floors house design, reflects a rather cooler tone. Consequently, the blue accent wall and curtains induce a sense of calm in the guests. There is also plenty of wardrobe space provided in case they host their guests or family for longer durations.
A Beautiful Garden in the Backyard of this 3-Floors House Design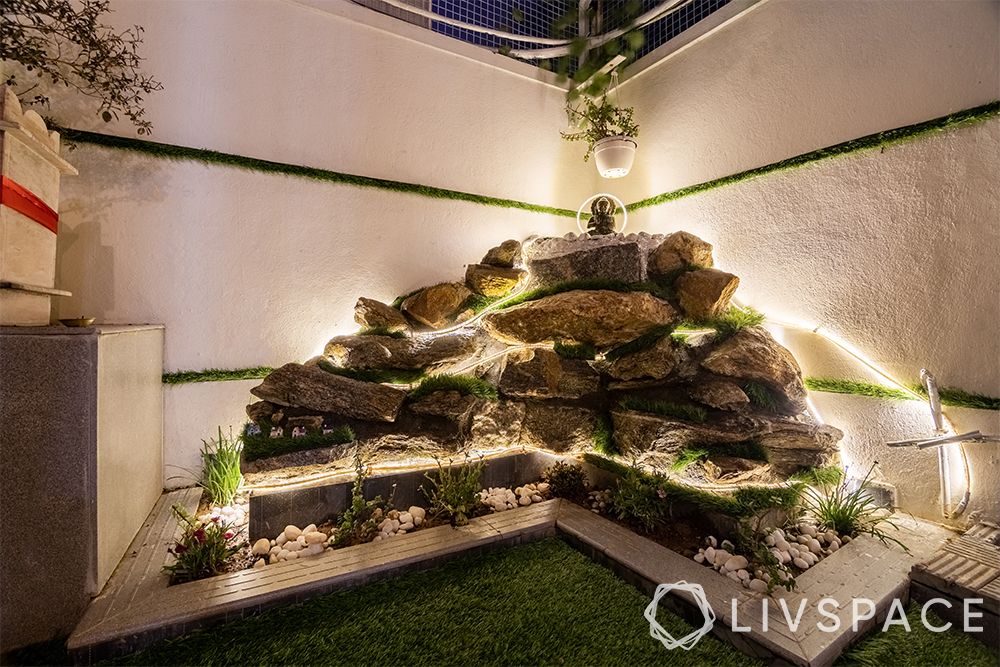 The garden in their backyard is put together from all the materials they salvaged during the making of this 3-floors house design. Dattatreya and Niharika, both love to garden and like to see greenery all around their house. So with the help of little lighting and some landscaping, this garden was readied for them using those reclaimed stones and tiles.
We hope you enjoyed the tour of this villa and also found some motivation to get your own millennial dream house someday! Also, if you find yourself wondering how we charge you for your interiors, read 15+ Significant Ways of Cost-Efficient Room Designing by Livspace or 8 Stunning Low-Budget Flat Interior Designs by Livspace You Must See to know the range of services we offer and all at the best prices possible in the industry. Read more about How it Works and read Livspace reviews here!
How Can Livspace Help You?
We hope you found our ideas useful! If you want beautiful interiors for your home, then look no further. Book an online consultation with Livspace today.
Send in your comments and suggestions at editor@livspace.com