The Kumar's home, gushing with elegance, maintains a delicate balance between luxurious solids and bold prints and makes both its young and grown-ups occupants feel perfectly at home. In a personal rendezvous, the couple talks about their dream home.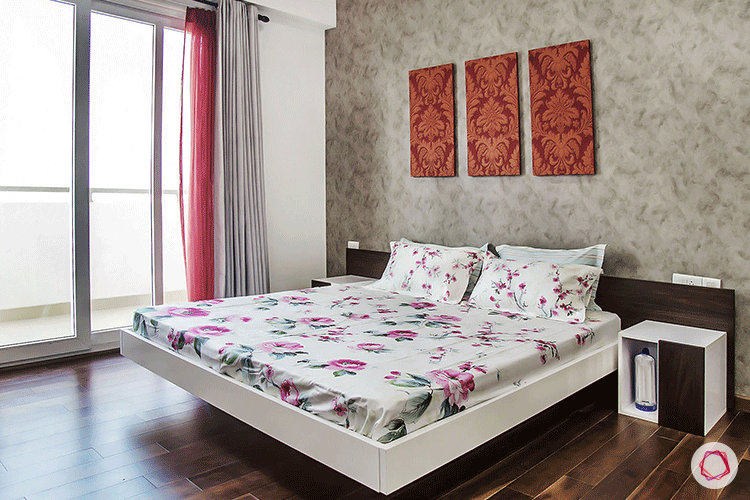 ---
Who livs here: Ashish and Paavani with their 3-year old twins
Location: Gurgaon
Home type and size: A 3BHK spanning over 2700 sq. feet.
Livspace Service: Full home design
Budget: ₹₹₹₹₹
---
A common myth about interior design advocates that all rooms in a home are best designed with an identical theme. While harmony is essential, the Kumars' home is an exemplar of how diverse styles, if blended skillfully, can work wonderfully together. The new parents, Ashish and Paavani, left it to the expertise of Livspace's Charanjeet Kaur to design a home that reflected the taste and lifestyle of all members of the family.
A cohesive color scheme binds the home together even as it finds a different interpretation in each room. The expansive living area — consisting of a dining area, a formal seating area, and a family area — holds an impeccable charm for its neutrals are brightened up with jewel tones like turquoise and ruby.
The eclectic use of polished wood furniture with pieces finished in white paint brings together tradition and modernity. A similar palette continues in the master bedroom, this time with prints. The kitchen carries forth the neutral theme in a high-gloss avatar. The kids bedroom, our personal favorite, goes bold, bright and cheerful, but remains gender neutral to suit the tastes of both kids simultaneously.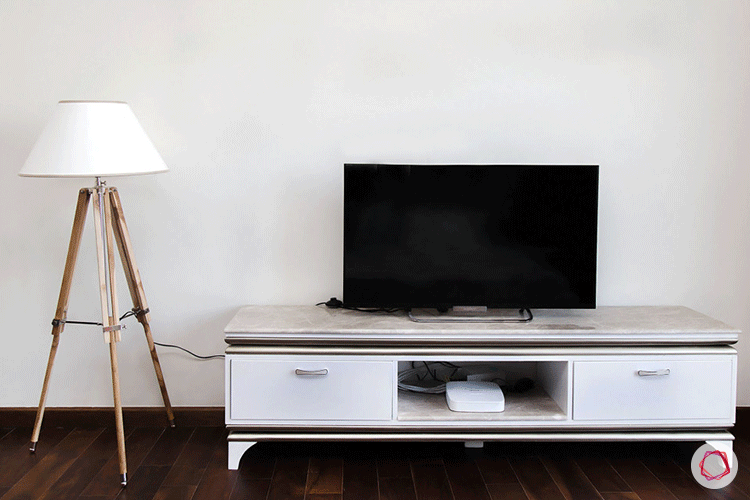 What to do you do for a living?
Ashish: In a way, we are both entrepreneurs. I have been running startups for the past 10-12 years and I sold my last company about four years ago. Then, for the next two years I served as their India CEO and later took a sabbatical to figure out my next venture. For the past few months, I have been working on my next big idea for consumer internet space.
Paavani: After studying at NID, Ahmedabad, I worked with DuPont and Whirlpool. I looked after their color, finishes and material division. Now, as a full-time mom, I work on various projects. My experience has given me the ability to visualize easily and I can tell when something is not working well, aesthetically.
You mention being a full-time mom. How has parenthood changed both of your lives?
Ashish: There was a time when we'd make jokes about people who talked too much about their kids. Now, that we have our own kids and that too twins, we've become those people. (laughs)
Paavani: Our life has completely changed after having kids, including our social life. Where there were bars now, there are only milk bars (chuckles). We will, of course, have to stay away from that kind of life till the time our kids grow a little older, but we are enjoying every bit of our parenthood.
Why did you plan to move?
Ashish: First and foremost, we needed a more spacious home for our kids. Although, our last house wasn't particularly small either but the huge living room and the attached family room, of this home, solved a lot of our purposes. Given the nature of our work, we both often have people coming over and the line between professional and personal friends keeps blurring. So, a large living room, now, allows us to manage that as well. Lastly, large spaces also mean having more space to experiment. We almost bought a villa, but later decided on this apartment. A villa would have been too cumbersome to maintain and we'd need to hire people.
Paavani: Perhaps, a villa for us will be more suitable as a retirement home — when we'll have time on our hands. For instance, I enjoy gardens but can't put in the hard work that goes into their maintenance. Moreover, apartments are comparatively safer when you travel for longer periods of time.
What were you looking for when you thought about the interiors of your new home?
Paavani: This is our second home so we had high expectations. Also, we already had some design ideas in our mind. People are right when they say that one usually makes a lot of mistakes with the first home and we were no exception. So, this time, we were clear that we wanted to work with professionals.
How would you describe your style?
Ashish: Thankfully, our taste in interiors match. If it didn't, then, I am sure that my wife's taste would have had an upper hand (chuckles). I'd call our style minimalistic because we are not fond of gaudy things in any way. But, especially in Delhi — from what we've experienced ourselves — it is difficult to find professionals who understand minimalistic style and make it work. Thankfully, Charanjeet deciphered it very well.
What makes your house a #LivspaceHome?
Paavani: I think a dream home is one that makes you feel happy and comfortable. We find that here, now. The most satisfying part is that our completed interiors actually match the representative 3D images that were signed off by us, at the time of placing the order. There were a few changes, but they have made the home look even better.
So, what was your favorite experience with us?
Ashish: I personally loved your team. All throughout, it was very flexible in incorporating our feedback. In fact, I have now made friends with a few people at Livspace. Also, since I naturally get excited about startups, it was never really a difficult decision to choose Livspace. Moreover, the founders and I share our alma mater. So, it all worked out really well.
Paavani: My favorite part was the fact that Livspace took care of everything from A to Z. And this is the kind of experience that I wanted. The interiors were of my choosing but I didn't have to do the running around. This has made me recommend Livspace in my social circle.
---
" All through the home, I planned space such that there was room for the kids to play and even

ride their little tricycles if they so pleased. I curated the furniture pieces and decor to not only

look good but to be functional and space-saving. The extendable bed in the kids bedroom and

a wall-hung shelf as a study/play table, especially, solved the purpose beautifully"

-Charanjeet Kaur, Interior Designer, Livspace
---

---