This 4 BHK in Dwarka welcomes you with a stunning entrance from where you get a feel of what awaits. A striking laser cut panel with mirror inlay makes for one wall and a nicely decked up niche makes for the other. If you love unique designs then you will get inspired by this!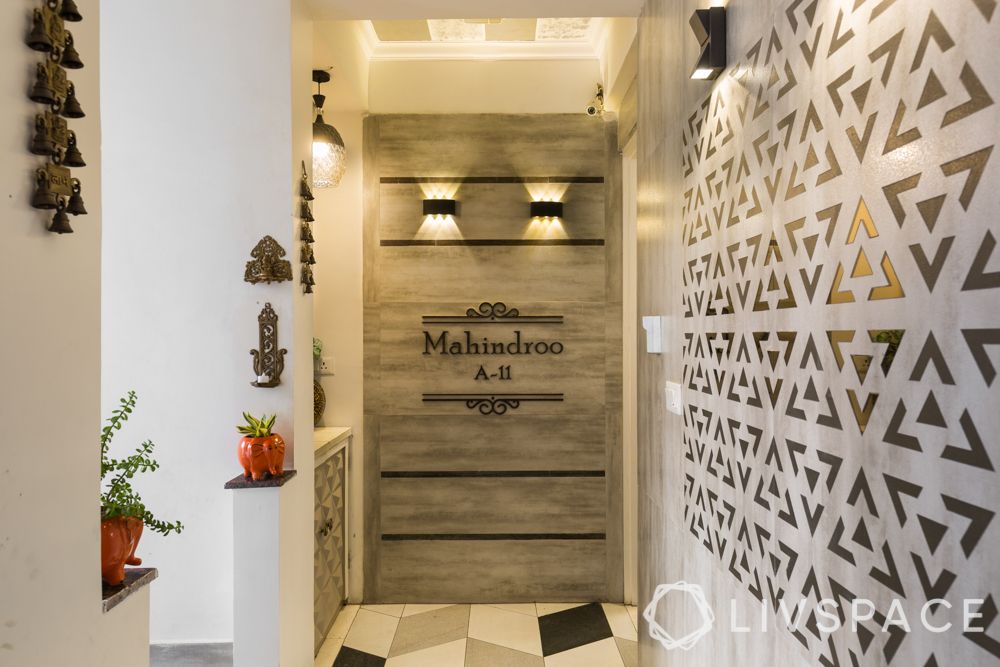 ---
Who livs here: Kalpna Mahindroo with her husband Sanjeev and their daughter Ishita
Location: Himalayan Residency, Dwarka
Size of home: A 4BHK spanning 2,500 sq ft approx.
Design team: Interior Designer Monika Jain and Project Manager Gaurav Mahajan
Livspace service: Full home design
Budget: ₹₹₹₹₹
---
"WOW!" That's how Kalpna Mahindroo and her family describe their newly designed home. She loves vibrant colours and her only wish was to make every corner a statement in itself. Starting from the entrance to the bedrooms, she wanted to make their one and only home count. One visit to our Experience Center and in her words, "We were very impressed with it and immediately signed up!"
Once the family met Monika Jain, their designer-in-charge, they kept all their requirements in front of her. She knew she had to cater to each member of the family since each had their unique taste and preferences. While Kalpna wanted bright colours, her husband Sanjeev wanted something more subtle. And their daughter Ishita loves everything out-of-the-box! Now that's quite a mix to perfect if you ask us. Find out how Monika and her team transformed this flat into a dream home.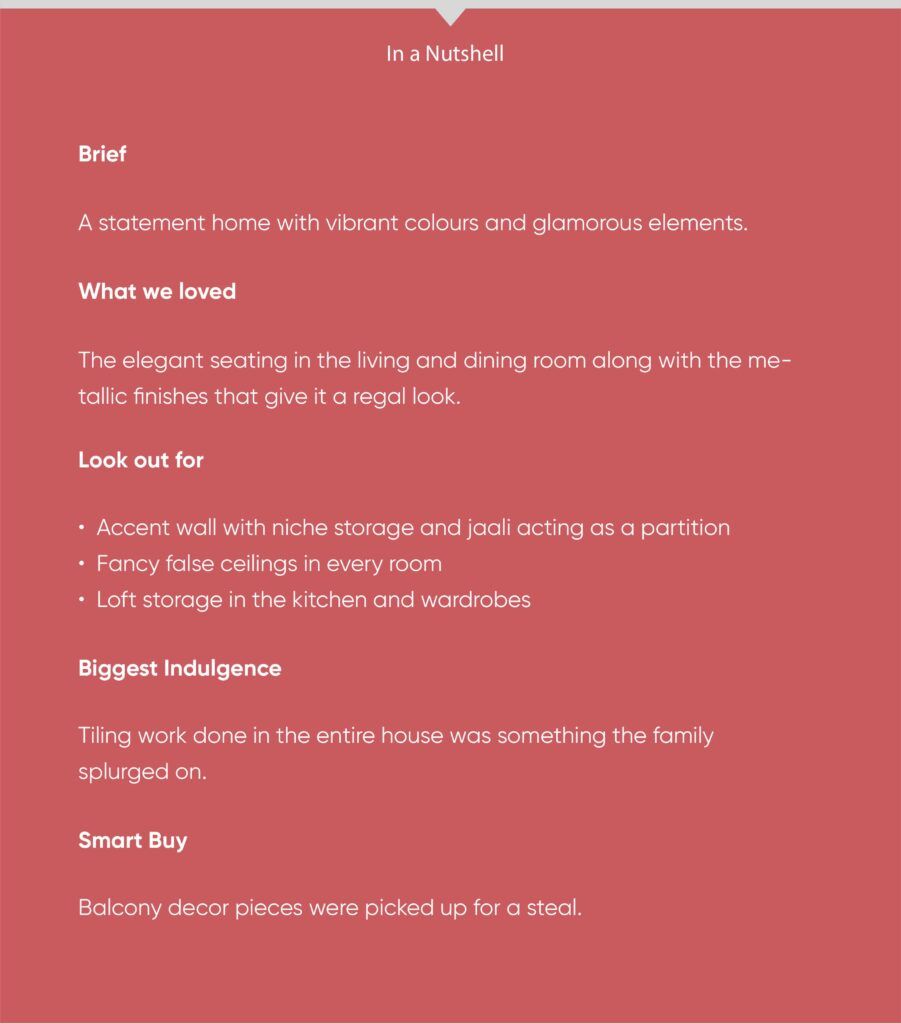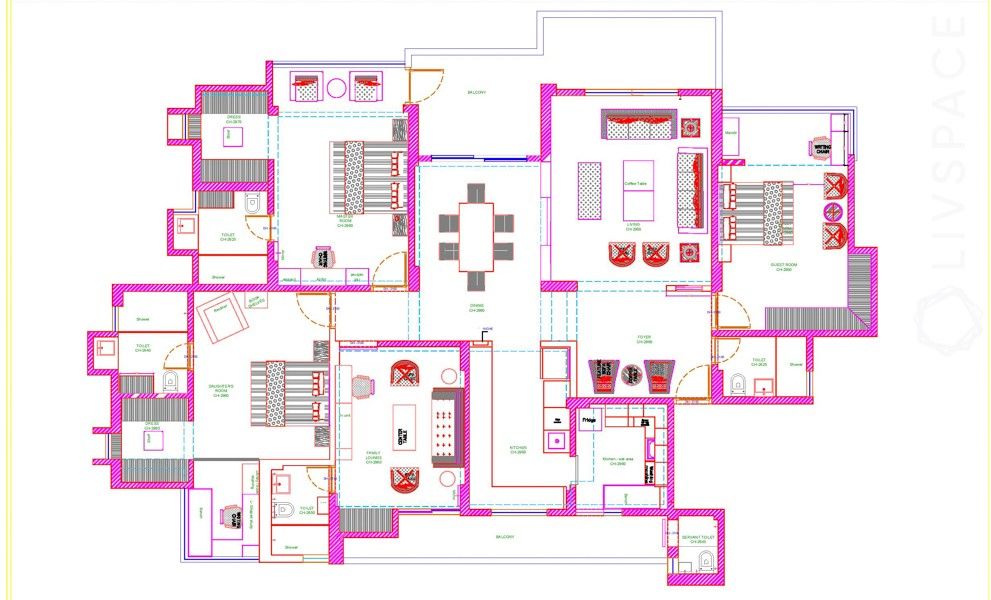 Let's kick-off with some showstoppers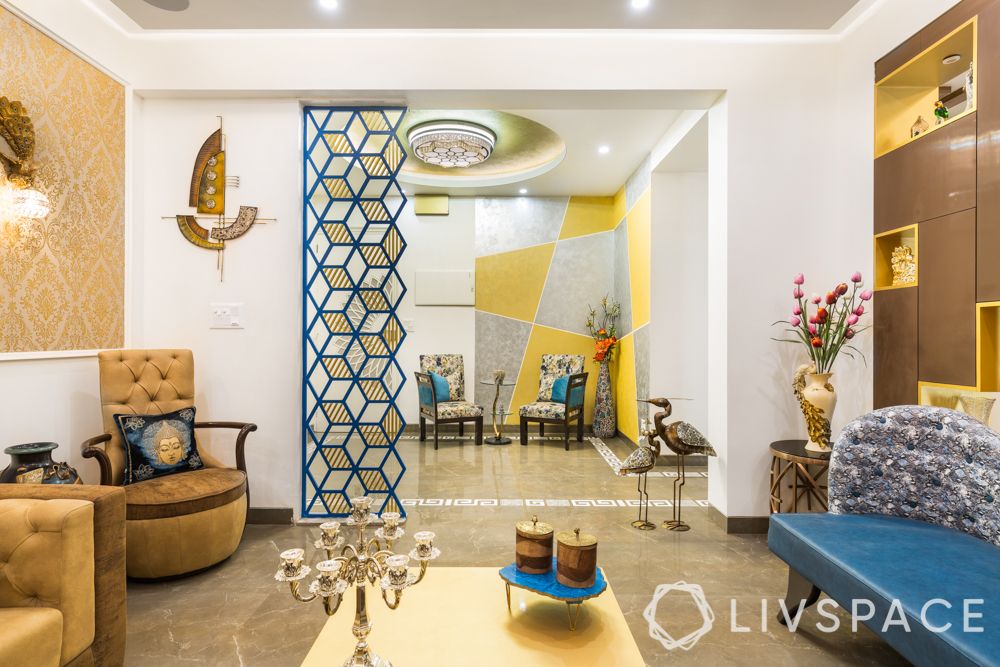 Since we have already established that this 4 BHK in Dwarka is nothing short of perfect, we thought it would be perfect to start this tour with the showstoppers. So you'll know what to expect. Starting from the foyer, Monika has added a stunning round-shaped false ceiling and colour-blocked walls to make for a pretty corner. Also, you can spot Versace print on the flooring that looks simply eye-catching. Another feature here is the blue and gold jaali that divides the foyer from the rest of the home.
We especially love this partition idea that Monika came up with. To divide the living room and the dining room, she gave them a wall with niches for display and a stunning jaali inlay in between. The brown and gold colour combination makes it quite a stunner!
On to the most durable room at home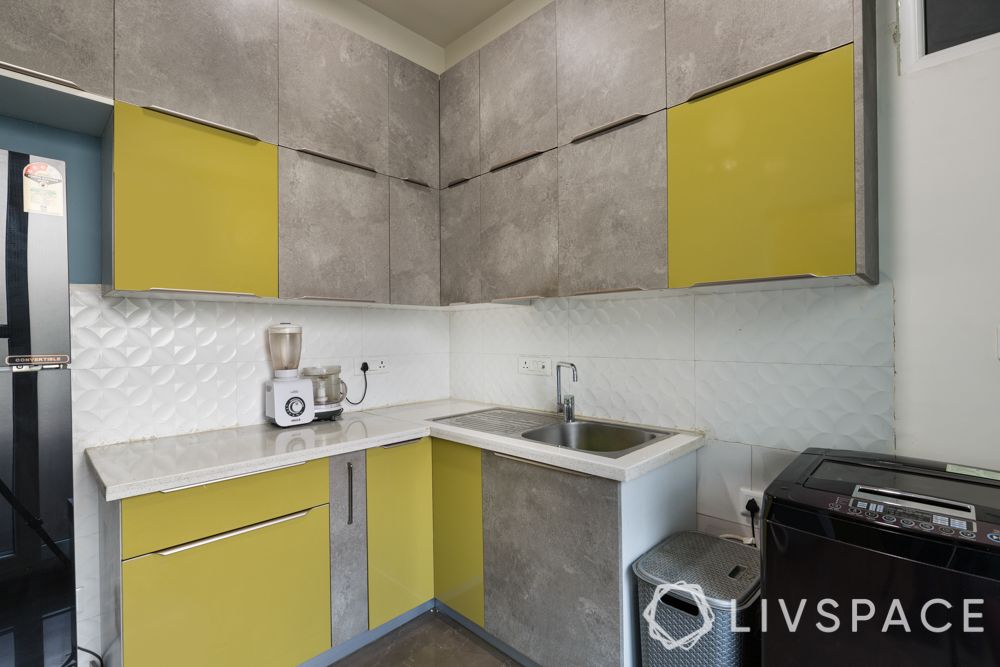 Something that Monika personally loved designing was this kitchen. Starting from the unique colour combination of blue and grey, this had to be one fully-equipped kitchen. Monika broke up the kitchen into a heavy cooking and cleaning zone and a light cooking and baking zone. She packed it with modules like the tambor unit, pull-outs, corner units, d-trays, tall unit and a built-in oven as well.
Let's talk material now. The entire kitchen is done up in membrane finish which is super easy to maintain and is very long-lasting. The lofts wear a grey membrane finish while the base cabinets have a combination of blue and yellow. The backsplash flaunts pristine white tiles and the countertop is kalinga stone.
Here's what our clients think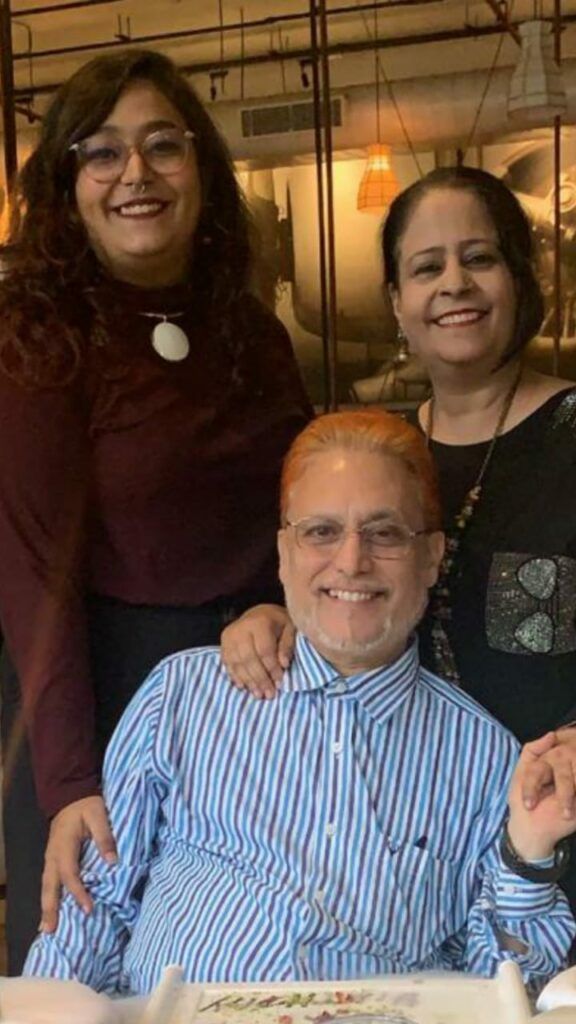 "We as a family wanted a 'wow' home and Livspace gave each one of us the reason to call it that in our own way. Monika, our designer is a very dedicated individual and she put her heart into giving us our dream home. We especially love the kitchen and wardrobes that she designed for us. I would also like to commend Livspace on their responsiveness and ability to address concerns. We are thankful to the entire team for making our dream come true!"

– Kalpna Mahindroo, Livspace Homeowner

Moving on to the wall treatments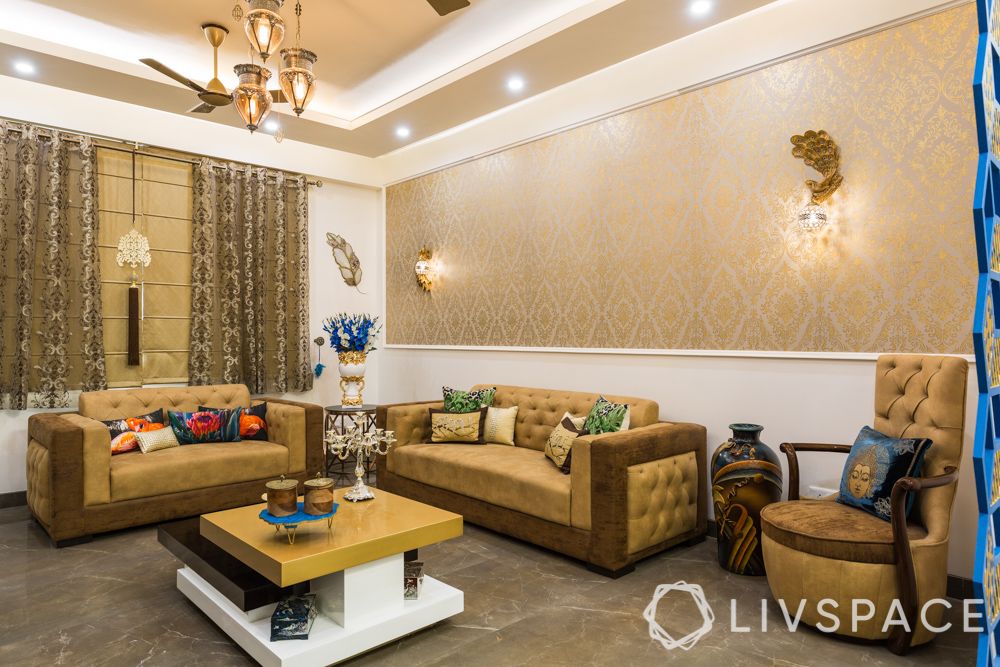 Something that you will notice in this entire 4 BHK in Dwarka is the wall in each room. Since the family did not want any wall left blank, Monika worked on each like a canvas. While the living room wall wears a bold metallic textured wallpaper, she chose a slightly milder blue for the master bedroom. Ishita's bedroom is totally designed to her liking and she picked a combination of floral and light pink for hers. We also love how Monika has highlighted the niche in the entertainment room with a subtle texture and a wall painting.
You do not want to miss the unique false ceilings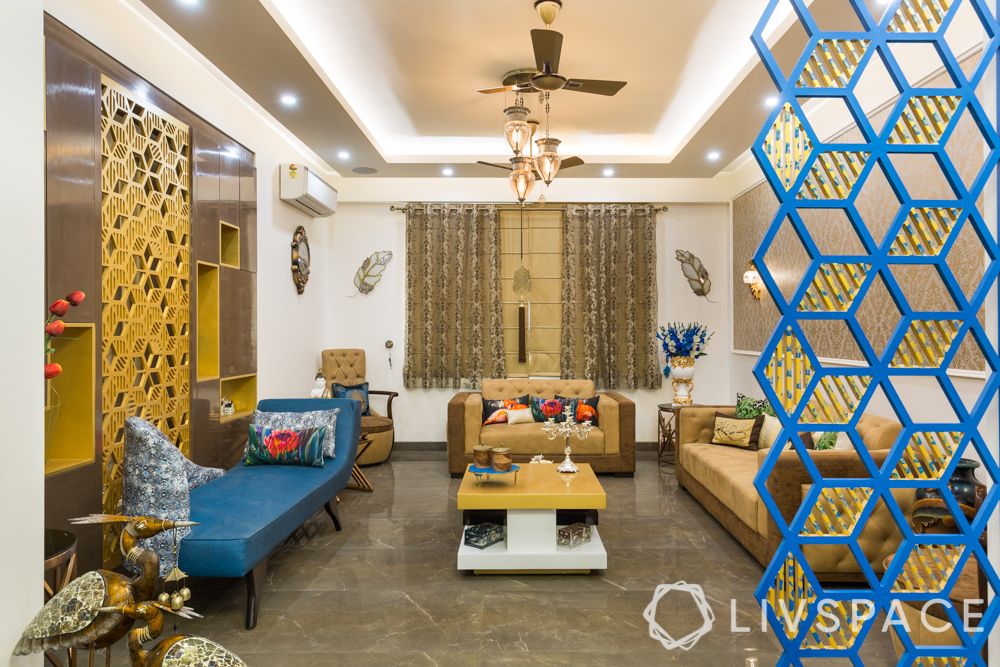 Onto the most extravagant feature of this home – the false ceilings. As soon you step into this 4BHK you are bound to notice the unique false ceiling designs in each room. We could call it the destination for all kinds of false ceilings. From an inverted cove to designer POP, the ceilings in each space wear a different look. It gives a certain depth to the design and adds oodles of charm to the existing ambience in the room. Mostly because false ceilings are a great way to add ambient lighting in a room.
Moving on to the storage-intensive wardrobes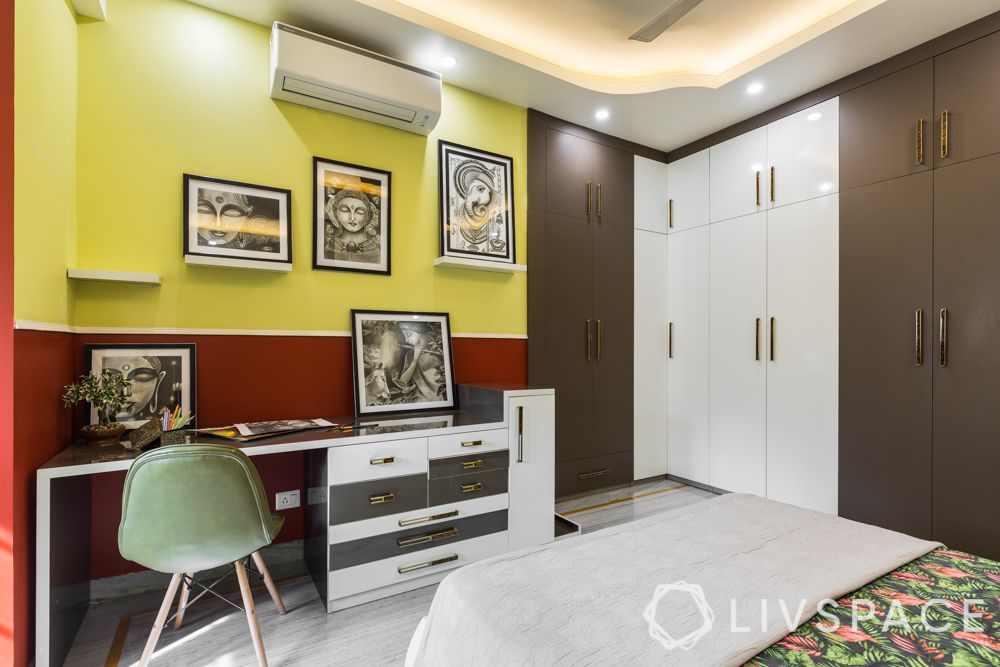 The story behind so much storage in every room is quite interesting. Each room at this apartment had an attached balcony. But the family felt that they could do with that one huge main balcony. Therefore, Monika utilised the balcony space in each room and turned it into a walk-in wardrobe for them. These are all membrane finish wardrobes that come with lofts for extra storage. In the guest bedroom you can spot an L-shaped wardrobe that is capable of storing a world inside it.
Let's take you through the study and TV units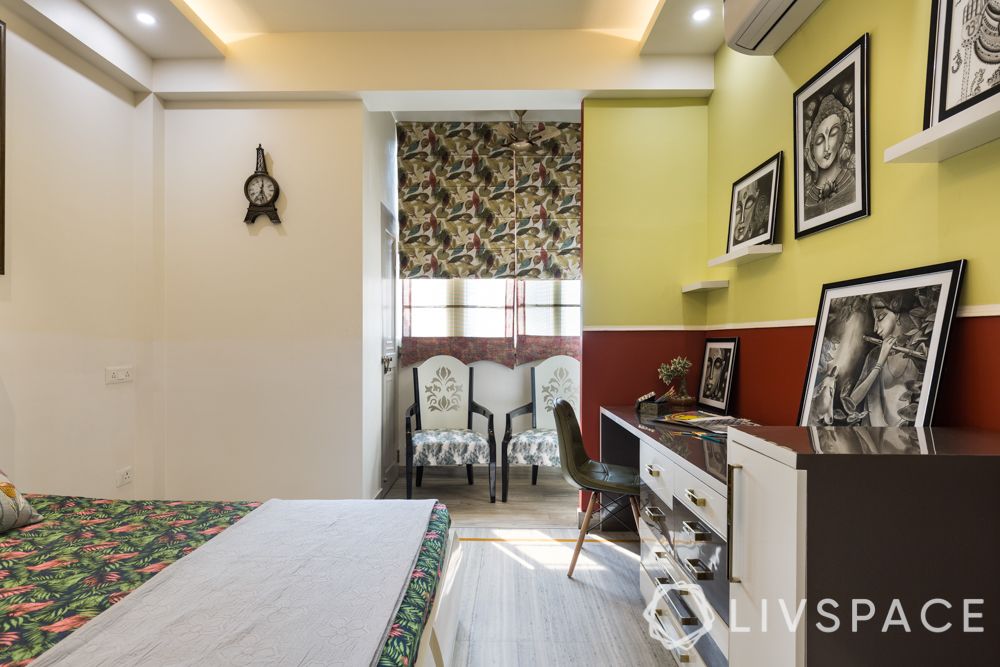 Monika has given TV units in all the rooms along with a study table. We particularly love the cosy study corner in Ishita's bedroom that wears her favourite colours. It feels like the perfect spot by the window for some reading time. The entertainment room also has a fancy TV unit that comes with a tall storage cabinet next to it, finished in membrane and acrylic. The guest bedroom sports lots of wall ledges that can be utilised for displaying art.
Balconies that offer the best view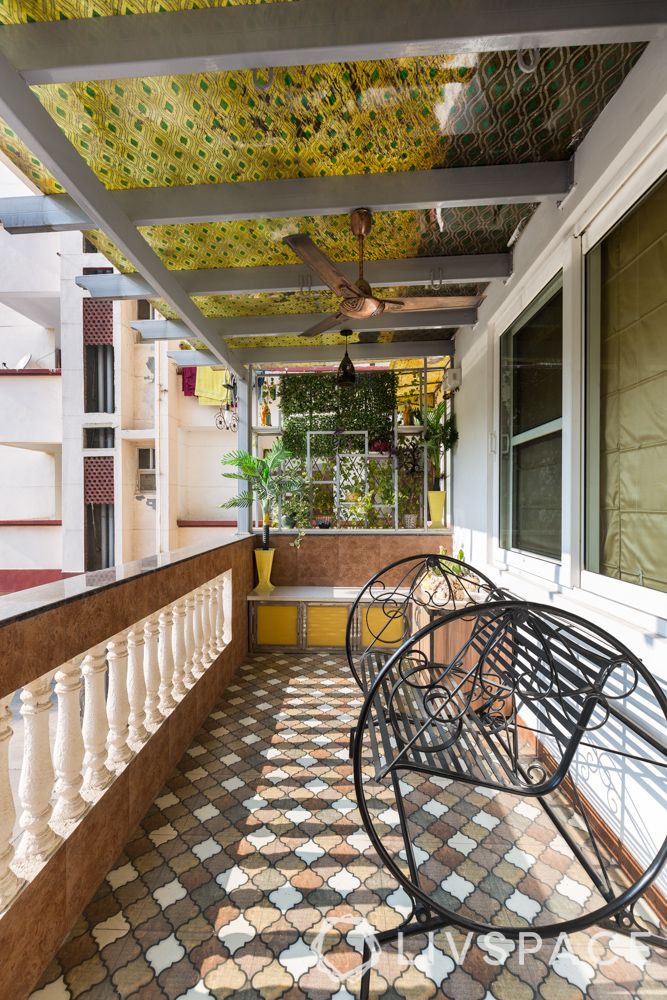 Moving on the balcony here. This space is cleverly divided into two – one with a metal seating, ideal for bird-watching and the other with a proper coffee table set up. Both spaces flaunt lovely moroccan tiles on the floor and pergolas that deck up the space. Pretty planters add to the greenery.
The bathrooms at this 4 BHK in Dwarka flaunt unique elements too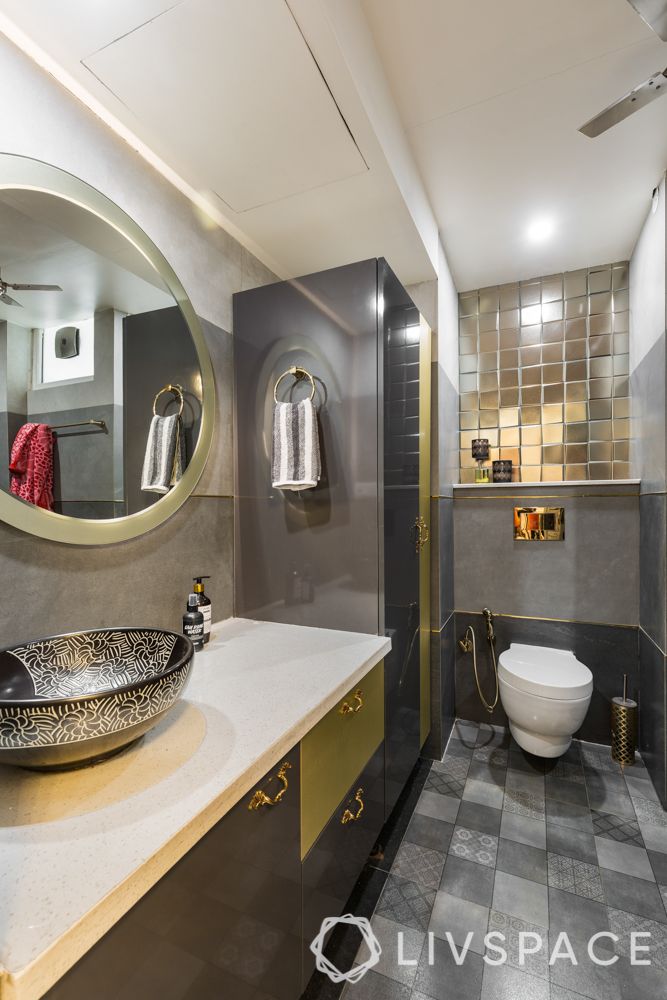 In conversation Monika confessed that the bathrooms in the master bedroom and Ishita's bedroom at this 4 BHK in Dwarka have come out beautifully. We love the ombre gradient in Ishita's bathroom that incorporates various shades of grey. Also do not miss the wash basins in both bathrooms that have been carefully selected and add a designer touch to the space.
---
"I really enjoyed working on planning and executing the design. Since this was a resale flat, there were quite a few civil changes that were required. I had to break down the kitchen and include balconies in the bedrooms to turn them into walk-in wardrobes. The family was very cooperative and I have built a great rapport with each of them. I am very happy to see the end result!"

– Monika Jain, Interior Designer, Livspace
---
We hope you enjoyed reading this. If you want to check out another home renovation in Dwarka, read this: 10-yr-old Home Gets Spacious After Revamp.
Send in your comments and suggestions.