As interior designers, we have come across several stunning homes. But a home is inherently beautiful when it not only reflects the personalities of its residents but also the spirit of the city where it is located. This is the case for Suhail Khalil's 3BHK in Mumbai. Suhail wanted an experienced designer who could design his dream home. Considering that we are amongst the best home designers in India, it was a perfect match!
When you first enter Suhail's home, the first thing that strikes you is the seamless design symphony across all the rooms. Suhail was looking for a contemporary-style home that featured bright, beachy colours. While he was keen on luxury tiles, spa-esque bathrooms and sleek furniture, everything had to be within budget. This is where our designer Sagar Sawant proved the importance of a skilled interior designer. Through some smart design hacks, Sagar managed to keep everything low cost while creating a gorgeous and luxurious home.
The Client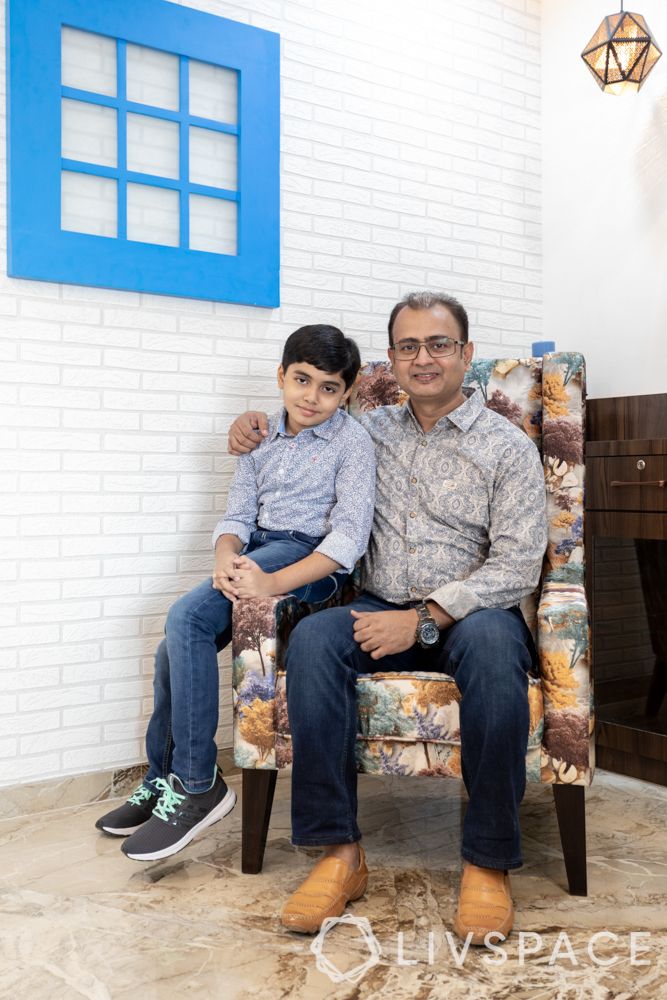 Mr. and Mrs. Suhail Khalil live in this breezy Mumbai 3BHK with their son Maaz and Suhail's parents. They wanted a home with lots of blue shades, contemporary designs and an overall luxurious look.
The Designer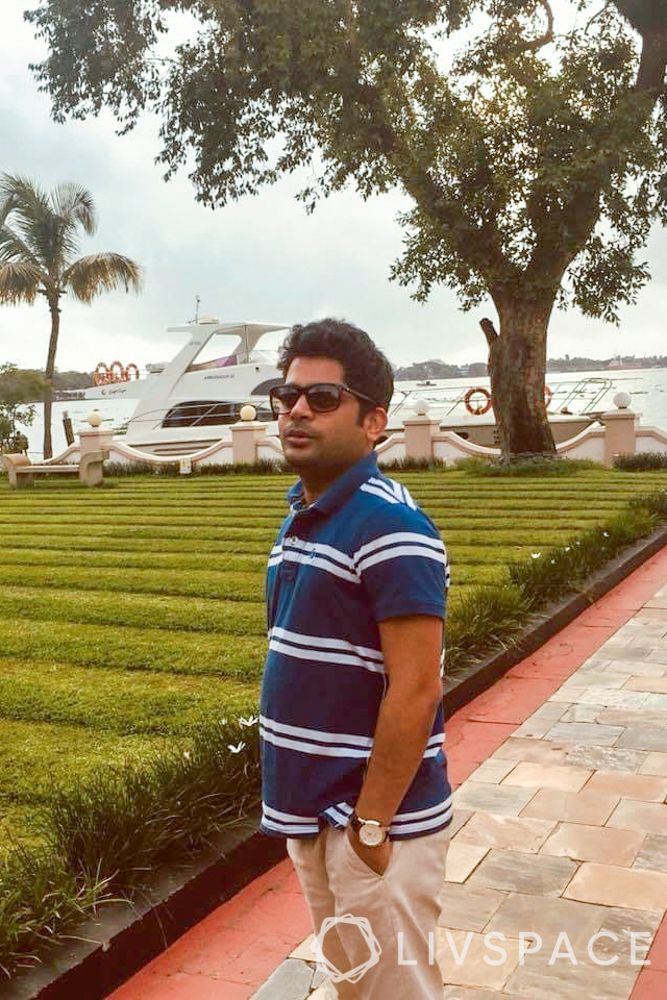 Livspace interior designer Sagar Sawant was the perfect fit for the Khalils. An expert on everything interior design, he was the mastermind behind the smart design hacks and stunning interiors of Suhail's home. Here, he answers our queries on how he went about designing this home.
Somreeta Sarkar: We feel that this 2BHK embodies the spirit of Mumbai. Do you agree?
Sagar Sawant: Yes, definitely! Suhail wanted a play of two colours — a combination of blue and beige. This symbolised a coastal palette — the blue of the sea and the beige of the sandy beaches of Mumbai. But instead of using bright pops of blue, I have used earthy shades to keep the entire look contemporary.
Somreeta S: I see so much blue in Suhail's home! Any specific reason for that? What was your design inspiration?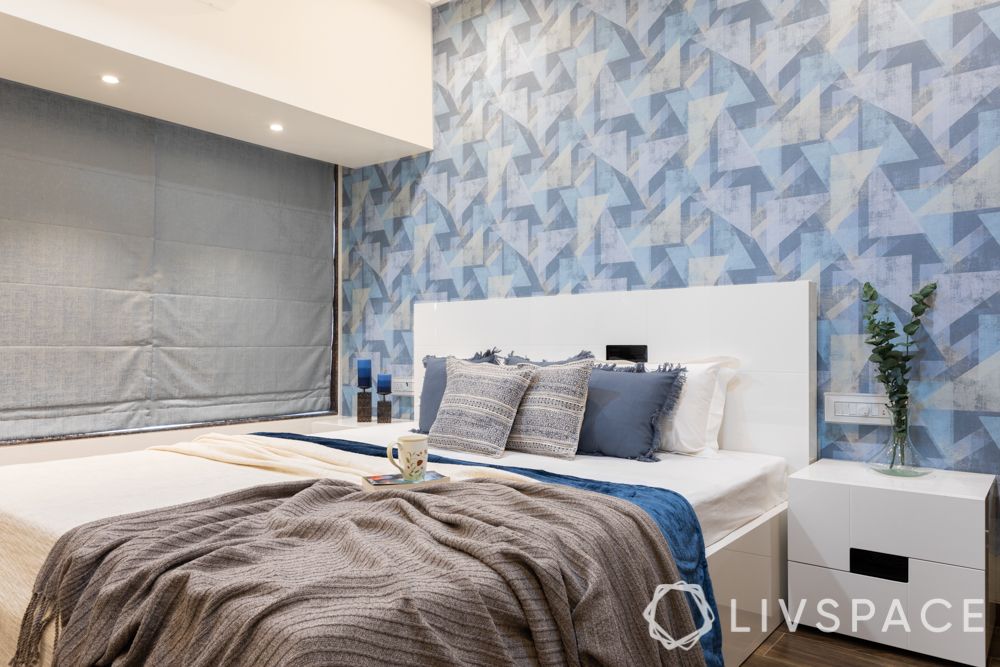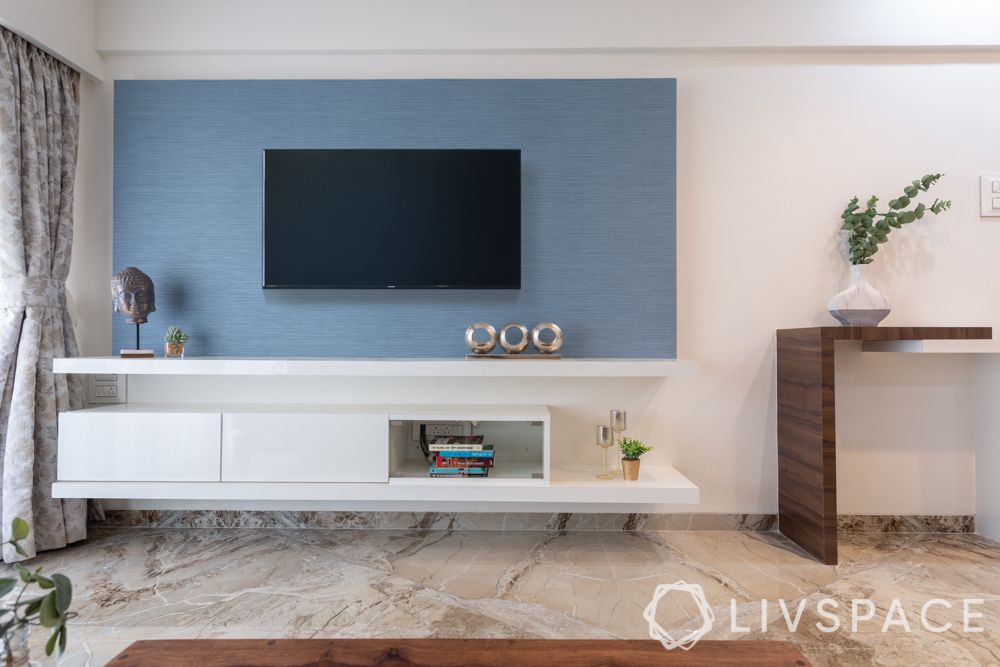 Sagar S: Suhail was the reason; he wanted a seamless blue theme throughout his home. He was very keen on a blue and beige combination, which he felt looked elegant and homely. However, you will notice that I haven't used the typical shades of blue in this home. Ranging from denim blue to sea blue, the soft palette gives an overall warm look to the contemporary style. Also, I have tried to use replicas of natural materials wherever possible, keeping in mind the budget. The design inspiration, in simple words, is a contemporary style with natural materials and warm colours.
Somreeta S: Every corner of the house has some stunning features! How did you manage to keep everything within budget?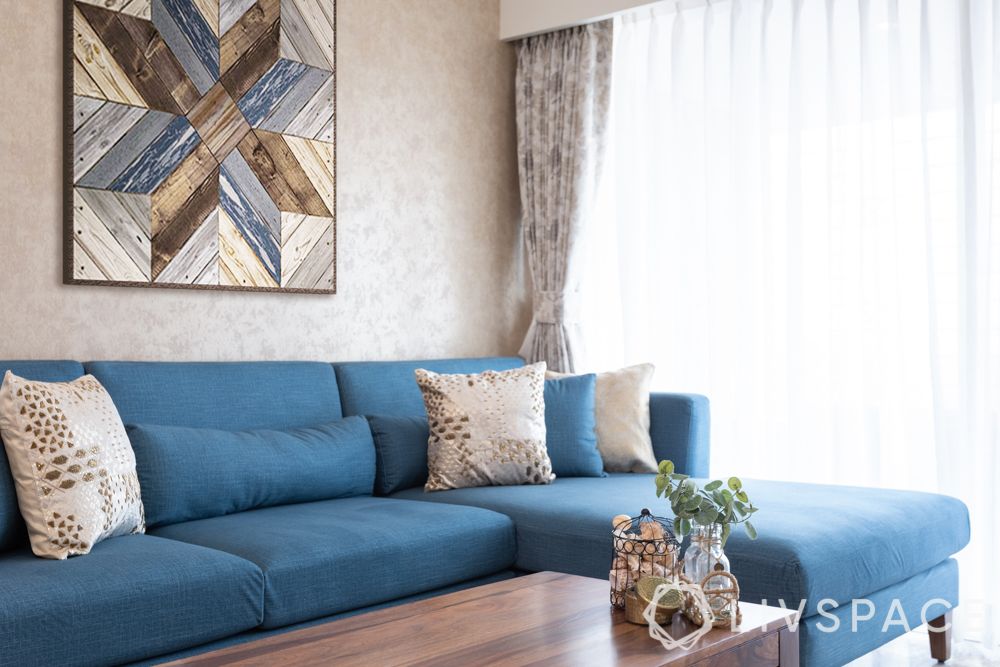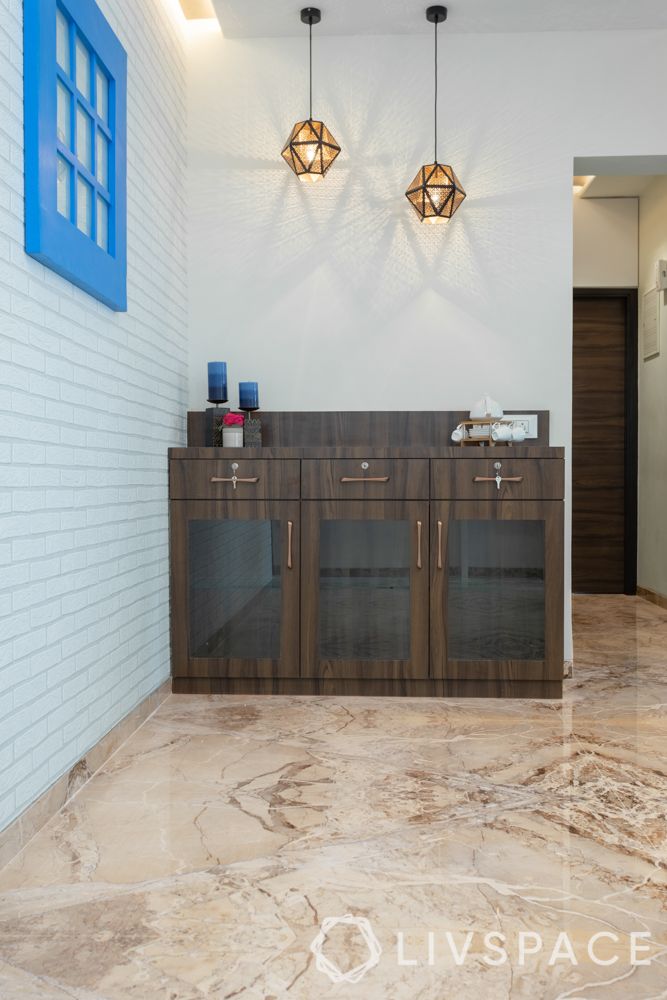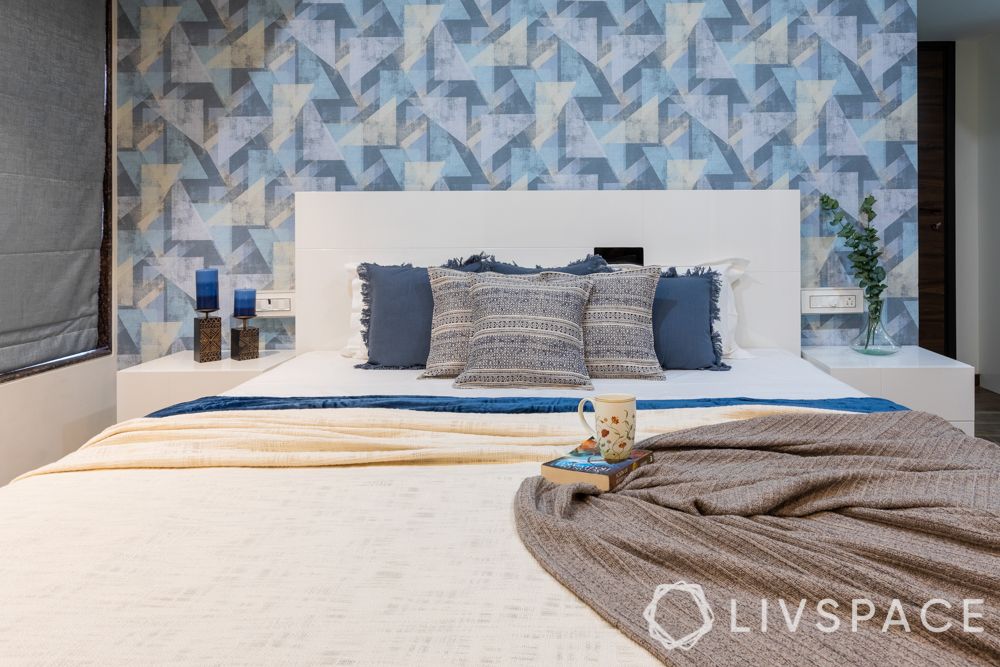 Sagar S: By choosing alternative materials for the interiors that were cost-effective, but still had a natural impact. Suhail was looking for the best home designers who could give him plush interiors. But keeping things within budget was the challenge. So, I used a lot of smart alternatives that reduced the cost. For instance, instead of marble, I used vitrified tiles, which is cost-effective. Despite the low cost, the bookmark pattern of the tiles made them look like luxurious Italian marble. Also, I used wallpapers — low cost but provide enormous possibilities for texture and design.
Somreeta S: This stunning home proves your mettle as one of the best home designers! Tell us one thing that you absolutely love about this house design.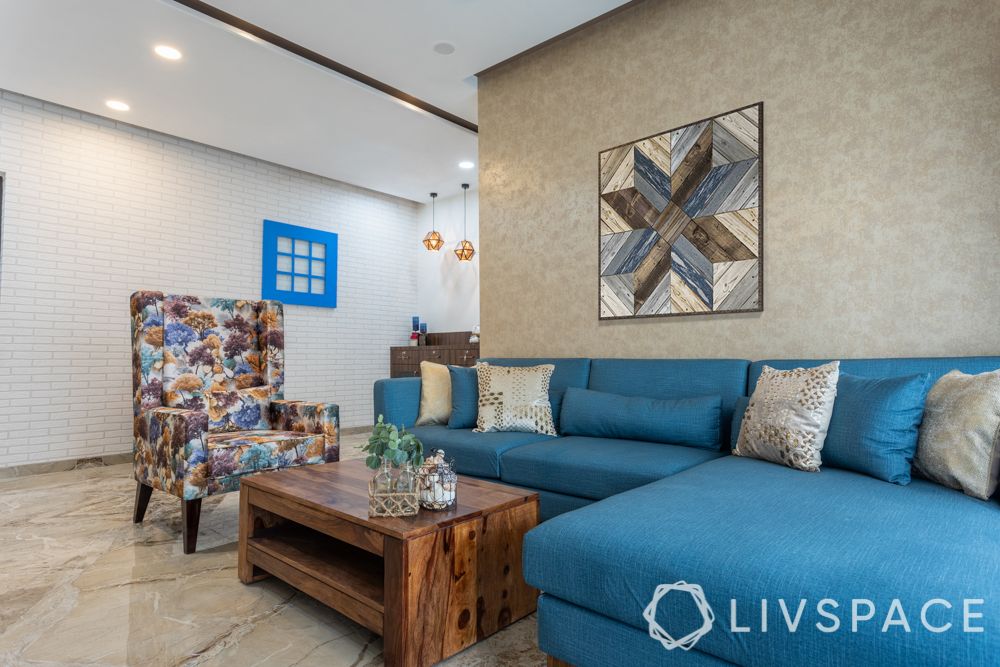 Definitely the flooring! So, the reason why I chose these tiles is that I wanted something plush yet low cost. The bookmark pattern and the larger size of these tiles (5 ft x 3 ft, as compared to the normal 2 ft x 2 ft), make them resemble Italian marble quite closely. However, being vitrified tiles, they are much more cost-effective than actual Italian marble.
Somreeta S: The bathroom treatments are quite striking. Tell us about them.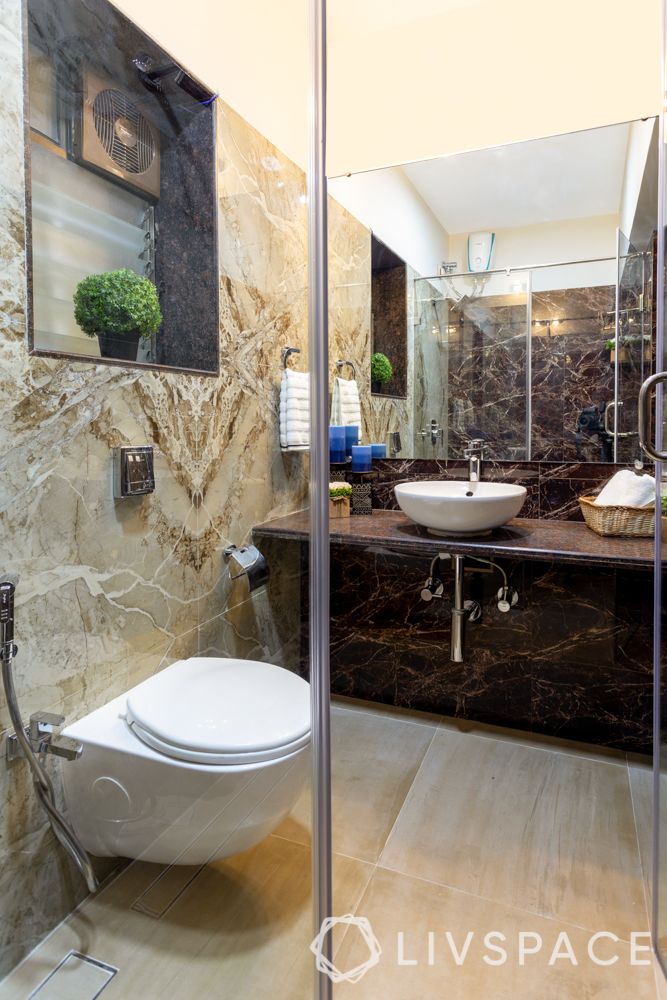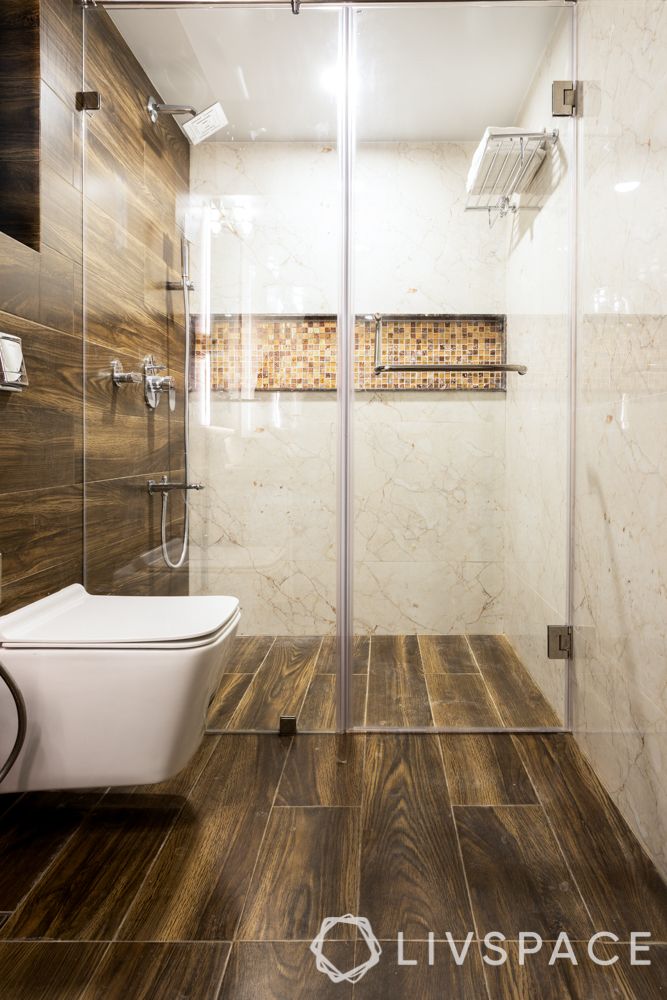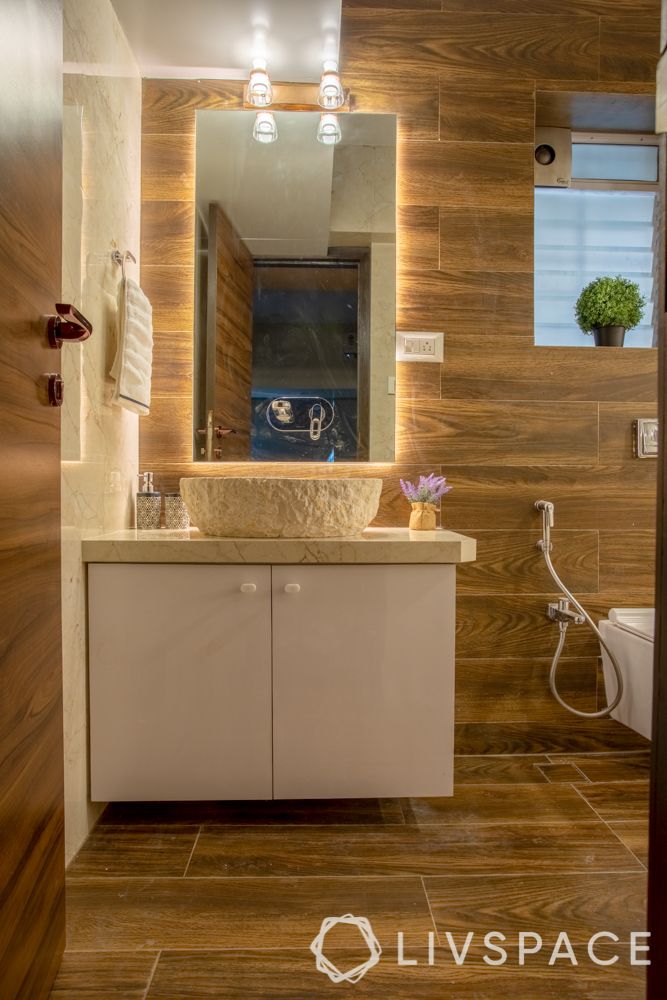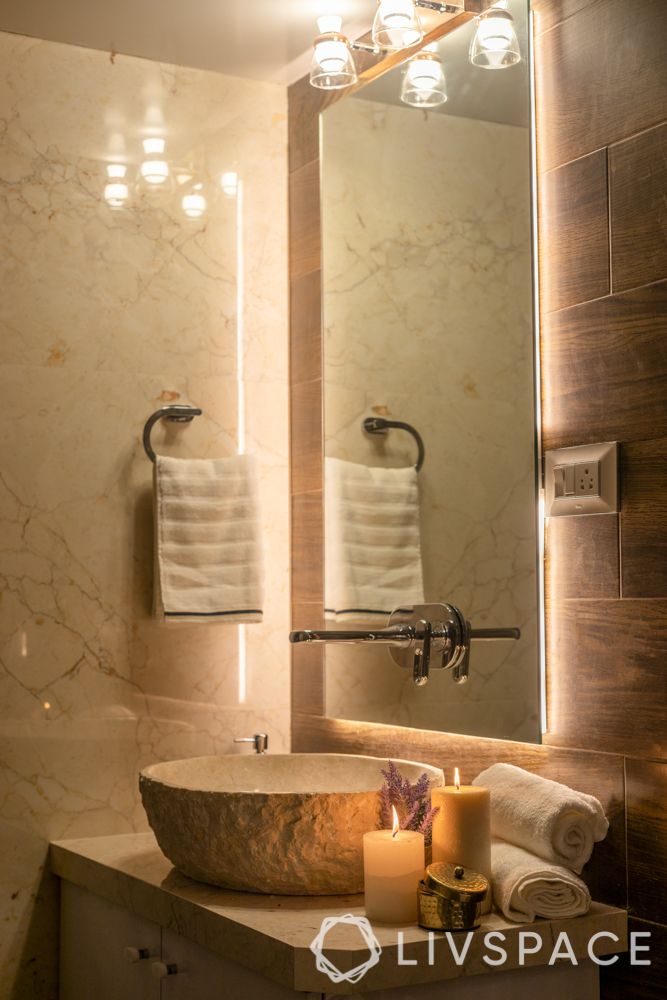 Sagar S: The bathroom attached to the master bedroom has clear dry and wet areas, demarcated by the shower cubicle. To create that spa-like effect, I have used warm wooden tiles for both the flooring and the walls. The washbasin carved out of Cecelia marble and the dainty mirror lighting are the showstoppers. The entire look is spa-esque, plush and cosy. As for the common bathroom, I have added a wall-to-wall mirror and wine-coloured granite counter for a rich and luxurious look. The Italian marble-like tiles maintain continuity with the living area while looking lavish.
If you enjoyed reading our gupshup with Sagar, have a look at our interview with Pallavi on how to add storage to your 2BHK without compromising on space.
We love hearing from you! Write to us with your comments and suggestions at editor@livspace.com