In any Indian household, the kitchen plays a significant role. Nowadays, millennials bond with their friends and partners in the kitchen, while cooking up delicious meals together. Knowing this, at Livspace, kitchen designs are of utmost importance to us. And we know that you, our readers, love small kitchen designs! So, introducing to you, our new special: Kitchen of the Week!
We love all our kitchens and choosing just one was such a challenge for us! But finally, we arrived at a consensus — Anu's 50 sq. ft. kitchen in Delhi is our pick for this week. Before we get into why this small kitchen design Indian style is our Kitchen of the Week, let's first tell you a little about Anu and her requirements.
Anu is a home chef and baker and wanted a kitchen that was not only functional but also Instagrammable (follow her at @anumalhotrakhanna). We ensured that her kitchen had everything that a chef would need. And the best part? We wrapped up the entire design in just under ₹2 lakhs!
Why is it our kitchen of the week?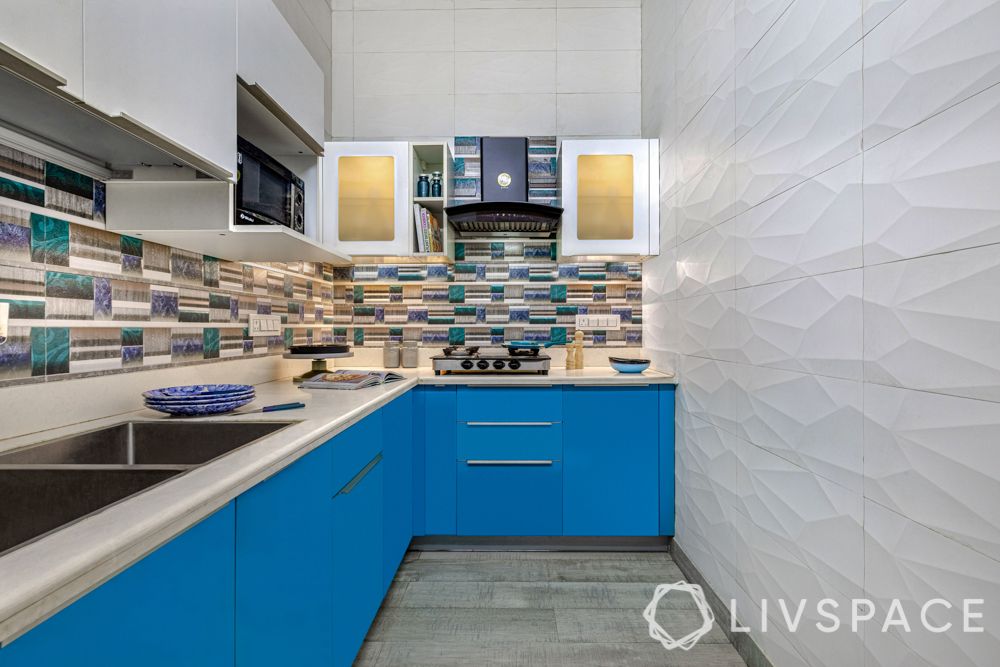 When it comes to small kitchen designs, Anu's kitchen is a cut above the rest! At just 50 sq. ft., you would expect her kitchen to be cramped and congested. But, that's far from reality! One of the main reasons why we love her kitchen so much is the smart use of space. Apart from being spacious, her kitchen is also very easy to work in. But let's admit it, being Indians, budget is always the primary concern for us! And Anu's kitchen was designed for just under ₹2 lakhs! Yes, we mean the entire kitchen including cabinets, storage units and accessories! Unbelievable, isn't it? So, if you are looking for small kitchen design tips on a budget, you've come to the right place!

What are the special features of this kitchen?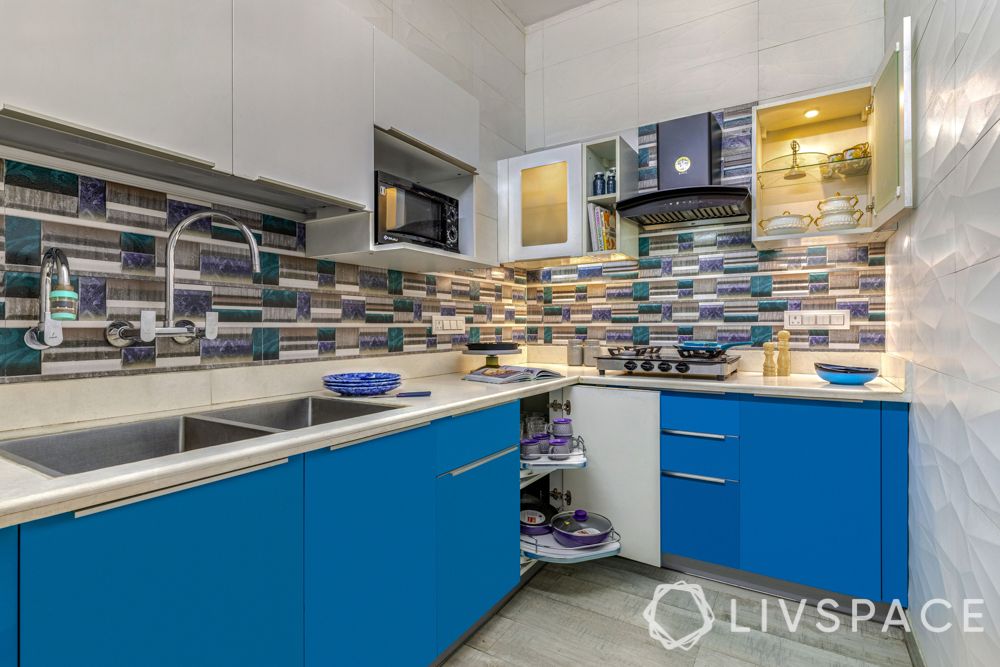 Small kitchen designs can be smart, functional and pretty — as proven by Anu's kitchen. Her gorgeous kitchen has several special features that you should watch out for.
Cost-Effective Membrane Cabinets
Anu wanted her kitchen to be Instagrammable as she regularly posts her cooking experiments on social media. As such, she wanted aqua blue as the theme for her kitchen, which is a vibrant and eye-catching colour. Our designer suggested a high gloss membrane finish for the cabinets. The membrane ensures that the budget was not pushed up and the reflective, glossy finish would create the illusion of space.
Smart Storage Solutions
You can never have enough storage! And space should never be a constraint! Anu's small kitchen design Indian style has tons of storage fitted into the compact space. The first thing you notice is the number of storage units on the walls. The kitchen originally had a window that was closed up to add more storage cabinets.
One of the most special features of this kitchen is the S carousel. Most kitchen cabinet corners end up becoming dead space. The S carousel helps make use of this space. Moreover, an S carousel also ensures convenience and ease of working.
A common mistake we see in small kitchen designs is not optimising the available counter space. Anu knew this and did not want to waste space on her countertop by keeping an oven on it. Instead, we gave her a separate oven unit against the wall, which is space-saving and easy to access.
What do we love about this kitchen?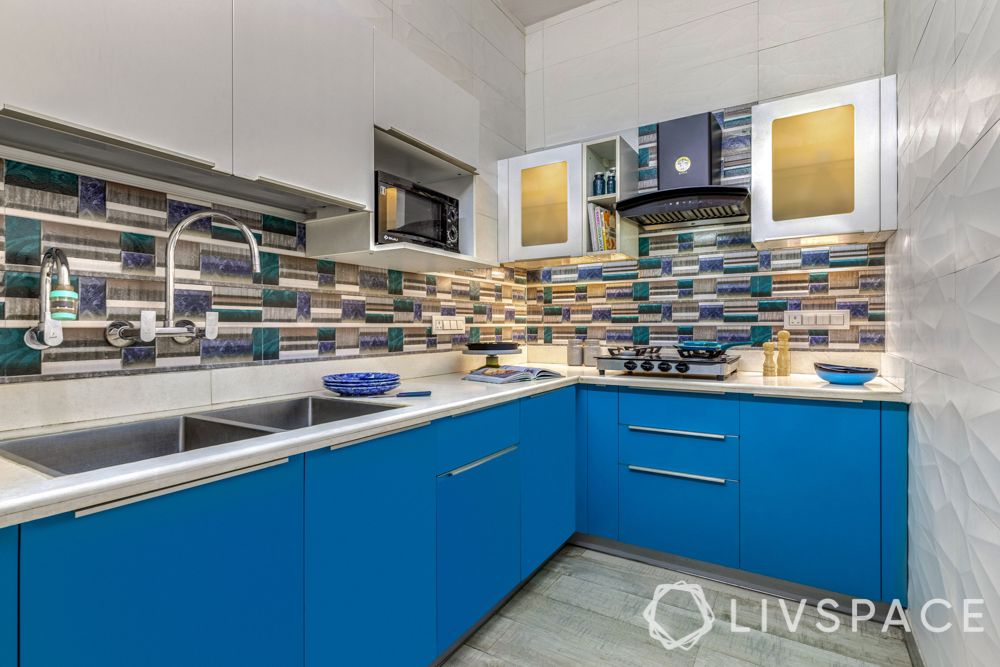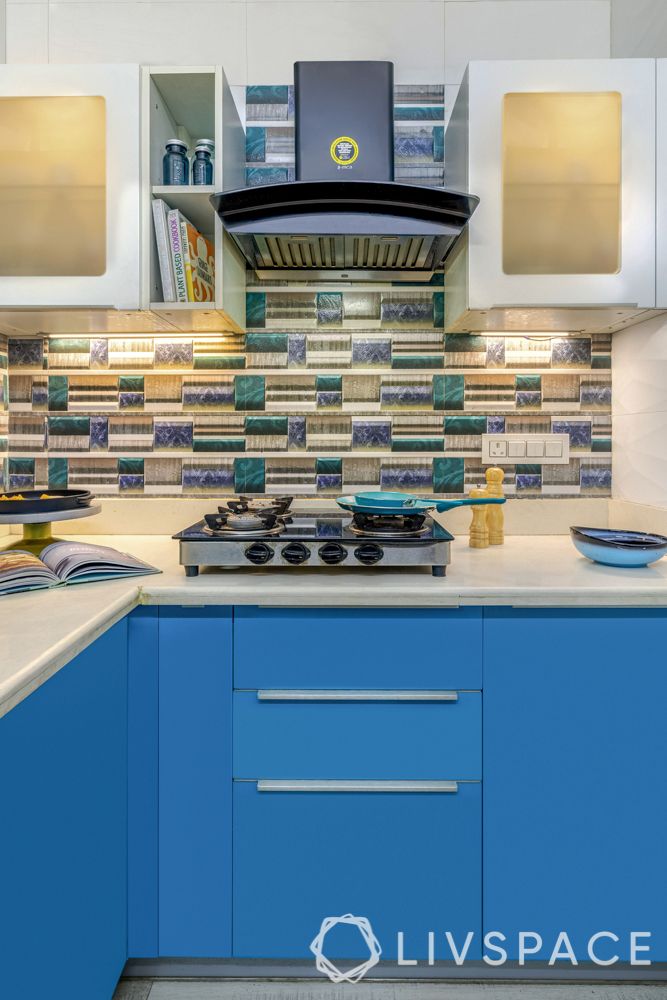 Honestly speaking, we love everything about this kitchen! From the space efficiency to the colour to the budget, each and every aspect of Anu's kitchen is a design marvel! But, if we have to pick one thing, we would say the smart use of space in this L-shaped kitchen. Usually, compact spaces and storage don't go hand in hand. However, our designer overcame the space crunch by making the most of the vertical space and the corner space, as can be seen from the wall cabinets and corner units.
Small kitchen designs can be tricky, but not for us! If you are looking for some small kitchen design tips, check out these 10 Livspace kitchens under 100 sq. ft.
Check out this kitchen renovation:
How can Livspace Help You?
We hope you found our ideas useful! If you want your home to be just as beautiful, then look no further. Book an online consultation with Livspace today. Delivering safe home interiors has been our No. 1 priority. Click here to find out how interiors are being delivered following all safety protocols.
Let us know what you think in the comments or send us an email at editor@livspace.com.