Do you remember the game of Colour Man that we used to play as kids? So, when it comes to serene blue and vibrant pink, which colour do you choose? With this article, we decided to solve the conundrum for you! Two kitchens – a pink one in Jaipur and a blue one in Chennai. Who will win? Let's find out!
Before the war of colours begins, let's take a closer look at these two kitchens.
#1: A Tale of Transformation in Chennai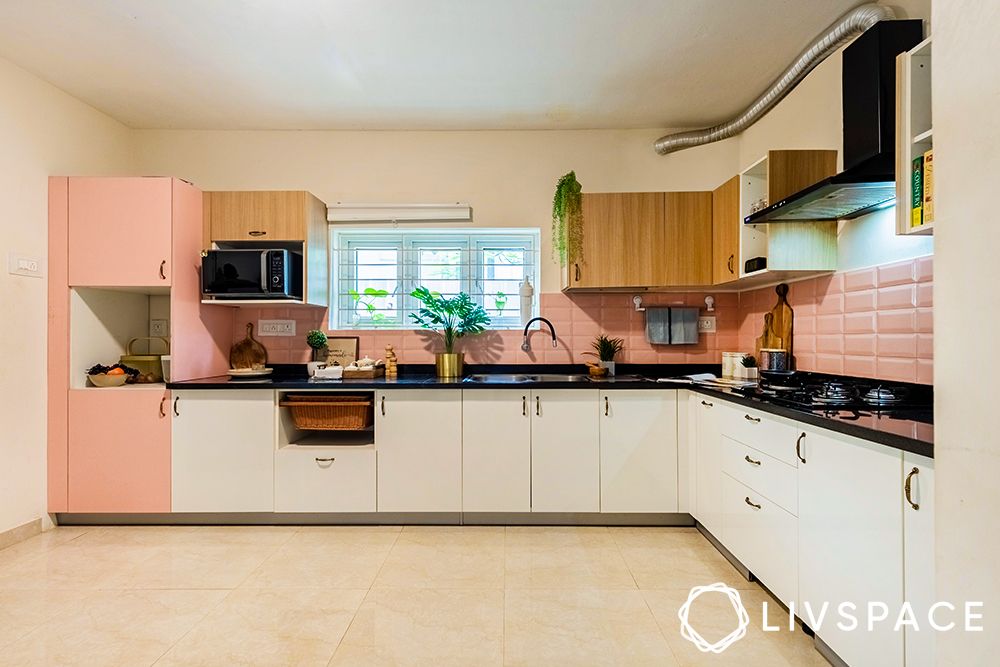 Homes are more than just buildings. They have emotions, memories and moments attached. This kitchen in Chennai is part of a home that's more than 15 years old. On the occasion of the homeowner Rashmi's marriage, her parents decided to renovate the flat and give it to their daughter as a wedding gift.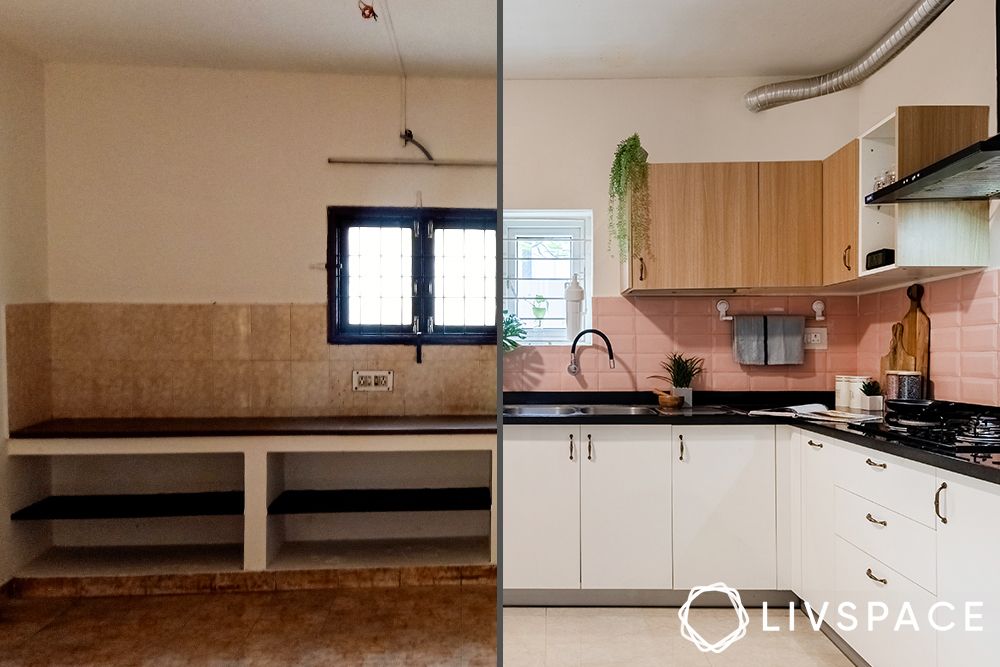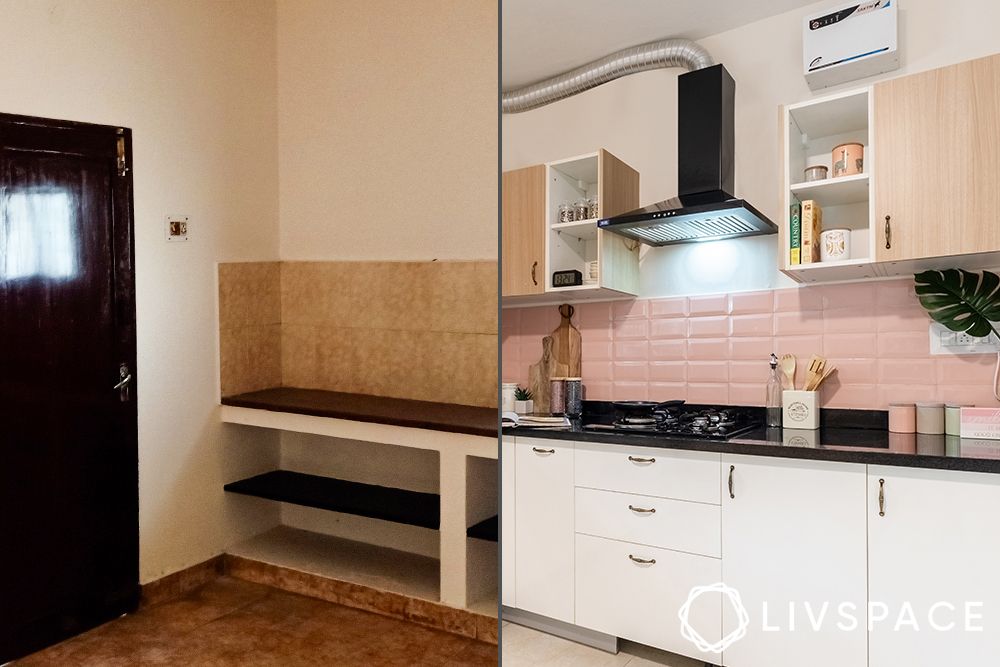 Would you believe that this magnificent renovation project was completed within just ₹2.5 lakhs? Moreover, despite being only 120 sq. ft., this Chennai kitchen looks large and spacious. Designer Preethi Parthasarathi tells us that Rashmi was quite clear on what she wanted for her kitchen. Firstly, she wanted her kitchen to be neat and clutter-free. Secondly, she was very keen on an English-themed kitchen in shades of rose pink, white and wood.
#2: Our First Kitchen Photo Shoot in Jaipur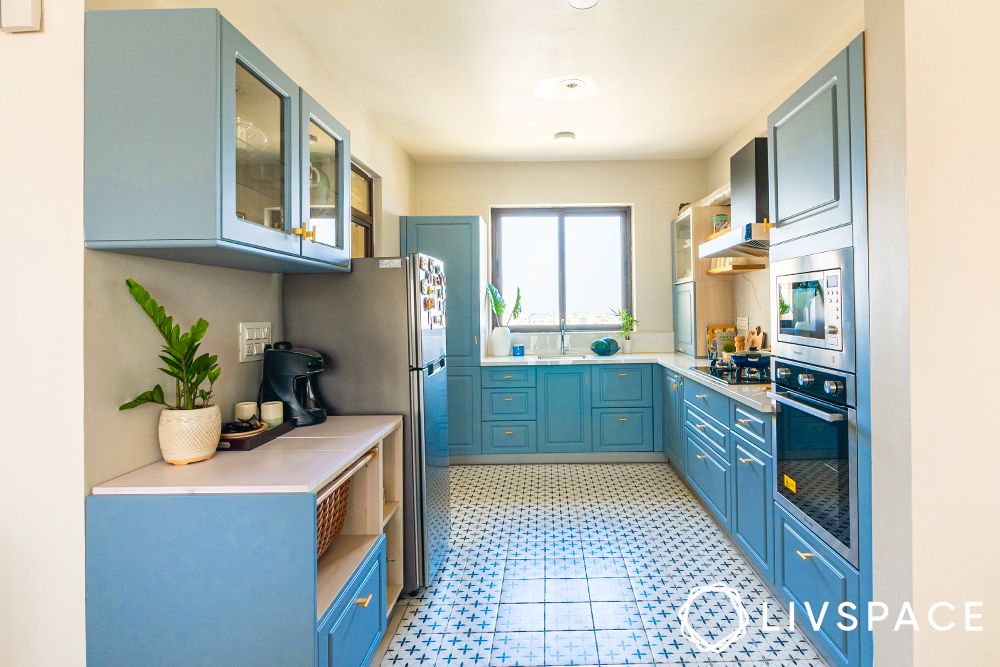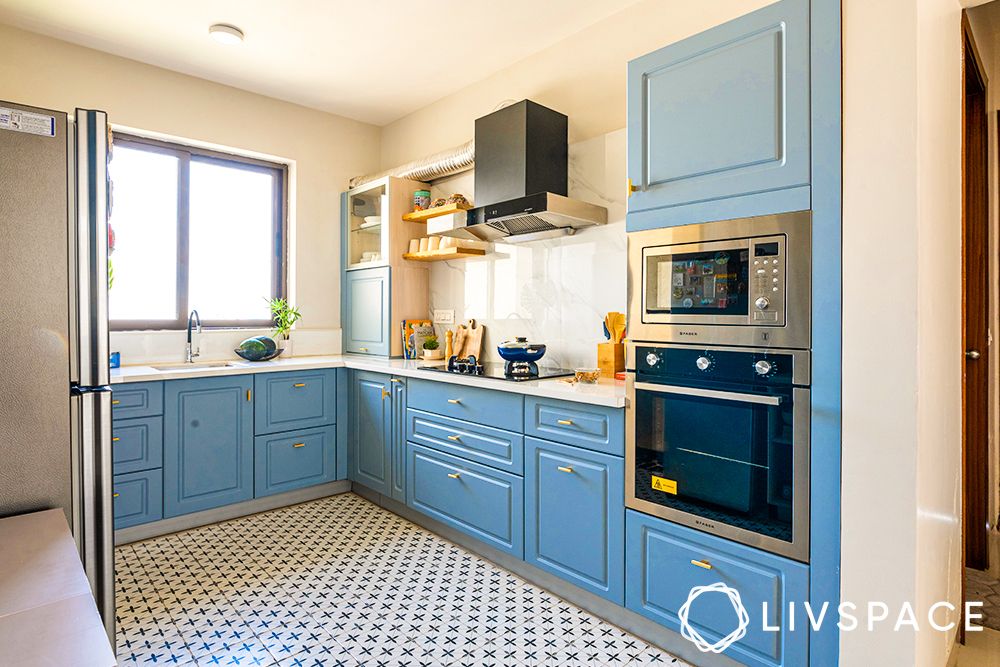 Now let's move on to the other kitchen in this competition, a faded denim blue kitchen from Jaipur. This open modular kitchen features a European classical design theme. The homeowner, Mohit, had his heart set on a denim blue theme for his kitchen design, something that wasn't available in Jaipur. With Livspace, not only did he get his dream colour theme, but also completed his kitchen design under ₹3.5 lakhs from Livspace. In fact, we managed to do it all and also converted the compact space into a bright and airy one.
#3: Some Special Features of These Kitchens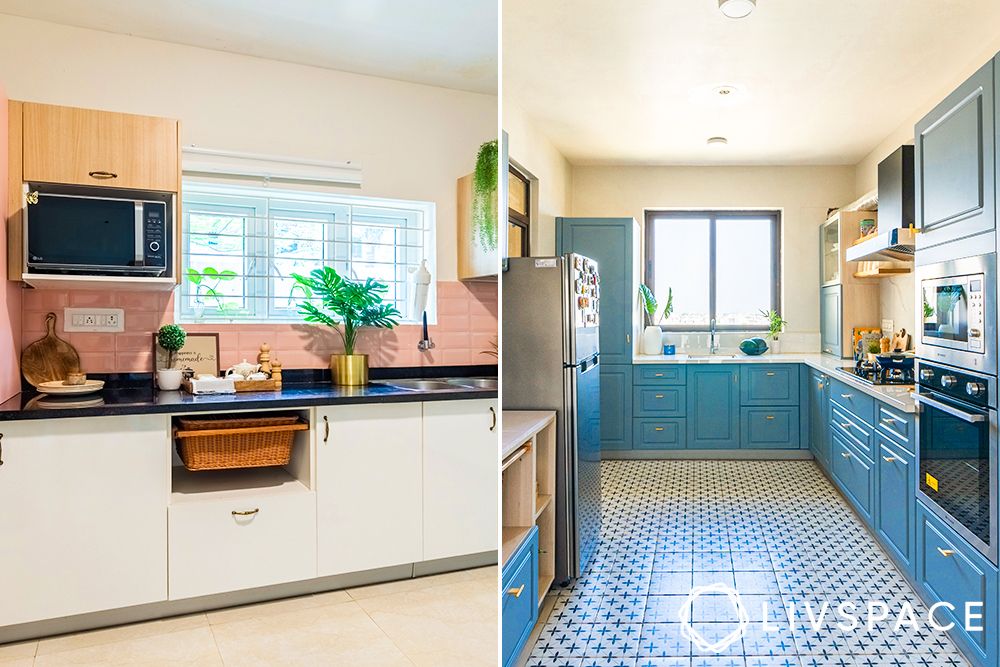 Both these kitchens are special in their own ways. For instance, in the case of Rashmi's English-themed kitchen in Chennai, you will notice how the pink is only segregated to one cabinet and the backsplash. The remaining kitchen is white and wood.
This combination of neutral shades make the small room look spacious. From an OTG unit to a microwave unit, a wicker basket to a corner unit, this Chennai kitchen design has everything to make it a functional space.
Moving on to Mohit's classical European kitchen in Jaipur, the entire space looks quite open and airy. This was due to some smart design solutions implemented by designer Bharti Babani.
For instance, the kitchen doesn't have any upper cabinets, only open shelves. This makes the space look bigger. Similarly, the minimal backsplash ensures the denim blue of the cabinets stands out without becoming too overpowering.
#4: The Battle of the Colours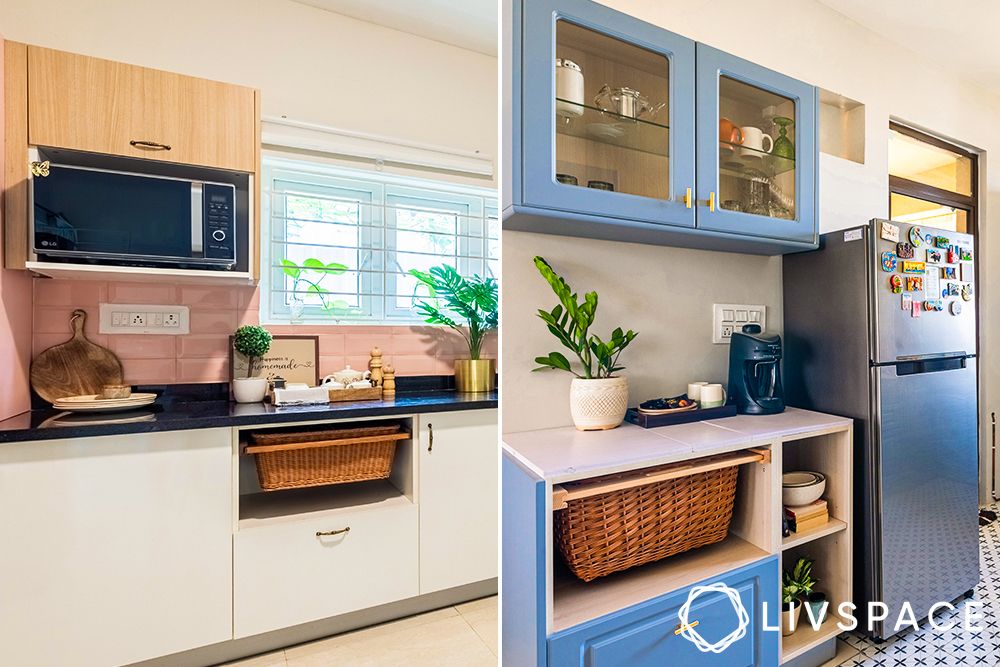 And finally, we get to the best part – the war of colours! Both colours—pink and blue—are stunning in their own ways. Choosing a shade like rose pink is a good option for a small kitchen, as a light colour as this can make your kitchen look spacious. In addition, this shade complements most other colours. Also, if you want an English-themed space, colours like rose pink and beige are the perfect options. One of the primary benefits of a pink kitchen is that pink is also a vastu-friendly colour.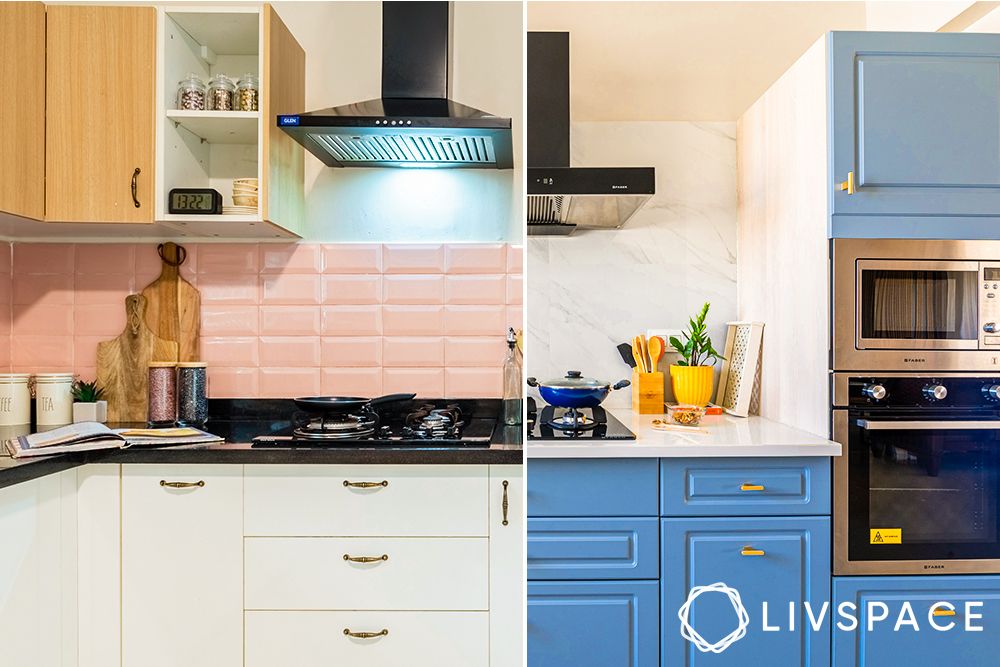 Blue, too, is a lovely option for your kitchen. While there are diverse shades of blue, a faded denim blue is a very unique colour choice. One of the biggest benefits of a blue kitchen is that it is low-maintenance and easy-to-clean. In addition, blue as a colour is considered to have a very calming and peaceful effect. While vastu advices us to stay away from dark colours like blue, a faded denim blue is approved by vastu as it is a light colour.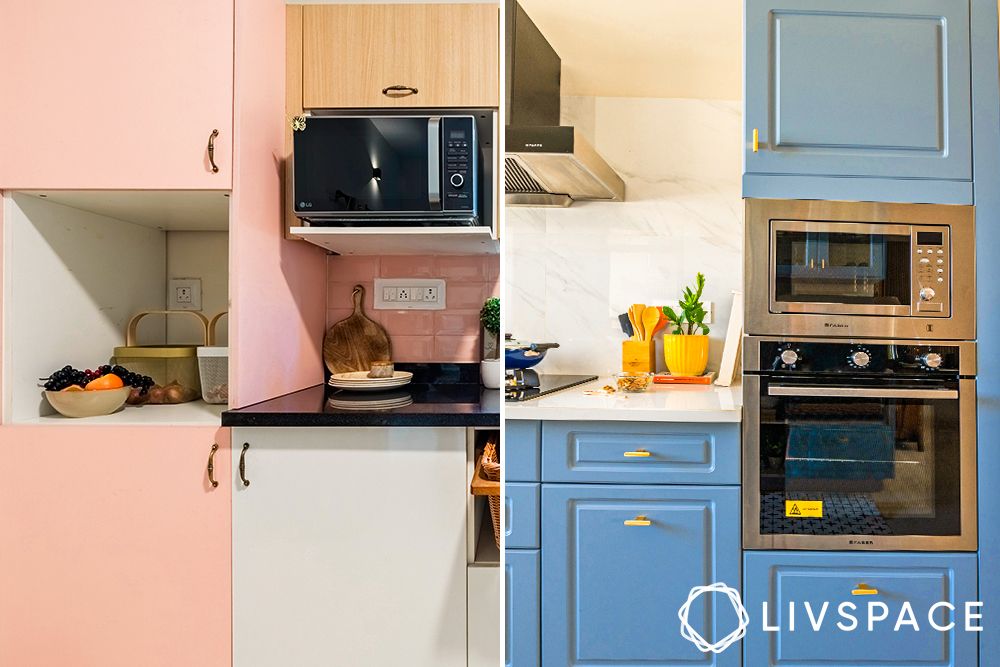 When you have a small kitchen, too many colours can make the space look smaller. If you notice Rashmi's kitchen, the pink is only segregated to one unit and the backsplash. Combined with white and wood cabinets, the compact kitchen looks quite spacious. At the same time, the pink backsplash creates a playful look.
When it comes to a colour like denim blue, it can be difficult to achieve a minimal look. But this Jaipur kitchen proves that it is very much possible. To keep the overall look minimal, this kitchen has faded denim blue cabinets with a plain white marble dado. Also, instead of going for something bold like Moroccan tiles, the print tile flooring keeps the look simple yet quirky.
Finally, whether pink is better or blue is completely a matter of personal preference. So, choose the colour that suits your personality and keep in mind your kitchen space dimensions.
Now that you have decided the colour theme for your kitchen, check out the must-have modular kitchen fittings with prices.
How Can Livspace Help You?
We hope you found our ideas useful! If you want your home to be just as beautiful, then look no further. Book an online consultation with Livspace today.
Wondering how our customers feel about working with Livspace? You can check out the Livspace kitchen reviews here!
Send in your comments and suggestions at editor@livspace.com