We, at Livspace, know how difficult it is to create compact kitchen designs in Indian homes that are storage-intensive, useful, and still affordable. These 5 budget kitchen designs under ₹2 lakh have them all. Additionally, these compact kitchens are designed with a specific aim in mind—to give our Livspace homeowners a modular kitchen design that looks rich but is designed with budget interiors.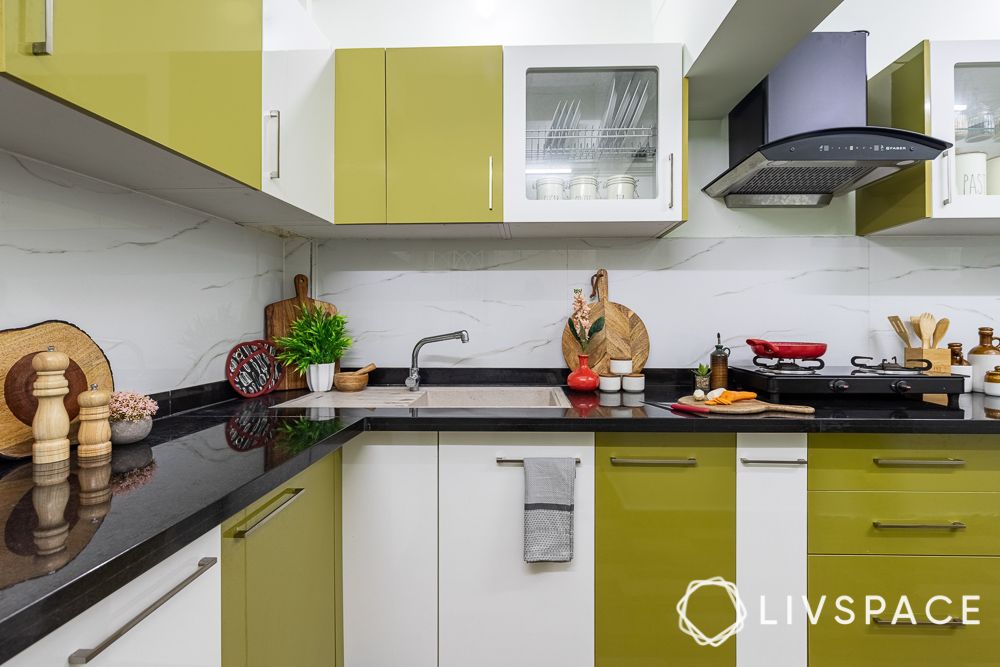 L-shaped kitchens are among the most functional kitchen layouts from an ergonomic standpoint. It shortens the distance between cooking stations, accommodates a range of sizes, and simplifies life. As a result, this Chennai kitchen interior design under ₹2 lakh has a traditional arrangement, with one countertop being typically longer than the other.
Glossy cabinetry in this white and olive kitchen provides lots of storage space and melds with the white backsplash. For lifespan and durability, use MDF. If you're looking for a budget kitchen design under ₹2 lakh with a South Indian touch, this kitchen is a good inspiration for you.
Also Read: What is MDF Material? Why Use MDF for Home Interiors?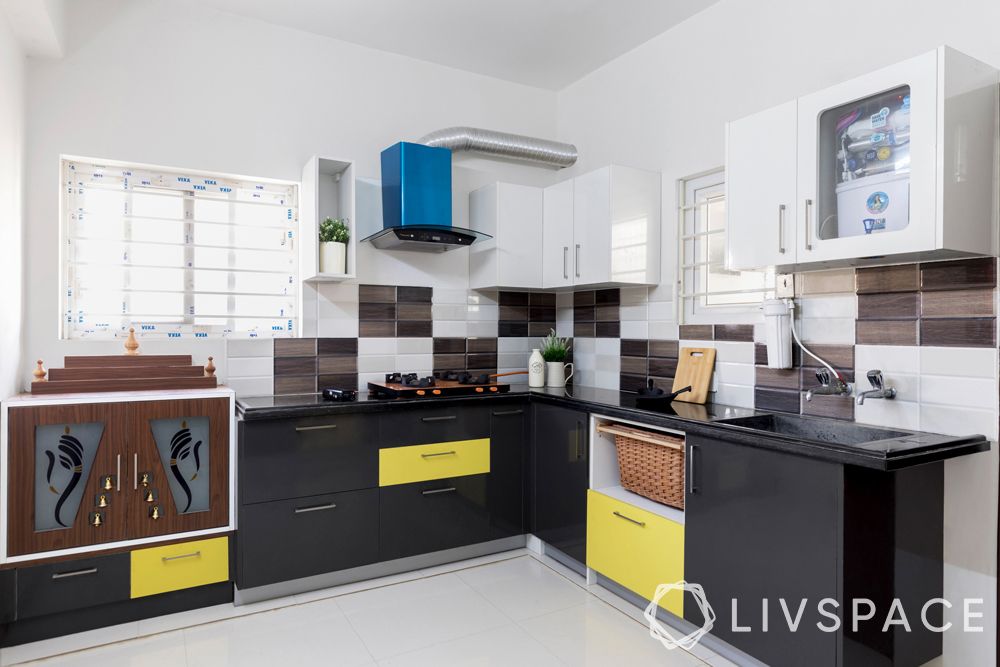 A compact kitchen design needs to be storage-intensive. Keeping this in mind, our Livspace designer, Ritika, maintained a straightforward monochrome design for this home. She created the additions to this Hyderabad small kitchen design to enhance the storage space to meet the demands of the expanding family.
Whites are used throughout this Hyderabad kitchen design under ₹2 lakh India to soften the black colour of the countertop and cabinets. Don't overlook the pooja unit in this kitchen that was designed according to vastu.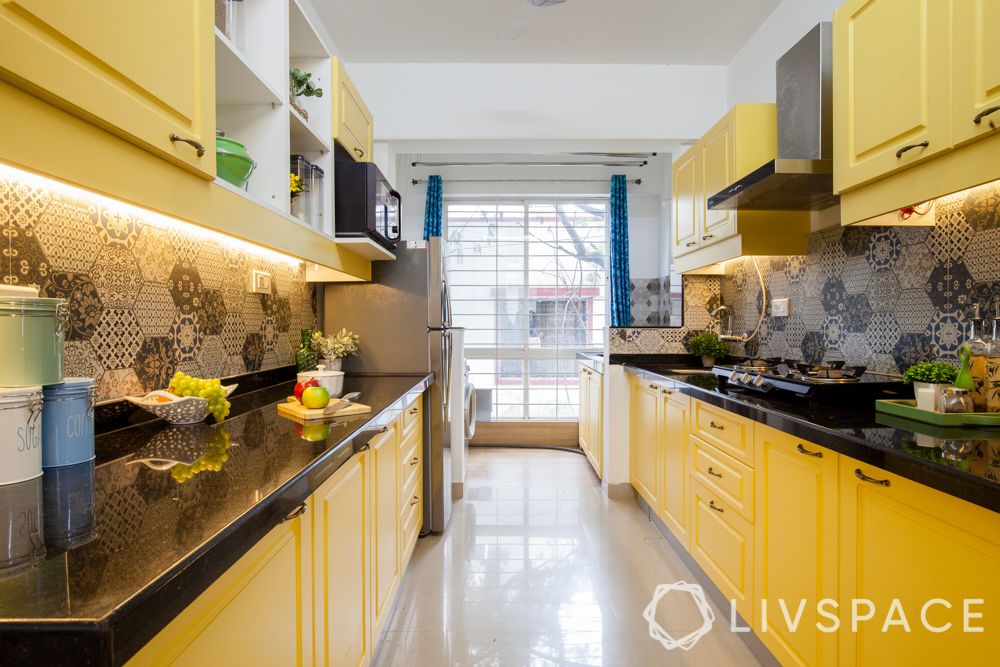 This budget kitchen under ₹2 lakh is a perfect blend of modern yet traditional design. Our designers decided to play with the existing traditional features in the kitchen and make it stand out in the bright shades of yellow.
Our designer expanded the kitchen by including an additional utility area next to the parallel kitchen. While the area appears larger due to the bright yellow colour, the profile lighting and tiles were purchased at a discount to keep the design on a tight budget.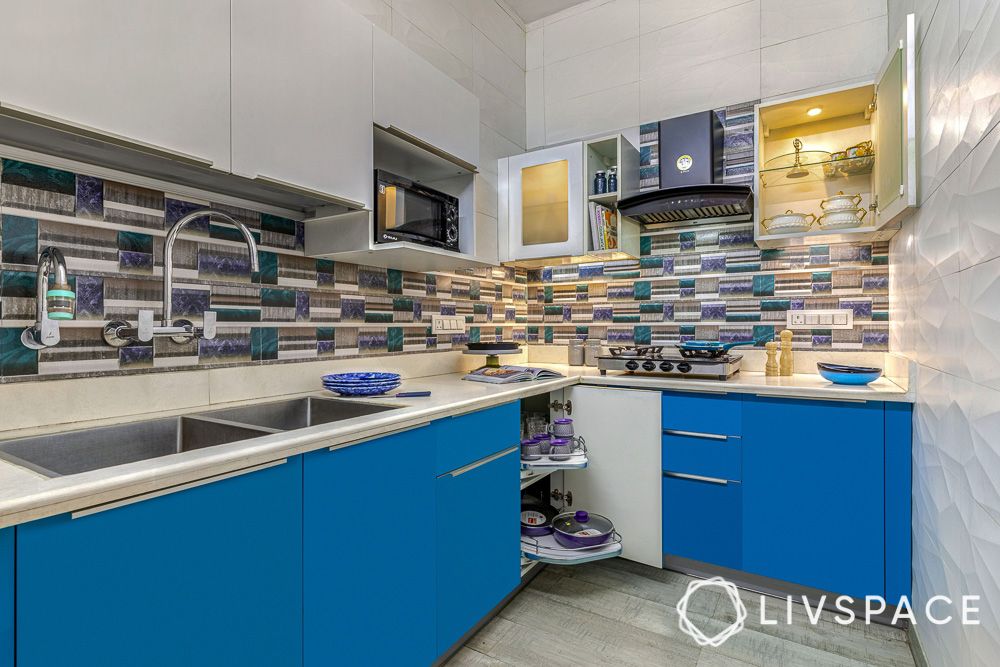 With solid-blue base cabinets, white overhead cabinets, and a cream quartz countertop, Livspace designer Sakshi gave this kitchen a contemporary appearance. There are numerous base and overhead cabinets, and the kitchen has a lot of drawers, baskets, and bottle pull-outs in addition to an S-carousel unit.
This kitchen design under ₹2 lakh India belongs to Anu who blogs frequently about her recipes and meals on Instagram as a home cook and baker. She wanted her compact kitchen to provide a stunning setting. So, she and Sakshi made their choice of a bold colour like blue for this purpose. It adds a visual appeal to the kitchen. Additionally, the backsplash uses colourful ceramic tiles with blue undertones in contrast to the blue cabinets, further enhancing the appearance.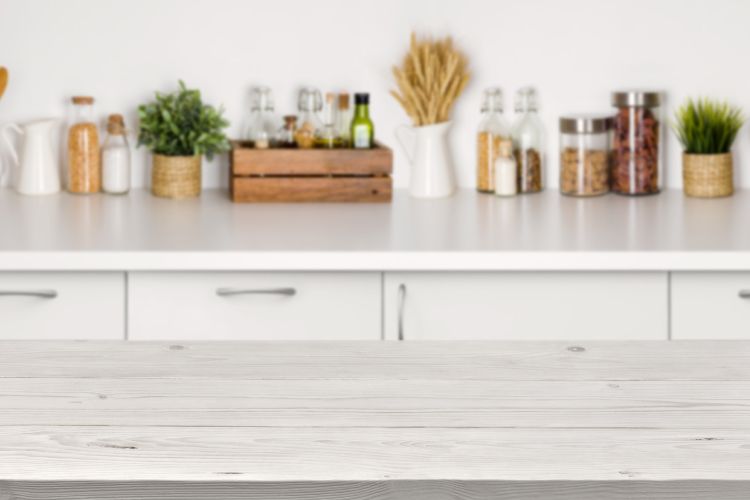 The kitchen design under ₹2 lakh in the Nettoor apartment at DD Highway Gate is laminated in blue. The black stone countertop atop the bottom cabinets makes the transition from blue laminates to Moroccan tiles more attractive. Moreover, the countertop neatly defines the tile's edge, giving the appearance a satisfying definition.
This home design features an L-shaped modular kitchen with separate dry, wet, and hot areas. These areas are very close to one another, in turn, improving the effectiveness of kitchen work. The high niche storage is a clever design idea for a child-friendly kitchen, which keeps the crockery secure and out of the children's reach.
Love these kitchens? Also Read: Pretty, Plush and Practical: L-Shaped Kitchen Designs.
Check out more kitchen designs:
How Can Livspace Help You?
We hope you found our ideas useful! If you want a kitchen design in ₹2 lakh for your home, then look no further. Book an online consultation with Livspace today.
Wondering how our customers feel about working with Livspace? You can check out the Livspace kitchen reviews here!
Also, send in your comments and suggestions at editor@livspace.com
Disclaimer: All contents of the story are specific to the time of publication. Mentions of costs, budget, materials, finishes, and products from the Livspace catalogue can vary with reference to current rates. Additionally, the designs featured in the story are subject to availability and will vary based on the year the homes were designed in. Consult our designers for more details on the latest designs.
FAQs
What Are the Five Popular Kitchen Layouts?
The L-shape, U-shape, G-shape, one-wall, and galley are the five fundamental kitchen designs. However, the kitchen's size and shape determine your kitchen layout.
Why Is a Modular Kitchen Expensive?
The price of the modular kitchen is based on the size of the kitchen. These kitchens are made up of various modules. Larger kitchens will, therefore, require additional kitchen modules, increasing the kitchen's price.
What Is an L-Shaped Kitchen?
An L-shaped kitchen layout, as the name implies, is made up of two neighbouring walls and runs of cabinetry, sometimes known as the "legs" of the L.
What Size Is a Small Kitchen?
There are three sizes of kitchens: small, midsize, and enormous. As was previously mentioned, small kitchens are those that are 70 square feet or less, while midsized kitchens are those that are 100 square feet.