A 3BHK in Brigade Northridge that has tenant-friendly interiors.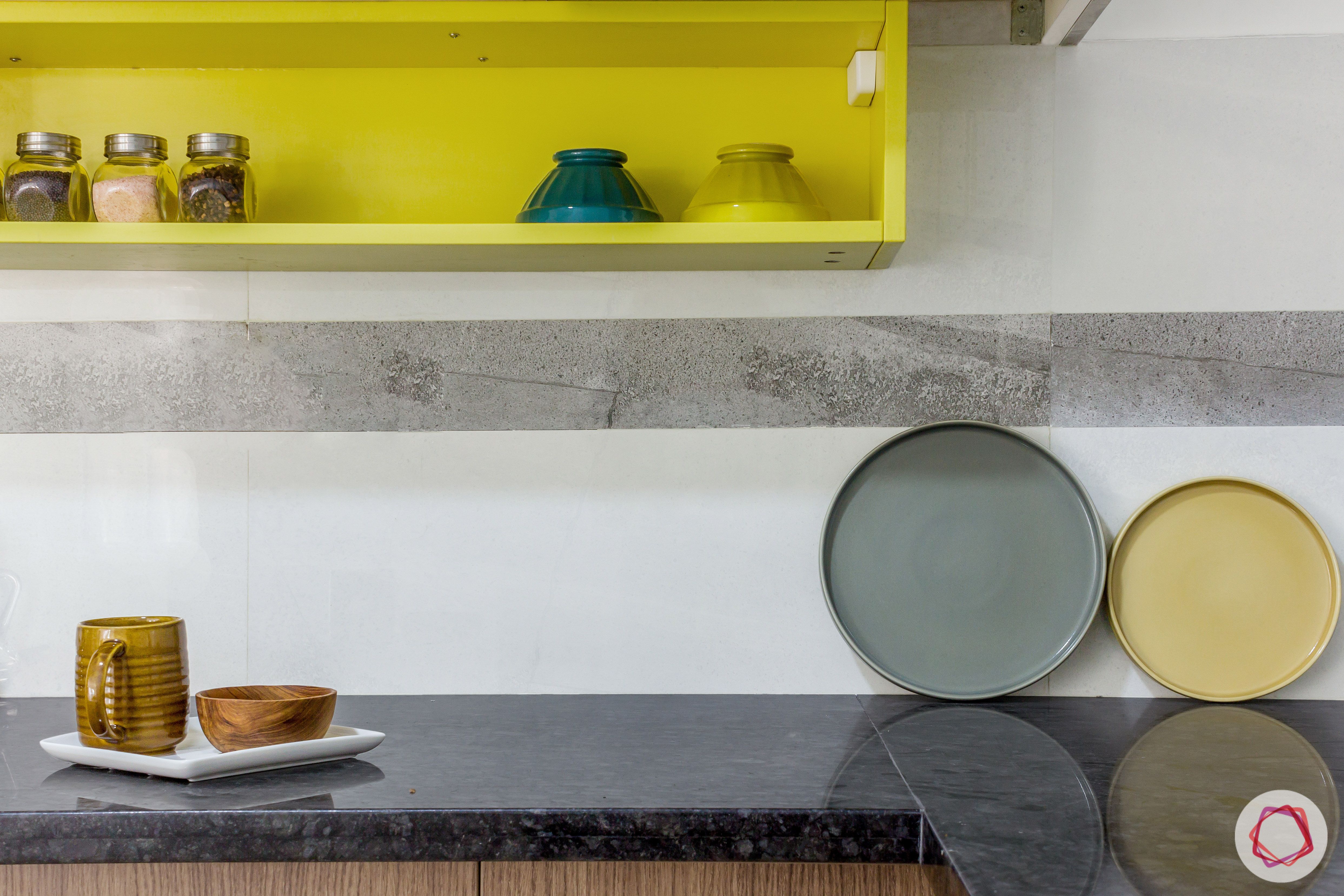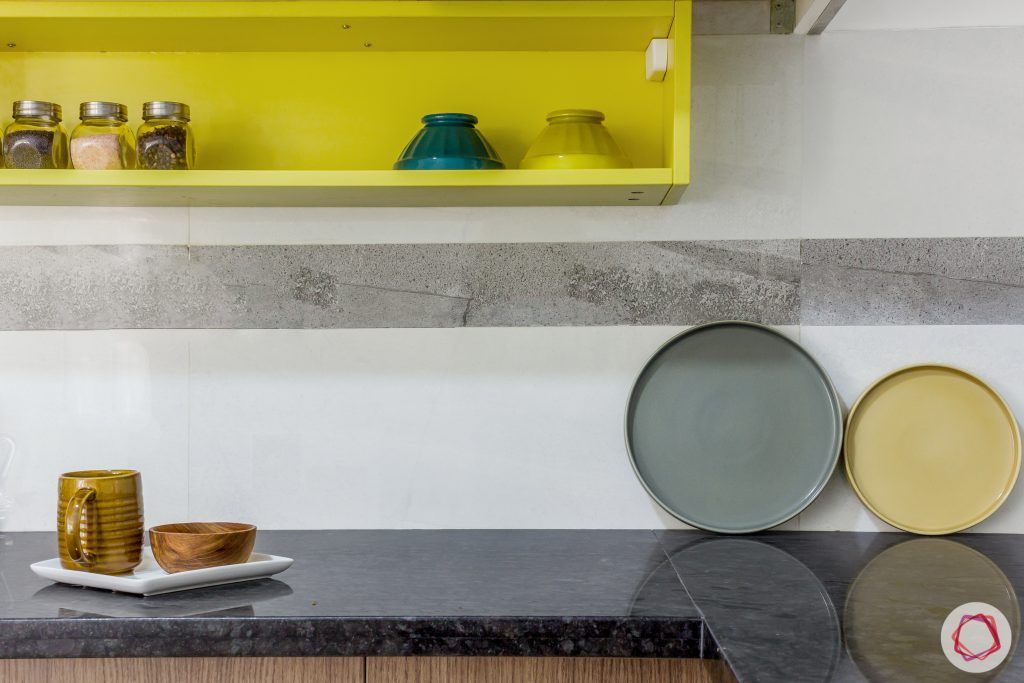 ---
Location: Brigade Northridge, Yelahanka
Size of home: A 3BHK spanning 1,880 sq ft approx.
Design team: Interior Designer Sneha Talati and Project Manager Prashanth Rao
Livspace service: Kitchen & wardrobe design
Budget: ₹₹₹₹₹
---
Moving from one city or country to another for work is a bane of modern urban life. So even if you do not end up staying in your own home, you can always make the financially wise decision to rent it out.

When Sanjay Nair approached us to furnish his apartment in Brigade Northridge in Bangalore, he was very clear about the fact that he will not be living in it. It was only logical to furnish the 3BHK as a rental home. As he was living in Mumbai, he also did not want to coordinate with a number of people to make the property at Brigade Northridge rent-ready. So our interior designer Sneha Talati managed to furnish the kitchen and bedrooms (with storage units) on a shoestring budget!

This Brigade Northridge home furnished with bare essentials will give all potential homeowners a clear idea of how to do interiors for a rental home. Take a look.

Kitchen on a Budget at Brigade Northridge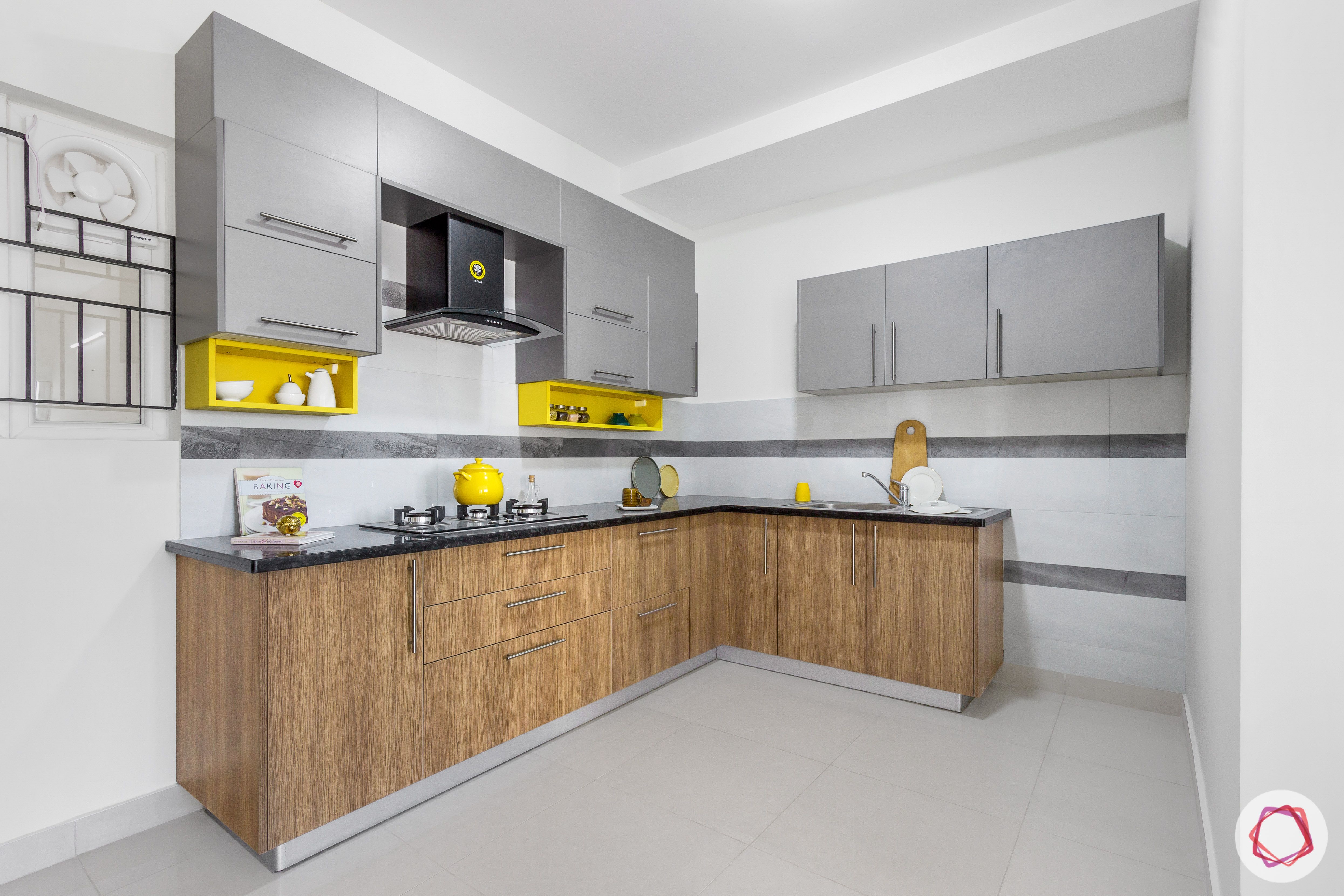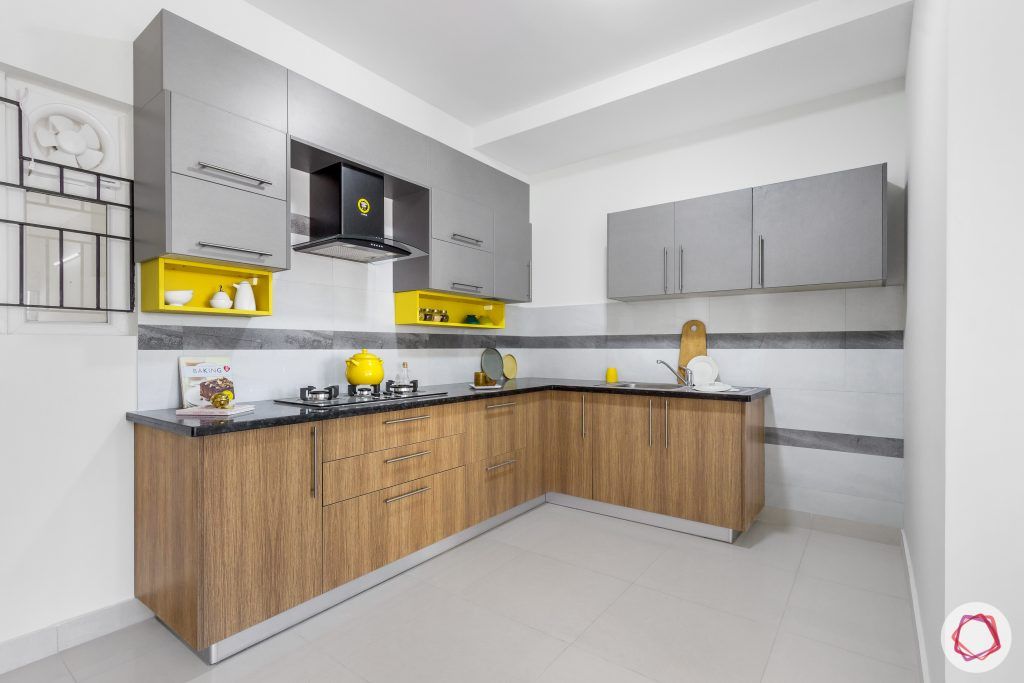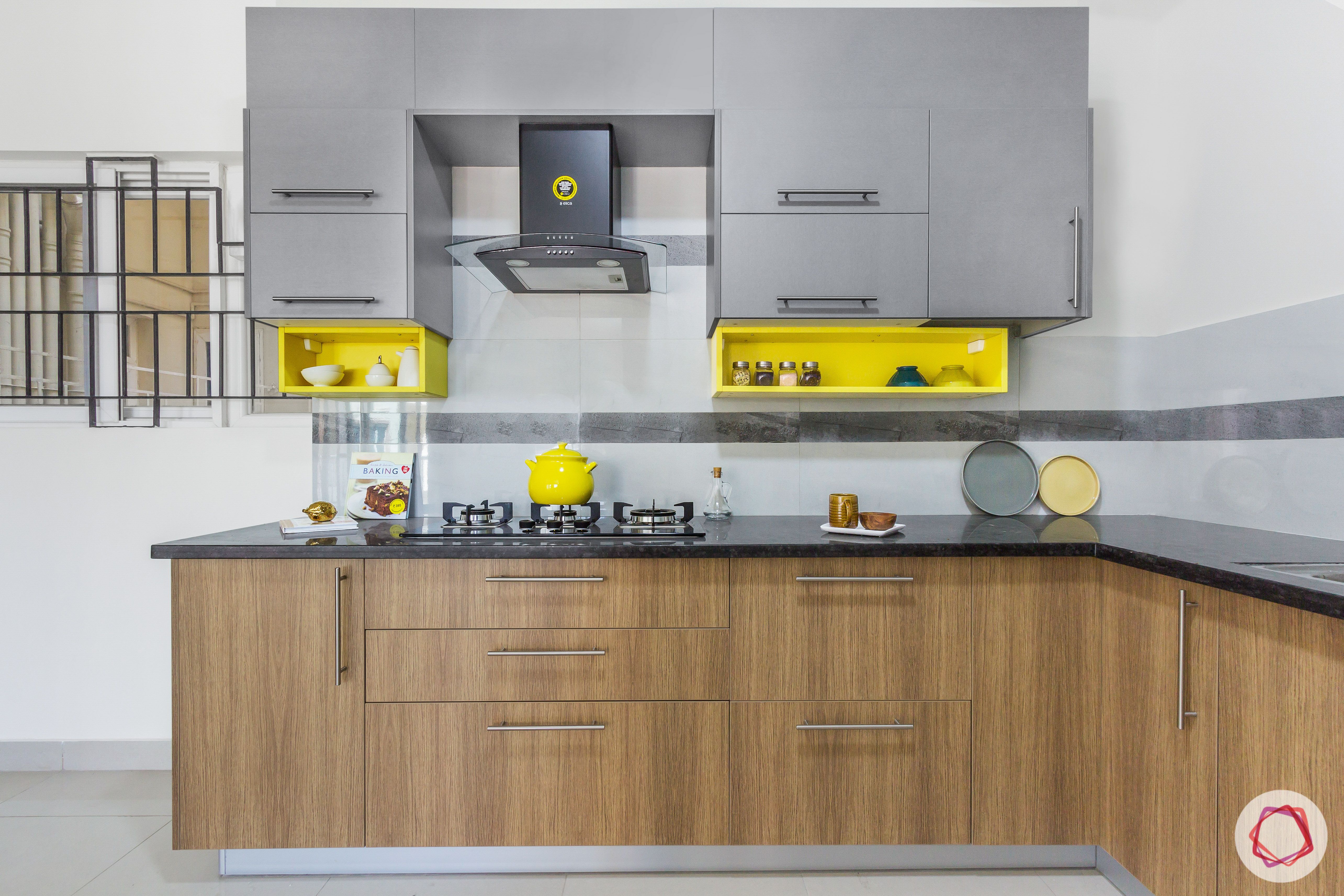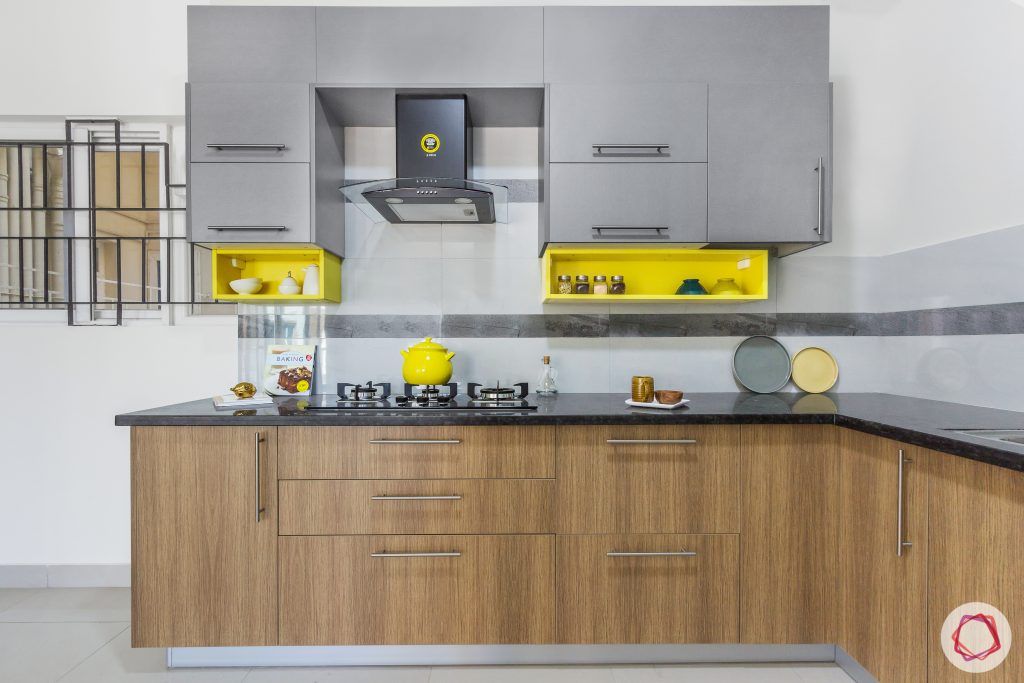 The kitchen is one of the most expensive furnishings in a house as it goes through maximum wear and tear. As this flat in Brigade Northridge was being furnished for renting out, it didn't make sense to use membrane or acrylic finish in the kitchen. Both these materials get scratched easily and are difficult to maintain; they also increase the cost of the kitchen. Hence, Sneha used pre-laminated particle board for furnishing the kitchen.

Calling Cabinets at Brigade Northridge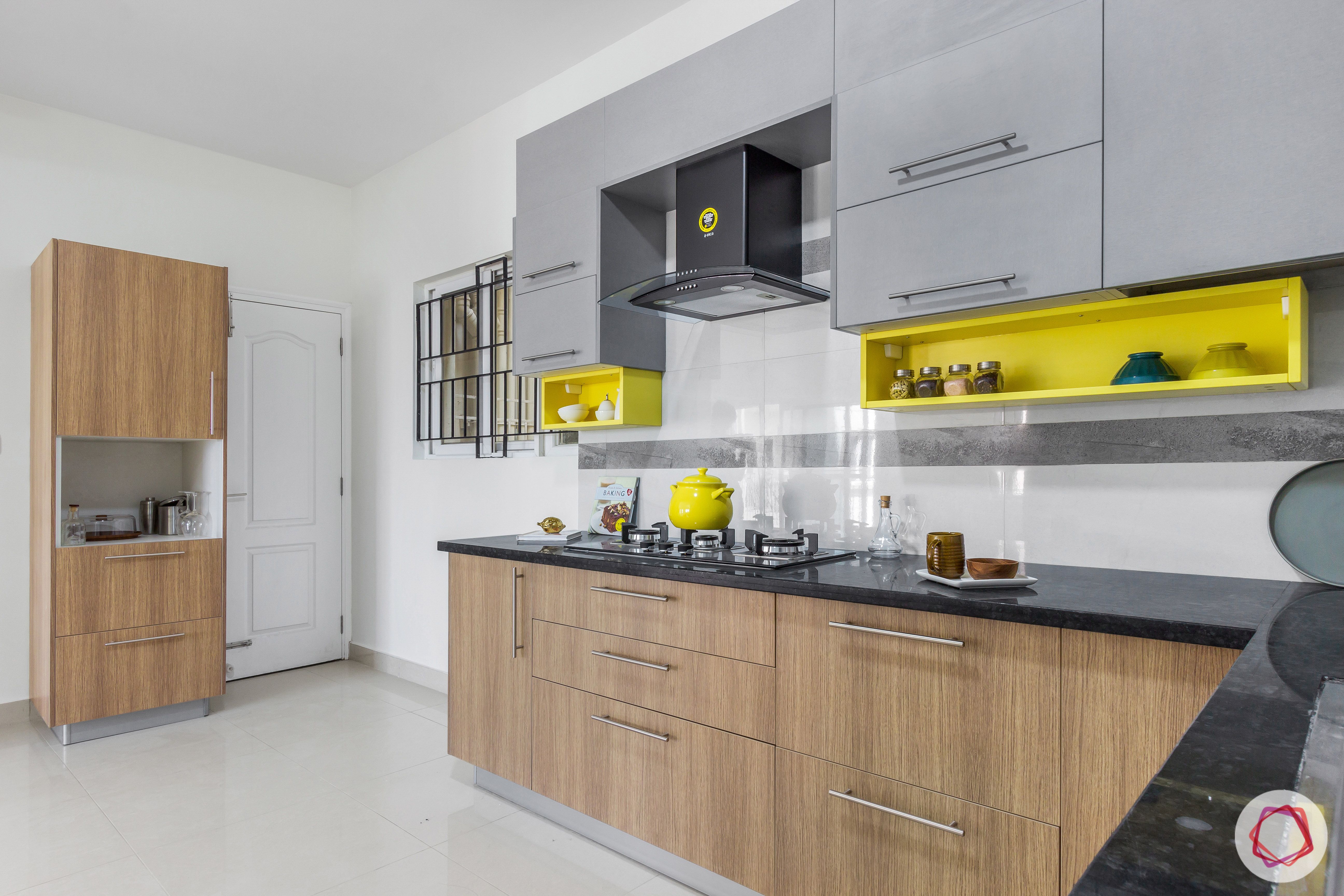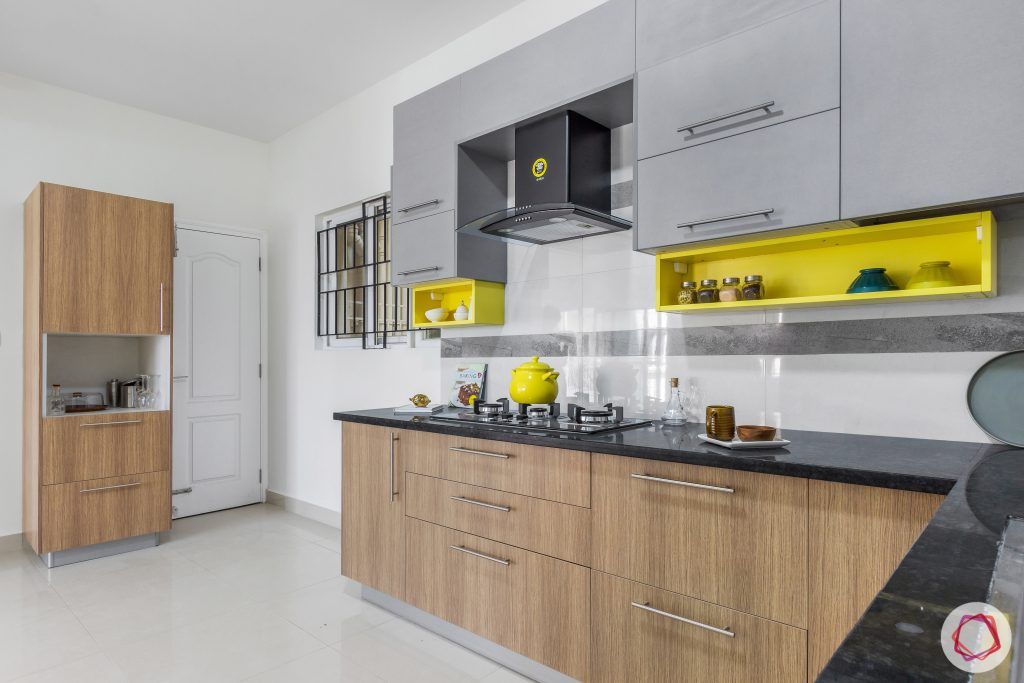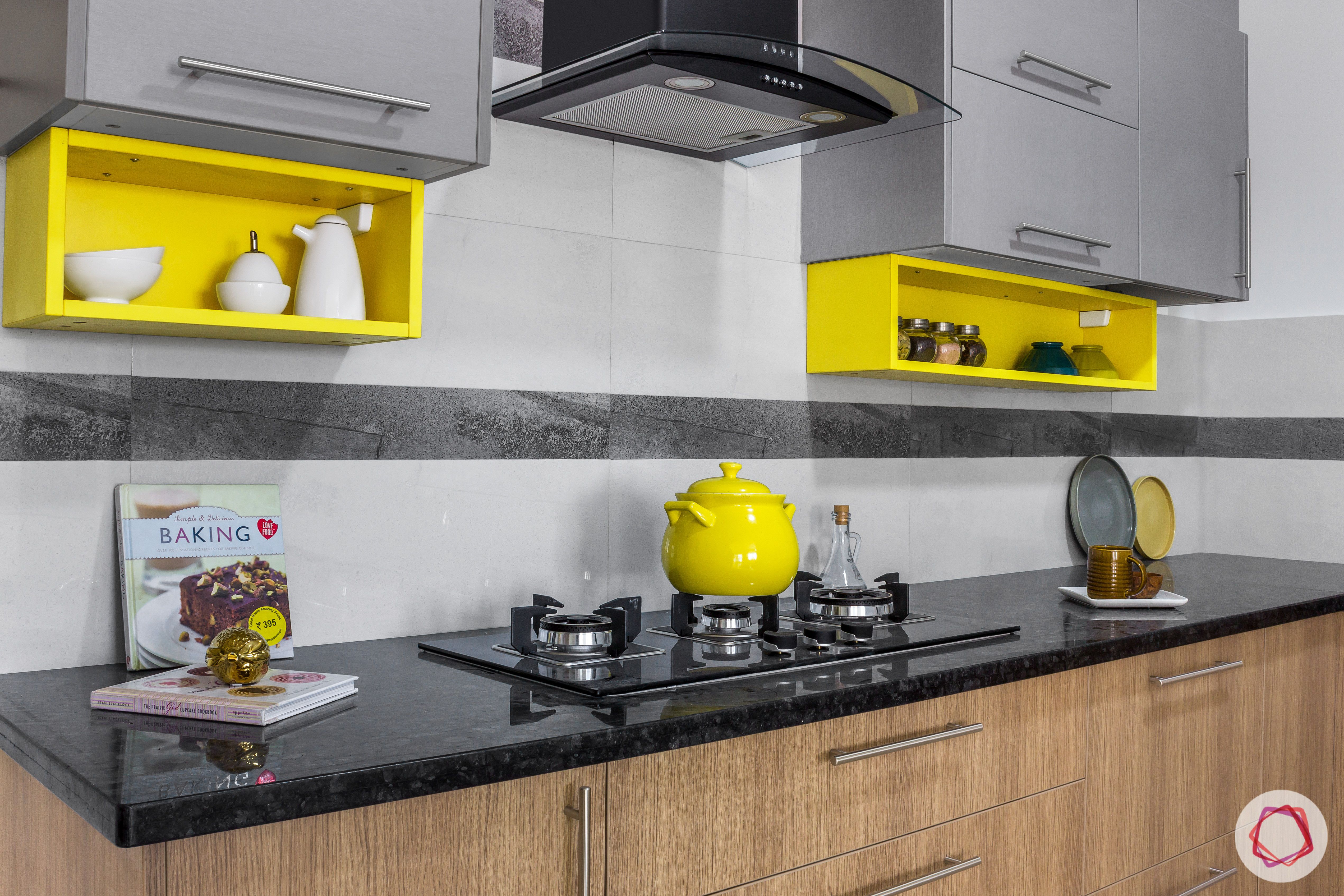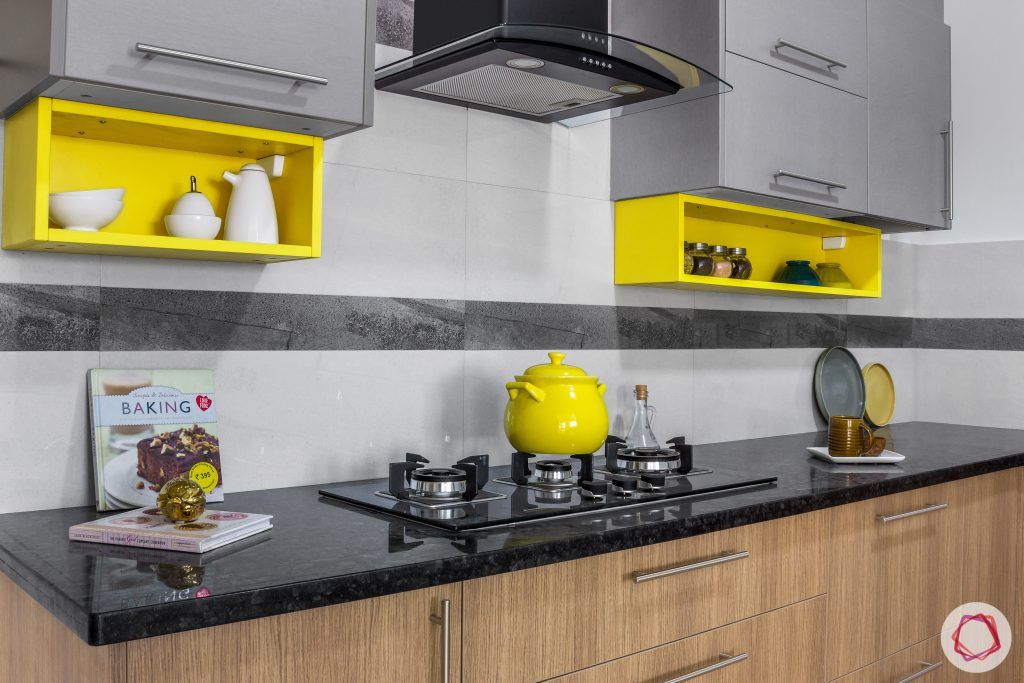 It made sense to keep the colour scheme as basic as possible because we cannot predict the preferences of tenants who would use it. So Sneha stuck to grey for the wall cabinets and wooden finish for the base cabinets. These deeper colours also ensure that the kitchen will need minimum maintenance.

The Basics at Brigade Northridge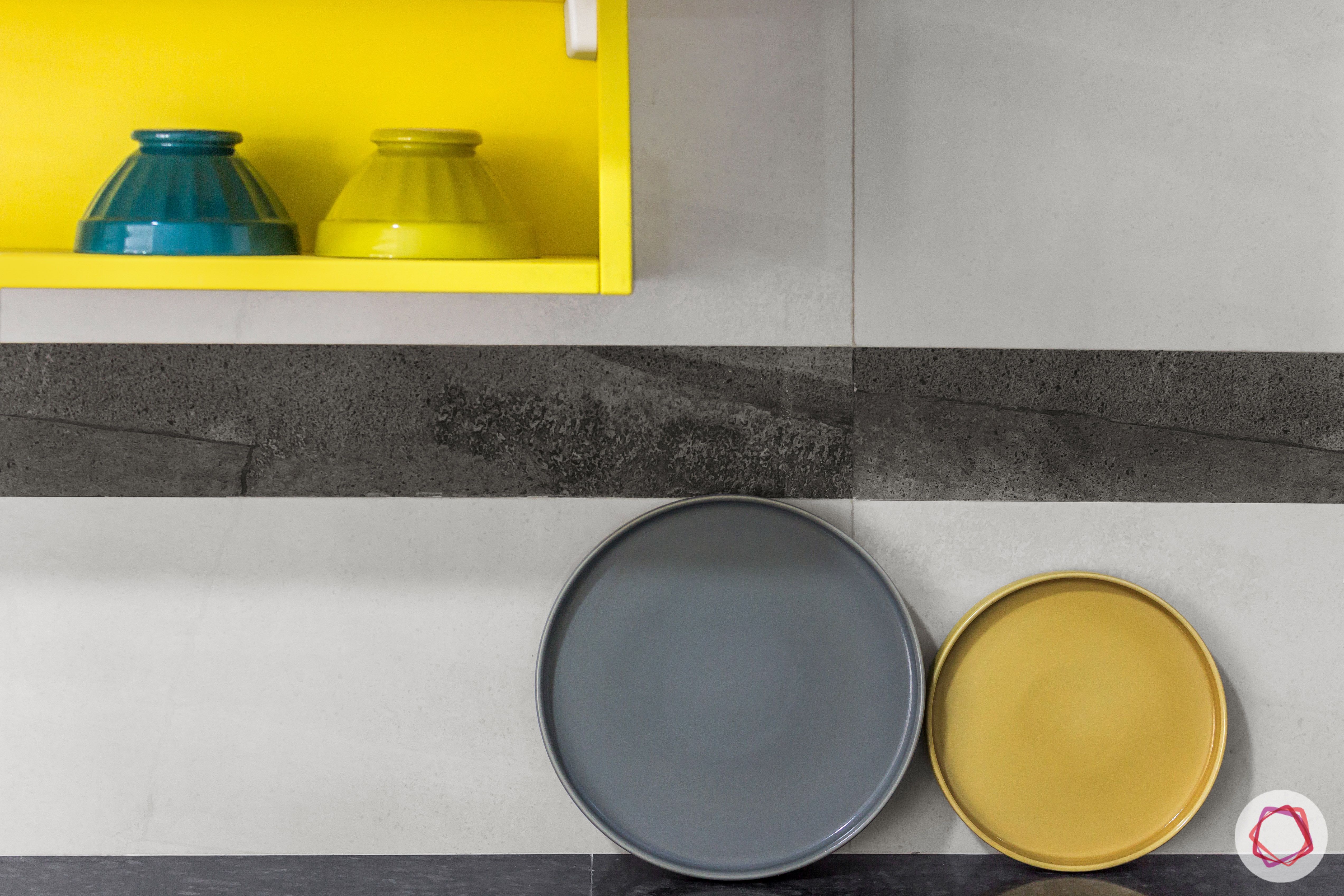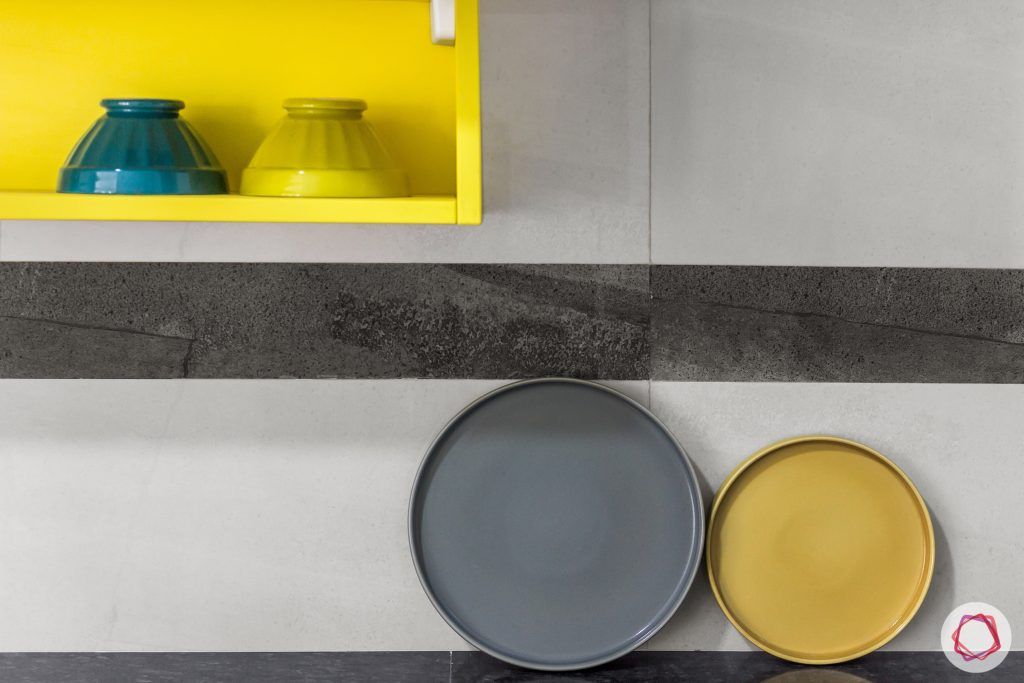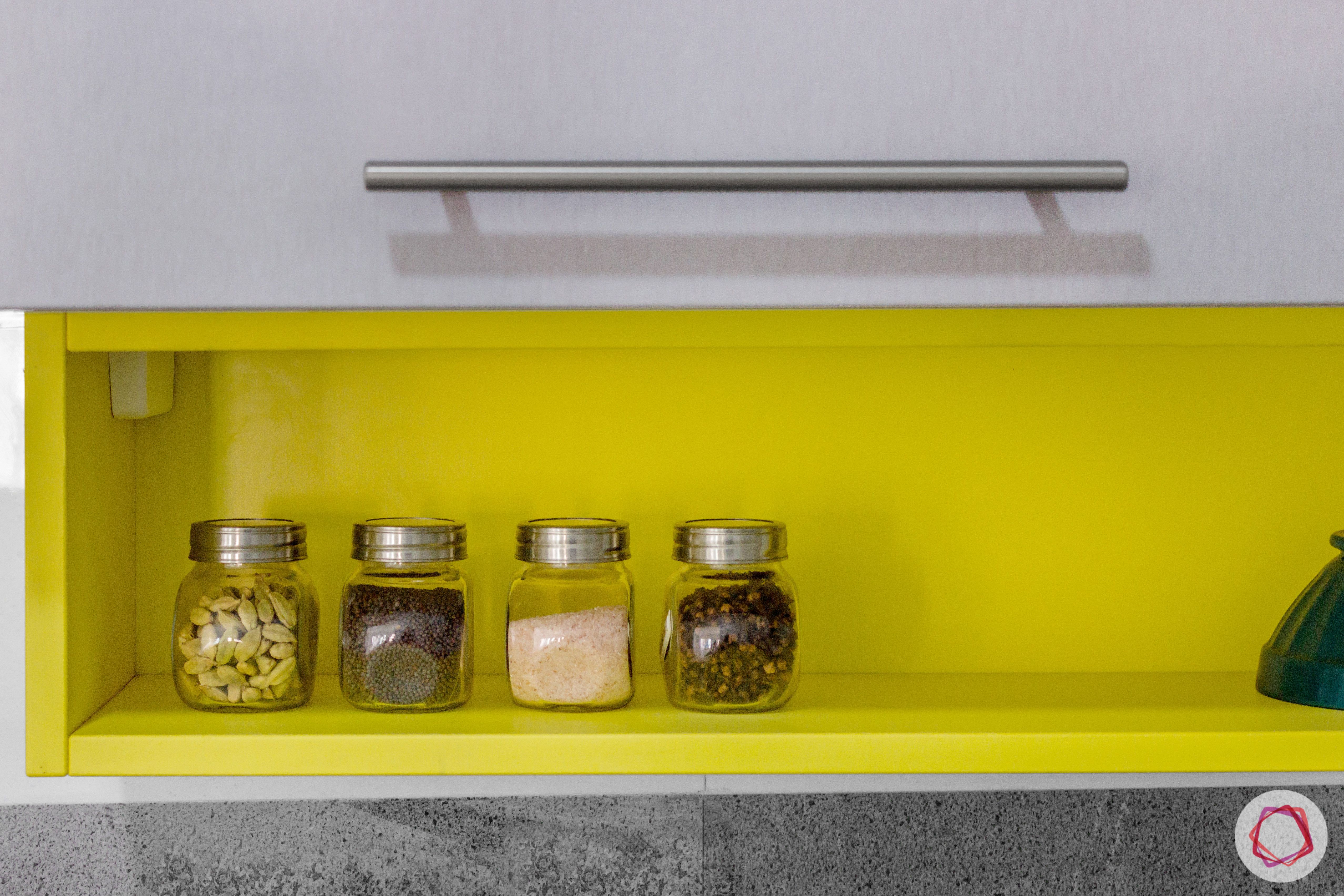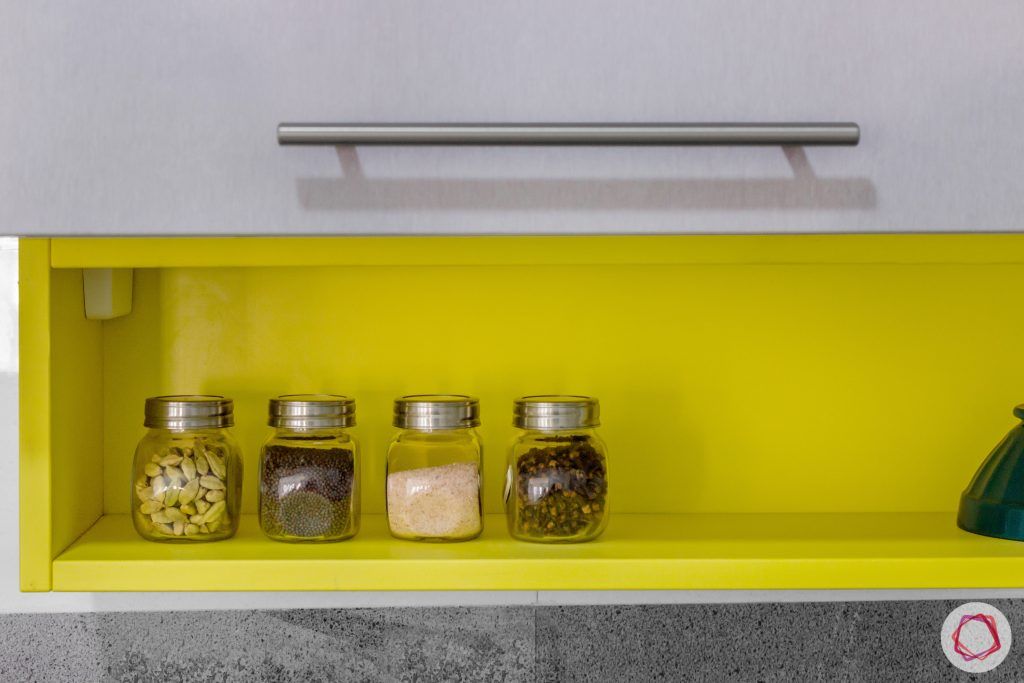 The other basics in a kitchen include the countertop and backsplash. In this Brigade Northridge home, the countertop is plain black granite that is both versatile and easy to maintain. The backsplash is also made of inexpensive tiles that can be easily replaced if they chip. We love the bright yellow spice rack that can be used to keep items for easy access.

Making Room at Brigade Northridge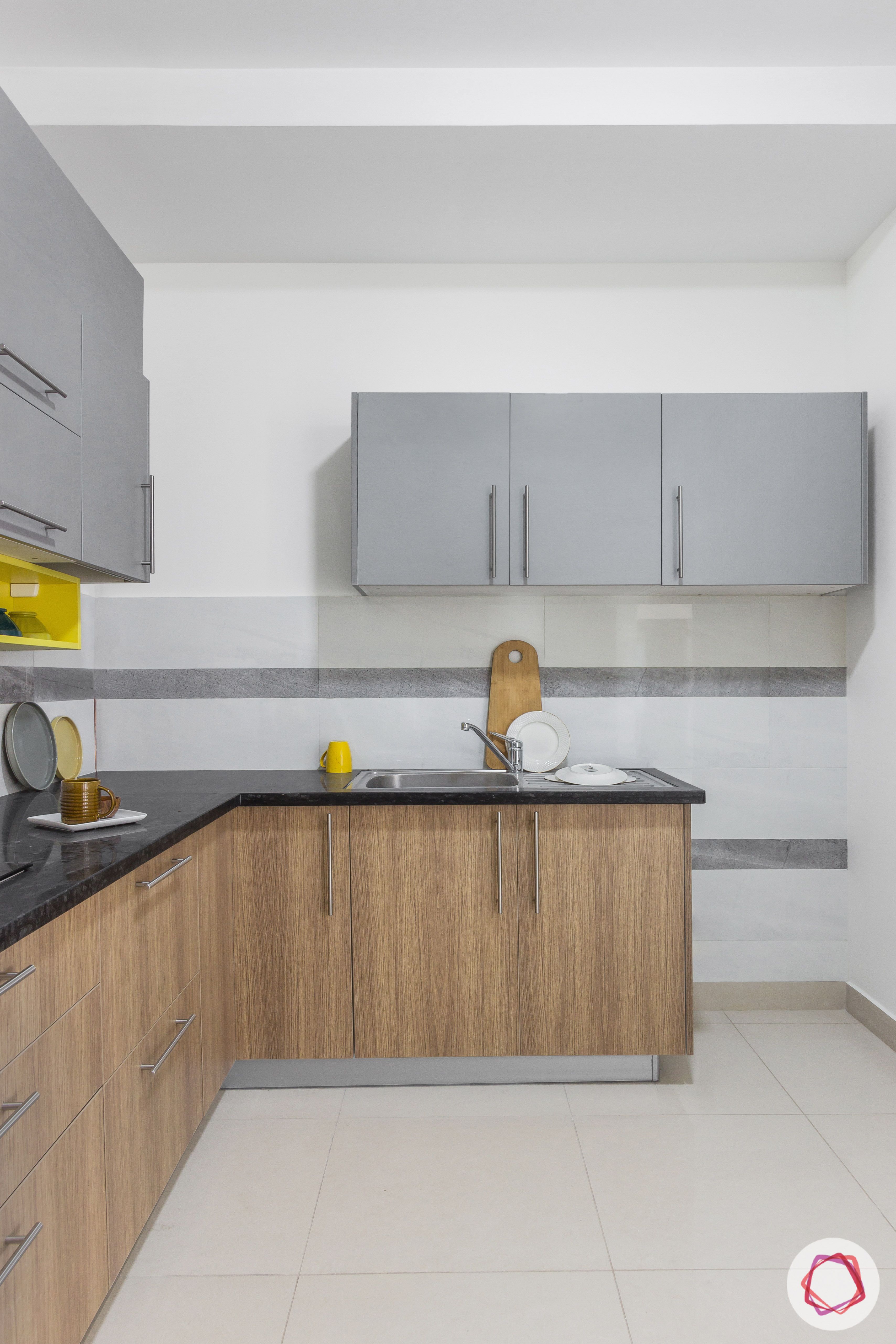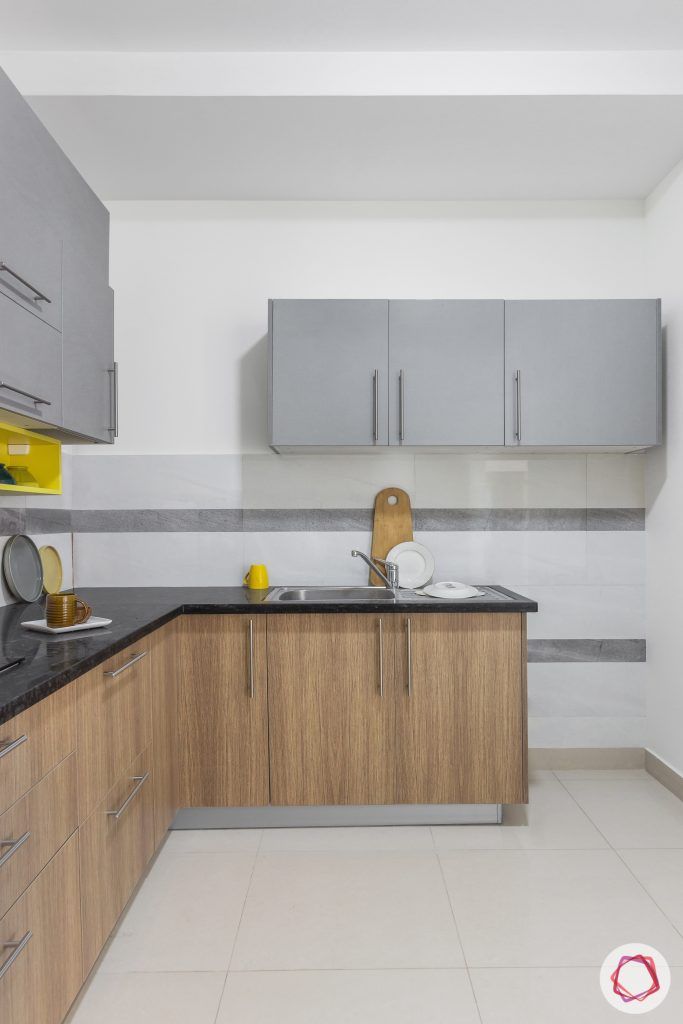 Wondering what this space is for? This gap was intentionally left by the designer to accommodate a washing machine or any other utility item.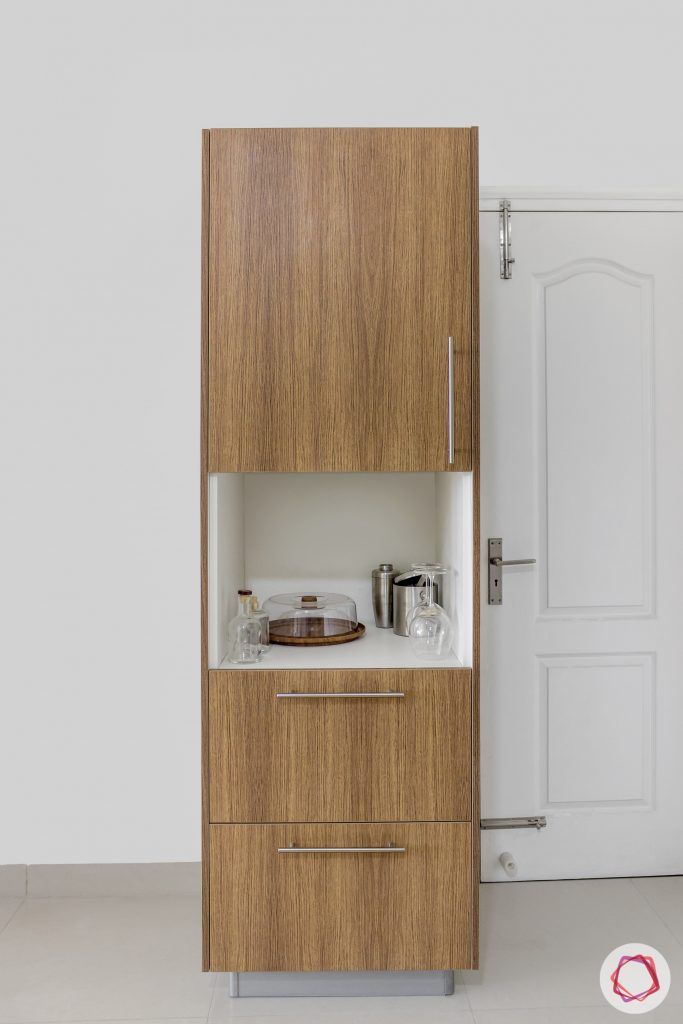 Similarly, this tall cabinet was made for installing a microwave and storing other pantry items.

Storage for Master Bedroom at Brigade Northridge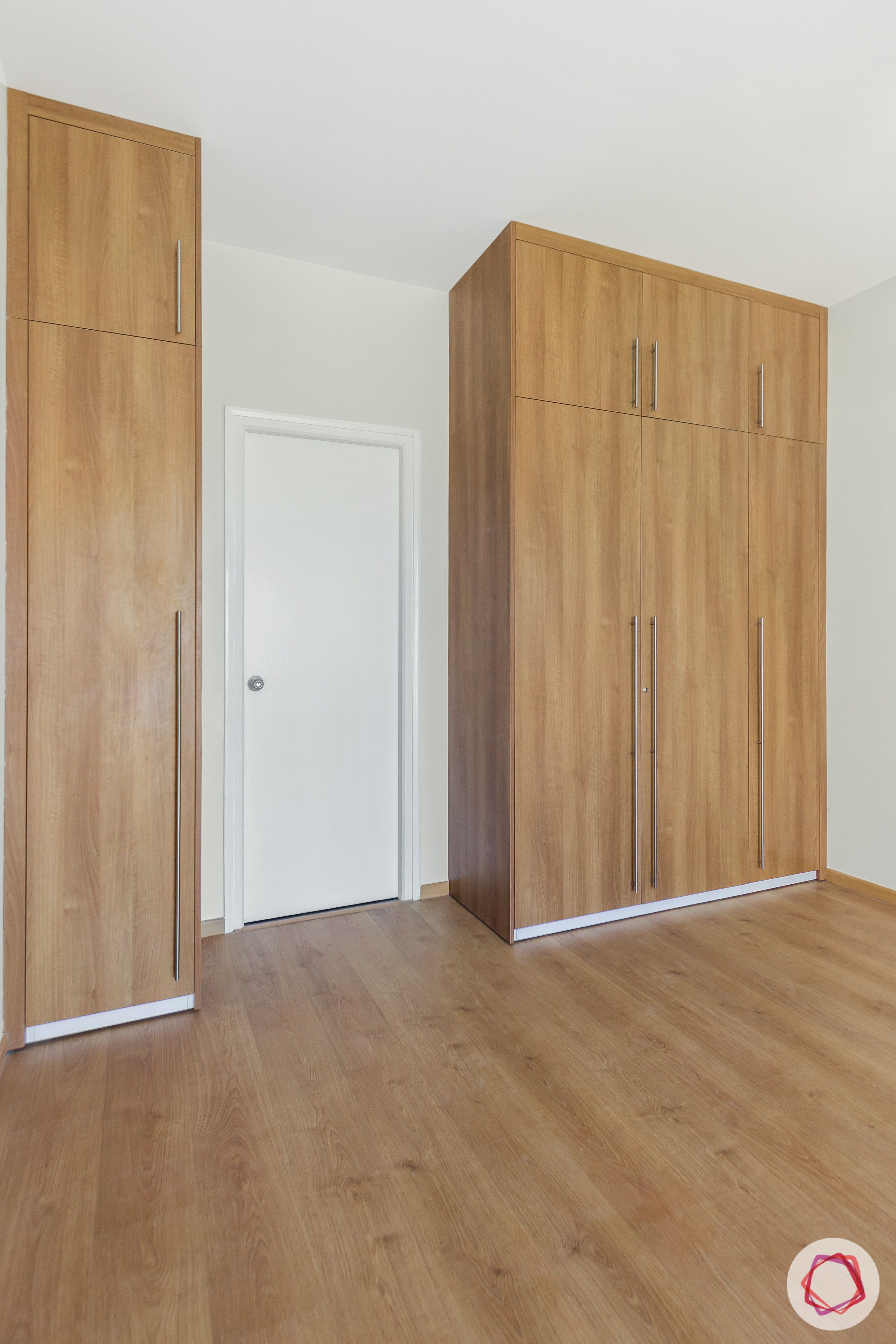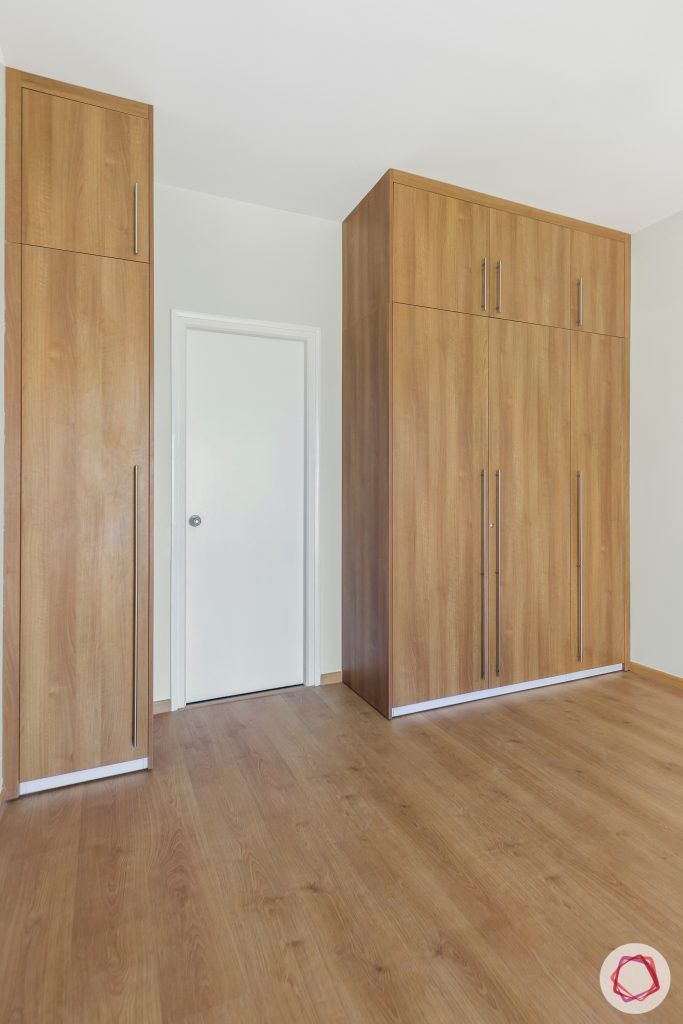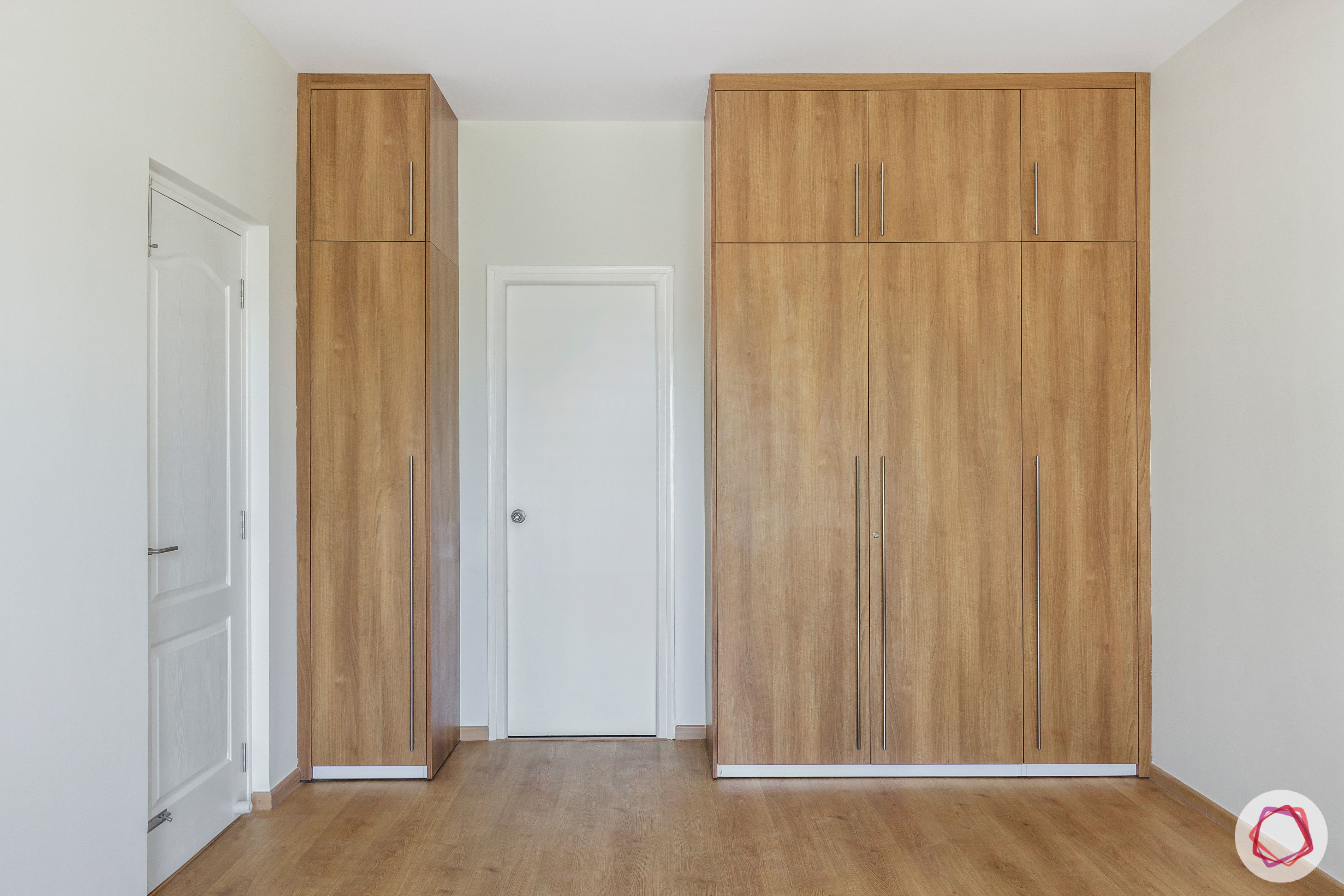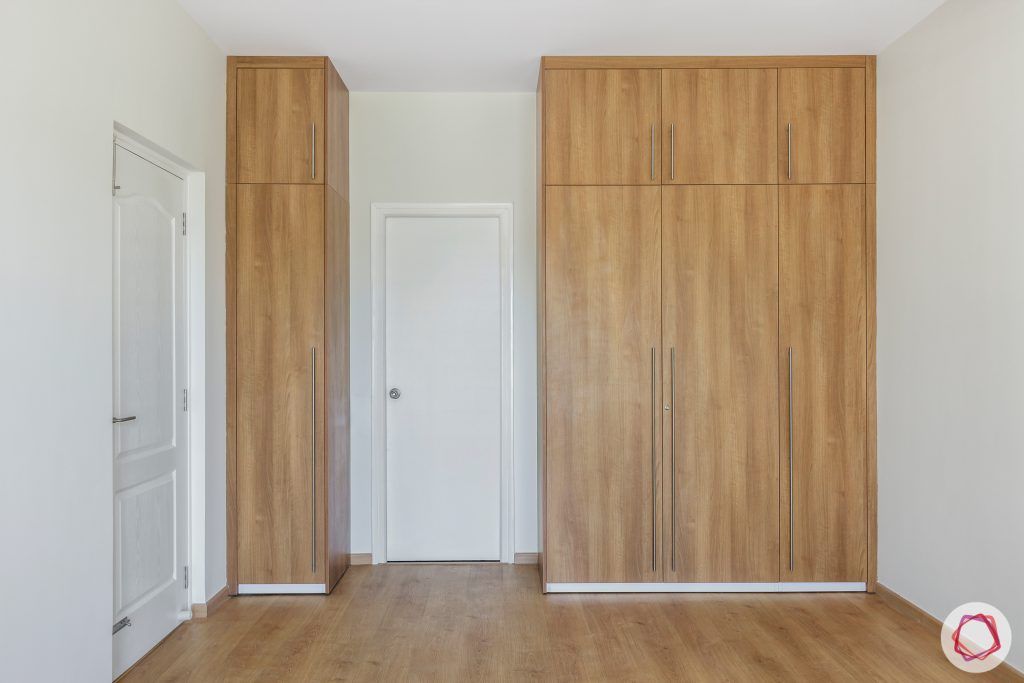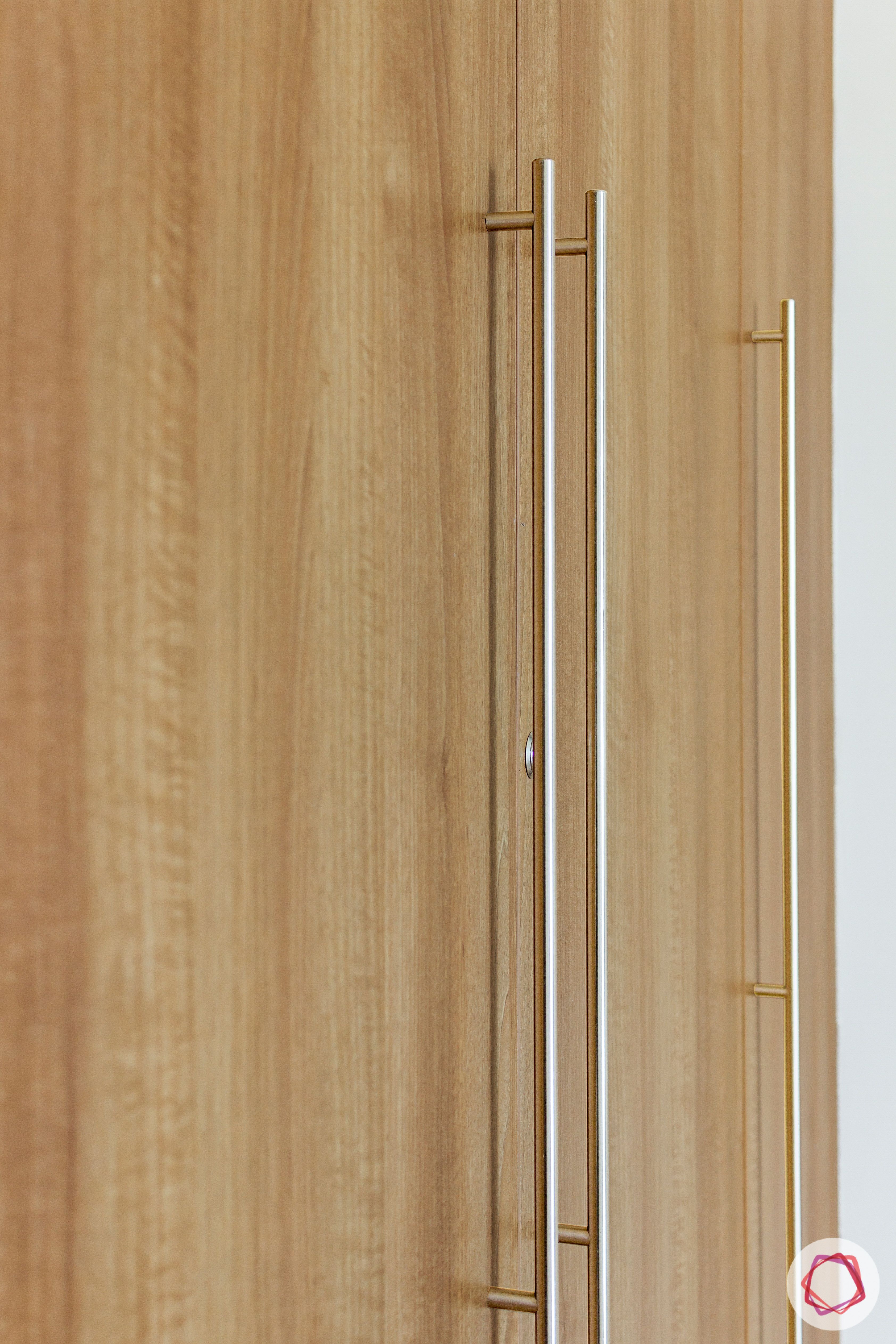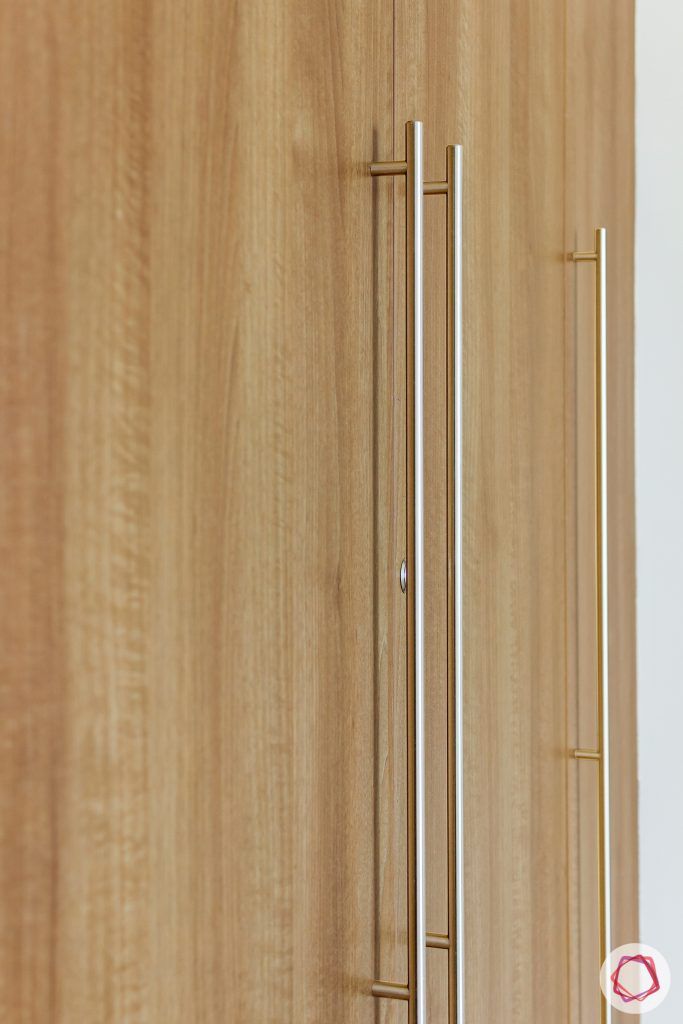 Designing the wardrobe for the master bedroom in this Brigade Northridge home came with a peculiar challenge. The door to the attached bathroom was right in the middle of the wall where the wardrobe had to be installed. So Sneha broke up the floor-to-ceiling wardrobe. She installed a single-door wardrobe with loft on one side of the door to ensure that there is ample storage available in the bedroom.

All the Colours of a Rainbow at Brigade Northridge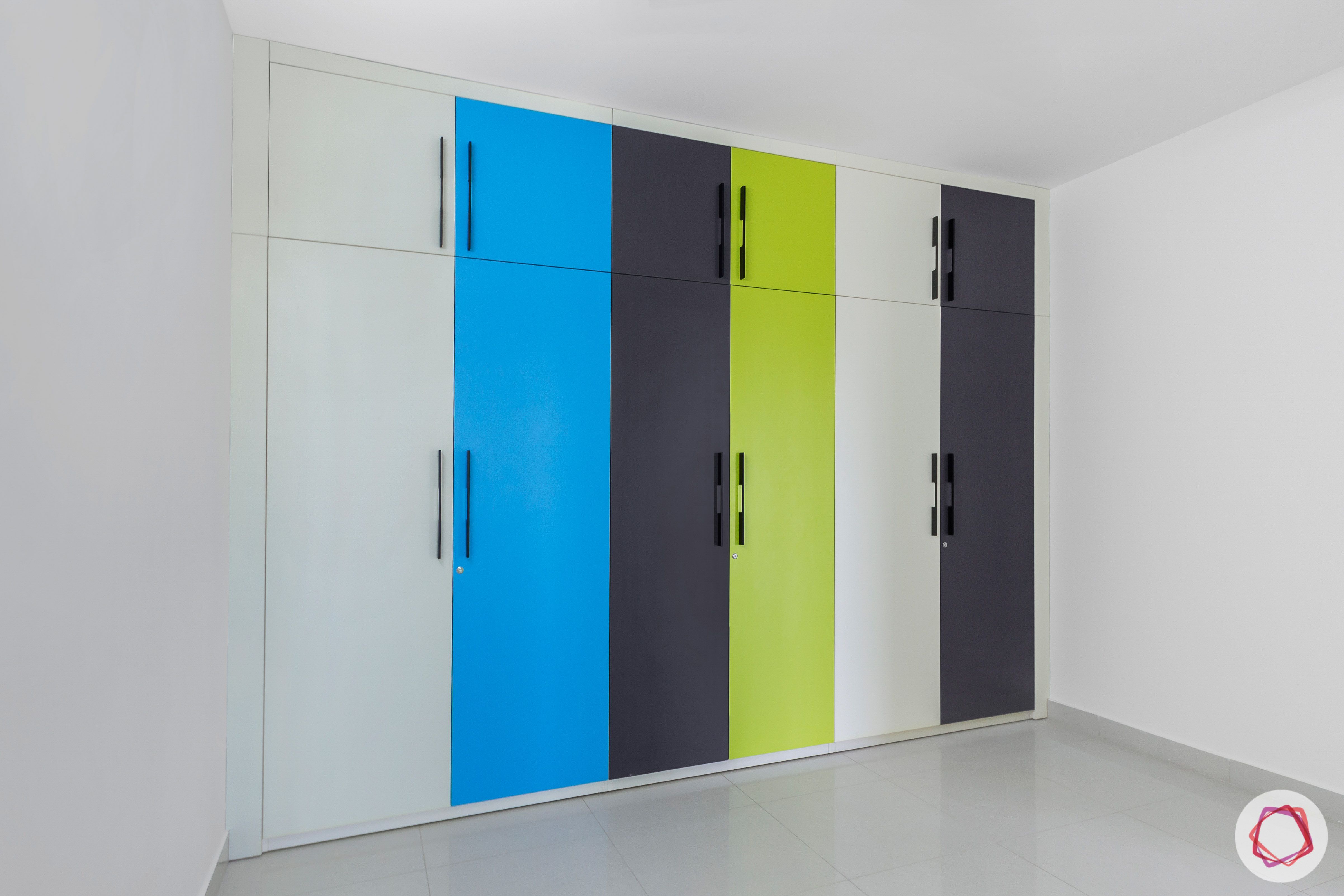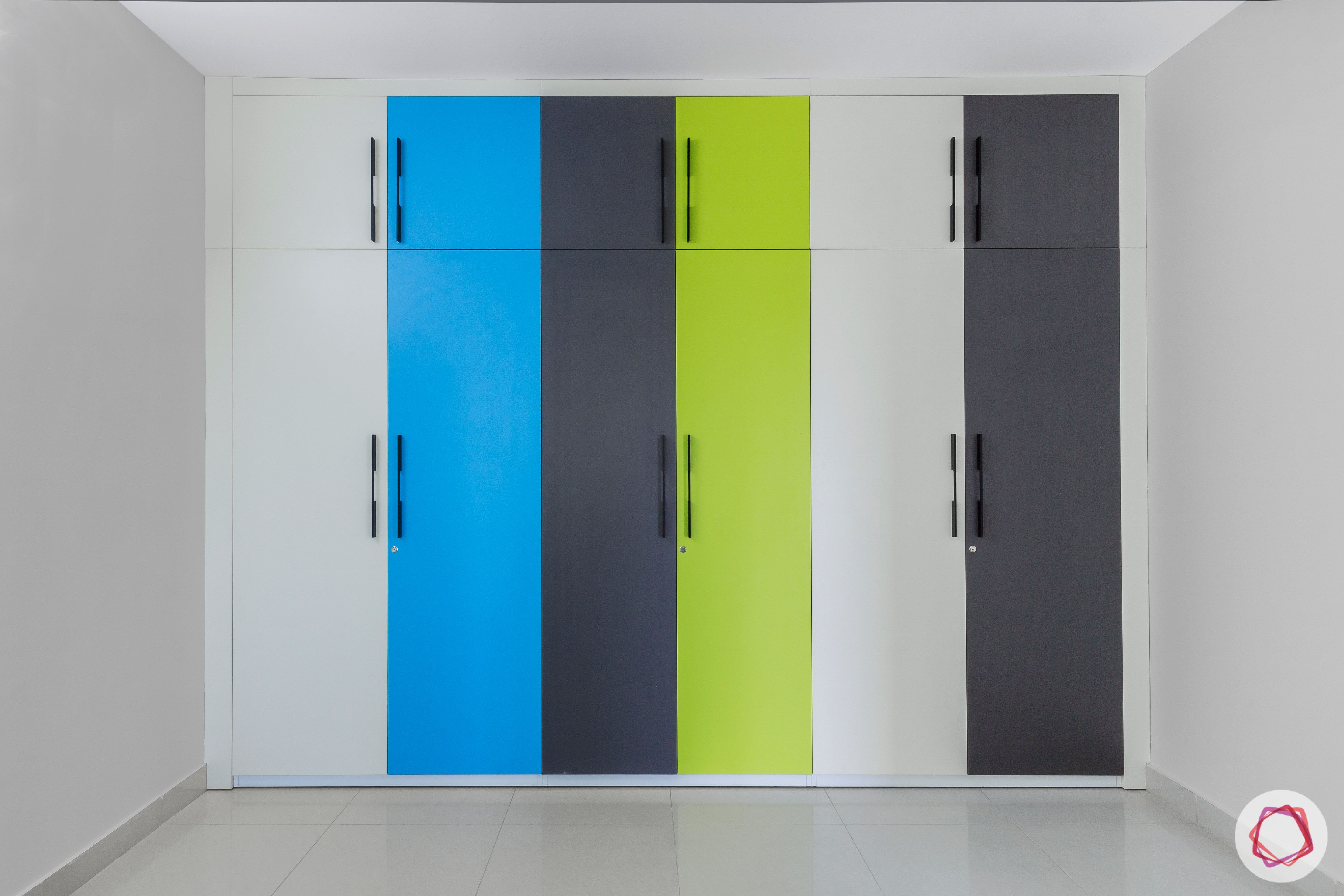 While Sanjay wanted to stick with neutrals throughout the home, he wanted the kids' room to have some colour. So the 6-door wardrobe with lofts in this room has colored laminate shutters that will appeal to children.

Guest Storage at Brigade Northridge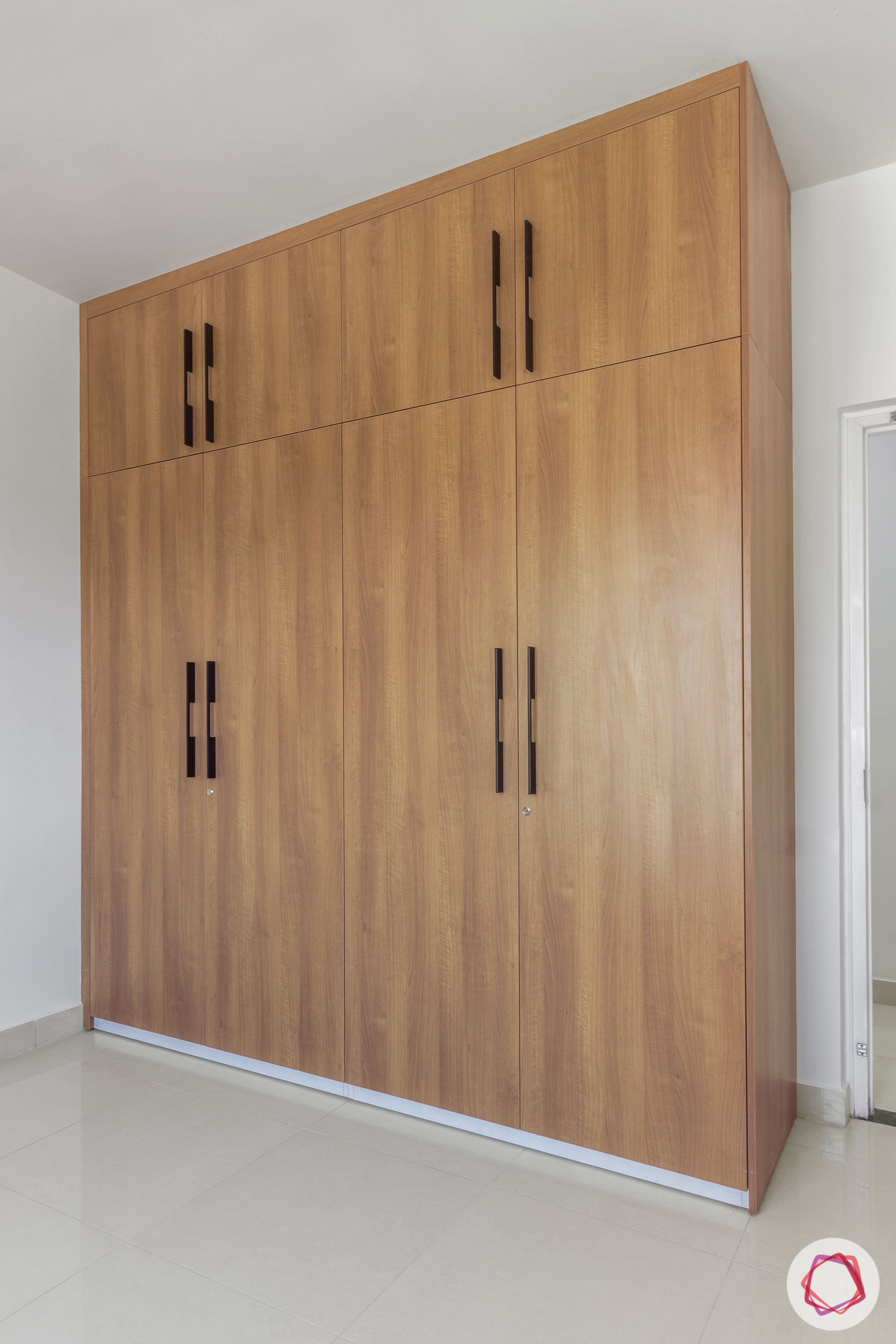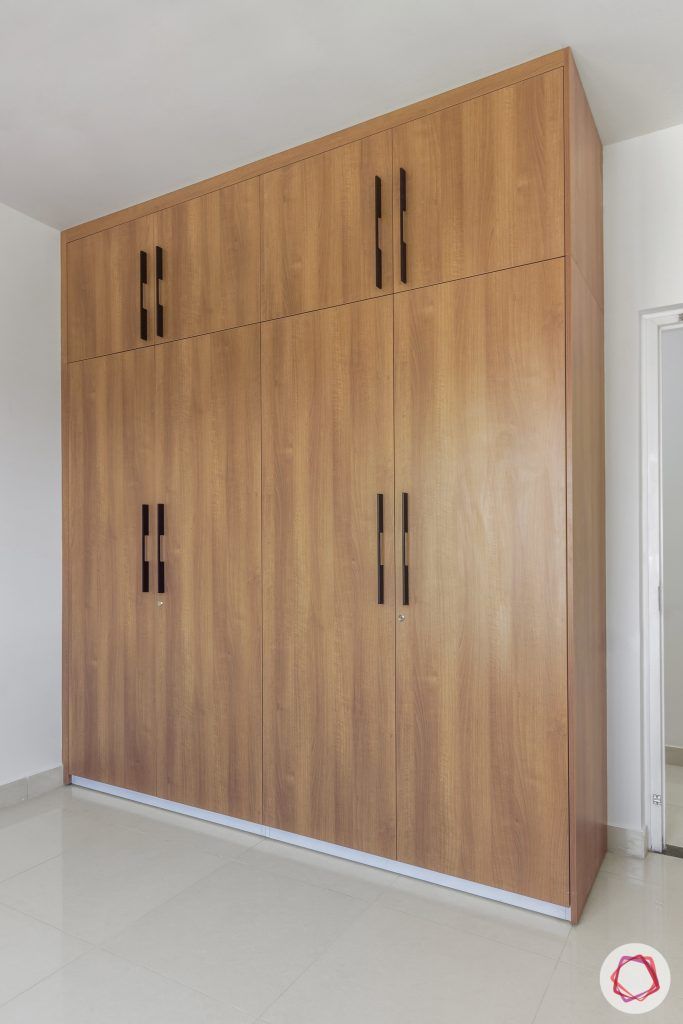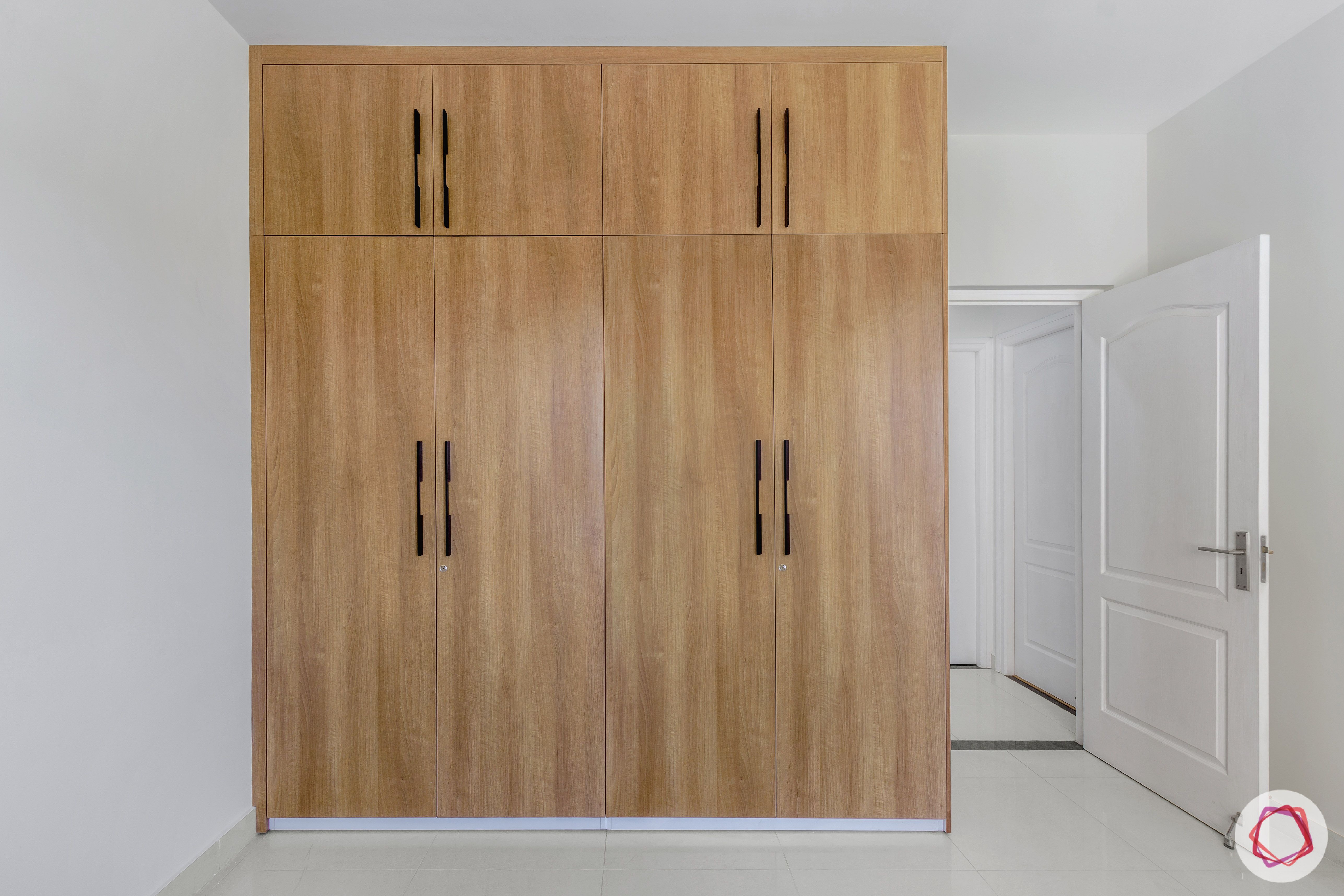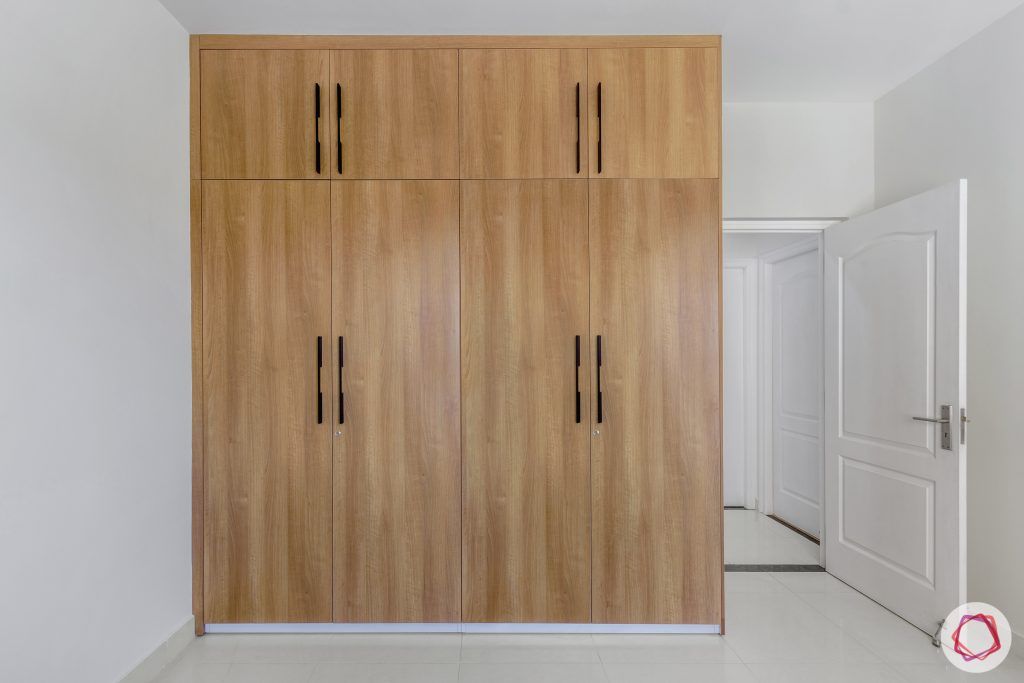 There is a no-fuss arrangement for storage in the guest bedroom that includes a 4-door wardrobe with wooden laminate finish.
"Mr. Nair told us right in the beginning that he intended to rent out the apartment. So our sole aim was to make the home rent-ready by keeping a close eye on the budget. As his inputs had absolute clarity, it was easy for us to plan and execute the project."
 – Sneha Talati, Interior Designer, Livspace
If you are inspired by the low-budget interiors for this rental home, also read 4 BHK Gets Easy-to-Maintain Interiors on a Budget.
Send in your comments and suggestions.