Brigade Lakefront gets a #LivspaceHome!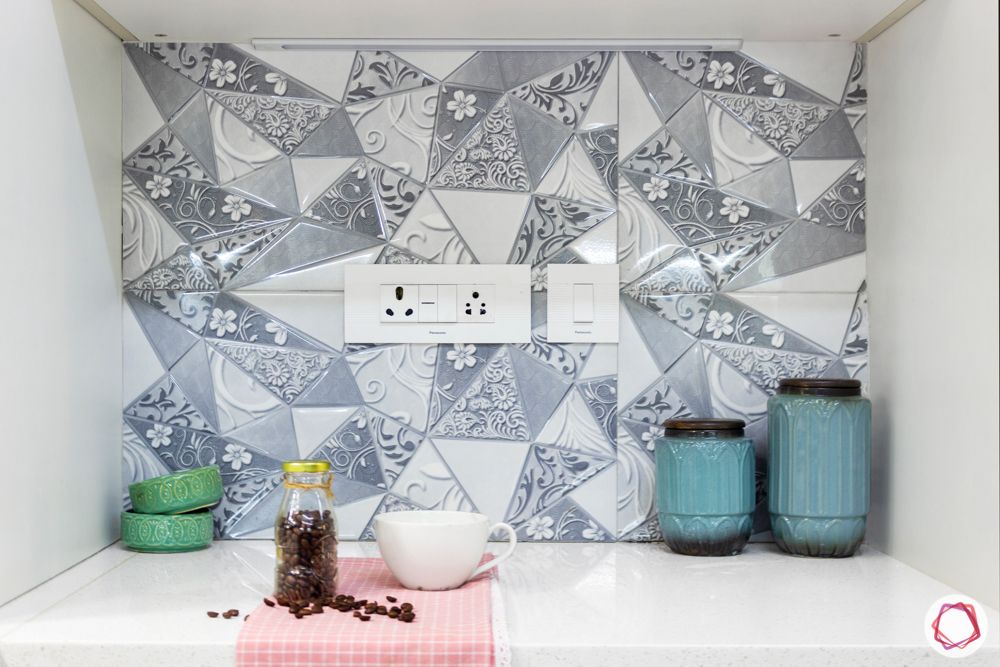 ---
Who Livs here: Prasad Chalsani with his wife Devaki and their son
Location: Brigade Lakefront, Whitefield, Bengaluru
Size of home: A 3BHK spanning 3,000 sq ft approx.
Design team: Interior Designer Sunita Chhetri and Project Manager Karthikeyan S
Livspace service: Full home design
Budget: ₹₹₹₹₹
---
Once a quaint little settlement on the periphery of Bengaluru, Whitefield is now a bustling hub for the IT world. Prasad and Devaki found their forever home at Brigade Lakefront, here. Living in this chaotic metro and working round-the-clock makes people want to go home to a peaceful and comfortable space. And in their search to find design partners to turn this house into a home, they came across Livspace.
Livspace designer Sunita Chhetri, was also very excited to design her first Livspace home. As she delved into this project, she understood that they wanted a simple look but were open to experiment with colours. Enthusiastically, she began chalking out designs. Take a walk with us to discover their home and design journey.
IN A NUTSHELL


Design Brief

A simple and clutter-free home with hints of wooden tones and lots of neutral colours

What We Loved

The easy-going vibe of the home and the peppy colours in the kid's bedroom

Look Out for

— Wooden false ceiling and rafters in the living room
— Breakfast counter in the kitchen
— Customised racks for story books in the kid's bedroom

Biggest Indulgence

The kid's bedroom is entirely customised because the parents wanted to give it a unique look

Smart Buy

The wine holder built into the crockery cabinet


Also Read: 4 Design Lessons You Can Learn From This 3BHK Renovation at Alpine Eco Apartments in Bangalore
A Cosy Living Room at Brigade Lakefront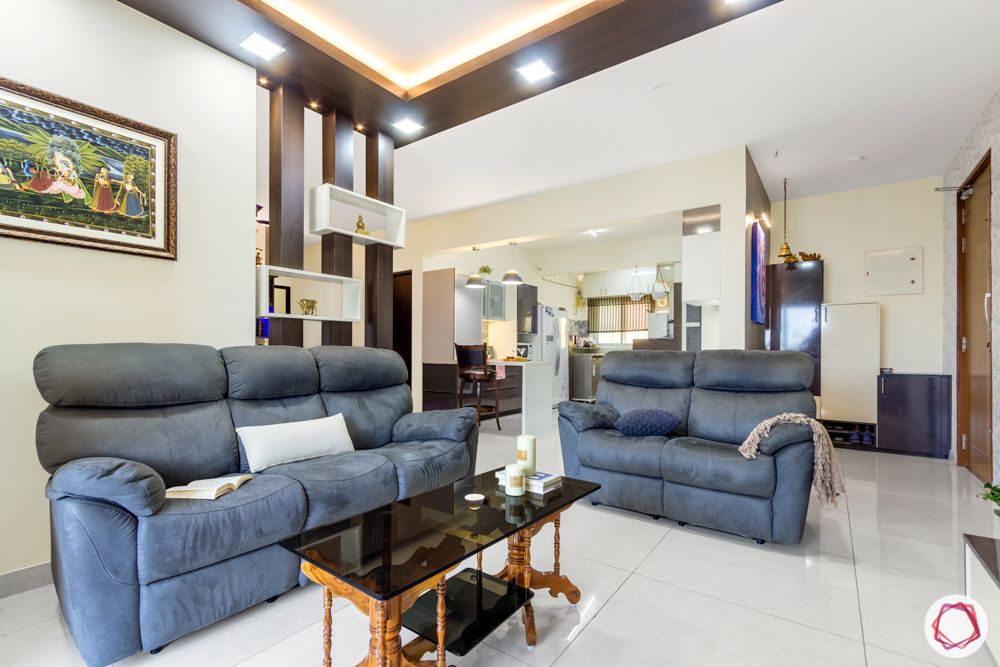 The living room at this 3BHK flat interior design gives out homely and cosy vibes. With plush grey recliner sofas, this space looks comfy and inviting at first sight. Sunita added some definition to the walls with a laminate false ceiling and extended it to the rafters. This also creates a visual demarcation between the living and dining spaces. The TV unit has been finished in high-gloss laminate and sports a cool blue wall behind it.
Wooden Tones in This Brigade Lakefront Dining Room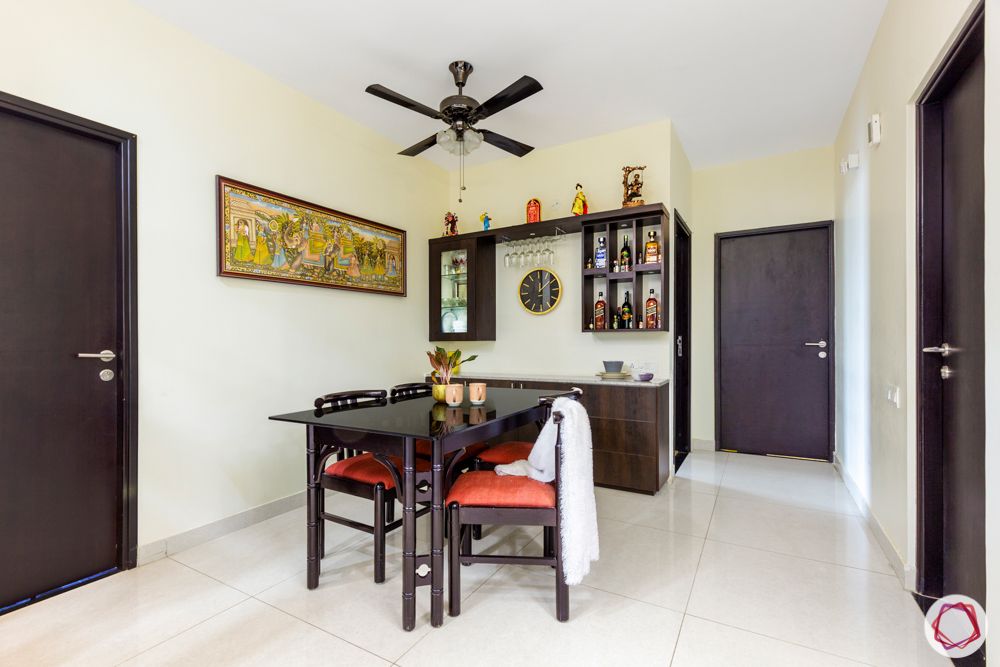 What is that one striking feature about this dining room? We would say it's the lovely customised laminate crockery unit. Prasad has a great collection of liquor which he really wanted to put up on display. Therefore, Sunita thought it would be best to add shelves to the crockery unit where these bottles can be placed. The dining table and chairs were existing pieces and the design has been decided around the same.
An Open Kitchen at Brigade Lakefront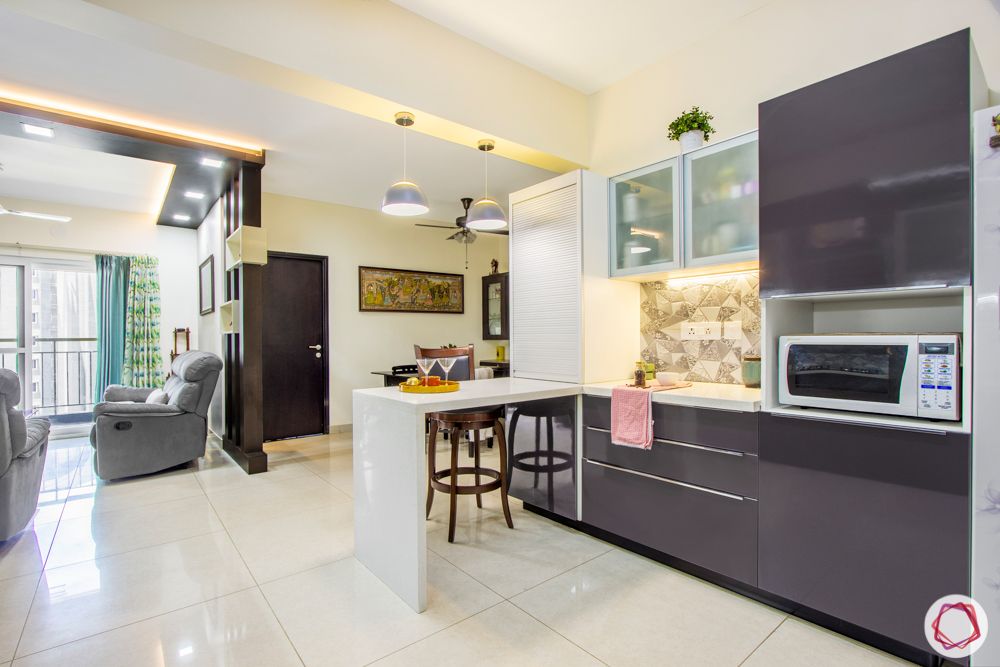 We love how spacious and bright this kitchen looks, with pristine white flooring and classic grey and white cabinets. The family really wanted a breakfast counter where they or their son could grab a quick meal before heading out. We made their life easy with large tandem drawers, tambor unit, wall cabinets and much more. While the countertop is a simple quartz stone, the backsplash sports 3D tiles that add an interesting touch.
Sunita has also designed a pooja unit inside the kitchen which has a lovely etched glass door. So while the family prays, they can open it and while they are busy cooking up storms, they can keep it closed.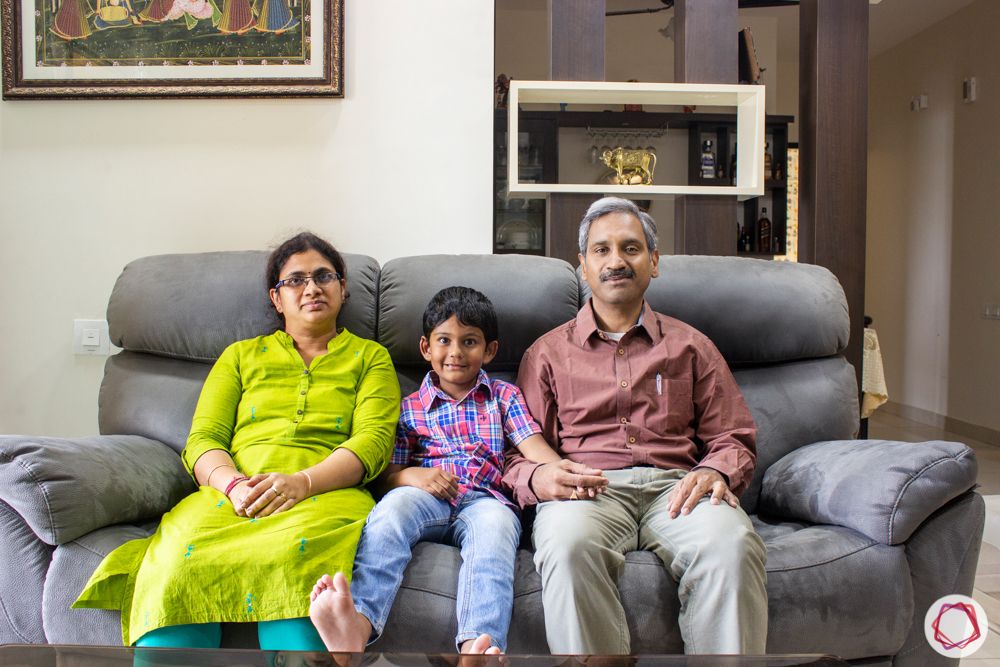 ---
"We were looking for interior designers in the city when we came across Livspace and something that really impressed us is the fact that the company has so many female employees and they manage the show so well. After I met Sunita and Sumedha, I was convinced that I would get what I'm looking for. They were very good with their work and I appreciate the fact that they dedicated a lot of time in coming up with designs that would suit my requirements. We love how our home looks!"

-Prasad Chalsani & Devaki, Livspace Homeowners
---
A Spacious Master Bedroom at Brigade Lakefront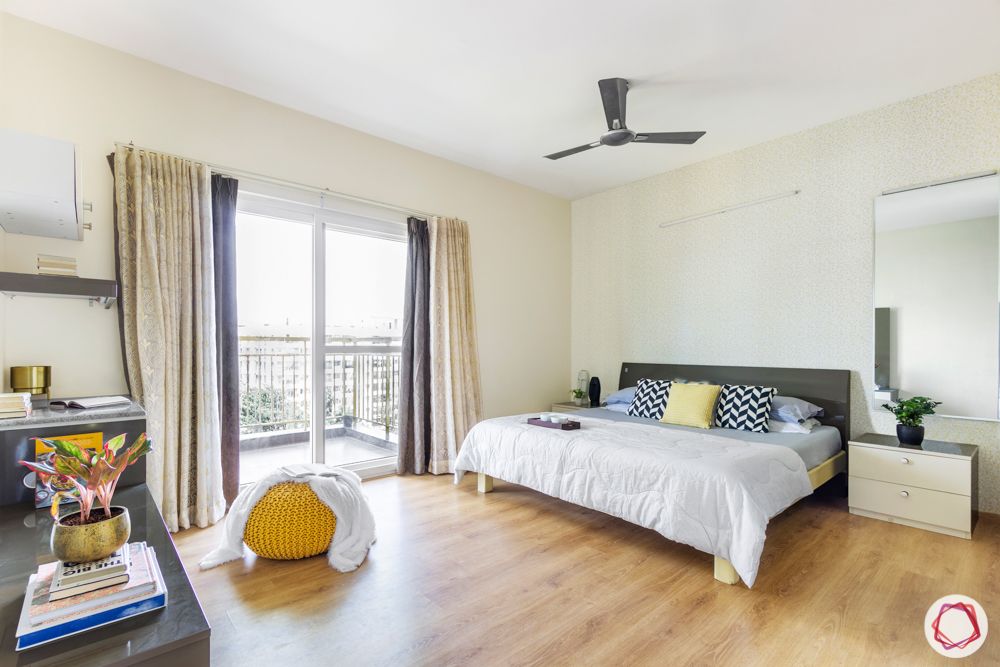 Look at how simple and homely this master bedroom is! That's how Prasad and Devaki like living – comfortably and with minimal clutter. The entrance to this room has a grey and white sliding door wardrobe with lofts for extended storage. The rest of the room looks very simple, with a TV unit and a study table opposite the sleek bed. Two bedside tables and one mirror complete the look of this bedroom.
A Vibrant and Chirpy Kid's Bedroom at Brigade Lakefront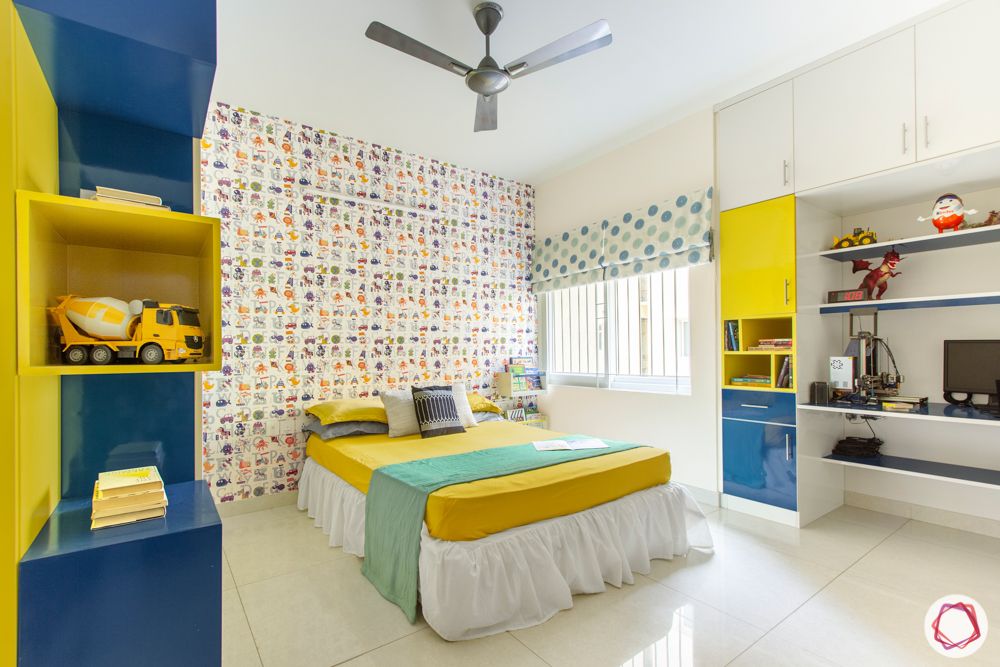 The most celebrated room at this 3BHK flat interior design is this bright kid's bedroom. The doting parents were very excited to give their son a room that he'd never want to leave. Sunita suggested this lovely combination of blue and yellow and has designed the entire room around it.
From the wardrobes to the study table, everything has hints of these colours, contrasted by white. Since the child loves reading before bedtime, she has also given him customised bookshelves beside his bed. A black board, white board and pin board makes this space ideal for a growing kid.
---
"This is my first project with Livspace and I am glad I got to work with such amazing clients. They came with a clear idea of what they wanted in their home. There was no difficulty in finalising the designs since they were open to experimentation with colours. I am completely satisfied with the way this home looks!"

– Sunita Chhetri, Interior Designer, Livspace
---
Also Read: 6 Stylish Secrets From This 2BHK Design for Adarsh Palm Retreat
Tour this minimal and luxe Bengaluru home:
How Can Livspace Help You?
We have delivered over 75,000+ happy homes
Our expert design team can transform your Brigade Lakefront home
With 146 quality checks, we promise durable materials
If you want beautiful interiors for your home, then look no further. Book an online consultation with Livspace today. Additionally, you can also visit us at the Livspace Store in Bengaluru. Have any thoughts or suggestions you'd like to share with us? We're all ears! Drop us a line at editor@livspace.com.
Disclaimer: All contents of the story are specific to the time of publication. Mentions of costs, budget, materials, finishes, and products from the Livspace catalogue can vary with reference to current rates. Talk to our designer for more details on pricing and availability.
Please note that the designs showcased within the story are subject to availability and will vary based on the year the homes were designed in. Consult our designers for more details on the latest designs.