Haven't we heard time and again that the right colours and harmony between the spaces can make or break a look? This 3 BHK flat interior design in this Bangalore home is such a treat to sore eyes. We bet you will love design elements and striking features that our designer has added here!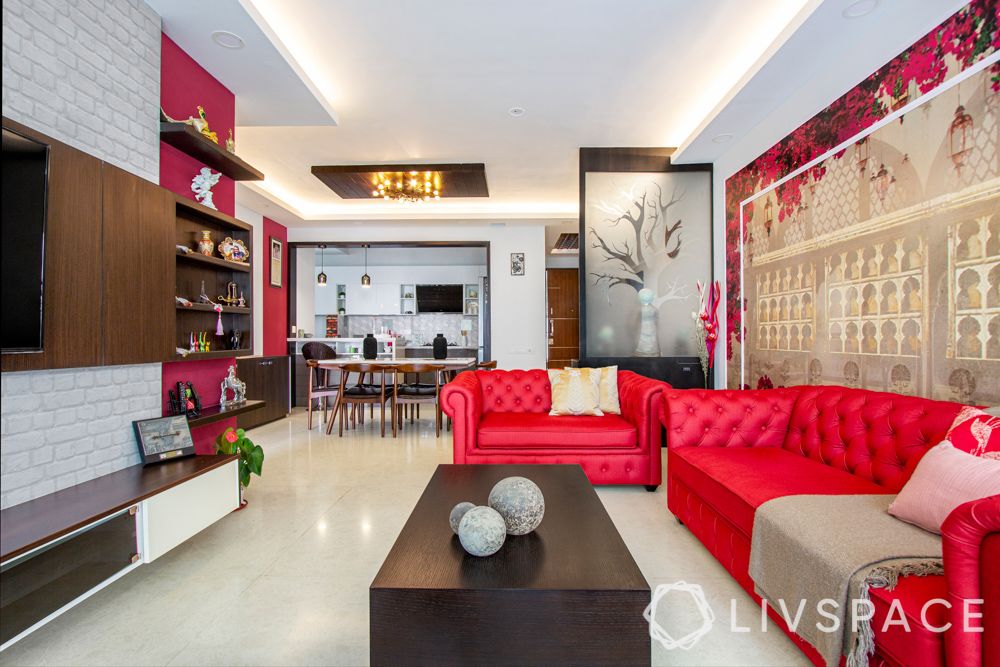 Who livs here: Gaurav Kumar with his wife Rajni and their daughter
Location: Brigade Cosmopolis, Whitefield, Bengaluru
Size of home: A 3BHK spanning 1,500 sq ft approx.
Design team: Interior Designer Krupa Prajapati Bose and Project Manager Meer Ameenuddin
Livspace service: Full home design
Budget: ₹₹₹₹₹
There are some apartments in every city that we have designed as show apartments. This is done to make it easy for our clients to visit and get a feel of a real home design. For Gaurav and Rajni this is exactly what worked. They visited our show apartment in Brigade Cosmopolis and were instantly impressed. They not only signed us up, but also borrowed a few ideas from there.
This happy family of three wanted everything to be bold and striking in their new home. But it could not look flashy. In stepped Krupa Prajapati, the designer that was assigned to them. She took their brief and listened to everything carefully. Afterall it is important to get a clear picture before you jump into designing. She immediately understood what they were looking for and started churning out brilliant ideas.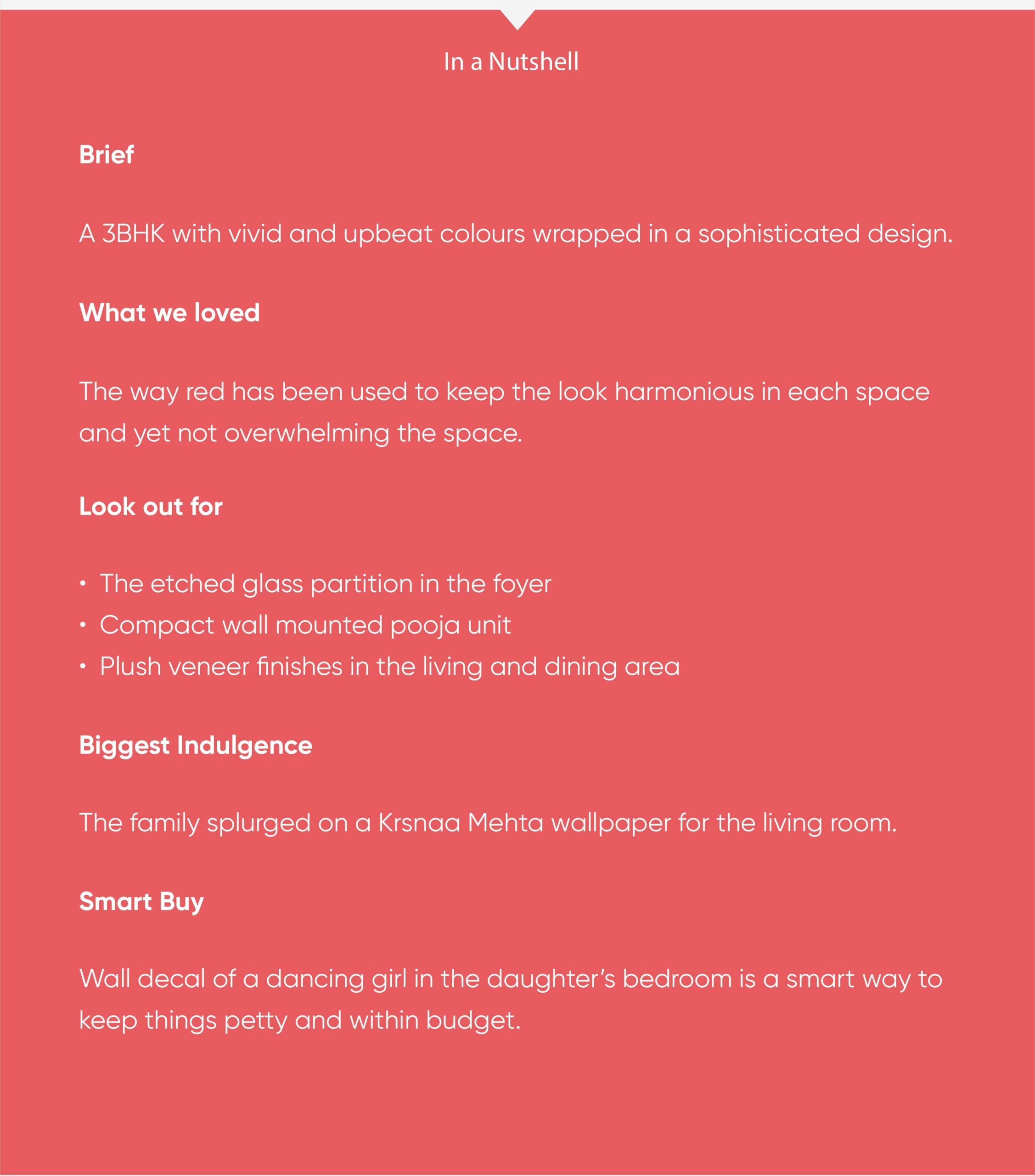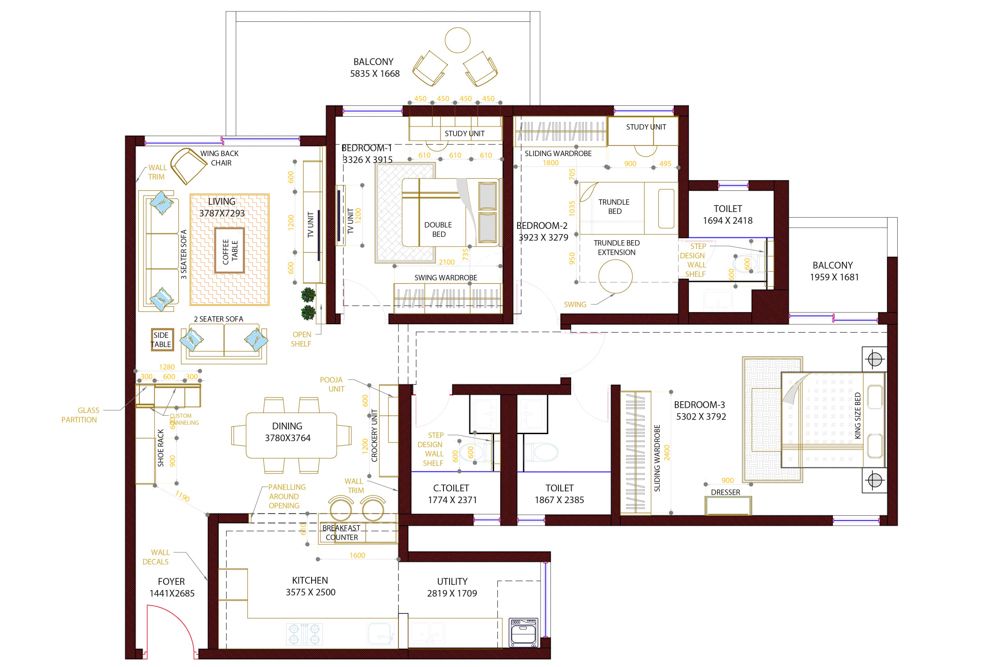 Yes, we know you want to look at the most striking feature first – Krsnaa Mehta wallpaper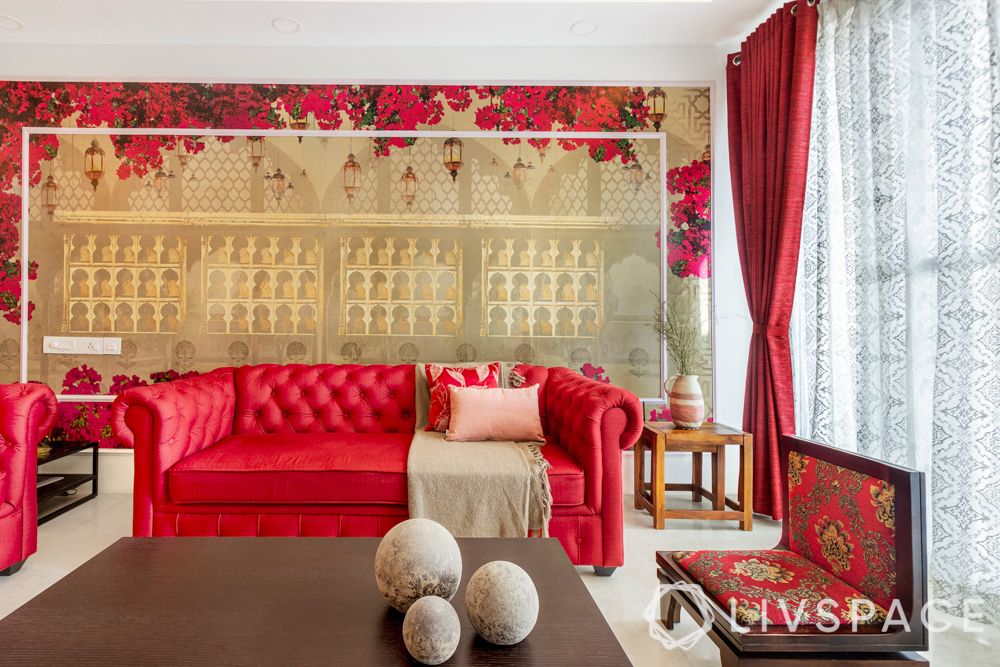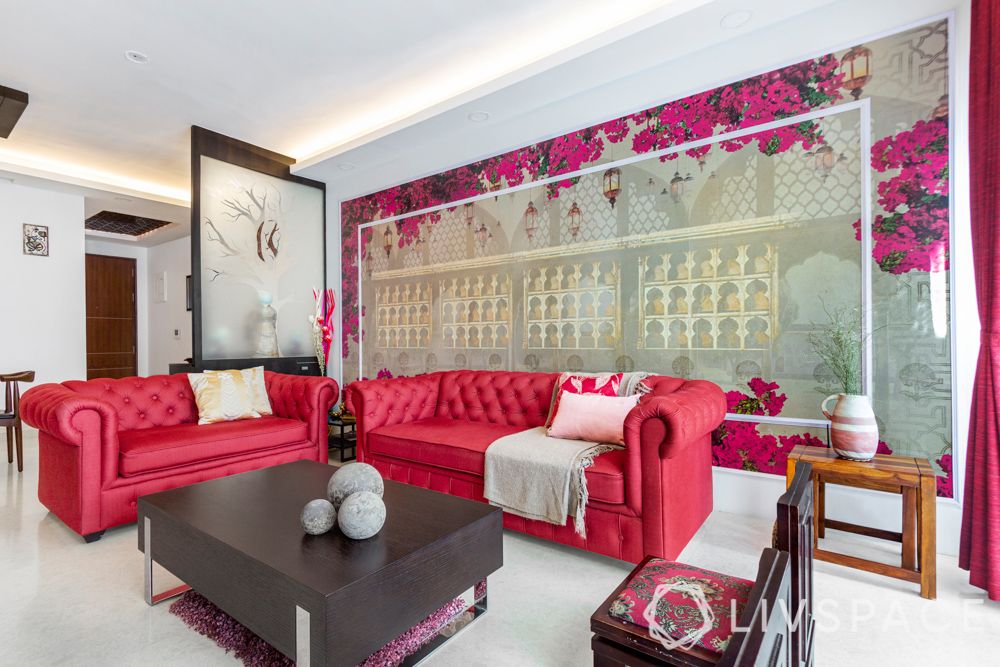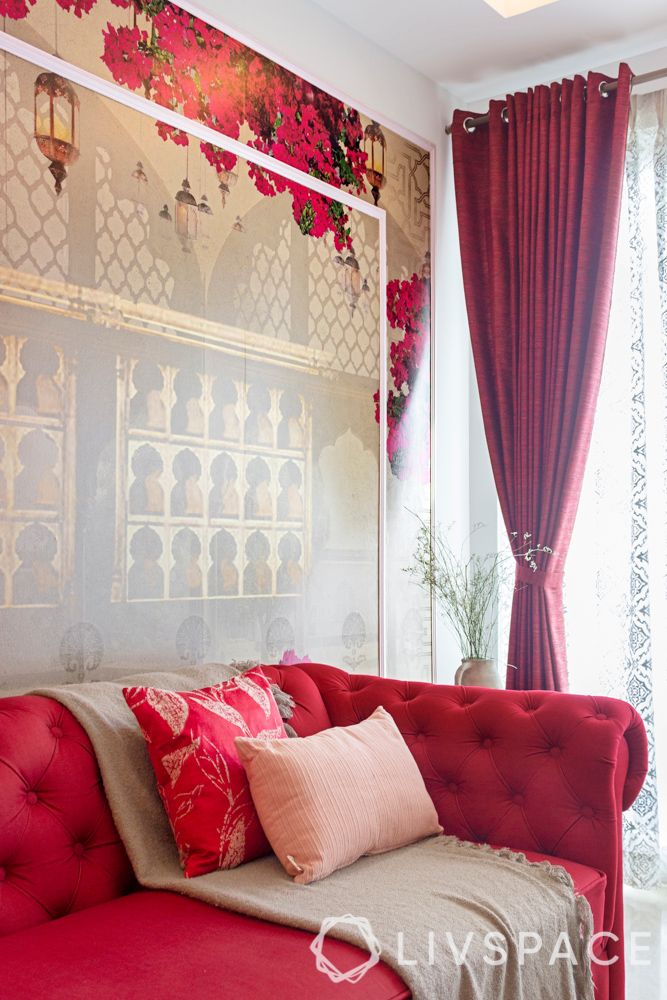 We know, the first thing anyone notices about this home is this striking feature wall in the living room. And that's exactly what the couple also wanted. This is one of the very few ideas that they picked up from their visit to the show apartment. They knew they wanted their living room wall to wear this particular wallpaper. "So, I based the entire design on this Krsnaa Mehta wallpaper and made sure the rest of the look moulds with it," says Krupa. We are not at all complaining. Just look at how stunning this wallpaper looks with all that red furniture around it. This space is one conversation starter if you ask us!
Now we'll show you something we know you love – jaali patterns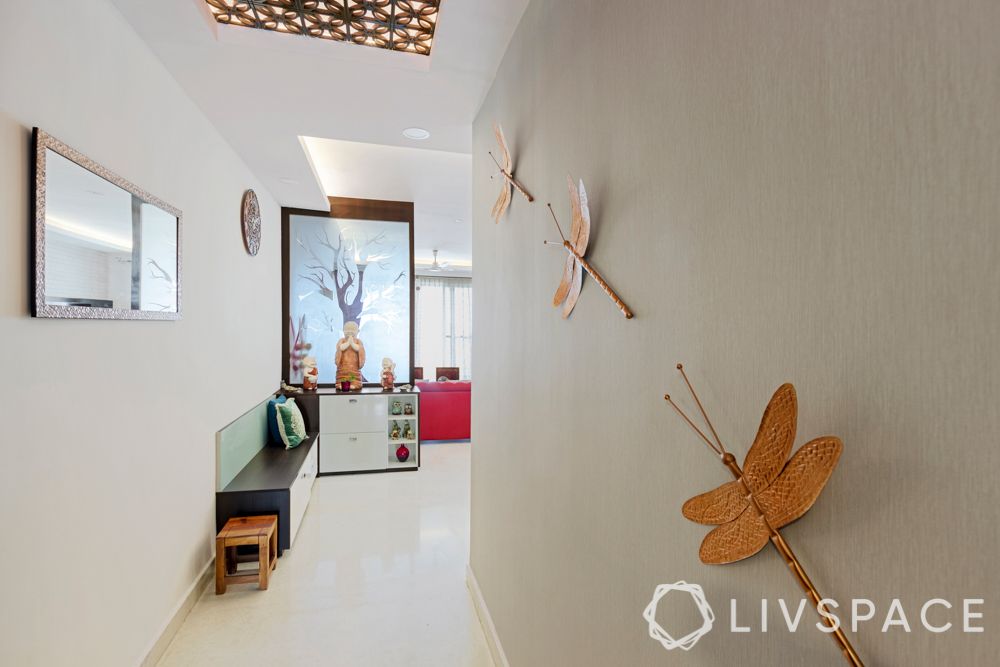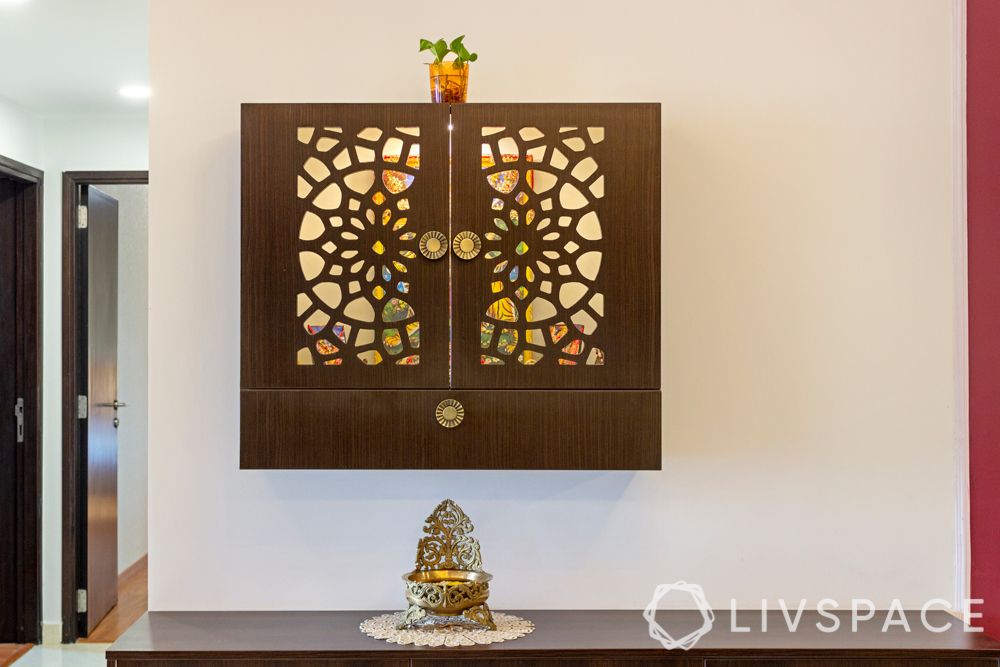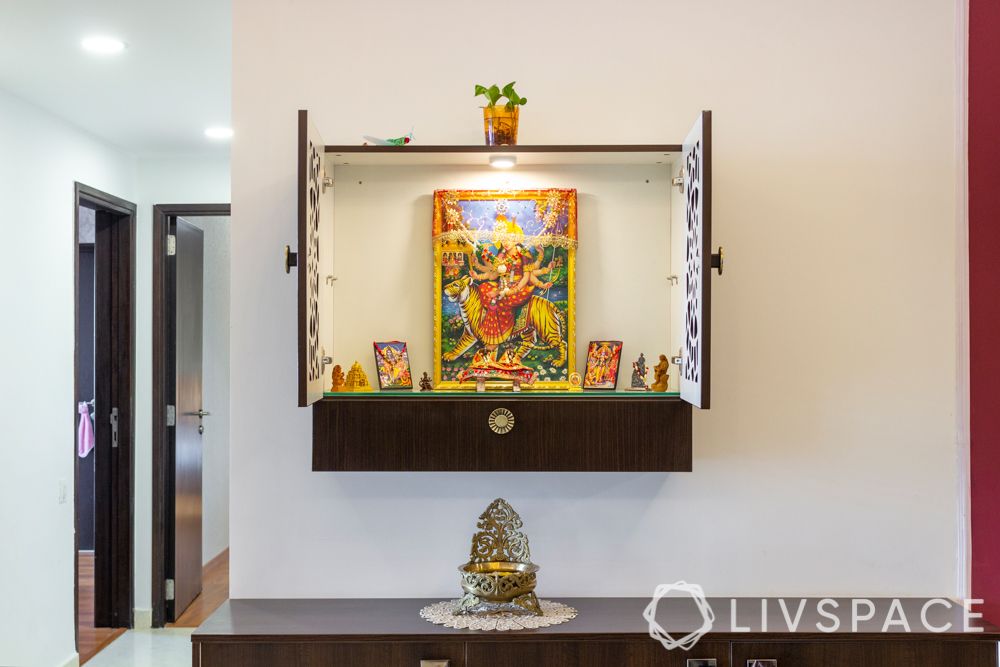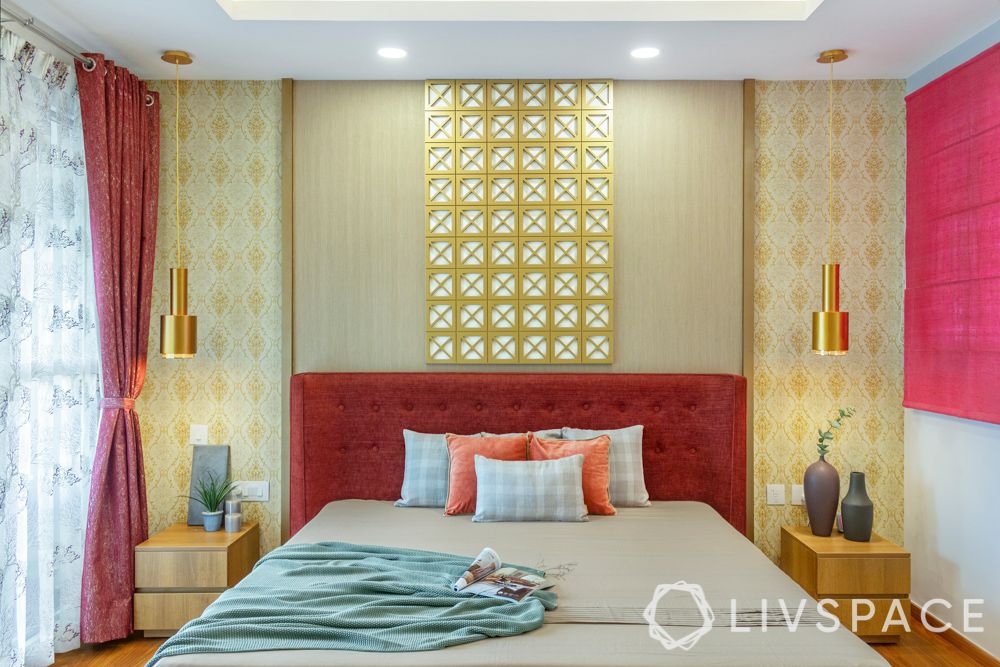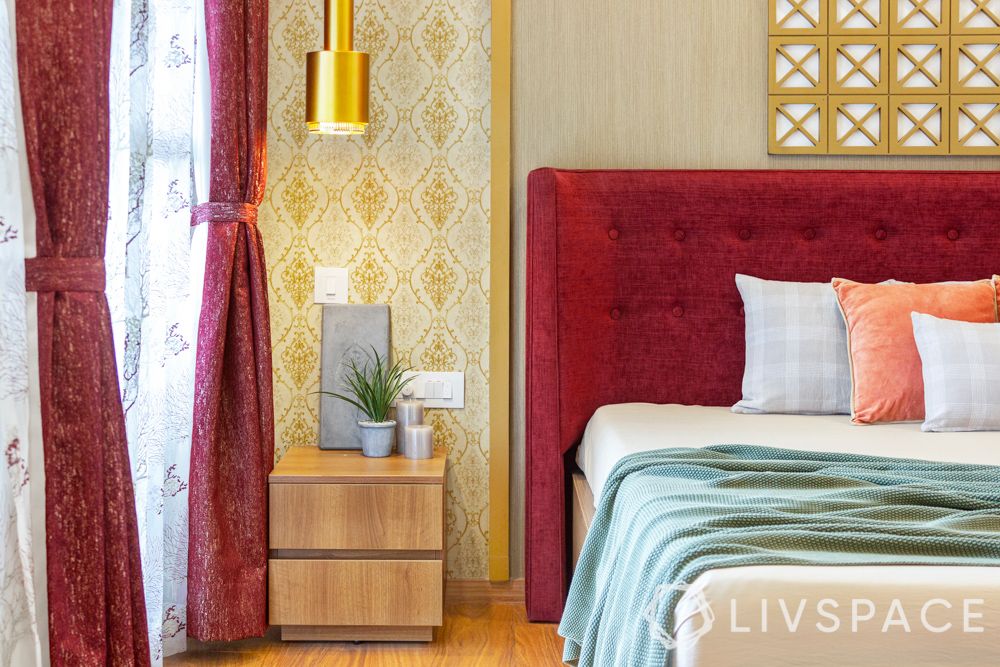 Another interesting design element in this Bangalore home would be the jaali panels spread across rooms. The first one you notice is right on the foyer ceiling. It gives a sort of character to this simple space. Next, you will spot it in the contemporary pooja unit. And we cannot emphasise enough, the charm of using jaali in pooja rooms and units. It is a match made in heaven! Last but not the least, you will spot this MDF jaali panel with intricate detailing in the master bedroom headboard wall. We absolutely love how Krupa has used it so intelligently.
In the words of our client:
"We decided to go with Livspace primarily for two reason – assurance of the quality of work and promised after-sales service. Our designer, Krupa was extremely patient and helped convert our thoughts into concrete designs. The execution team led by meer and supported by Dinesh did a wonderful job. We particularly liked the warranty bit, where we can justify the money we spend. All in all, it was a great experience. We want to thank Krupa and everyone from the Livspace team!

– Rajni Rai, Livspace Homeowner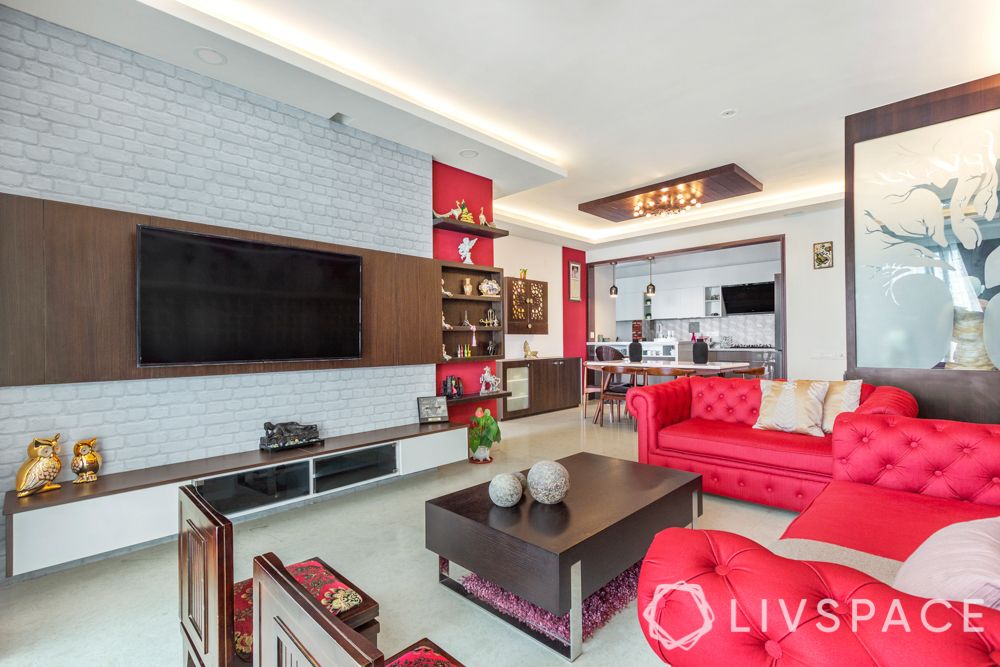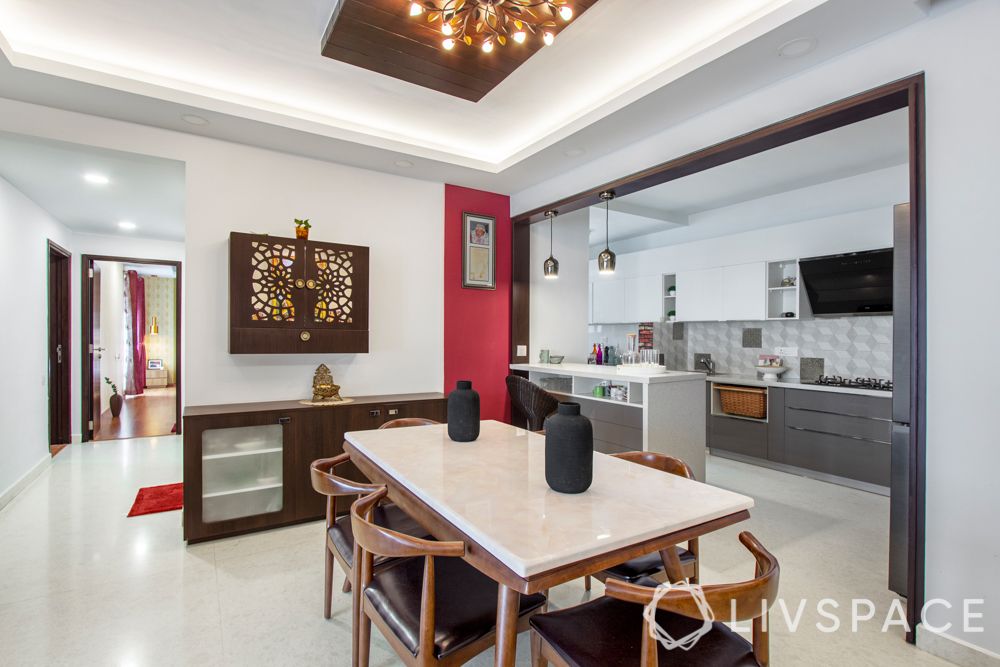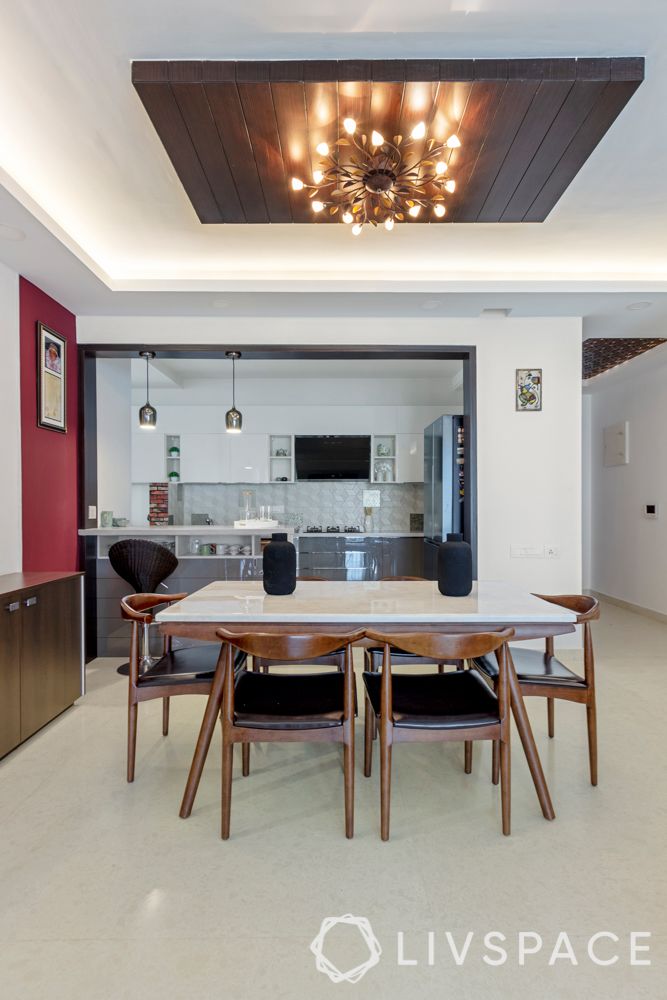 Let's take you through the lovely dark veneer finish across the common areas of this 3 BHK flat interior design. Krupa gives special mention to this since it adds a sleek touch to the design. Veneer finish adds a polished touch to any surface. Here you can spot it on the TV unit panel and the display wall next to it. Also, do not miss the false ceiling panel in the dining area which sports the same!
Now let's move on to the functionality aspect of this 3 BHK flat interior design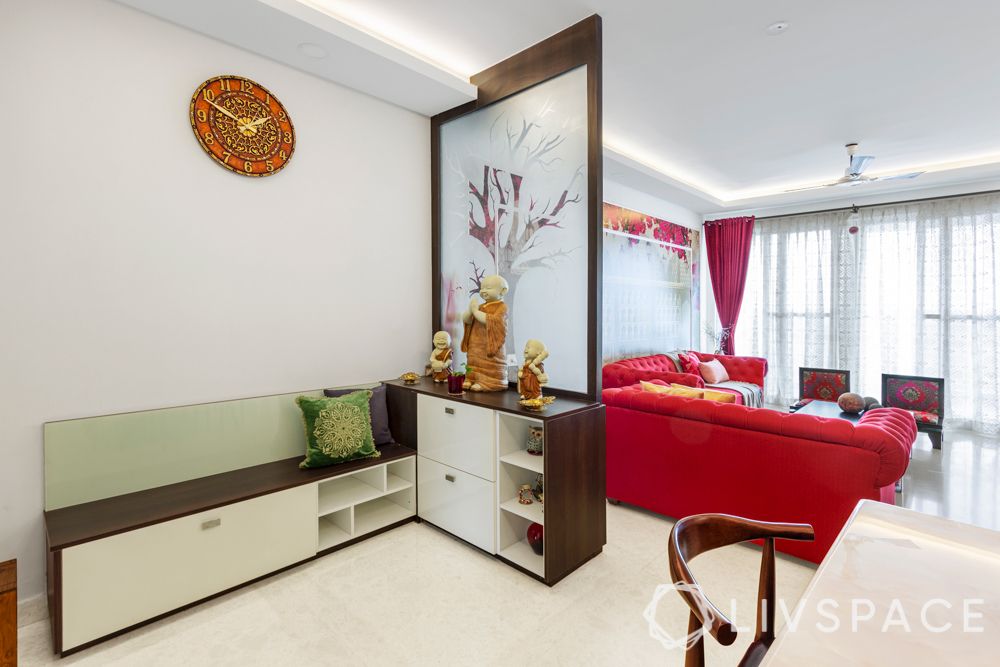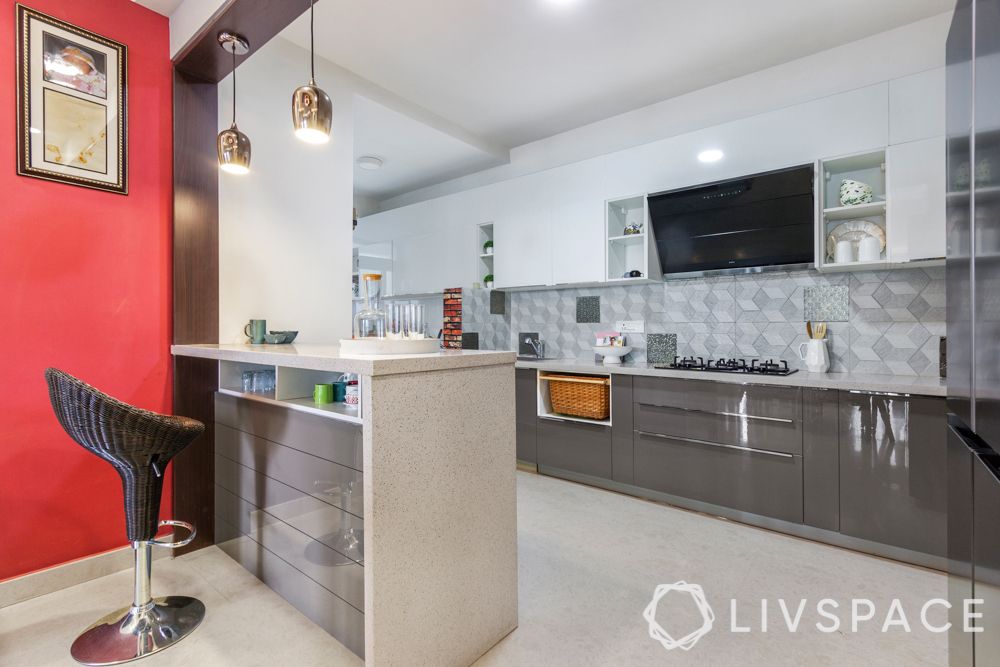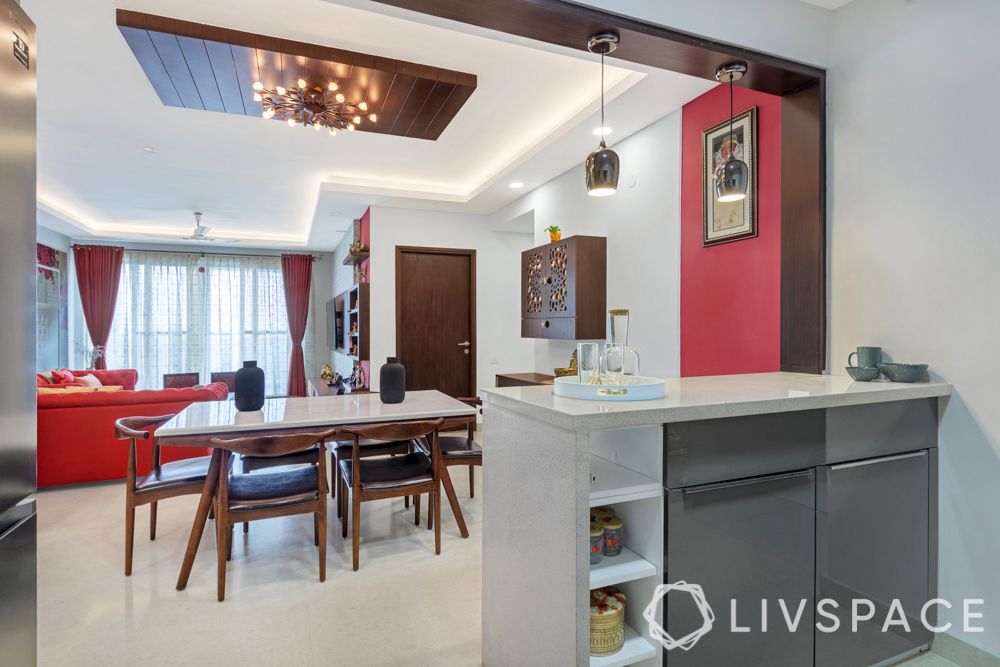 There are two super functional spots in this 3 BHK interior design that we would like to highlight. The foyer was quite spacious and Krupa did not want to leave it empty. Therefore, she added this storage-sum-setaing unit in there. So practically all their shoes go inside and the space is convenient for people to sit and wear or take off their shoes.
In the kitchen entrance you will spot this cosy breakfast counter ideal for one or two family members. This was especially designed for the couple's daughter so she could plonk herself there and snack away! But what is special about a breakfast counter, you ask? If you look closely, you'll see cavities in the counter and cabinets on the inside. So functional!
This kitchen stands in stark contrast to the bold colours in the common rooms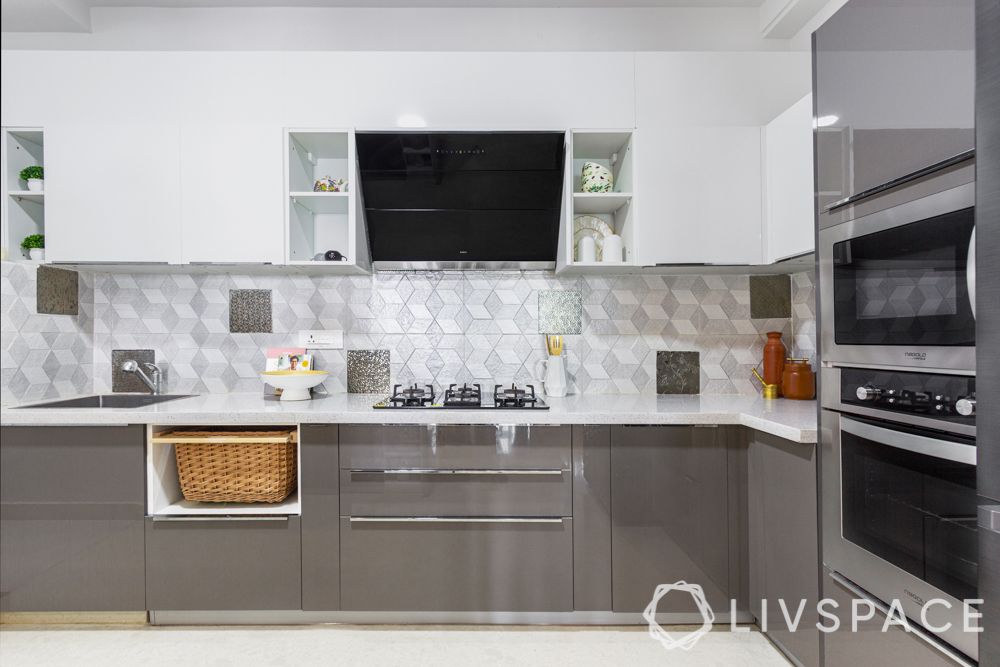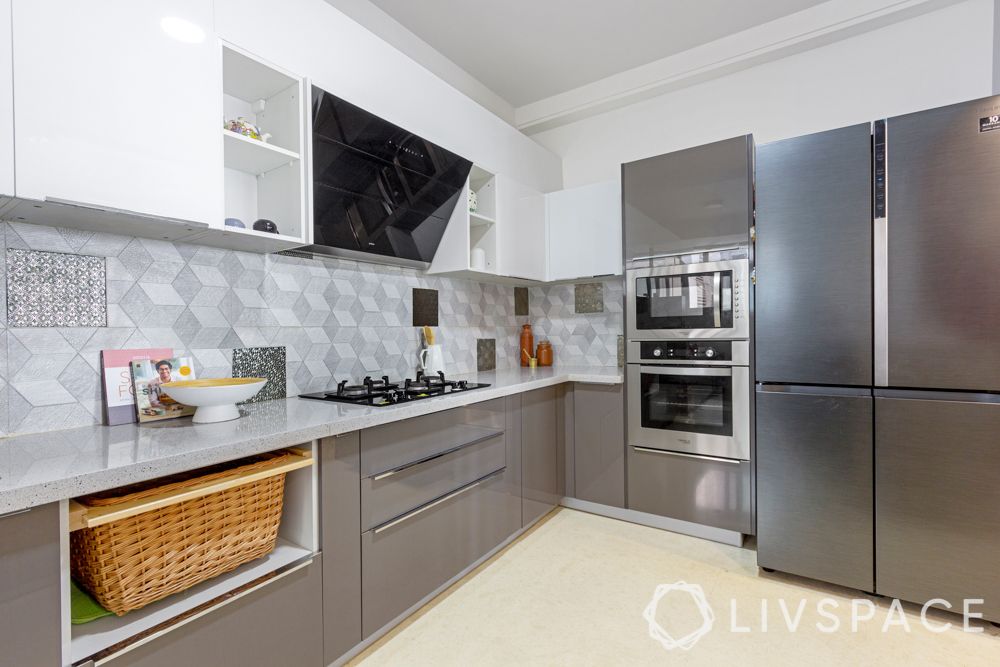 Now that this entire 3 BHK flat interior design was sporting some bright colours, Krupa really wanted to keep it low in the kitchen. Therefore, she chose a brown-grey colour for the kitchen and gave the couple anti-scratch acrylic finish for it. She has also equipped this kitchen with all the basic modules of a fully modular kitchen. Kalinga stone countertop and ceramic tiles on the backsplash make it super easy to clean this kitchen.
We set this dream bedroom in a red and gold theme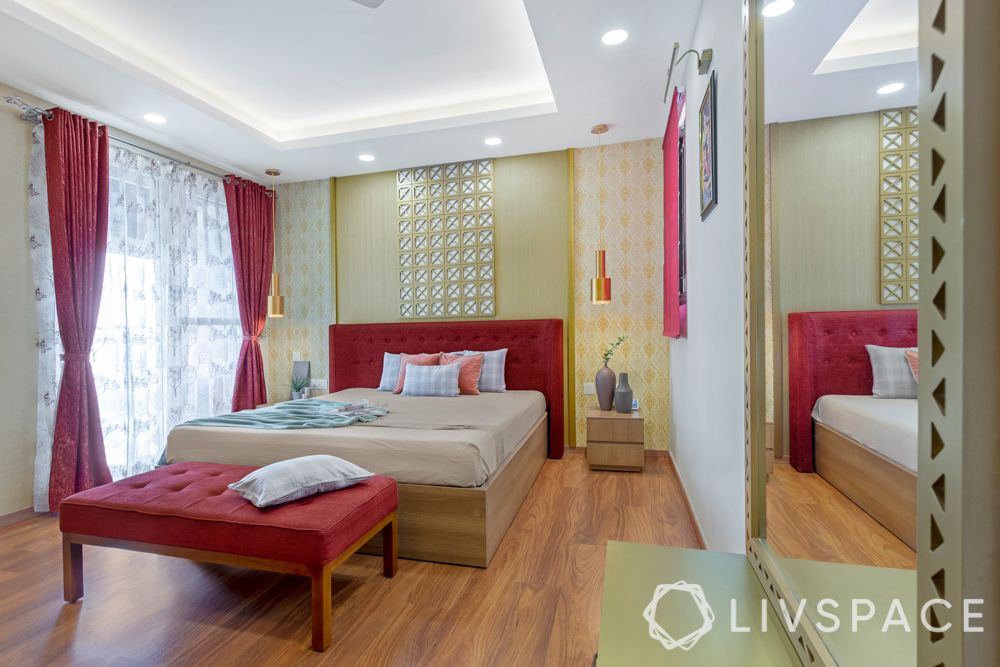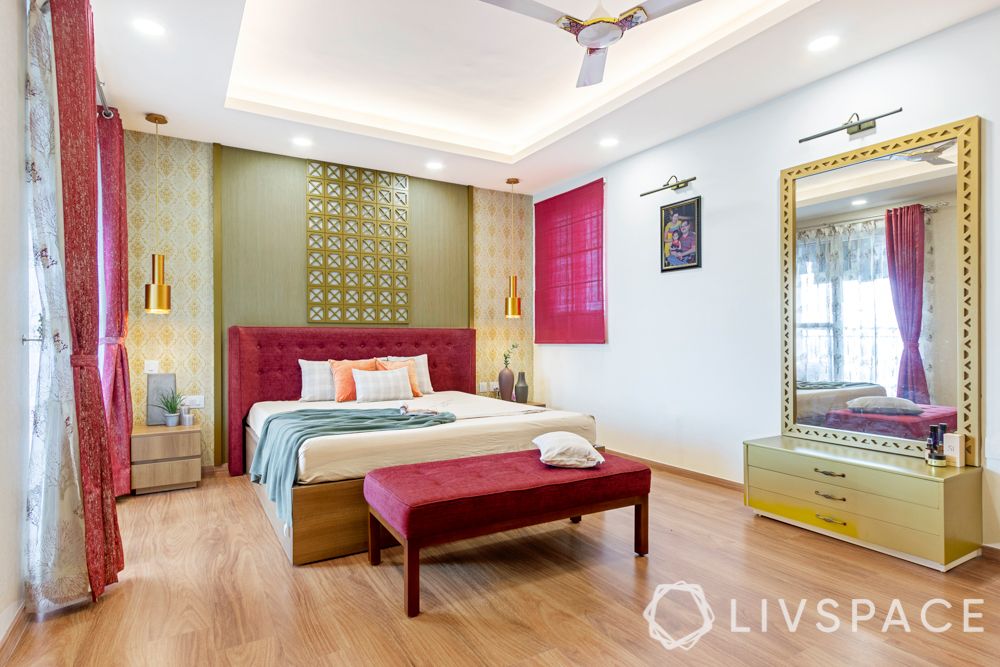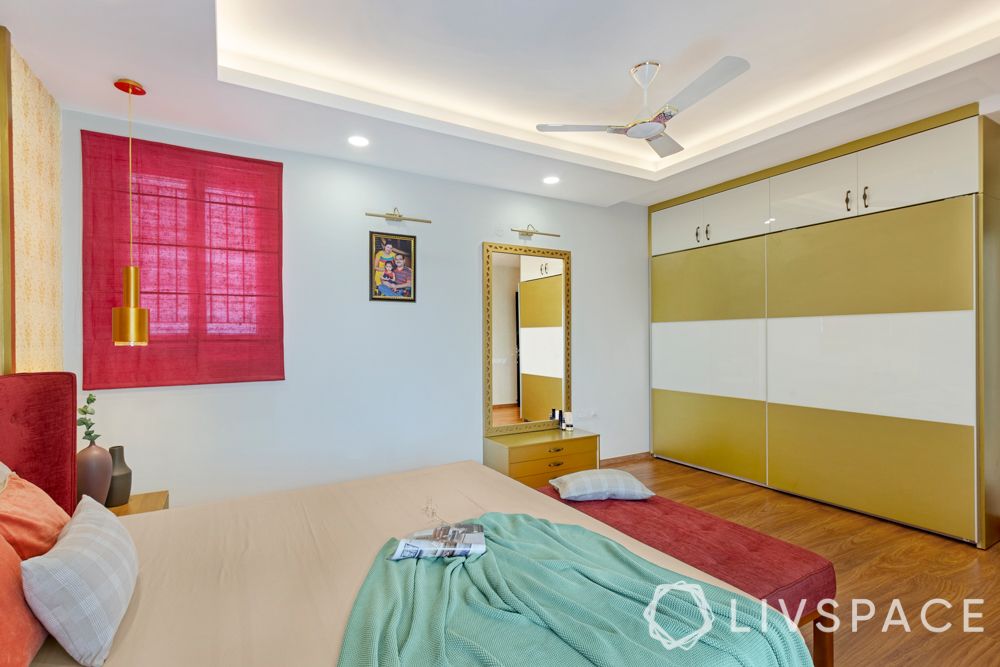 Now this is a master bedroom that we envy! We absolutely love Krupa's design for this one. Look at all that red and gold oozing out of the room. She maintained harmony in terms of colour when it came to the master bedroom and the rest of the home. Check out the gold toned sliding door wardrobes and the shiny dresser. A Karmen headboard is added to the bed and makes it look so stunning!
We all know we always have a special place for the parents – in our hearts and homes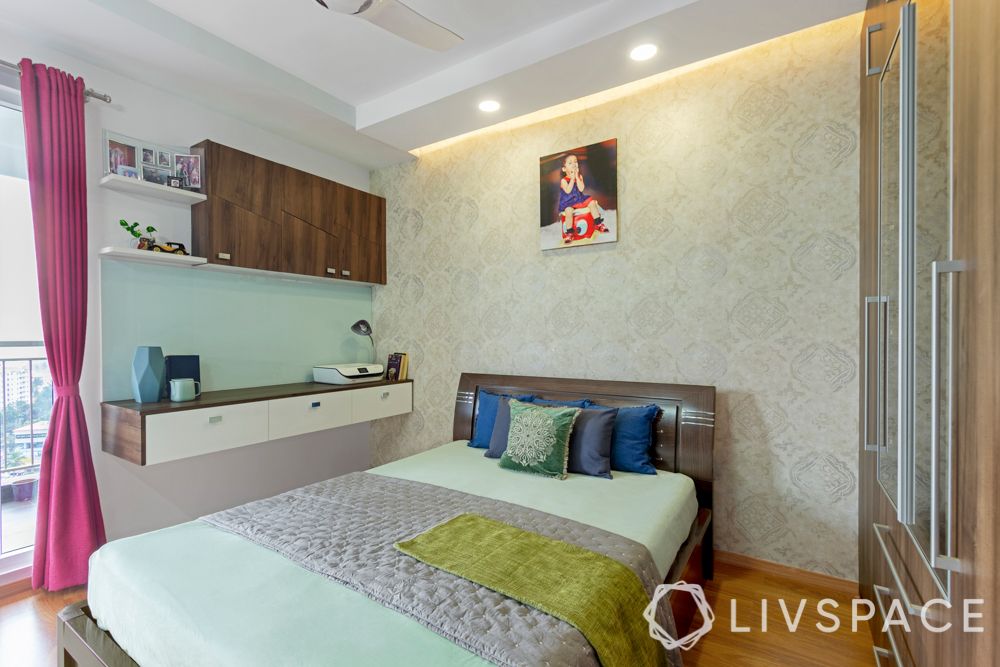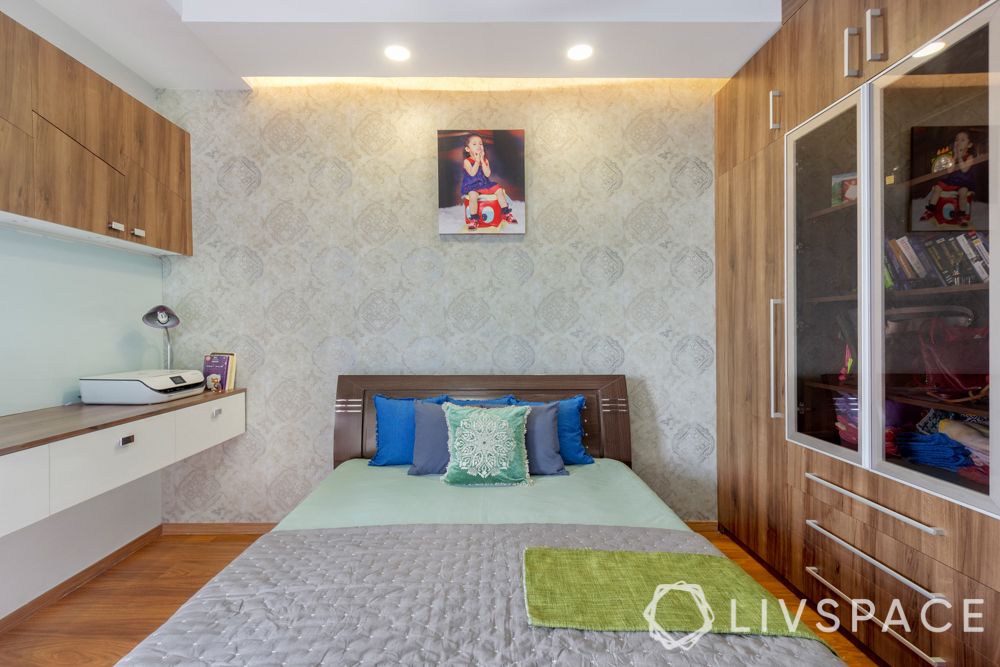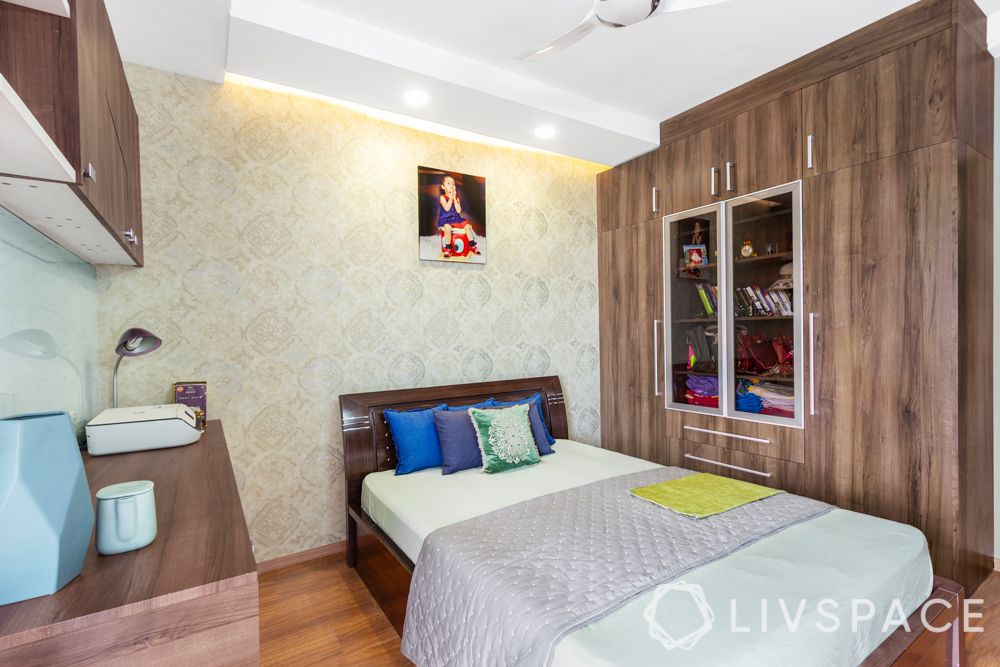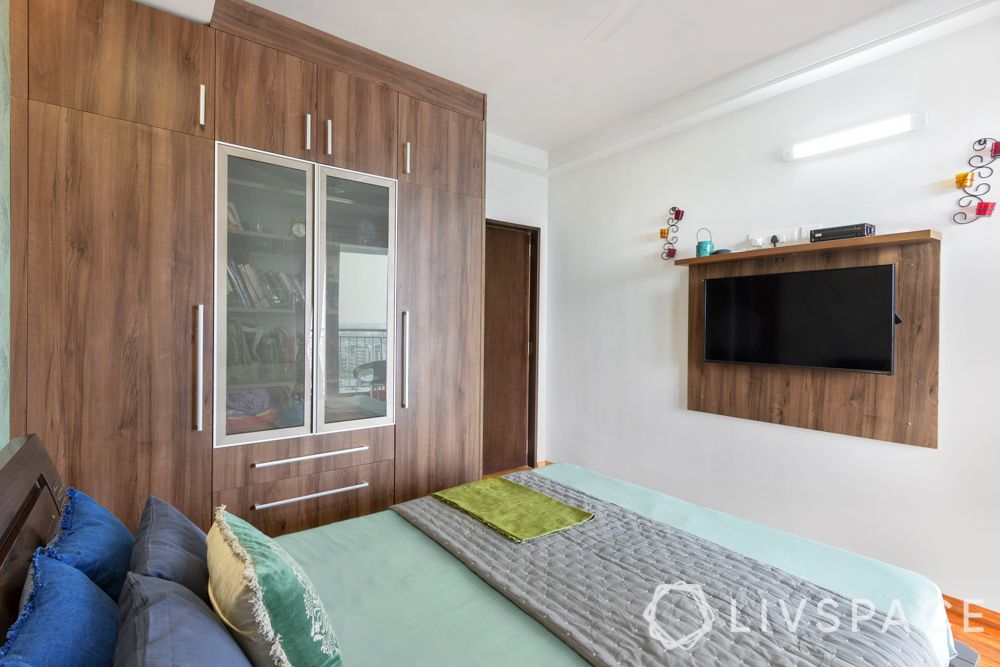 Yes you guessed it right. This is the 3rd bedroom in this 3 BHK flat interior design. Naturally, the couple wanted to design it for their parents. Therefore, you will see a lot of storage and easy-to-use cabinets. A textured finish laminate decorates the simple wardrobe and the study unit. And did we forget the wall mounted TV unit? No! We definitely see this entire room as a whole. Krupa also broke down a window to turn it into a balcony door for access to the balcony. Isn't that a great idea?
And finally, the princess at home got herself a princess-themed bedroom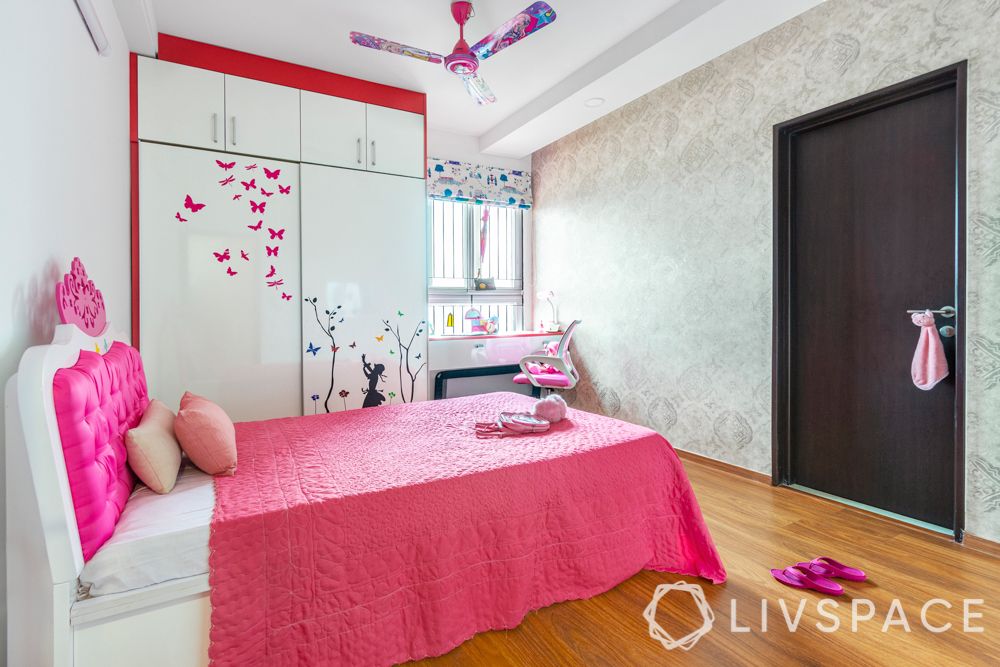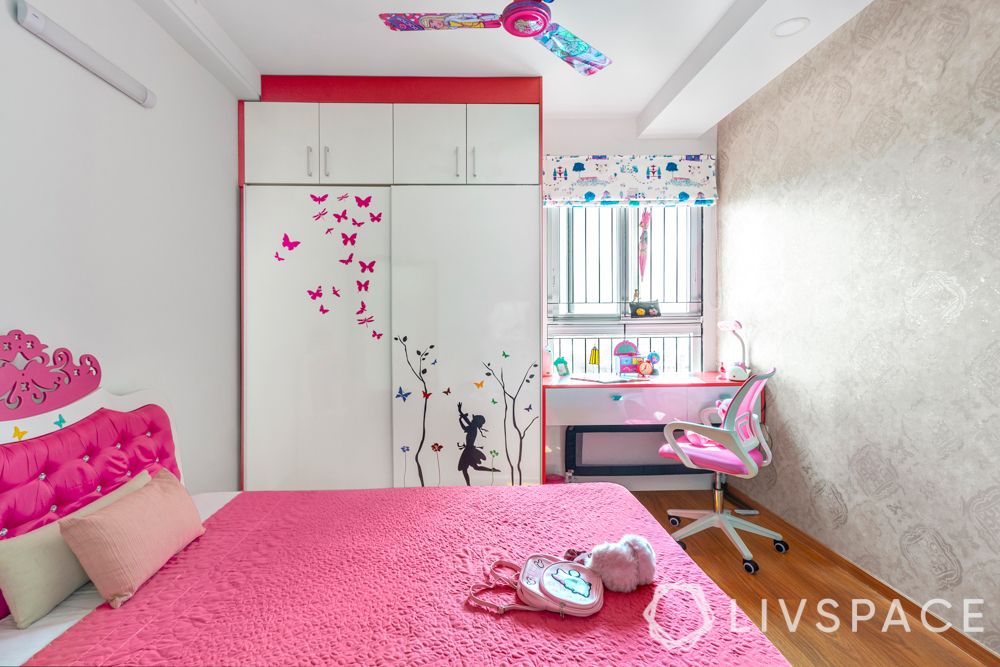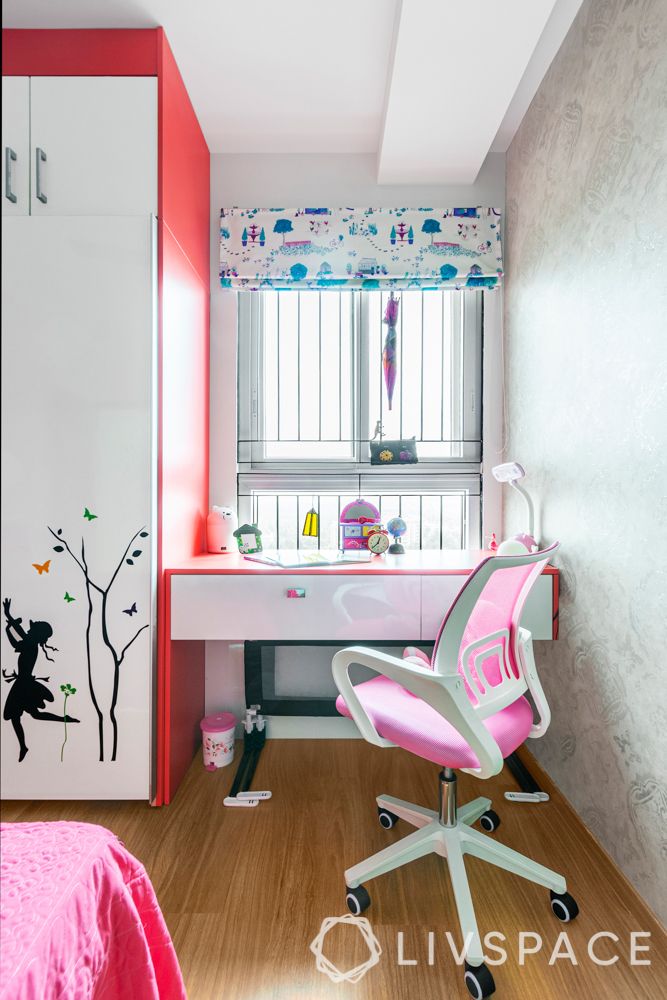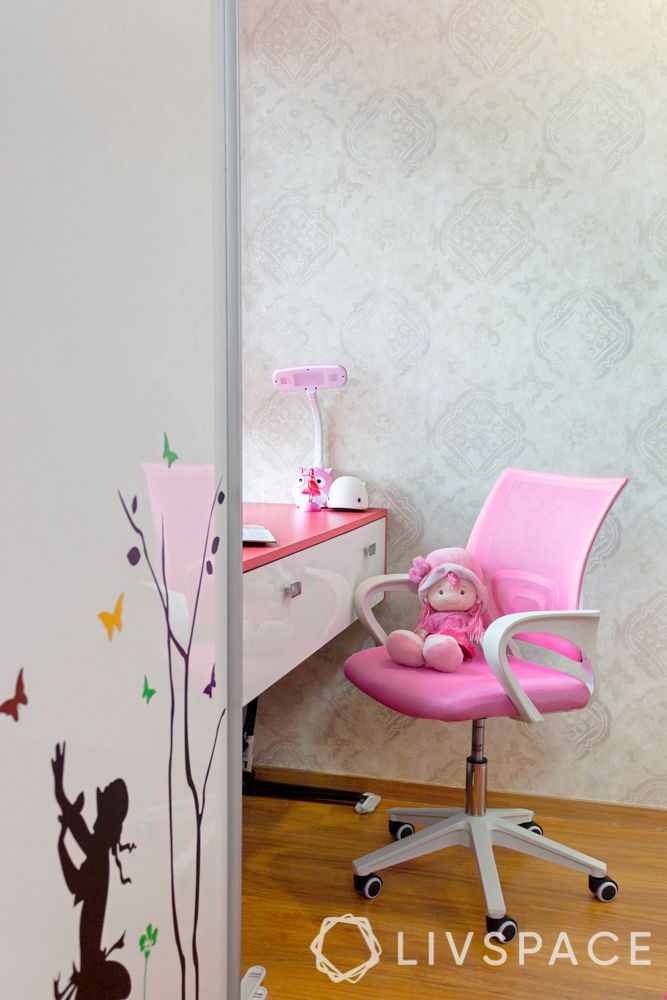 Gaurav and Rajni's daughter is all of 12 years and she has this pretty room all to herself. Krupa wanted to make sure that she does not overdo the pink since she will grow out of it at some point in time. Therefore, she added it in bits and pieces. Like the headboard, study table and chair. Also do not miss the cutesy wall decal on the wardrobe. Such a great idea to save cost and add to aesthetics!
---
"It was delightful to work for Gaurav and Rajni. They are very down-to-earth and very easy to work with. Although they came with a few ideas in their mind, they were not rigid about it. They considered and understood the fact that some things might not look great. I was given so much freedom to design. I am extremely happy to see the end result!"

– Krupa Prajapati, Interior Designer, Livspace
---
Loved how this home is designed? Check out another plush Bengaluru home: A Design Lesson on How to Get That Modern but Earthy Look.
Tour this traditional yet modern Bengaluru 3BHK:
Send in your comments and suggestions.