If you are looking for earthy interiors with plenty of warm colours and lots of greenery, this home is your best bet. While looking for home interior designers in Bangalore our clients chanced upon us and we made their dream come true!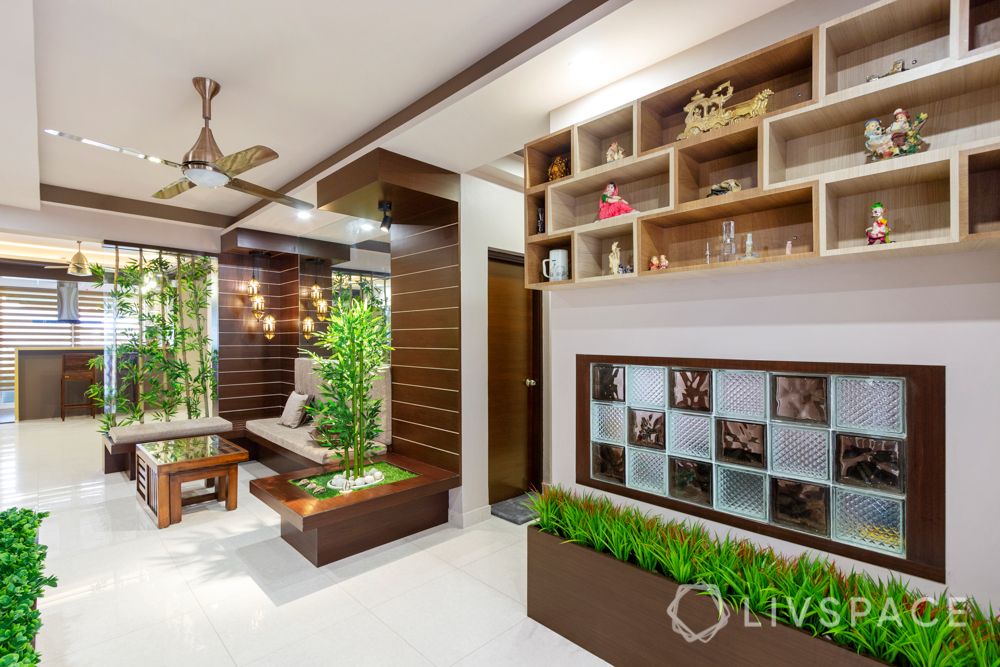 ---
Who livs here: Pradeep Kumar with his wife Vidya, their daughter Sakshi and his parents
Location: Prestige Bagamane Temple Bells, Hobli, Bengaluru
Size of kitchen: A 4BHK spanning 2,750 sq ft approx.
Design team: Interior Designer Poorva Bhandari and Project Manager Pawan Hongal
Livspace service: Full home design
Budget: ₹₹₹₹₹
---
Sometimes our designers in partnership with our clients conjure up such stunning designs that we cannot help but stop and stare. Creating visual masterpieces through interior design is what Poorva Bhandari, our designer loves and with this blank canvas she got to showcase her innate talent beautifully. When Pradeep and his wife Vidya approached her with their requirement she had the perfect solutions for them.
While you tour this home, you will be treated to various design elements that might make you rethink your own home interiors. Be it the amazing use of warm browns and beiges or the planters that infuse this space with a fresh vibe, you will be spoilt for choice. Read on to find out what we are talking about.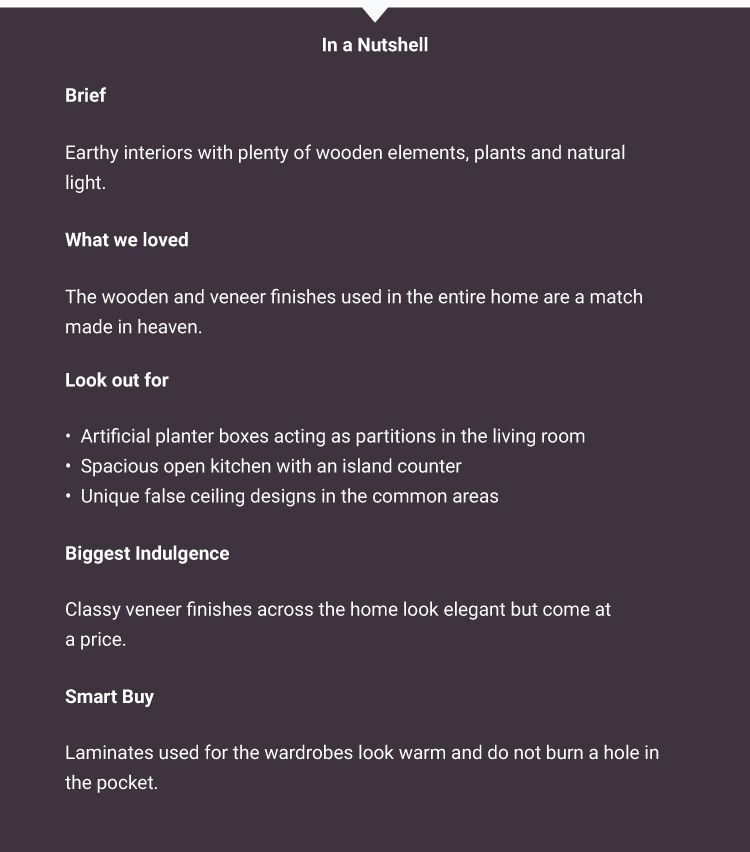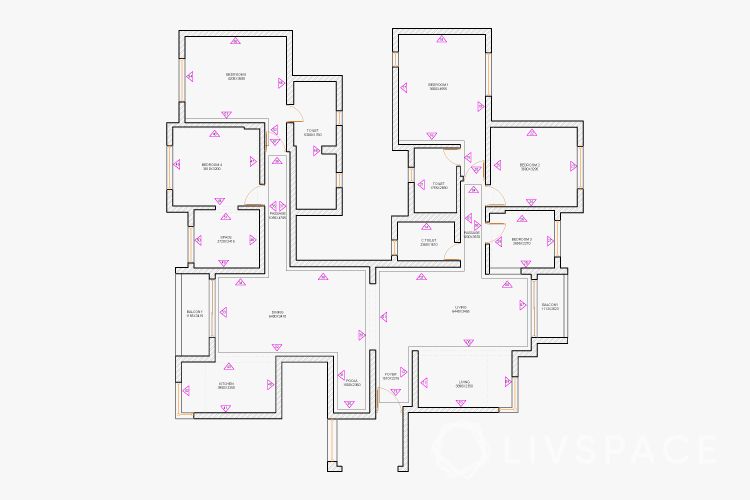 What colour scheme did we choose for this home?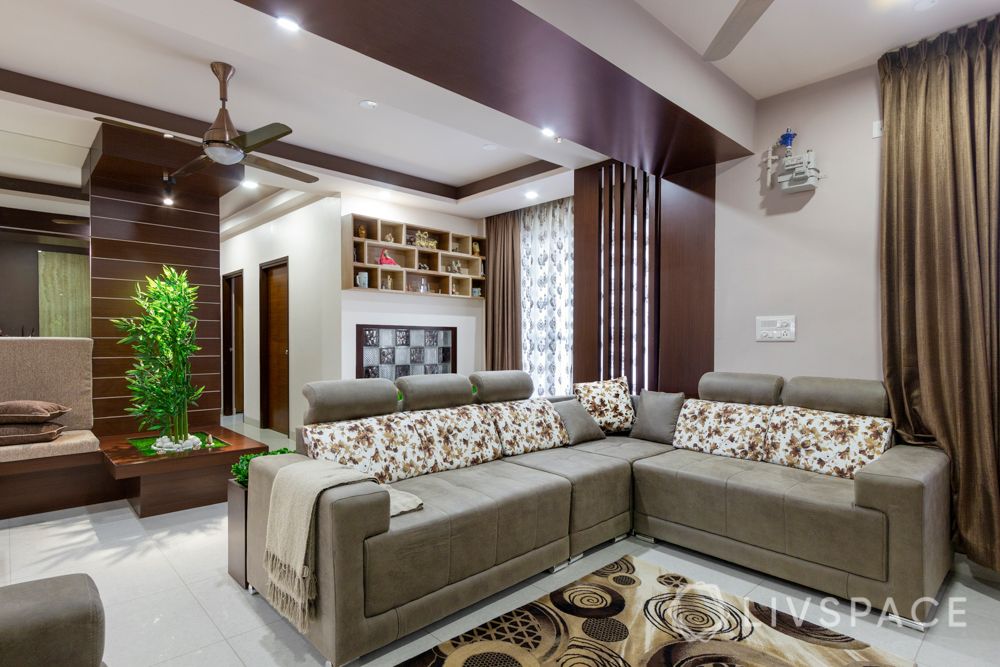 The moment you step inside this sprawling home you will notice the warm colours that Poorva has infused it with. Starting from the foyer to the living room and dining area, wooden tones and browns have been used liberally. The sole reason being Pradeep and Vidya's love for earthy colours. That was their first requirement in their briefing meeting as well.
We especially love how Poorva has merged laminate and veneer finishes throughout the design. You can make out one from the other from the grooves. Every surface with grooves is veneer and every other is laminate. She has cleverly demarcated zones with false ceilings and wooden slats. The beige sofas and the soft furnishings like the curtains are also selected carefully keeping the theme in mind.
How does the kitchen become a part of the theme?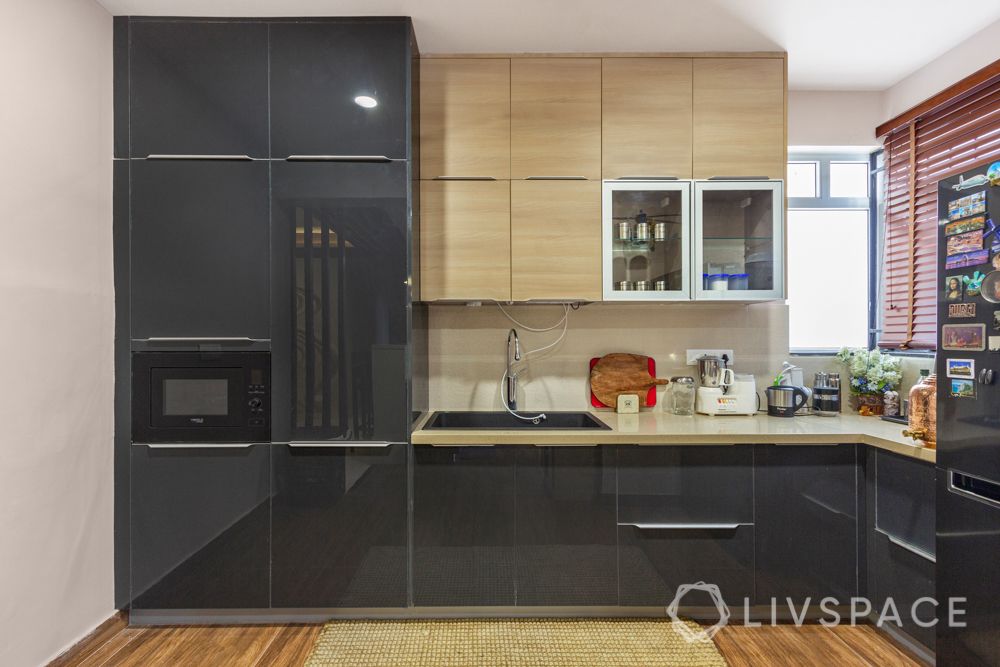 At first look you might feel like this kitchen does not really match with the earthy feel at home. But did you forget, grey is also a part of earthy colours, just a cool counterpart. Also, the couple wanted their kitchen to look modern and be fully equipped with modular solutions. Therefore, to keep up with the theme, Poorva gave them dark grey anti-scratch acrylic finish for the base cabinets and laminate for the wall units. Also, you will notice that since this is an open kitchen, there are no open shelves here, which is a smart way to keep clutter away from the eyes.
Also, check out the sleek island at the entrance of this kitchen that doubles up as the cooking counter. This way, whoever is cooking can be a part of the conversations happening outside and yummy food gets ready in no time!

Storage came in the form of wardrobes & lofts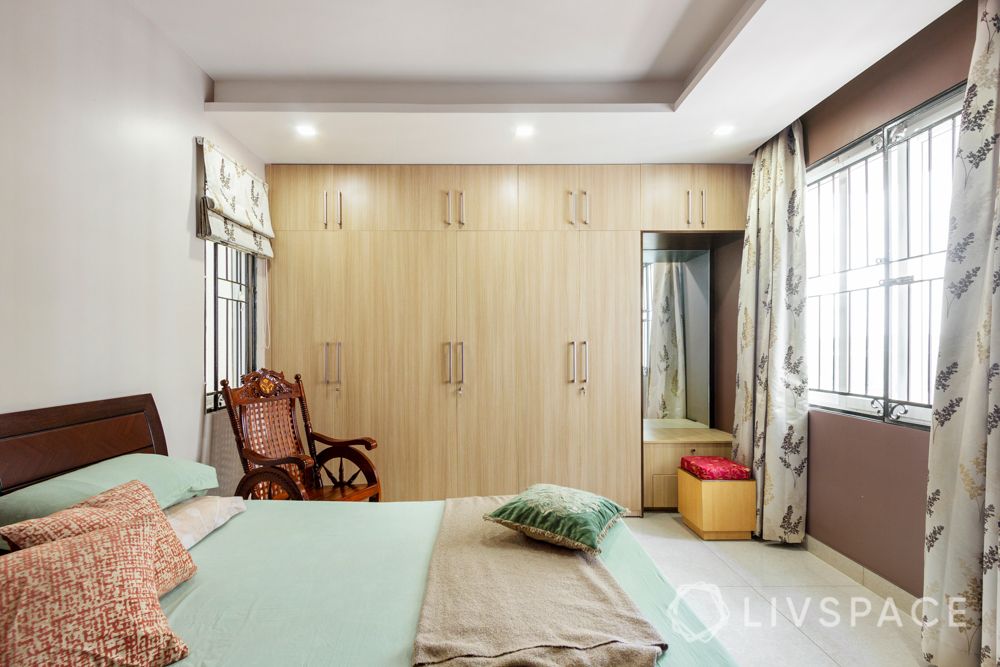 A major scope of our work for Pradeep and Vidya included designing wardrobes for each room. While Poorva kept the look harmonious by giving them laminate finish for each, she made sure she broke the monotony by using light and dark colours alternatively. This also ensures that though the wardrobes come with lofts, they do not weigh down the look. Since functionality was a concern, every wardrobe comes with swing doors that can be operated easily by every member of the family.
Take a look at these showstoppers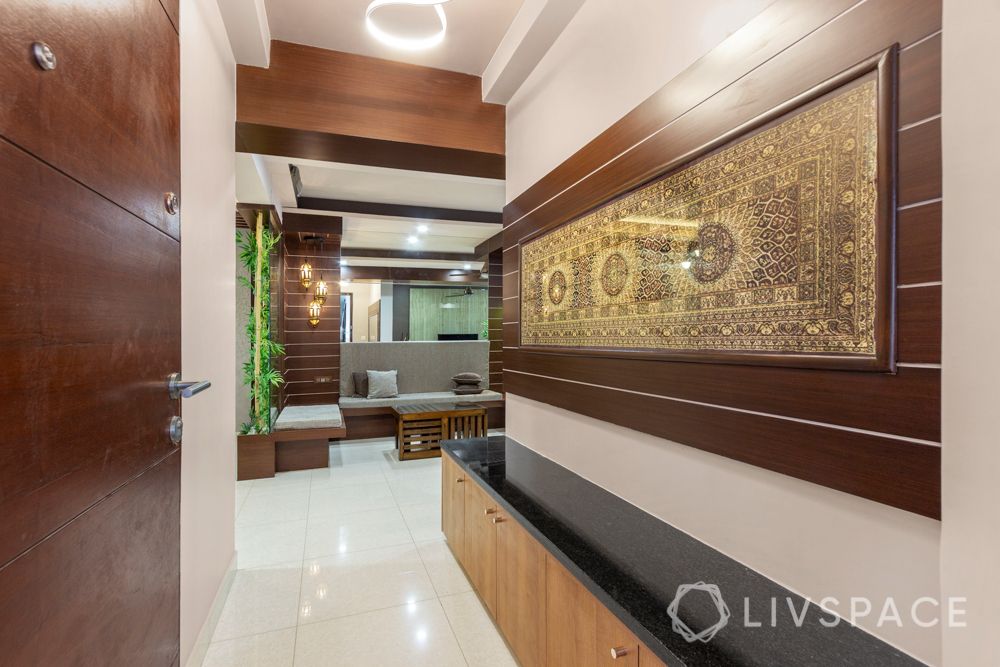 What's a great home without some stunning showstoppers? Let's begin with the foyer where you will spot this lovely wall decor. The family possessed this pretty Kashmiri carpet that Poorva thought would look amazing if framed and put up on the wall. She backed it up with a veneer panel and gave them seating-cum-storage beneath with a granite countertop.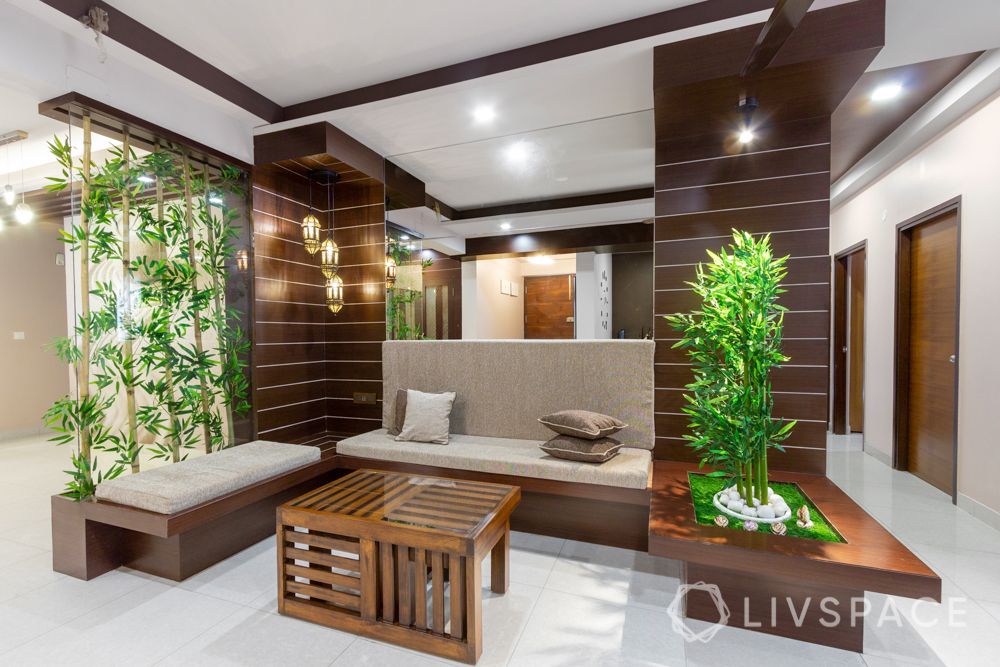 Moving on to the common areas at home. You will see a lot of planter boxes here, though artificial, since the family was concerned about maintaining real plants on a daily basis. But don't be fooled. These are not just decor pieces. These double up as partitions between each zone, like the formal seating, semi-formal seating and the dining areas. We love this idea since it does not come in the way of natural light and gives the space a fresh look!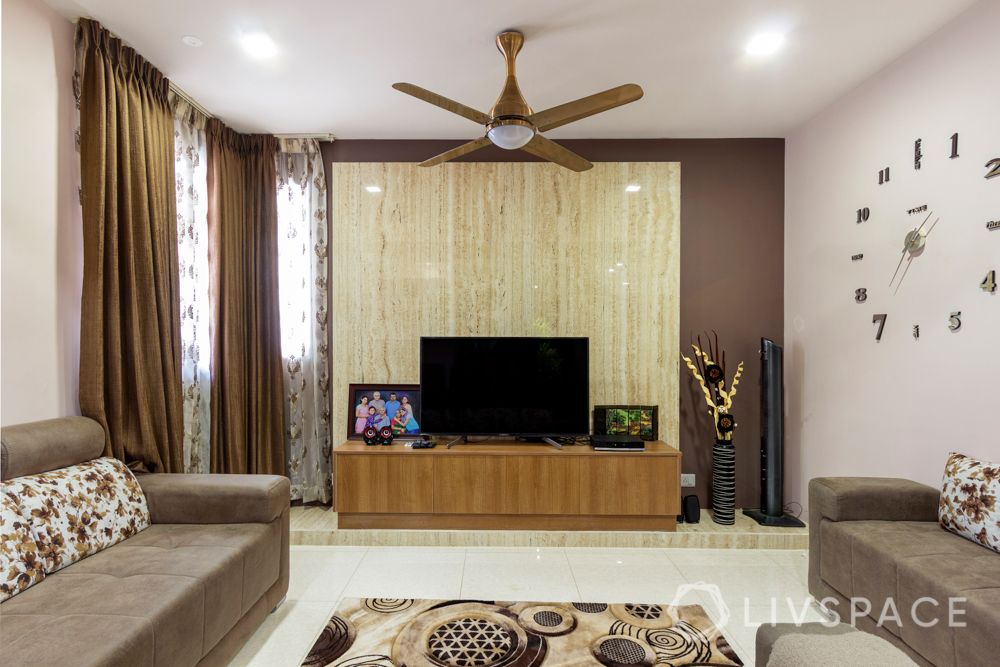 Our next showstopper is this elegant TV unit in the living room. This home is very spacious and the light colours used for designing it makes it appear even bigger. For instance, this marble-finish stone panel behind the TV unit. It is glossy, it is creamy and it oozes elegance. And the lights from every angle give it an enviable sheen!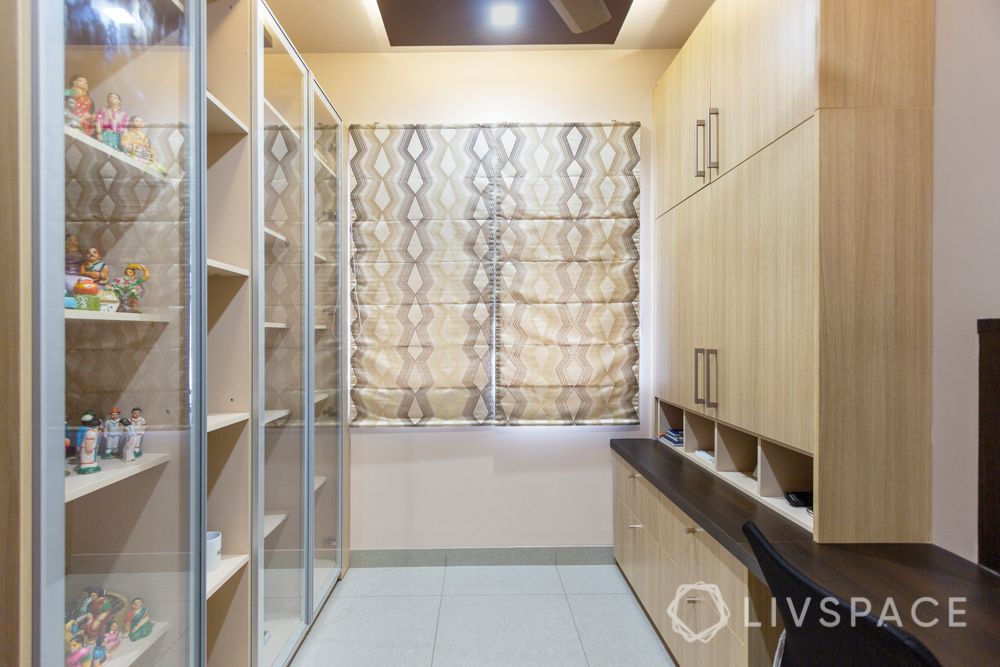 You must think that the study room is so tiny, what could possibly be stunning about it? It's not really the design or the space this time, it's the artefacts inside the display unit. Full marks to the couple who love collecting these and wanted a whole unit to put them up on display. Glass shutters make sure dust does not reach these pretty little things and they are visible to everyone.
Now that's a smart room for a smart kid!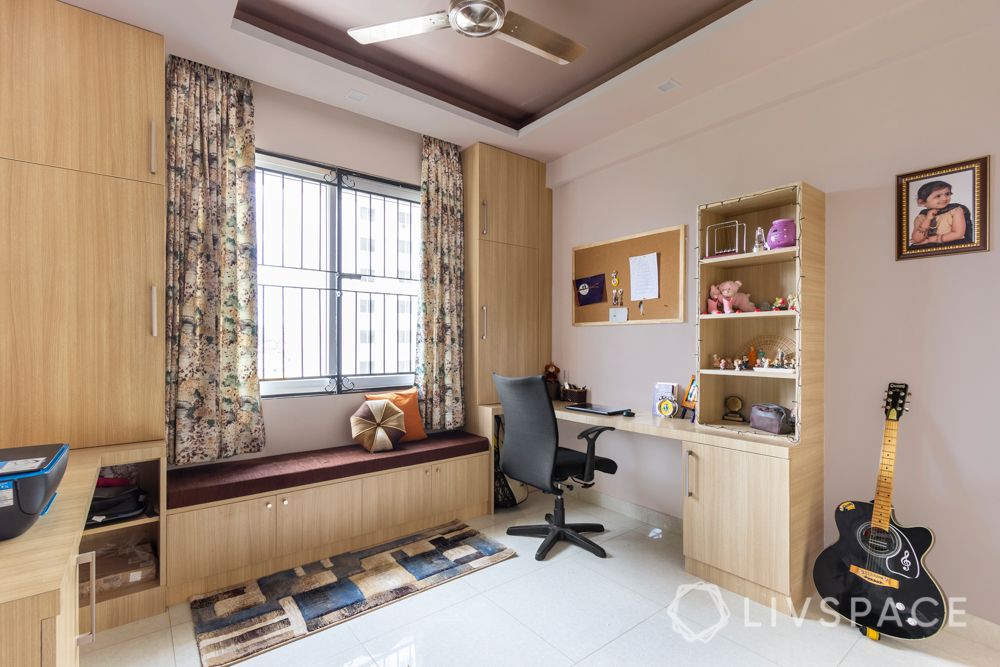 If you ask us, we would say we personally love the kid's room in this entire home. Perfect for a growing teen, this room is divided into two parts. One is the study area where she has her full-fledged laminate study table complete with shelves and cabinets for storage. She can also relax at the seat by the window while reading a book.
The other area is her sleeping den. A step-like entry leads to this space where Poorva has given her a platform bed that is apt for a compact space like this. She also has black and white boards on the wall next to her bed for times when she wants a quick revision of her math lessons – yes she loves them! And we love it, too.
---
"It was great to work with this family because they gave me a lot of freedom in terms of designing. It was a great learning experience since I had to give them ideas that had to be in tandem with what they had in mind. We had to be on the same page and since they were receptive to new ideas, it was easier for me to experiment. I love the way the home looks and I'm glad I could deliver what they expected of me."

–Poorva Bhandari, Interior Designer, Livspace
---
If this inspired you, then you might like reading this as well: Street Artist Adds a Fun Touch to This High-ceiling Home
Send in your comments and suggestions.