This 2 BHK flat in Mumbai is exceptionally stylish for a compact space!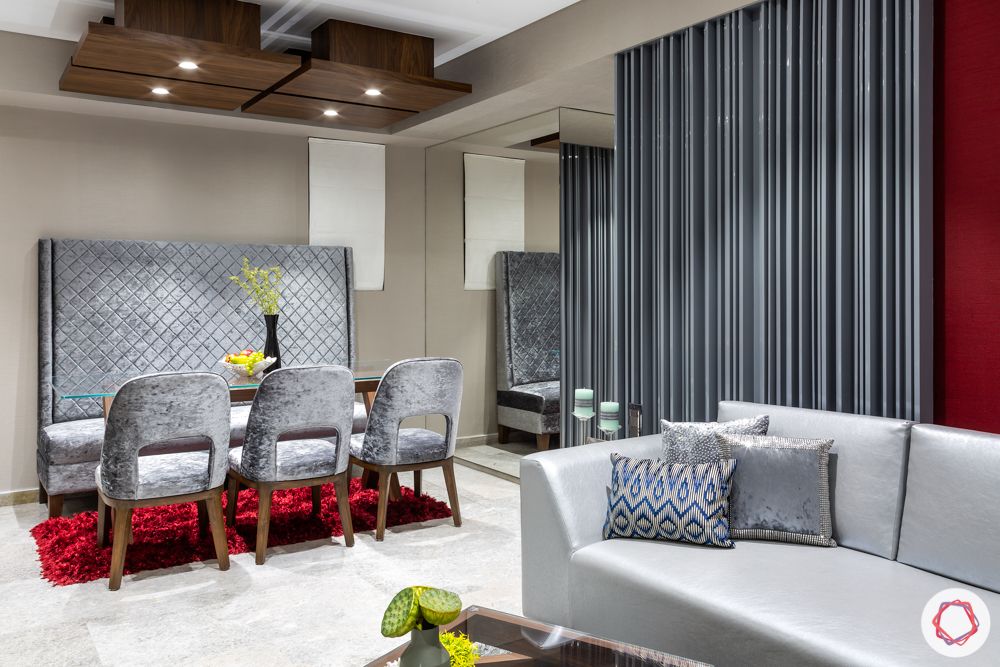 ---
Who livs here: Sonam Jain with her husband Varun Shanghvi
Location: Lodha Elisium, Wadala, Mumbai
Size of home: 870 sq ft approx.
Design team: Interior Designer Heny Savla and Project Manager Vijay Vansh
Livspace service: Full home design
Budget: ₹₹₹₹₹
---
Picture this: You've worked hard and bought your dream home in the maximum city and now all you want is to make it your own in how it looks and feels. For all the long hours spent at work, you want a haven that lets you relax with family.
Now this is what Sonam and Varun, both working professionals had in mind. Not everyone is fortunate enough to own property in aamchi Mumbai and since this couple made it happen, they were ecstatic about giving it that designer touch. They came to Livspace with a couple of ideas when they met designer Heny Savla, but had an open mind to let the designer make recommendations. Scroll through to get a glimpse of this beautifully designed home at Lodha Elisium in Cuffe Parade.
Take a look at the floor plan before we dive into the design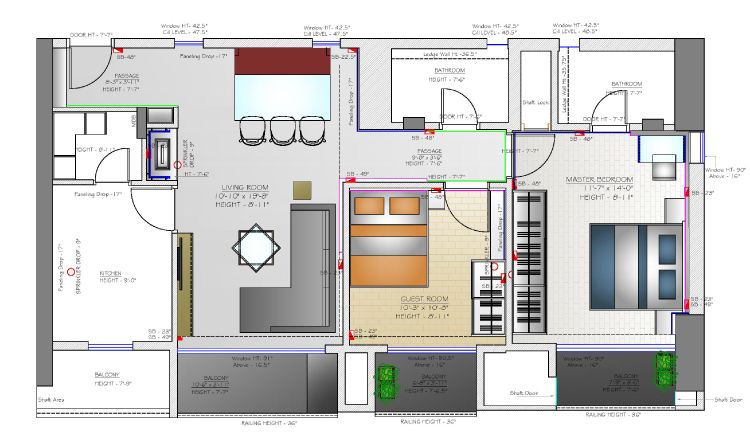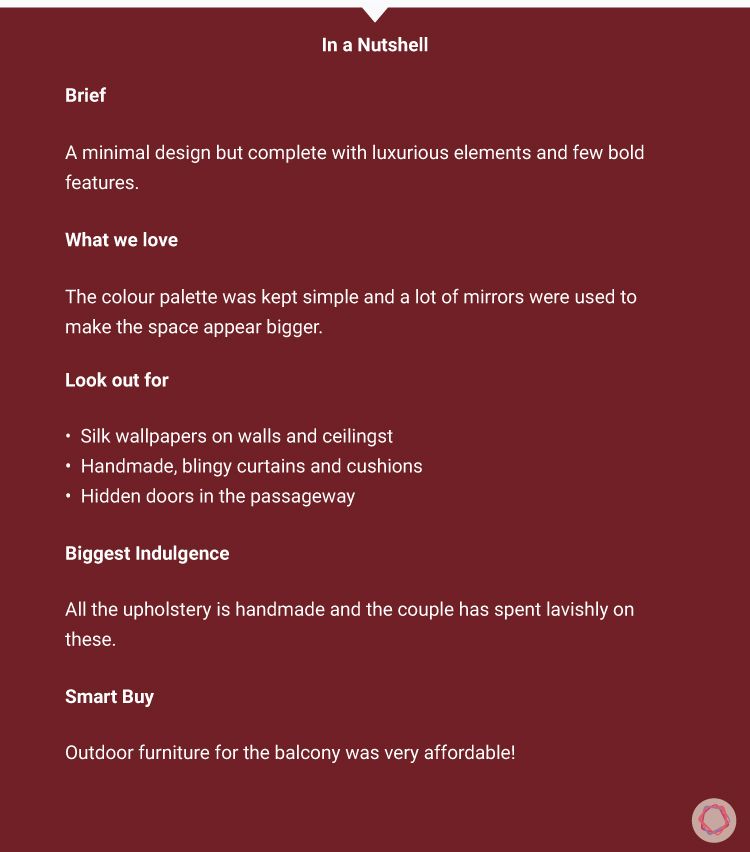 Nothing simple about this living room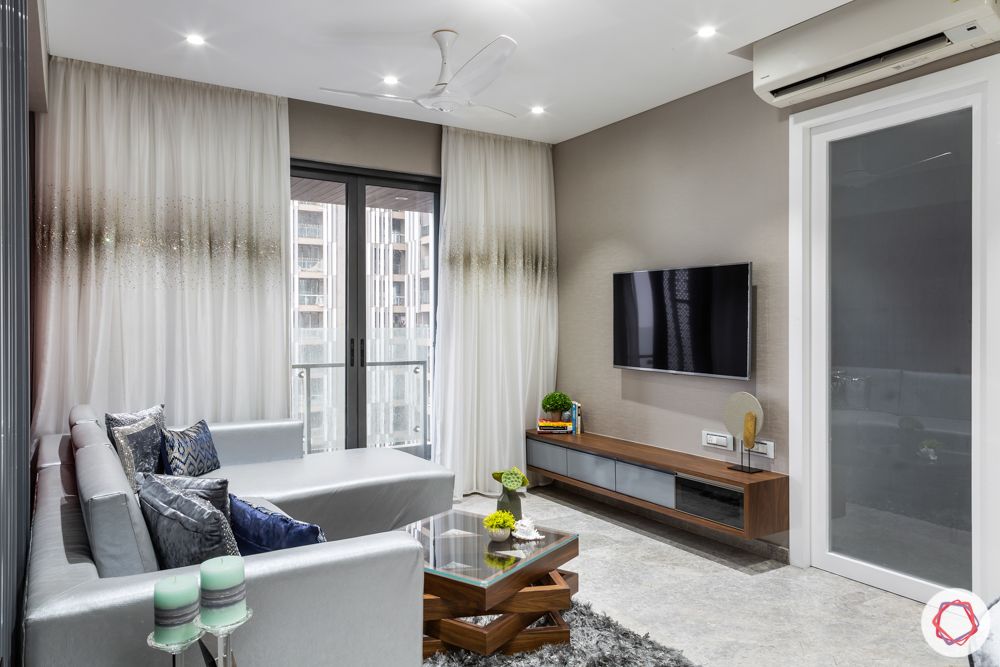 The colour palette used in the living room is delightful – greys and browns dominate this space and it has been distributed evenly. Not too loud, not too subtle – just right!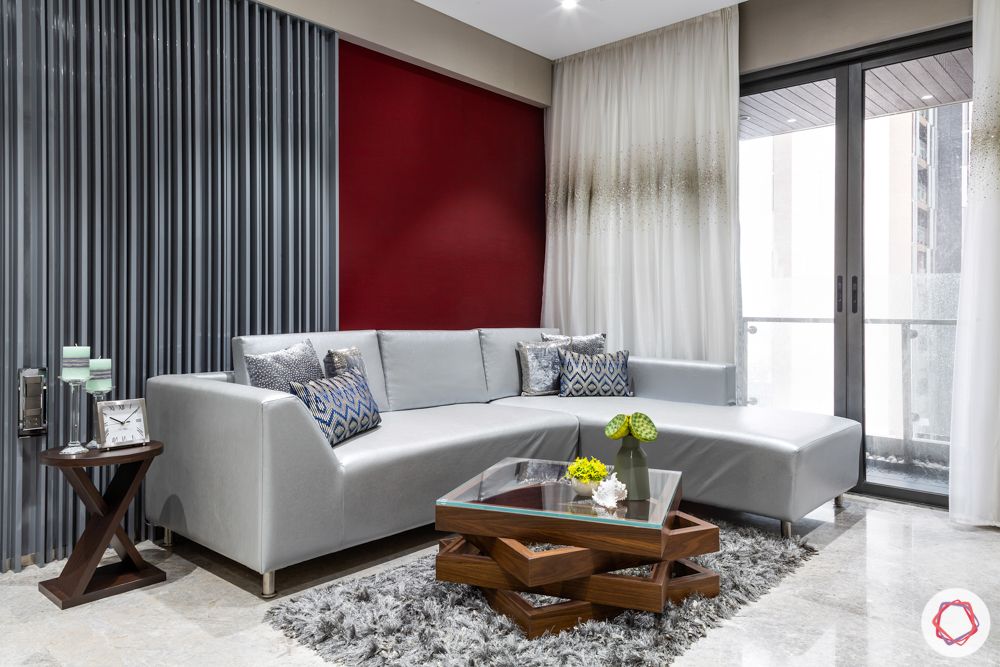 From the fabrics to the finishes, there's a certain designer touch to it all. This L-shaped eye candy you see right here is upholstered in an imported fabric and is custom-made to suit the space and the requirements of the couple.
---
Designer tip
An L-shaped sofa is the ideal option for a compact living room, since it maximises seating and fits in perfectly!
---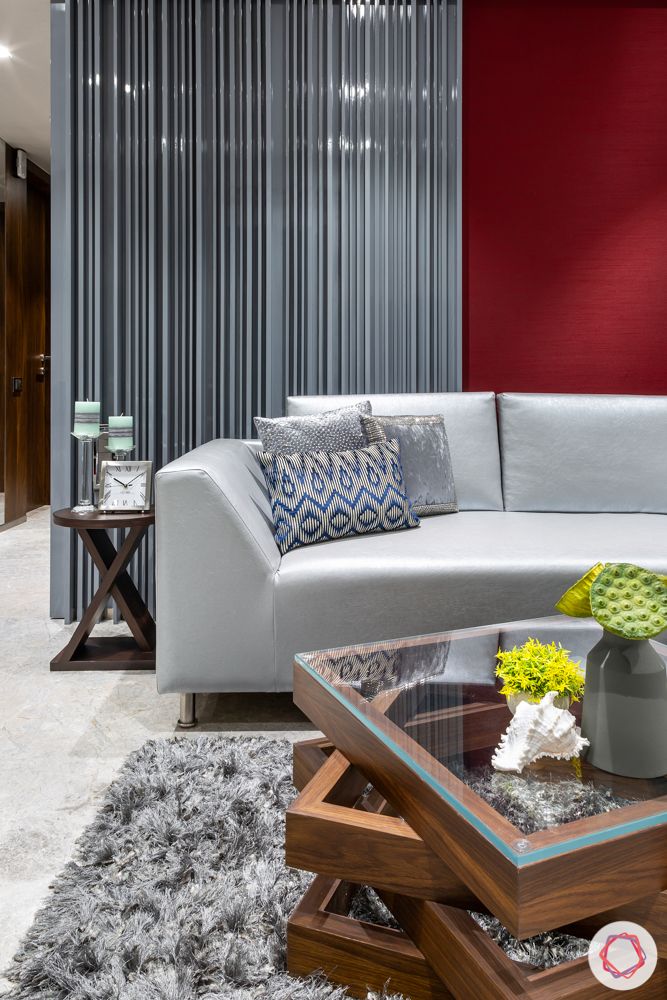 The next 'wow' factor happens to be the stunning silk wallpaper that looks like anything but your quintessential wallpaper. And that dash of rich, silken red is to die for! Also, don't miss the quirky centre table finished in veneer. A charming addition to an already stylish room!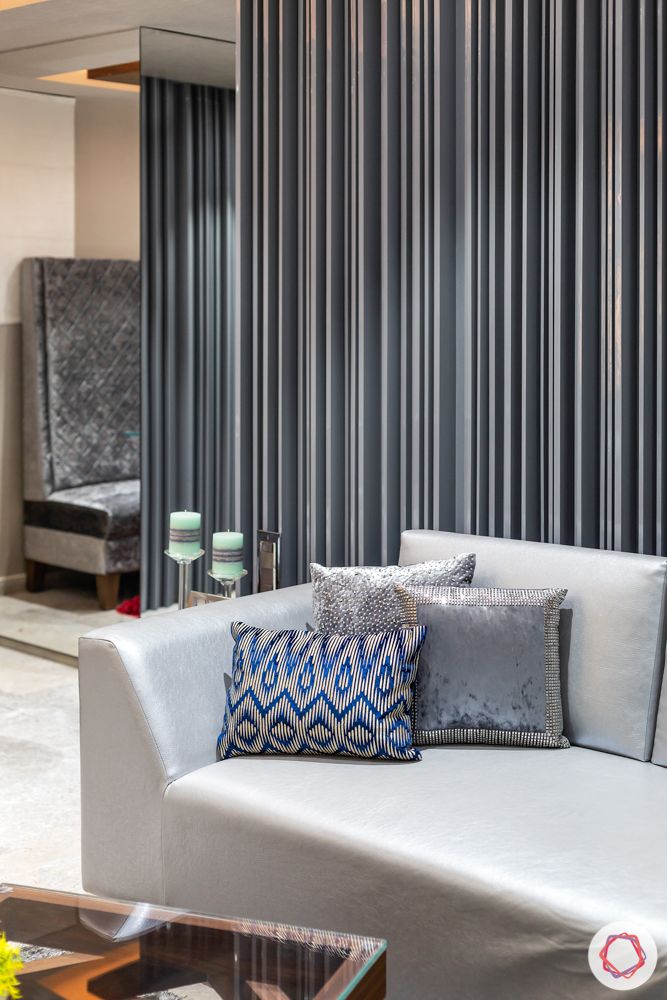 What's a home without a designer's touch? Heny wanted to add a unique element to the walls and came up with this brilliant idea of adding PU finish wall panels covering half the wall. It looks so striking and stylish!
---
Designer tip
Throw in some jazzy cushions on a plain sofa to make things a little more interesting!
---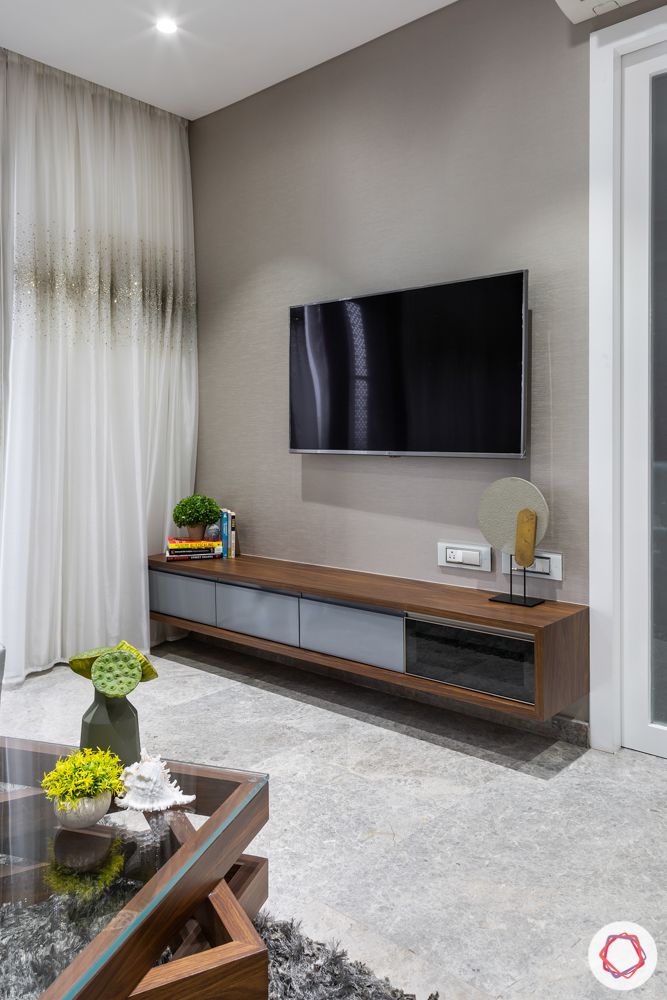 Compact homes call for space-saving solutions and this veneer finish TV unit does complete justice to that. It is also wall-mounted to save floor space and this makes it easy to clean underneath as well.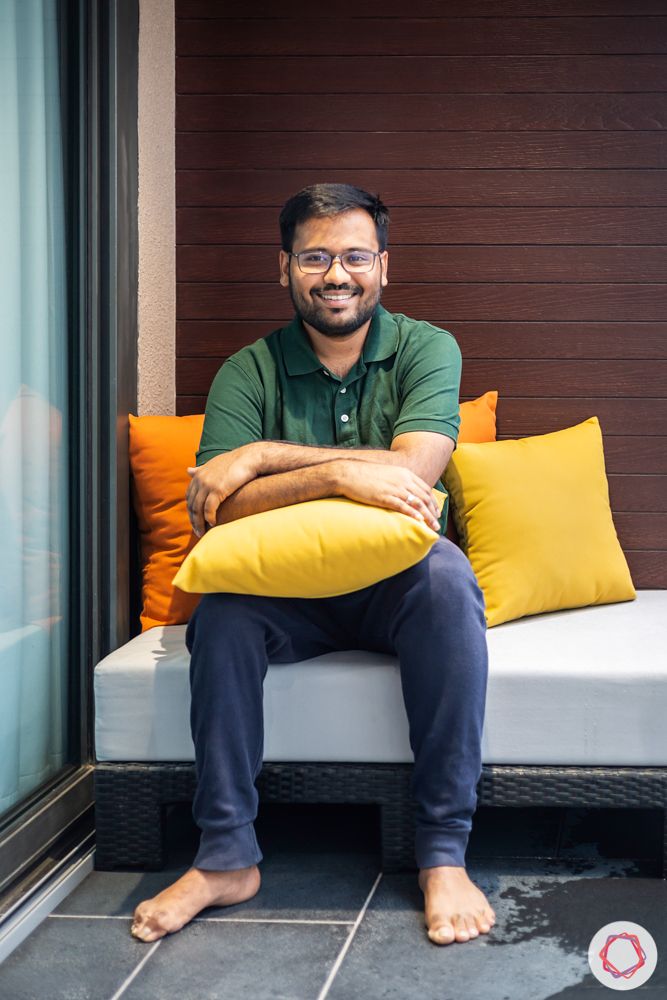 "We had a good overall experience and the entire team at Livspace was thoroughly professional. They maintained timelines and Heny was amazing at her job. She understands client requirements really well and her inclination towards contemporary and minimal design style was something that really helped us."

-Varun Sanghvi, Livspace Homeowner
An interplay of mirrors & glass everywhere!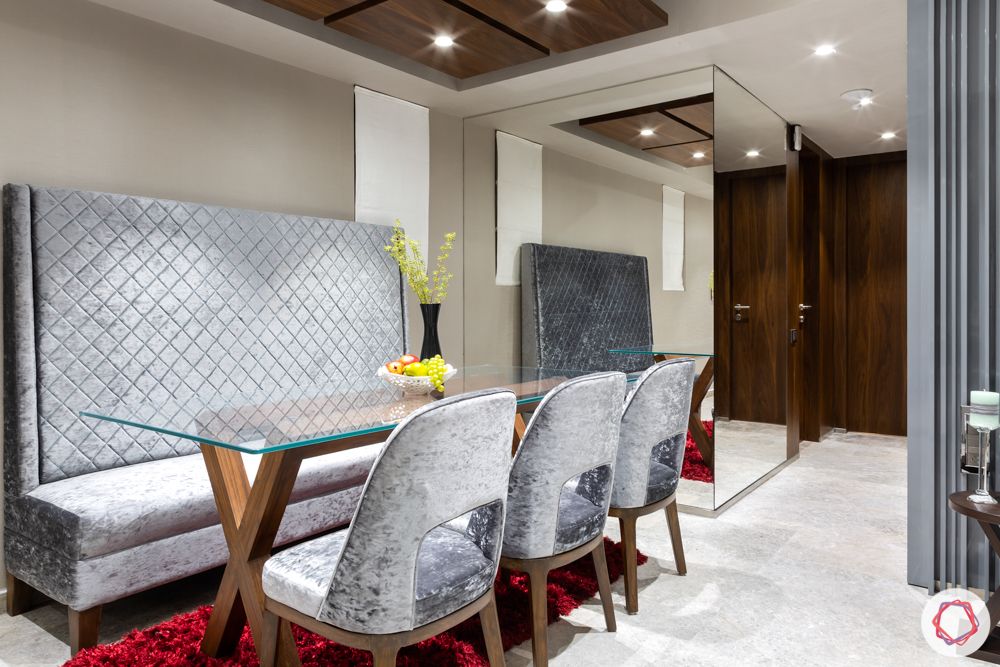 This home features a lot of glass and mirror elements in every corner. In Heny's opinion, this is the perfect way to open up compact spaces. In the dining room she has added two panels of mirror that reflect light beautifully and makes the area appear larger than it actually is. We also love the high-back upholstered bench placed against the wall!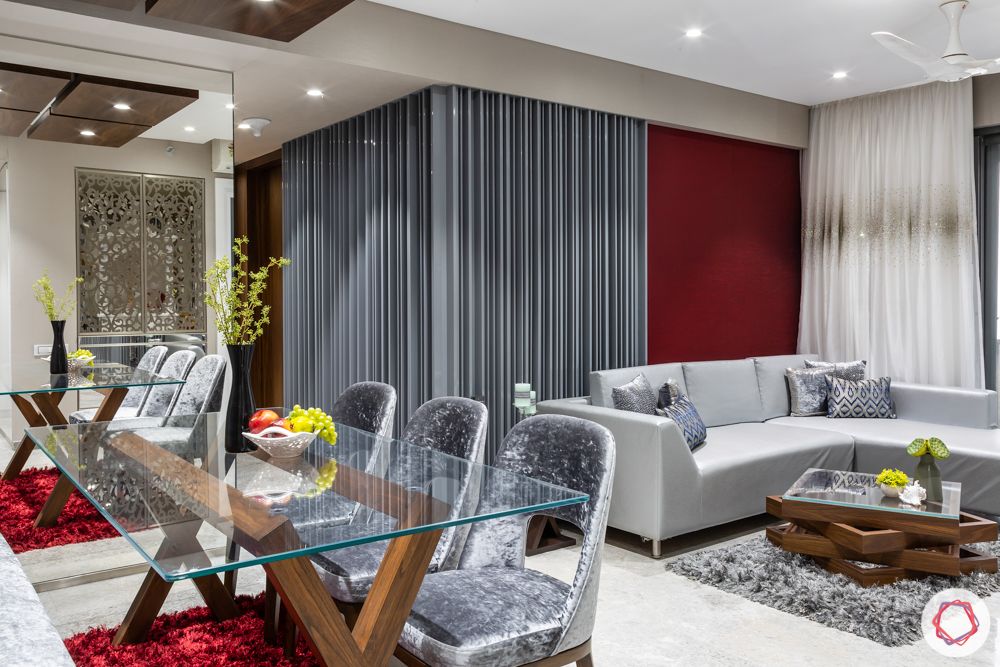 The dining table also features a glass top that makes it look lighter to the eye and the striking red rug underneath shines through it!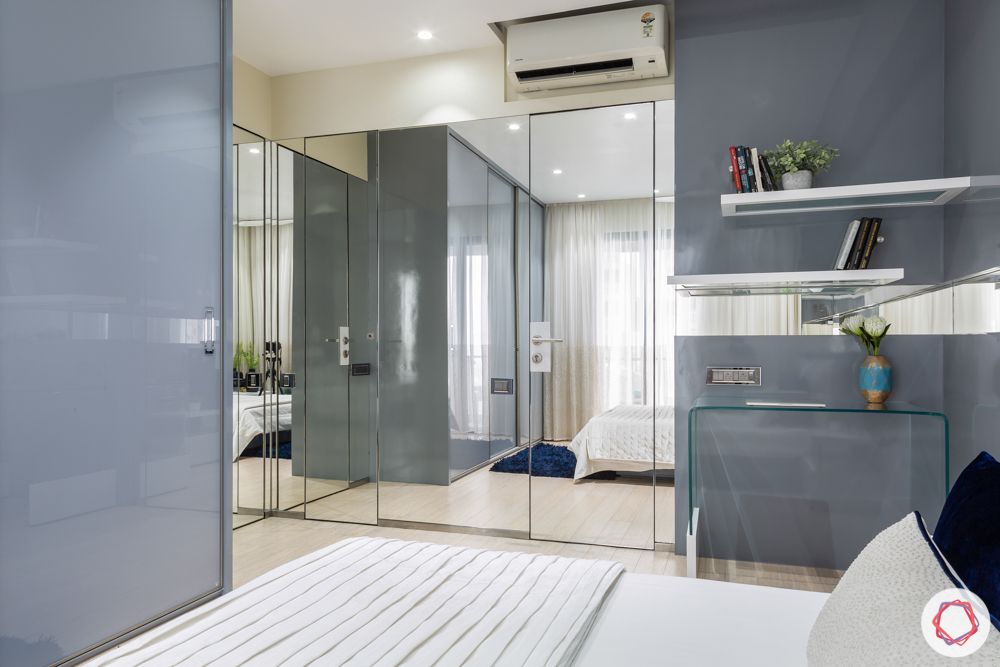 The master bedroom also features a lot of mirrors and one of the most intelligent usage of them can be seen here. If you look closely, you will notice that there are handles on these mirrors. So yes, they're doors!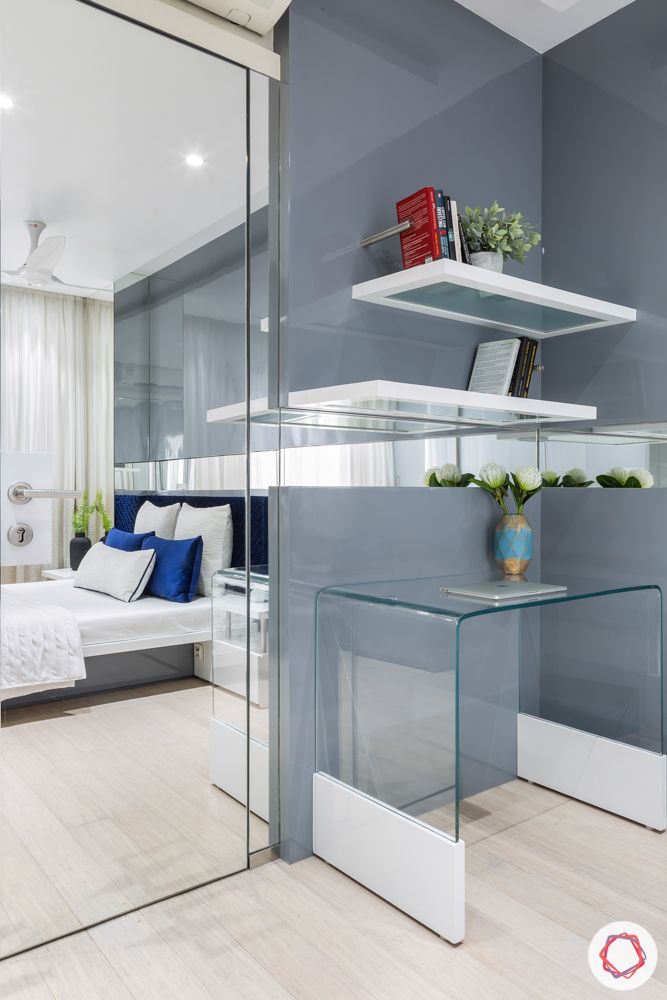 Amidst the glossy finishes used in this room, you will also spot this minimalistic study corner complete with a glass table and shelves. Also, its sleek design is light on the eyes yet extremely functional.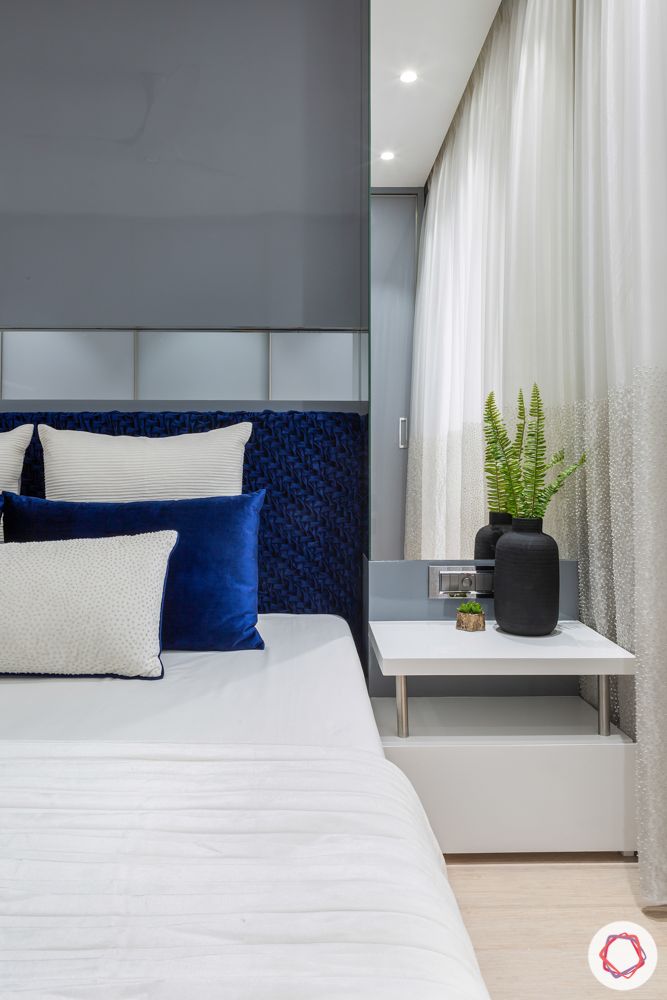 There was an ugly column jutting out of the wall in the corner and Heny was smart enough to add a mirror that also covers it up. It also acts as a dressing corner combined with the side table.

A stunning space for God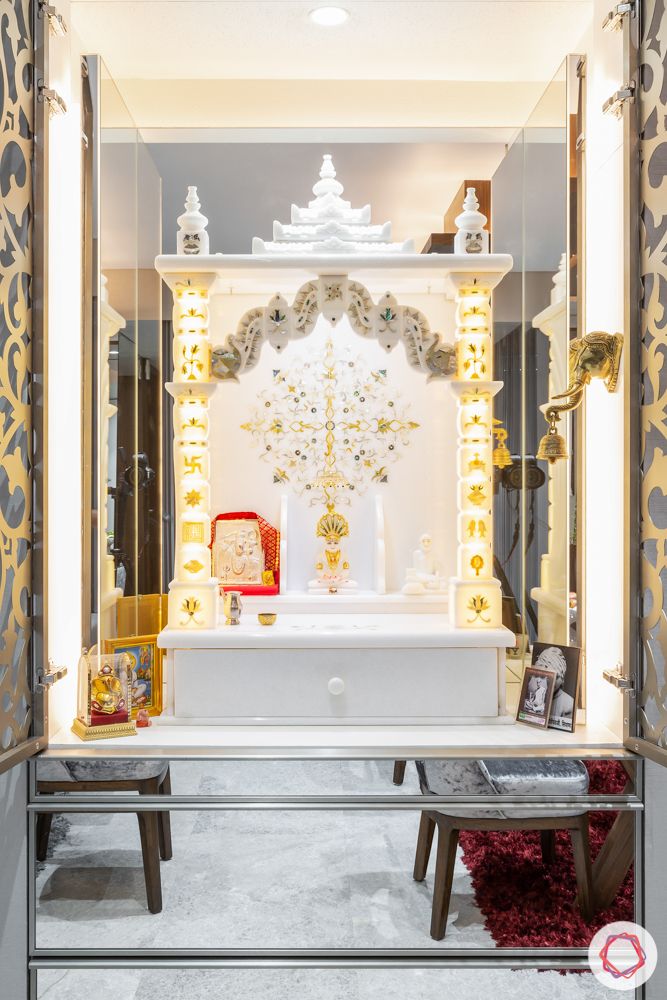 The pooja corner has been designed beautifully with laser cut steel doors that feature lovely carvings. Also, the backdrop is a mirror and the marble unit is the icing on the cake!
Let's dive into some intricate details!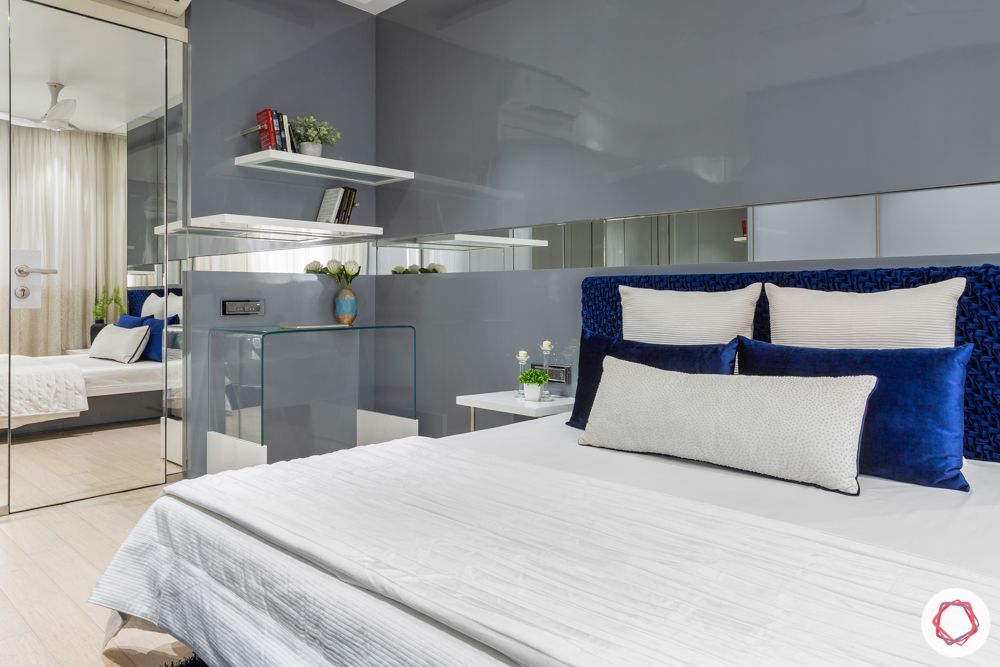 The study corner that you see here, features LED lighting at the bottom that illuminates this space when switched on. Not only is this a designer element, but also very functional when it comes to night-time working.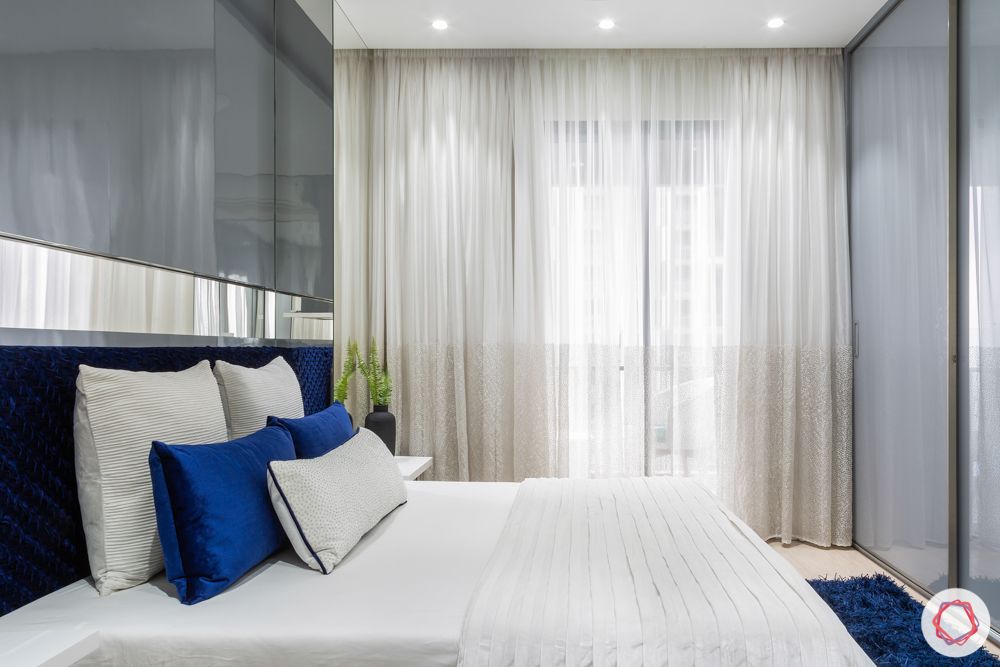 We love how invested this couple has been in setting up their home, they also handpicked every item. These sheer white curtains are handmade and are a great addition to the look of this room.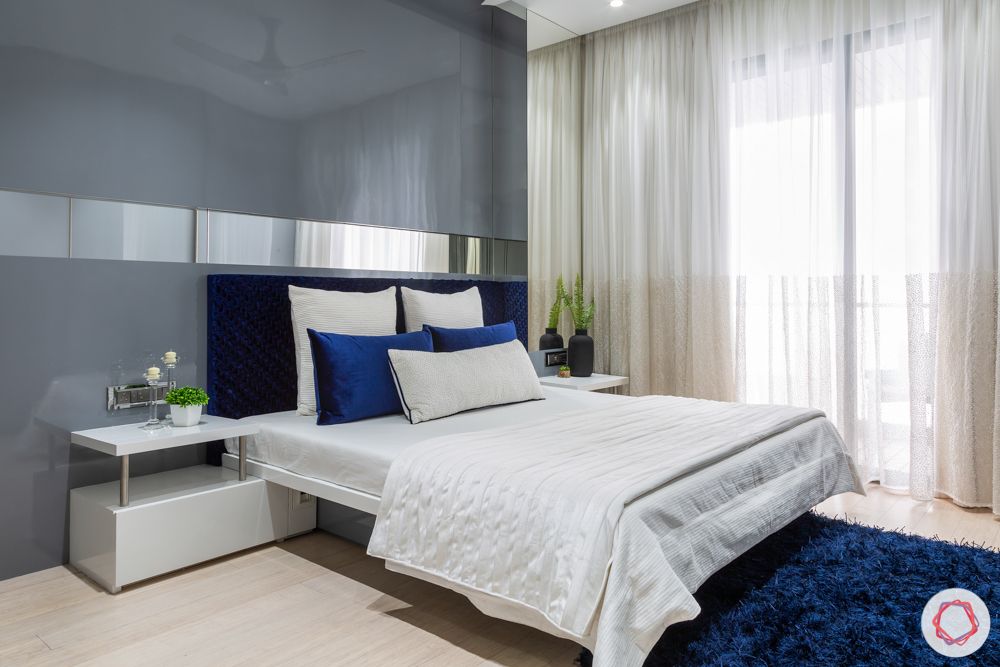 Coming to the functionality of this compact space, though they did not want a lot of storage but some intelligent storage never did cause harm! Heny has given them this floating bed that does not look heavy and features hydraulic storage. We love concealed storage!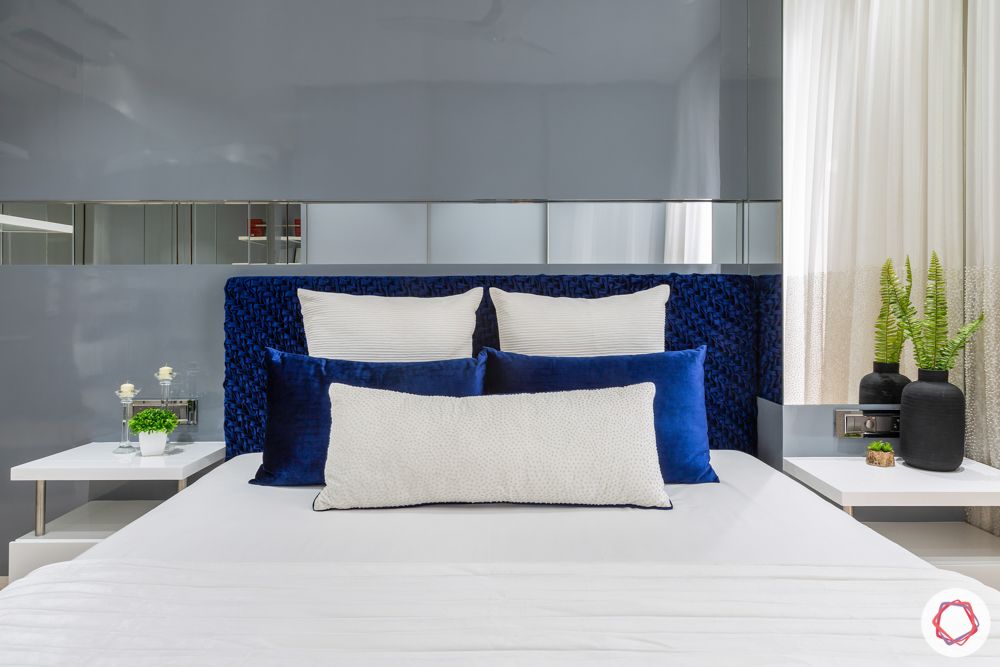 By now you also know there's something special about the pillows and cushions. Yes, they are also handcrafted and flaunt classic french knots on them that have been borrowed from the curtains. They go so well together!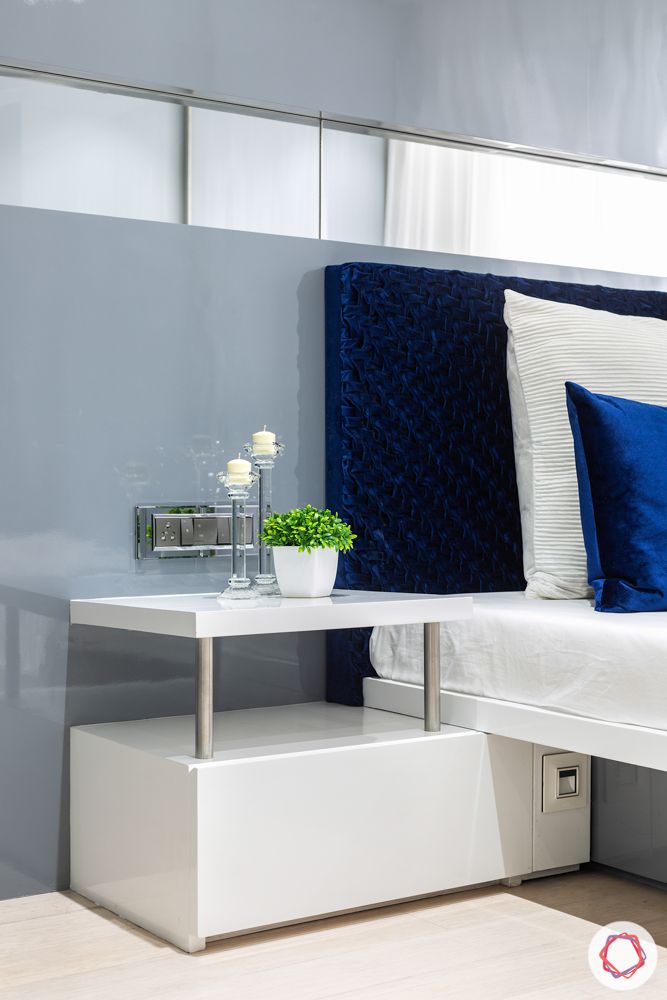 Speaking of the striking blue headboard – it is so rich in texture and colour that we cannot take our eyes off it. Interestingly, Heny also mentioned that she has played around with just two colours here and they are grey and blue. This beauty is handmade and woven to perfection!
A room with an upholstered wall?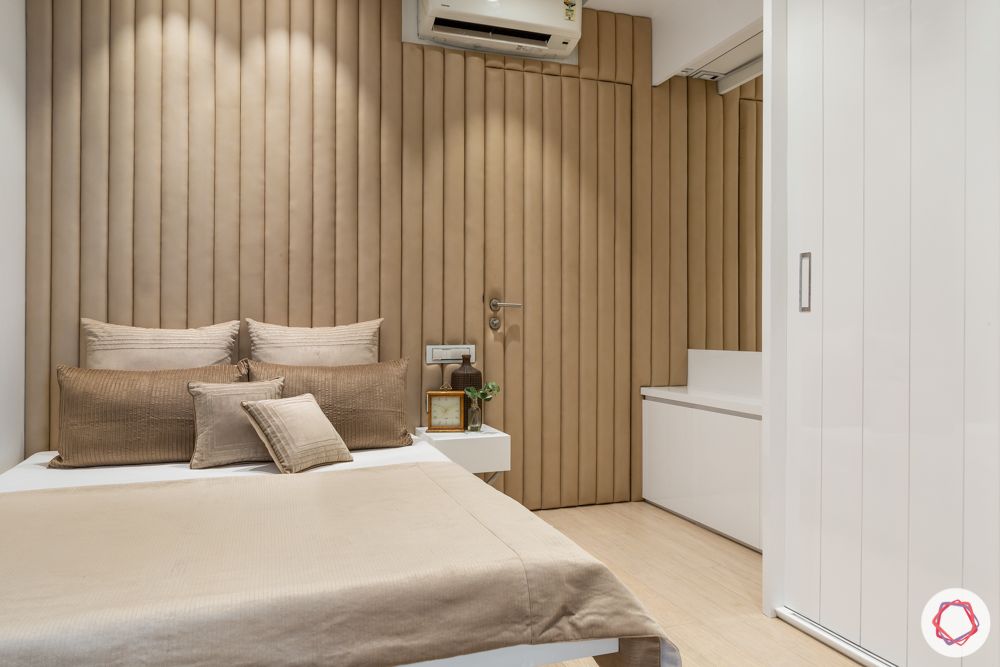 The upholstered wall that you see here is done up in leather and according to Heny, is the easiest to clean. We feel this is a great idea for couples and families who do not have little ones running around!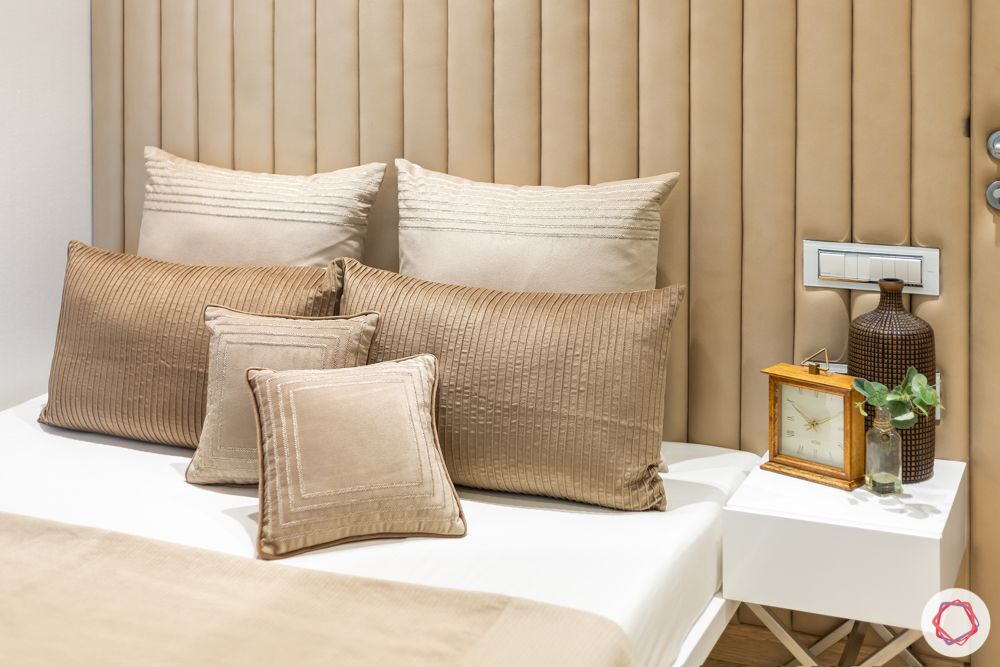 Yes, the cushions here are also handmade and each one is unique and different from the other. Also, we love the neutral colours used in these that do not look too overpowering.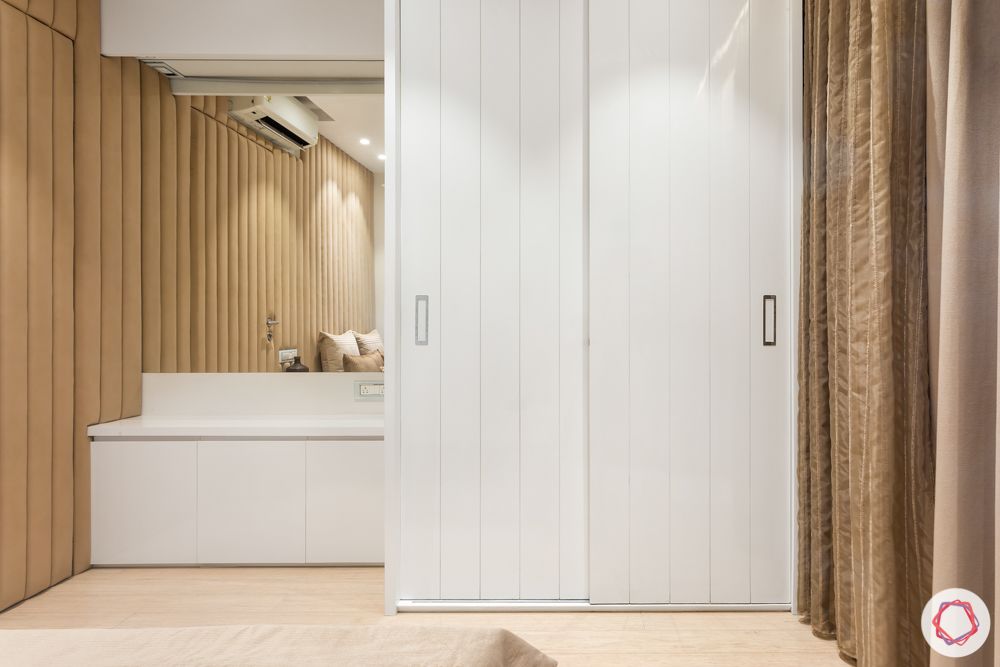 Heny has managed to take out space for a dressing corner and a sliding wardrobe in this compact room. Also, the dresser features storage beneath and the wardrobe is finished in lovely PU.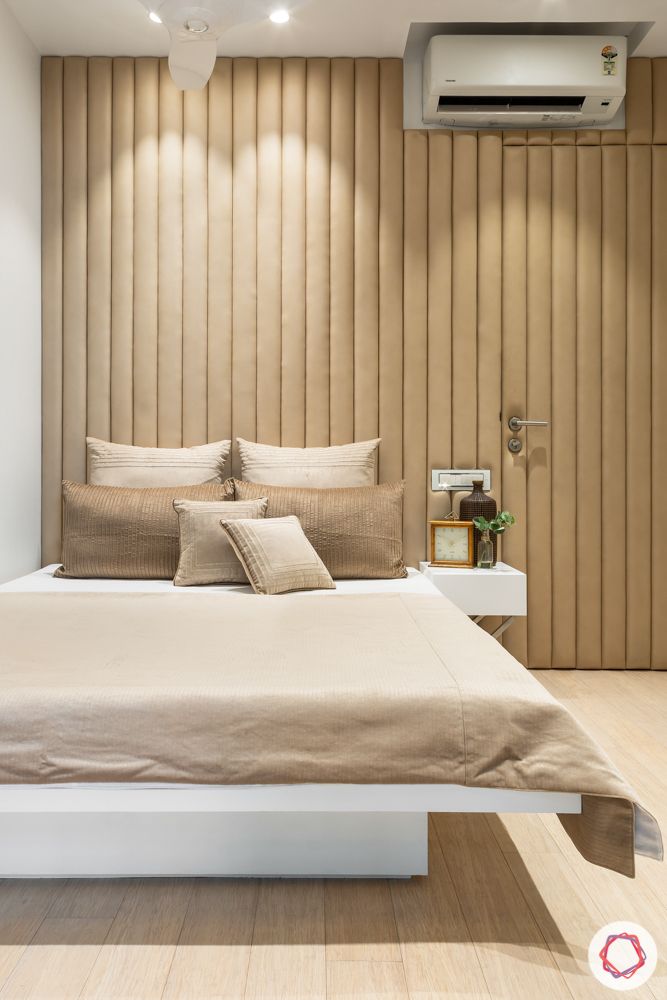 Also, don't miss how the upholstery on the wall camouflages the door to this heaven!
Signing off with a cup of coffee!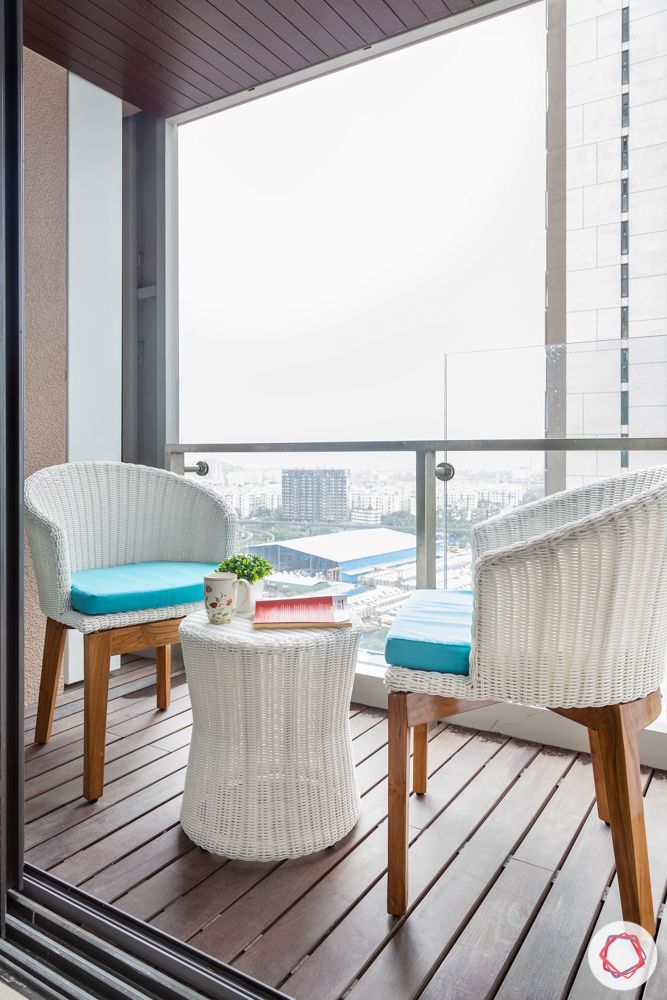 The lovely weather in Mumbai calls for a cosy balcony with smart furniture that is weather-resistant. And this is what the couple got for themselves in their bedroom. We love the view from here and the light breeze too!
In the words of our designer
"This home is all about functionality meeting aesthetics. It takes courage to accept such strong elements in your space. They had given me all the freedom to design as I like. The home had to be as gorgeous as it is. It was a pleasure to design this space!"

– Heny Savla, Senior Interior Designer, Livspace
Did you like this uniquely designed home with stunning details? Then you must check this out: Budgeted Comfort for This 2BHK.
Send in your comments and suggestions.