In our all-new Design Focus series, our designers share their ideas and inspirations for creating great, Livable interiors. In this edition, Livspace designers Prateek Sabharwal and Divyalakshmi S tell us how they carved unique, intimate corners for all ages in this spacious, ready-to-move-in Bengaluru apartment.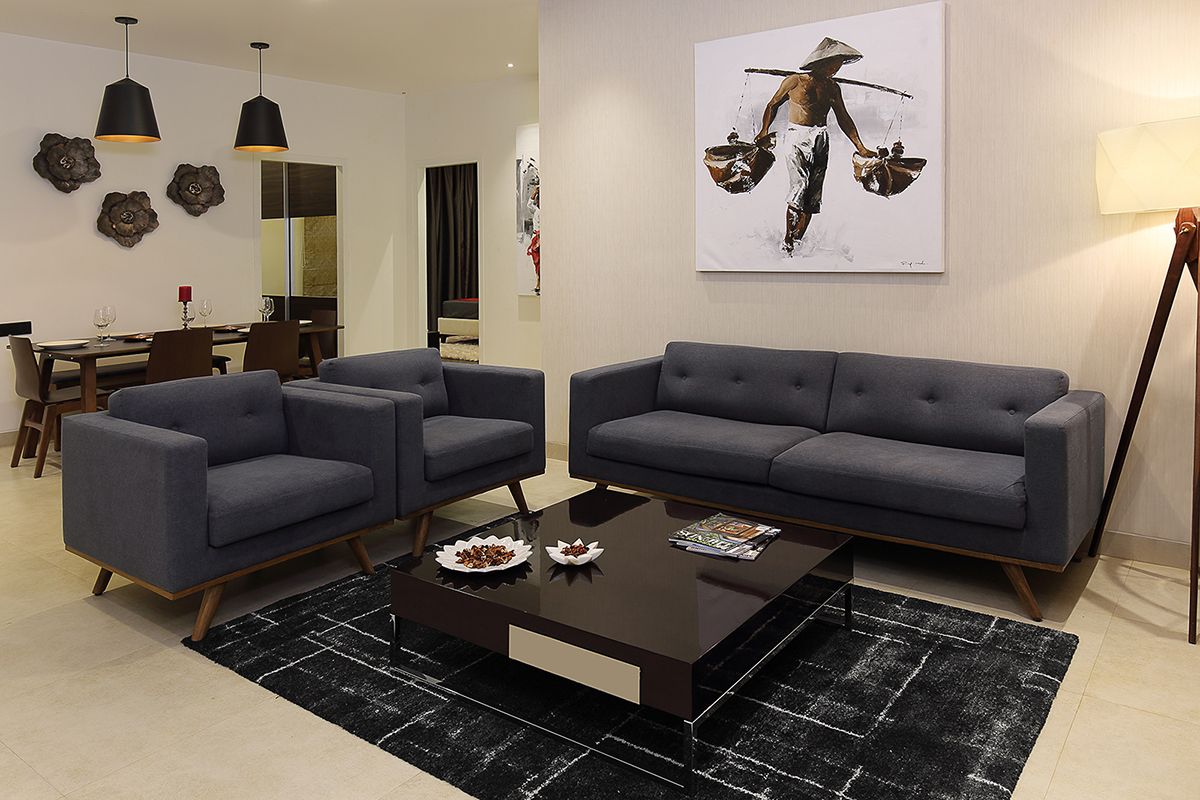 ---
Home Type and Size: A 3 bedroom apartment spanning 1800 sqft
Designers: Divyalakshmi S, Prateek Sabharwal
Project Manager: Nitesh Kumar Srivastava
Location: Sekhar Olympus, Horamavu, Bengaluru
Budget: ₹₹₹₹₹
---
Subtle style characterizes the interiors of this plush, three bedroom residential apartment in North East Bengaluru, one of Livspace's most recent projects. Designers Divyalakshmi and Prateek focused on creating a home that would appeal to urban families and the result is an engaging space that marries sumptuous comfort with modern sensibilities.
Awash in neutral tones, the apartment's spacious living room and dining area feature a thoughtful mix of materials and textures, evident in the furniture, wall decor and design elements such as the slatted paneling behind the media center. The open space extends to a functional kitchen which is equipped with a fridge, chimney and sleek cabinets for everyday use. Each bedroom is customized to reflect the age of the prospective occupants – a bold, luxurious master bedroom for working couples, a nautical-inspired bedroom for teens and a quaint, soothing guest room for visitors or the elderly. Layered lighting plays an integral role in this contemporary home, making it a cozy cocoon one would love to come back to at the end of a tiring day.
Here's what our designers had to share about their overall vision and process in a one-on-one session:
Q: In a nutshell, what kind of space did you want to create?
Divya: We've kept things simple. You'll see that straight lines dominate the space, giving it a welcoming and easy-to-maintain feel.
Prateek: We basically created a practical home that exudes calm and modern simplicity.
Q: Could you tell us a bit about the overall theme?
Prateek: One might say that it is a modern take on zen simplicity. This is reflected in the design of the living room and the overall practicality of the entire space.
Divya: We have emphasized on the modern theme in the house in many ways. The unpolished oak wood rafter behind the TV unit adds a swanky yet organic touch. Long, framed mirrors give the bedrooms a streamlined look. Keeping space planning in mind, we picked decor pieces and furniture that make a statement without adding clutter.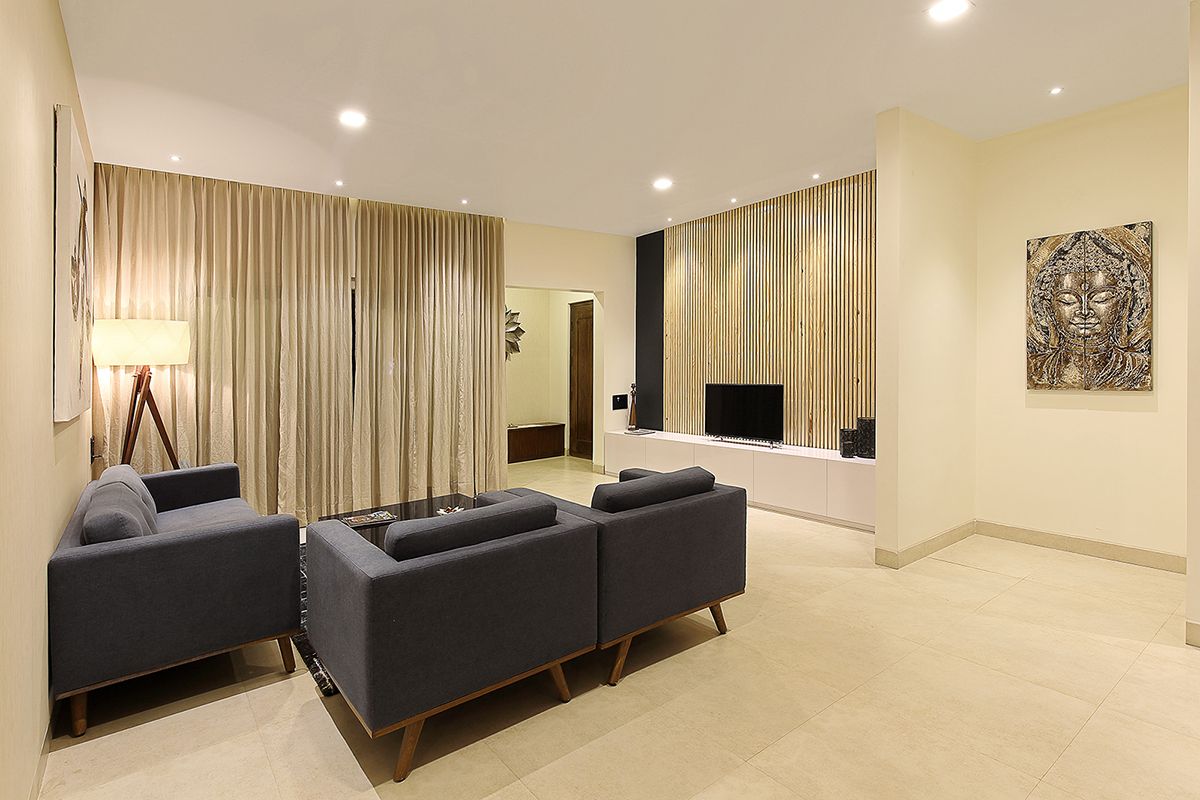 Q: Take us through the overall design, room-by-room.
Prateek: We used artwork as the focal point in the living room and master bedroom. We chose a color scheme that was a play off these paintings and used neutrals for a cozy, relaxed feel and enlivened it with pops of red.
White, grey and natural wood finishes were selected for the dining area and kitchen, to accentuate the feeling of openness.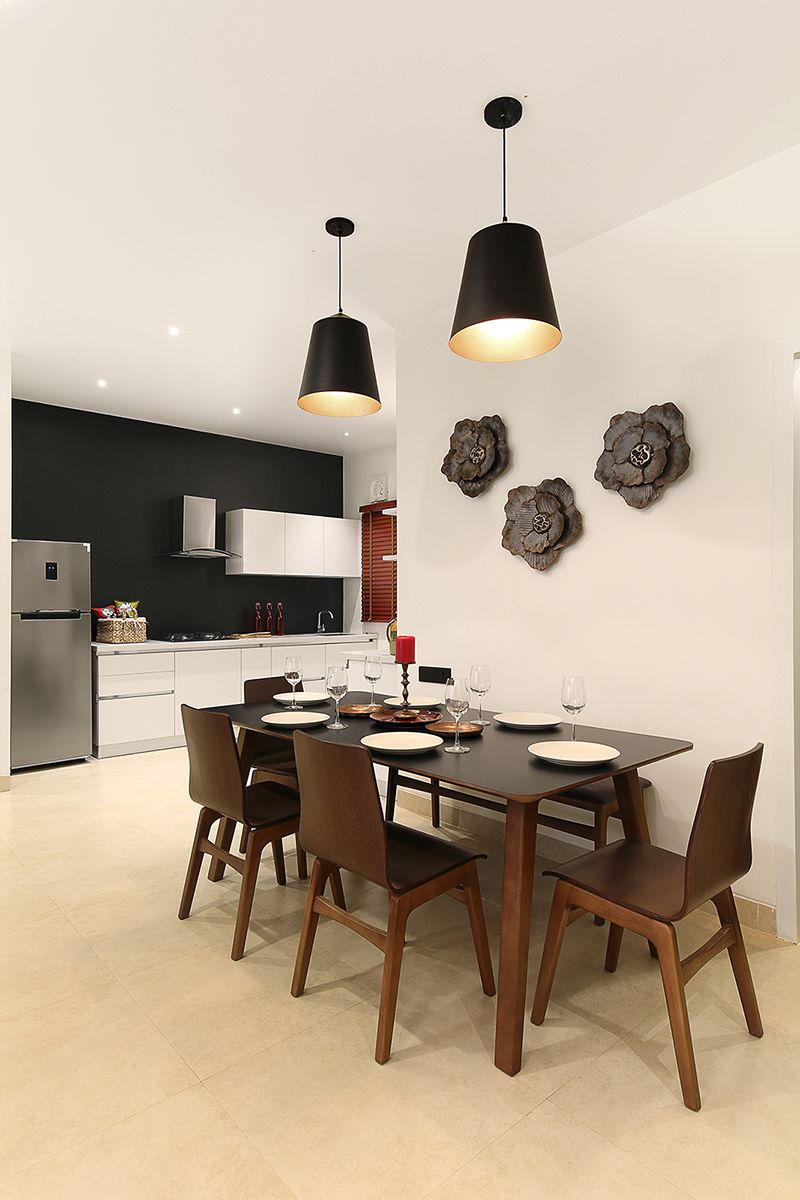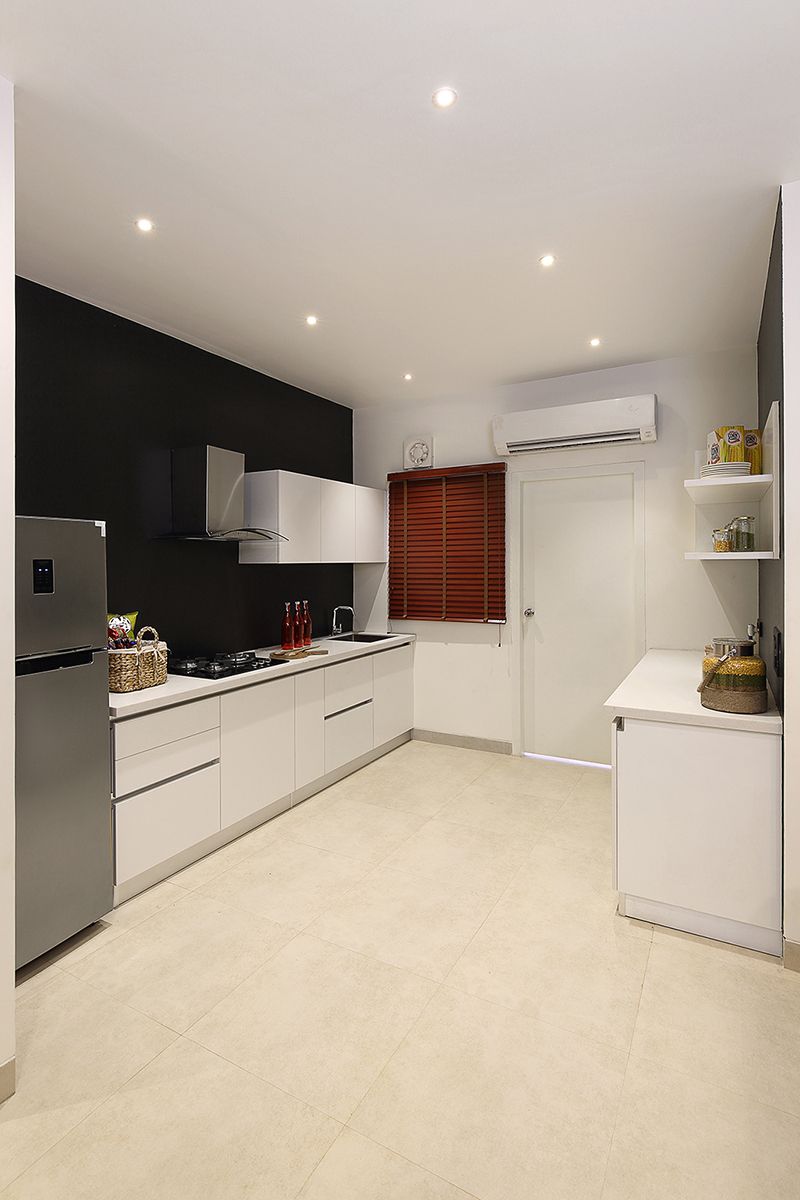 However, we wanted to keep things different in the guest room and the room meant for teenagers.
For the former, we decided to have it nature-inspired. We knew that it would be equally enjoyed by guests both young and old. Green walls and wooden wardrobes set the tone of the room and a mirror inset enhances the feeling of spaciousness. Also, we made sure that the bed had an upholstered back to give guests a comfortable experience.
For the latter, we decided to get a little adventurous and bring in a nautical theme. We used a map wallpaper on one side and a huge bronze-tinted mirror on the other side to emphasize the same. We deliberately designed the overall look to be more refined than the typical kids' room, so that the decor would remain age appropriate for the occupants through the years. Using purple on furnishings was our way of making this space gender neutral.
---
"The guest bedroom has more earthy overtones – green walls and wooden panelling. The wardrobes have partially mirrored shutters to create the illusion of the room being larger than it is. We have incorporated a study nook, with storage for odds and ends above."
---
Q: What was the most difficult room to work on? How did you come up with a solution?
Prateek: Definitely the bedroom for teenagers. It was a tight space, so we opened it up using the wall to wall bronze mirror and the frosted glass wardrobe. However, it also had to be functional, so we chose a bed that had storage space underneath. Now that most of the floor space was occupied, we chose a wall mounted study table to keep things light and airy. Lastly, we added storage compartments on top, along with two open shelves for necessities.
---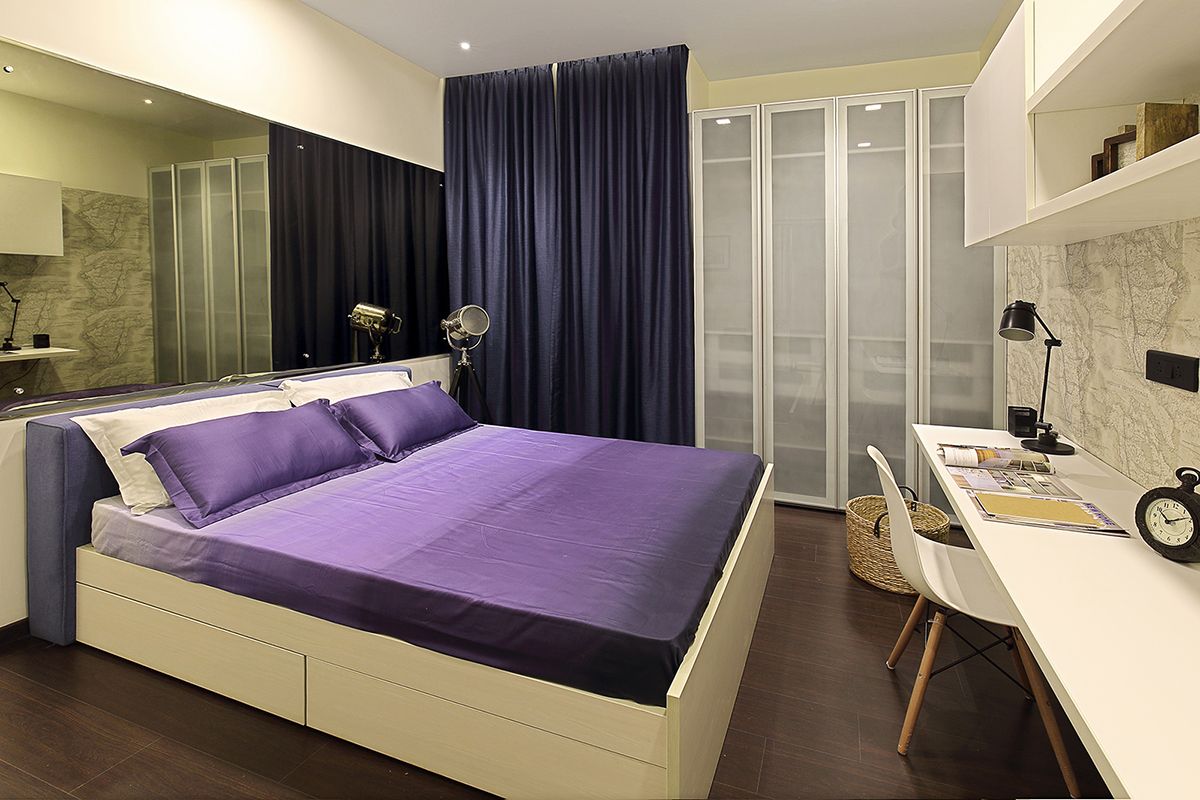 "In the kids bedroom, the study wall allows for an extended study table as well as ample storage for books and other items, both open and closed. We chose frosted glass for the wardrobe fronts to lighten the space. Both the search light and the desk lamp were also carefully chosen to complement the nautical theme."
---
Divya: The living and dining area also proved to be quite challenging, since almost every wall had an opening of one type or the other. Since darker colors would highlight the openings and create a sense of discontinuity, we kept the wall treatment subtle and selecting sleek furniture pieces to enhance the sense of openness in the space.
Q: How much importance would you place on accessories in a decor like this?
Divya: Well, accessories are important as they create a unique feel for every space. To amp up the nautical feel of the teenager's room we picked a table clock and a globe – objects that say vintage and steampunk, a nod to this theme. And if you take a look at the guest room, we chose bed runners that complement the blinds, creating a sense of cohesion. The overall theme of this apartment is modern, but what defines each space is how you choose accessories to bring it together, while differentiating it from other areas.
Prateek: It's an integral part of designing. Take the example of the metal wall decor used above the dining table. That coupled with the stylish overhanging light fixtures are enough to define a 'dining area' in this open concept home. However, it was also important that we used accessories in moderation, else the space would have looked overdone.
Q: Lastly, the lighting in this apartment looks so welcoming and soothing. How did you make this happen?
Prateek: We opted for a warm white layered lighting scheme for this house; we used everything from floor lamps, table lamps, to LED and fill lights. This way the future occupants can regulate lights for different functions or create different moods. Not just that, these lights work as a great style statement in different rooms.
---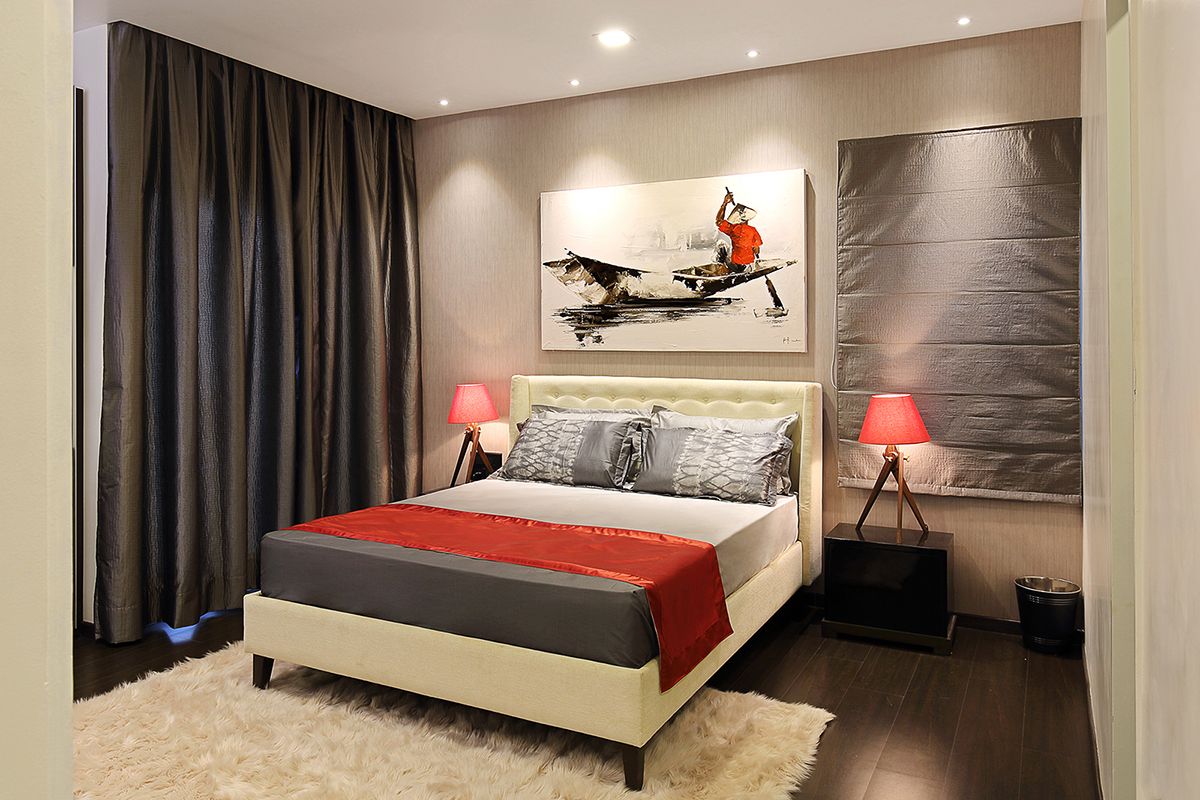 In the master bedroom, the red lampshades propped on tripod legs add an eclectic, sophisticated feel while the searchlight and desk lamp in the nautical bedroom complements its theme. It's the perfect way to combine fashion with function.
---