This 4 BHK in Gurgaon stands out for its attention to detail. Moreover, being filled with soothing neutrals and bright pops of colour, it's a lesson in balancing bright shades right!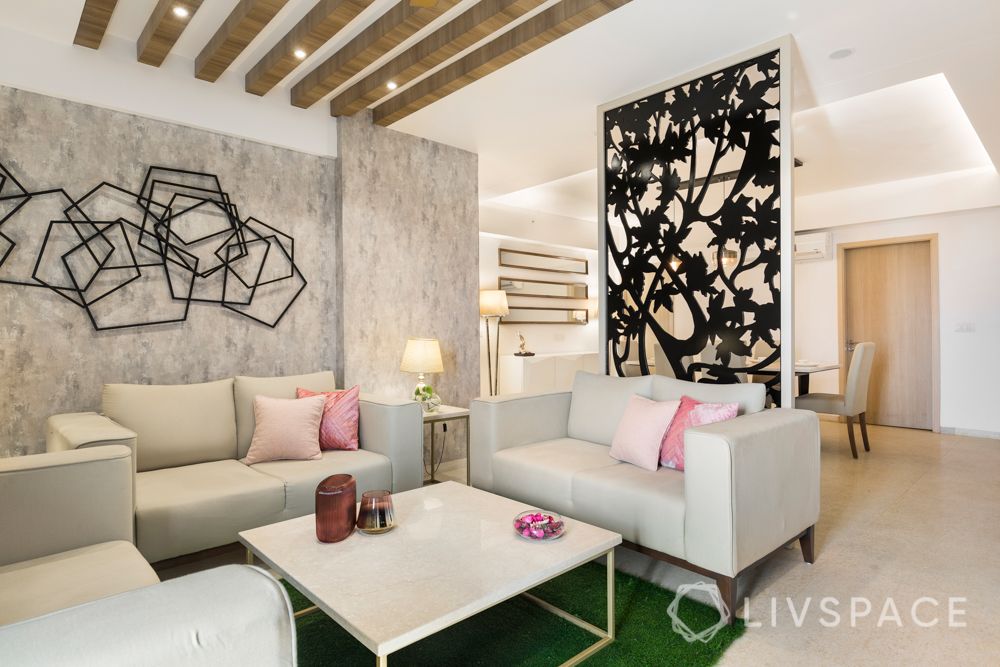 ---
Who livs here: Kasivishwanathan and his wife
Location: DLF New Town Heights, Gurgaon
Size of home: 4BHK spanning 2,727 sq ft
Design team: Interior Designer Barkha Navin and Project Manager Amarjeet Kumar Mahto
Livspace service: Full Home Design
Budget: ₹₹₹₹₹
---
Livspace likes to put our best foot forward to help you out. And whether you have first heard of us through an online advert or the good old billboards, once you step into the nearest Livspace Experience Center, there will be no looking back!
Such was our experience with Kasivishwanathan's family. Having purchased their dream home in DLF New Town Heights, they also wanted turnkey interiors. "After the initial understanding of our lifestyles and what we wanted for our interiors, the Livspace team created designs for our home. Back then, I had asked them if it will look the same once our home is complete. While the team had assured us that it would be 90 percent similar, I disagree – it is 98 percent similar!" Kasi tells us.
Wondering about the interiors already? Come, take the tour with us!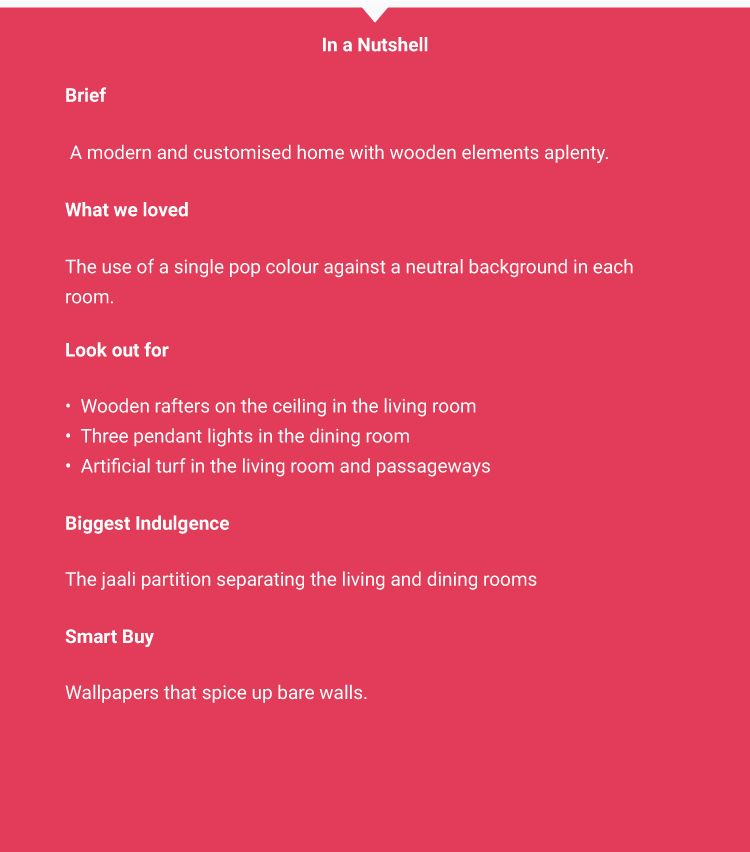 Watch out for the ceiling!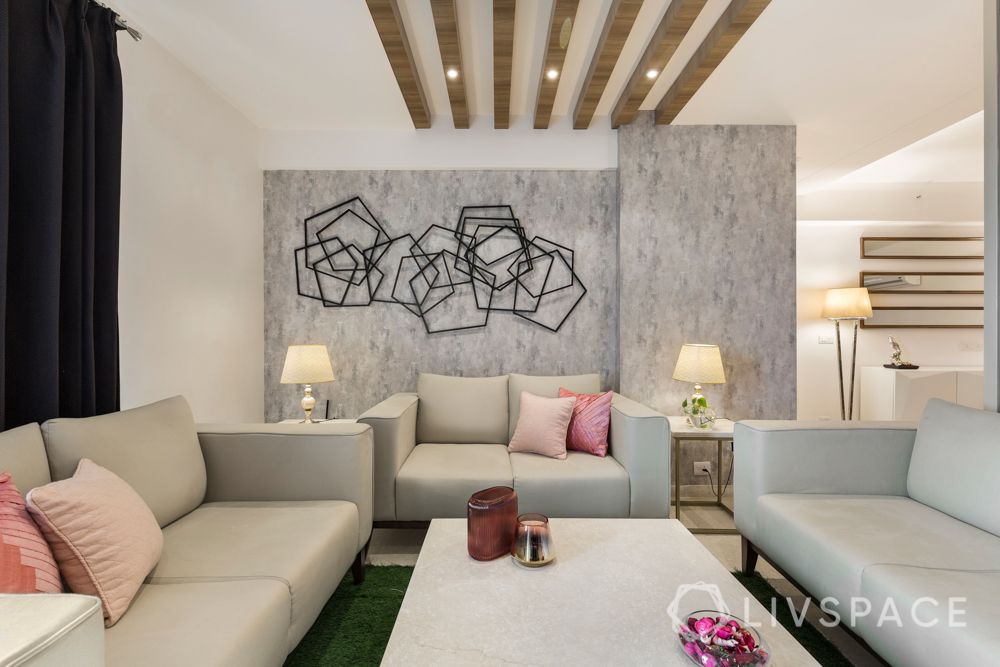 Kasi and his family wanted modern interiors. So the Livspace team experimented with wooden rafters for the ceiling. Moreover, to maintain the continuity of the design, the rafters continue behind the TV unit, forming an L-shaped design.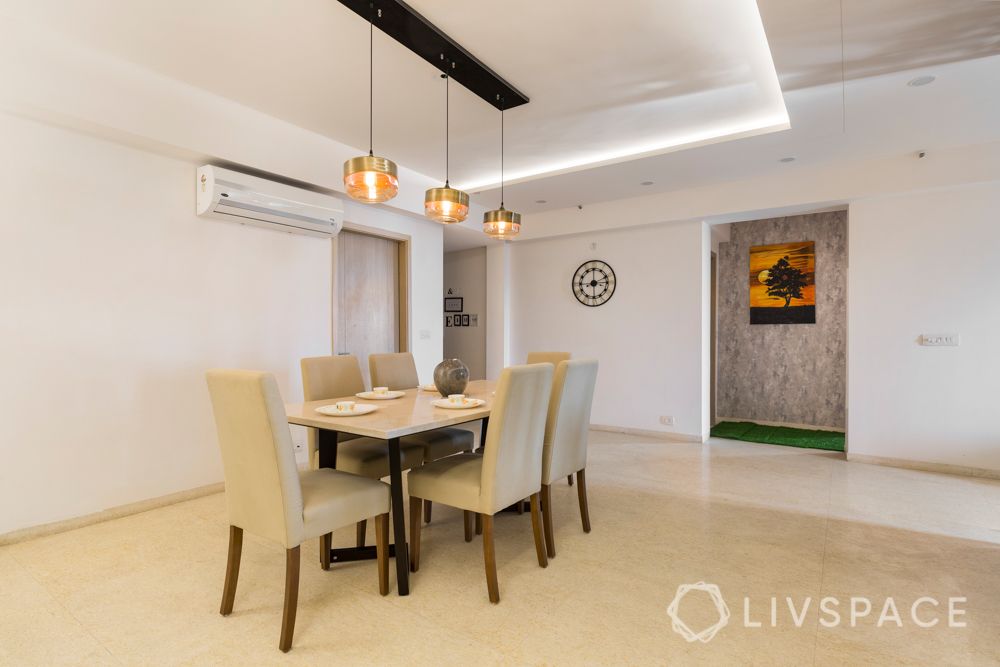 If you're thinking that the dining room has a basic false ceiling, think again! The L-shaped false ceiling in this space also comes with a small groove. So, it's all about attention to detail!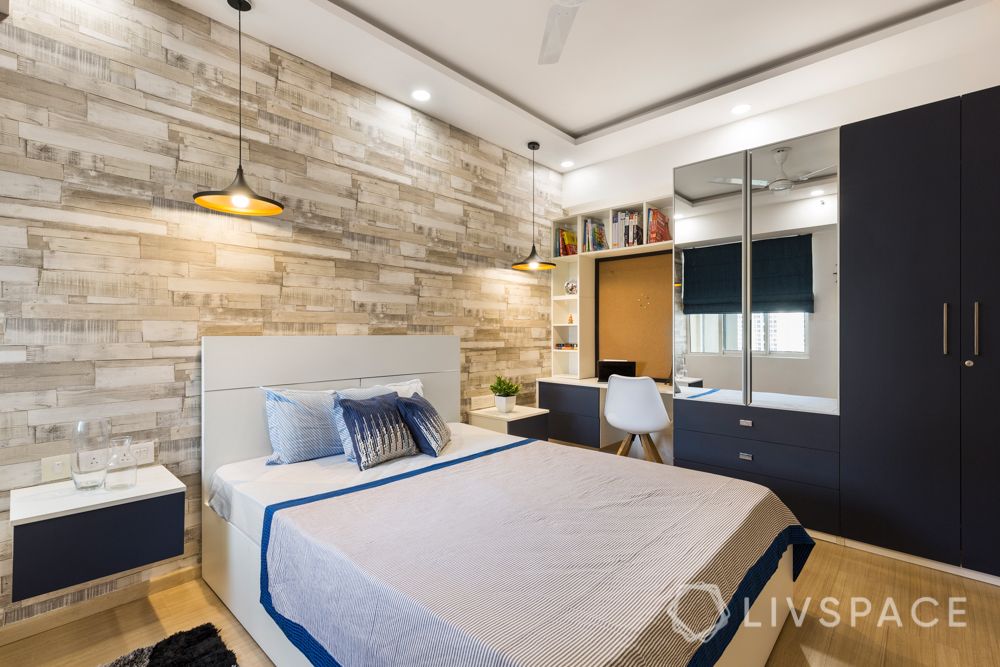 The simplistic but elegant ceiling layout continues into the bedrooms. Watch out for the basic but beautiful false ceiling design that facilitates layered lighting and elevates the decor of these bedrooms!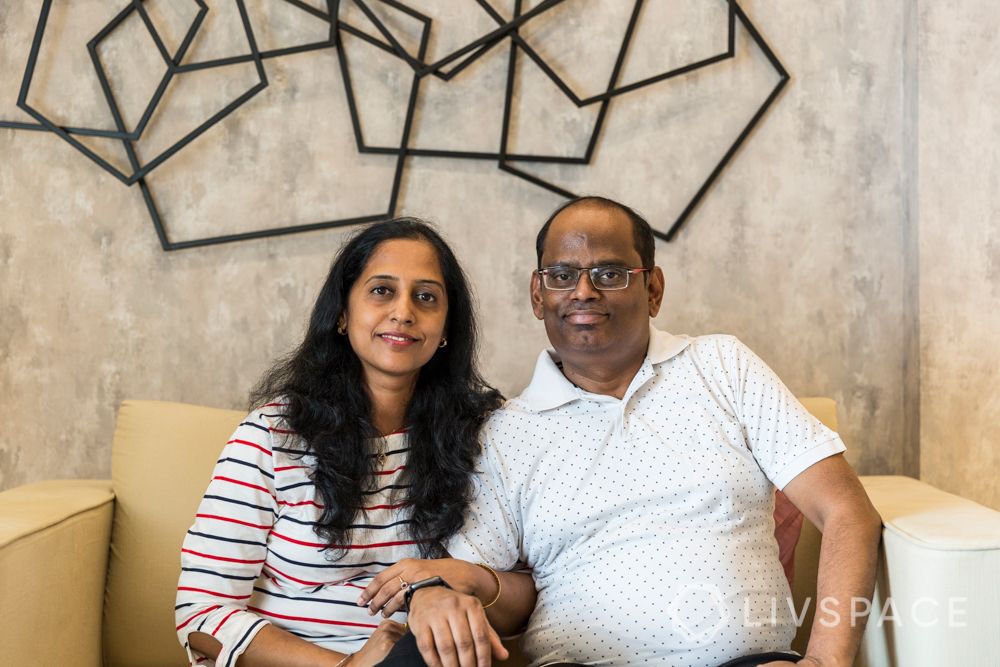 "Choosing a vendor for the interiors of your home is a difficult task – you want everything done right and managed properly. Since we earlier lived in Delhi, it was even more difficult for us. But since we walked into the Livspace Experience Center in Gurgaon, there was no looking back. The design team gave us exactly what we wanted. Everyone, from the designers to the execution team came together to make sure everything was done right – and we hardly even checked on the progress till the house was handed over to us. Above all, we love how everything has turned out – exactly as it was shown to us!"

– Kasivishwanathan, Livspace Homeowner
No space for boring walls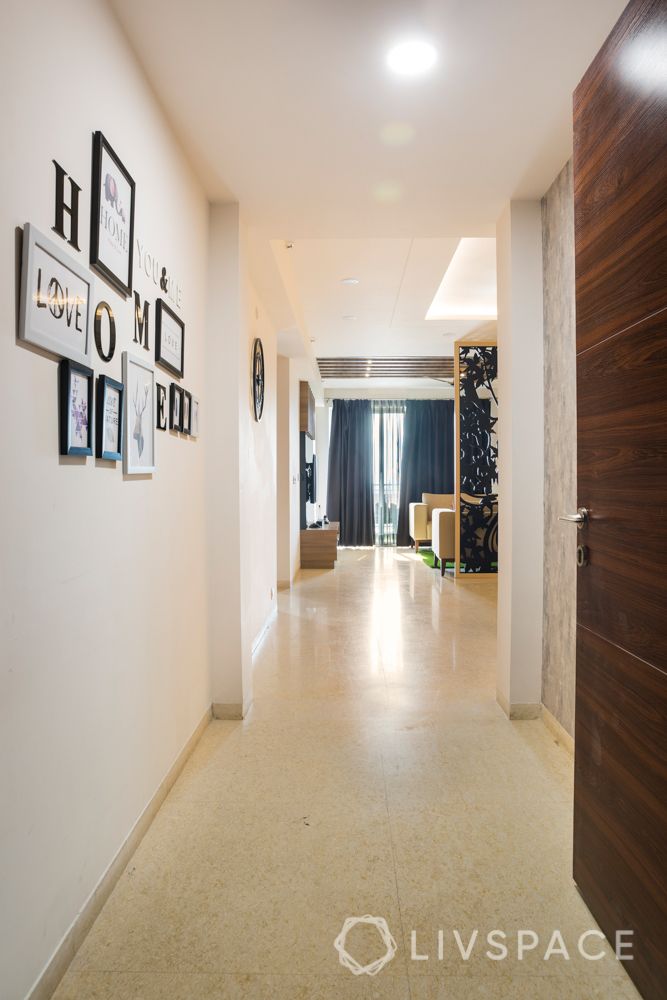 We at Livspace believe in letting our homeowners' personality shine through their homes. So that's how we designed the entryway of this 4 BHK in Gurgaon. By entering alongside a photo wall, you immediately become acquainted with the residents of this home. Thus, it sets the scene for more!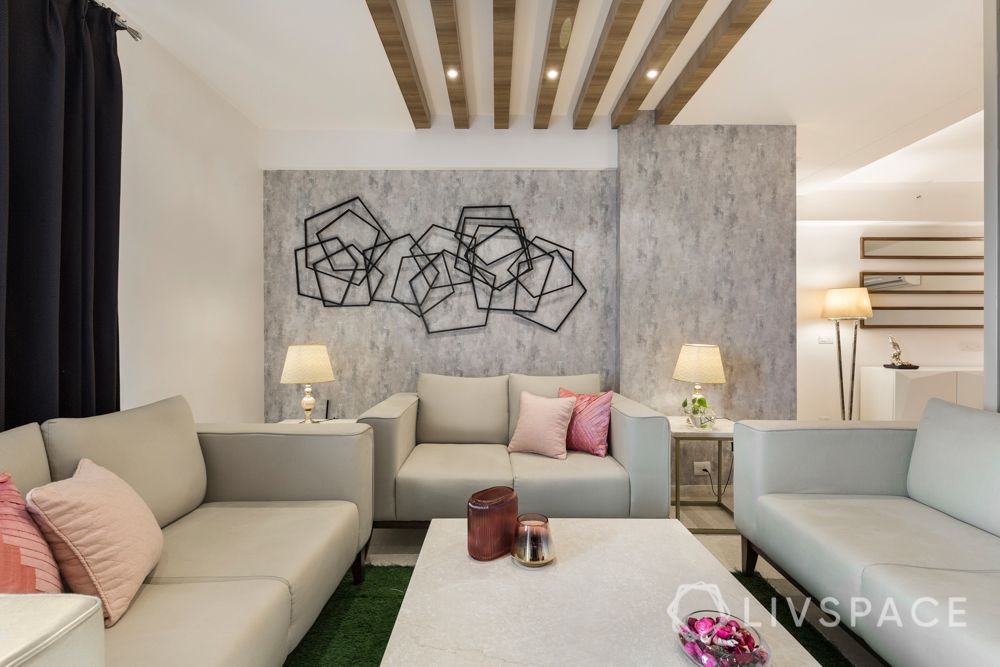 If you haven't seen accessories like this statement piece on the wall anywhere, don't be too surprised. Livspace designer Barkha Navin tells us that this piece was envisioned while the design of this DLF New Town Heights home was being crafted. And Kasi and his family liked it so much that it was custom-made out of metal for their home.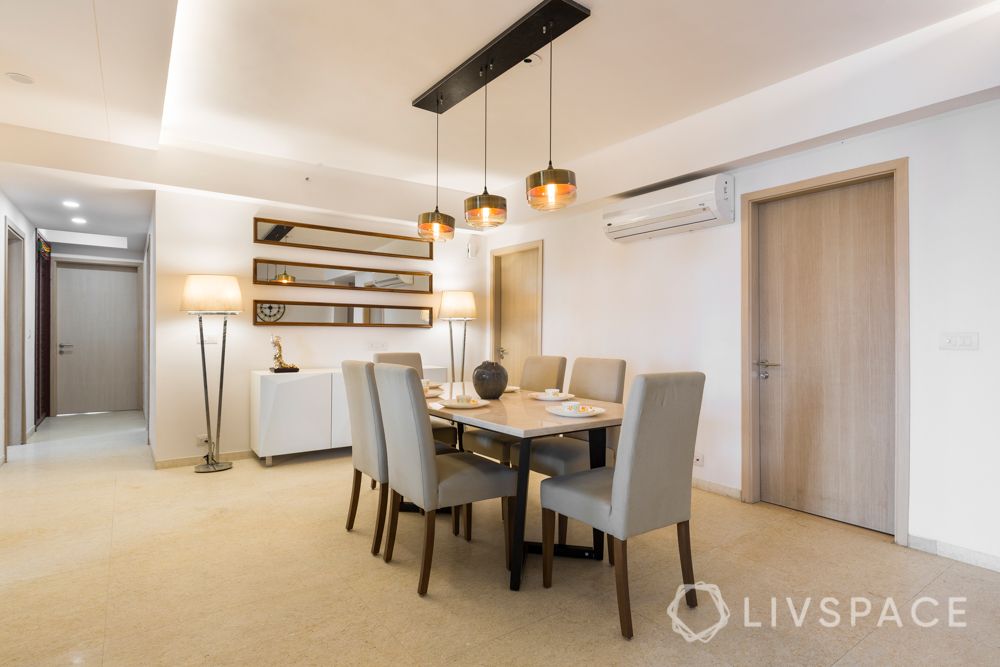 For the dining room in this 4 BHK in Gurgaon, the Livspace team came up with another custom wall accessory – a set of three parallel mirrors over the crockery unit. Positioned over the white crockery unit, the mirrors certainly make the room look open and spacious.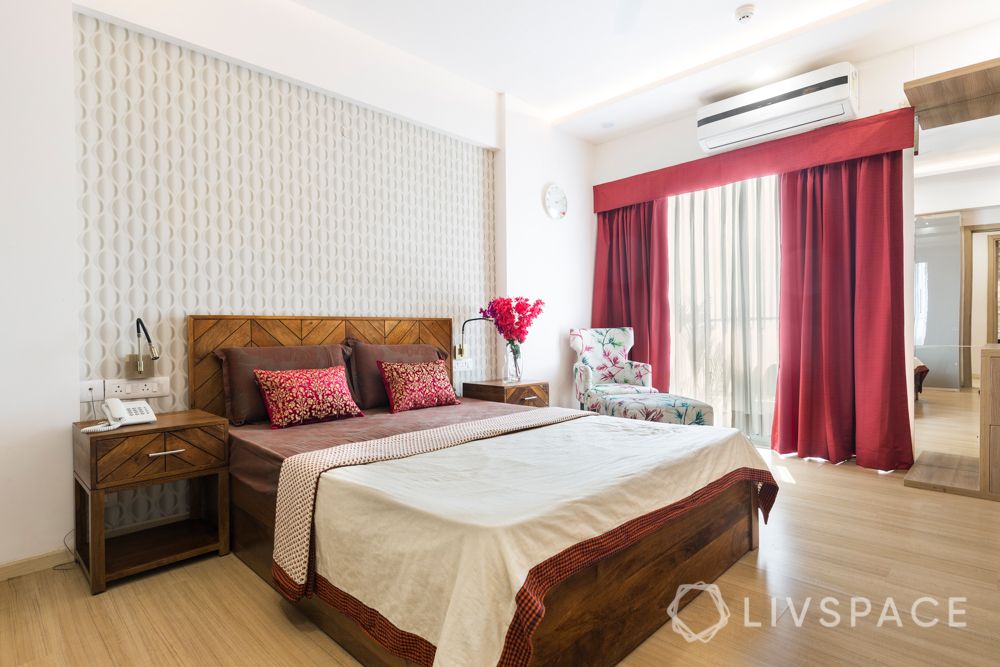 Gone are the days when the only way to brighten up a room was the paint. With wallpapers, you can set the mood for each space. Furthermore, from striped wallpapers to patterned and textured ones to those that mimic stone cladded walls, there's something here for everyone! Moreover, if that's not enough, take the cue from this family and invest in some gorgeous golden metallic wall accessories. Your room will look so much more gorgeous, immediately!
Amp up the lighting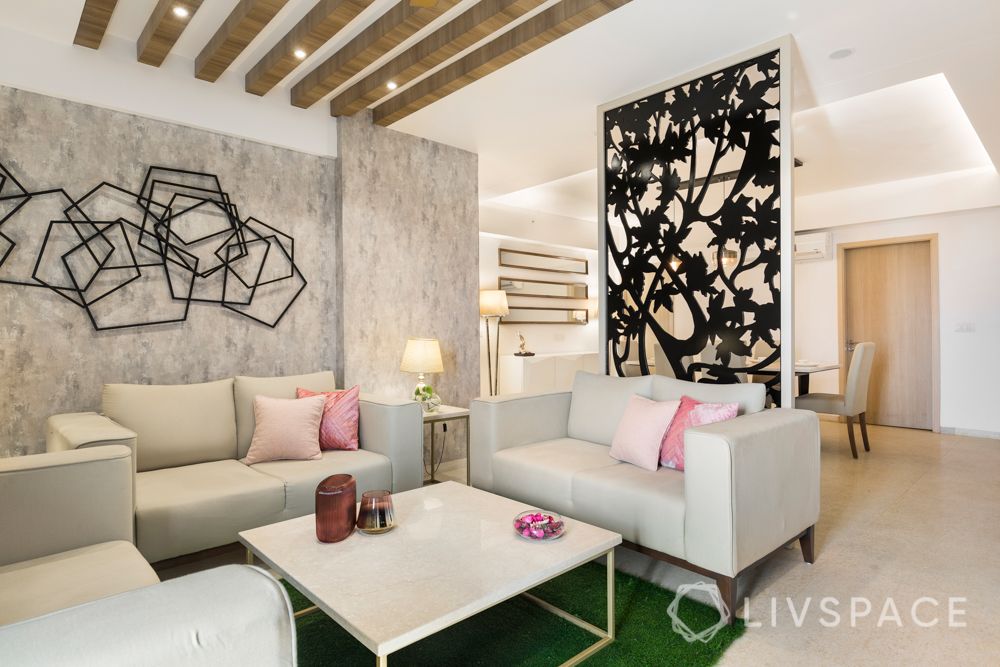 What's the right way to light up your home? Layering the lights and mixing pieces, so that you have something for every mood, right? That's exactly what the Livspace design team thought while designing the living room in this 4 BHK in Gurgaon. From lights on the rafters placed on the ceiling to the table and almost everything in between, the living room certainly keeps things happening!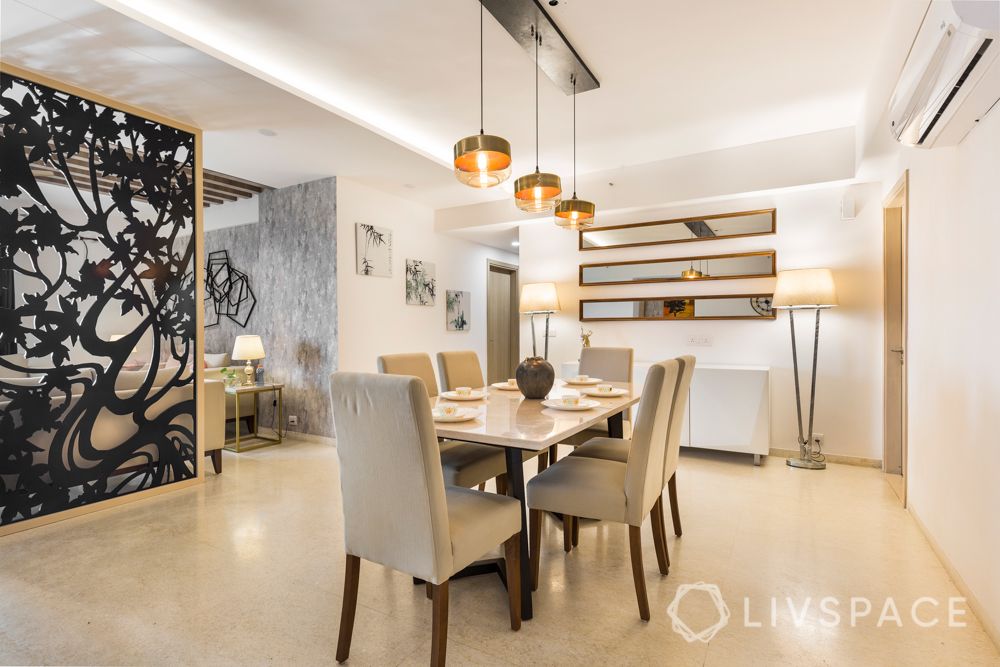 You simply cannot miss out on the three pendant lights that hang beautifully over the dining room at this 4 BHK in Gurgaon. Also, watch out for the floor lamps that make this room look cosier.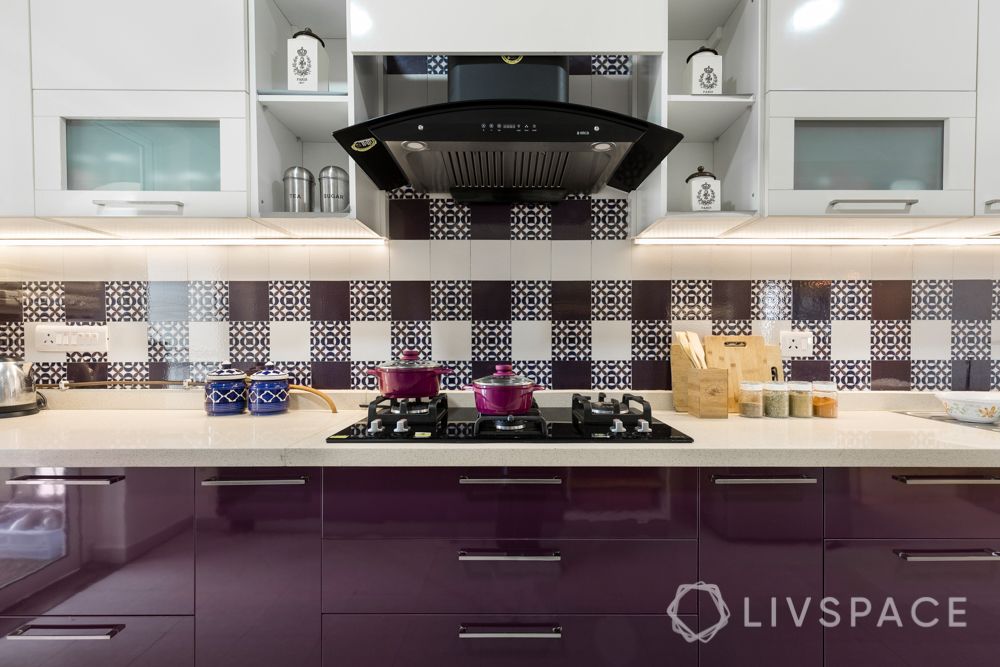 We haven't left out the kitchen either, when it comes to lighting solutions. LED strips run below the wall cabinets, ensuring that there is never a dull moment while cooking. And with the high-gloss laminate finish on the cabinets, the kitchen only glows brighter.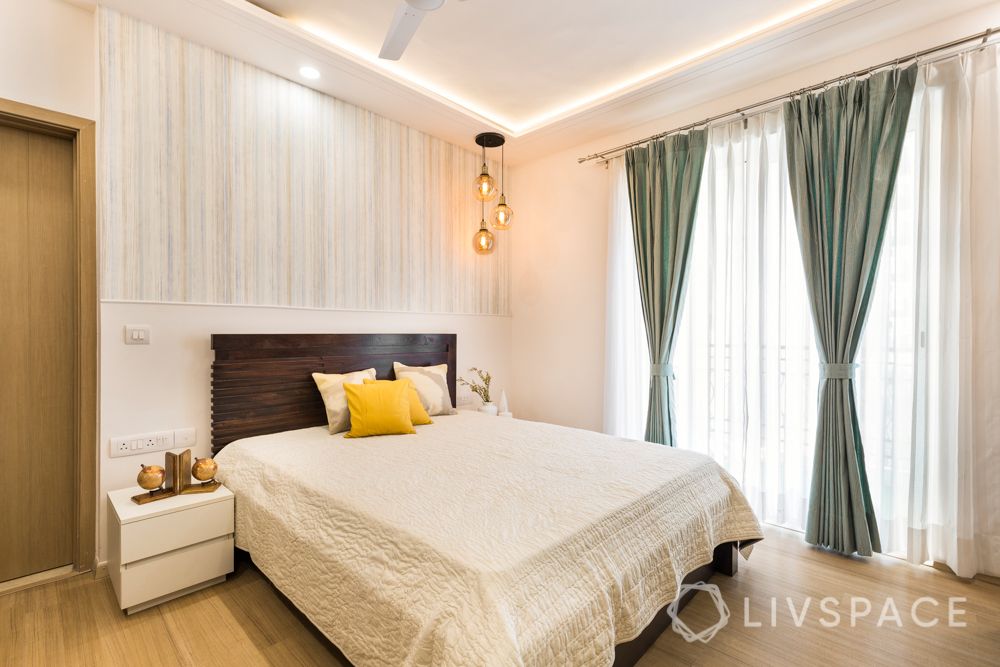 A cluster of three pendant lights hang in a corner of this bedroom, which adds just the right touch of old-world charm to this otherwise modern space. Also, if you're wondering about all the major lighting requirements, the cove lights in the false ceiling take care of them all!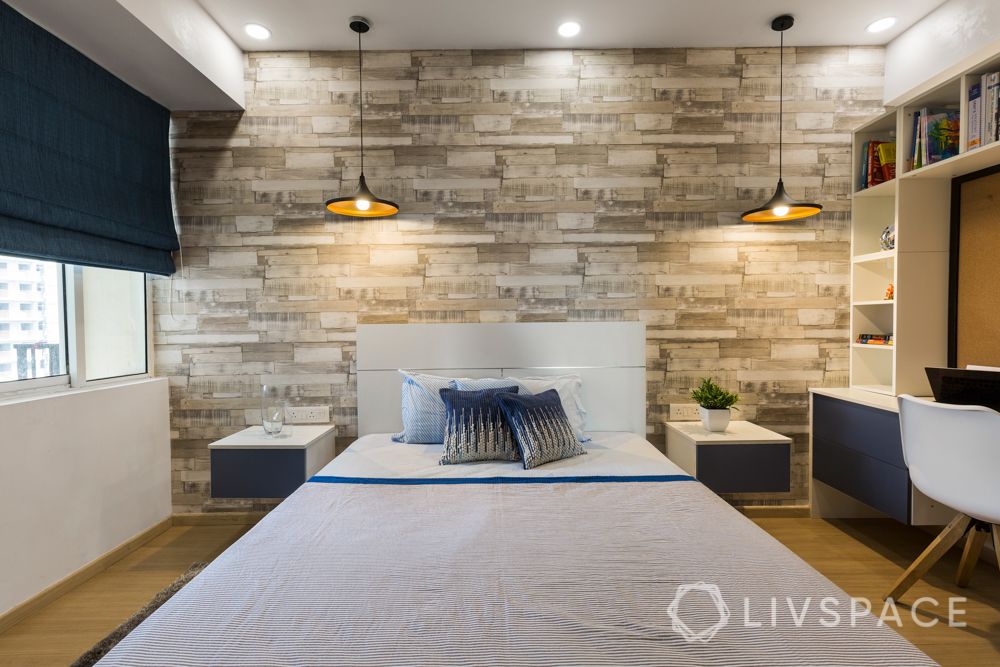 A pair of minimal pendant lights hang on either side of the bed. Against the stone-cladded wallpaper, the room looks at once stylish and rustic.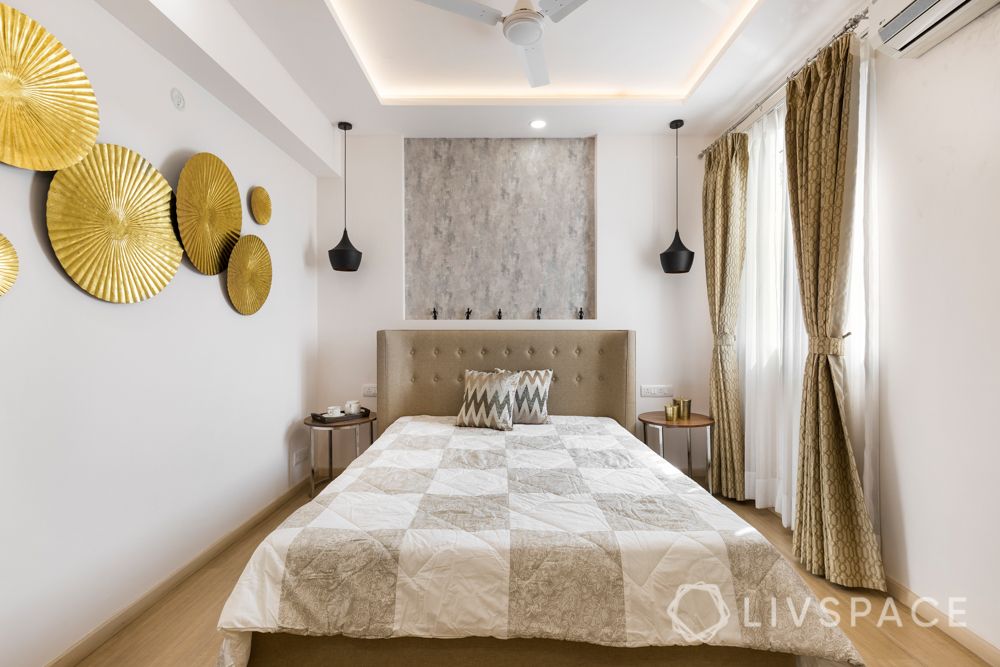 In the guest bedroom, the lighting remains highly functional. Therefore, we have cove lights tucked into the false ceiling, and a pair of chic black pendant lights on either side of the bed. What's not to love?

No compromises on storage!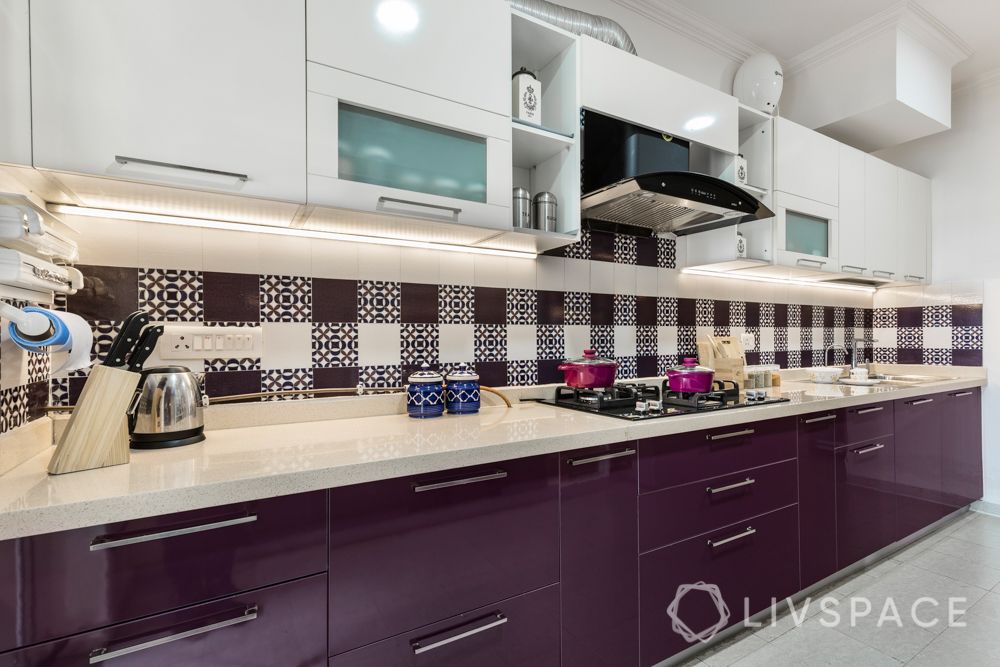 Kasi and his wife wanted a kitchen that was loaded with storage but still felt spacious. So for this flat at DLF New Town Heights, our design team crafted the kitchen white and purple, with a high gloss laminate finish. From wicker baskets to store fresh produce to a tall pantry unit and a neat corner for the microwave oven, this kitchen has it all! Moreover, the Livspace team also created drawers to hold the essential cleaning materials under the sink.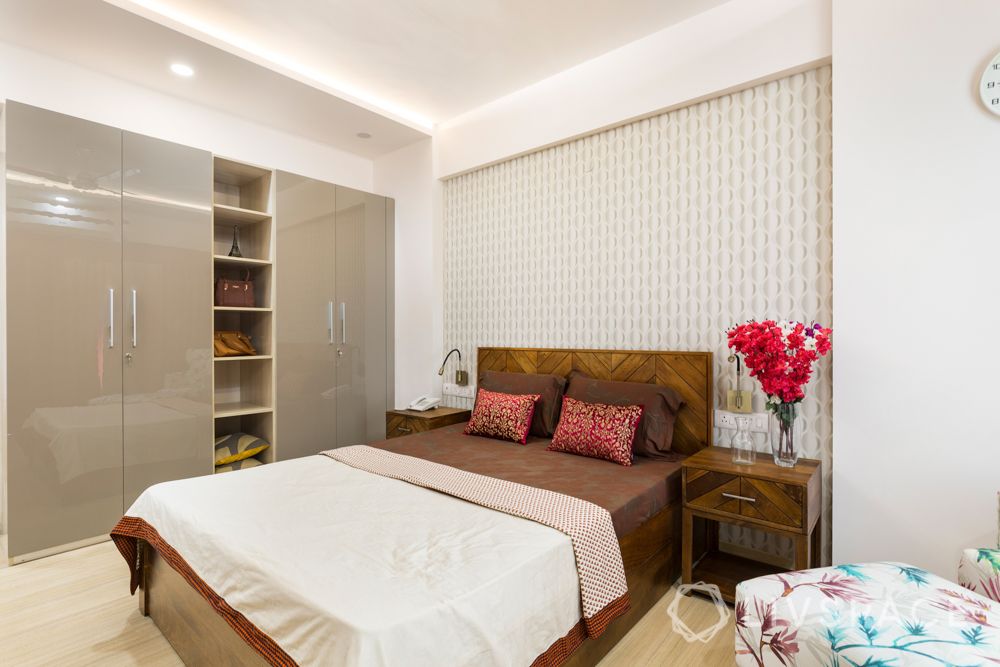 In the master bedroom, Barkha provided the couple a neutral room with greige acrylic wardrobes. However, as they wanted a colour that popped without becoming overwhelming, she suggested a maroon TV unit that stands out beautifully against the rest of the room. Also, do not miss the dresser finished in wooden laminate at the corner – it has both open and closed units for storage.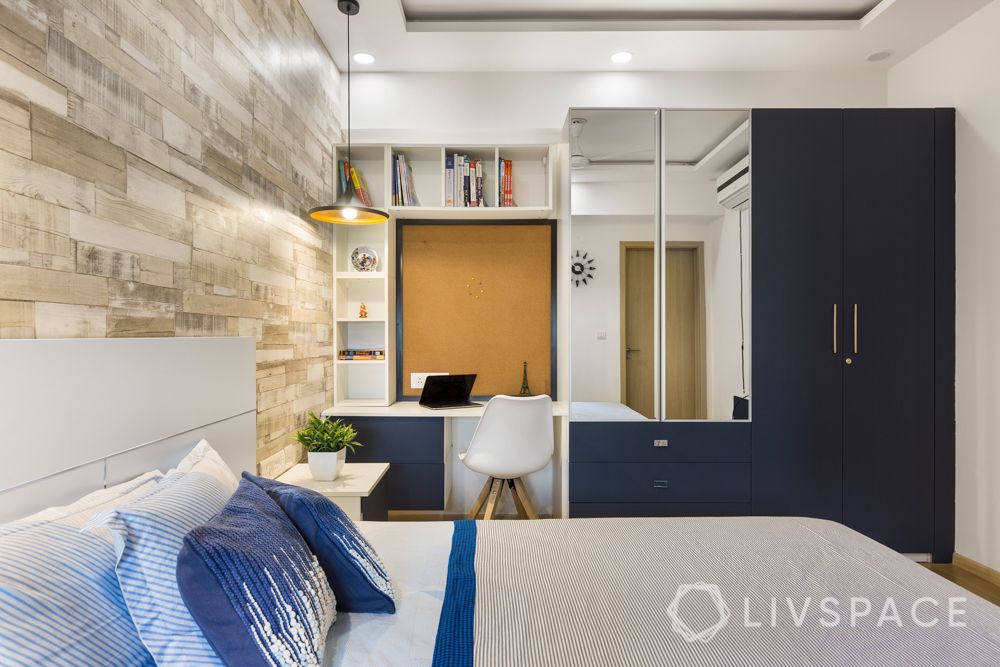 While the couple's sons do not stay at home, they still wanted highly functional rooms. So both the rooms come complete with a wardrobe and study unit, with plenty of open shelves for them to keep their favourite books. One bedroom also has a TV unit that comes with a matching storage unit. Simple yet functional, don't you think?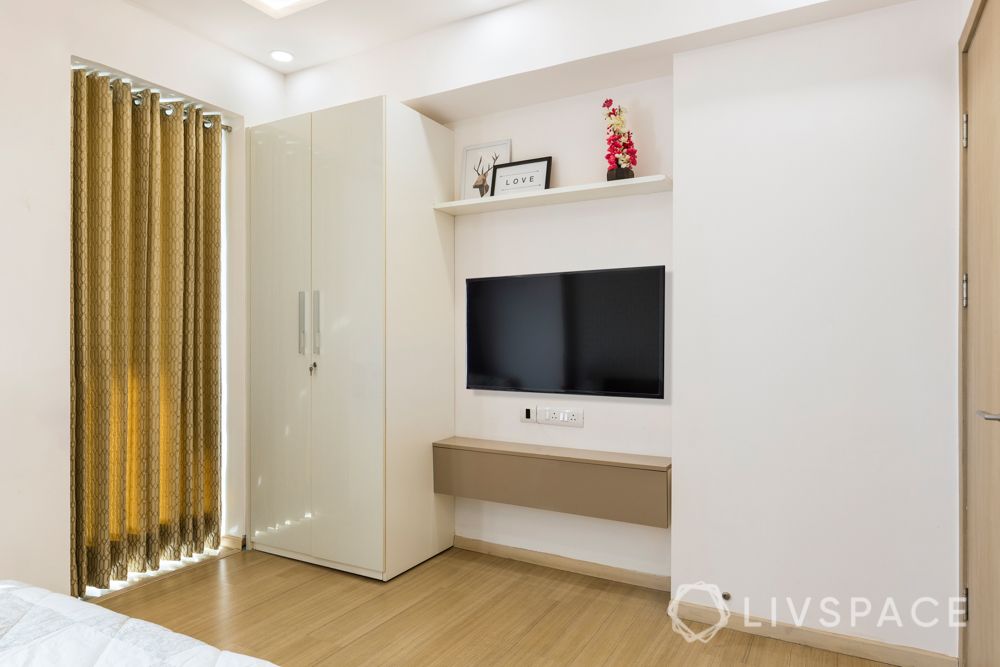 The guest bedroom gets its shimmer and shine from the golden accessories on the wall – so Barkha and team gave them a white wardrobe with a muted golden compact TV unit. With the white interiors making the space look as spacious as can be, the room looks larger than life!
"Designing this home was an absolute pleasure. Kasi and his wife were open to ideas and liked our designs. They trusted us with the interiors, and we were glad we crafted a home they loved!"

– Barkha Navin, Interior Designer, Livspace.
Loved this home? Check out more Gurgaon homes here: Top 13 Gurgaon Homes That Hit it Out of the Park.
Send in your comments & suggestions.