Every little corner in this Bangalore house has been put to good use! Read on, you'll see what we're talking about.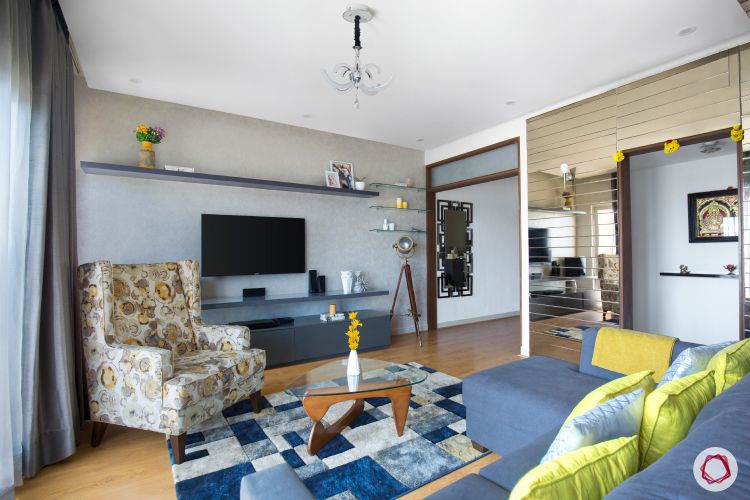 ---
Who livs here: Mahesh Reddy with his wife Bharati and son Bobby
Location: RMZ Galleria, Yelahanka, Bangalore
Size of home: 3 BHK spanning, 1500 sq ft approx.
Design team: Interior Designer Pragna Krishna with Quality Manager Prashant Rao
Livspace service: Full home design
Budget: ₹₹₹₹₹
---
Set in the super high end apartments in North Bengaluru, RMZ Galleria is a world on it's own. Complete with all conceivable amenities and recreational facilities, this property promotes a Utopian living environment, where deals can be struck over a game of tennis or by the pool table. It is like a dream come true to own a house in this property!
Let's step into Mahesh Reddy's home, that is designed under the expert supervision of Livspace interior designer, Pragna Krishna and her superb team! We assure you, once you take a tour of this home, you will be left asking for more..
Utilitarian Foyer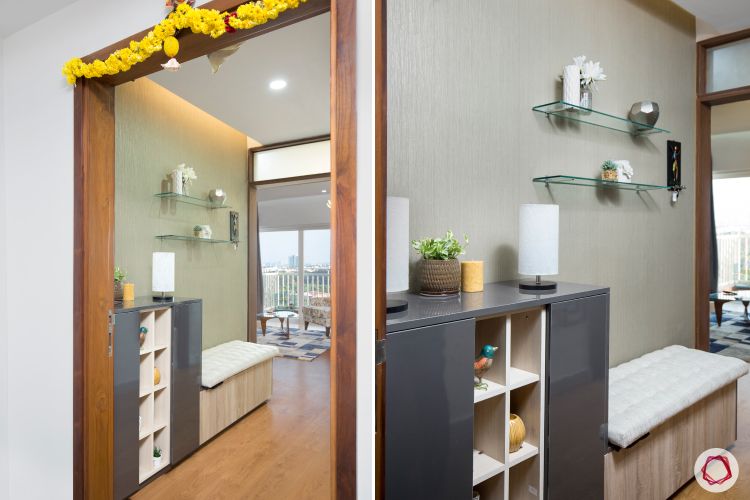 Every now and then comes along a foyer design that isn't too heavy visually or gaudy. Since the entryway forms the first impression, Pragna gave the couple a simple shoe rack with closed and open shelves and seating space. To keep things light on the top, she gave two wall-mounted glass ledges that add an element of style!
An Impressive Living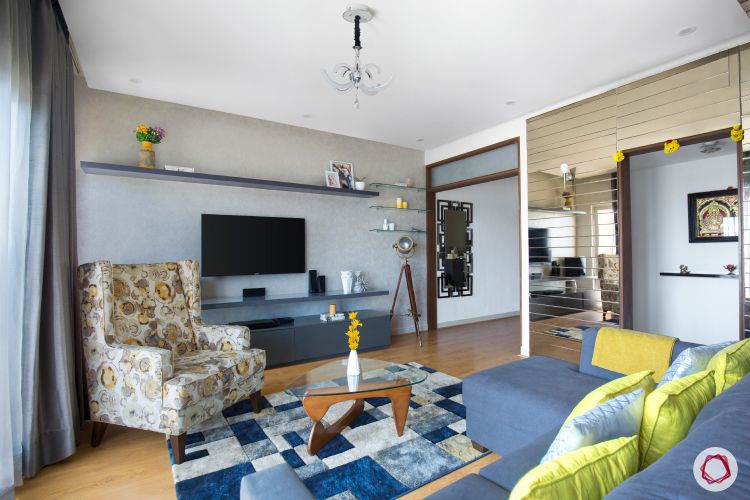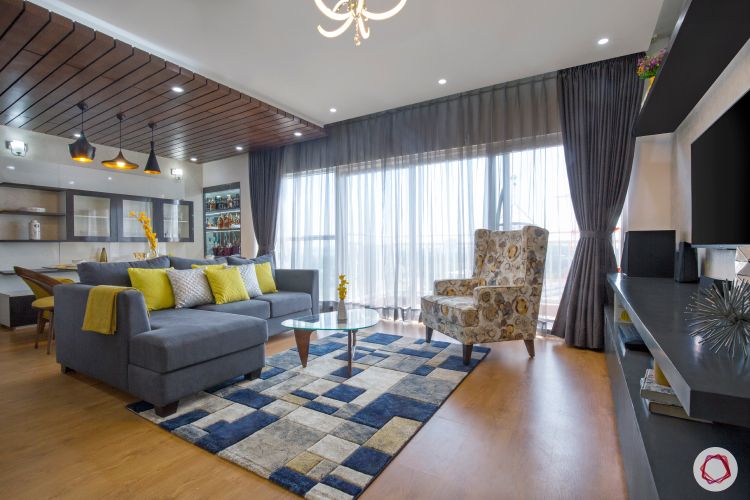 They wanted a living room where the focus is not just on the television, but on get-togethers. Therefore, despite the huge space, she gave them a compact L-shaped sofa and the chair forming a "chat zone".
The living room is an extension of Mahesh's personality, since it is done up in a muted colour palette. Contemporary greys and whites dominate this space, with pewter-hued sofas and sheer drapes in grey. Pragna added pops of yellow and the bubble burst accent chair is such a conversation starter. The bronze mirror finished wall is the entrance to the pooja room, and it looks so offbeat. Talk about stand-out elements at home!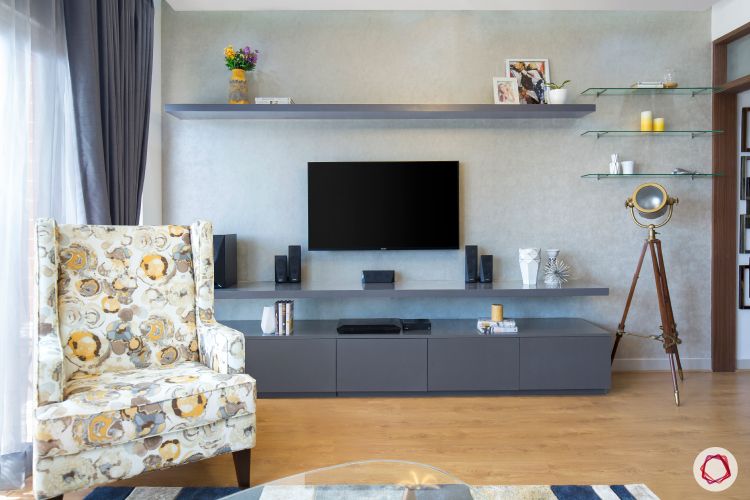 The wall behind the TV unit was a long wall, that Pragna decided to break with the wall-mounted glass ledges, that are also present in the foyer and the floor lamp. This was done to separate the foyer from the living room. The TV unit is in sync with the contemporary theme of the home and is finished in glossy slate grey laminate. It's a simple TV unit with basic cabinets and a ledge for display.
Divine Spaces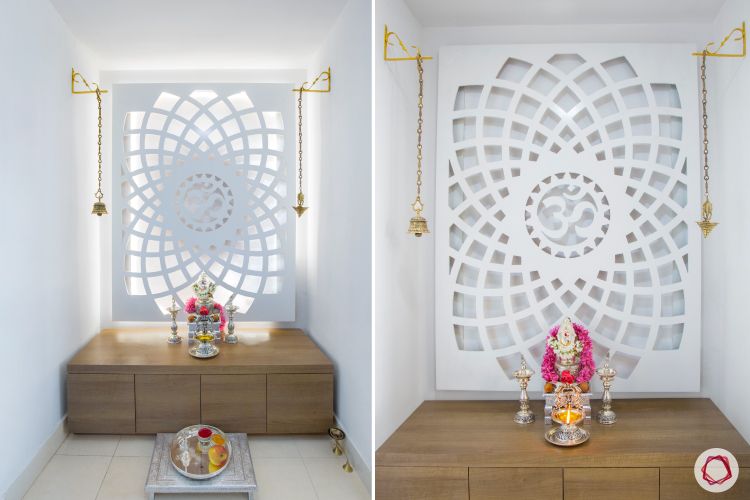 The pooja room is as simple as it can get, with a walnut brown pooja unit and the jaali back panel with "om" etched on it. A hanging brass bell and a lamp on either side of the unit add ethnicity to this space.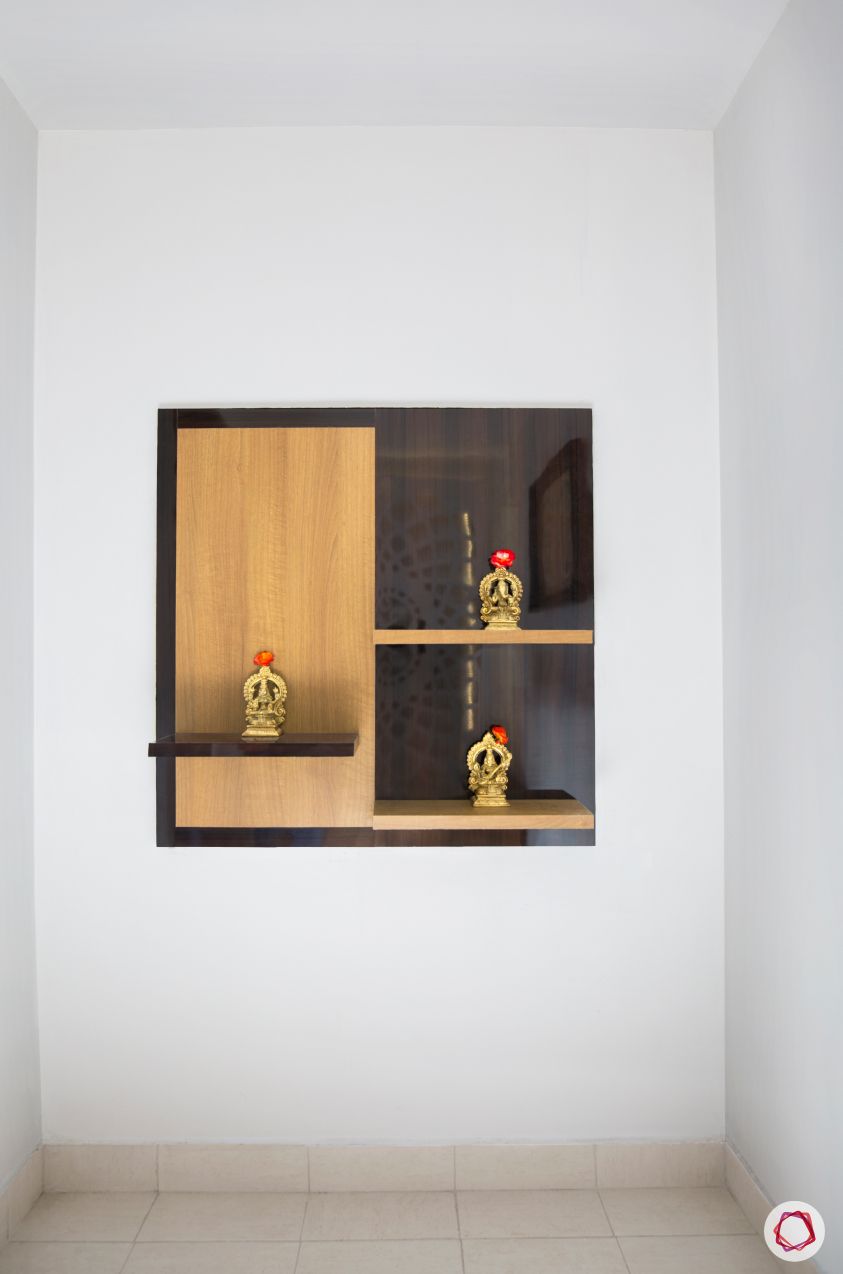 On the other side, there's a simple wall-mounted pooja unit with light and dark wood keeping each other company.
Wine & Dine at Home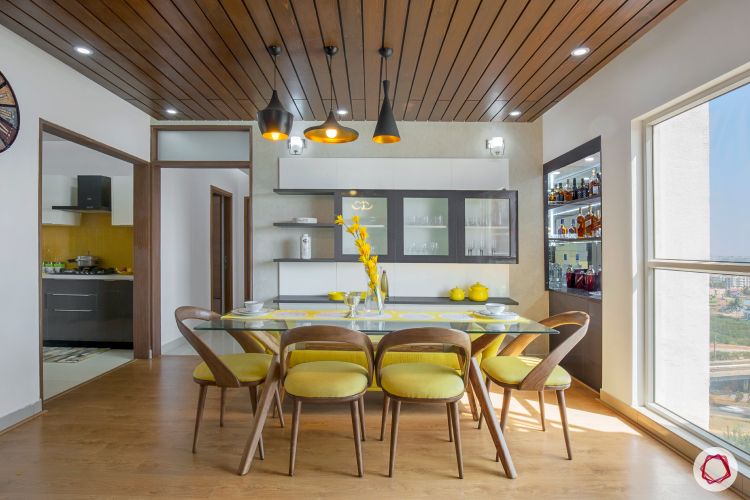 The dining room is so classy that it is our personal favourite in this home. Just look at the lovely wooden slats for the false ceiling, with spotlights and modern pendant lights that enhance the beauty of this space. You can spot pops of yellow in this area in the dining chairs. The glass top dining table with splayed, wooden legs blend in with the wooden flooring seamlessly.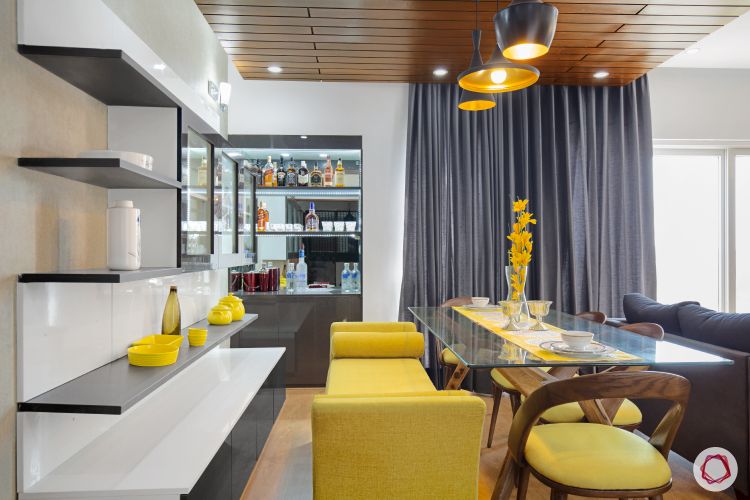 The bench is such a flawless addition to this room, set against the unique crockery unit. This crockery unit is not the usual base unit. It features various levels of storage, with the base unit falling below waist level. What is special about it, you ask? Well, it is very easy to use and facilitates serving during lunches and dinners. The glass shutter cabinets are used to show off exclusive cutlery.
Set in a wall niche, the bar unit sports a glass back panel. The glass panel reflects light and opens up the space!
A Chirpy Parallel Kitchen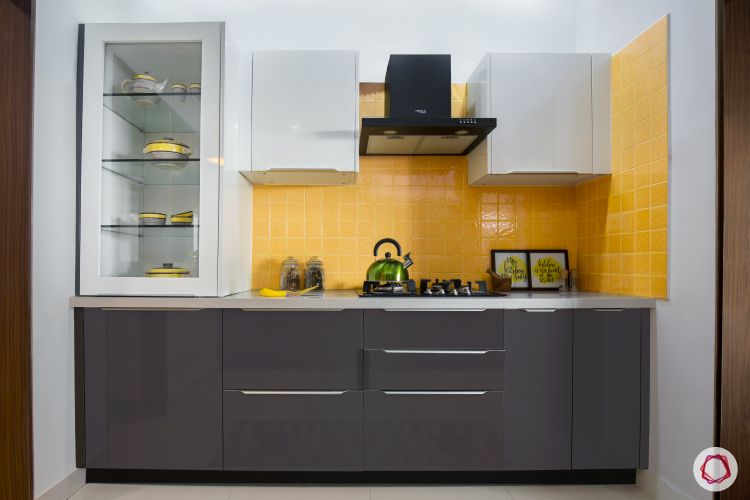 The kitchen in this home is a cheery spot to be in. With bright yellow tiles for the backsplash, and white and grey cabinetry, this kitchen enjoys a good contrast of colours.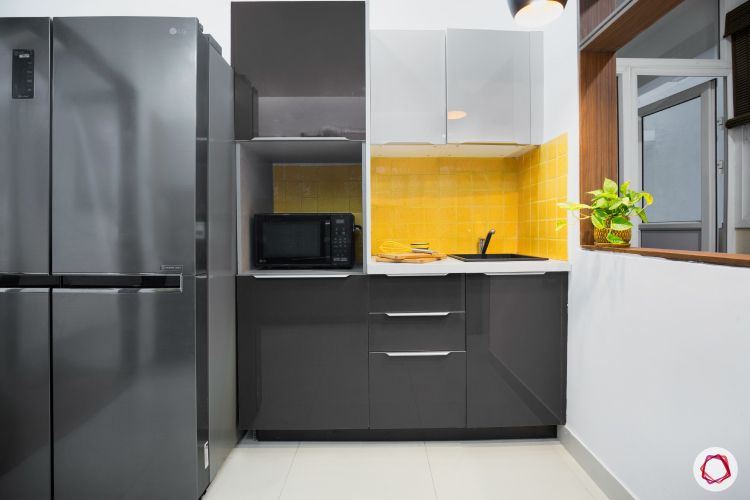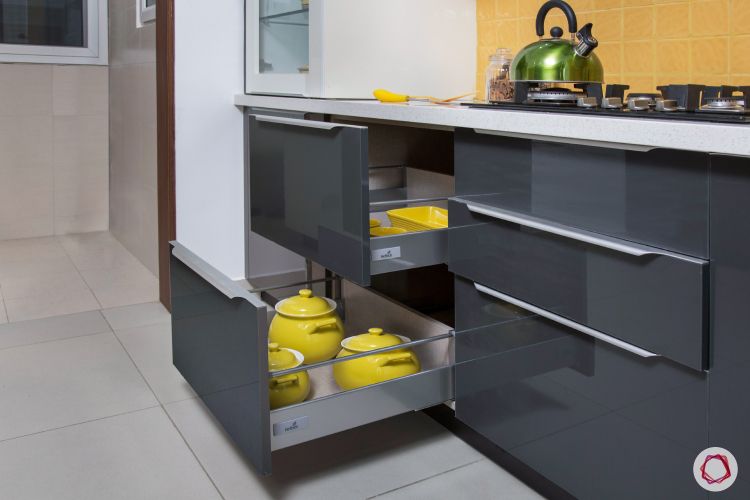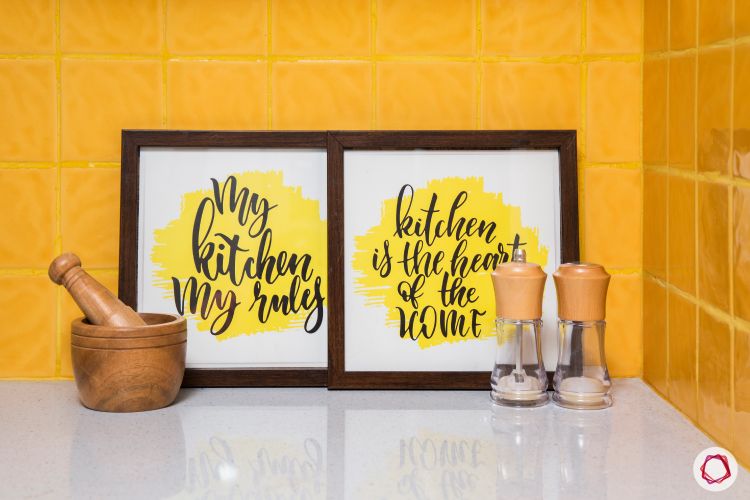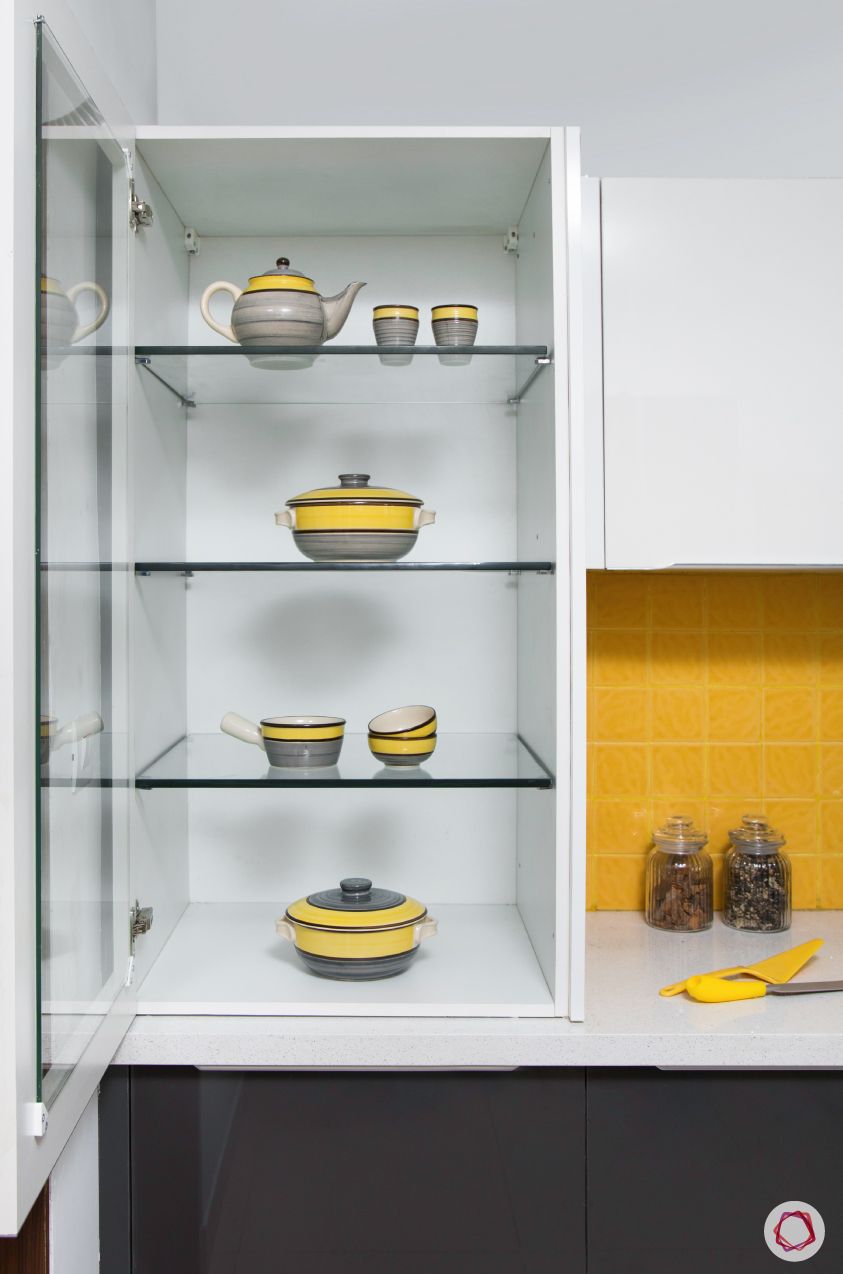 Equipped with modules like tandem boxes, tall unit, spice racks, bottle pull-outs and drawers, this is the everyday cook's paradise. The couple's son can utilise the extra counter as a breakfast counter for quick snacks!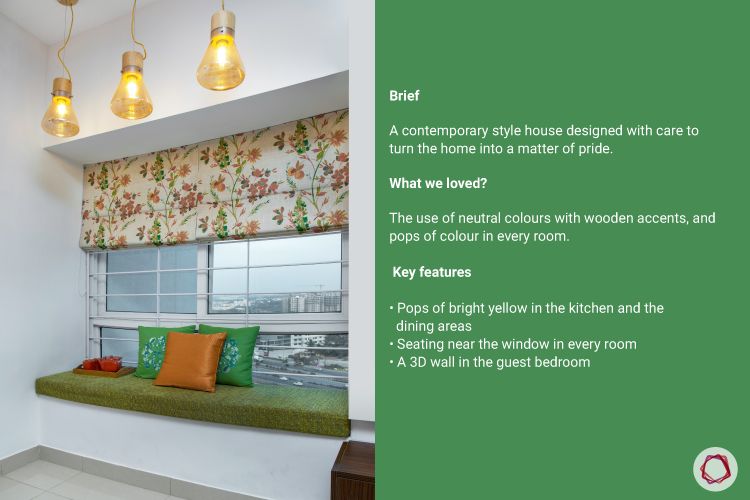 A Loaded Master Bedroom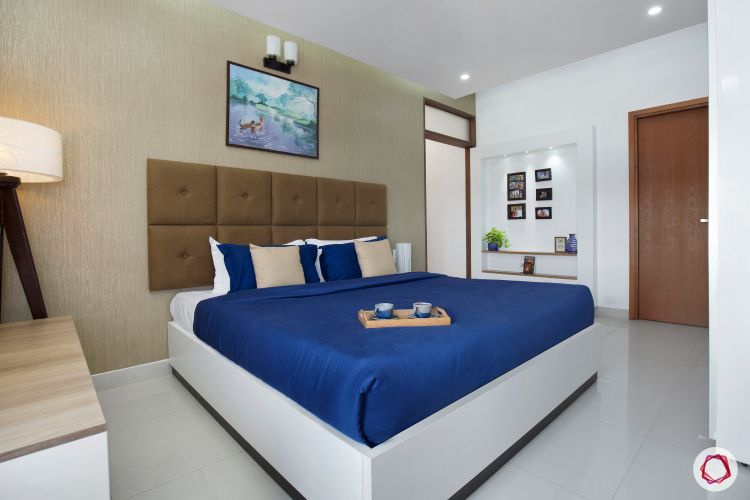 There is so much in the master bedroom that one can easily miss out on the details. Once again done up in dreamy blues and whites, with a biscotti accent wall for company, this room is a haven for the couple. They wanted a spot to display their memories from their travels, so Pragna gave them a niche with space for their photos, accompanied by ledges for display.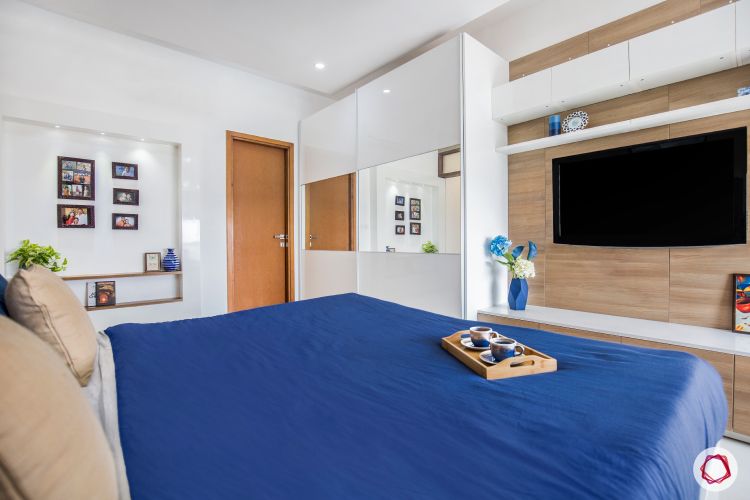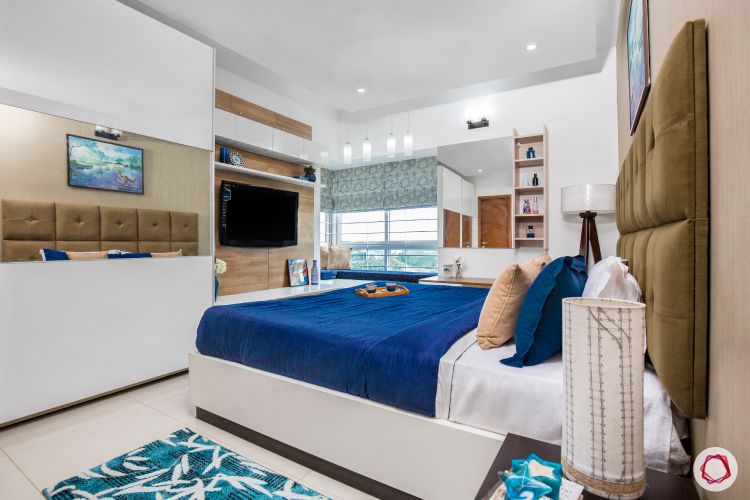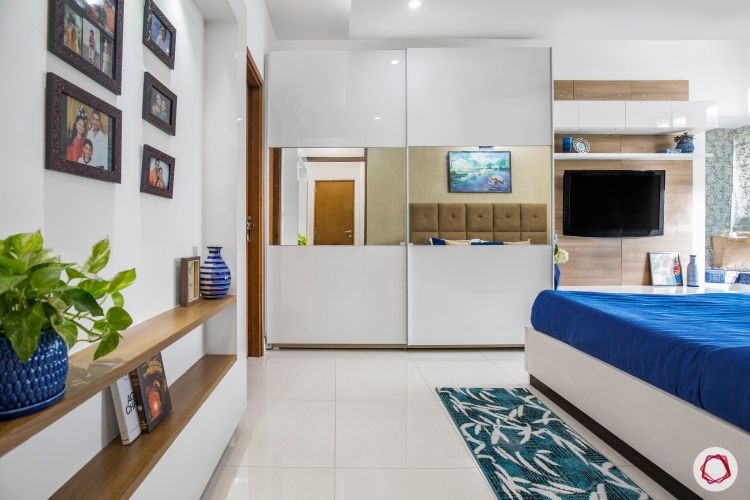 A frosty white sliding wardrobe with a mirror panel in between takes care of their storage needs.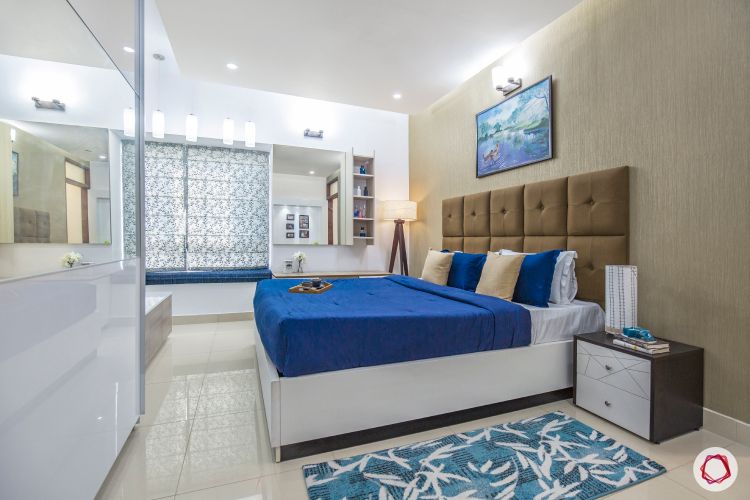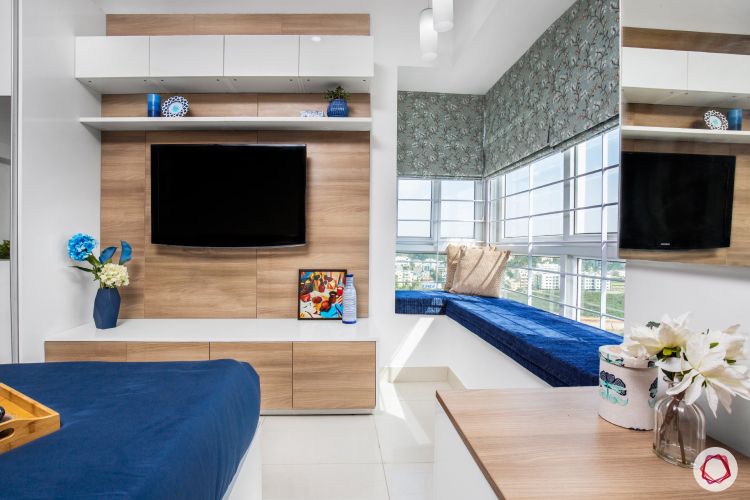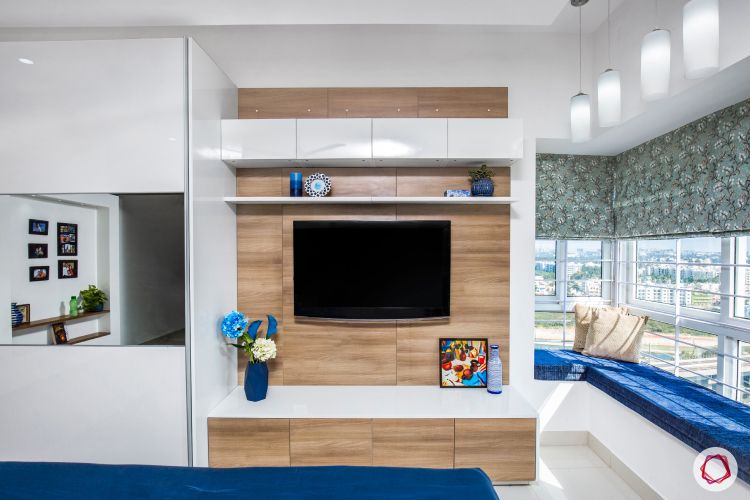 One of the most striking features of this room is the enthralling seating area beside the window. Since this apartment rests on the 13th floor of the high-rise, the couple can enjoy a cup of coffee or a good book while gazing at the breathtaking view outside. The TV unit is minimalistic, with basic cabinets and shelves for display.
A Blue Boy's Room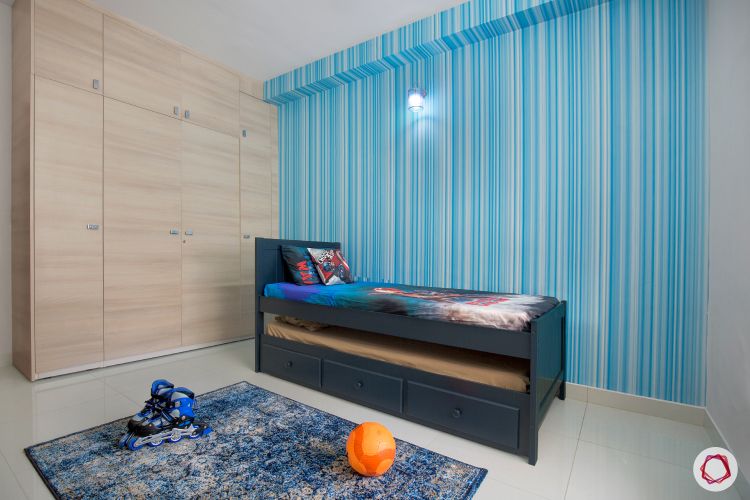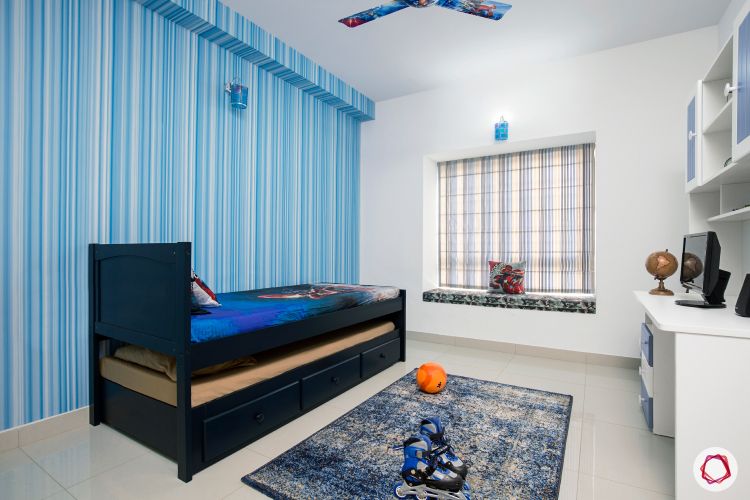 The son's bedroom is everything that a growing kid's bedroom should look like. Complete with a blue striped wallpaper and a trundle bed, this room carries a chilled-out vibe.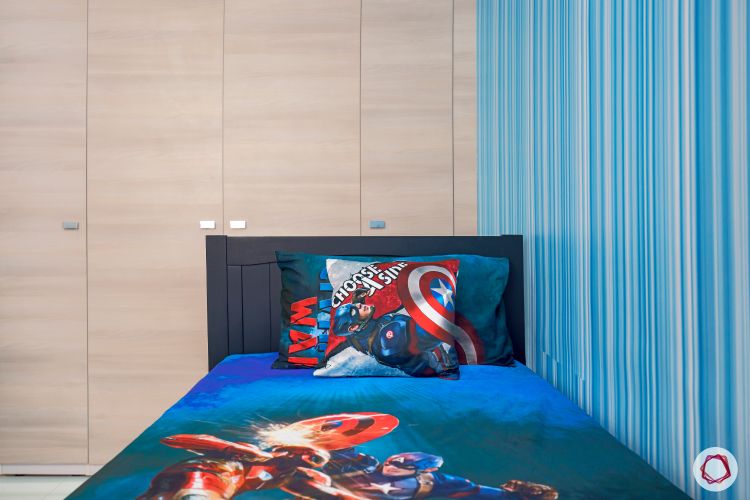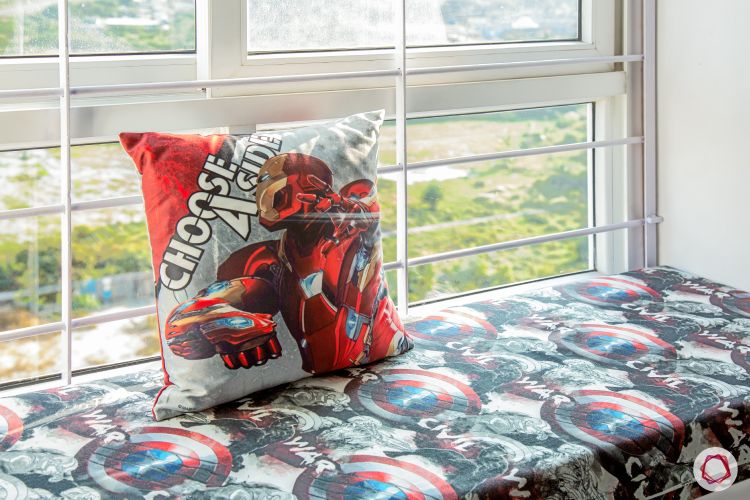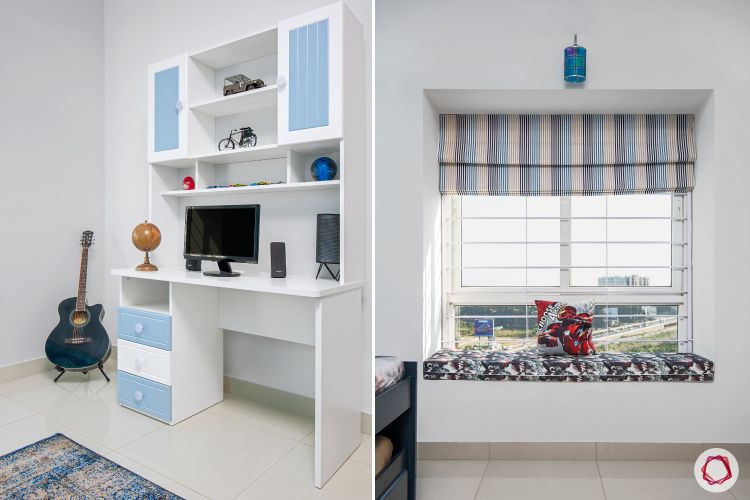 The powder blue and white study table has appropriate cabinets and shelves, with a place for his computer. While he is not studying, he has the option of reading or playing by the window, looking over lush greenery!
One for the Guests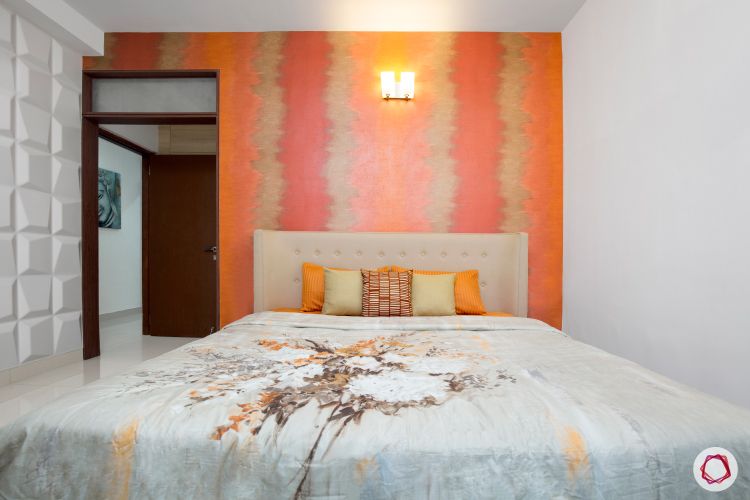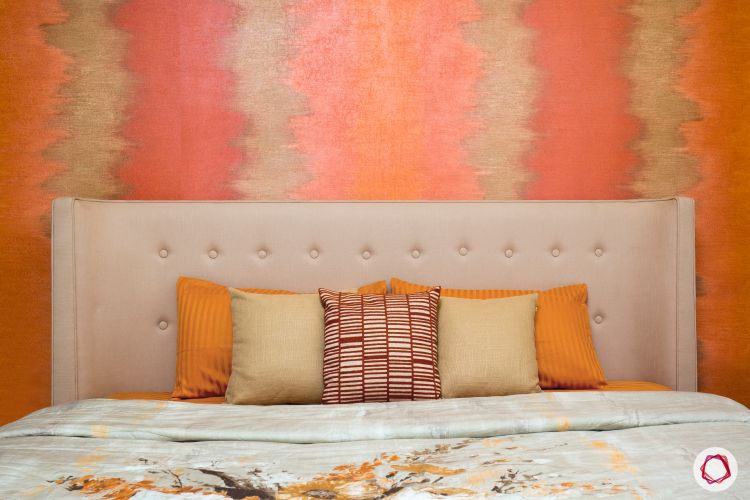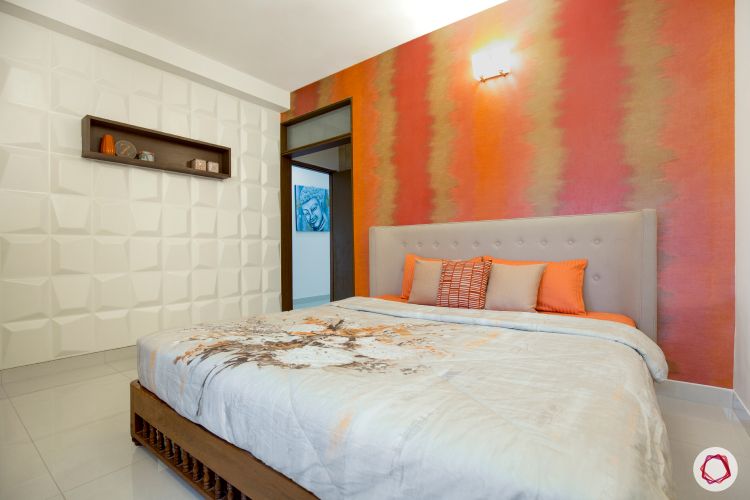 The guest bedroom is clearly an extension of Bharti's choices and preferences. She loves all things bright, and managed to convince Mahesh to design this room according to her liking. Thus, the stark difference between the colour schemes in the rest of the home and this room happened.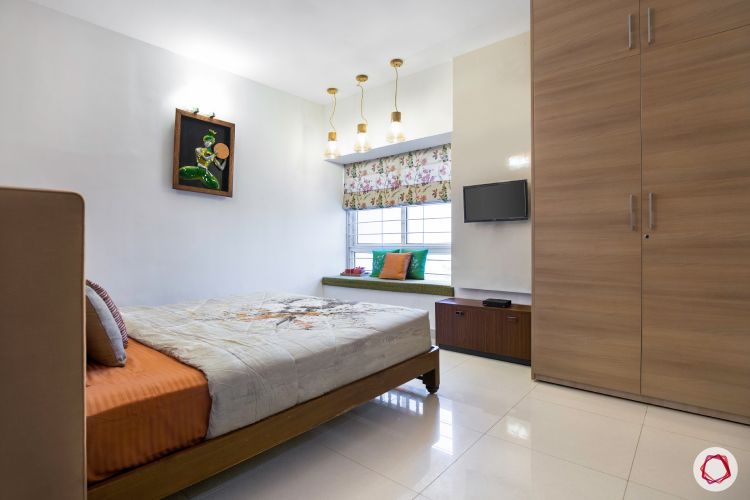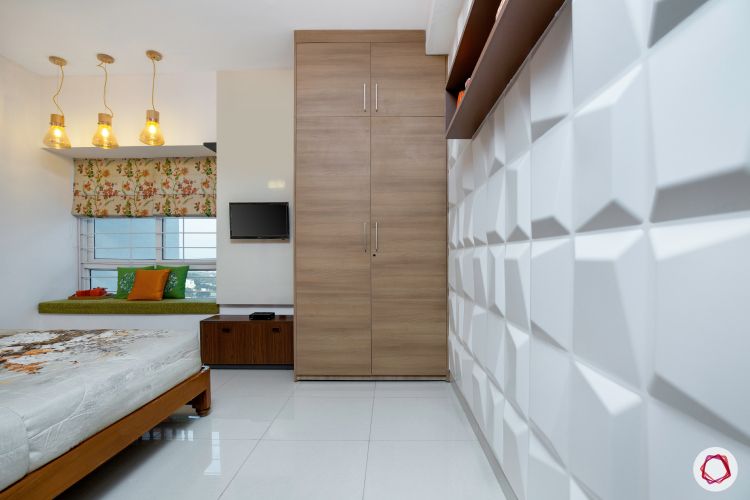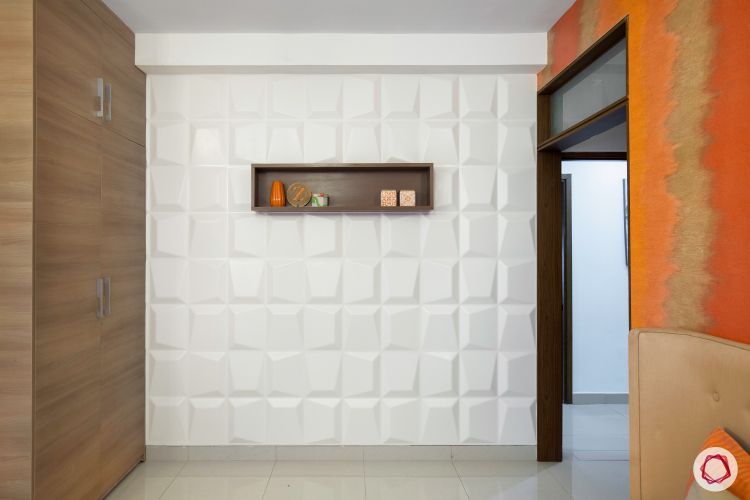 We love how Pragna has infused the room with the fire element in the accent wall and added a cool 3D wall for effect.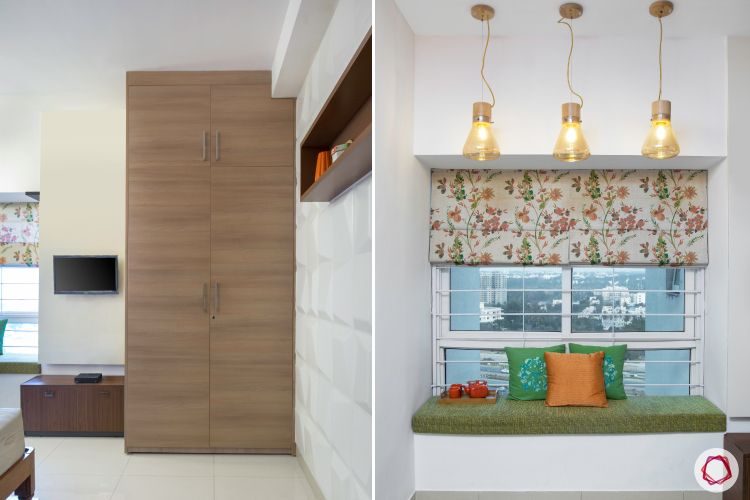 The cozy seating near the window remains constant and the rest of the look is minimal!
---
"As soon as I met Mahesh, he told me one thing — he wanted a home that stands out. I picked up my cue from there and decided that this home has to be designed perfectly. I gave them a contemporary home with some design twists here and there! It was amazing to design for the Reddys, since they were very accommodating and open to new ideas."
– Pragna Krishna, Interior Designer, Livspace
---
Did you love this elaborate home design? Well, we bet you'll love this Bengaluru home as well!
Suggestions and comments are welcome.