A pop of colour here and there completes this Bangalore house design.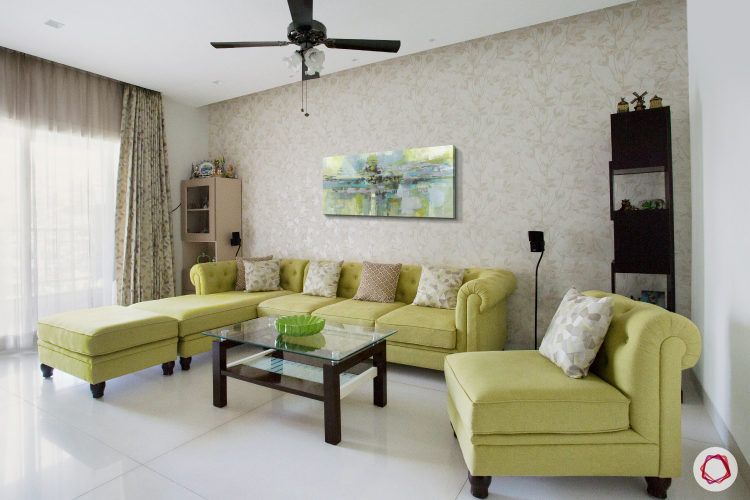 ---
Who livs here: Nirmal Shah with his wife Reena Shah, daughter Aanya and son Aarav
Location: JP Nagar, Sarakki Nagar, Bengaluru
Size of home: 3 BHK spanning 1,850 sq ft
Design team: Interior Designer Jitendra Raju with Quality Manager Pavan Hongal
Livspace service: Full home design
Budget: ₹₹₹₹₹
---
While their roots are in Rajasthan and Gujarat, Reena and Nirmal Shah's love story began in Bengaluru, where they now reside. When they decided on getting their own apartment in JP Nagar, it was Reena's father who told them about Livspace for their home interiors.
Livspace designer Jitendra R, met the lovely couple, to transform the bare space into their dream home. From colour schemes to carefully curated furniture, it has been an enriching journey for the family and the designer as well. You have to step into this home to get a feel of how impeccable the aesthetics are. Oh, did we tell you? This home is completely Vastu-friendly. So it's a strictly "good vibes only" kind of home!
A Lively Living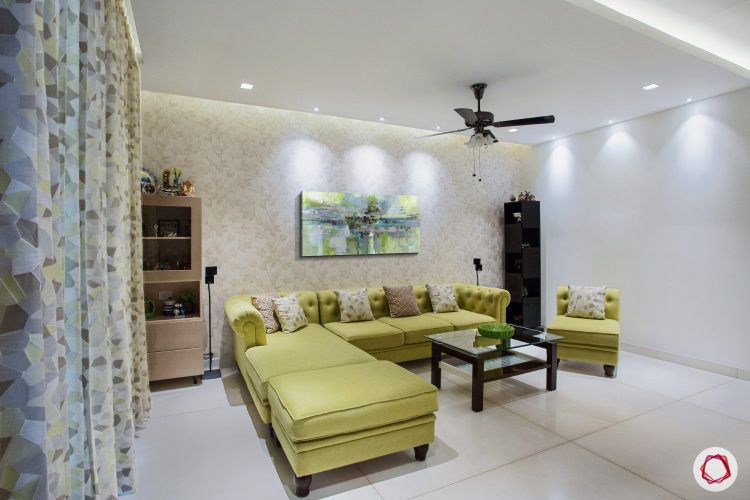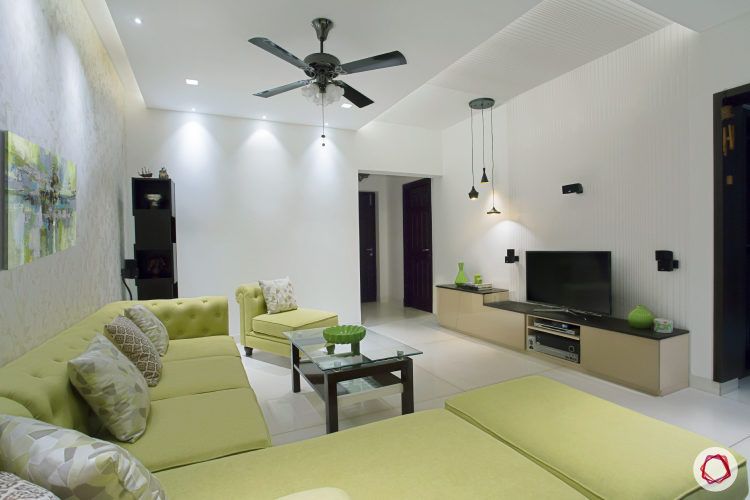 A living room design with a pop of autumn green is an instant visual treat. This living room is such a lively mix of bright sofas and muted walls that it feels just right for some downtime with the family. The drapes and cushions are also in sync with the colour scheme of this room, which makes the room look perfectly balanced.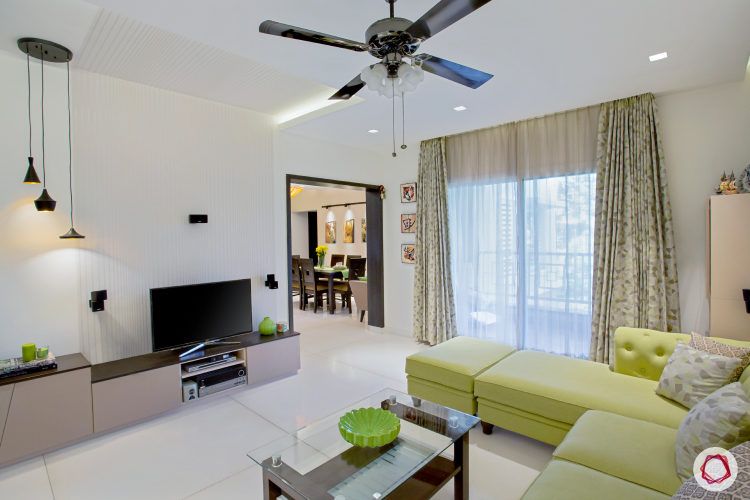 The TV unit is a lovely cappuccino-shaded, floor-standing one with shelves for the set-top box, DVDs and other gadgets. Being extremely vastu conscious, they did not want to drill the wall behind the unit. The pendant lights create soft focus on that area.

For Homely Mealtimes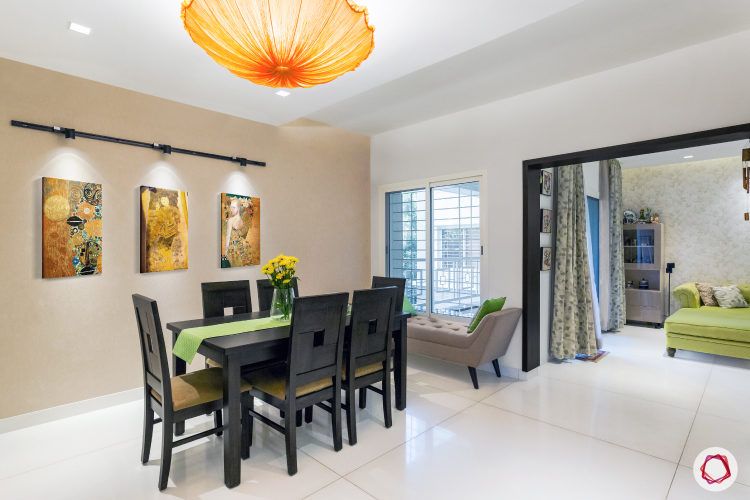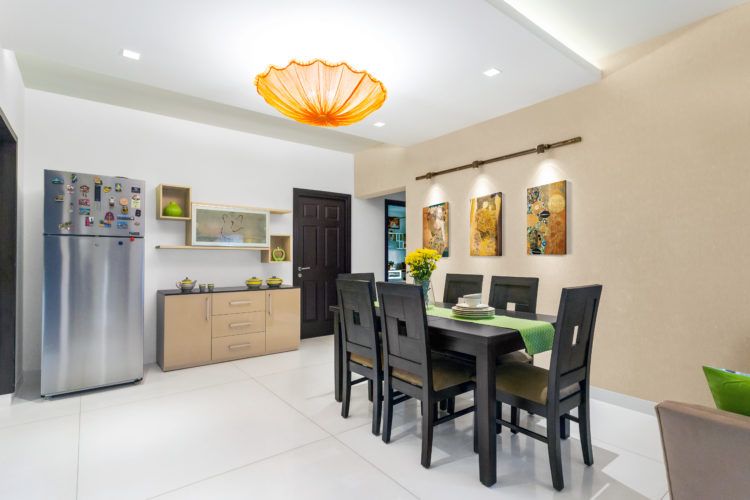 Guest and family members, who often visit the couple, can easily be accommodated in this six-seater dining table with the upholstered bench beside it. The entire look is in harmony with the living room, with the crockery unit in the same cappuccino finish as the TV unit. We have our eyes set on the quirky umbrella-shaped chandelier that adds a dash of colour to this room.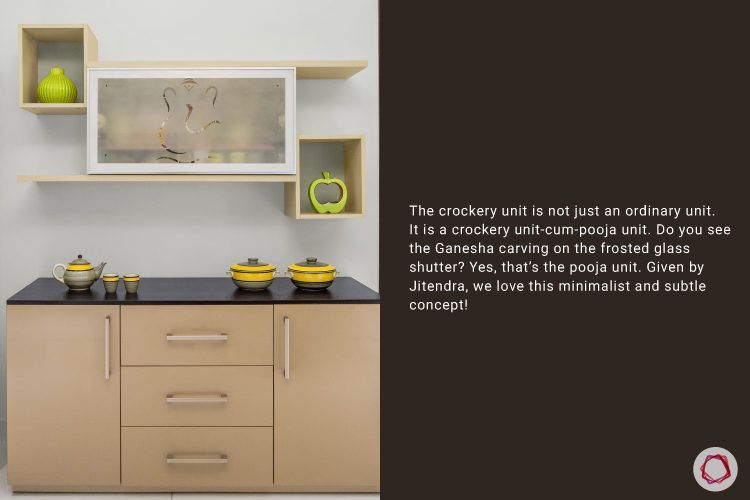 Practical Cooking Zone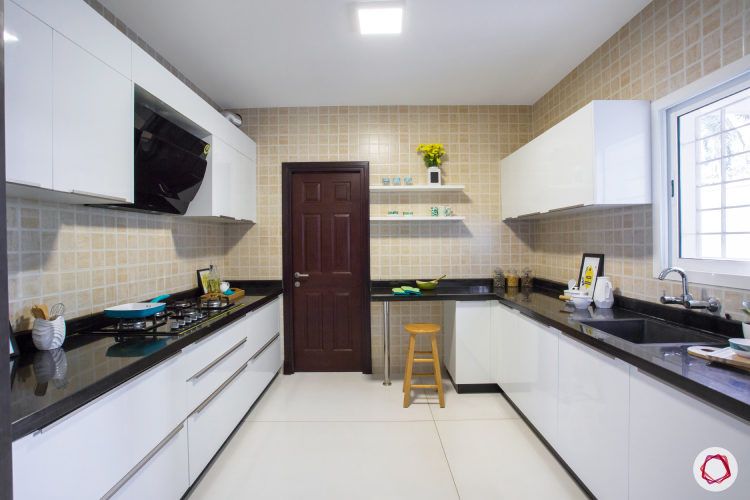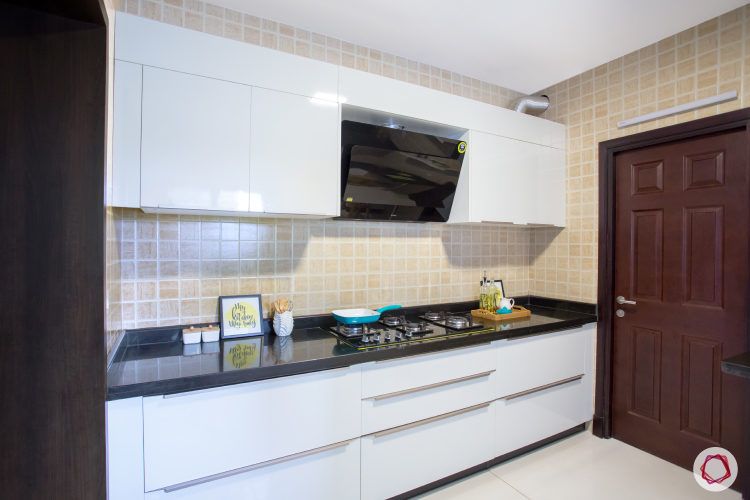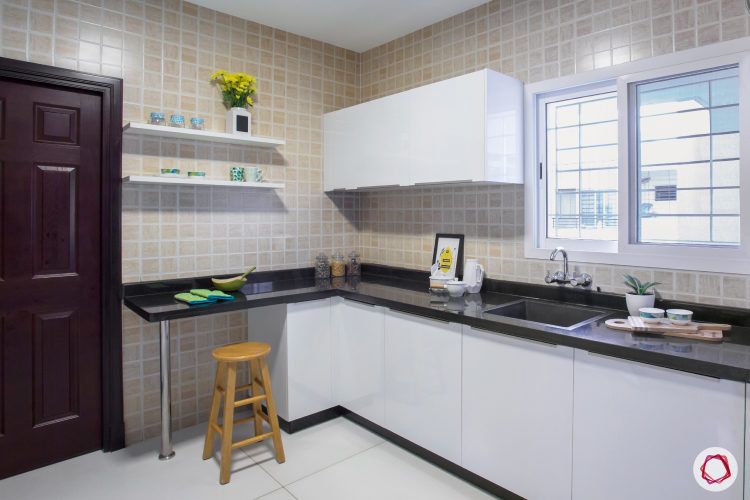 A modular kitchen should be two things, practical and ergonomic. The Shahs and Jitendra made sure that they ticked these two boxes while deciding upon the design for the kitchen. Complete with a black granite countertop, tandem boxes and a tiny breakfast counter, this parallel kitchen is perfect for small families.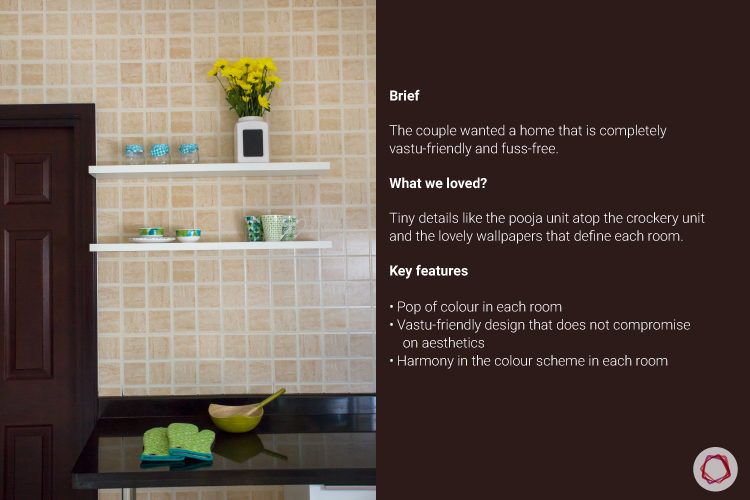 Vivacious, Yet Subdued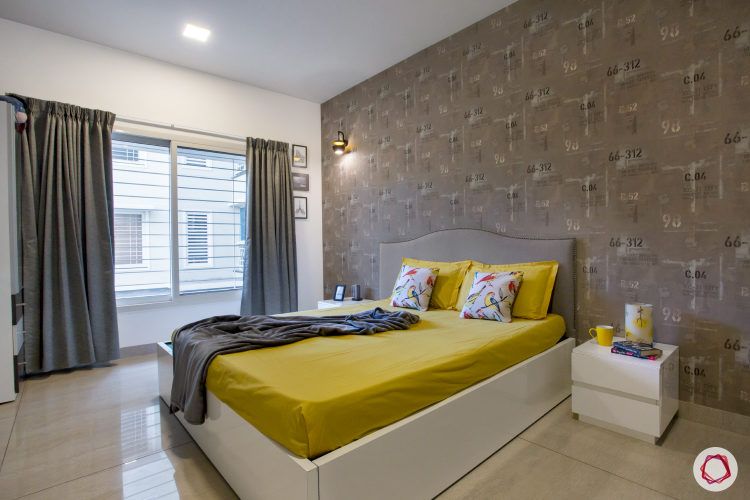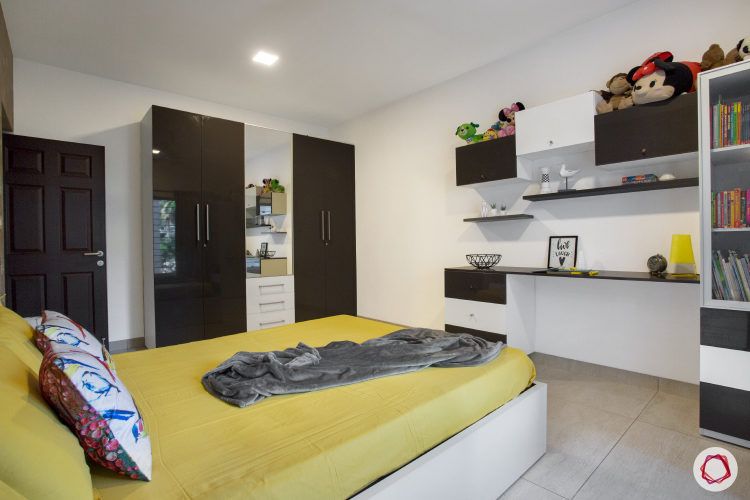 Aarav's room dons a dark grey colour scheme on the wall, on the wardrobe and on the study unit. The nailhead trimmed headboard is simple and also plays match with the rest of the look. In addition to this, the wardrobe sports a high-gloss laminate finish and is outfitted with a mirror, along with deep drawers.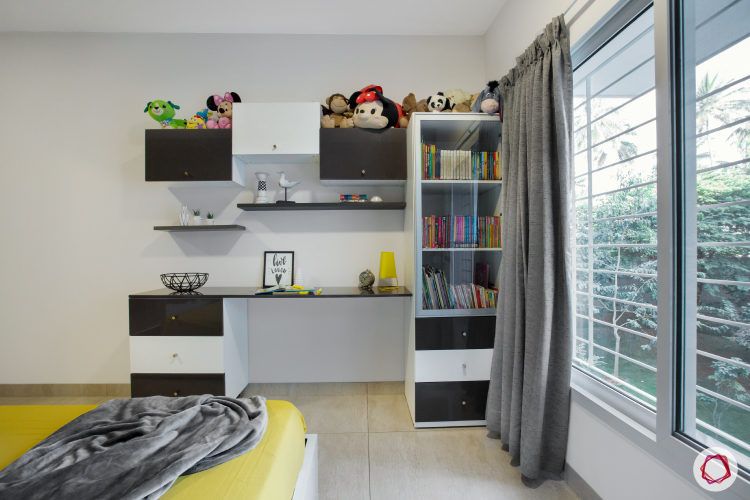 The study unit ties into the wood-finished color scheme in Aarav's room. So harmony is the key here! With ample space to keep all his books and belongings, this study is perfect for a growing kid. Also, soft push cabinets on top ensure ease of use and functionality.
Pretty in Purple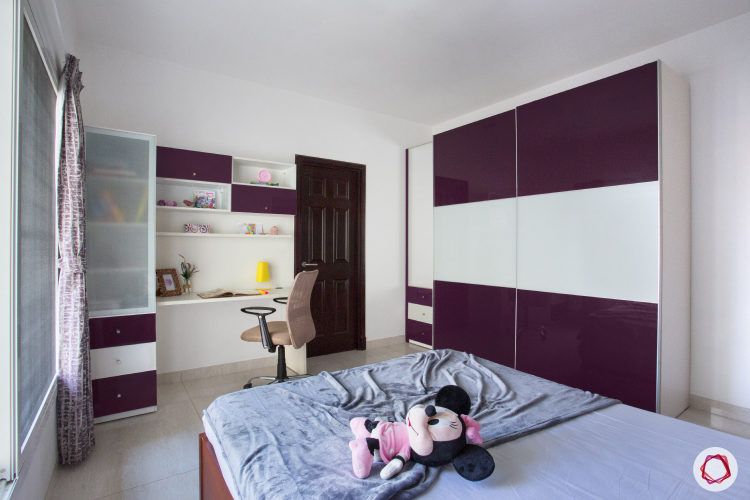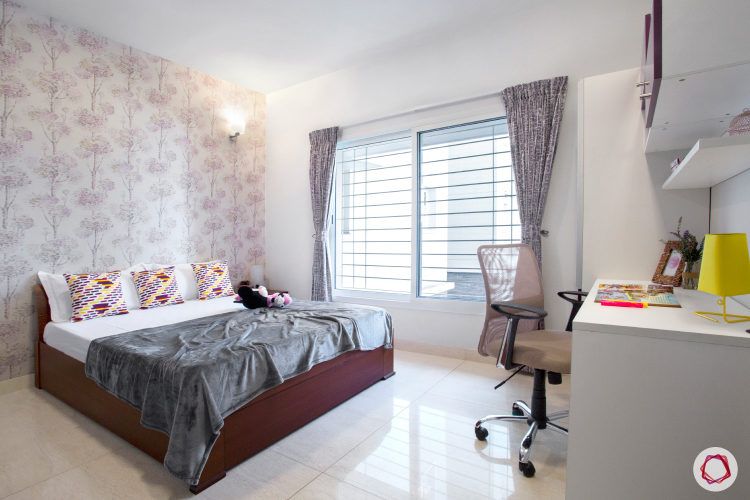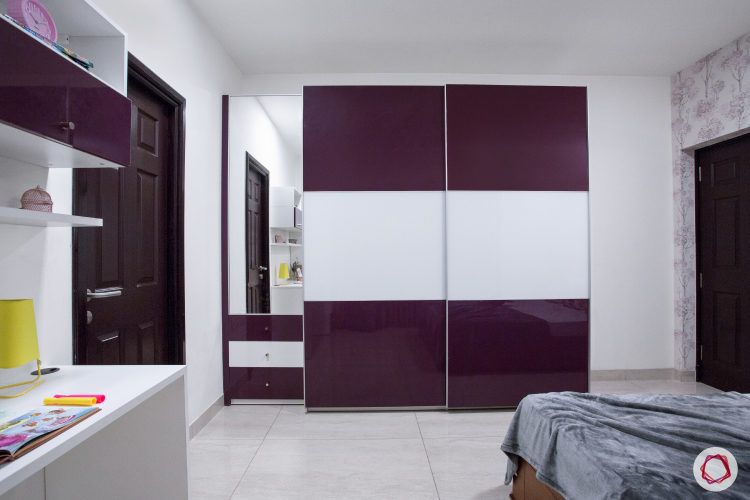 This girl's room is not just the average kid's room. It follows a lovely colour scheme of lilac and white. Just take a look at the wallpaper behind the bed. Isn't it mesmerising? We love how Jitendra has maintained a theme for each of the rooms. Furthermore, the sliding wardrobe comes with a full size mirror with drawers on the side, to make for a cute dressing corner for Aanya.
Elegant and Light Repose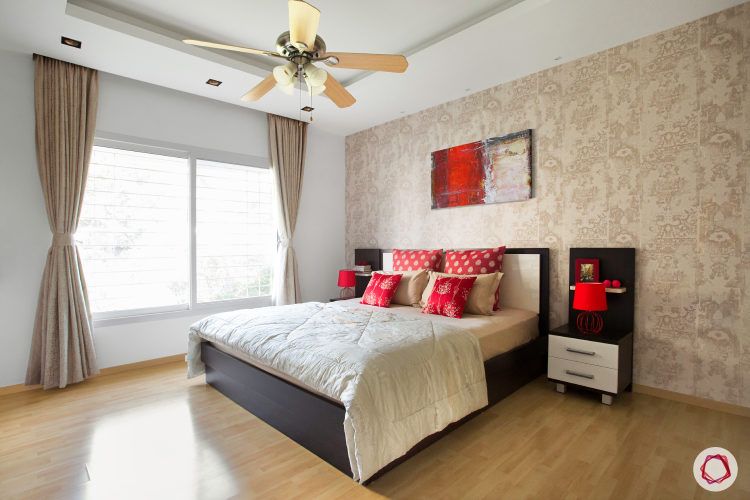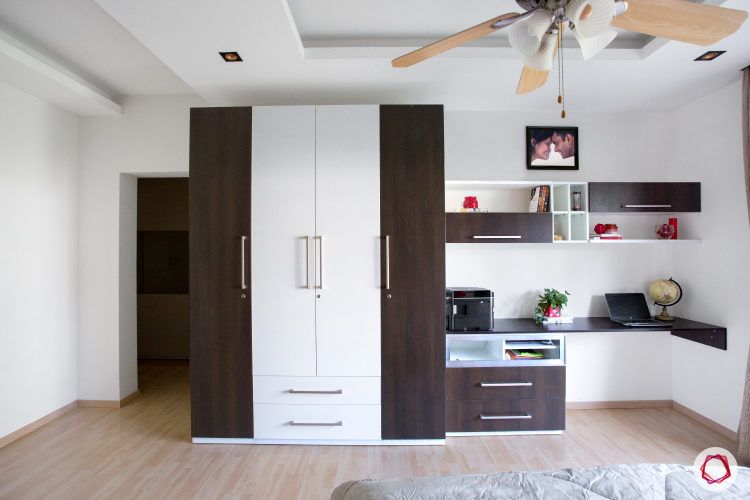 The master bedroom has been kept absolutely simple, with light wood flooring offset by dark wood finishes. In this room, the drapes and the wallpaper are in perfect sync with the colour scheme. Additionally, the study table acts as a working den for Nirmal when he's working from home. The shelves on the unit are meant for family pictures that they love displaying.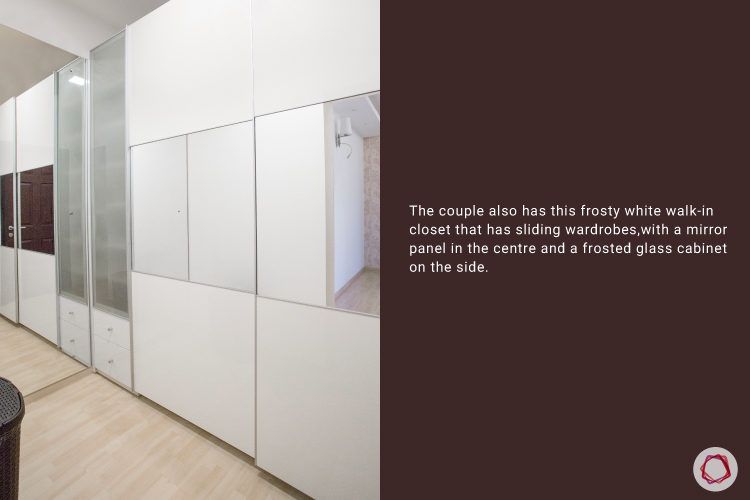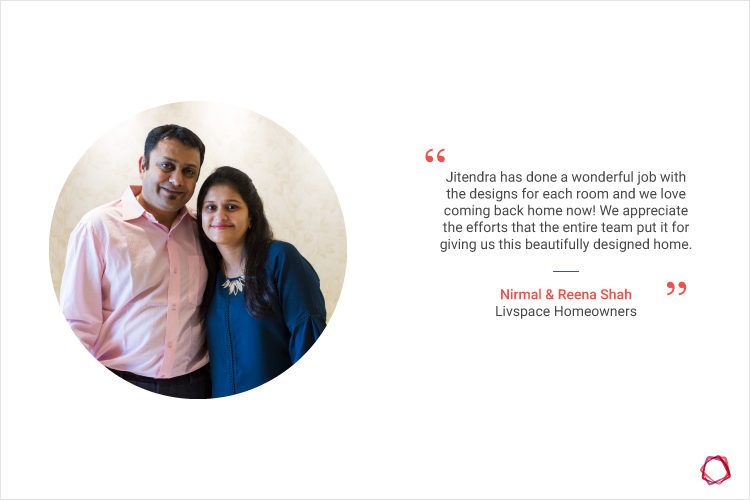 ---
"The Shahs were very easy to deal with and I loved working on this home. I was given complete independence to experiment with designs, while making sure that it is vastu compliant. I have tried to maintain a colour scheme for each room, which gives the home a harmonious look."
– Jitendra Raju R, Interior Designer, Livspace
Leave us your comments on the email ID mentioned below.
— editor@livspace.com