When Arpit chose Livspace for his new home interiors, he wanted his dream home to be his pride. Soon after the site measurements were complete, our designers got busy as beavers to deliver a home that had everything.
If you're looking for the crème de la crème of interiors—you should consider Livspace, where award-winning designers and service partners come together to bring your luxurious dream home to life.
This 2BHK design for Adarsh Palm Retreat features two contemporary bedrooms, a dedicated study room, a pooja unit, a living room, a dining room and a beautiful kitchen. So, let's show you the kind of interiors you can expect when you work with us.
---
Who Livs here: Arpit Beri and his family
Location: Adarsh Palm Retreat, Bangalore
Size of home: 2BHK with a study room
Budget: ₹₹₹₹
---
6 Styling Secrets of This Livspace Luxurious Home
1. Form Follows Function in This Living Room
Featuring a tufted blue sofa set, a wooden centre table and an all-white TV unit, this living room screams mid-century modern. The grey rug ties in the different design elements, thus completing the look. The wooden partition adds a visual focal point, in addition to segregating the living room from the other part of the house.
Wooden partitions or facades are a great way to imbue a sense of privacy in homes that have an open floor layout. What's more, the all-neutral walls have beautiful wall panels that transform the look of the space while working as picture frames for the artwork. You can see the designer has opted for a mix of design styles to create a space that has its own narrative and timelessness.
Also Read: The 15 Best Living Room Ideas of This Year
2. Stunning Takes Centre Stage in This Dining Room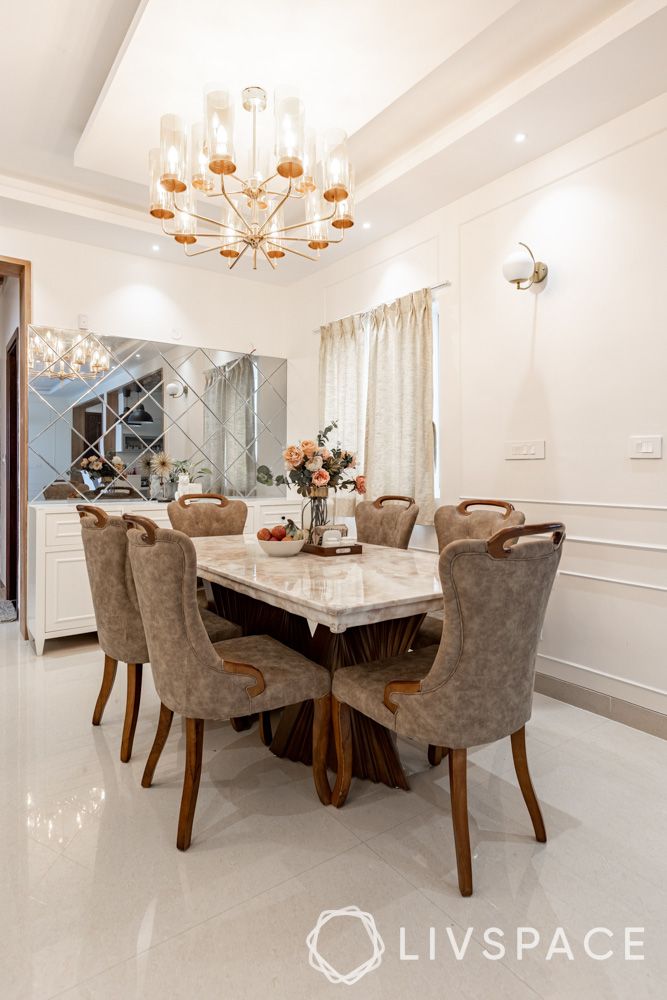 The dining room of this beautiful 2BHK design for Adarsh Palm Retreat has hints of mid-century modern and other contemporary styles. Look at the use of wooden accents in the chairs and the table.
However, what stands out in this space is the chandelier overhead. A chandelier is a like a piece of jewellery that adds the right amount of glitz and glamour to an ordinary space. The choice of pendant lights and the glass panels further accentuate the overall glossy look of the home, making one stare in awe and wonder.
3. The Peninsula Makes a Functional Haven Out of This Kitchen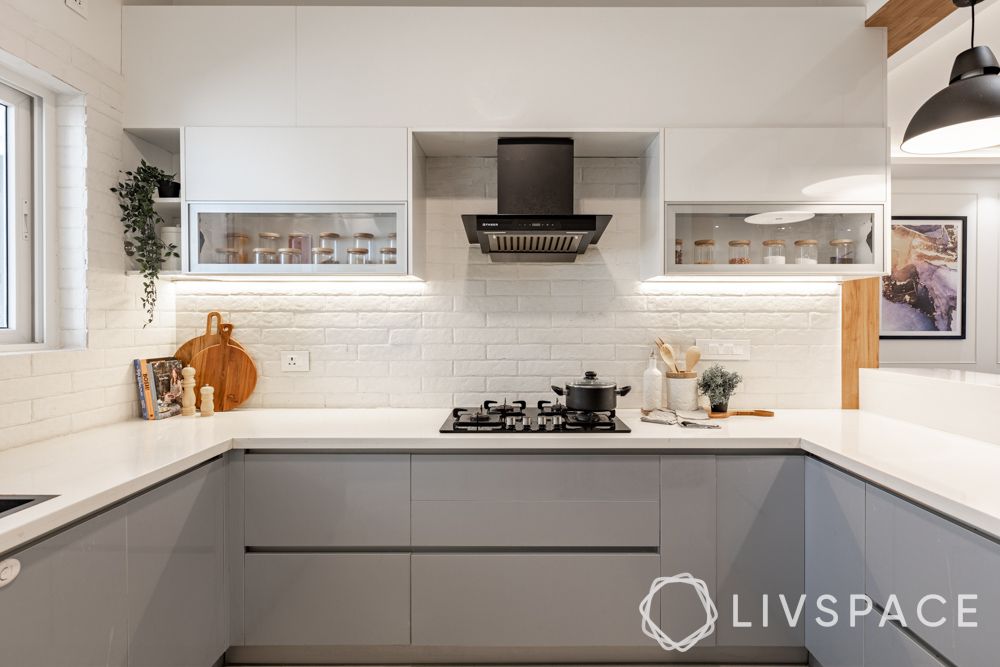 When you come to the U-shaped kitchen, you're undone by this sense of calm and peace that comes from the unpretentious shade of white with a slight hint of grey. With a mix of open and closed shelves, this U-shaped kitchen has space for anything and everything.
It creates the most functional golden triangle and can support a couple of cooks at work simultaneously. Moreover, it has tall units dedicated to appliances and wicker baskets that add more convenience during a hard day of cooking. The pendant lights at the peninsula can help the Beri family highlight their breakfast counter or prep centre with ease.
Now, if you're confused about the difference between a peninsula and a kitchen island, let us come to your rescue. A kitchen island is an additional countertop that stands on its own (sometimes in the middle of a kitchen). However, a peninsula is attached to your kitchen and gives your kitchen a different shape. For example, take this kitchen that started out as an L-shaped one, and has now been transformed to a U-shaped one with high functionality.
Also Read: 5 of the Best Modular Kitchen Colour Combination Trends for 2022
4. The Highlight of This Bedroom Is Hidden in Plain Sight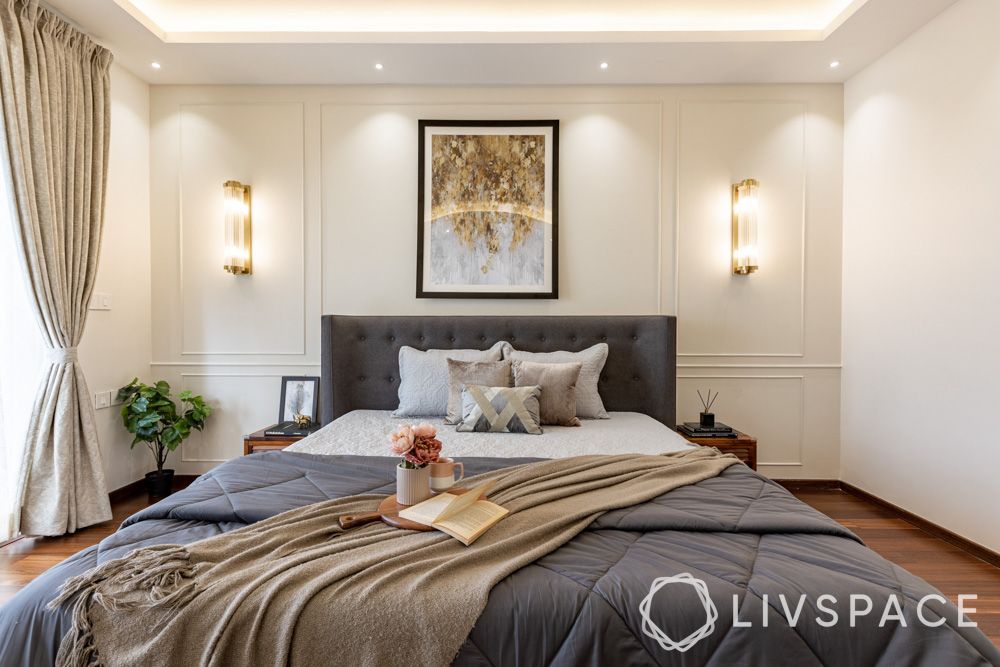 Creating a cocoon-like feel is easy when you go with a dark shade or a moody beige. While that's what this master bedroom does in terms of its colour palette, it also has an inviting and a welcoming vibe: thanks to the spacious feel created by the minimal use of furniture.
Wall sconces get you in the perfect relaxing mood. The wall panels add a luxurious accent to the walls without going overboard, while the floor-to-ceiling curtains give the overall space an airy update. It has a pair of wooden night stands, in agreement with the overall mid-century modern vibe of the home.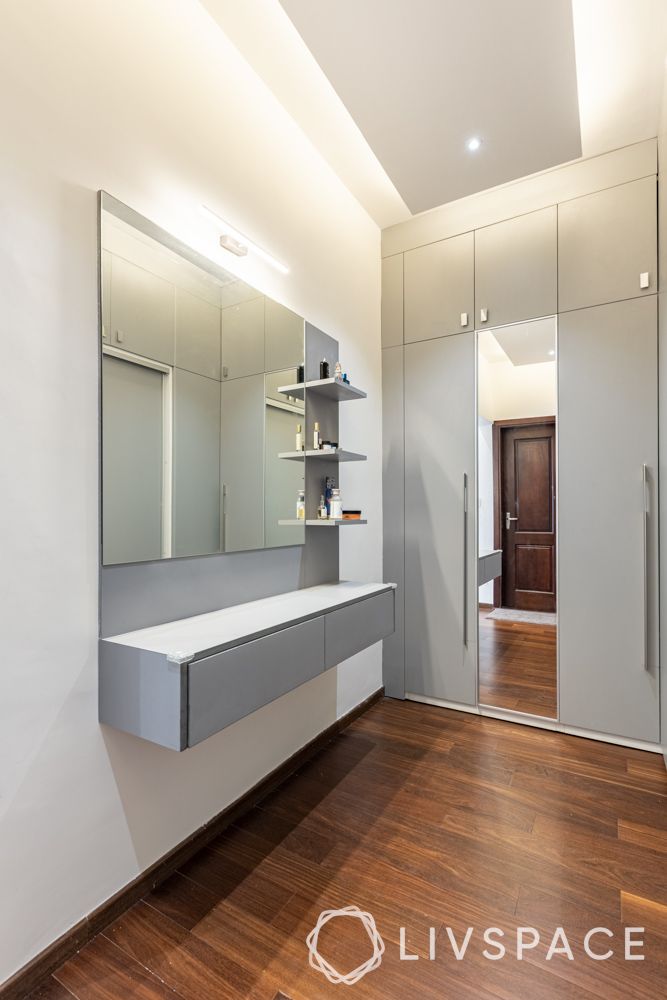 But what's interesting is the walk-in wardrobe. That's the highlight of this beautiful master bedroom, concealed from our curious eyes. With seating options, the walk-in wardrobe is spacious (like it should be) and has a comfy vibe of its own. Don't forget the mirror and the vanity unit that make it perfect.
5. The Second Bedroom With a 'Nook of Your Own' and a Pooja Unit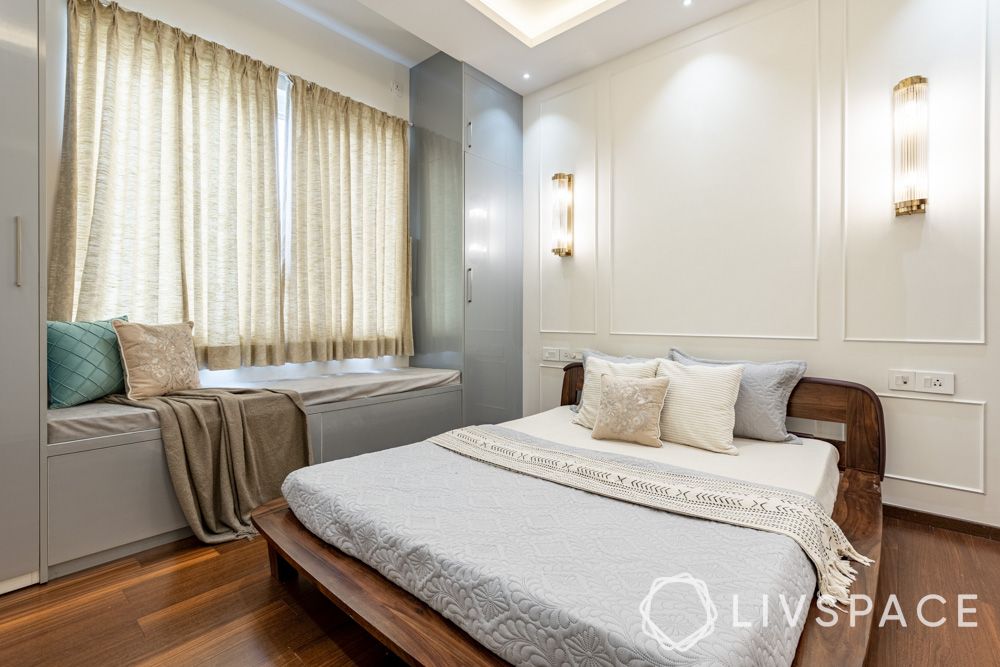 Following the same design of the master bedroom, this second bedroom features a pair of wall sconces and wall panelling. However, what's terrific about this space is how it packs in a punch. It has a white wardrobe and a fully equipped pooja unit on one side of the wall. Whereas there are cabinets and a seating nook on the other.
While the pooja unit is open, all-white and perfect for displaying divine figures and idols, it also has a mini storage compartment to keep the samagri. The nook has storage cabinets on either side and overlooks a window. In fact, it mimics perfectly a bay window seating of English Renaissance homes. We can say that it equips this second bedroom with a sense of dreamy romance. It's perfect for book lovers, too!
6. The Wall to Wall Book Shelf That Powers the Study Room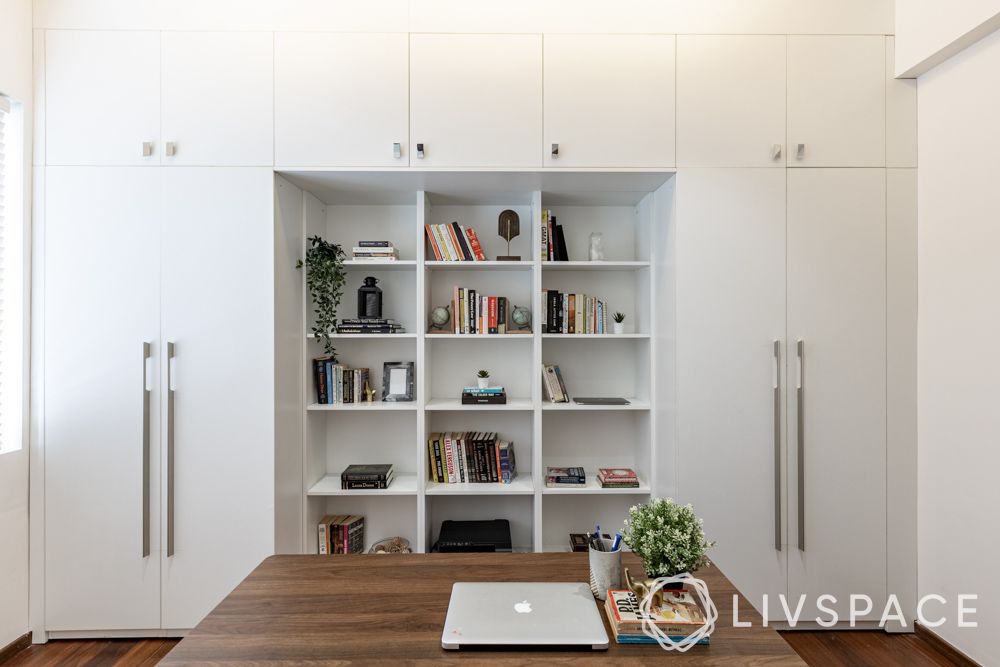 We're tempted to call this study a reading room. Look around, and you'll see how it's every book lover's dream! Featuring a wall-to-wall bookshelf that's a mix of open and closed cabinets, this study has a simple wooden desk and nothing more.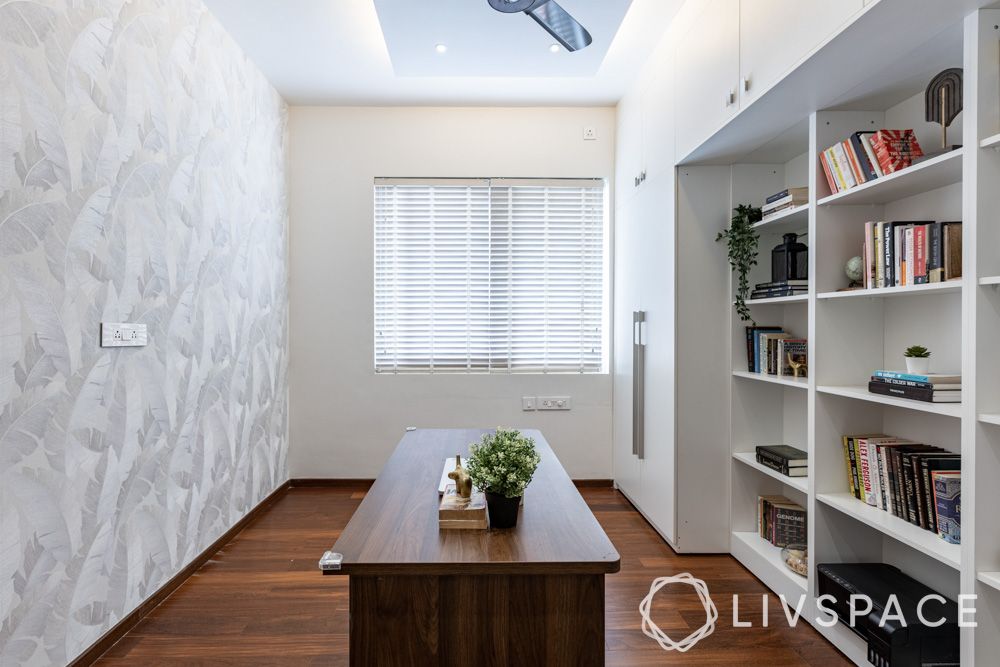 For the accent wall on the opposite side, the Beri family chose flair, but decided to take the understated road. It's a tropical motif, played out in monochrome colours, that imbues a sense of peace and calm throughout the space.
If you're still here, you'll agree that the designer intended on designing a concept rather than taking on every room on its own individual merit for this 2BHK design for Adarsh Palm Retreat. In fact, that has helped create a sense of continuity in the decor, thereby giving this home a spacious vibe.
Additionally, no home is complete without its own pop of colour, which is what the artworks help achieve. The real challenge in designing a home is designing a space where stuff eventually accumulates and there's no time to tidy it up and keep it looking perfect. That's why it's important to plan ahead and design a space that can be maintained with the lowest upkeep. While it might sound rather difficult, it's easier than you think, like we just proved with the Beri home that has all the design fundamentals in space.
How Can Livspace Help You?
We hope you found our ideas useful! If you want beautiful interiors for your home, then look no further. Book an online consultation with Livspace today. Have any thoughts or suggestions you'd like to share with us? We're all ears! Drop us a line at editor@livspace.com.
Disclaimer: All contents of the story are specific to the time of publication. Mentions of costs, budget, materials, finishes, and products from the Livspace catalogue can vary with reference to current rates. Talk to our designer for more details on pricing and availability.