Seasons come, seasons go; trends too pass with the seasons. Just like the window of a fashion store would indicate what the hottest colours for the season are, our magazine is a window that showcases the trends that you can expect to see in homes for the coming year. Since most homeowners spend their maximum interior budget on kitchens and wardrobes, kitchen colour combination varieties are at the top of our trends forecast.
So what are the colours that will set the tone for 2022? Our design and product teams have set their hearts on 5 best kitchen colour combinations that are destined to become staples in the coming year. And here they are:
#1: Blue + White with Highlights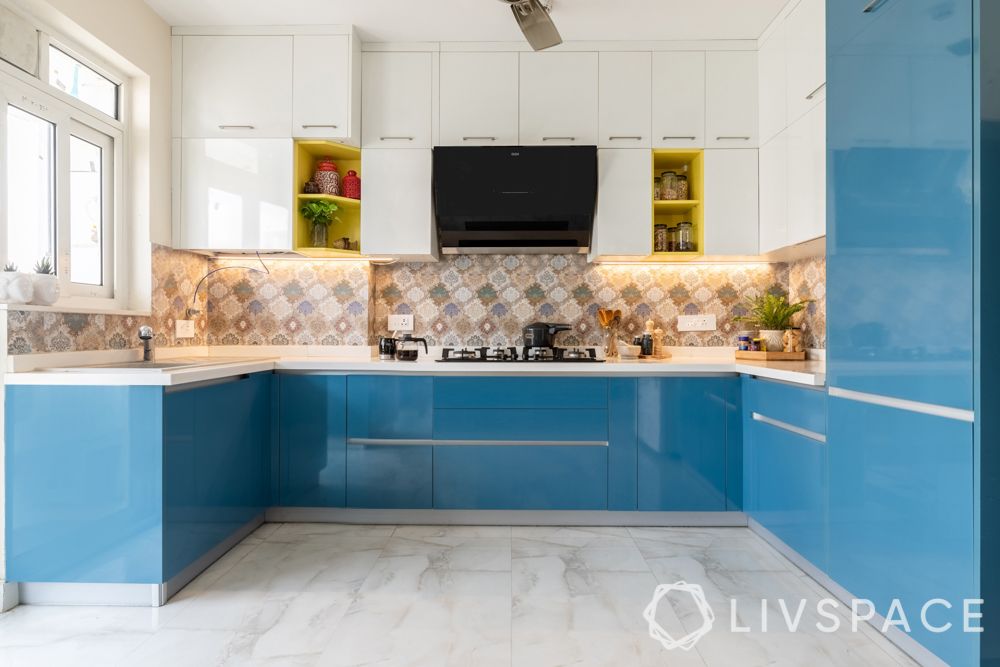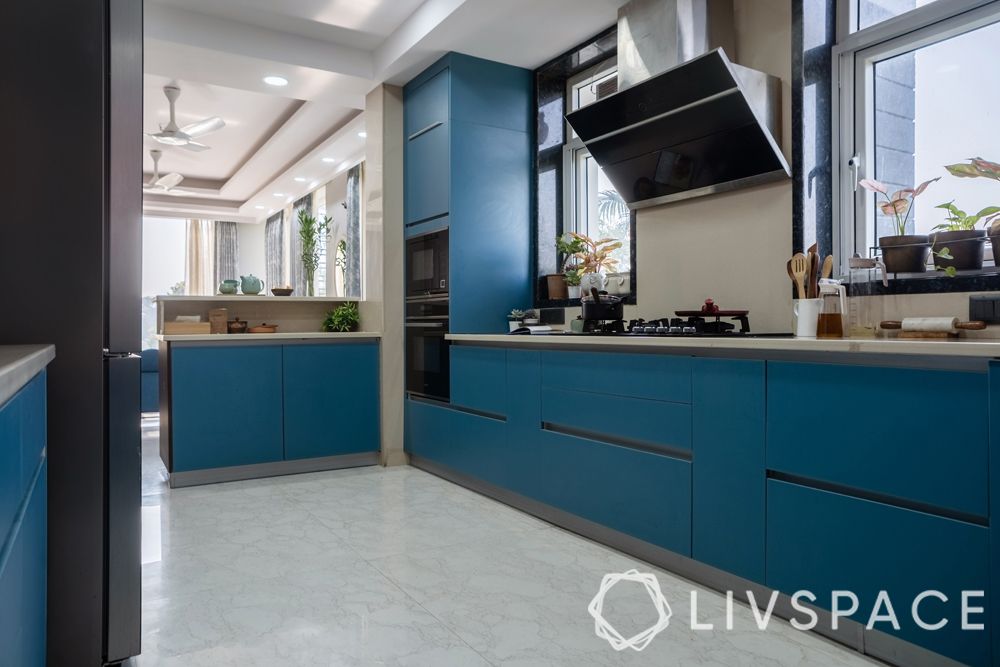 This year is all about reflecting happiness and wellness in the interiors. And what better colours than blues and greens to express these feelings. So starting with blue, which makes for the best modular kitchen colour owing to its versatility. This colour is often used in combination with white. This kitchen colour combination is popular because it manages to create bright and calming energy in the interiors.
How to use it?
Well, there are two ways you can go about this modular kitchen colour combination. The first one encourages lighter shades of blue with a glossy finish combined with stainless steel handles for a perky look. On the other hand, you can use richer blue shades with a matte finish and dark/black details to get a classier colour combination for the kitchen.
#2: Green + White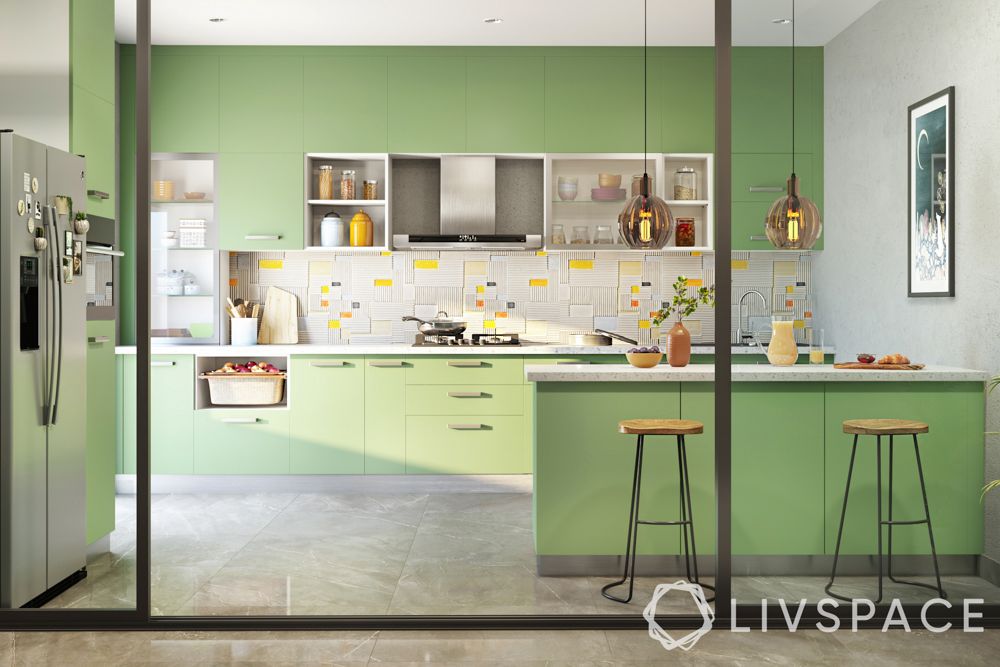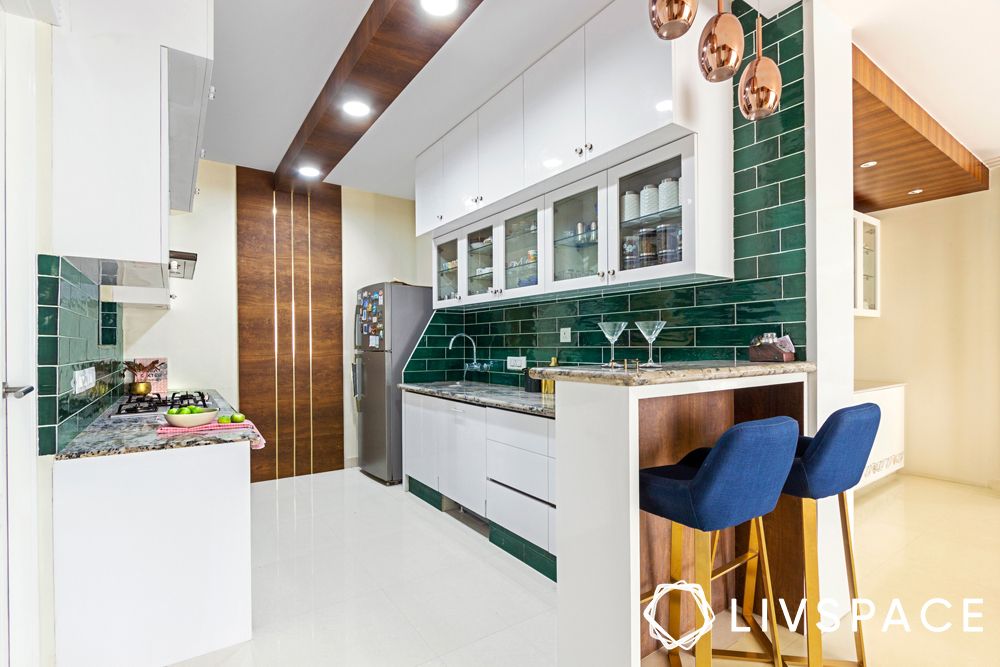 Green evokes so many emotions like abundance, security and peace. And combined with whites, greens give us many hit pairings for modular kitchen colours. Although a kitchen colour combination with richer greens is preferred over one with lighter shades in 2022, they both require intelligent designing for successful outcomes.
How to use it?
The best kitchen colour combination featuring green has two different colour and texture schemes. Lighter greens work best with white/grey countertops and cabinets. And richer shades will benefit from the use of other natural textures like stone and wood along with white. Creative pops of colours are more than welcome to add interest in these colour combinations for the kitchen.
#3: Black + Metallic Accents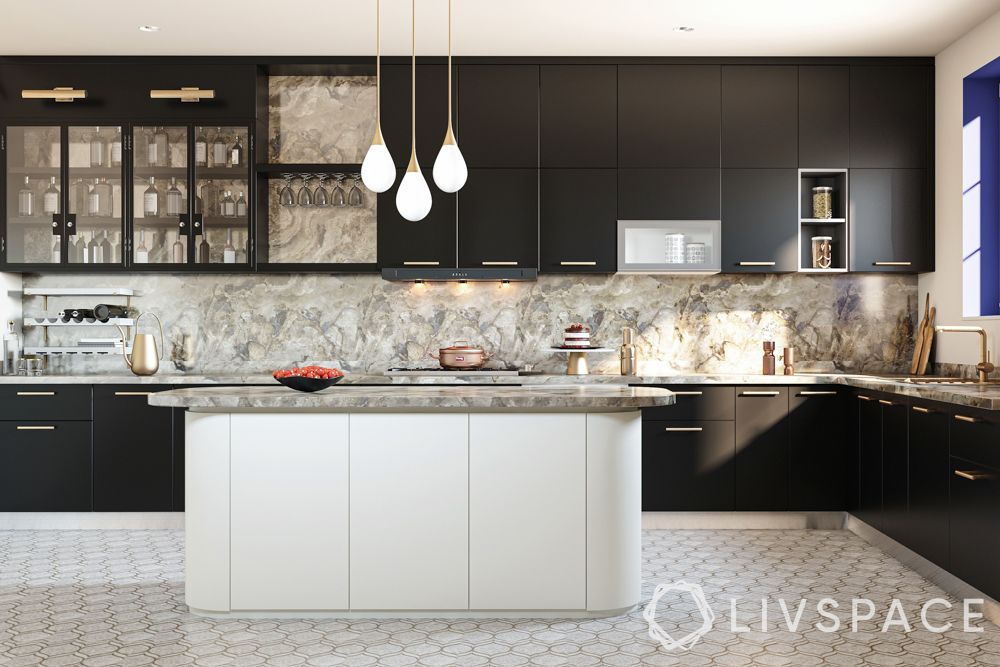 Most of us have realised the virtue of having a kitchen that is easy to maintain and does not need too much cleaning. And since many of us are still working from home most days, dark colours in the kitchen make more sense. While black is an elegant colour, it needs a dose of metallic accents to glam it up. Thus, black with metallic, particularly bronze, accents will be a popular kitchen colour combination in 2022.
How to use it?
For this kitchen colour combination, use metallic handles on black/dark cabinets and add in plenty of other matching metal furnishings. Also, black literally absorbs the light, so opt for other lighter modular kitchen colours along with it.
#4: Pastels + Pop of Texture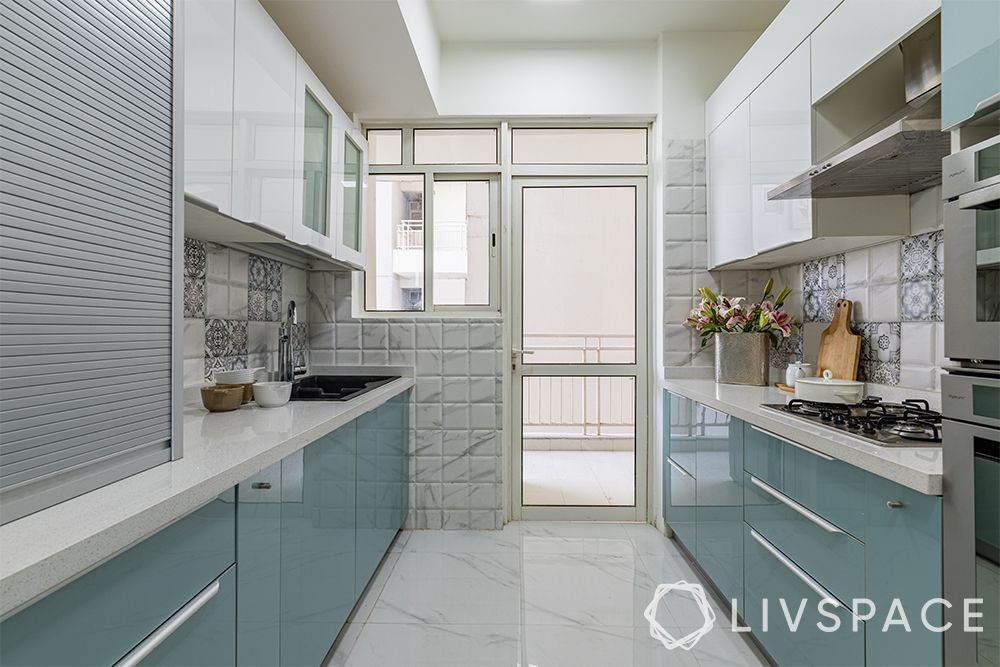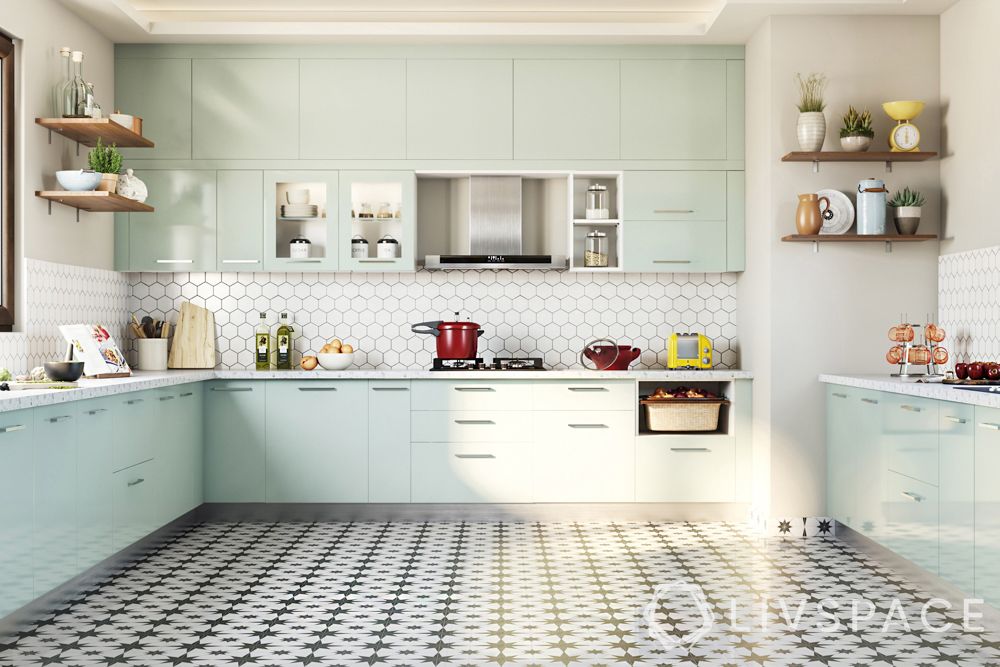 Pastels are a family of colours that never really go out of fashion. This year will be no exception, so it should come as no surprise that pastels are part of this next kitchen colour combination. However, the trend this time will be to pair pastels with solid textures in monochrome or with earthy textures.
How to use it?
Opt for cabinets in soft pastel shades and add depth with a backsplash made of textured terracotta tiles or printed traditional tiles. Make sure you create a good balance of colour combination for the kitchen. The effect is quite dramatic without being loud with this kitchen colour combination.
#5: Timeless White Kitchens
White is the most flexible colour and it can do wonders for your interiors. A kitchen colour combination with white is adaptable and easily transformable as well. Wood is also becoming a vital element in saving the timelessness of all-white kitchens and will be one of the most regularly used elements in the kitchens of 2022.
How to use it?
Modular kitchen colour combinations with white can be accentuated by dark colours along with wooden textures. Alternatively, you can use light pastels as secondary colours along with natural textures in white kitchens.
If you enjoyed reading about the trending kitchen colour combinations for 2022, also explore the 7 Cool New Paint Colour Trends That We'll See in 2022. Or simply check out this video on trending modular kitchen designs:
We love hearing from you! Write to us at editor@livspace.com
How Can Livspace Help You?
We hope you found our ideas useful! If you want beautiful interiors for your home, then look no further. Book an online consultation with Livspace today. Delivering safe home interiors has been our No. 1 priority. Click here to find out how interiors are being delivered following all safety protocols.