It is obvious that the Livspace interior designer in Noida who worked on this Ace Golfshire home has an artistic disposition!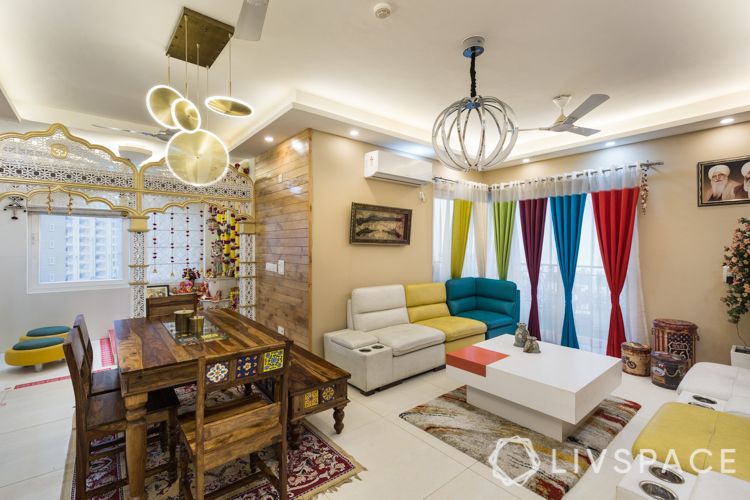 ---
Who Livs here: Sachin and Rashika Gupta with their two daughters and mother
Location: Ace Golfshire, Noida
Size of home: A 4BHK spanning 2,000 sq. ft. approx.
Design team: Interior designer Akash Jindal and Project Manager Gurpreet Singh
Livspace service: Full home design
Budget: ₹₹₹₹₹
---
What is the one factor that distinguishes an Indian home from a Western one? In one word, it is colour. Desi homes always have a bit of colour. It comes through in a pair of bright curtains or some poppy throw cushions. Sometimes, we also see homeowners use bright wall paint. But not every family has the gumption to go big and bold with colours. So when Akash Jindal, our interior designer in Noida, met the Guptas, the artist in him got a blank canvas to paint on.
The Family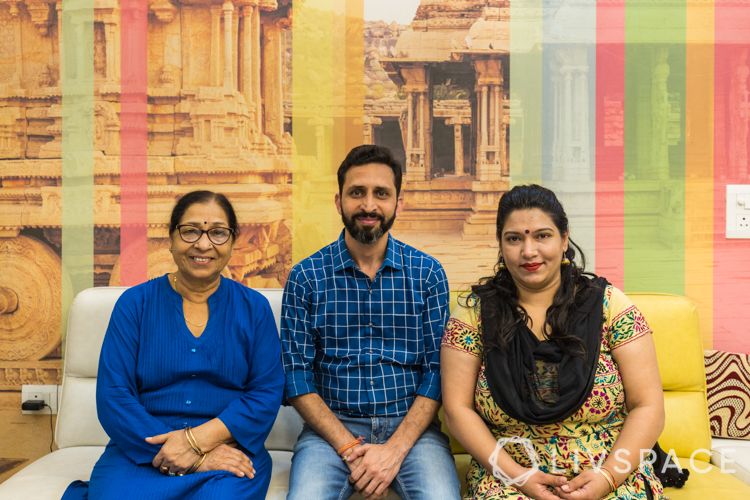 Rashika and Sachin Gupta had a simple requirement; they didn't want their home to have any whites or dull colours. Essentially, their spacious 4BHK had to be cheerful, bright and as vivid as a Frida Kahlo painting. So brace yourselves for the most colourful and vibrant home of the year. And don't forget to take notes for some amazing wall treatments from it!
Also Read: Designed Within ₹13 Lakhs, This 1,200 Sq. Ft. Noida Home Is a Pastel Paradise
IN A NUTSHELL


Design Brief

This family loves colours and wanted a home that was as vibrant as possible

What We Loved

The smart mix of custom and modular storage units to keep the budget in check

Look Out for

— Bright mural wallpaper in the living room
— Marble pooja niche with a jaali framed entry
— Metallic tiles in the master bedroom

Smart Buy

The budget version of a tall unit that serves as a pantry pull-out accommodates the entire grocery section of the kitchen

Biggest Indulgence

The customised and high-end wooden log panels in the walls and ceiling of the master bedroom are made of solid wood pieces


Shades, Tints and Hues So Bright
The Guptas as a family are in love with colour and undaunted when it comes to wearing their personalities on their sleeves. So Akash, who is a really talented interior designer in Noida, went all out with colours for this Ace Golfshire apartment.
We have rich blue wall paint with gold lettering in the kids' bedroom. The kitchen is a mish-mash of aqua blue, white and applique like tiles for the backsplash. In fact, even the carcass cabinets are in a bluish hue for this merry-looking kitchen.
Last, but not the least, Sachin and Rashika's living room is a medley of happy colours. While the couple decided to hold on to their existing furniture, we added colour to the walls and ceilings of this kaleidoscopic home.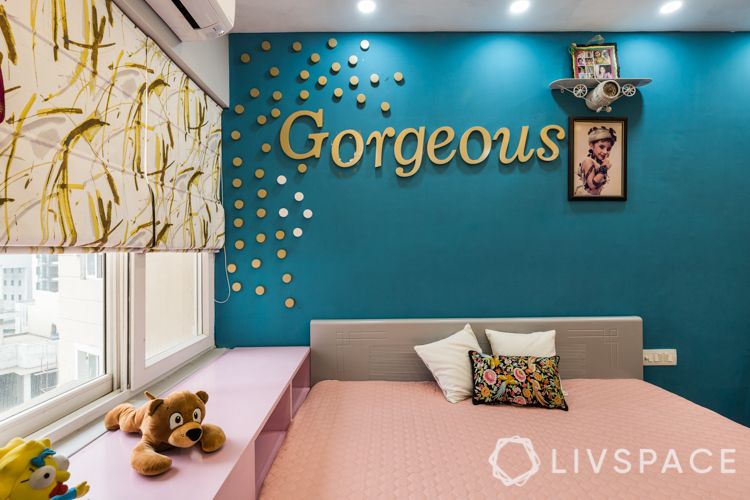 "We were delighted to have Akash as our designer because he was totally devoted to the task of understanding our requirements. He was always patient while taking personal inputs, and that attention to detail shows in our home. We wanted a bright home full of colours, which he designed with a range of unique colour schemes. So for us, the journey with Livspace was worth its while."

–Sachin Gupta, Livspace Homeowner
A Variety of Wall Treatments
While this Ace Golfshire home has a wide range of interesting wall treatments, our favourite by far is the one in the living area that has a mural theme with a rainbow-esque effect of colours. In fact, this matches the concept of curtains in six different solid colours in the living room. Moving on, in the guest bedroom, the couple wanted fabric panelling and Akash, a very artistic interior designer in Noida, complied with a patchwork pattern that resembles a quilt.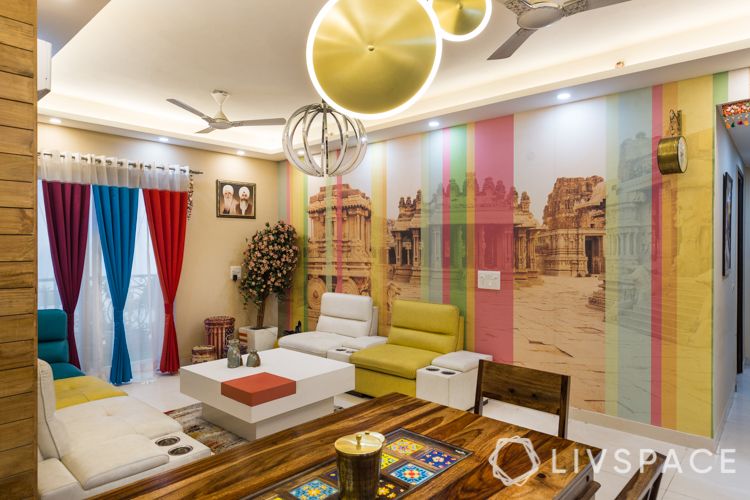 In terms of novelty, the wall treatment in Rashika and Sachin's bedroom wins hands down! Here, Akash has used wooden log panels that entail pieces of solid wood stuck together in a cohesive pattern on a sheet, to dress the walls. We can see the same pattern repeated on the ceiling and TV unit in the master bedroom. Have you ever seen anything in such a unique texture?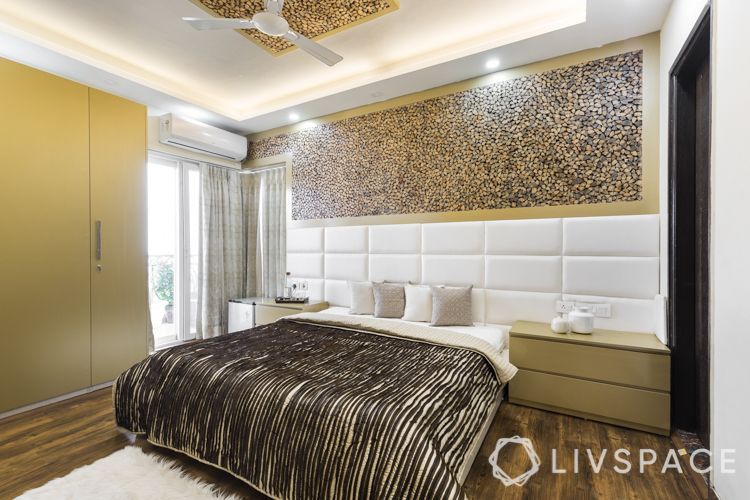 Custom + Modular Furniture
For a home that has emerged from the amalgamation of many unique elements, the budget for this 4BHK is not exorbitant. This moderation in spending was achieved due to the smart design planning done by Akash, a reputed interior designer in Noida. He has used an apt mix of Livspace catalogue units and custom pieces to get the look and budget right for this Ace Golfshire home.
For instance, the storage unit in the entryway is a custom piece as it had to fit the narrow space perfectly. In the couple's bedroom, he merged a custom wall panel with a modular TV unit from Livspace. Also, the wardrobe in this bedroom has that matte gold membrane finish is a modular unit from our standard catalogue.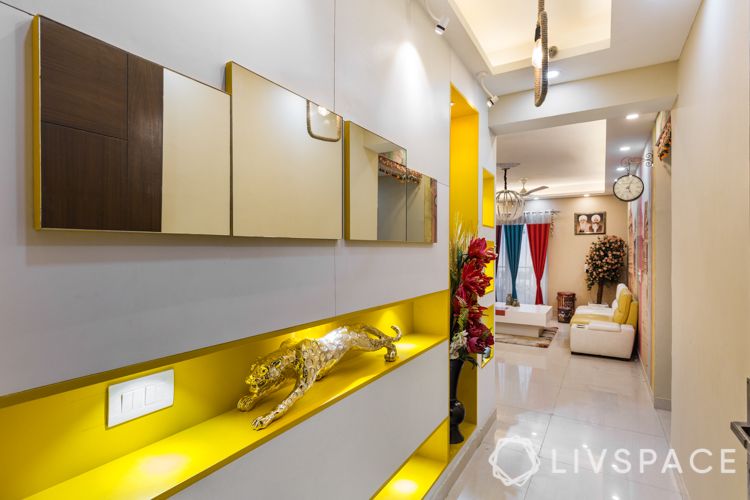 In the kids' bedroom, Akash stuck with modular pieces for storage including the mirror shutter wardrobe. He used minimal customisation like the yellow frame around the wardrobe for adding some colour.
We see a mix of modular and custom storage units in the guest bedroom as well. The bay seating here is custom along with the three blue cube units. The white closed units are all from the Livspace catalogue. This seamless blend of custom and modular units is a fine achievement by itself.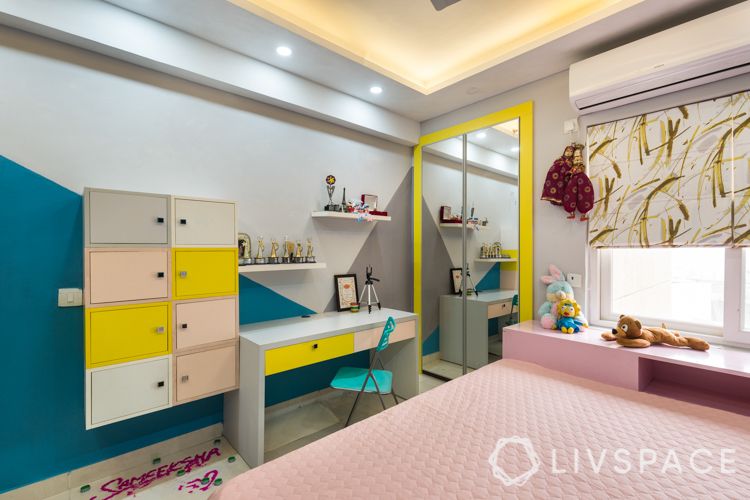 Tiles, Textures & New Layouts
As the kitchen was so bright and colourful, Akash felt that it would be a good idea to open it up. So the closed kitchen was demolished and the chimney as well as hob shifted to open up the layout. The extra space has been utilised to fit in a very useful tall unit for the pantry and a massive refrigerator.
We also see some traces of exquisite civil work in the pooja niche in the living room. The Guptas wanted this space to be marked by marble flooring. Akash also worked on adding steps here that would serve as shelves for placing idols and pooja items.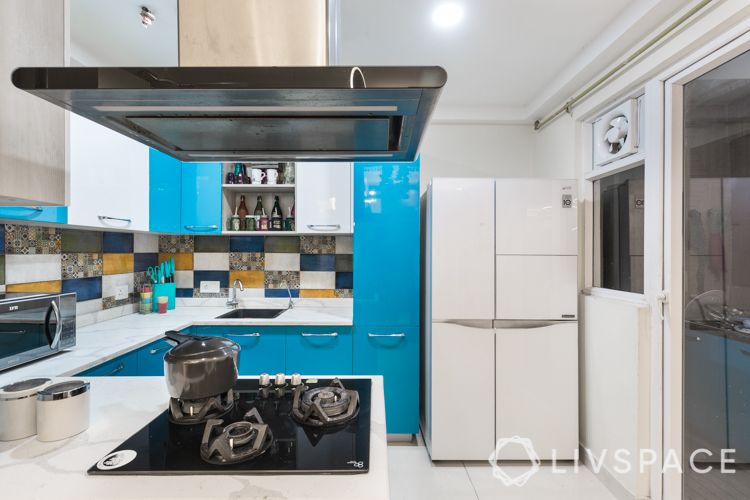 The Showstopper
While every corner of this home is touched by colour, the bathroom attached to Rashika and Sachin's bedroom is a stunner for its texture. The metallic tiles in this bathroom have a psychedelic effect that we are yet to see in any other home!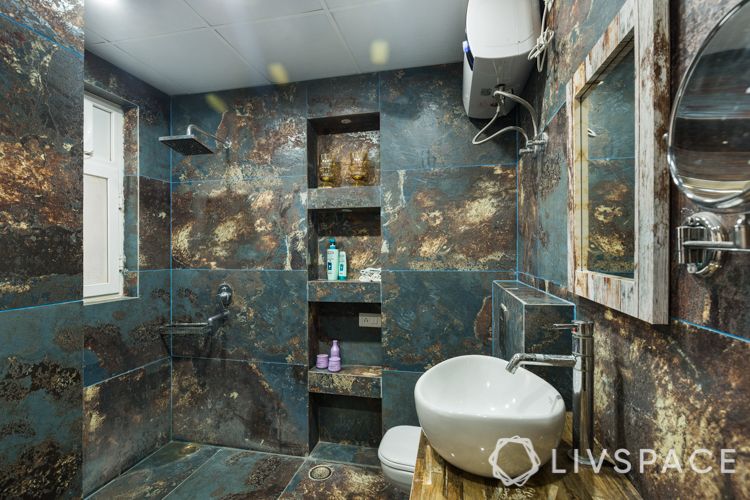 Designer Speak
"Sachin and Rashika had a set idea about how they wanted their home to look when they came to Livspace. However, they were more than open to the ideas given by our design team. This project was a unique one involving plenty of colours and elements. So the design process was longer than usual, but the couple understood that this time was required to do justice to their home. They collaborated with us at every step and gave us the creative space we needed to design a head-turning home for them."

–Akash Jindal, Interior Designer, Livspace
Also Read: Designed Only Under ₹11 Lakhs, This Home in Cleo County, Noida Is Minimal and Amazing
Tour this home in Noida:
How Can Livspace Help You?
Our expert design team can deliver your dream home in Noida
We have delivered over 75,000+ happy homes
We provide high-quality products
If you want beautiful interiors for your home, then look no further. Book an online consultation with Livspace today. Additionally, you can also visit us at the Livspace Store in Noida. Have any thoughts or suggestions you'd like to share with us? We're all ears! Drop us a line at editor@livspace.com.
Disclaimer: All contents of the story are specific to the time of publication. Mentions of costs, budget, materials, finishes, and products from the Livspace catalogue can vary with reference to current rates. Talk to our designer for more details on pricing and availability.
Please note that the designs showcased within the story are subject to availability and will vary based on the year the homes were designed in. Consult our designers for more details on the latest designs.