Traditional, functional and storage-intensive! These are the three words that come to our mind when we look at this 3BHK interior design in Raheja Atharva, Gurgaon. Satish, the homeowner, approached Livspace with the idea of getting an open, airy and functional home with lots of modular storage to meet the needs of his growing family. They also wanted a blend of modern and traditional elements, with hints of luxury, in this home. And our designer Rishabh did exactly that! How? Come and check it out!
---
Who Livs here: Mr. Satish Lakkaraju and his family
Location: Raheja Atharva, Gurgaon
Size of home: 2500 sq.ft.
Design team: Interior Designer Rishabh Chatrath
Livspace service: Full home renovation
Budget: ₹₹₹
---
---
IN A NUTSHELL


Brief

To create a 3BHK flat design in Raheja Atharva, Gurgaon that is open, airy and functional with lots of modular storage

What We Loved

The blend of tradtional and modern elements in the interior design throughout the home

Look Out For

– The clever use of traditional furniture
– Fancy curtain designs to give the living room a luxurious ambience
– The use of wallpapers


What All Is Included in This 3BHK Interior Design Under 17 Lakhs in Gurgaon?
This 3BHK interior design under 17 lakhs in Gurgaon has a lot going for it. Although the modular storage, wardrobes and wallpapers were included in the main scope of work, we didn't stop there. In addition, we concentrated on selecting the appropriate décor components like curtains, decorative lights etc. for this 3BHK flat design. Here's a summary of major elements used during this home's renovation and what were their indicative costs:
| | |
| --- | --- |
| Element | Price |
| Wallpapers in bedroom | ₹ 14,212 |
| Decorative lights throughout home | ₹ 23,157 |
| Room and balcony partitions | ₹ 132,711 |
| Curtains | ₹ 146,661 |
| Modular storage throughout home | ₹ 581,626 |
*Please note that these prices are from our 2021 catalogue and are subject to change
What Are the Main Renovation Inspirations We Can Take From This 3BHK Interior Design in Raheja Atharva, Gurgaon?
With no concessions to functionality and comfort, this house epitomises luxury, as communicated by the homeowners. As a result, we provided lots of inspirational oak furnishings, wallpapers, decorative lights and modular storage units. This highlights how Livspace designers customise the homes based on your needs. Let's find out how our Livspace solutions helped this family and how they can help you for your own home renovations.
1. Modular Storage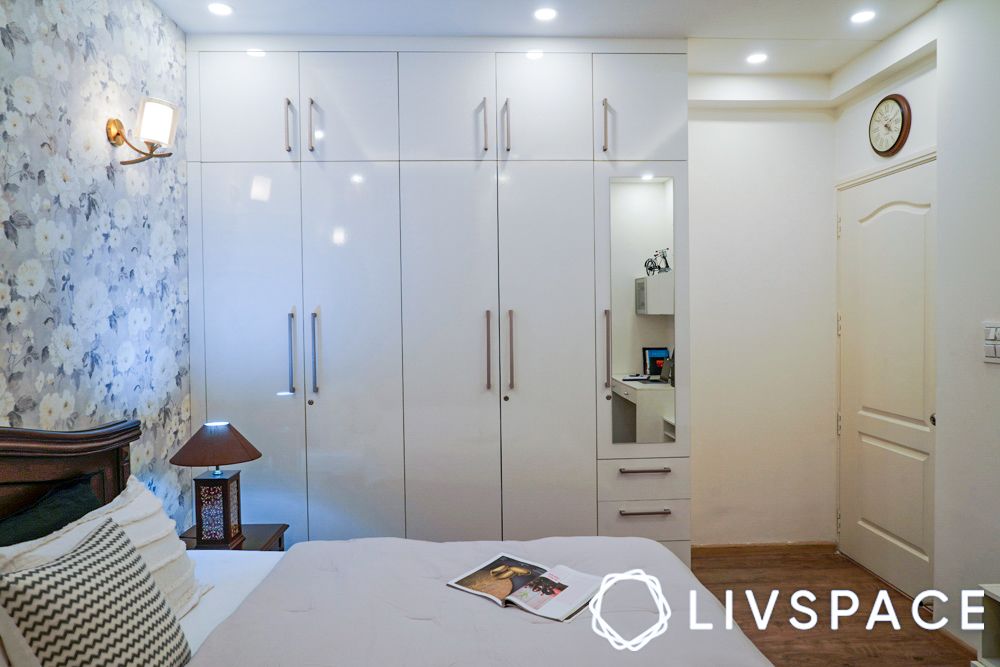 Storage plays an important role in Indian households, especially if you have a growing family, like in this home. This home had a lot of cluttered stuff with insufficient storage units. It not only reduces the functionality of the home, but also reduces its aesthetic value.
To overcome this issue, our designers provided modular storage solutions to tuck away the storables. The storage solutions like the dresser unit in the master bedroom and full-length wardrobe, TV units in different rooms, study unit in the son's room, tall cabinet units and shelves in the kitchen maximised the capacity and added practicality to this household.
Also Read: Storage Solutions Under ₹2.5 Lakh Grace This Contemporary Chennai Home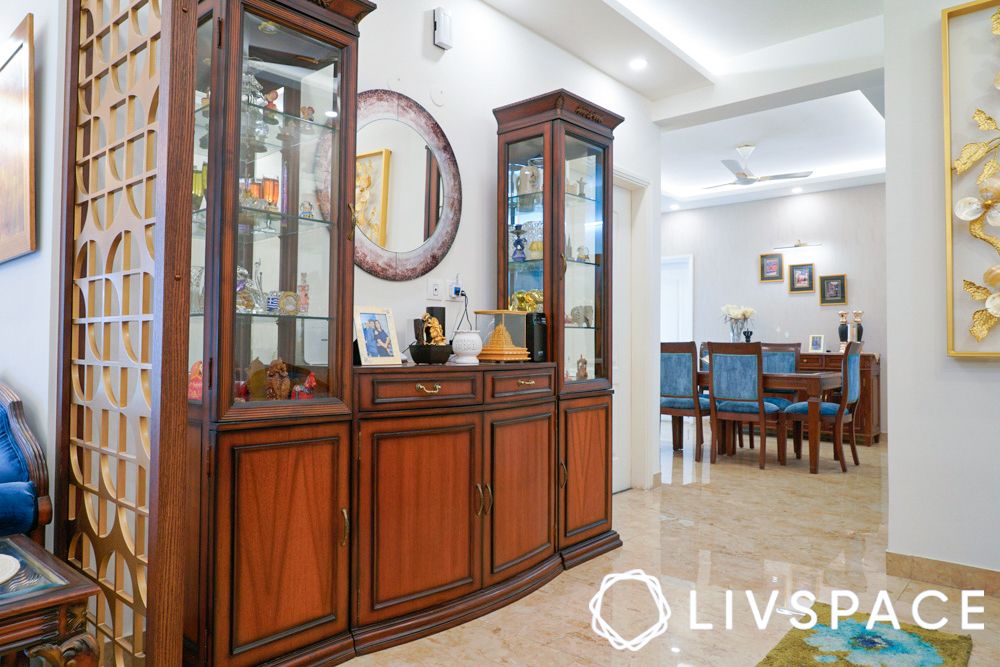 What Are the Benefits of Modular Storage?
Modular shelving is versatile, flexible, and totally customisable. You can choose how big or small you want it, and even the internal shelf-levels.
Both now and in the future, you may utilise and maximise your storage capacity by adding the number of shelves you want.
You may also reduce unforeseen costs related to time, safety, and space with the aid of modular storage systems.
They increase the overall storage capacity of your home with a reduce floor space.
2. Decorative Lighting Solutions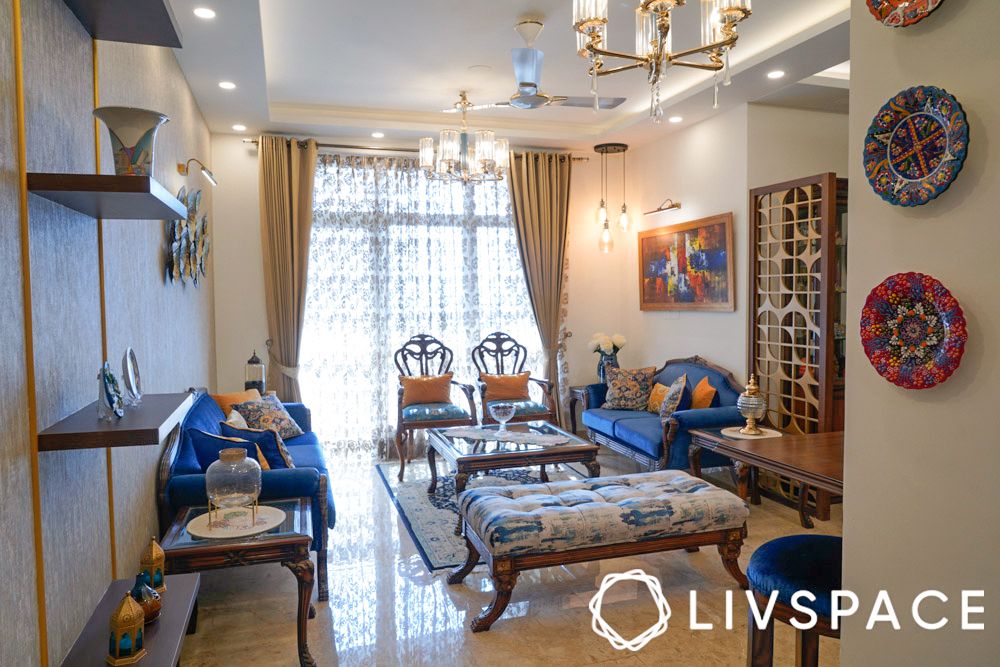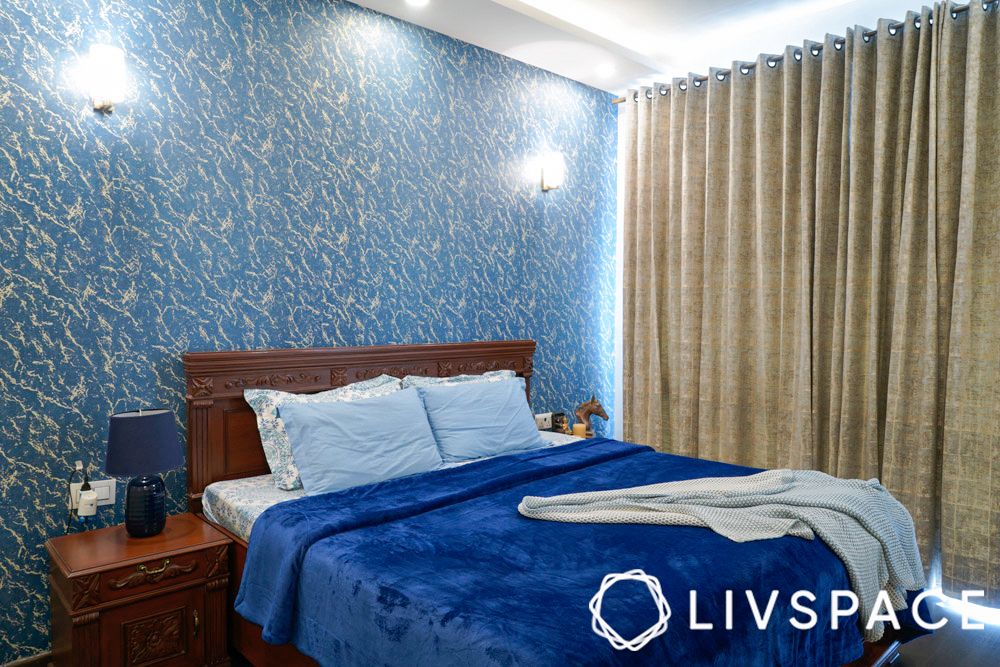 Nobody likes a dull and dark room without appropriate lighting solutions. That was the case of this house before we stepped in and renovated it.
Our designers installed a mix of lighting solutions throughout this home, not just to brighten the space, but also to give it a touch of glam and luxe. The chandelier in the living room, wall-mounted lamps in the bedrooms, accent lights on the walls and task lights near the wardrobe are all the examples. We also made sure that the lights all across the home complement the furniture too.
3. Curtains, Decoration and Room Partition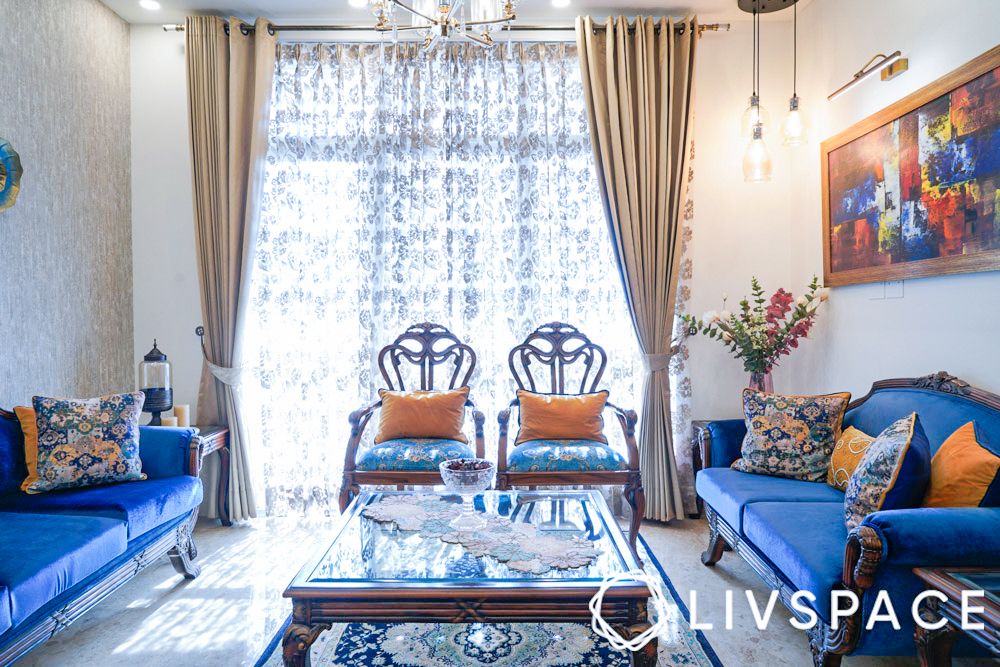 If you have a big house with multiple windows, privacy is surely concern. Large windows also have the potential to make or break the decor quotient of any home.
This Raheja Atharva 3BHK home interior is incomplete without describing its fancy curtains and decorative elements. The textured and patterned sheer curtains paired with drapes definitely added the lush element to this home's decor.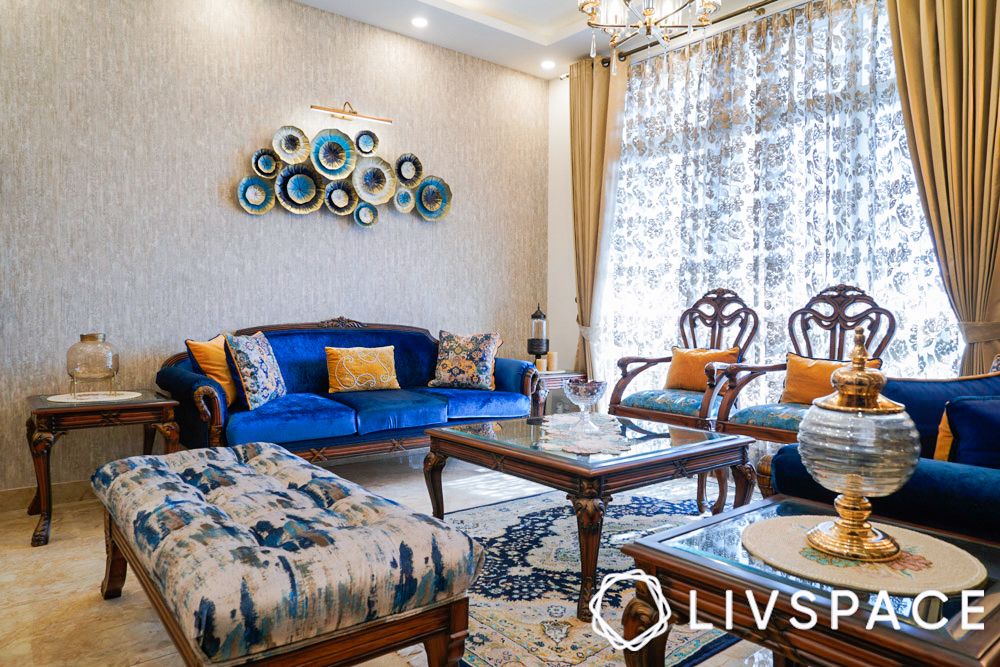 The home also embodies art-friendly wall decor pieces and paintings. The textured and patterned wallpapers run throughout the house. The house also has a world map silhouette, which can't be seen in the pictures, adding to its artsy decor.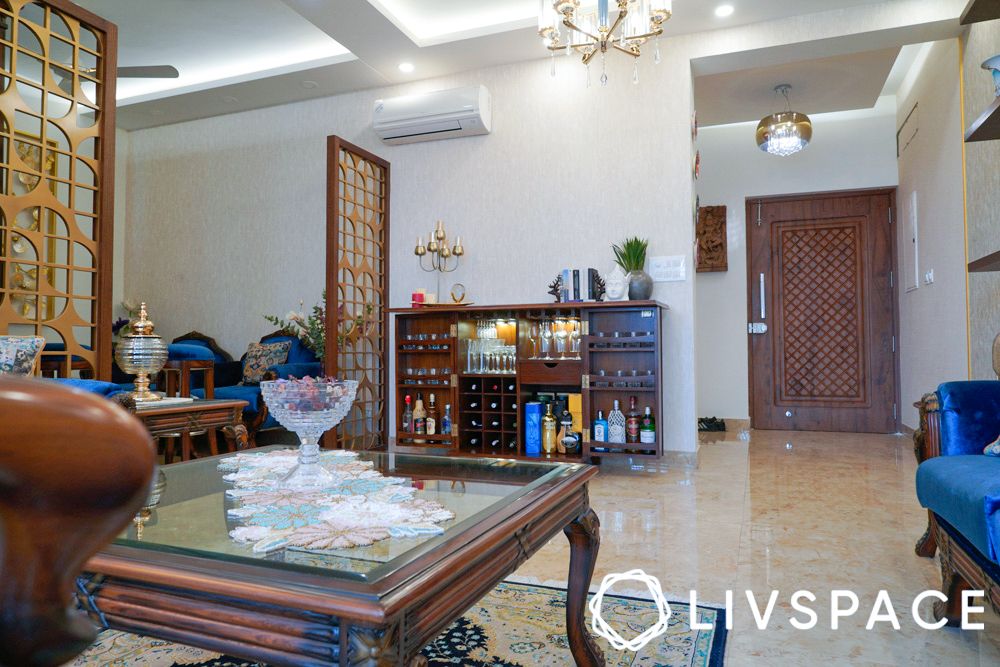 The jali partition in the living room is another design element which is sure to grab your attention. Partitions are not just a decorative focal point but also necessities for big or open layout homes. They divide a room, hide clutter, and add privacy to a space.
What Materials Can You Use to Get a Design Like This on a Budget?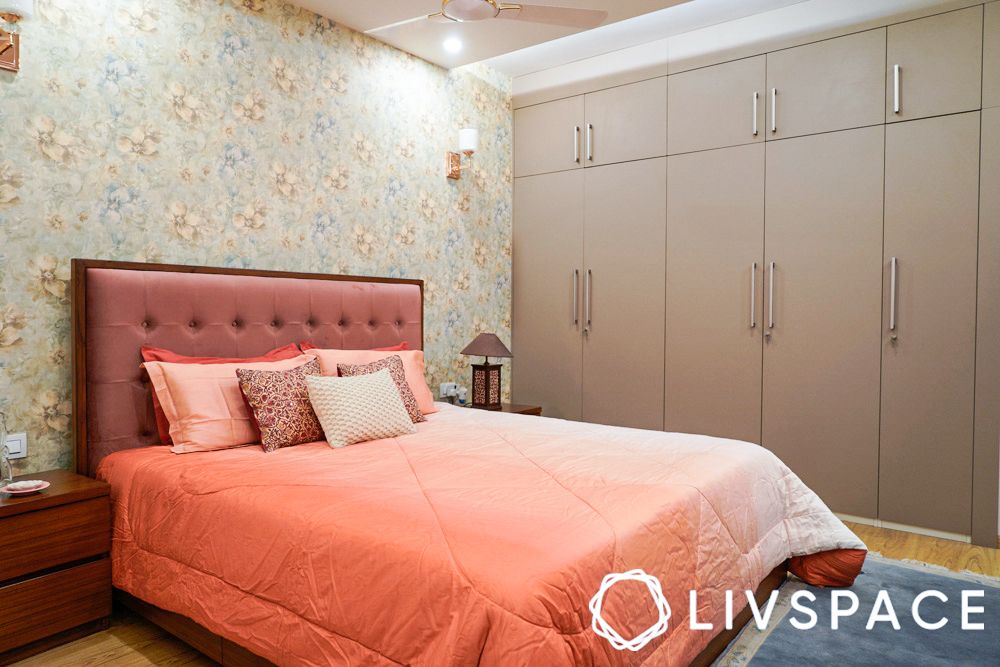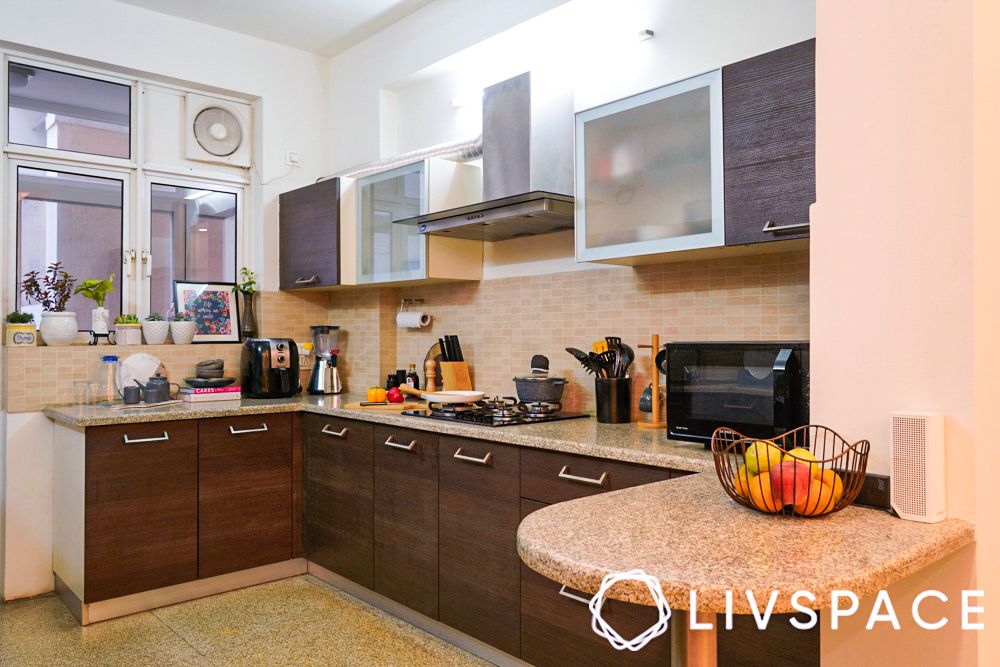 Since we designed a substantial quantity of modular storage cabinetry for this Raheja Atharva 3BHK home interior in Gurgaon, we have some ideas of the materials and finishes that will work well for your spending plan. Primarily, MDF was used for most of the cabinetry in this home. Why we used MDF? Because it is smoother and more cost-effective option than other substitutes.
Also Read: What is MDF Material? Is MDF Good for Home Interiors?
When it comes to finishes, laminate is a clear winner. You should choose laminate finishes for your home, just like this one, not only because it is a cheaper substitute, but also durable, waterproof and resistant to heat and stains.
What Does Livspace Designer, Rishabh, Say About This 3BHK Interior Design in Raheja Atharva, Gurgaon?
"The homeowners were quite specific about what they wanted for their home design. Modular storage, functionality and a home that binds naturally — were the main areas highlighted by the homeowner. This is a perfect blend of traditional and modern design elements."

Rishabh Chatrath, Livspace Designer
How Can Livspace Help You?
We hope you liked our 3BHK interior design in Raheja Atharva, Gurgaon. If you want beautiful interiors for your home, then look no further. Book an online consultation with Livspace today.
Also, if you have any thoughts or suggestions you'd like to share with us, we're all ears! Drop us a line at editor@livspace.com.