A classy home that mirrors the lifestyle of an energetic, 'high-flying' couple. Here's a tour of their home!
---
Who Livs here: Haribansh R Singh with his wife Anchal Sahani
Location: Raheja Ridgewood, Goregaon East, Mumbai
Size: A 3BHK home spanning 1,100 sq. ft.
Design team: Interior designer Ritika Parab with Project Manager Dhanraj Lekhrao and Yallappa Patil
Livspace service: Full Home Design
Budget: ₹₹₹₹₹
---
Haribansh Singh (Harry), wanted a perfect home that reflects his lifestyle. After two years of patient searching, the Raheja Ridgewood apartment fit in perfectly with his vision. The apartment gave him an uninterrupted view of Mumbai which was perfect for his timeout from piloting aircrafts. He then approached Livspace for apartment interiors in Mumbai.
When Livspace designer Ritika Parab, came into the picture, she was excited to create a stunning design for the young couple. In addition to her passion for designing, having mutual friends also helped her understand their preferences in depth. Also, Harry wanted to surprise his parents with a beautiful bedroom customised to their liking.
Cafe-inspired living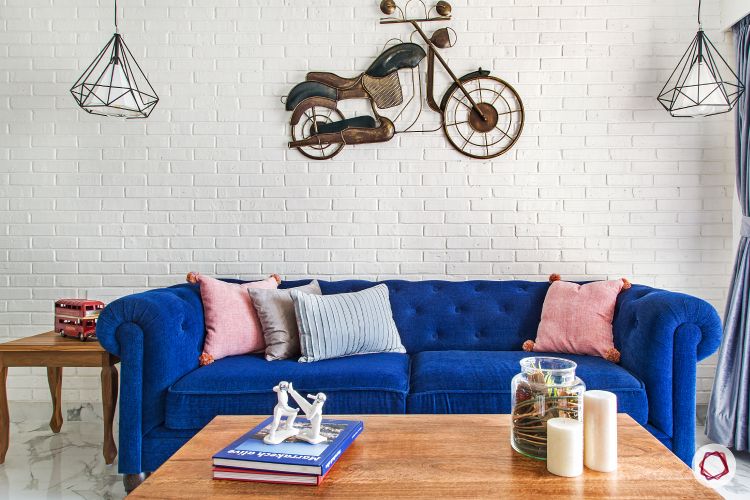 The hectic schedule of the pilot couple makes it hard to step out and socialise. Thus, they decided to bring in a cafe-like experience at home. As a result, the living room design took shape with a beautiful exposed brick wall accentuated by rustic motorcycle wall art acts as a highlight.
Check out this stunning compact Livspace Home in Mumbai: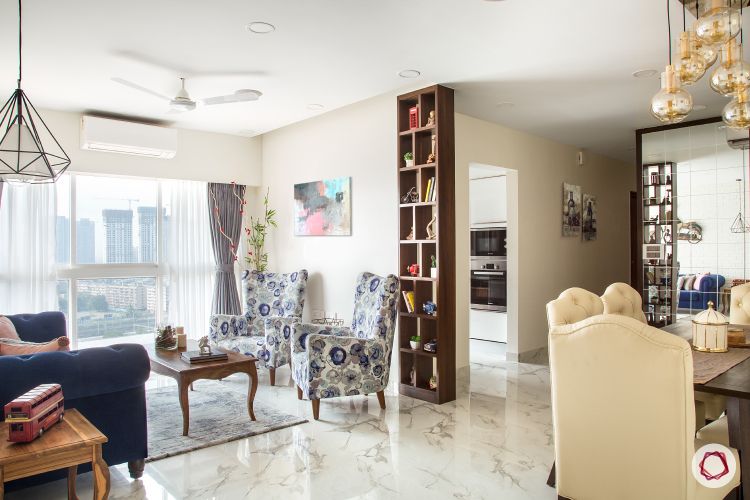 The open and airy layout of the living room was further enhanced by the tall bookshelf that gives the space a visually uniform look. Additionally, Ritika tactically placed the tall unit to complete the room and make space for symmetrical seating. The bright blues and floral print in the upholstery offer a break from monotony.
In a nutshell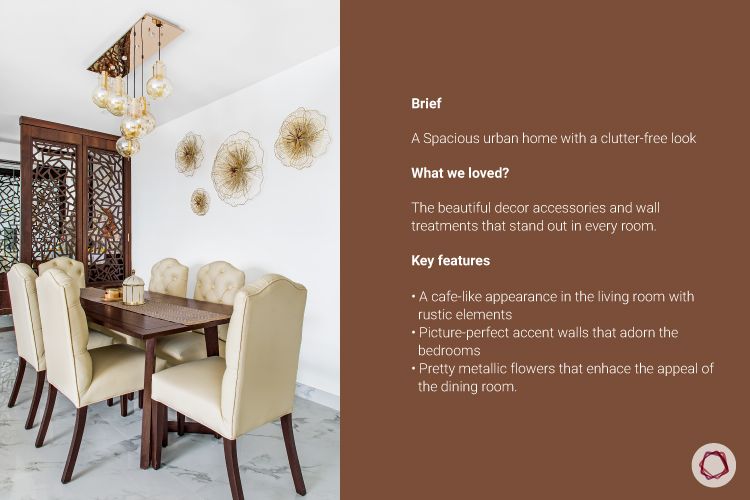 Delectable dining experience
Browns and beiges reign supreme in the dining room (as seen above). The elegant tufted dining chairs add to the exuberance of the room. The metallic textures of the lights and the accent pieces anchor the visual appeal.
Also Read: How to Use Wood in Interior Design?
A divine corner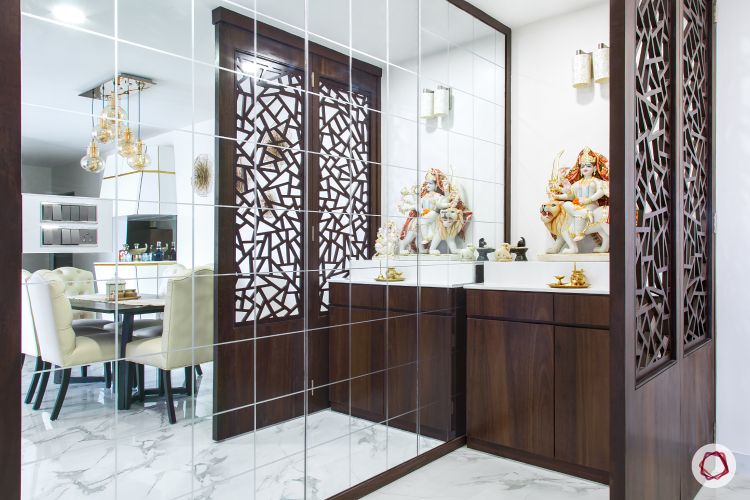 Most noteworthy is this addition: the dining space also includes a beautiful pooja room separated by a movable jali partition. The mirror finish on the wall makes the space look spacious and bright.
An elegant kitchen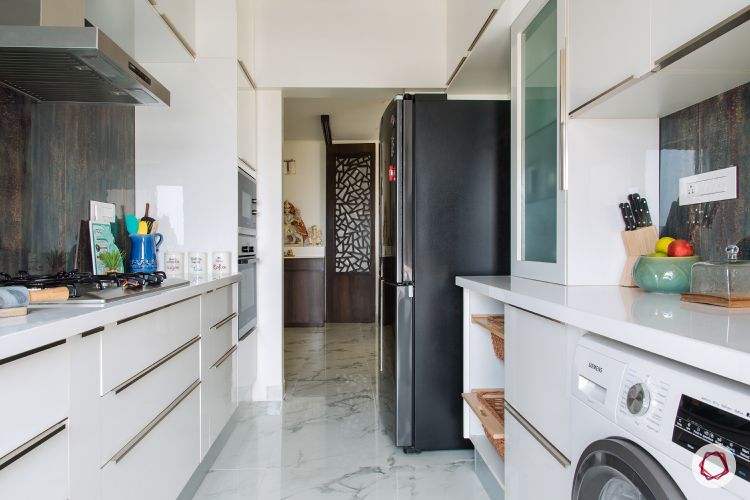 Moving away from the conventional notion that white is hard to maintain, the couple opted for a white acrylic. Ritika added the glossy marble tile to suit Anchal's love for green hues. The kitchen design blends in with the classy theme of the home.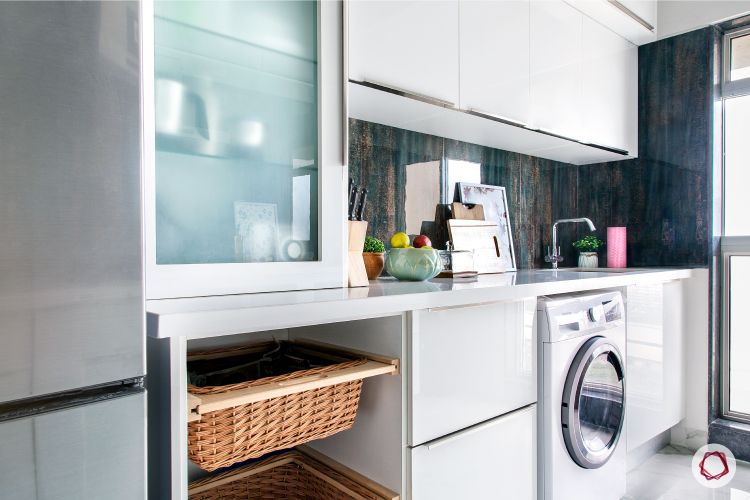 A dedicated wet area allows them to use the different functions without interruption.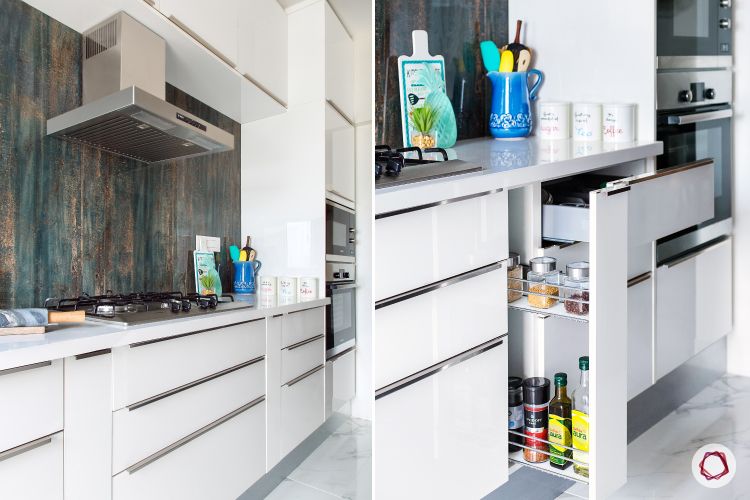 Ample storage options make the kitchen easy-to-use and provide a clutter-free space.
Also Read: 10+ Genuine Kitchen Storage Problems and How to Solve Them
A stylish abode
Harry decided to gift the master bedroom to his parents. Although Ritika couldn't meet them personally — as it was a surprise — she understood their lifestyle in detail through Harry. Consequently, she created a plush bedroom with black painted glass and wooden trims as the accent wall, a cube-shaped tufted headboard, and classy furniture.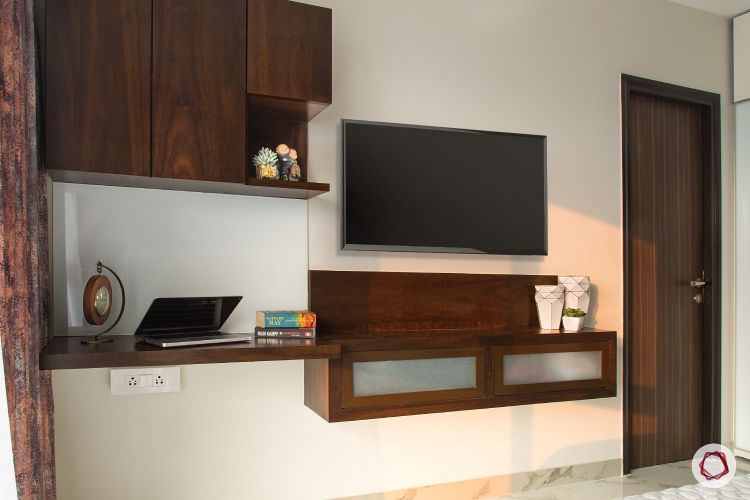 The room also houses a study that Harry's dad uses for reading or writing. The hues were balanced to avoid being flashy yet send out an elegant vibe. It is a graceful room that his parents are quite impressed with.
Classy setting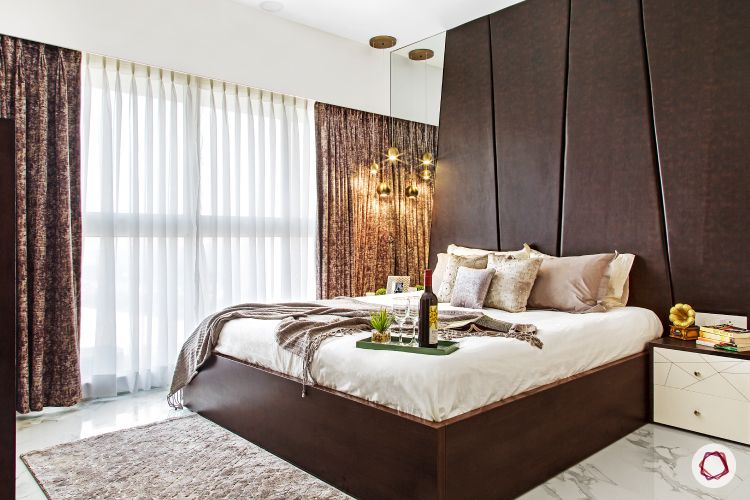 The couple's bedroom is also flamboyant with enchanting back panel designs made of leatherette and mirrors. While the chocolaty texture is warm, the design was fabricated to include clean lines, minimal furniture and ample storage.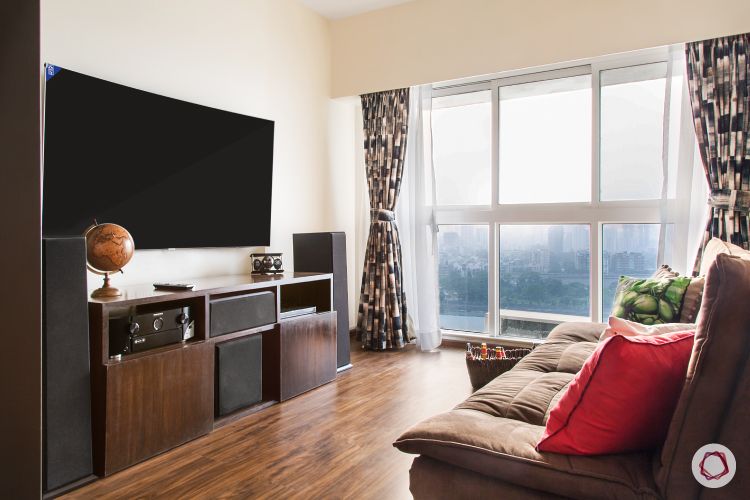 This guest bedroom design doubles as a media room. The entertainment unit is tailor-made to suit the home theatre system they purchased. Lined with heavy drapes for the theatrical experience, the couple lounge here watching their favourite shows.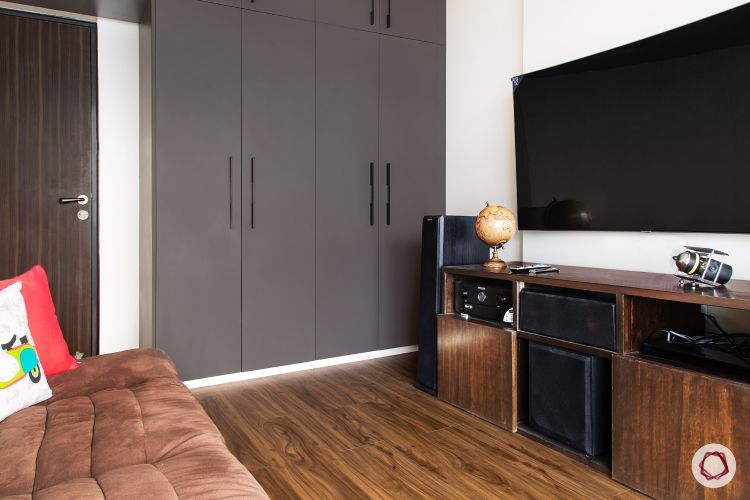 The dark colour palette and matte finishes used in this room ensure that light doesn't reflect and disrupt the movie-watching experience. As a result, Ritika has provided a mirror inside the wardrobe. She has also added a sofa-cum-bed for the use of guests.
Plush bar unit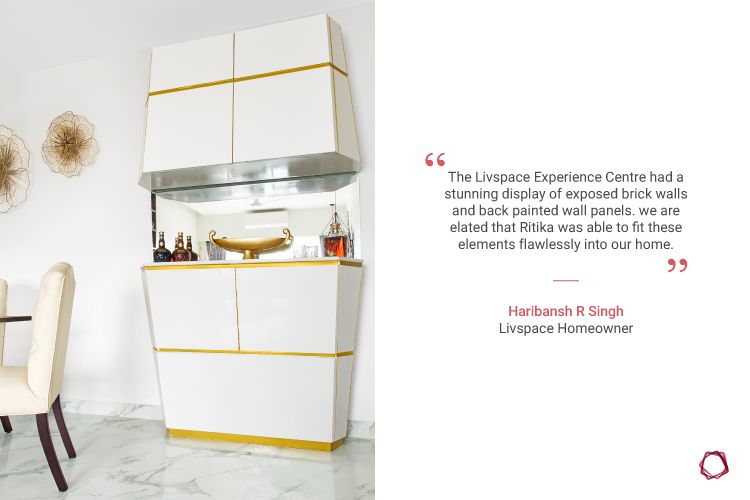 The crockery-cum-bar sports a plush look with white and gold hues and a striking geometrical shape. Also, it occupies very little space, making it blend into the interiors.
"Designing for this couple was a fun and stress-free experience as they were straightforward and clear about their requirements."

— Ritika Parab, Livspace Interior Designer
— editor@livspace.com
Disclaimer: All contents of the story are specific to the time of publication. Mentions of costs, budget, materials, finishes, and products from the Livspace catalogue can vary with reference to current rates. Please get in touch with a designer for more details on pricing and availability.