This DB Woods apartment is all luxury and style!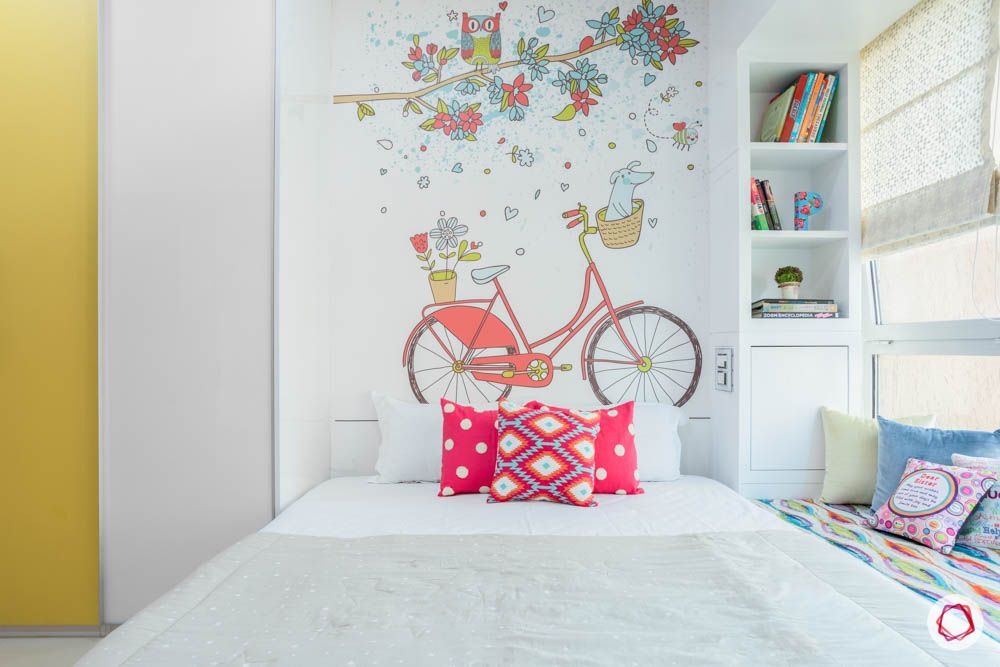 ---
Who livs here: Sunil & Nidhi Khosla with their two daughters
Location: DB Woods, Goregaon East, Mumbai
Size of home: A 2BHK spanning 950 sq ft approx.
Design team: Interior Designer Ritika Parab and Project Manager Suresh Rajbhar
Livspace service: Full home design
Budget: ₹₹₹₹₹
---
Some people look for a beautiful home; others like the Khosla family, take a space and make it beautiful. Residing in this snug home are Sunil, his wife Nidhi, and their two adorable daughters. Originally from Delhi, Sunil and his wife wanted to bring a piece of their hometown to their humble abode in Mumbai.
One of our designers in Mumbai, Ritika Parab, had the privilege of designing their home – one that would stay true to their personalities and cater to all their needs. A cursory glance shows as glimpses of statement designs, some personal artefacts and also some stunning paintings by their daughter. Let's take a close look to see what surprises this home has in store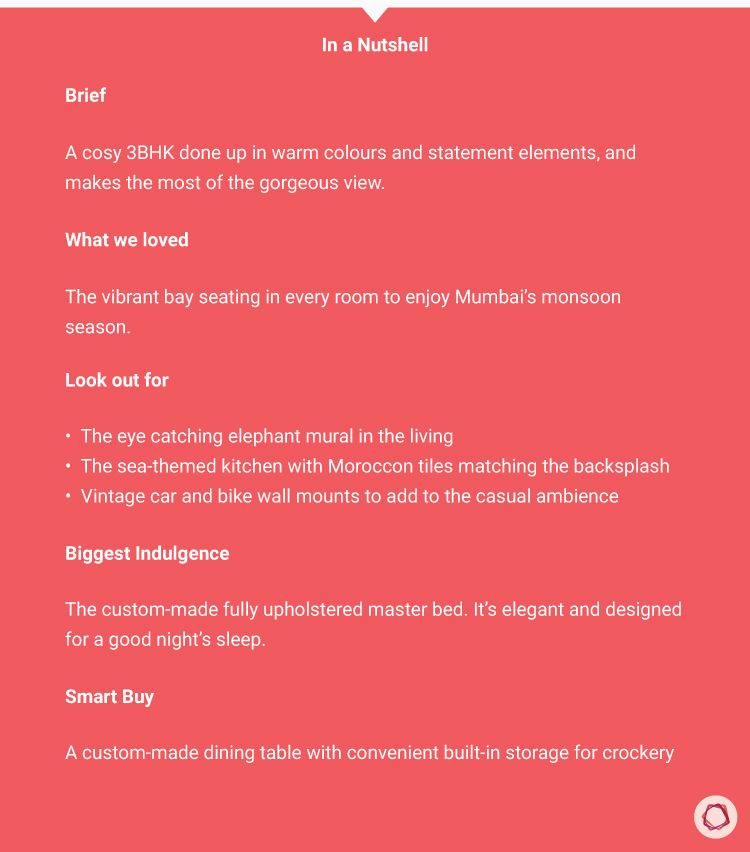 Interiors for Flat in DB Woods: Neat Neutrals for Living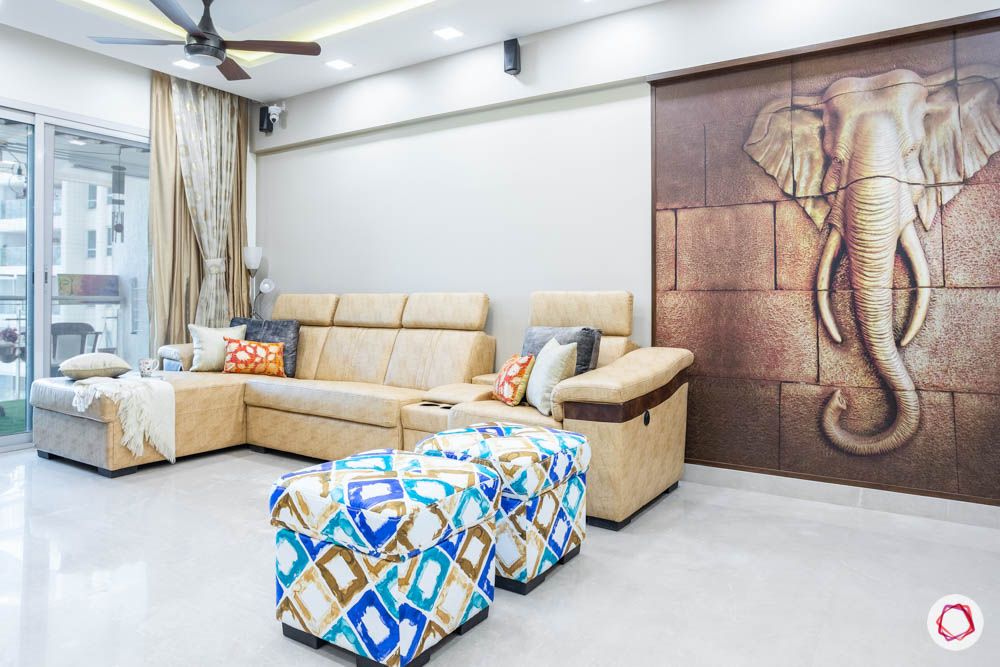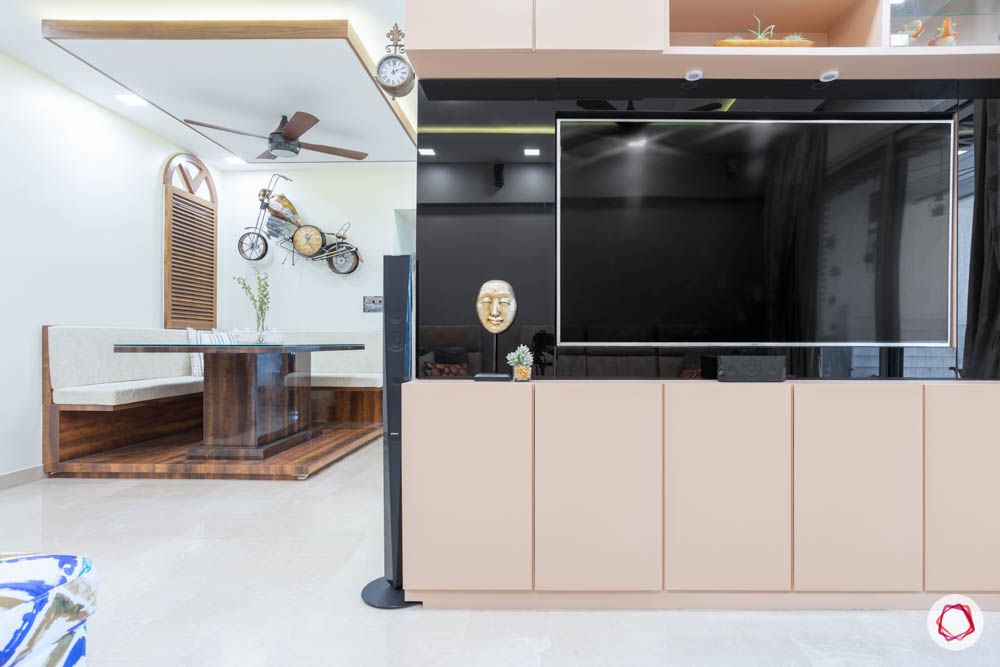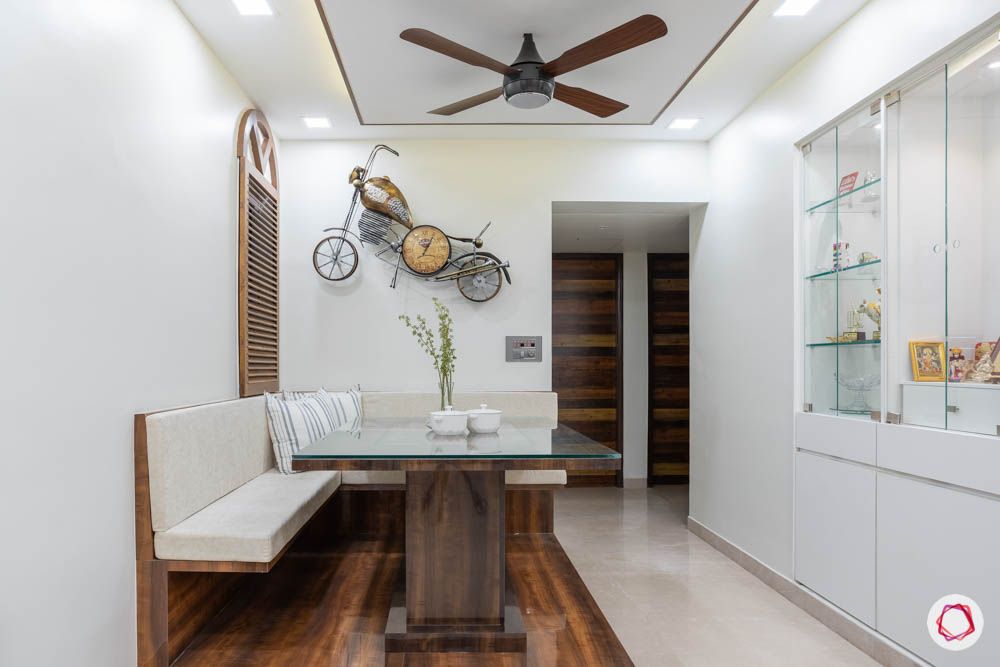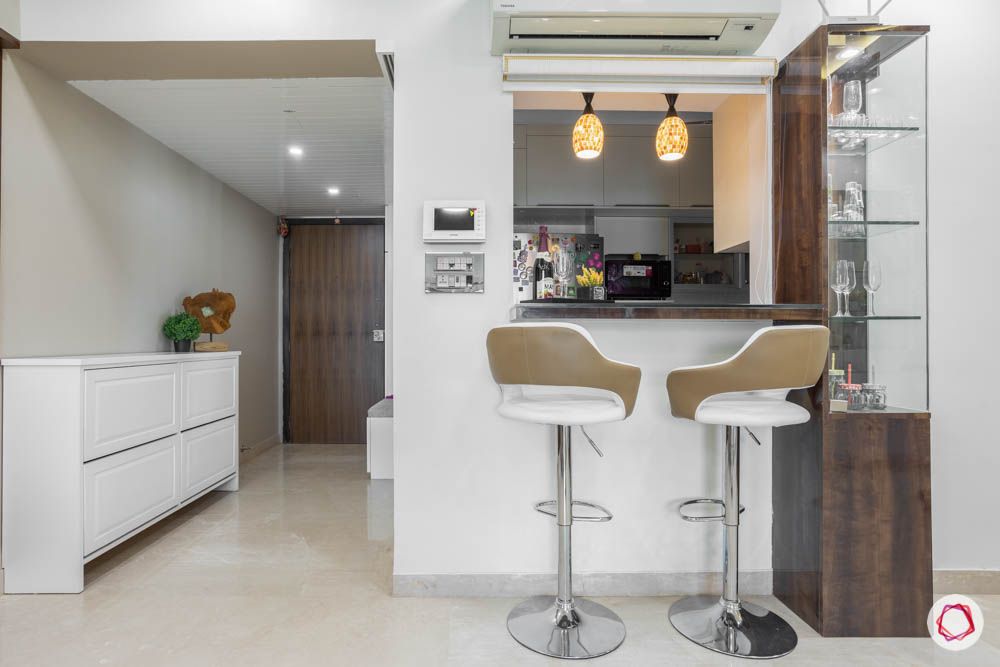 A warm, refreshing ambience welcomes you as you step into this home. The neutral-toned furniture, white walls and toasty wood detailing is a blissful combination for a Mumbai home.
A grand mural of an elephant was painted on the wall grabs your attention first, adding plenty of character to the home. Along with the mural, the sofas and accent ottomans were also hand picked by the family. Moreover, all the furniture here is pointed to the TV unit (as it should be!) which is in PU finish is a gorgeous combination of black and beige.
Adjacent to the brightly-lit living room is the dining nook. The dining set is set on a wooden platform with L-shaped seating to keep the layout open, but also unique. Besides, we bet the wall-mounted bike clock has caught your attention by now! In fact, doesn't it lend the dining area an old-school cafe feel? This is just one of the many statement pieces in this home. Stay tuned.

Interiors for Flat in DB Woods: An easy breezy sea-themed kitchen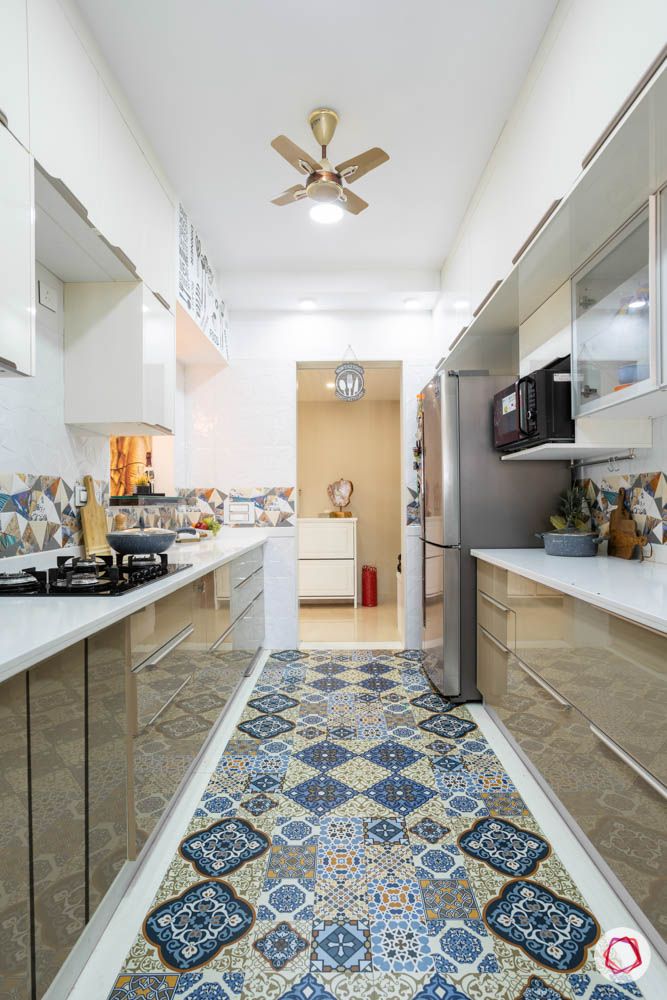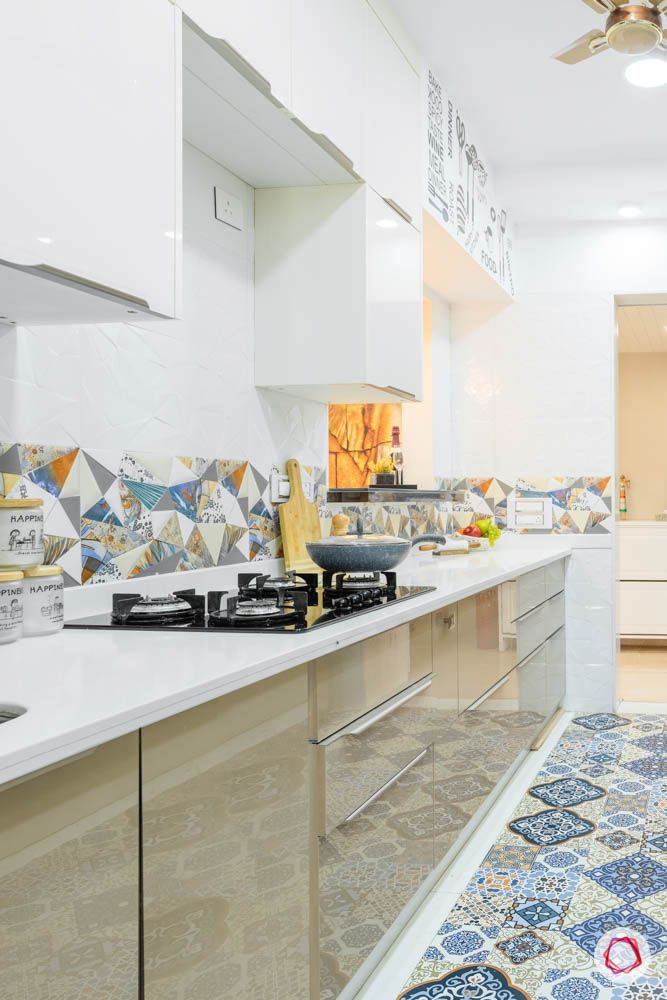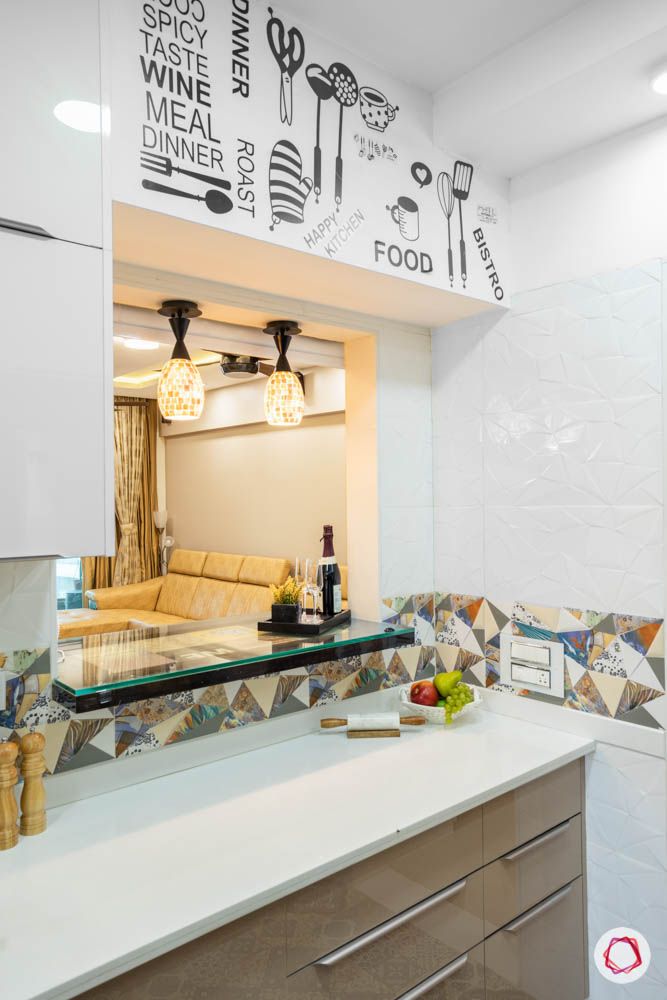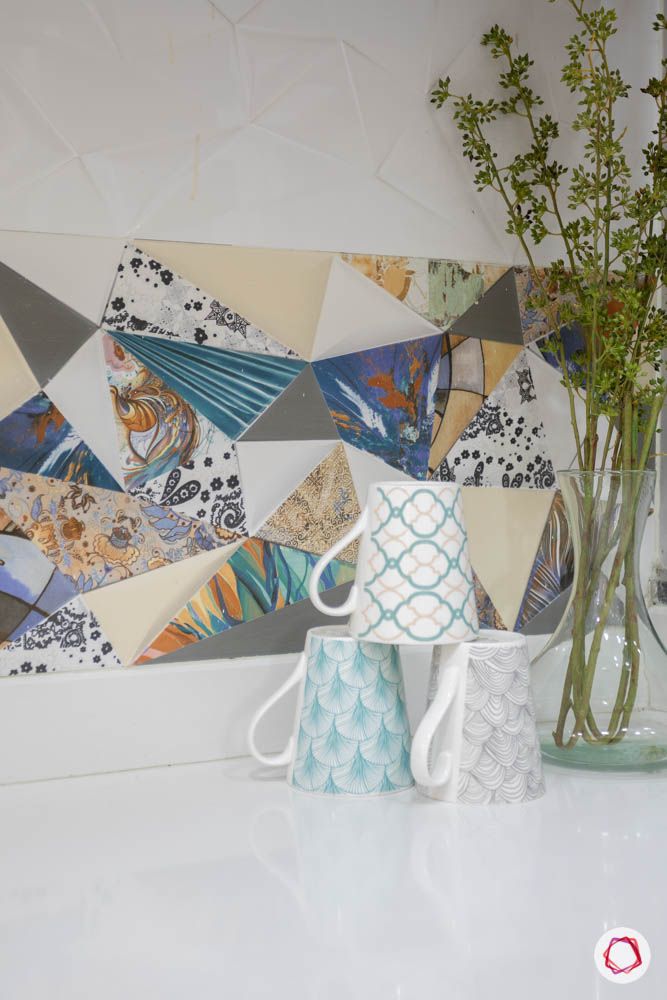 This kitchen is a labour of love as the backsplash tiles were chosen by Sunil and the Moroccan floor tiles were chosen by Nidhi. The kitchen was completely revamped to add a white quartz countertop and a kitchen window for the days where the family grabs a quick bite before getting on with their day. It is also designed to be kid-friendly and accessible to the younger daughter since she is fond of baking and spends quality time with her mother here.

Interiors for Flat in DB Woods: The Master Stroke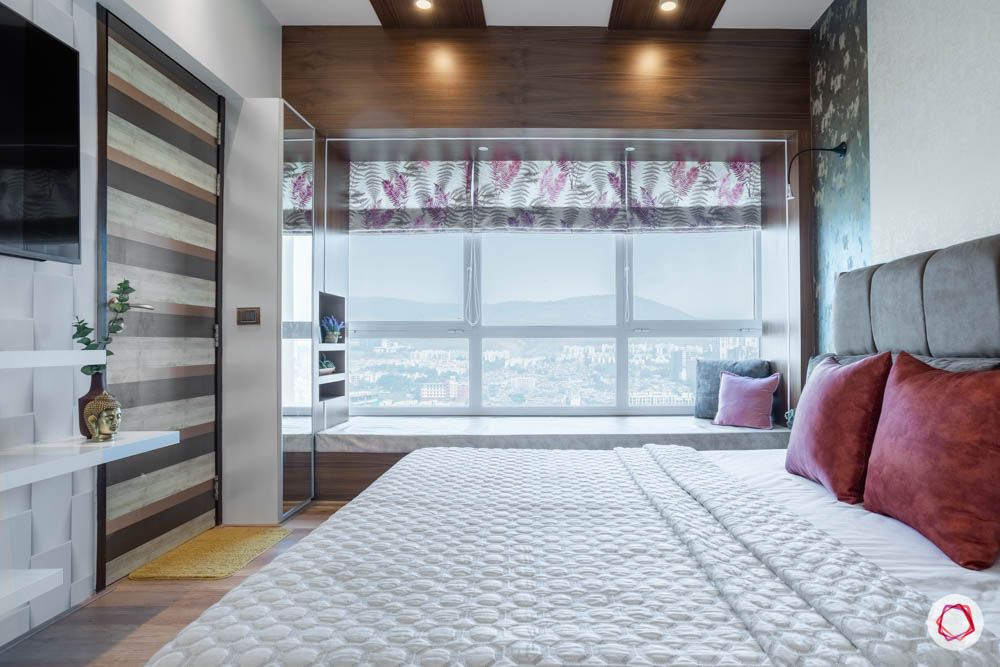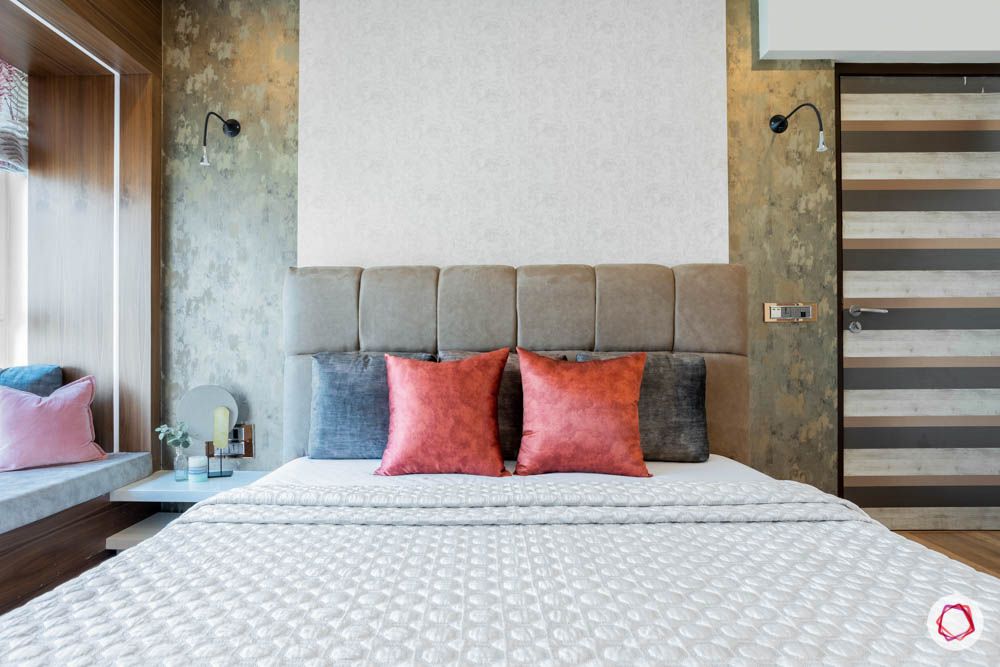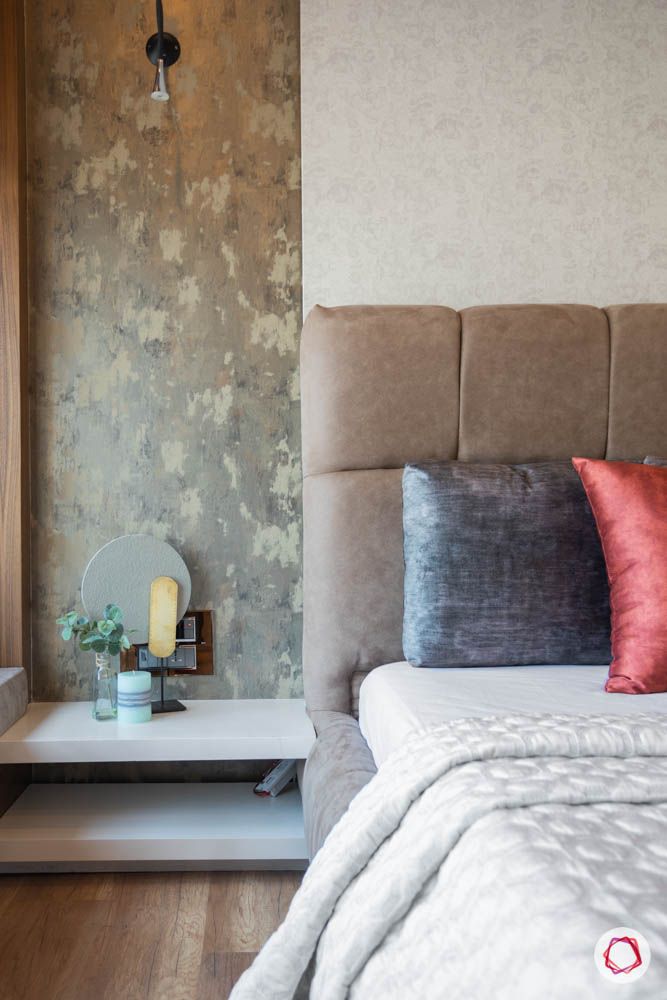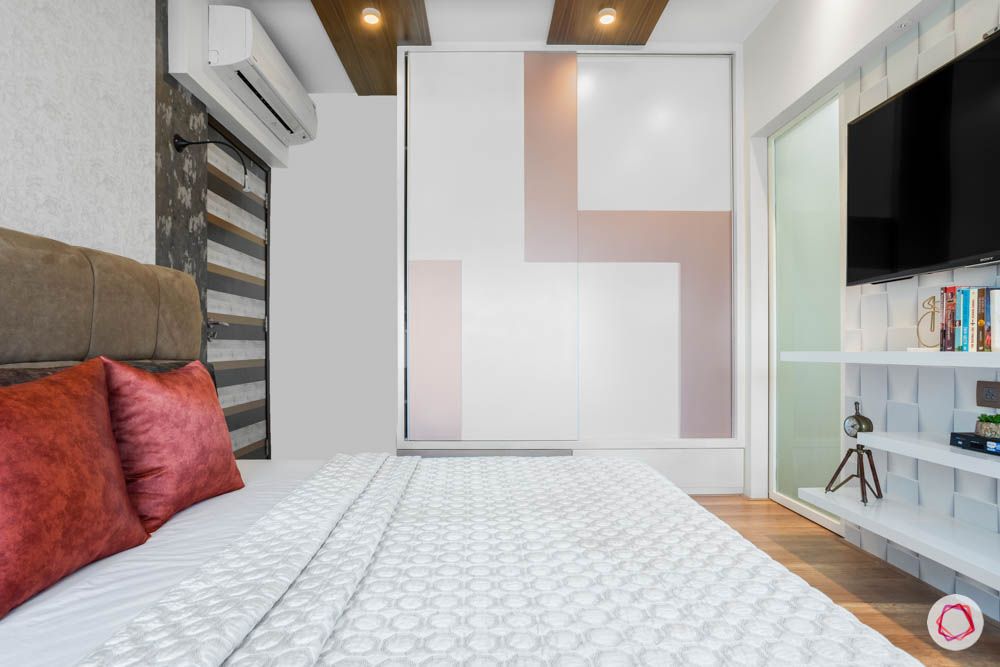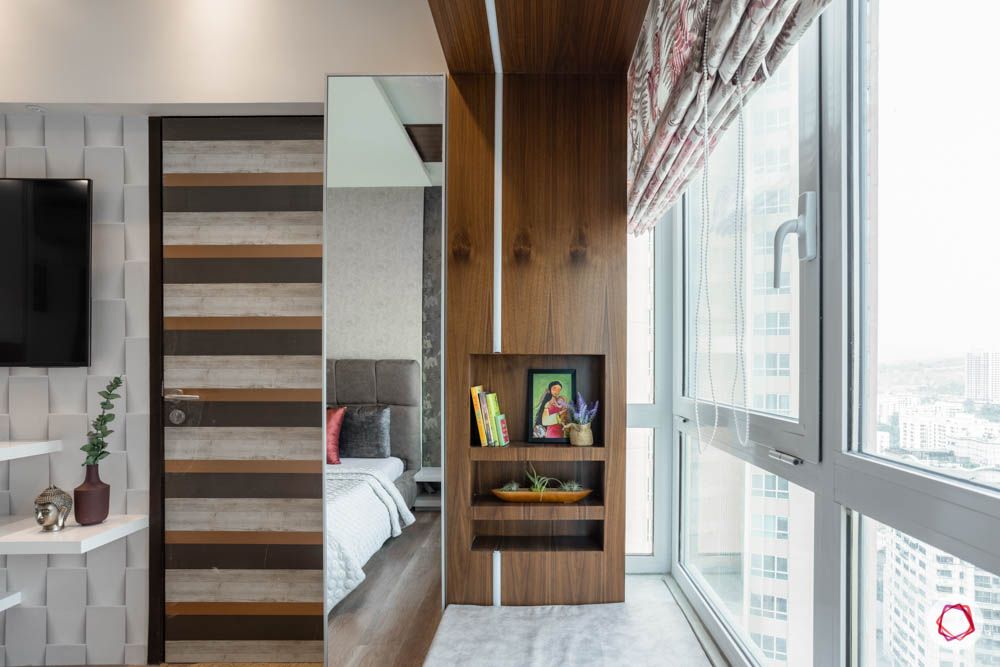 The master bedroom, like all the other bedrooms in the house, has a breathtaking view of Mumbai. That being the case, the interiors of the room had to be equally breathtaking. Using brown and gold hues for the bedroom, our designer gave this space an elegant and classy feel. The room looks extra cosy because of the bay seating that was designed for reading books with a cup of tea. Additionally, glossy PU finish wardrobes were installed to reflect the light coming in from the palladian windows. Moreover, the custom-made fully-upholstered bed adds to the charm.

Interiors for Flat in DB Woods: Bedroom fit for a princess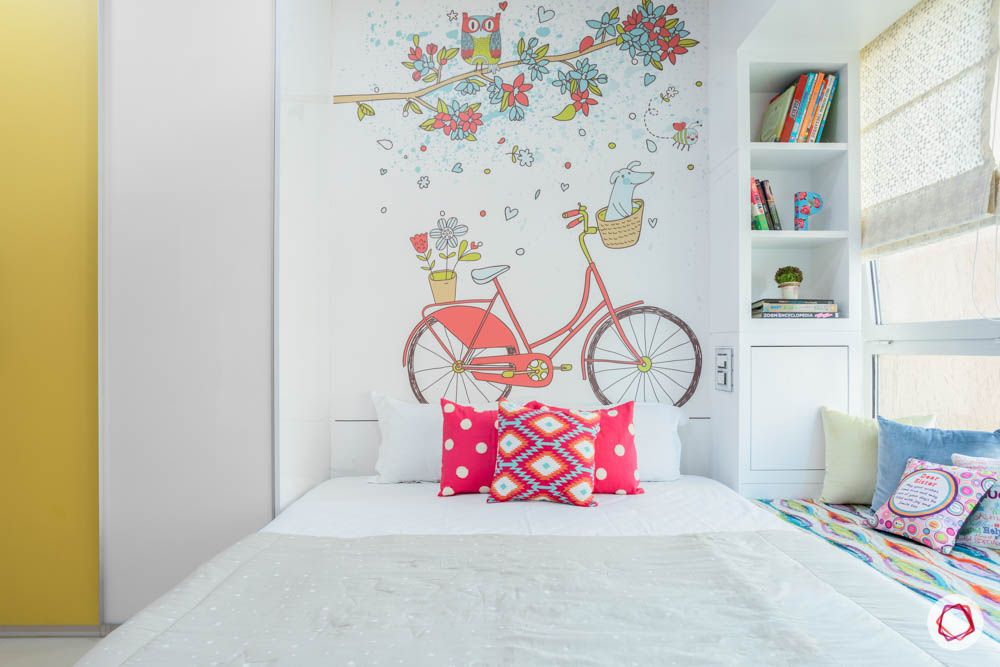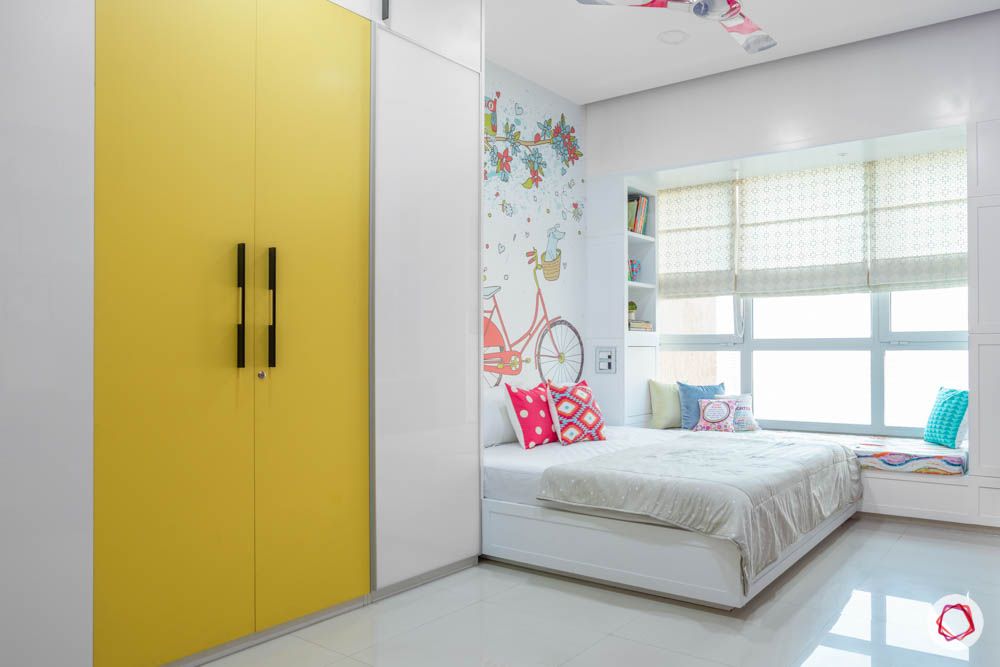 With colourful wall art and plenty of room to play around, their daughter's bedroom is befitting a princess. Essentially, there is a sizable study unit in a popping shade of purple to store books and toys. Moreover, this unit was custom made in PU finish to maximise storage in this 3BHK . Consequently, the interesting thing about this storage space is that a set of bright blue L-shaped shelves are fitted in to make full use of the empty corner. Besides, the designer particularly liked this room for the cosy bay seating next to the bed. In addition, the colours in the room were made to match the playful wall art. The wardrobes are in acrylic and PU finish for a scratch-resistant and durable design.
Interiors for Flat in DB Woods: A simple guest bedroom for parents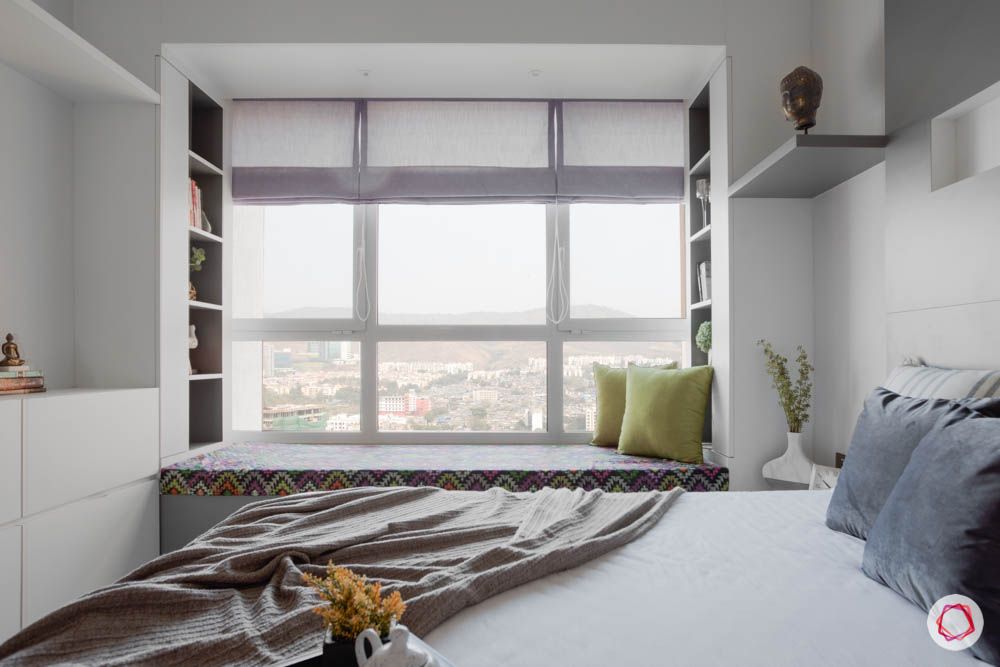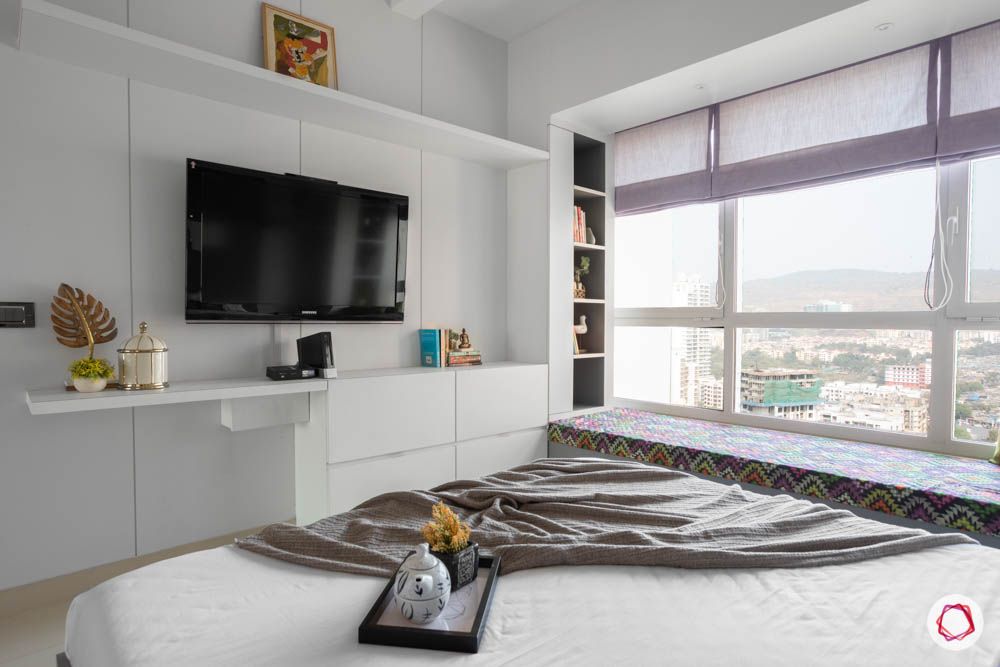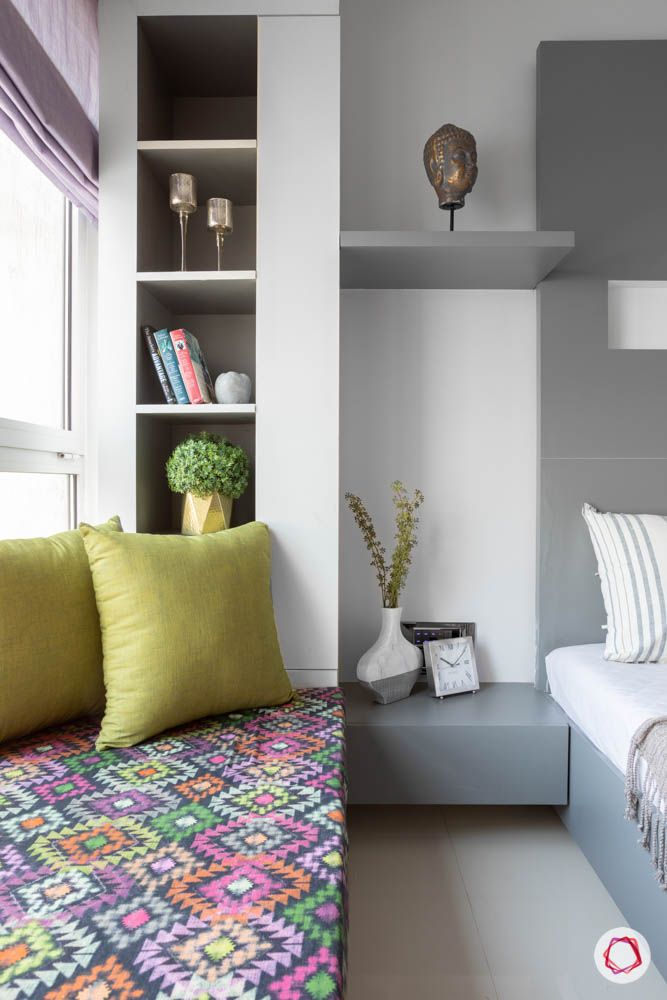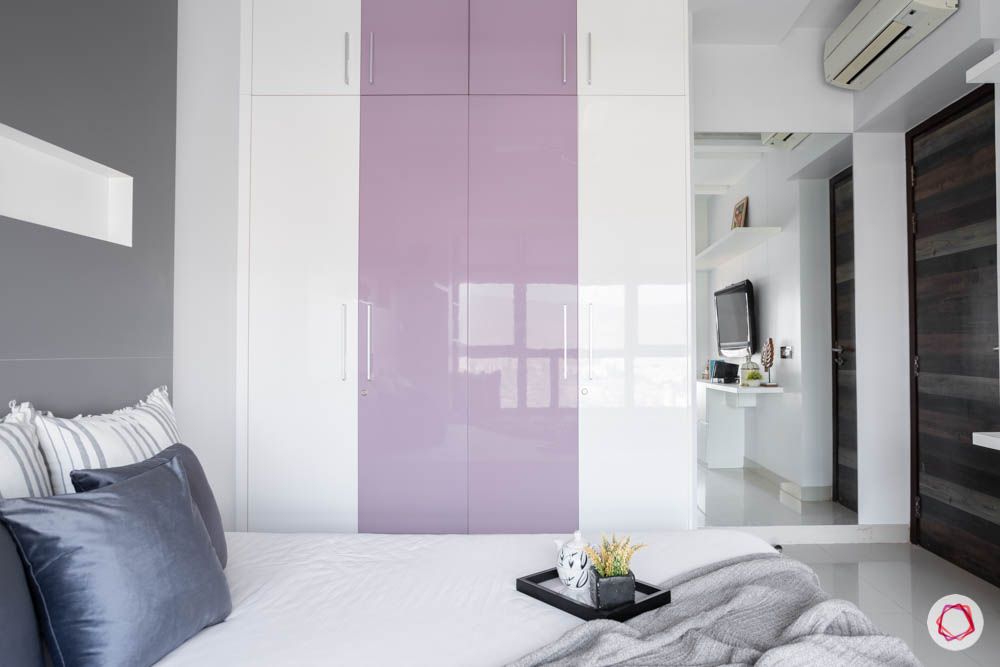 The guest bedroom was designed keeping Sunil's parents in mind. Consequently, this space flaunts a minimal design with a pop of colour for the bay seating. In fact, the lilac and white wardrobes are done up in PU finish, similar to the wardrobe in the master bedroom.
Interiors for Flat in DB Woods: The pièce de résistance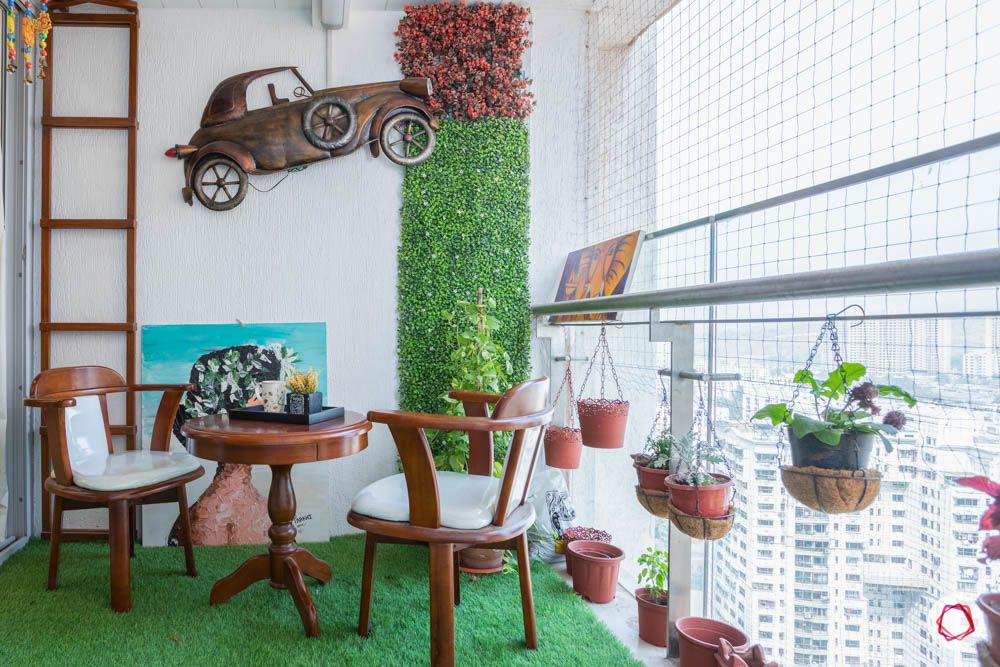 We're thrilled about how wonderfully quirky the balcony has turned out while staying green and comfy. It's the perfect spot for a cuppa while basking in the sun. Another metallic wall mount just adds to the vintage vibe of this garden balcony.
"Working with these clients was a great experience. While they gave me freedom to work, they were also hands-on through the process. So a combination of all our ideas were used in the design.They were open to experimenting in terms of new ideas and had complete faith in my skills."

Ritika Parab, Interior Designer, Livspace
You see, it IS possible to design a space that has distinctive personal spaces, as well as a gorgeous overall feel. You just need the right designer and team to make it happen!
Also, if you liked this home and want to take a look at our other interesting home tours. Check out Bold, Beautiful & Budgeted at Cleo County.
Send in your comments & suggestions.