Simple, elegant and humble Bangalore home interiors — a home that is pleasing to the eye and makes maintenance a breeze.
---
Who livs here: Tarun Rakhendranath with his wife Lacshmi Ramachandra
Location: An apartment in Bren Woods, Electronic City Phase 2, Bengaluru
Size: A 3BHK home spanning 1,100 sq.ft.
Design team: Interior Designer Yashas Yashu with Project Manager Ambujakshi N
Livspace service: Modular Kitchen and Wardrobes
Budget: ₹₹₹₹₹
---
As a working couple, Tarun Rakhendranath and his wife Lacshmi Ramachandra wanted a hassle-free experience to complete the interiors of their first home. The duo has a tight schedule throughout the week with just the weekend to spare on any work at home. So they looked forward to a simple and minimalist design which is easy to maintain.
With this thought in mind, the couple visited Livspace and met Livspace Yashas Yashu, Livspace interior designer, who charmed them with his hospitality. After a detailed discussion, they were convinced that Livspace was the right choice.
Dangling Decor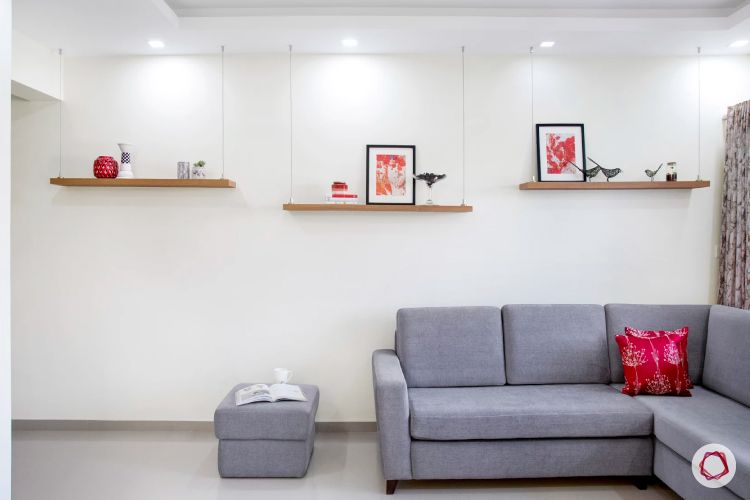 Tarun wanted shelves to accentuate the living room that would also give it an open and airy feel. Yashas was able to materialise this thought with hanging ledges that work well to decorate at any angle.
Wonder in Wood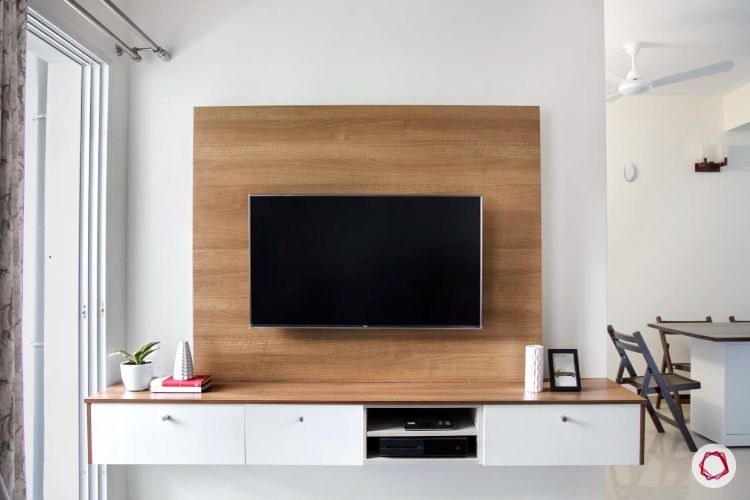 The entertainment unit sports a subtle look with wooden finishes highlighting the area. The sleek design with custom storage conceals the equipment while inviting friends and family to enjoy movie night at their home.
Chic and Functional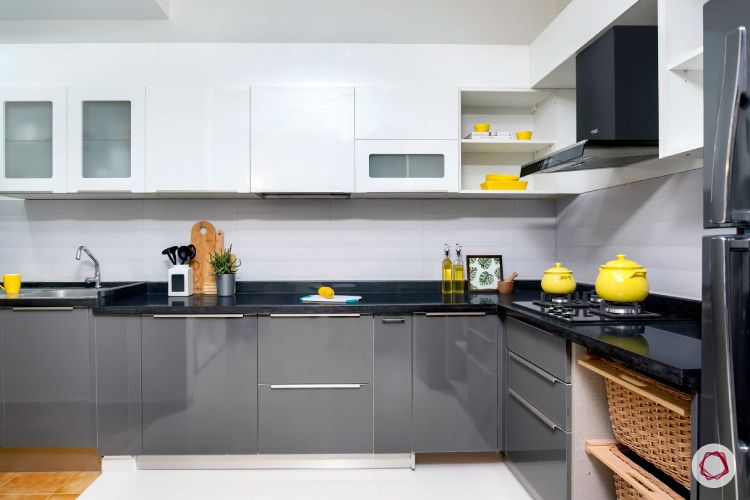 A glossy touch in the kitchen brings out an elegance while white and grey hues add to its elegance. Stacked with ample storage options, the kitchen paves the way for a joyous cooking session for the couple.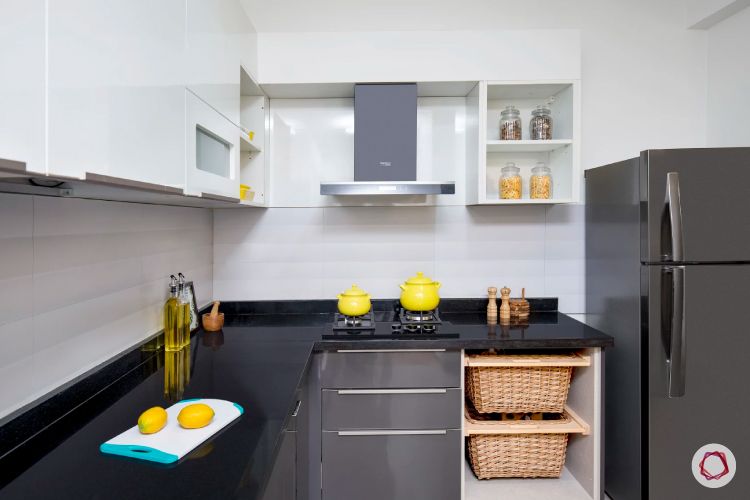 The wicker baskets in contrast to adding cool neutrals, are a stunning and useful addition to the kitchen. It keeps onions and potatoes fresh. Yashas also added a glossy panel behind the chimney so that it is easy to clean the grime and oil stains. Smart thinking!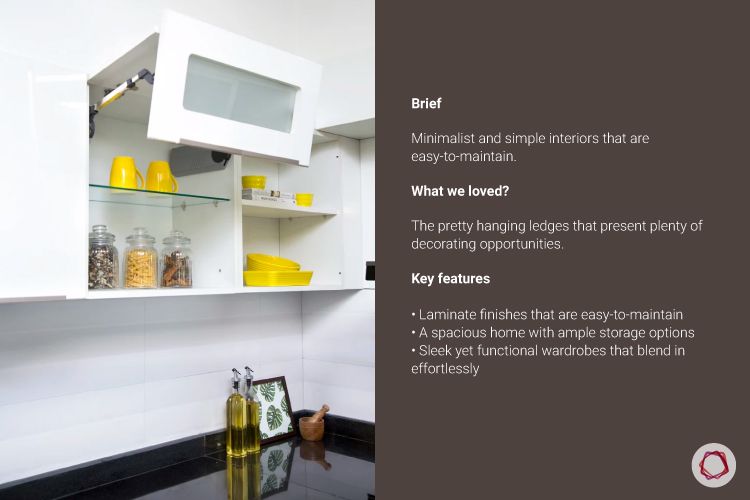 The hydraulic pull-up shutter gives the kitchen a fancy look. "Since it is an open kitchen, it gives a dramatic effect that can mesmerise their guests", says Yashas.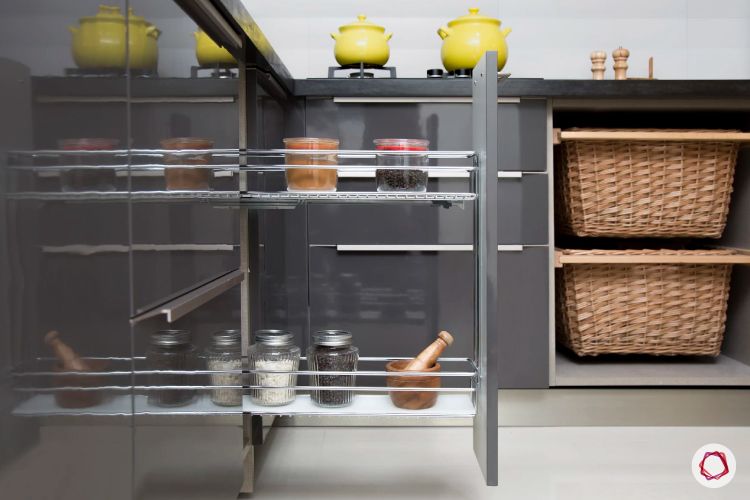 The kitchen equipped with tandem drawers, cutlery units and bottle pulls makes cooking easy and fun. "I was surprised at how many vessels I can stack in the cabinets", says Lacshmi. "It makes it easier to store everything in a neat and organised fashion."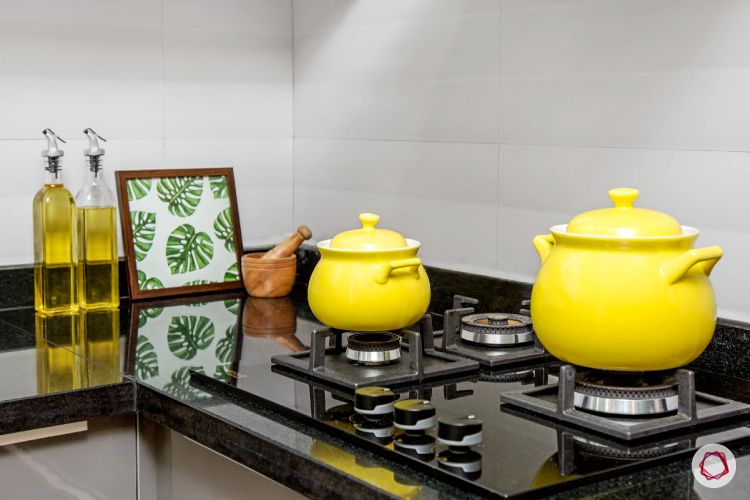 Compact yet Complete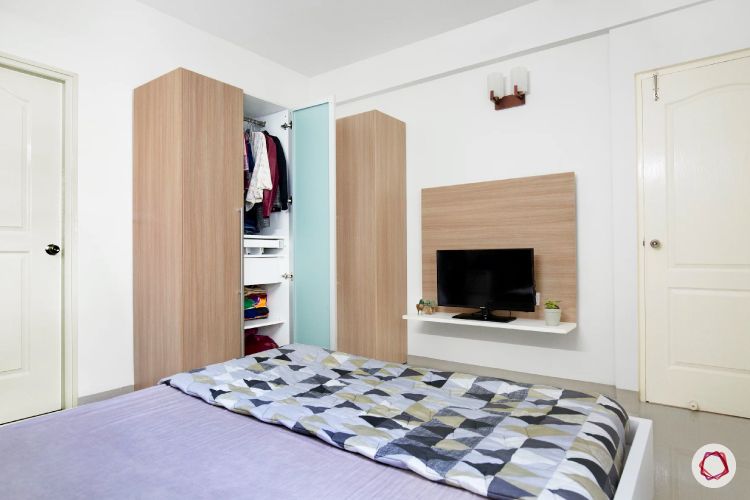 A corner wardrobe in the Livspace design centre caught Tarun's eye and the master bedroom offered the best place to set up this. Since he wants every room to be spacious, the design fits perfectly. Custom storage divisions make it easy to organise the clothes they possess.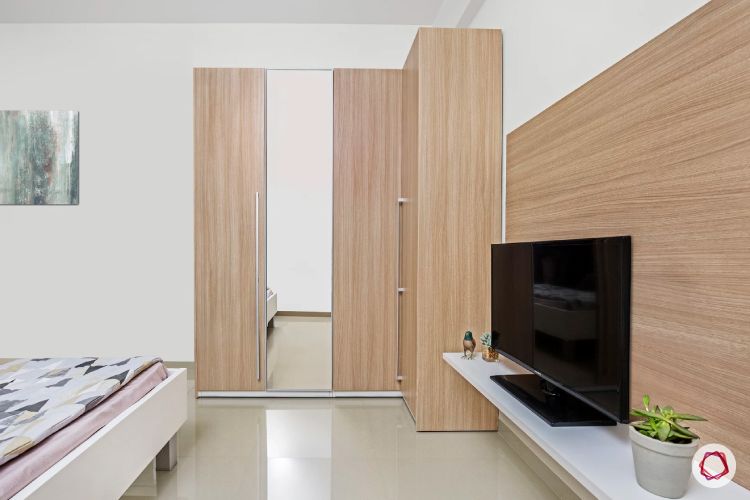 A stunning appearance with American Walnut finish makes the wardrobe blend into the setting. The same laminate finish used in the TV panel completes the look. A full-length mirror serves as a dresser while adding glamour to the otherwise subtle design.
Wallow in White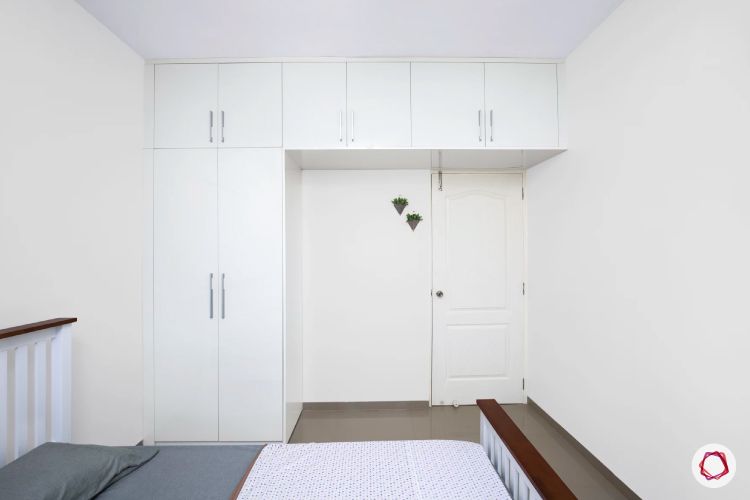 The second bedroom has been designed with provisions for any additions to their family in the future. A white wardrobe with lofts will adapt to any theme and will give add-on storage.
A Striking Effect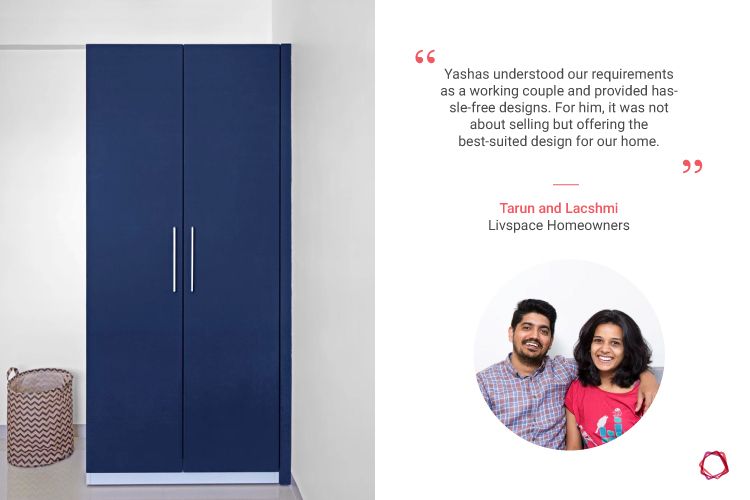 As opposed to the rest of the house, the guest room wardrobe adopts a striking look in navy blue. Simple yet bold, it's bound to set their guests and ease while providing them with ample storage.
"Tarun and I built a friendly relationship overtime and this was the foundation to understanding the couple's requirements in detail."
— Yashas Yashu, Interior Designer, Livspace

For more inspiration, check out another fun couple's functional home in Bangalore here!
— editor@livspace.com