The use of contrasting shades has resulted in a beautifully seamless modular kitchen and spacious wardrobes.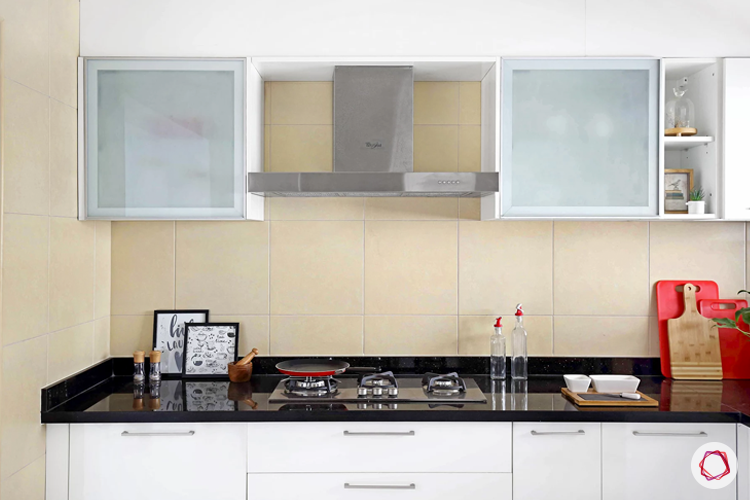 ---
Location: Shobha Palladian, HAL Central Township, Marathahalli, Bengaluru
Area of home: 2,400 sq ft approx; Kitchen size: 120 sq ft.
Design team: Interior Designer Smitha Mole with Project Manager Nitesh Srivastava
Livspace service: Kitchen design and wardrobe
Budget: ₹₹₹₹₹
---
Our client, who lives abroad, is accustomed to a certain quality. It's only obvious that while furnishing a home to be rented out in Bengaluru, she would want the kitchen design to be flawless and also rank high on functionality. When you enter into an agreement with a tenant for sharing assets, quality reigns supreme over everything else.
Hence, the Livspace team got to work in creating a fully accessorised modular kitchen and wardrobes that meet all of our client's expectations. We love clients who know exactly what they want and also give our designers the opportunity to give a project that a magical spin.
This flawless monochrome L-shaped kitchen is the epitome of elegance, with Frosty White high-gloss cabinets and a contrasting black granite countertop. This union of black, white and beige backsplash is a feast for the eyes!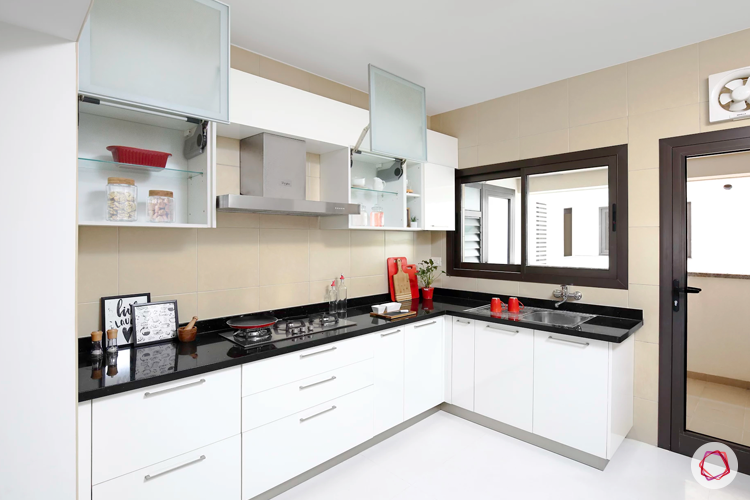 One of the most stunning features of this kitchen are the parallel cabinets above the cooktop. Frosted glass makes it easy to recognise and access condiments, without having to rummage through shelves.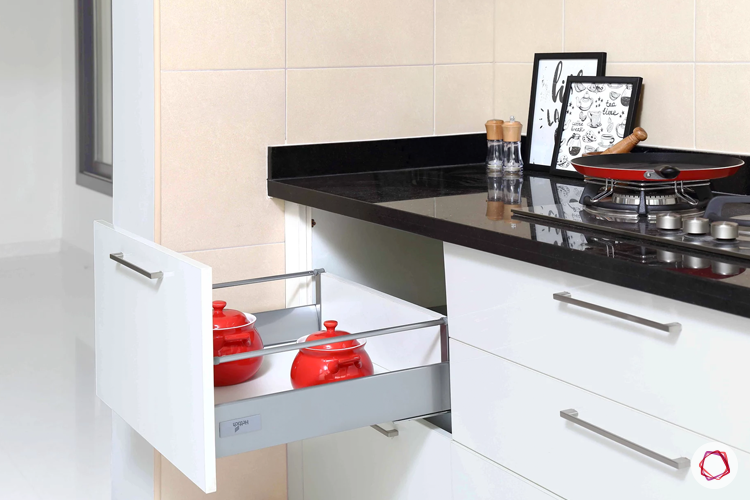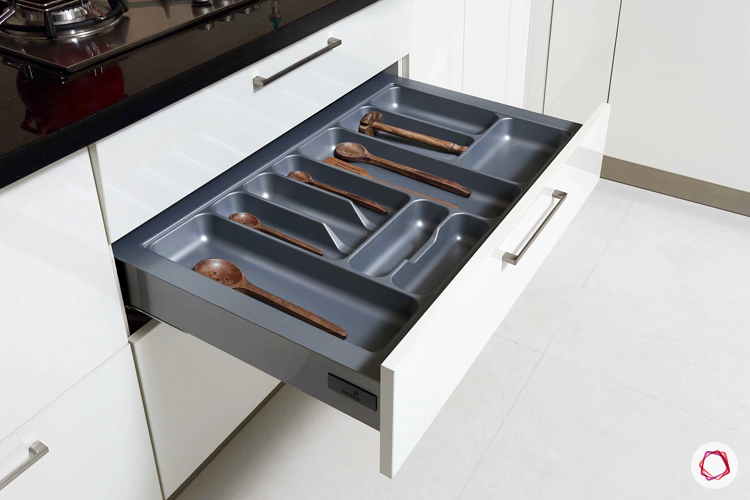 Stocked with tandem units, drawers and cutlery units, this super equipped kitchen is the answer to all your modern cooking needs.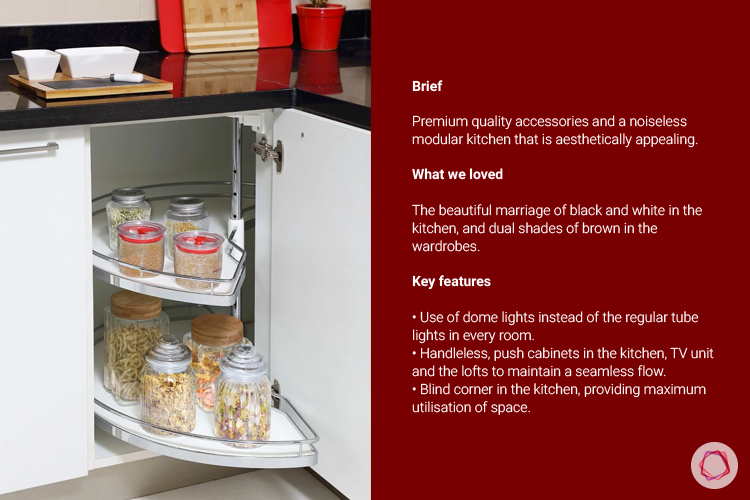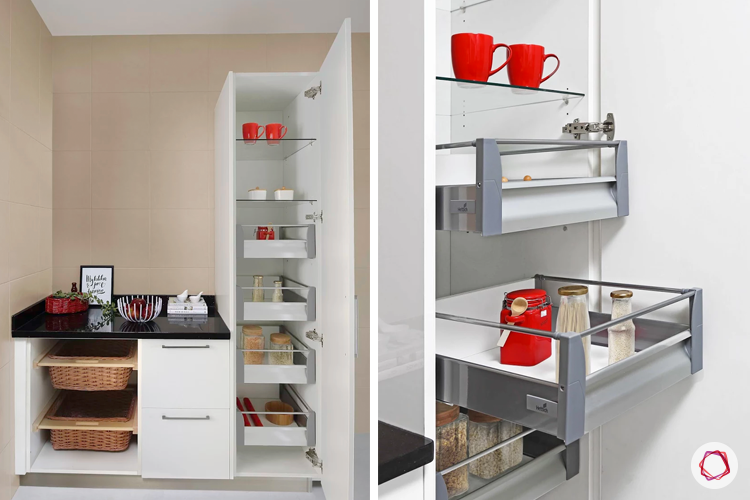 In this utility corner, the tall unit beside is replete with pull-out drawers and shelves. Drawers and wicker baskets used under the counter can be used to store cutlery and vegetables respectively.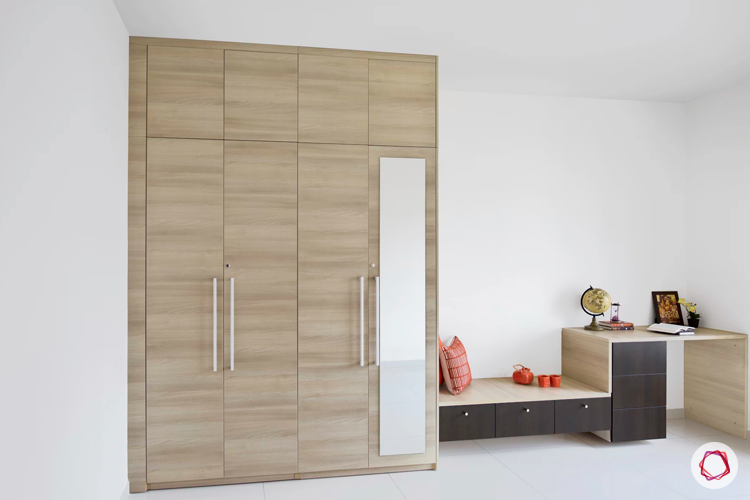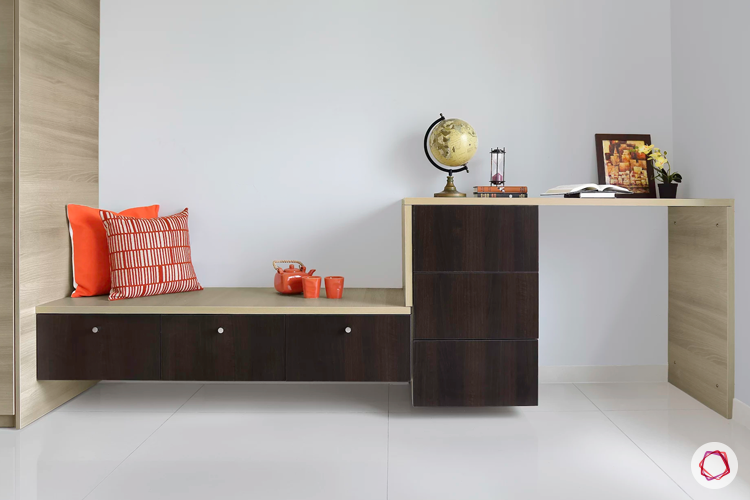 The guest bedroom comfortably accommodates a compact wardrobe in soothing Acacia, complemented by a study-cum-television unit for company. Push button drawers and lofts lend a sleek look to the room while maximising storage.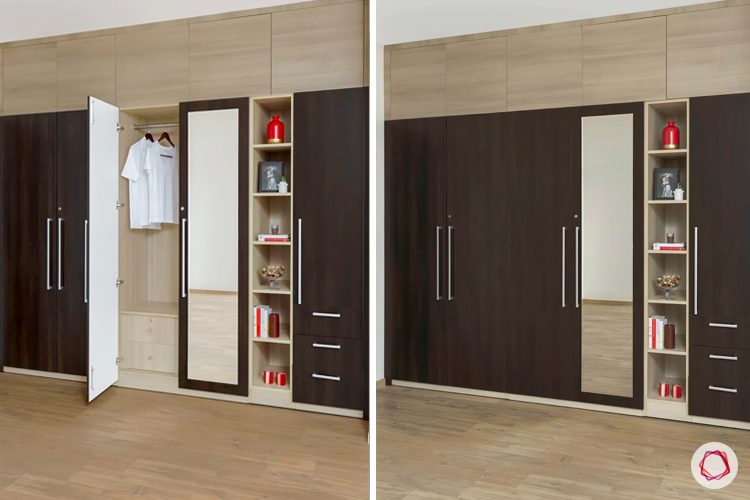 Warm dark walnut-coloured shutters are paired with subdued Caven Acacia lofts and open shelf in the master bedroom. Maintaining clean lines and keeping it classy, our designer has used steel handles for the shutters. The open shelves serve as a dresser and book storage.
---
"I loved the way our client interacted with me, despite the fact that she wasn't physically present here. I was given complete freedom on the design front, and everything went on very smoothly!"
– Smitha Mole, Livspace Interior designer