When you work with the best interior design company in Bangalore, you will never run out of options.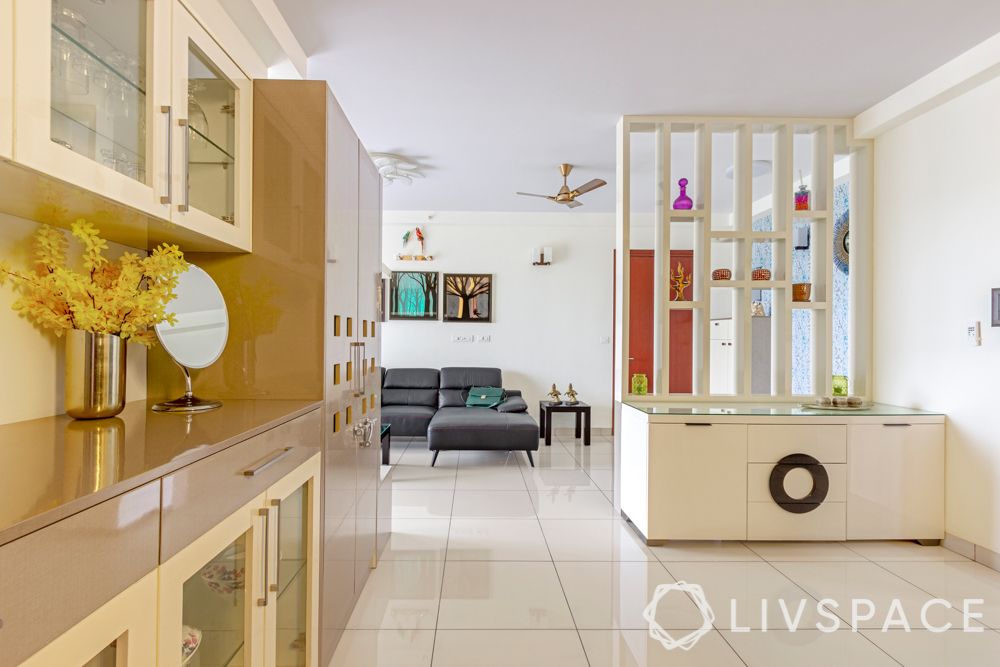 ---
Who livs here: Mr. Ranganath, his wife, son and mother
Location: Prestige Royal Gardens, Bangalore
Size of home: A 3BHK spanning 1,200 sq. ft. approx.
Design team: Interior Designer Himani Kaushal and Project Manager Prathap Kumar
Livspace service: Full home design
Budget: ₹₹₹₹₹
---
If you had to give a personality to your home, what would it be? Well this 3BHK designed by the best interior design company in Bangalore has a neat personality for sure. There is a place for everything and everything is in its place at this Prestige Royal Gardens home. And that is just how Mr. Ranganath and his wife wanted it!
This couple was scourging the town for interior designers to furnish their home when they came across Livspace online. And it took just one meeting with our designer Himani Kaushal to seal the deal for them. Let's take you through a step-by-step process of how we converted each of this family's requirements into design solutions.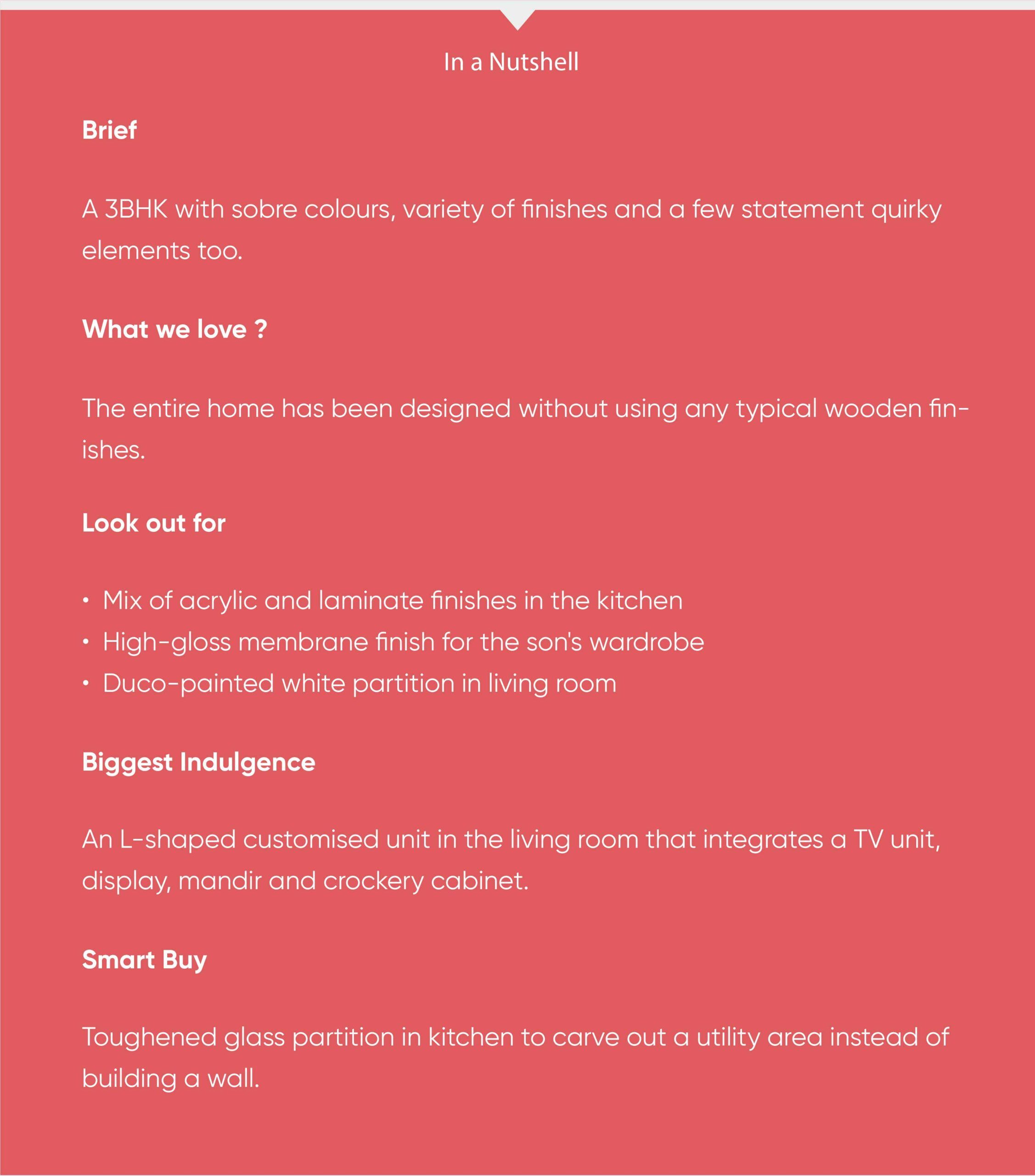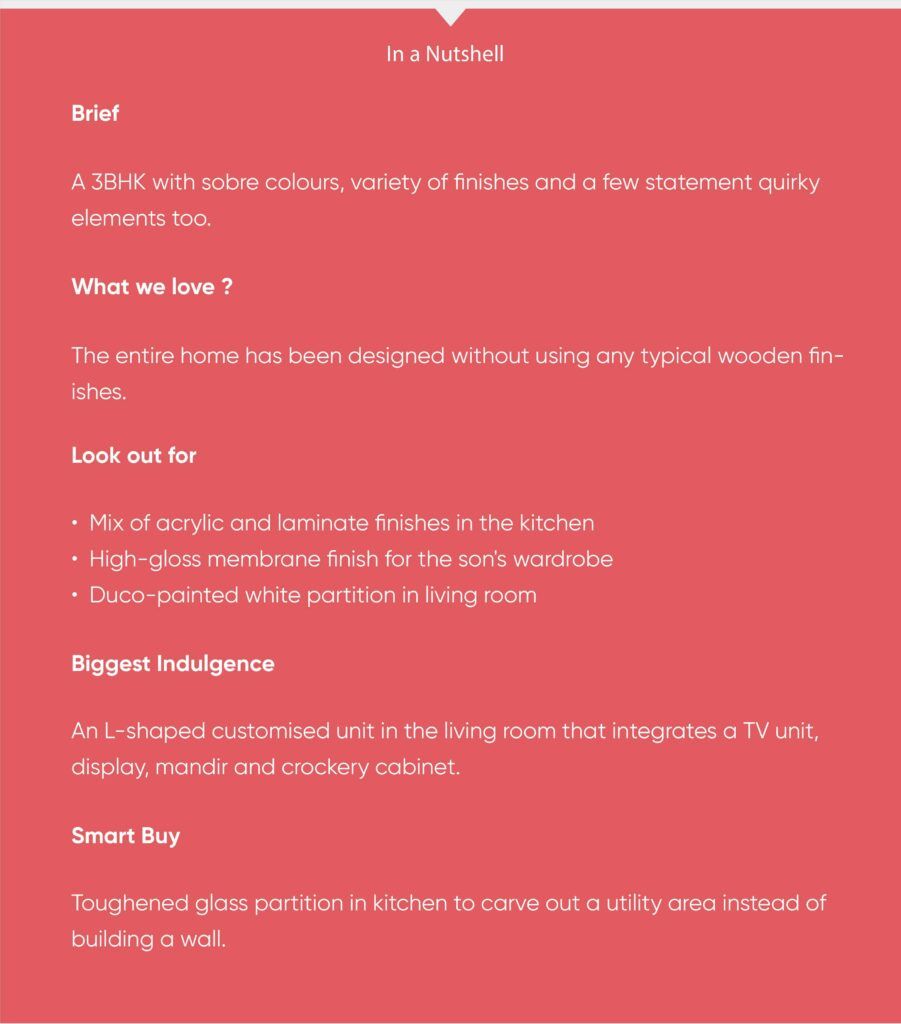 "We had initially shortlisted a number of design firms for furnishing our apartment. But once we met Himani, our interior designer, our decision to go with Livspace was final. The way she understood our requirements, it ensured that we never had any doubts about our decision. And in the end, we are very happy with our choice of interior design company in Bangalore."

– Mr. Ranganath, Livspace Homeowner
What They Wanted: An all-in-one master unit
We Designed: An L-shaped unit that includes TV unit, display shelves, mandir and crockery cabinet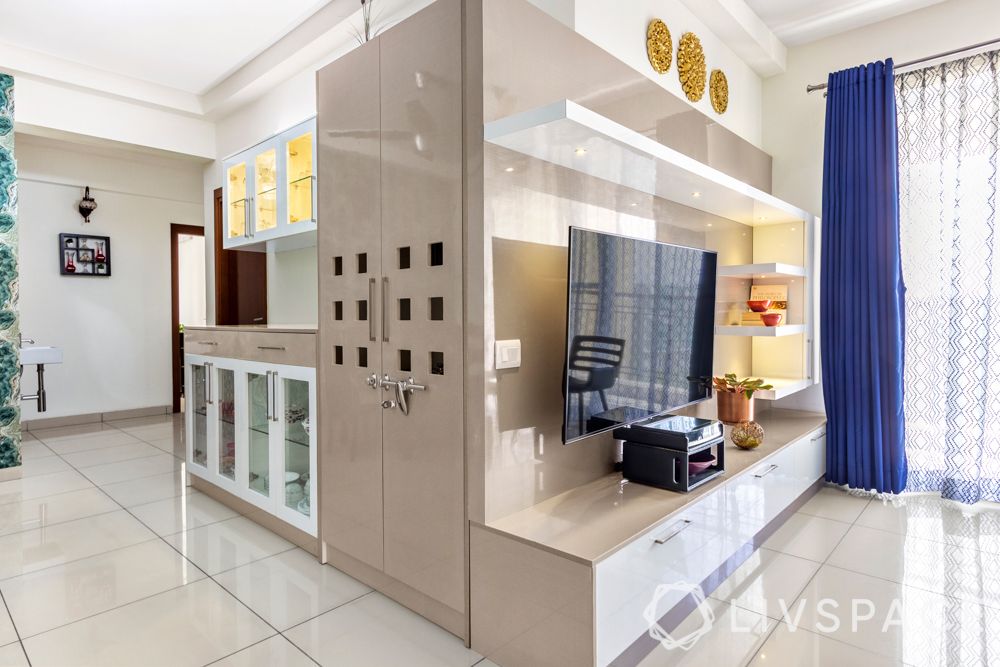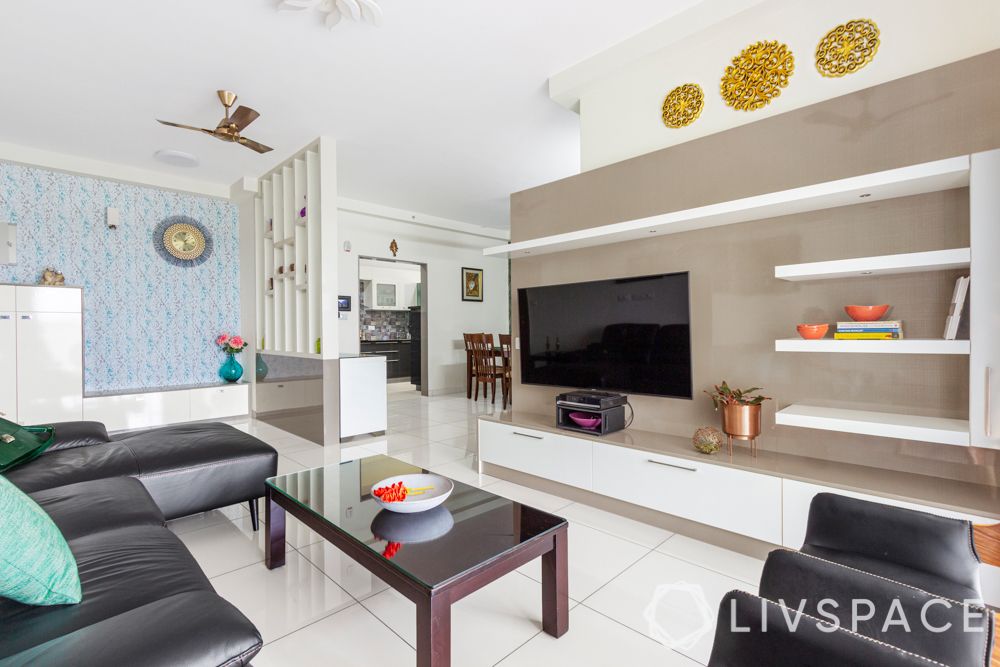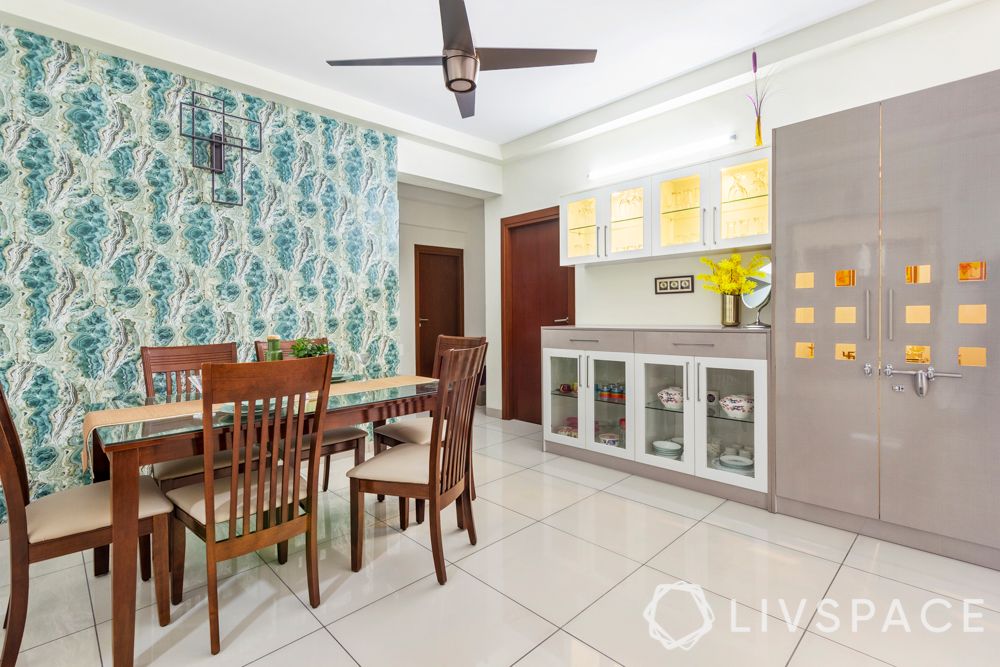 "We are very choosy when it comes to design specifications" says Mr. Ranganath with a wry smile. But Himani, being from the best interior design company in Bangalore, was not deterred by this. In fact, she felt it gave structure to her work. So when the family wanted a single unit to cover four different functions, namely TV unit, display shelves, mandir and crockery cabinet, Himani was happy to come up with a design solution.
She suggested an L-shaped unit that stands as the display and TV unit in the living room. It extends to the dining area where we see the mandir and crockery unit. With neutral high-gloss laminate finish, this custom piece packs a punch of functionality. 
What They Wanted: To stay away from typical wooden finishes
We Designed: Wardrobes in high-gloss membrane finishes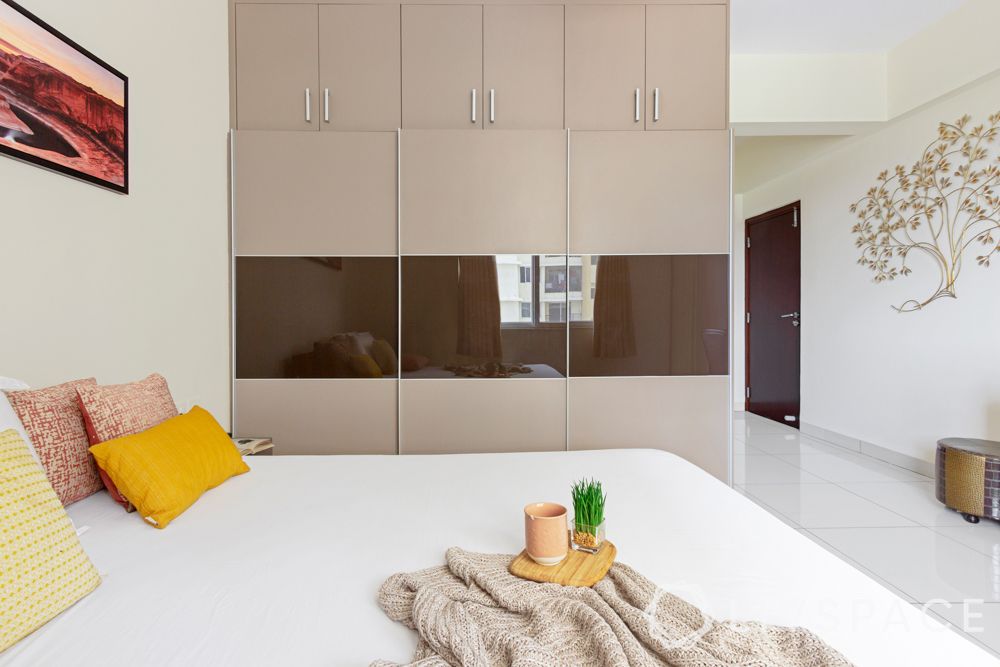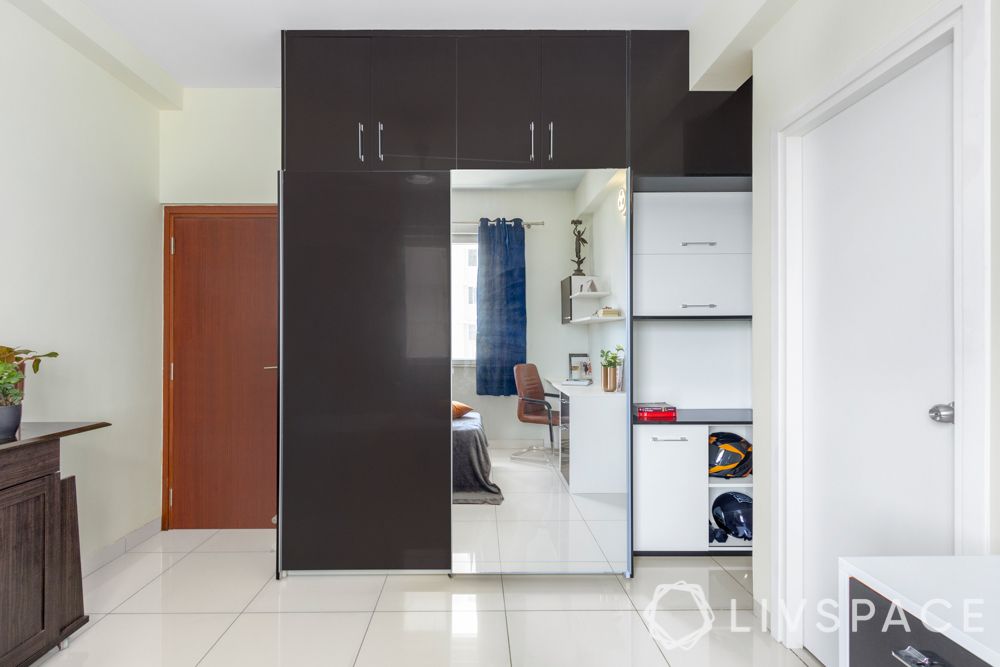 Every family or individual has its own set of preferences and unique requirements. In this case, the family collectively did not like wooden finishes. So Himani decided to give them something unique in every room. All the wardrobes have membrane finish which looks classy and seamless. The master bedroom has two wardrobes, one sliding and one hinged. But what stands out is the black wardrobe in the son's bedroom; it has a unique high-gloss membrane finish. Mind you, membrane usually goes with matte finish, which makes this glossy texture a very novel one!

What They Wanted: A separate utility attached to their kitchen
We Designed: A touched glass partition for the same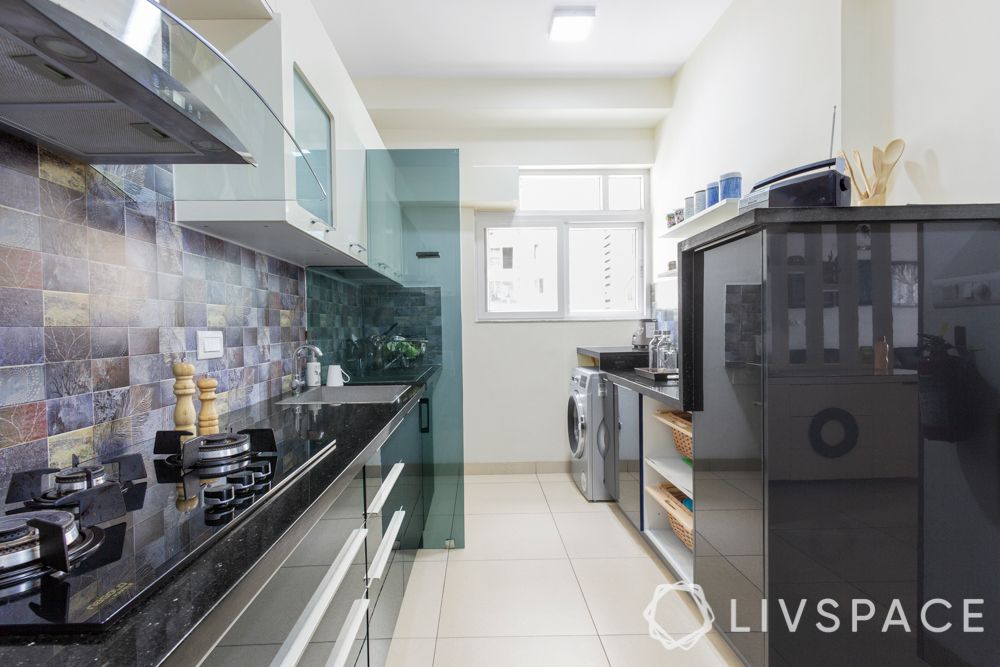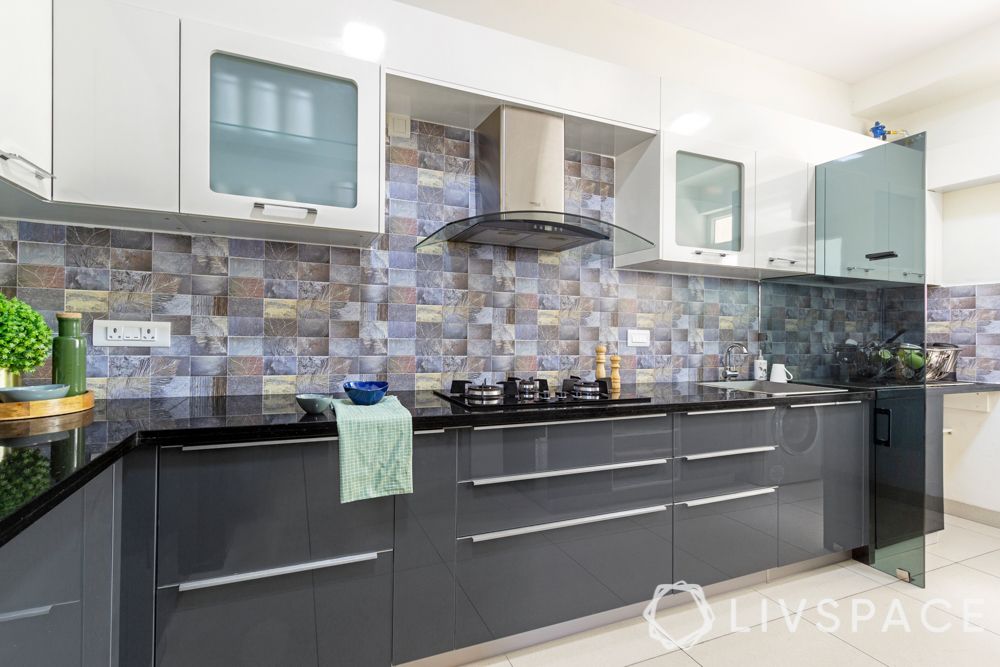 The kitchen is obviously the most functional space in a home. And every family's cooking personality or lifestyle dictates its kitchen design. Kasturi, the lady of his home, had a very specific requirement; she wanted an utility area separate from the kitchen. This was because the household help's cleaning time overlapped with her cooking time. 
The challenge, however, was that the kitchen had no utility attached. Moreover, the builders did not give us the permission to construct a wall within the kitchen. As they say, necessity is the mother of all inventions. So when all hope seemed to have been lost, Himani came up with a brilliant idea! She installed a toughened glass partition at the fag end of the kitchen. With an additional sink, this space carved out of the kitchen was as good as a utility!
What They Wanted: A fully loaded kitchen
We Designed: Acrylic-finish kitchen with drawers for base cabinets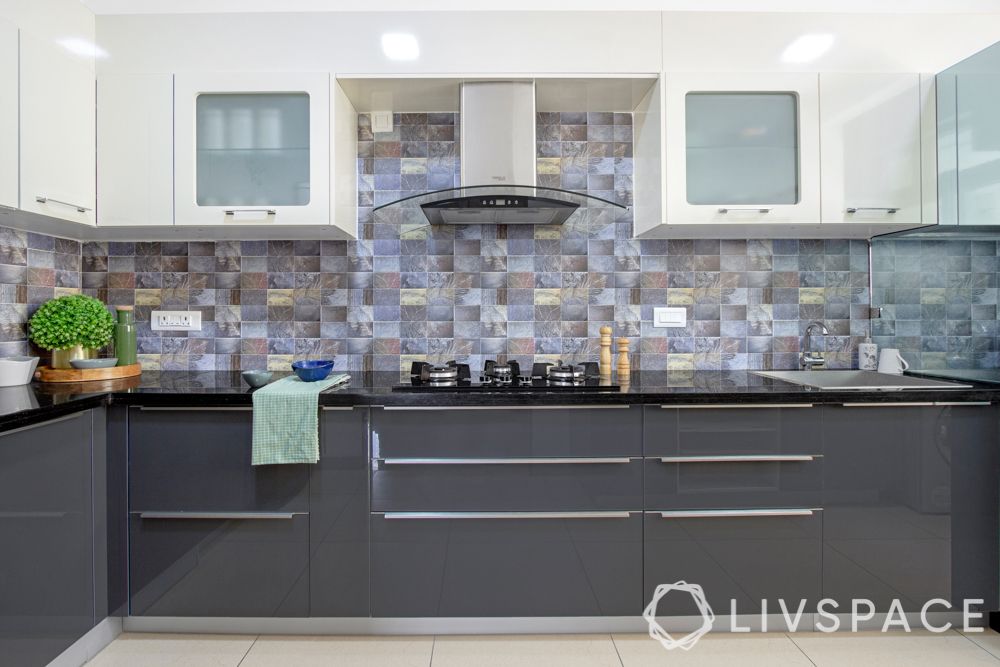 "No matter the cost, we did not wish to compromise on quality" said Mr. Ranganath. Thus, another requirement for the kitchen in this 3BHK design was that it had to be fully loaded with accessories. Himani has facilitated this kitchen with modular accessories like corner units, drawers, tall units etc. Moreover, the sleek acrylic finish in grey and white gives the kitchen a really elegant look.
What They Wanted: A smattering of quirky elements
We Designed: Wall treatments with vibrant & textured wallpapers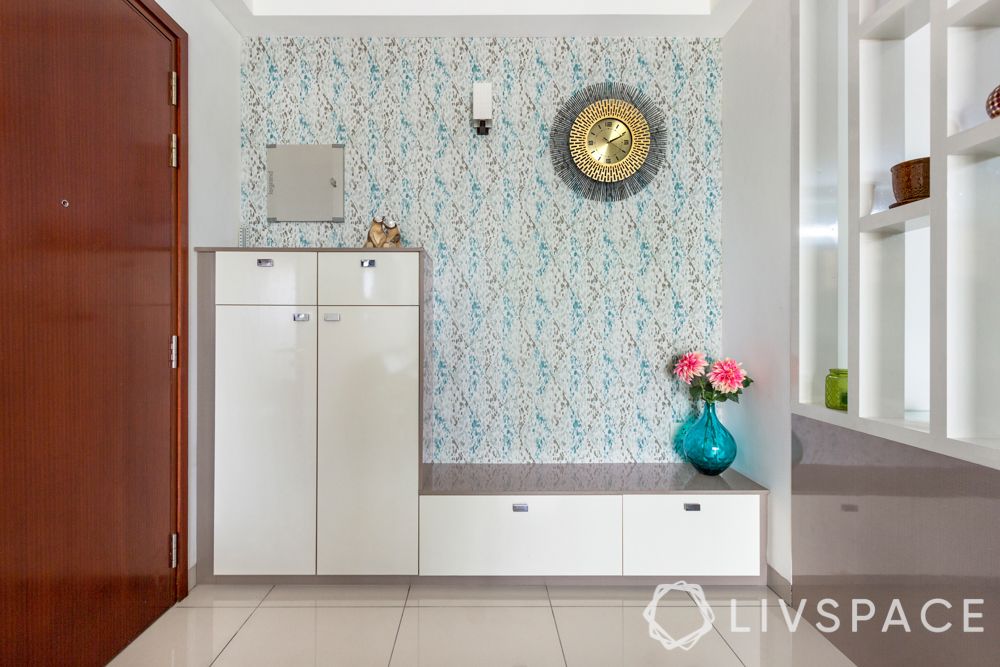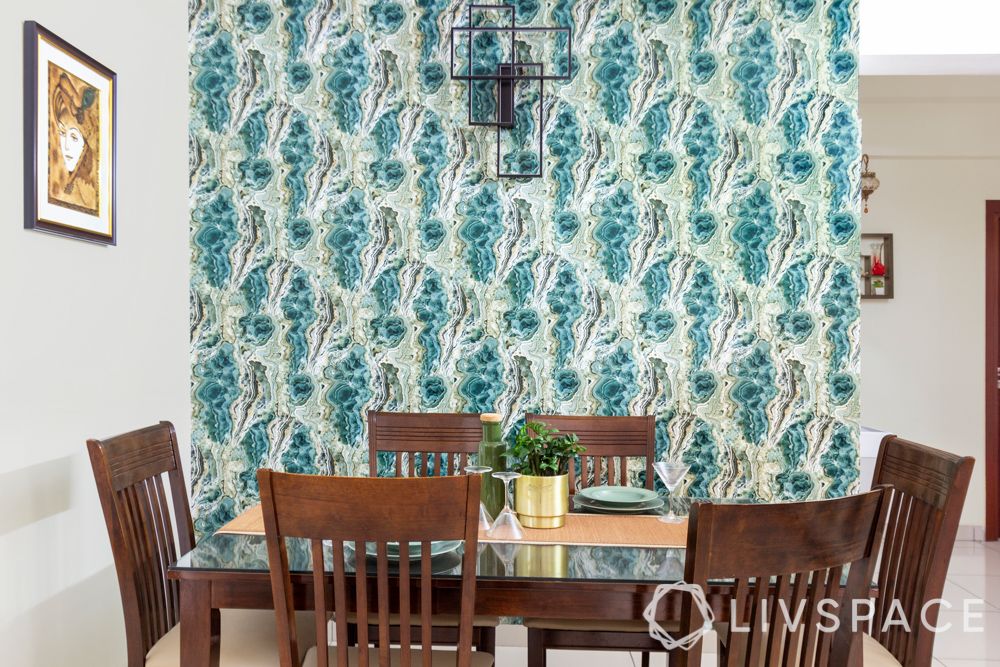 While this family clearly has a taste for elegance over drama, they did not want their home to be completely with "wow" elements. So Himani has thrown in a couple of wall treatments to have some elements of quirk!. We love the bright blue wallpaper in the dining area in particular. The patterned wallpaper in the entryway also sets a welcoming tone for this 3BHK design. 
Designer Speak
"Designing for Mr. Ranganath and his family was a great creative opportunity for me. They were very clear about what they wanted and did not wish to compromise on quality. This ensured that the design process was very structured and we stuck to the original plan till the end. It was a rewarding experience because the family is very happy with their new home!"

– Himani Kaushal, Interior Designer, Livspace
If you enjoyed exploring this home designed by the best interior design company in Bangalore, also check out This Home Makes a Style Statement by Being Beautifully Basic.
Send in your comments and suggestions.