This Bangalore home left us delighted with its ethnic charm!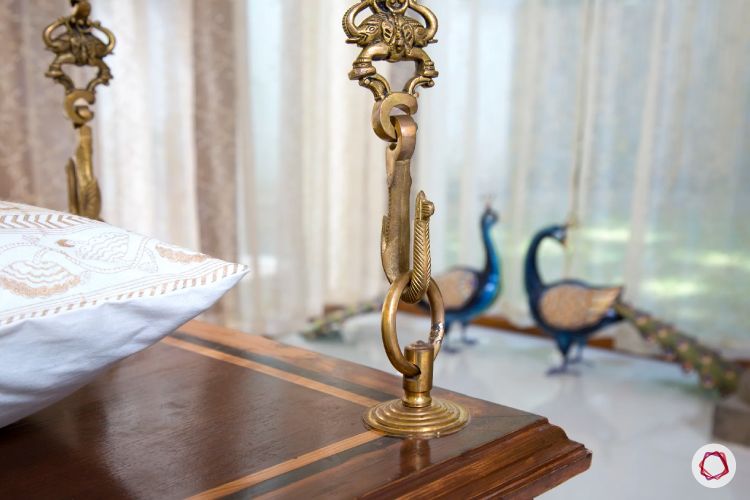 ---
Who livs here: Aparna with her husband Ramji and their sons Pratosh and Prem
Location: Vaswani Ashton Woods, Bangalore
Home Size: 3,500 sq ft approx.
Design team: Interior Designer Tanu Jalan with Project Manager Rajkiran P
Livspace service: Full home design
Budget: ₹₹₹₹₹
---
Being a close friend of Livspace co-founder Ramakant Sharma, our client Aparna decided to try out Livspace for Bangalore home interiors to refurbish her sprawling villa. Also, recommendations and feedback from friends reinforced her decision and thus started our wonderful journey together. Aparna wanted to redo her ten-year-old property at Vaswani Ashton Woods in Bangalore, and wanted a trusted name to help her with it.
Livspace interior designer Tanu Jalan took this task at hand and the biggest challenge she faced, you ask? Well, keeping up with the beautifully traditional theme of the home, while giving the family a revamped space. We love the details in this airy villa!
A Traditional Welcome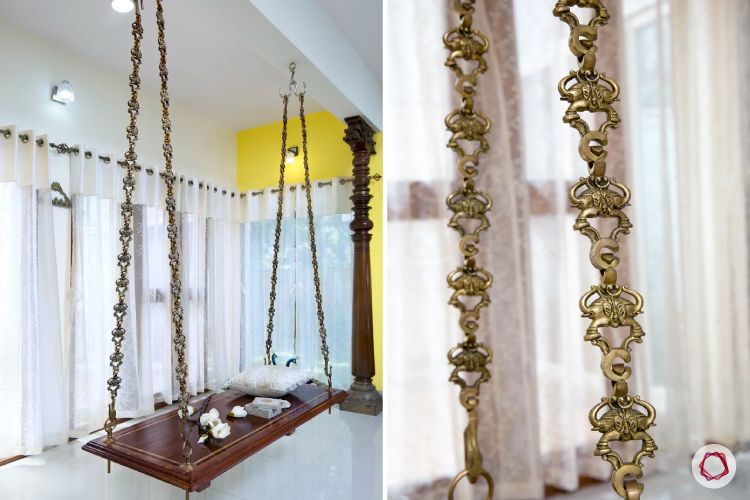 As you enter this sprawling yet quaint villa, your eyes are instantly drawn to this wonderful jhula. Suspended on intricately designed ornate brass strings, the wooden swing is the most noteworthy and beautiful feature here. We love the warmth that wood infuses into their home. Additionally, the pillar in the corner is an old one that has been given a facelift!
Wowed by Wood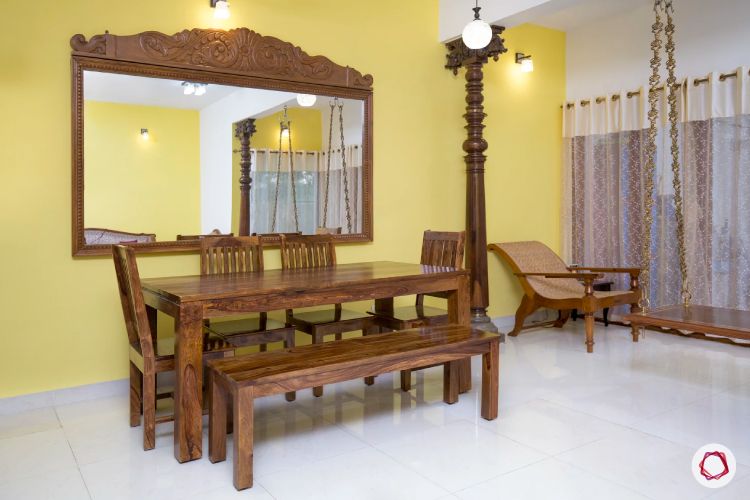 In the dining room too the use of wood lends a Chettinad-esque warmth that we love. Aparna was sure that she wanted her home to be bright and use a lot of wood. So Tanu extended their living and dining, to give them a huge balcony that brings a lot of sunshine. A big mirror was also placed strategically to make the space feel more spacious and light.
Contemporary and Complete Kitchen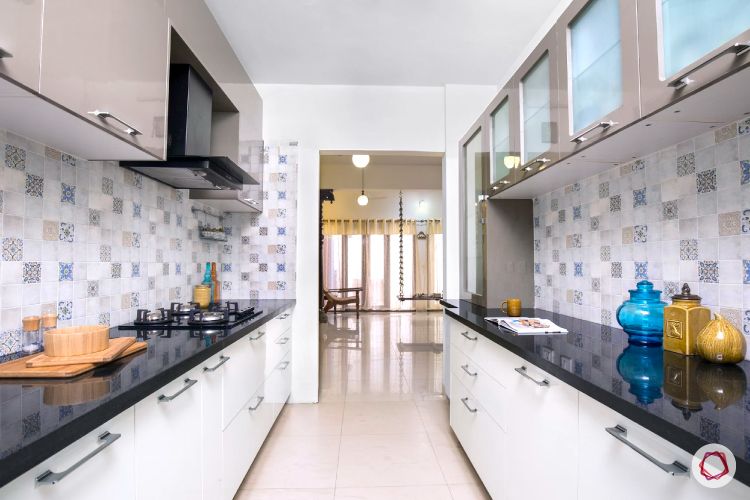 The parallel kitchen is one space in the entire home that looks relatively contemporary. The high gloss Autumn Grey and Fosty White cabinets have been matched with the backsplash.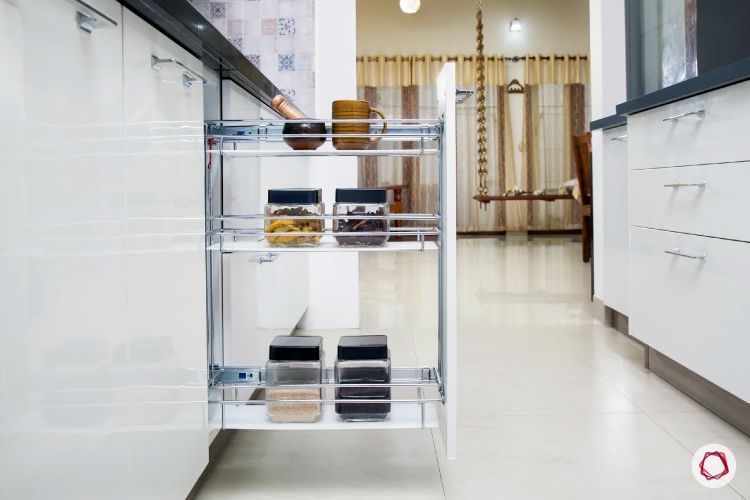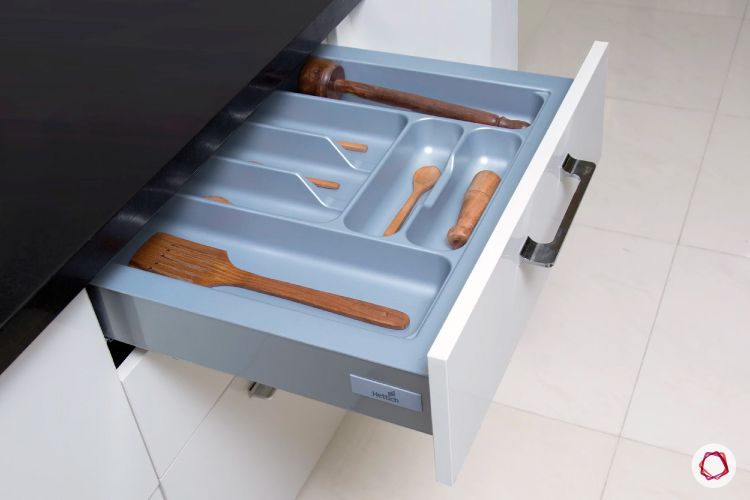 This kitchen is complete with drawers, thali units, bottle pull-outs, spice racks, tandem boxes, a microwave unit, double sink unit and frosted glass cabinets to display Aparna's antique pickle jars. It is a great solution for a family that loves to cook and share their meals!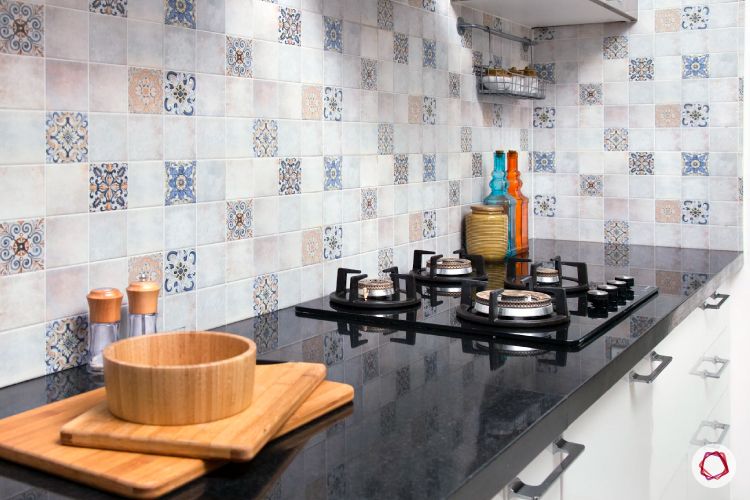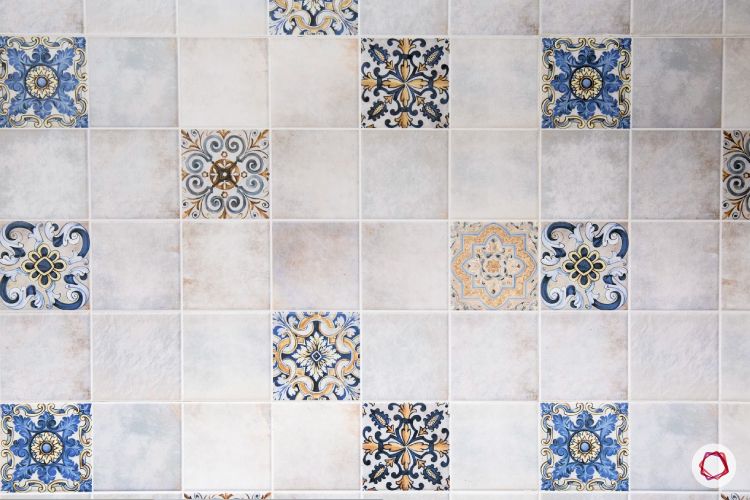 The countertop is a chic black granite that blends in perfectly well with the autumn grey cabinets and the tiled backsplash. The backsplash is inspired by traditional design and adds a dash of colour to the otherwise muted kitchen.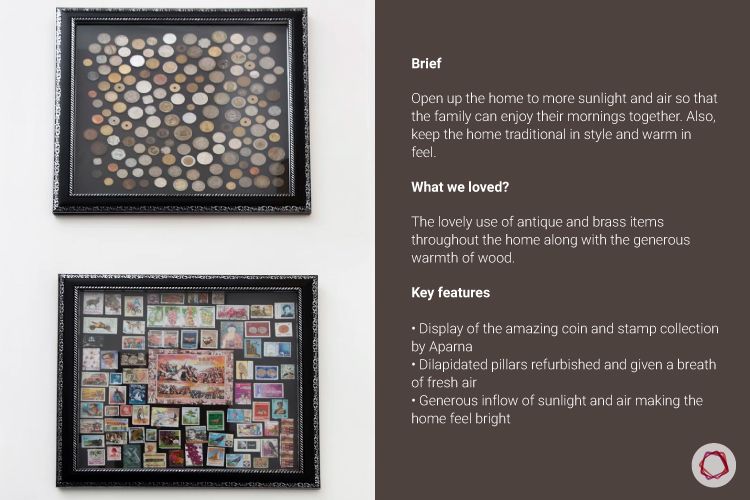 Not Just for the Guests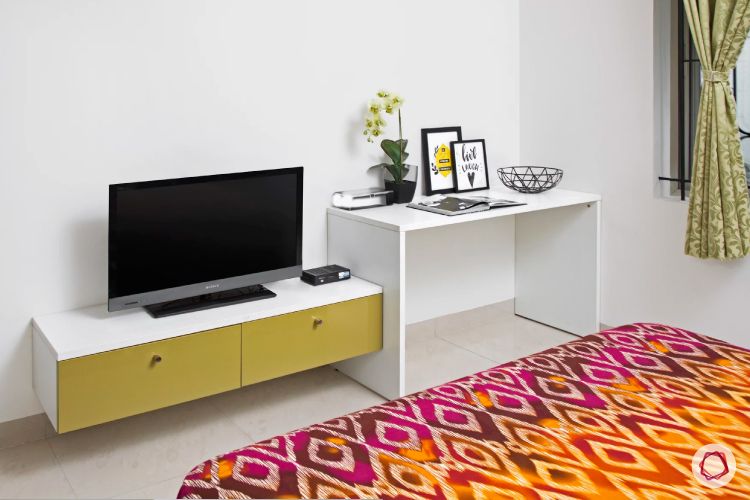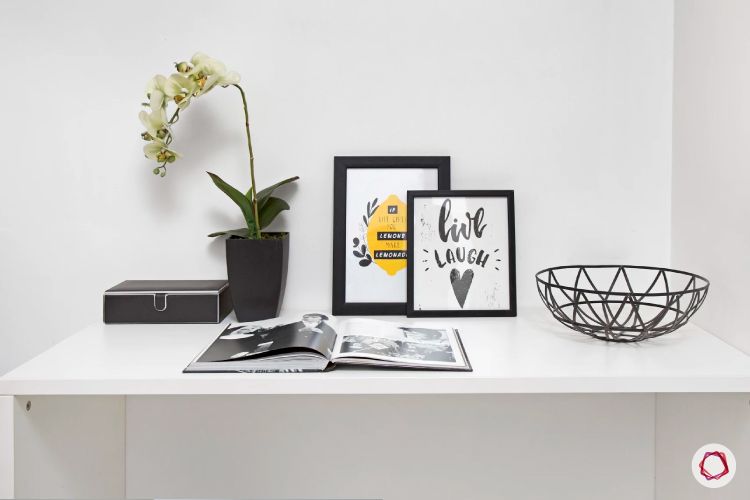 The guest bedroom is usually used by Ramji's parents when they are visiting. Also, this is the only room in the home, except the entertainment area on the first floor, that has a television. The couple like creating conversation areas, rather than pointing the furniture towards the television. The TV unit in this room is attached to a compact study unit.
Add-on Storage Solutions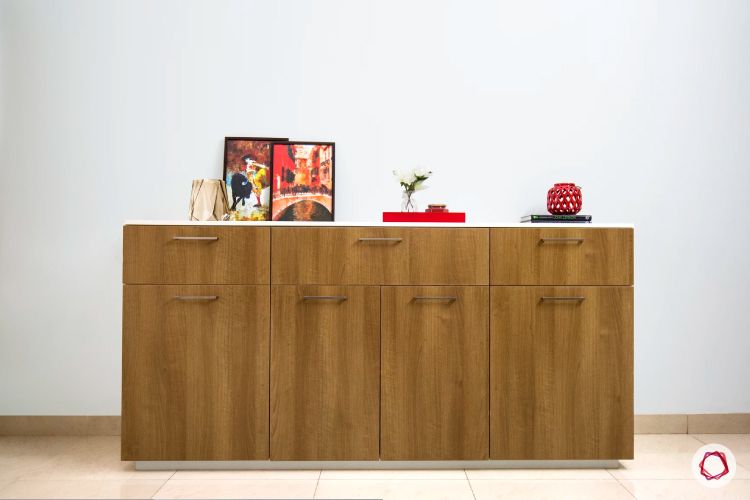 The master bedroom has this chest of drawers that has a lot of storage space. It can be used to dump extra stuff that the family does not need regularly. It is again made with warm wood laminate and frosty white table top to stay in sync with the theme of the home.
For Work and Play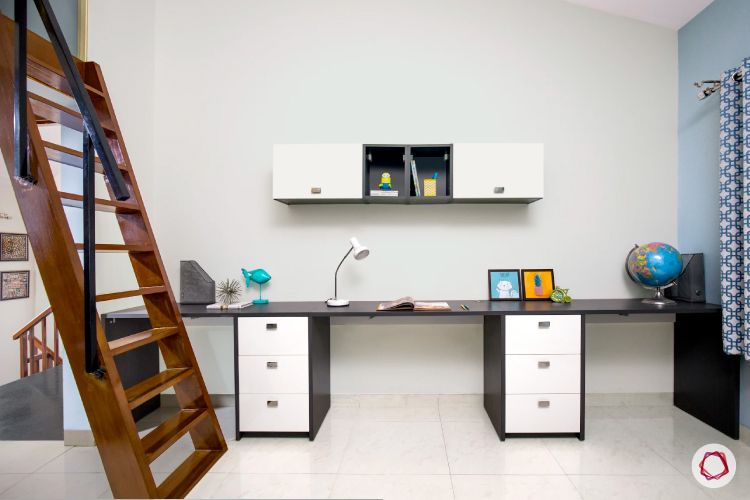 The kids' room is a perfect combination of fun and functionality for the couple's sons, Pratosh and Prem. Aparna wanted a study unit that has demarcated shelves for both the kids, a move that would mean fewer fights! Where does the flight of stairs lead to, you ask? It leads to the secret den for the kids where they can store their toys, read or just goof around.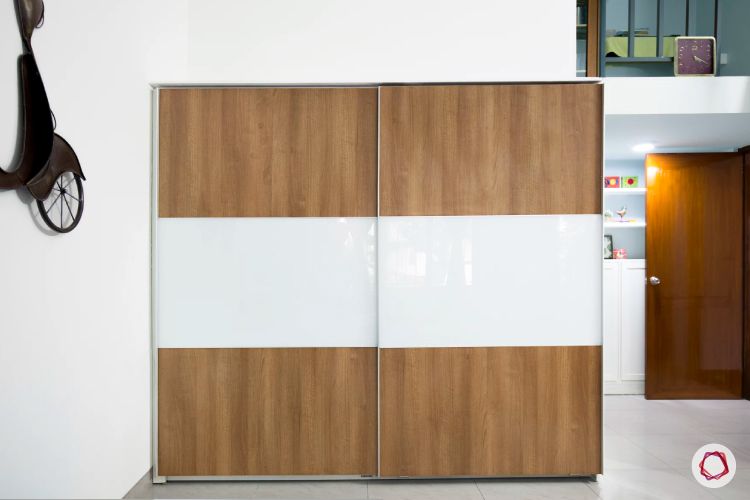 The light wood wardrobe has a high gloss white panel in the centre and sliding doors. This comfortably houses the clothes and belongings of both the boys on either side. Sleek and functional, this wardrobe blends in with the neutral theme of the room.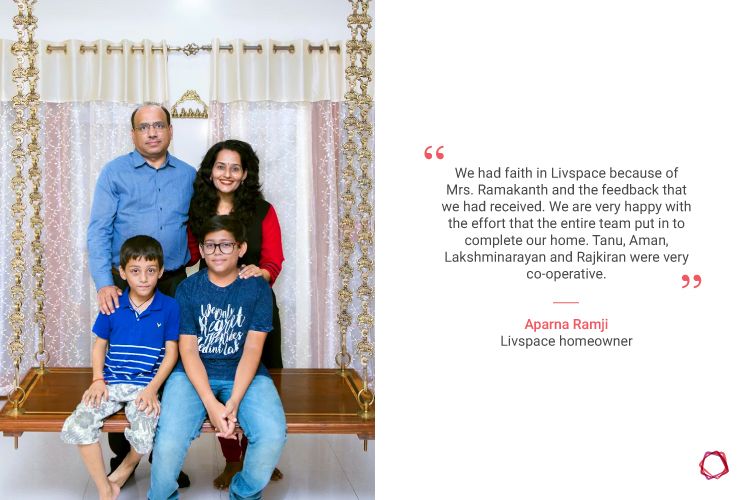 "I enjoyed working on this project since it was a little challenging. Aparna was actively involved during the entire design process, which was great! It's always nice to have clients who put in their heart and soul into their homes!"
– Tanu Jalan, Livspace Interior Designer
Feeling inspired by this home? You can read more about the essential elements of traditional Indian interior design here.
Disclaimer: All contents of the story are specific to the time of publication. Mentions of costs, budget, materials, finishes, and products from the Livspace catalogue can vary with reference to current rates. Please get in touch with a designer for more details on pricing and availability.