A Shriram Chirping Woods home with dreamy nooks!
---
Who livs here: Shereen Abraham
Location: Shriram Chirping Woods, Bengaluru
Size of home: 3BHK spanning 1,800 sq ft
Design team: Interior designer Pravar Chaudhary
Livspace service: Kitchen, wardrobes, sofas and wall treatments
Budget: ₹₹₹₹₹
---
You ever walk into a home that instantly piques your interest right from the entrance? This eccentric home at Shriram Chirping Woods, Bengaluru is just that and more. The 3BHK is rich in swag and personality, just like its owner Shereen Abraham. And it's done up just in time to ring in the new year! It's got quirky glass accents, soothing wallpapers and a kitchen that will lure you with its unique design. The home is drizzled with remnants of Shereen's travel adventures too.
While Shereen wanted to set up her home by herself, she approached Livspace for a few things to complete her dream loft. Teaming up with our designer Pravar Chaudhary, the home is exactly how she pictured it. Also, it certainly helps that Pranav's personal sense of design and Shereen's own style matched perfectly well too. Let's step right in!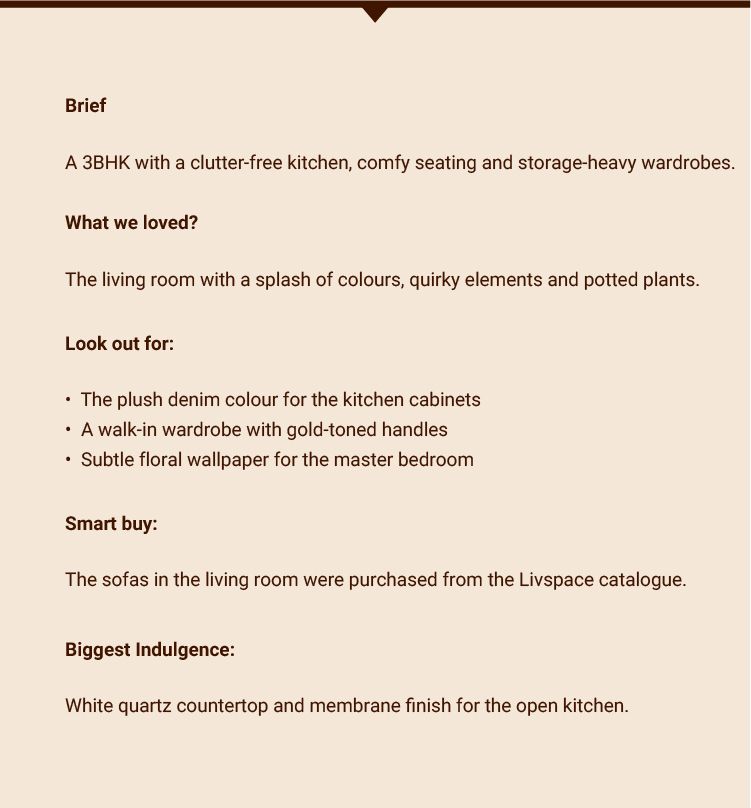 Desi Swag for the Foyer at Shriram Chirping Woods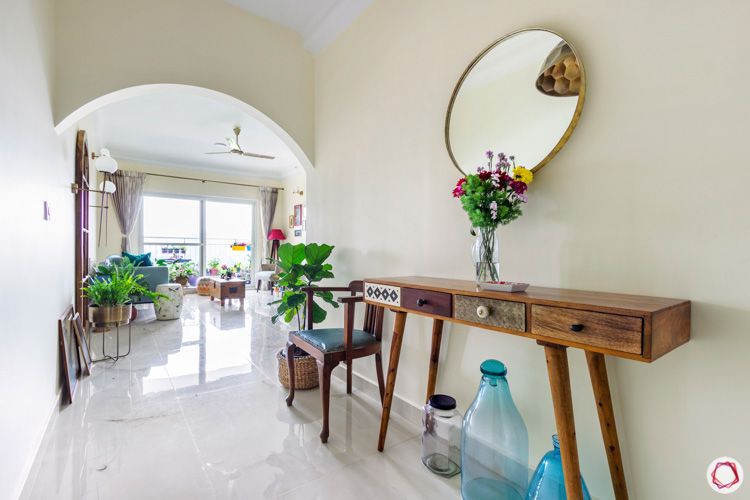 The entrance alone has won our hearts. While minimal, Shereen makes a stylish statement with a patchwork console table and a sleek round mirror. She also placed a cushioned chair for convenience. Notice the arch in the wall? Pravar added it to create a sense of depth to the space. It's also Shereen's favourite part of the home!
Unwind in Comfort for the Living Room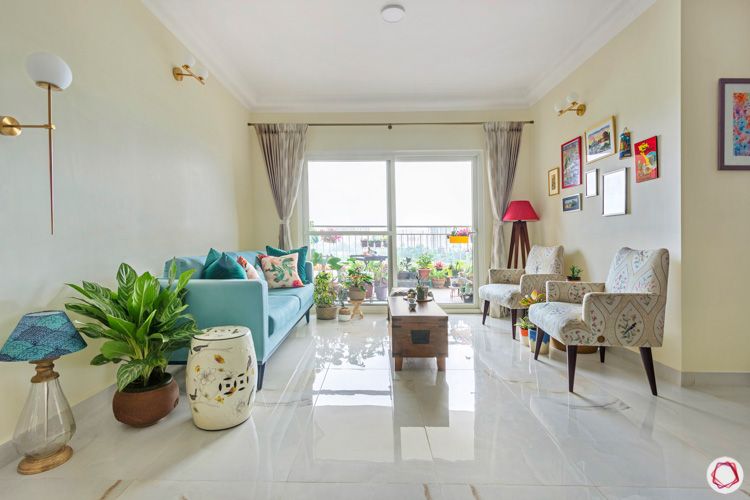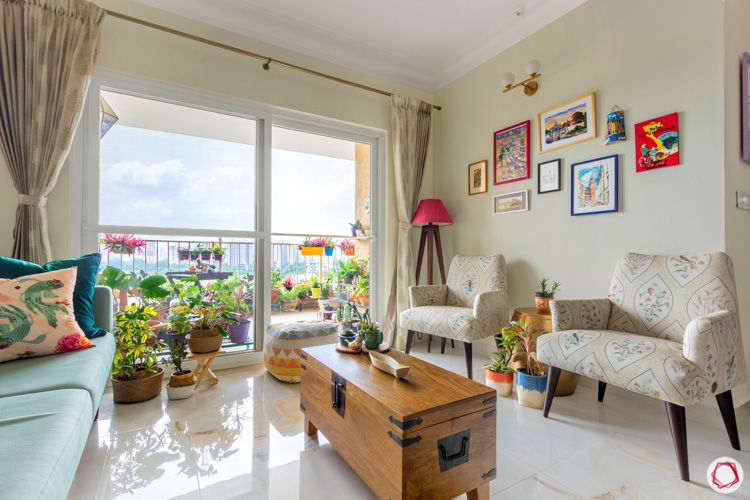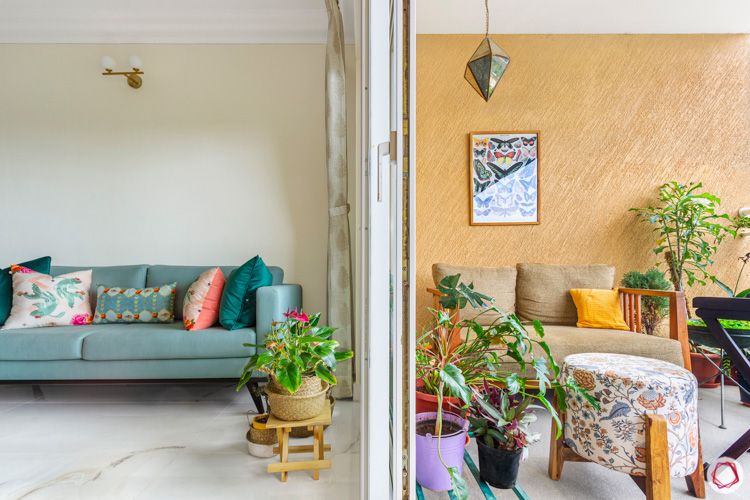 The living room is a breath of fresh air, dressed in a splash of colours. Flaunting a cool-toned teal sofa and two upholstered armchairs, the room is as comfy as it comes! From the gushing red floor lamp to the intriguing treasure chest for the centre table, all the quirky elements perfectly complement Shereen's vibrant personality. Moreover, we love how Shereen has added potted plants in the nooks and corners to spruce things up. You could also take a peek into her cosy balcony in the above image.

Cosy & Open Dining at Shriram Chirping Woods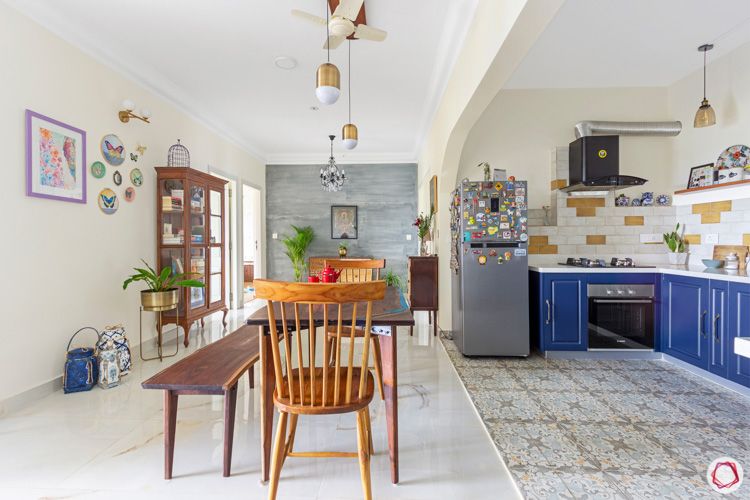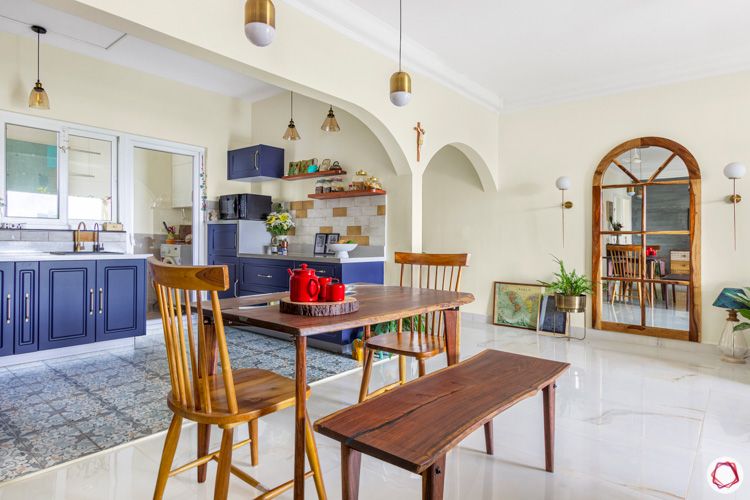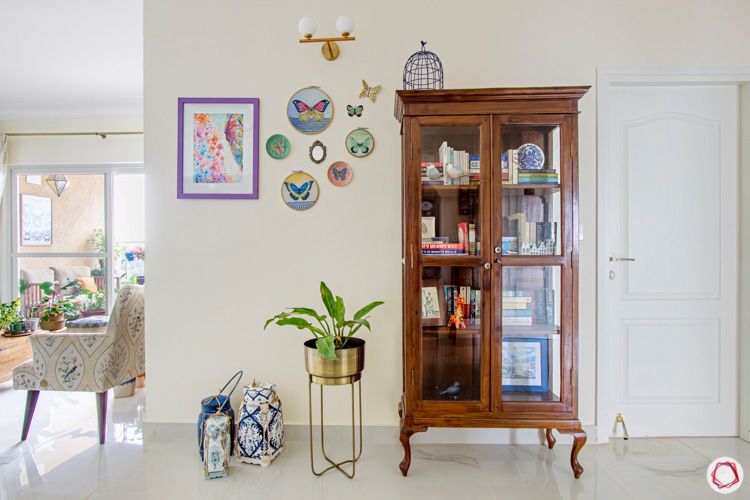 The dining nook is conveniently set up next to the kitchen. And thanks to the home's open setting, the space is bright and breezy. Shereen put in a slender wooden table with complementing chairs and a bench on one side. She completed the look with two accent lights, perfect for a warm ambience.
Denim Lovin' Kitchen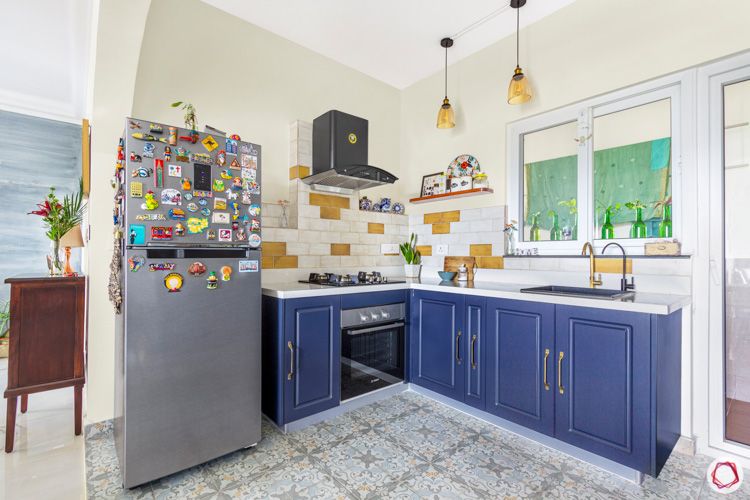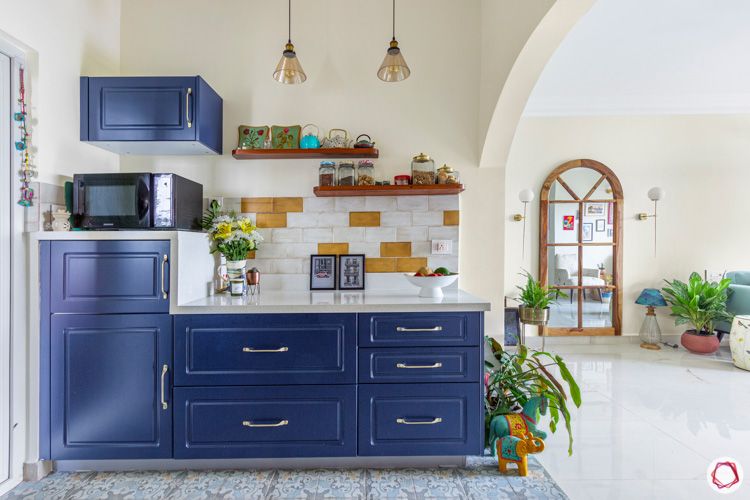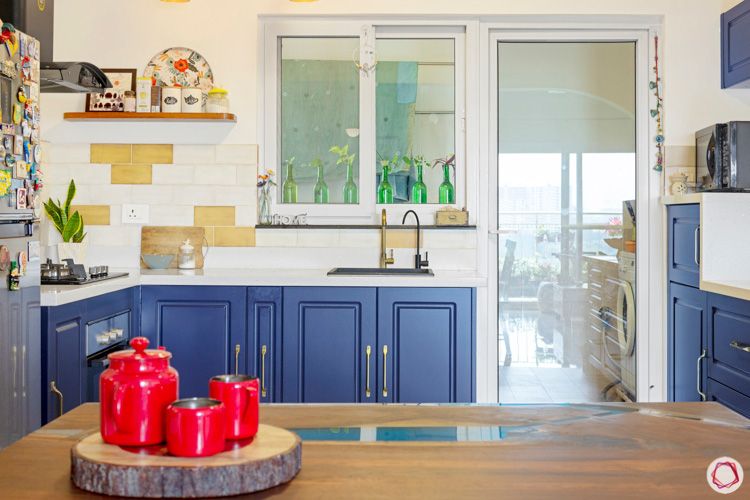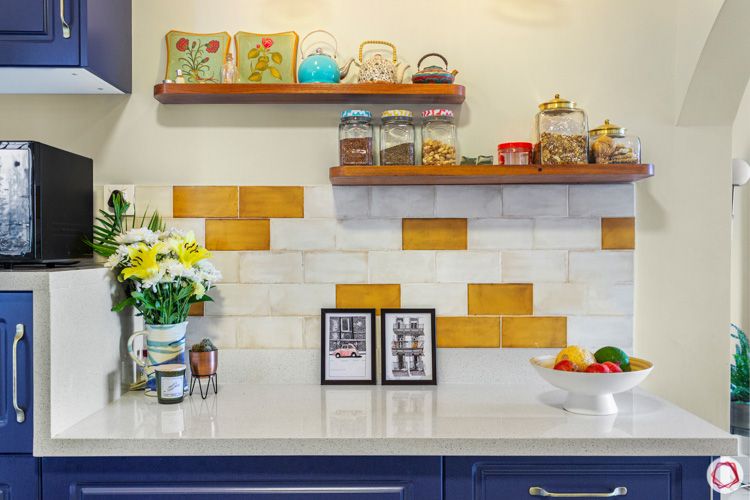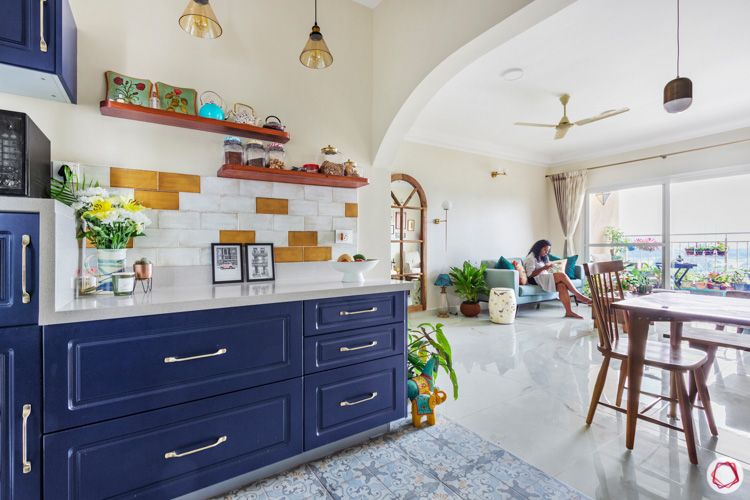 Don't you just love bright kitchens? Especially if it's dressed in a different colour! Shereen's only requirements for her kitchen was that it had to be open, clean and happy-looking. As a result, Pravar picked a rich denim colour for the kitchen cabinets. Moreover, the steel bar handles and polished membrane finish elevates the overall look.
Notice how the kitchen doesn't have upper cabinets? Instead of this, Pravar put in open shelves to stash essentials and a mid unit for groceries. The white quartz countertop brings in a touch of elegance and balances the denim hue from the cabinets. To jazz things just a little more, Shereen added patterned floor tiles and coloured brick tiles for the backsplash. 
Soft & Serene Bedroom at Shriram Chirping Woods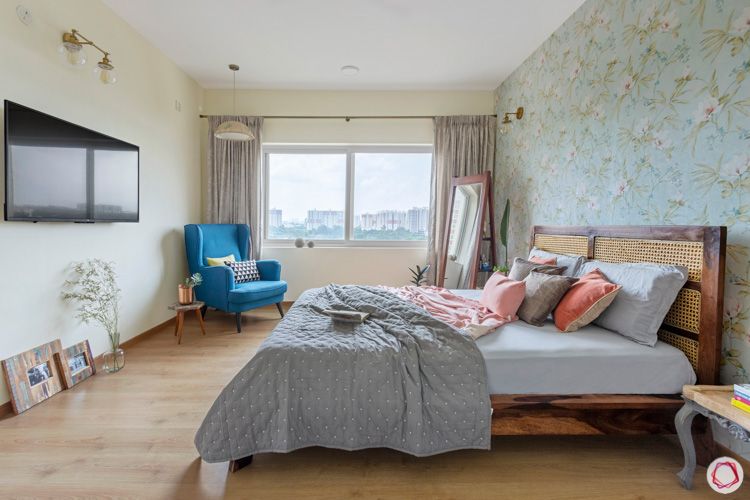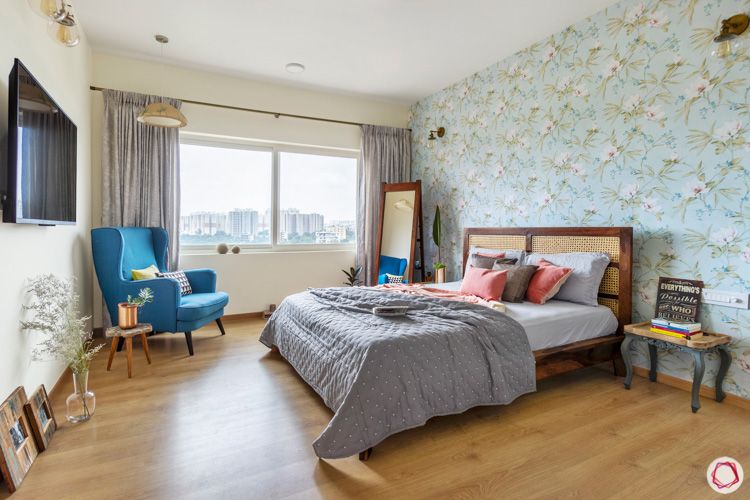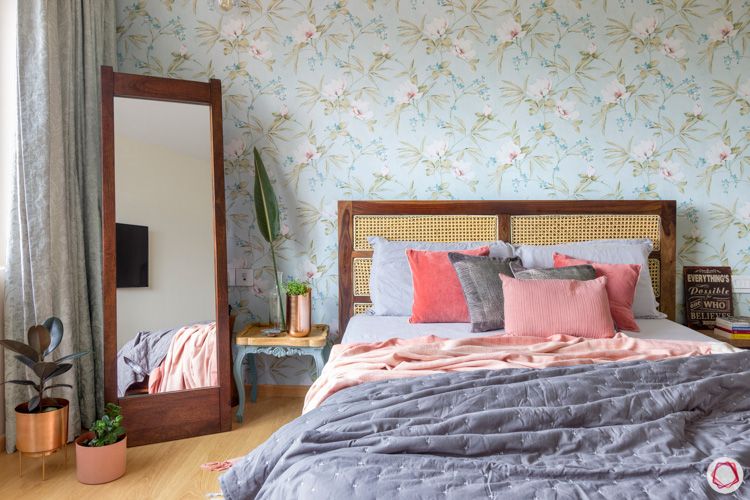 What's the ideal bedroom? Somewhere you can kick back, relax and go into your personal zone. Shereen's bedroom is all that and more! As the starting point, Pravar put in a lovely subtle floral wallpaper that brings in a spring-like experience to the room. Shereen then added a wooden bed with a matching full length standing mirror and tucked a vibrant blue armchair in the corner.
Sun-kissed Bedroom at Shriram Chirping Woods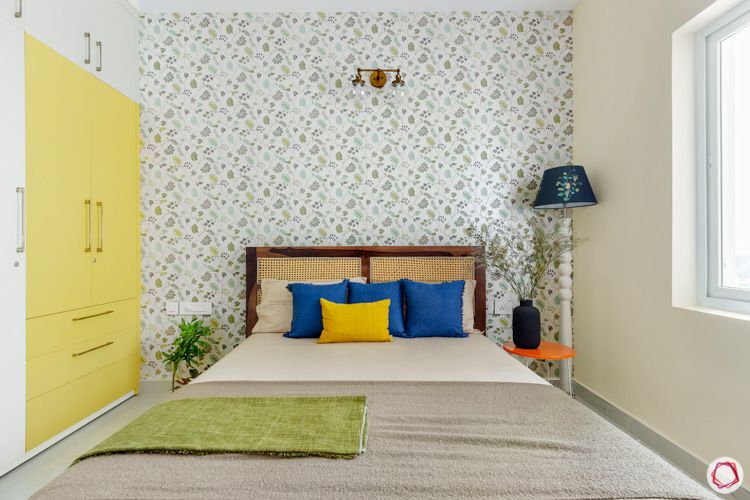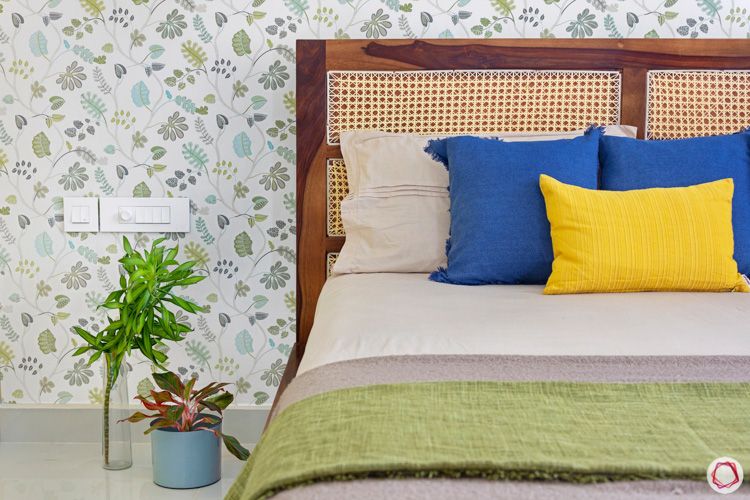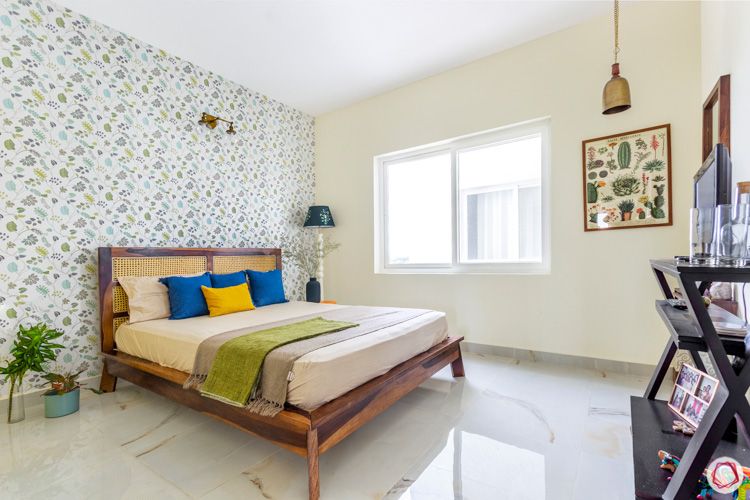 The breezy vibe of the house flows into Shereen's parents' bedroom as well. A dainty floral wallpaper is the focal point of the room. It plays match with the rest of Shereen's light-toned interiors. As a break in the monotony, Pravar put in a pop of happy yellow for the membrane wardrobe beside the bed. 
Walk-in Wardrobe at Shriram Chirping Woods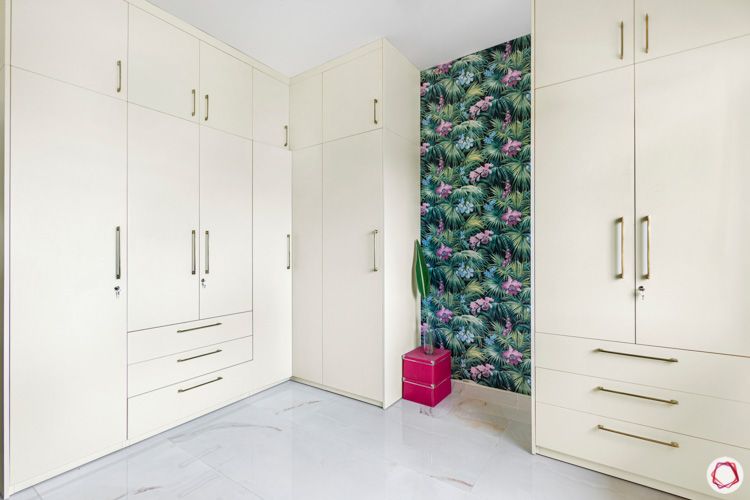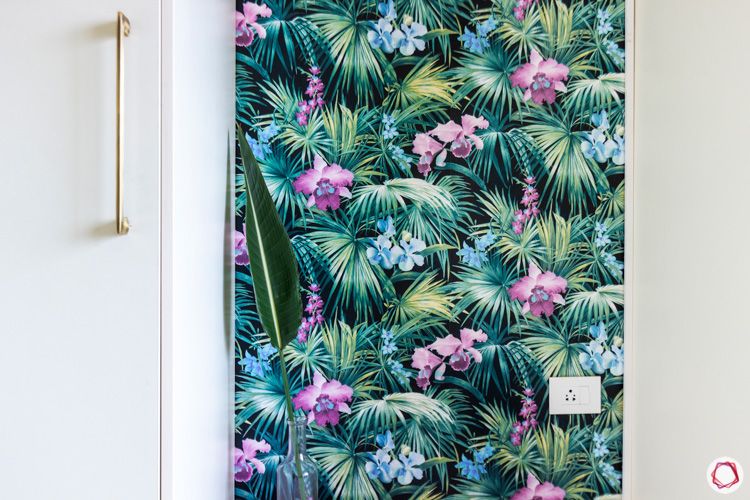 For most of us, a walk-in wardrobe is a dream home essential. Since Shereen wanted only two full-fledged bedrooms out of her 3BHK, Pravar turned the third bedroom into a walk-in wardrobe. This way Shereen could dedicate her bedroom to only relaxing while the third room works as her heavy-duty storage requirements (in style, of course!).
The membrane-finished floor-to-ceiling wardrobes tower the room almost delicately in a pristine white colour. Moreover, the gold-toned bar handles is a befitting addition. Notice how it's been designed with lofts on top and drawers at the bottom for efficient organisation. We are also crushing on the pop of nature-inspired wallpaper between the wardrobes for a picture-perfect look.
"It was great designing Shereen's home. Since our design sensibilities matched, it was even more fun getting all the things together. I'm glad how the end result turned out."

– Pravar Chaudhary, Interior Designer, Livspace

Also, if you liked these dream home interiors, take a look at 3BHK Gets Cosy & Modern Interiors
Check out this gorgeous 3BHK home:
Send in your comments & suggestions.