From food to crockery to appliances, the kitchen accommodates a lot of things. So when the question, of how much storage is needed in a kitchen is posed, the unanimous response will always be 'as much as possible'. Hyderabad-based homeowner Salman and his family's instructions to the Livspace team when renovating their 72 sq. ft. kitchen was along the same lines. In fact, they wanted a spacious, storage-efficient and simple kitchen design for small house. Guess what, they got it, and that too under ₹3 lakh!
Headed by designer Nikita Patel, the renovation project was completed without any hiccups during the pandemic. Moreover, the clients couldn't be happier about getting a complete modular simple kitchen design with high storage capacity and within their budget.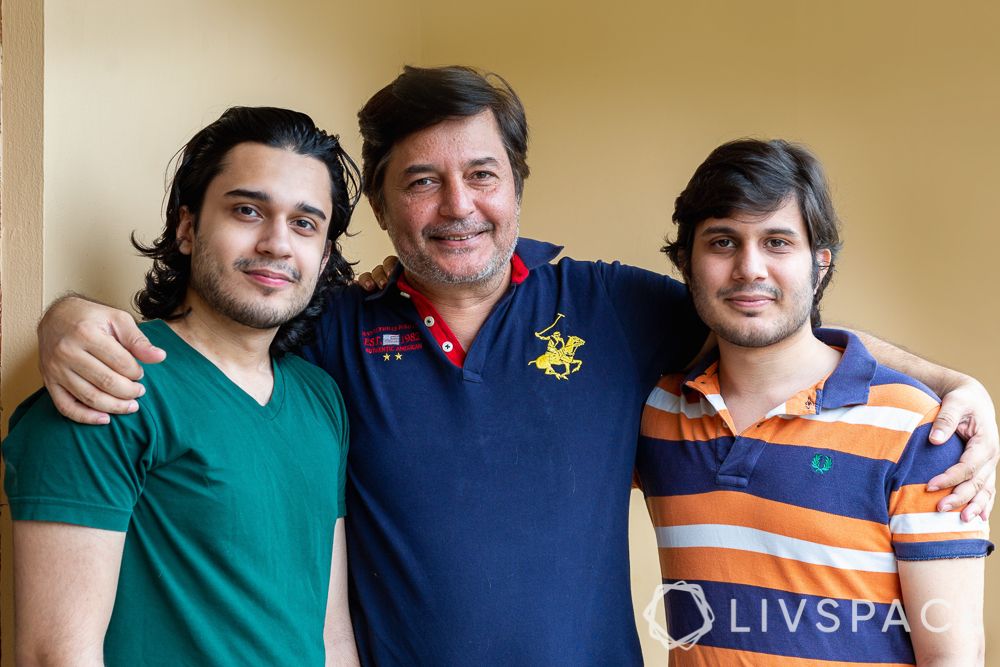 "Working with Livspace was a smooth experience. Nikita and her team are excellent professionals. They guided us throughout the renovation project. We are extremely happy with how our kitchen turned out."

Salman, Livspace Homeowner
Scroll down to get tips on achieving a pretty and practical kitchen.
---
Who livs here: Salman, his wife Zainab and two children
Location: Hyderabad
Size of kitchen: 72 sq. ft.
Designer: Nikita Patel
Livspace service: Full kitchen renovation
Budget: ₹₹₹₹₹
---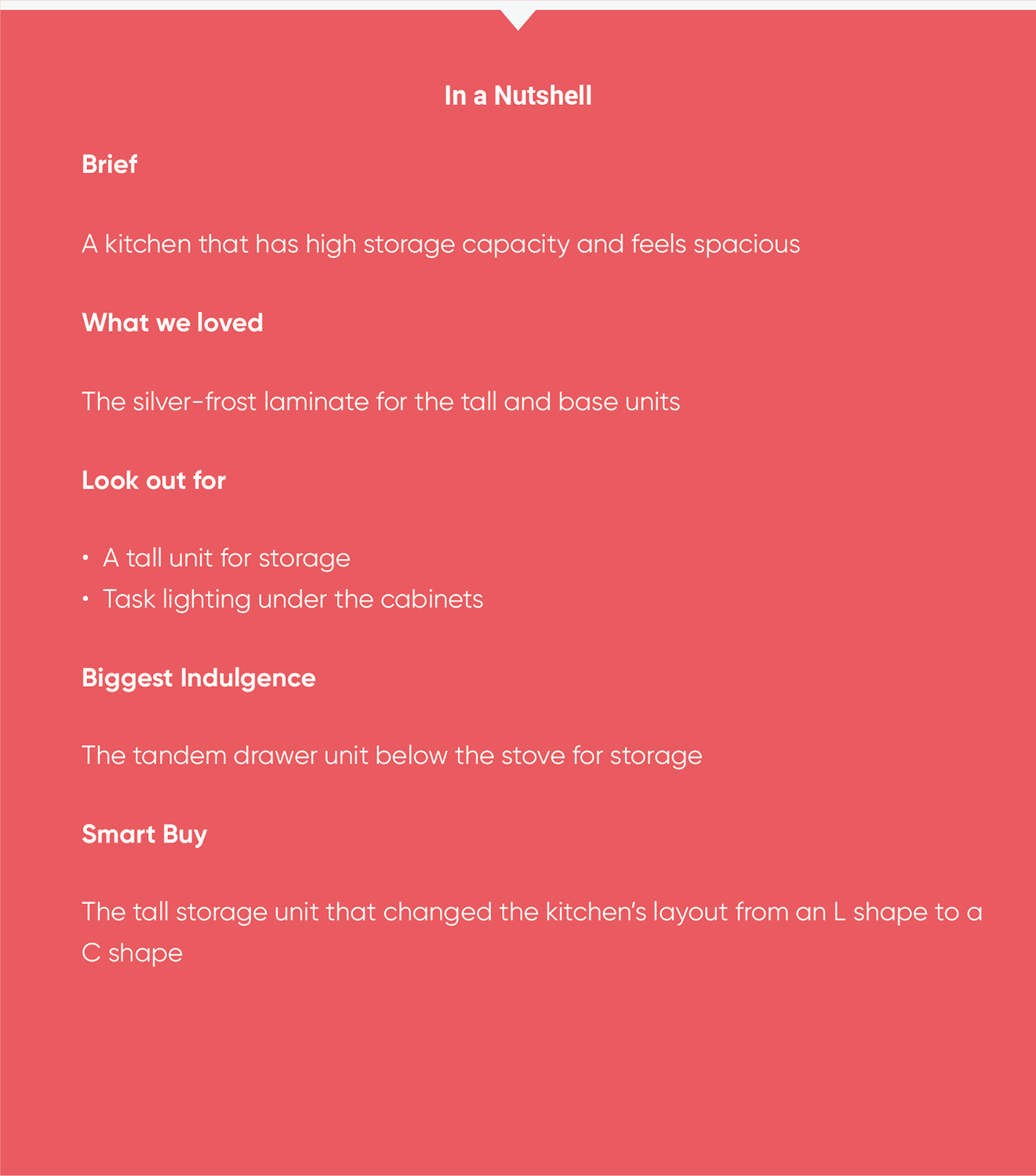 The Different Kinds of Storage Units in This Kitchen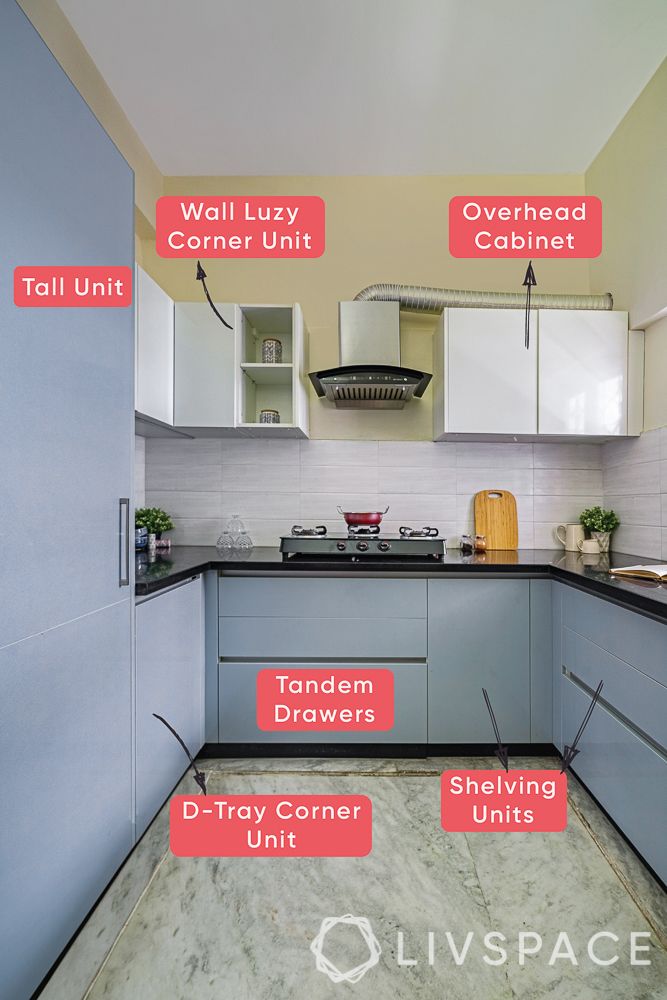 How to Add More Storage in the Kitchen and not Exceed the Budget?
#1: Consider a Simple Layout Change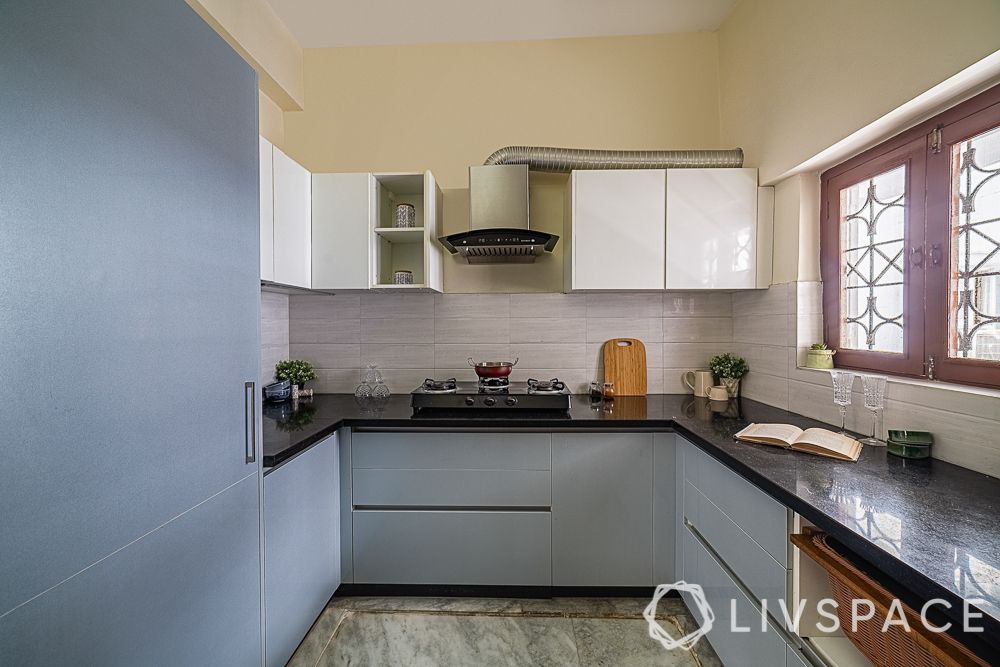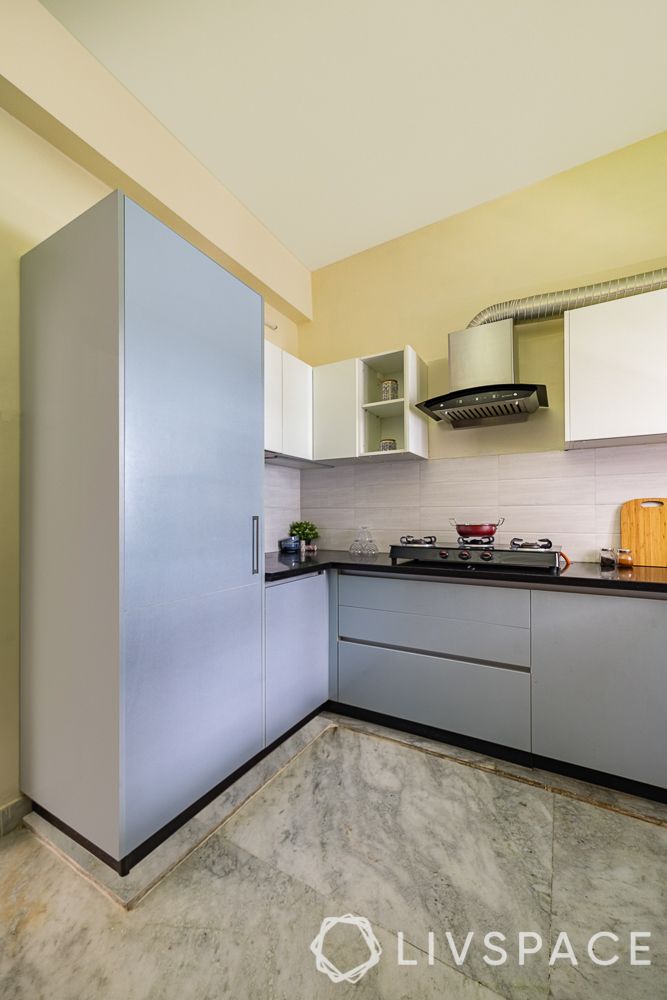 The small simple kitchen design previously followed an L-shaped layout. But, Salman's wife Zainab was keen on having a tall unit in the kitchen for maximum storage space. Hence, Nikita suggested a simple layout change in this simple kitchen design for small house. With the addition of the tall unit, the simple and small kitchen design went from an L shape to a C shape. This change has also allowed for extra counter space and base cabinets.
#2: Go for a Completely Modular Simple Small Kitchen Design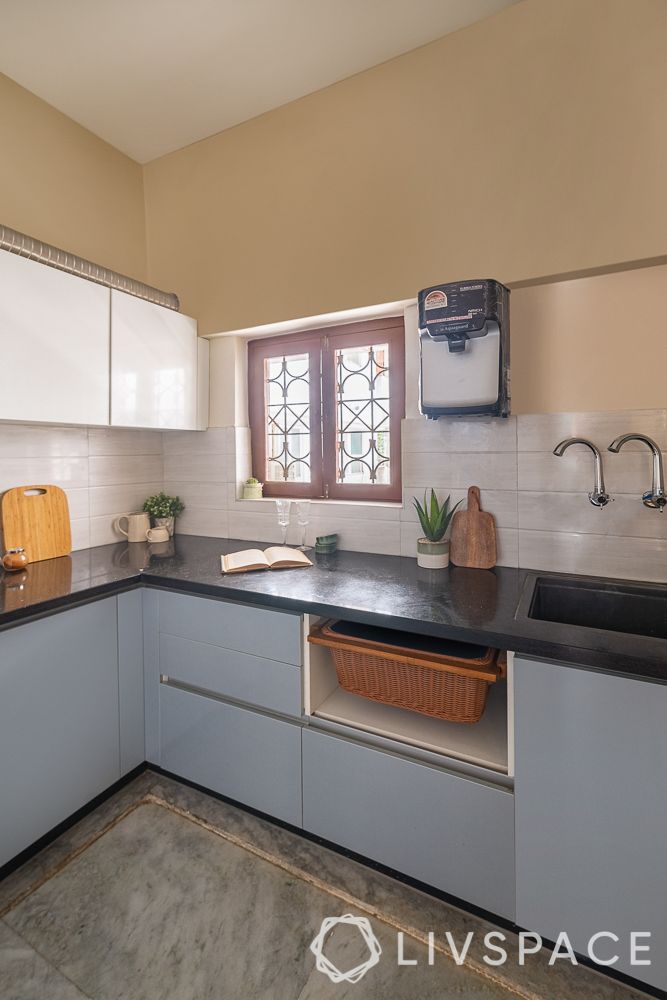 If you are looking for small kitchen ideas on a budget, a modular kitchen is the best option for you. Picked from the Livspace catalogue, this modular simple small kitchen design perfectly suits the family's requirements. The storage units and accessories, such as the tandem drawers, D-tray corner unit, wicker basket, etc., came with the model. So, there was no need to opt for any additional accessories or storage units in this simple kitchen design for small house. This avoided the extra cost of buying add-ons.
#3:Choose Pocket-Friendly Materials and Finishes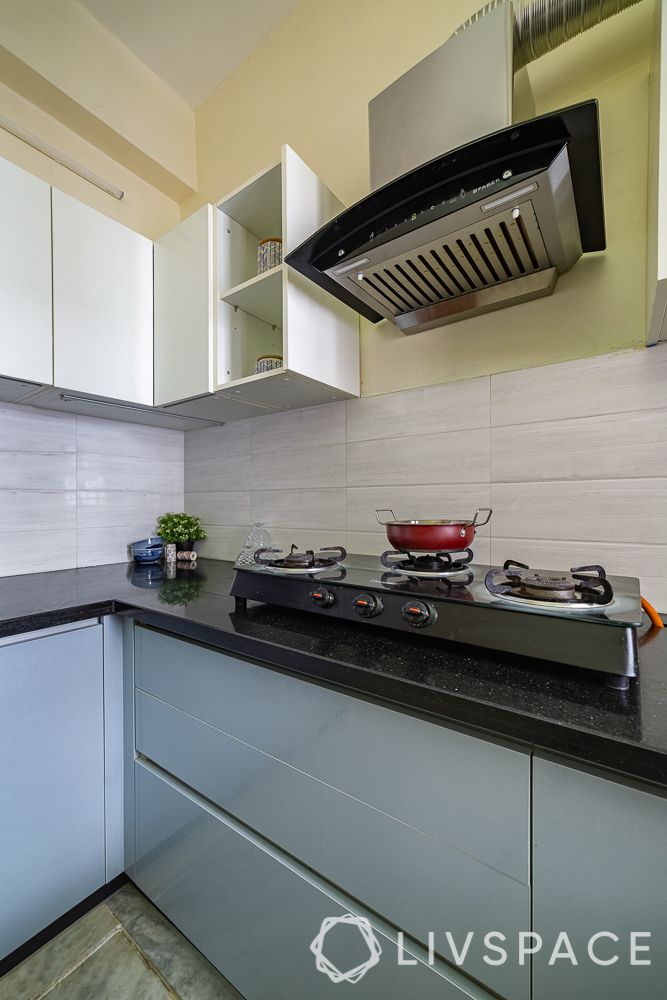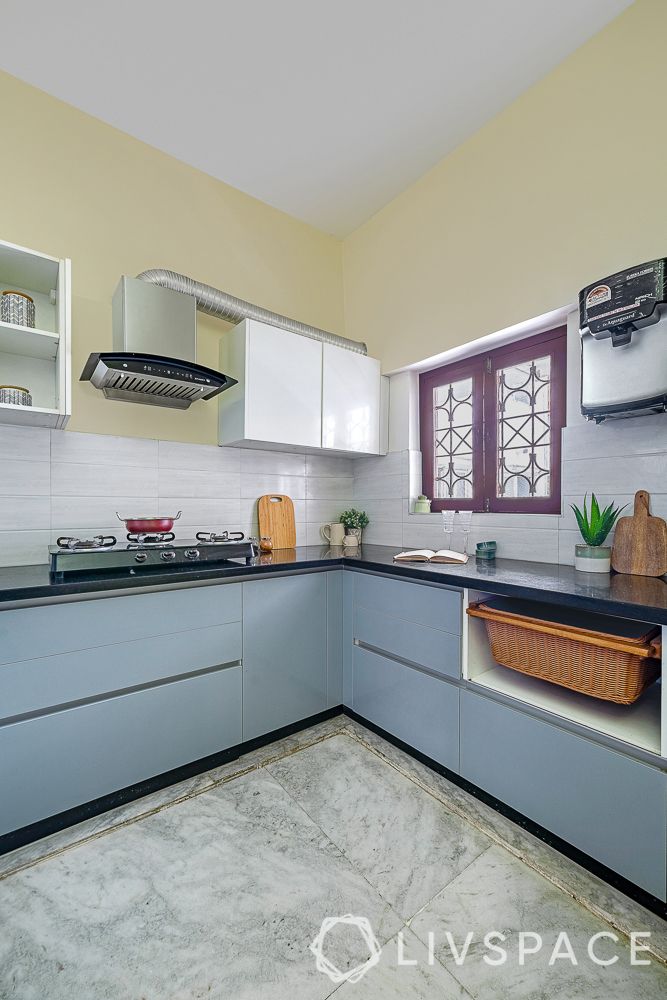 The entire small house kitchen design simple layout is made of MDF or medium-density fibreboard, one of the most economical materials in the market. Yes, we know what you are thinking. MDF is not moisture-resistant, so how can it be used in a place like a kitchen? Consequently, this is where the role of finishes comes in. This compact house kitchen design simple layout is finished end to end with a high-gloss laminate, making the MDF immune to moisture.
Have more questions about MDF? This article might help in clearing your doubts: What is MDF? Should We Use it at Home?
The laminate finish in this simple kitchen design for small house is not only durable but also pocket-friendly and offers a lot of variety. If you take a look at the colours in this simple kitchen design then you will see how elegant it looks. The silver frost (base units) and frosty white (overhead units) exude a clean and polished look, don't they?
Nikita chose the design, materials and finishes with the family in a single meeting.
"Due to the pandemic, we could have only one in-person meeting. It was sufficient to decide everything as Salman and his family were easy-going. They made the project smooth and enjoyable."

Nikita Patel, Livspace Designer
For more kitchen design ideas, check out:
How can Livspace help you?
We hope you liked our simple kitchen design for a small house. If you want such beautiful designs too, then Livspace is at your service. Book a consultation with our expert designers and get quality and safe interiors.
To know more about modular kitchens, read What is a Modular Kitchen & How Much Does it Cost?
Wondering how our customers feel about working with Livspace? You can check out the Livspace kitchen reviews here!
Let us know your comments and suggestions at editor@livspace.com.