If you think it is impossible to get a kitchen that is fully equipped, stunning and practical at a reasonable cost, we are here to change your mind. Take a tour of home chef and baker Anu Khanna's kitchen and be wowed (just as we were). Major changes have been made to this small kitchen interior and that too under ₹2 lakh.
On a tight budget, Anu wanted her 50 sq. ft. kitchen to be functional, given that she uses it a lot, and pretty too, as she shares her cooking experiments on social media. Designer Sakshi Srivastava admits that this project was a bit challenging considering the small area of the kitchen, but she met all of her client's requirements and left Anu and her family satisfied with their new kitchen.
"I am extremely happy with my kitchen. It is designed the way I wanted it to be and was delivered on time. Being a home chef, I wanted a kitchen that's pretty and easy to work in. Sakshi was really helpful. I would call her at odd hours, and she never hesitated to answer our questions and help us with the design work. She was also understanding and never said no to our requirements."
Anu Khanna, Livspace Homeowner
Let's see how Sakshi and her team pulled this off.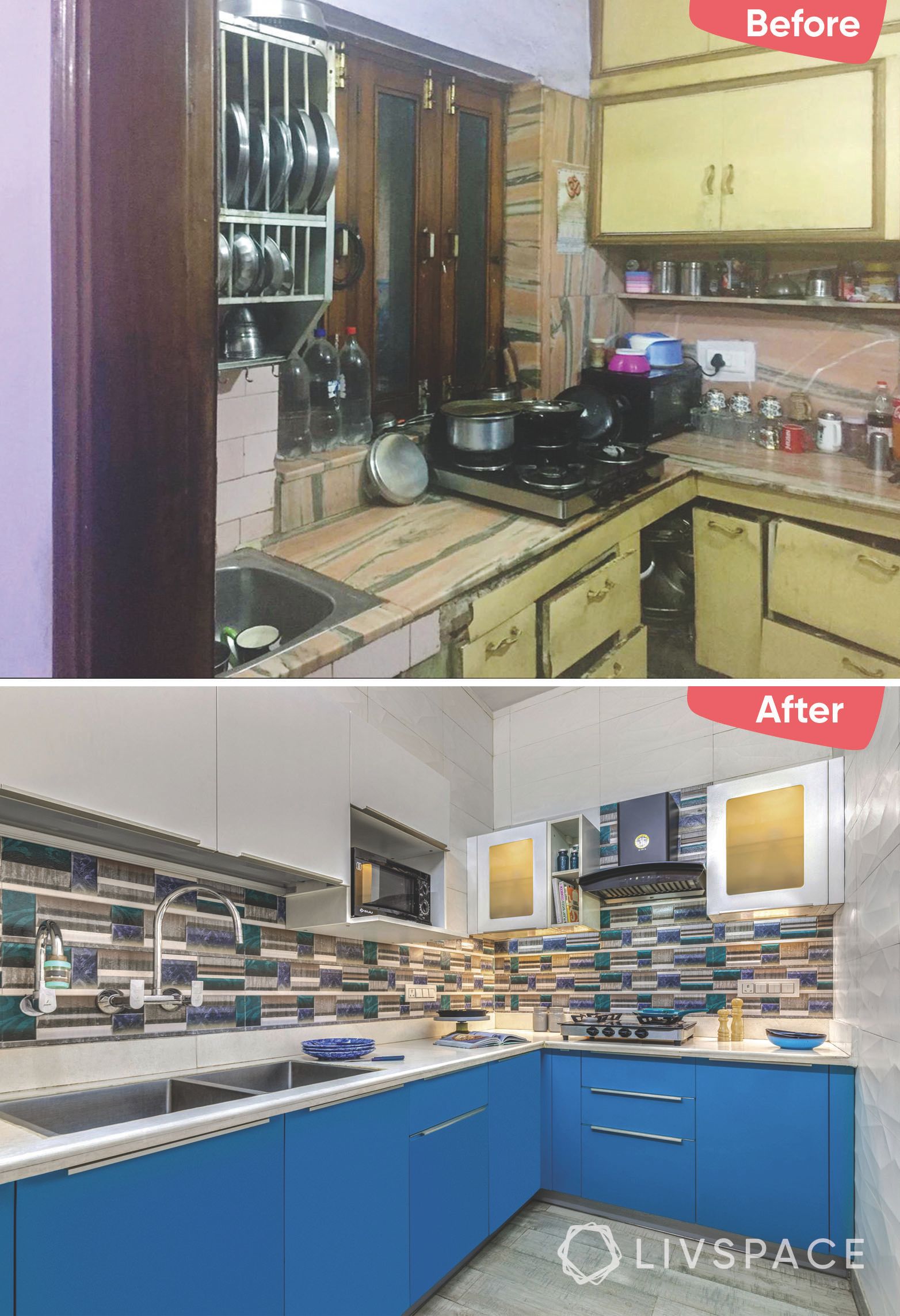 ---
Who livs here: Anu Khanna and family
Location: Delhi
Size of kitchen: 50 sq. ft.
Designer: Sakshi Srivastava
Livspace service: Full kitchen renovation and design consultation
Budget: ₹₹₹₹₹
---
A practical and pretty kitchen with a membrane finish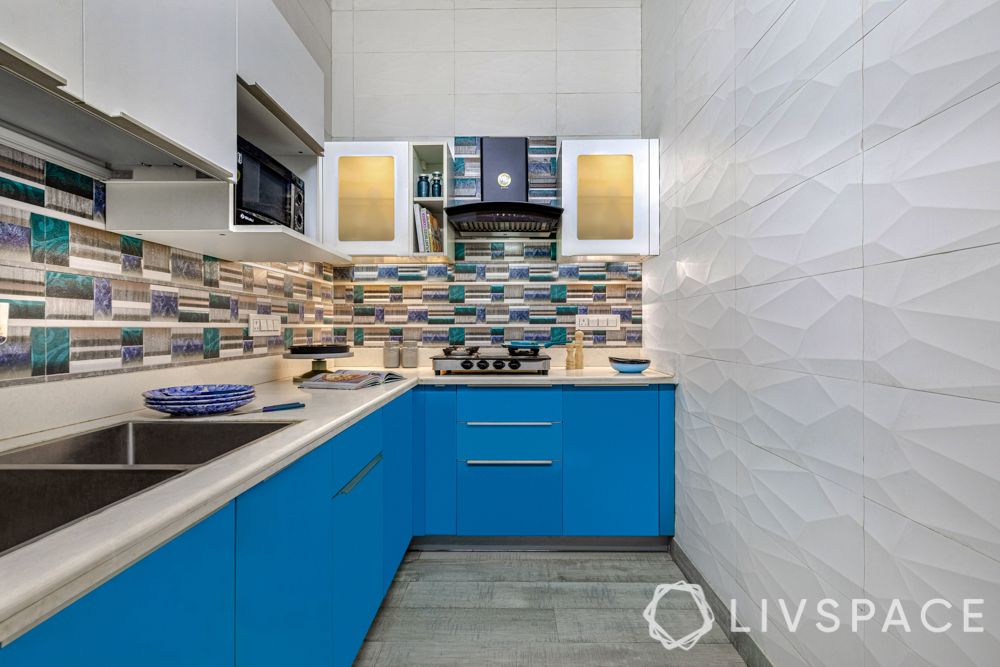 The Khannas had a wooden kitchen and didn't want to go that route again. So Sakshi gave it a modern look with solid-blue base cabinets, white overhead cabinets and a cream-coloured quartz countertop.
Initially, they had chosen aqua blue for their cabinets, but that was available only in PU finish, slightly falling on the expensive side. Sakshi then recommended a membrane finish, and to the Khannas' delight, found a close match to the aqua blue. The entire cabinetry in this kitchen has a high-gloss membrane finish and edge profile handles.
PRO Tip
Loaded with storage units and accessories, the kitchen makes space for everything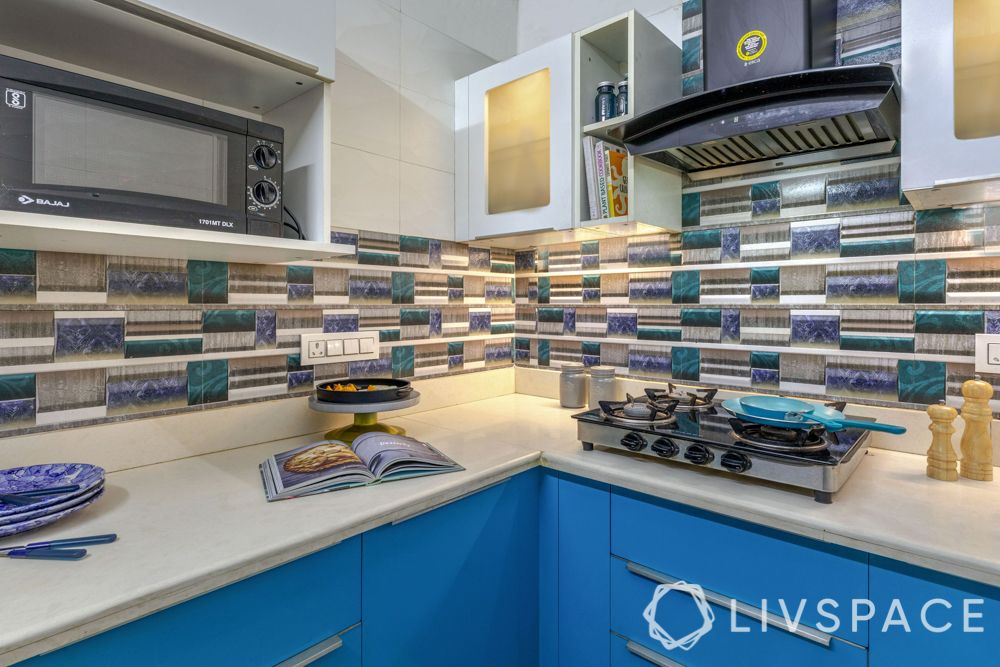 As you can tell from the before-and-after pictures, this L-shaped small kitchen interior has undergone some serious makeover. There used to be a big window in the place where the oven is now. Sakshi, who wanted the kitchen to have more storage units, suggested closing up the window. As a result, the Khannas now have extra storage spaces to go with the continuous striking design.
This change has also allowed the kitchen to have a dedicated space for everything. There are multiple overhead and base cabinets, and the kitchen is heavily accessorised with an S-carousel unit, drawers, baskets and bottle pull-out.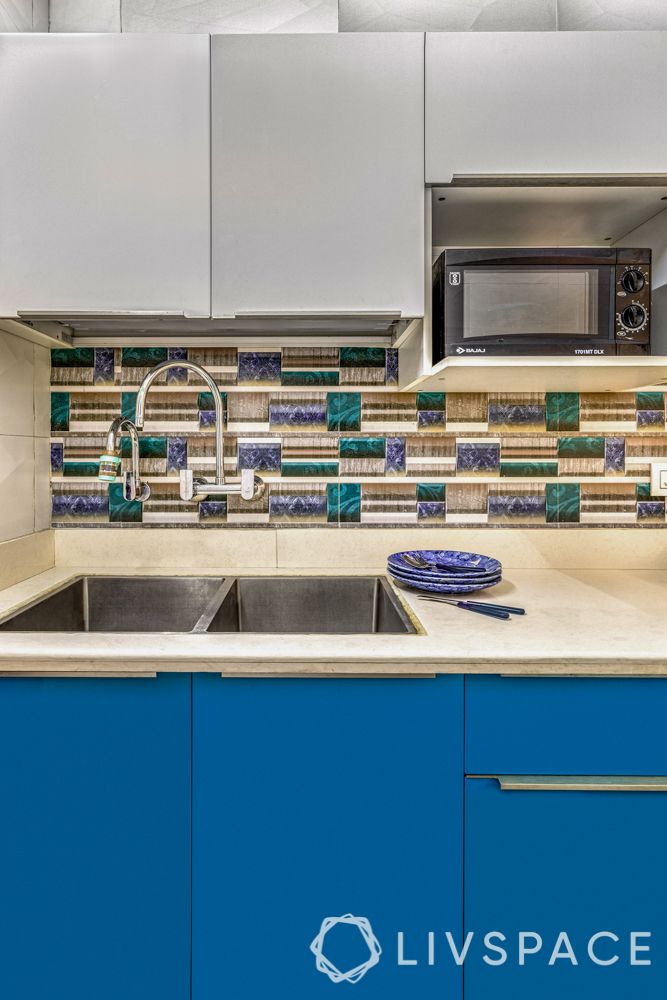 Another important cabinet in this kitchen is the oven unit. Sakshi was keen on installing this as the oven, if kept on the countertop, would have taken up a lot of space. The separate unit now installed is at eye level, easily accessible and saves space. This unit is also the only one with a lift-up shutter, while all the other units have normal hinge shutters.
The space above and under the sink is also not left out. While the overhead unit has a dish rack, the base units (with double shutters) are dustbin and detergent holders.
And it is Insta-worthy too!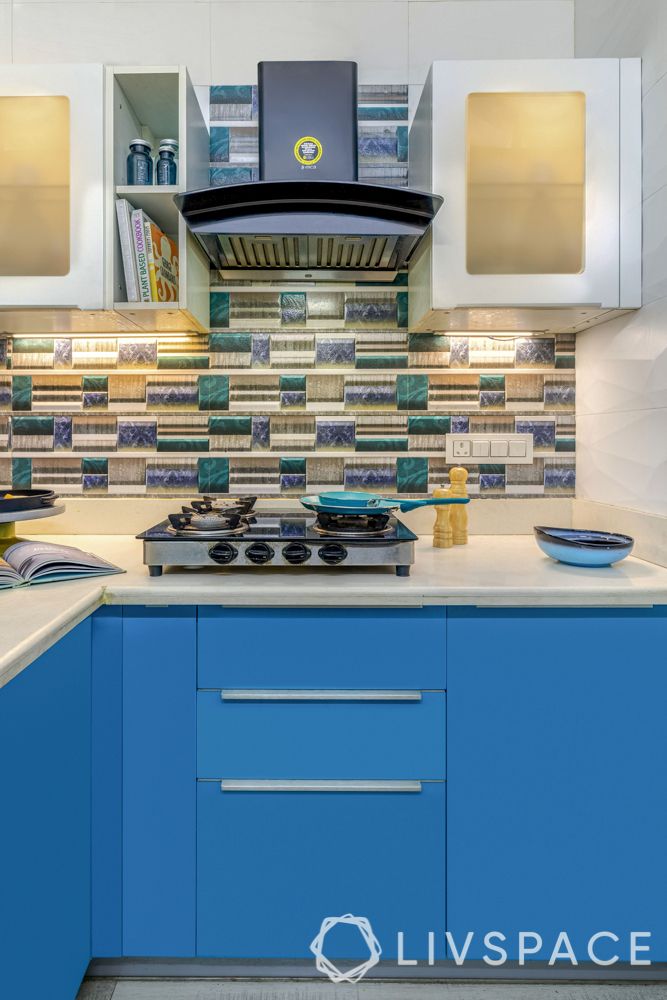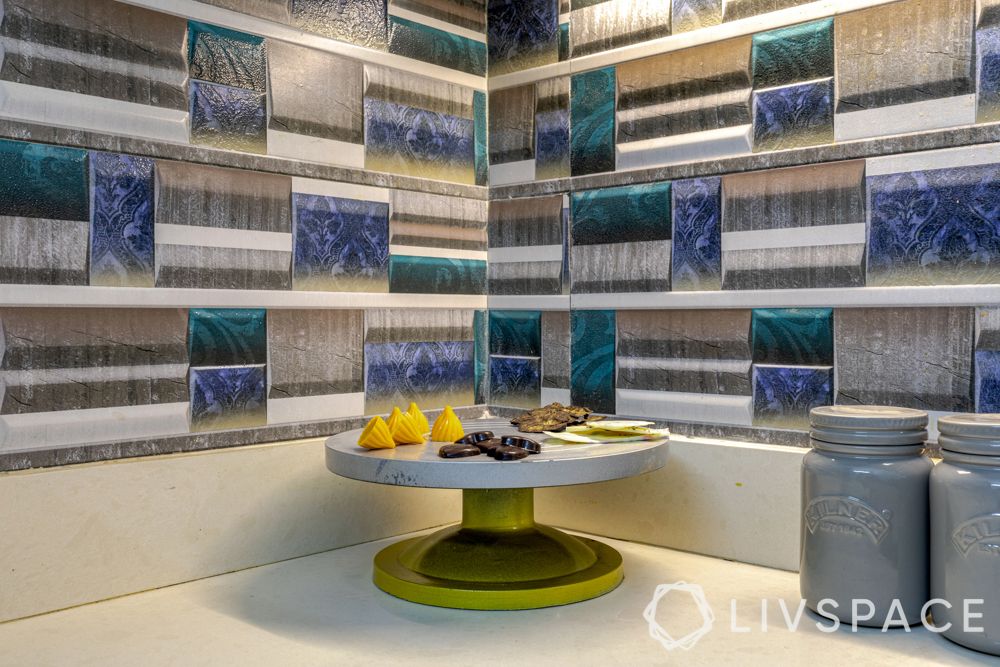 Anu, being a home chef and baker, blogs about her recipes and dishes actively on Instagram. So, naturally, she wanted her small kitchen interior to be a captivating backdrop. It is another reason why she and Sakshi chose a pop colour like blue. It makes the kitchen visually interesting. Also, in contrast to the blue cabinets, colourful ceramic tiles with hints of blue are used for the backsplash, thus enriching the aesthetic further.
PRO Tip

Though it was challenging, Sakshi enjoyed working on this small kitchen interior project.
"It was great working with the Khannas. We had a good rapport because they were open to my ideas and suggestions. Budget and area were the only concerns in this project but we managed to execute it pretty well."
Sakshi Srivastava, Interior Designer, Livspace
How Can Livspace Help You?
If you have been sufficiently impressed with the Khannas' kitchen and are looking to renovate your kitchen too, then book a consultation with Livspace. Specialising in small kitchen interior, we will deliver quality and safe interiors without any hassle. You can learn more about our COVID-19 safety standards here.
Want to know more about modular kitchen designs and cost? Here are some quick reads:
20+ L-Shaped Kitchens That Are Best For Indian Homes
What Affects Your Modular Kitchen Price?
We love hearing from you! Write to us with your comments and suggestions at editor@livspace.com