A space crunch coming in the way of your dream kitchen? We give you a reason to smile with 6 practical ideas to transform your small kitchen into an efficient cooking haven.
With rising real estate prices and shrinking spaces, a small kitchen is a common issue for many homes. However, the right layout and some pre-planning can make a world of a difference to your kitchen — no matter how cramped the space is.
Below we list down space-saving small kitchen design ideas can be easily implemented in compact houses, apartments and studios. They can also wonderfully work well with open kitchens.
Small kitchen design idea #1: Classic Straight Kitchen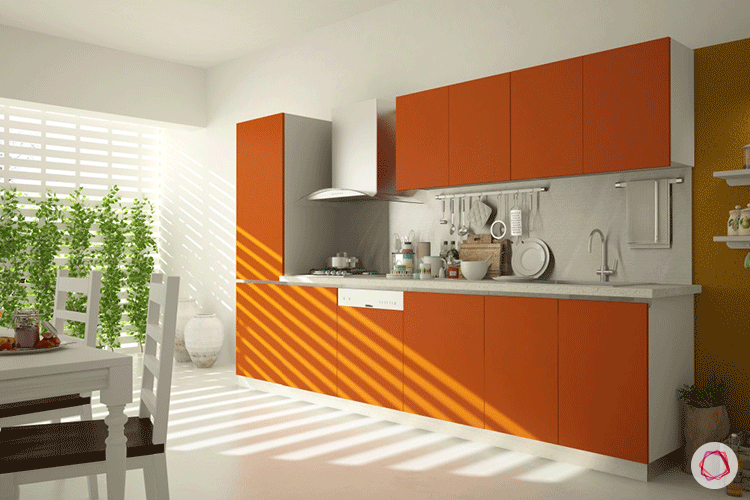 The most preferred layout for small kitchen design, the one-wall or straight kitchen is the simplest and most flexible of configurations. Workable for counter widths as narrow as 4 feet, the placement of stove, sink and worktop along one continuous surface is its winning feature. For the same reason, this layout lets multiple people cook at the same time.
Furthermore, a small kitchen space doesn't have to be dark and dingy. Bright pops of orange set against a pristine white bring an energetic vibe to this open kitchen. Light-colored counters and cabinets are a great idea with small kitchens as they tend to visually enlarge the space and make it look less cramped.
Small kitchen design idea #2: Parallel kitchen for open layouts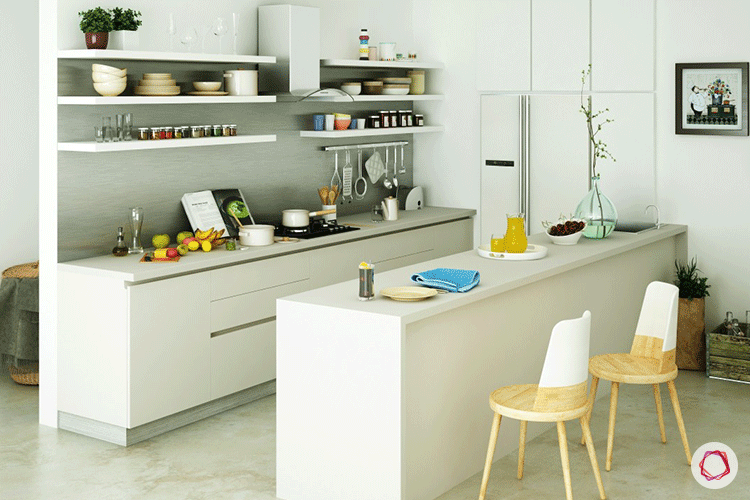 Who said your kitchen has to be closed off behind walls? This unique all-white galley style or parallel kitchen works to combine the kitchen and dining area, a great option for small homes. The layout lets you cook and entertain at the same time — perfect for those informal Sunday brunches.
Open shelves above the counter can be used to stack dishes,spices and cutlery, since closed cabinets can sometimes be oppressive in small spaces. A parallel counter holds the sink, with the refrigerator in the space between and doubles as a breakfast counter. Don't forget to notice the clever storage area at the back, a godsend for homes where a storage room is out of the question. In addition, you could also open up a galley kitchen on both sides to increase the amount of light entering the space.
Small kitchen design idea #3: Adapting the U-shaped kitchen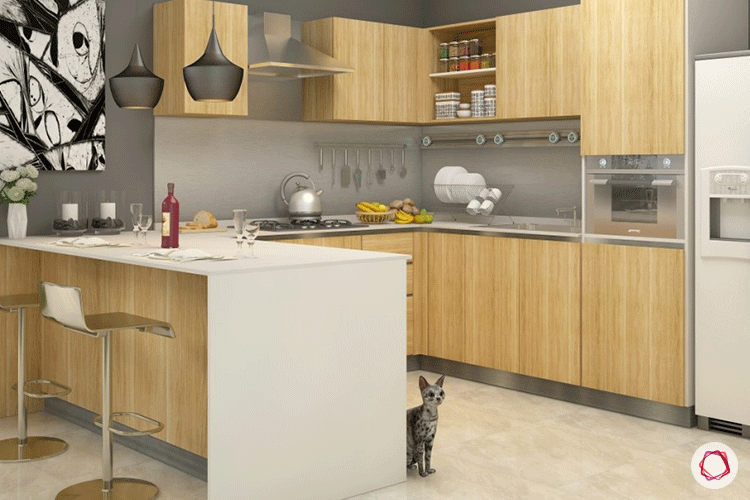 With planning, the open U-shaped layout can be adapted to become an efficient small kitchen design.This stylish kitchen accommodates overhead cabinets, pull-outs, built-in appliances and other essentials within a limited area.The hob,sink and oven are placed adjacent to each other for a highly efficient work triangle. Sleek, contemporary pendant lights and a pair of bar stools create a breakfast nook on the outer arm. Light oak and white finishes enhance the sense of space and also maximizes the available light onto the work surfaces.
Small kitchen design idea #4: Using corner space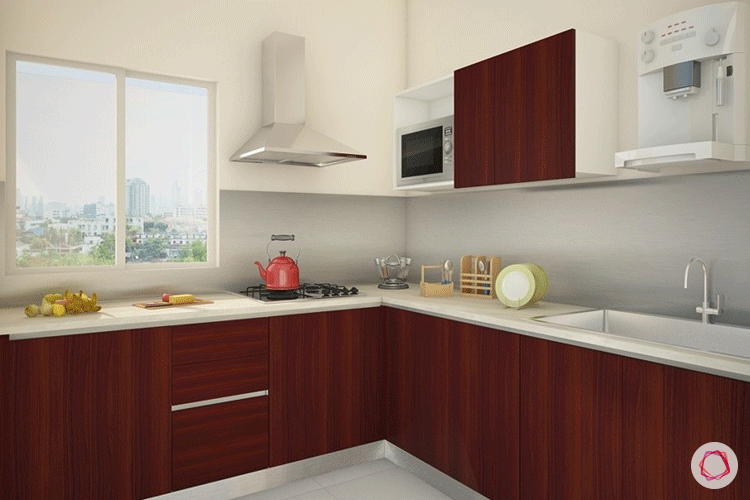 Efficient small kitchen design makes the best use of every inch of space available, including tricky corners. The L-shaped layout can be a good choice in this case. This sleek kitchen has two counters placed adjacent to each other, with an array of built-in storage units.
Since the counters are stacked against the wall, there is enough circulation space for the cook to move around and work comfortably. Wall shelves are limited to one side, allowing unobstructed natural lighting from the window.
Small kitchen design idea #5: A kitchen full of warmth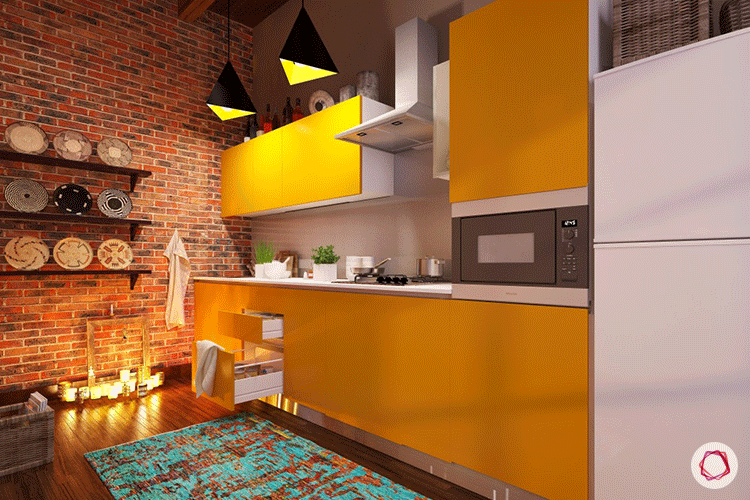 A small open kitchen space is great opportunity to create a warm, cozy nook for cooking. A soft play of yellow light and a beautiful exposed brick wall bring a homely warmth to this compact straight kitchen. Overhead cabinets work well in this case, with pull-out storage below the counter for utensils and cutlery. Wall-mounted shelves on the parallel wall work as practical and pleasing display rack for crockery. An easy to clean carpet adds more warmth to the space, bringing the magical feel of traditional countryside homes to this contemporary kitchen.
Small kitchen design idea#6: Say yes to glass doors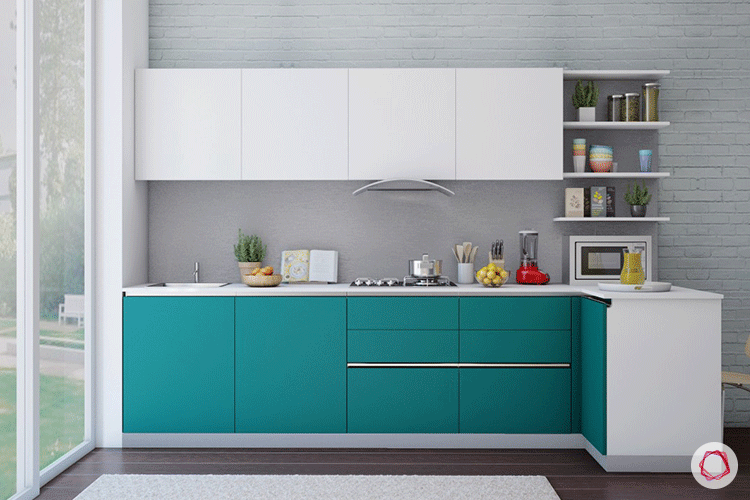 Set up your small kitchen against full-length glass doors or french windows to make the best possible use of natural light. This bright and airy contemporary kitchen uses a compact L-shaped layout. The primary cooking area with the hob and sink is lined up against one wall. A short perpendicular arm provides additional counter space and works as an informal eat-in table. The combination of open shelves, closed cabinets and pull-outs gives you an array of storage options for all your needs.
While designing your small kitchen, plan a layout that makes the best use of the space available. Smart positioning and the right color scheme can transform the tiniest of spaces into a dream kitchen that you'll love to cook in.