According to various studies, homeowners spend around 2.5 to 3 hours in the kitchen and it is one of the most frequented rooms at home. Kitchen drawers, pull-outs, doors and cabinets are each opened approximately 8 times a day. The refrigerator alone is opened 30 times. Often thought to be the cleanest, it tends to be the most germ-ridden space in a home. When it comes to injury-prone areas, it bags the second spot, right after bathrooms. And that's why it is very important to have well-designed modular kitchens.
This guide — filled with the knowledge our experts have gathered after designing 15,000+ Indian kitchens — will take you through the entire journey of how a kitchen is planned. From layouts to the various components of modular kitchens, we have covered everything you need to know to truly understand kitchen design.
Understanding kitchen layouts
Like all workspaces, modular kitchens require an optimum layout to help you complete your chores easily. This makes kitchen layouts your starting point and the prime factor influencing the efficiency of your kitchen. Let us show you some common layouts that can be spotted in Indian homes and how each of them can be made more functional.
#1: Straight line modular kitchens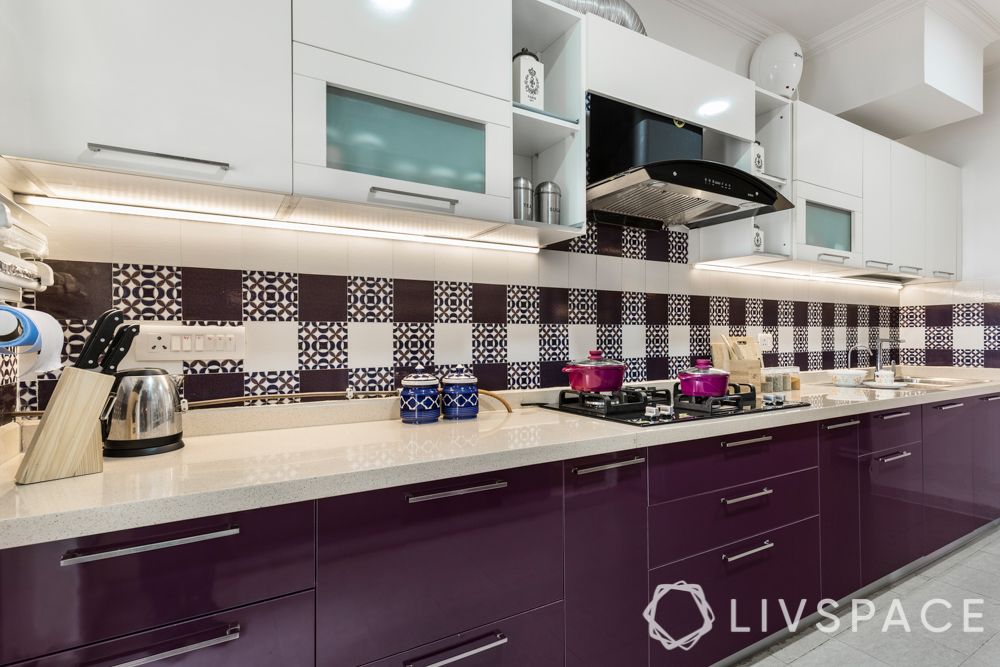 Also known as one-wall kitchens, straight line modular kitchens are perfect for compact spaces. As the name suggests, it occupies only one wall and consists of a linear counter with wall and base cabinets.
Ideal for: Small, nuclear families with limited requirements.
Expert recommendation: We recommend not having a counter length of over 10-12 feet as it might make moving around a bit tiresome.
Pros:
Everything lies within easy reach
Maximises floor area for traffic and movement, especially if you have limited space
Since this layout can accommodate limited counter space and cabinetry, it tends to be budget-friendly
This versatile layout can be changed by adding a table or an island in front
Cons:
Does not offer space for multiple cooks
If not well designed, could impede movement within the kitchen
Less storage space as compared to other layouts
#2: L-shaped modular kitchens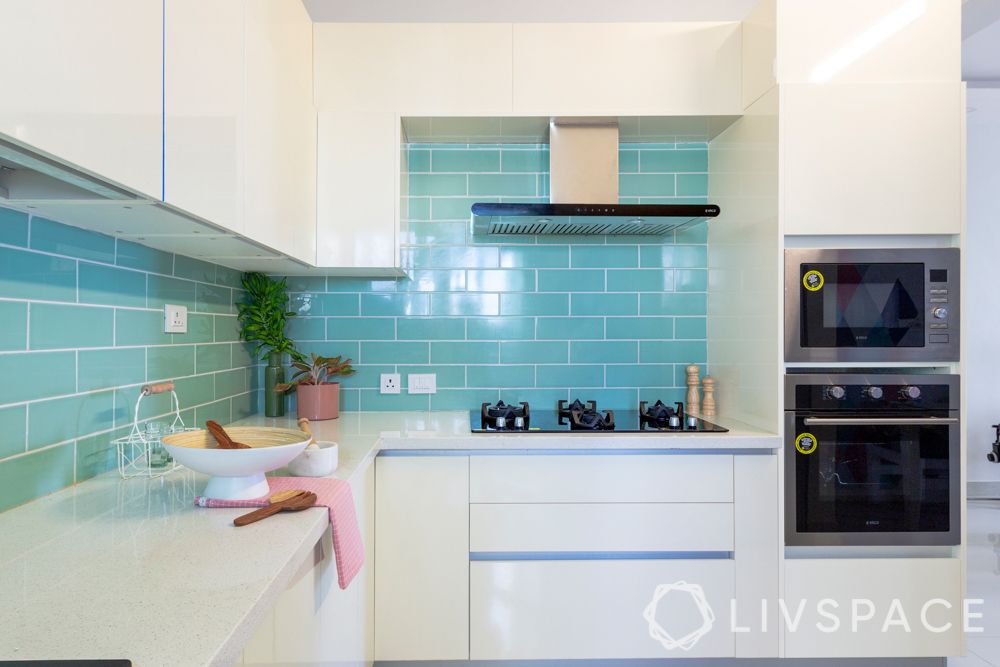 The most common kitchen layout—L-shaped modular kitchens win hands down when it comes to functionality and storage. So if you're someone who believes in "a place for everything and everything in its place", then this layout is just the one for you.
Ideal for: One or two people cooking at a time.
Expert recommendation: Consider installing some lights under the top cabinets so that no part of the kitchen turns into a dark zone.
Pros:
Ideal layout for homes with an open floor plan
The golden triangle works best in this layout
Great for corner kitchens
Provides versatile spaces for positioning the kitchen zones
Cons:
Not ideal for a very large kitchen since it can make navigation difficult and time-consuming
More counter space means more maintenance
#3: U-shaped modular kitchens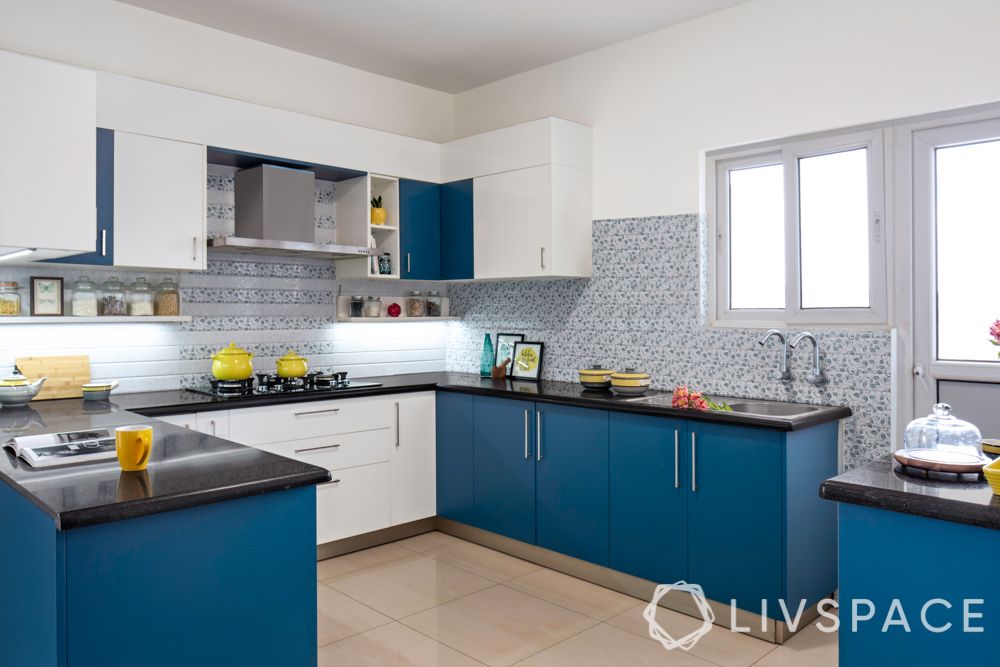 Also called the horseshoe kitchen, the countertop, overhead and base cabinets run along three adjacent walls. Planned well, this layout will ensure that you don't have to walk around a lot between cabinets and appliances. Here's How to Make Your U-shaped Kitchen Work for You?
Ideal for: Big families with two or three people cooking at the same time.
Expert recommendation: Don't waste the corner space with ordinary shelves. Get it fitted with innovative modular accessories like the blind-corner unit.
Pros:
Offers ample work and storage space
Easy movement since everything can be placed at equal distances
Ideal for multiple cooks
Possible to add an extra counter in spacious kitchens
Cons:
Not suitable for small kitchens
Can turn out to be expensive since you will need a lot of cabinetry
Runs the risk of looking bulky if not planned well
Sometimes, base corners might be difficult to use
#4: Parallel modular kitchens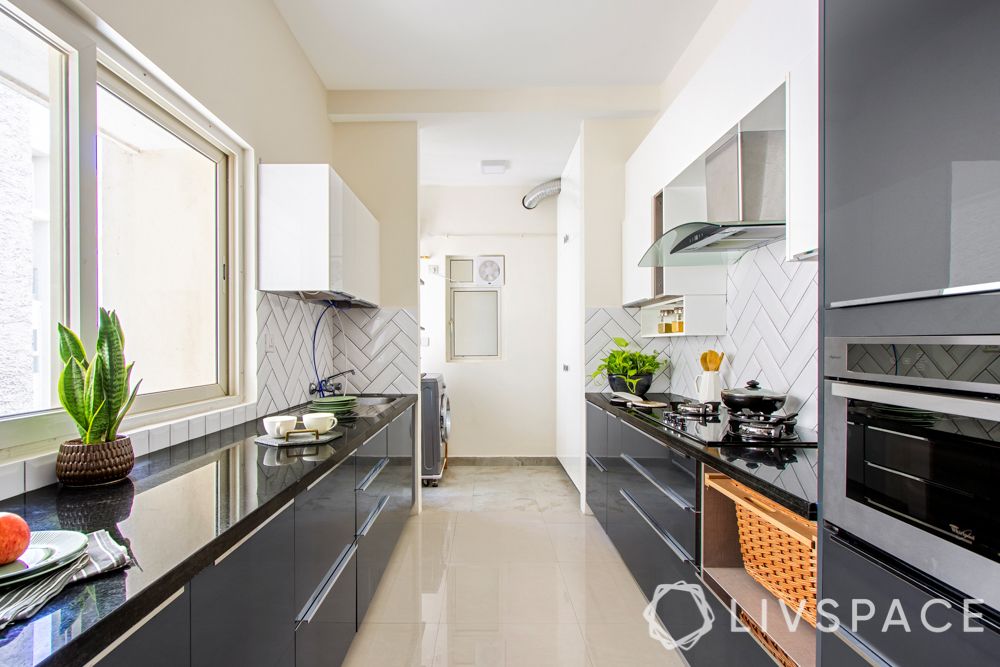 Have you ever walked into a kitchen and wondered how amazing it would be to have endless counter space on either side? This can be made possible with the parallel layout. Also called galley modular kitchens, it gives you a lot of counter space and creates efficient storage options, without making you deal with hard-to-reach corners.
Ideal for: Medium to big families with two or three cooks.
Expert recommendation: For the golden triangle to work well, place the cooktop and sink on opposite counters.
Pros:
A highly efficient layout, it reduces the movement involved for each task
Offers plenty of storage area given the number of cabinets you can install
Cost-effective
A great layout if you have a door or window on one end
Cons:
Can get crowded if the space in the middle is less
No space or option to add corner units
#5: Island modular kitchens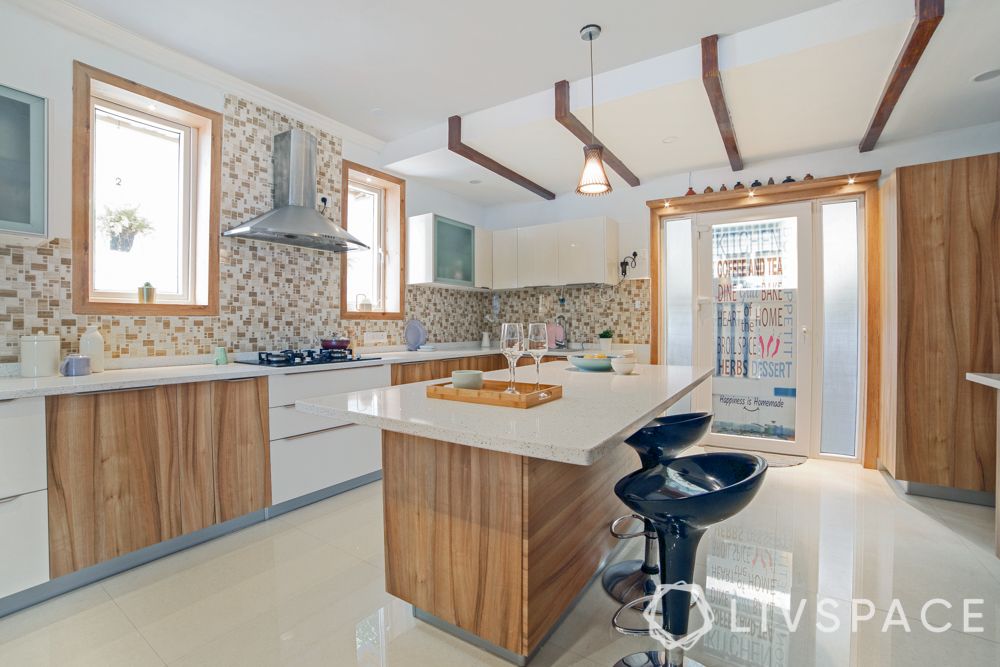 An island is a block that works as an additional countertop and is placed typically in the centre of your kitchen. It creates additional storage space and doubles up as a place to eat. The island can turn a straight line kitchen into a galley-style layout, and an L-shaped kitchen into a U-shaped one.
Ideal for: Couples with kids, since the island can double up as a mini dining area within the kitchen.
Expert recommendation: Ensure that you have adequate space for placing an island—at least 5 ft between the two counters.
Pros:
Generates extra storage and prep space
Creates an alternate space for the sink or hob
Gives an option to add seating in the kitchen
A great opportunity to create a focal point in the kitchen
Cons:
Can disrupt the golden triangle
Can be dead space if not utilised well
Installing an island will add to your kitchen renovation cost
Can make your kitchen look heavy if the chosen colour palette is on the darker side
Check out more here: Pros & Cons of Having a Kitchen Island.
#6: Peninsula modular kitchens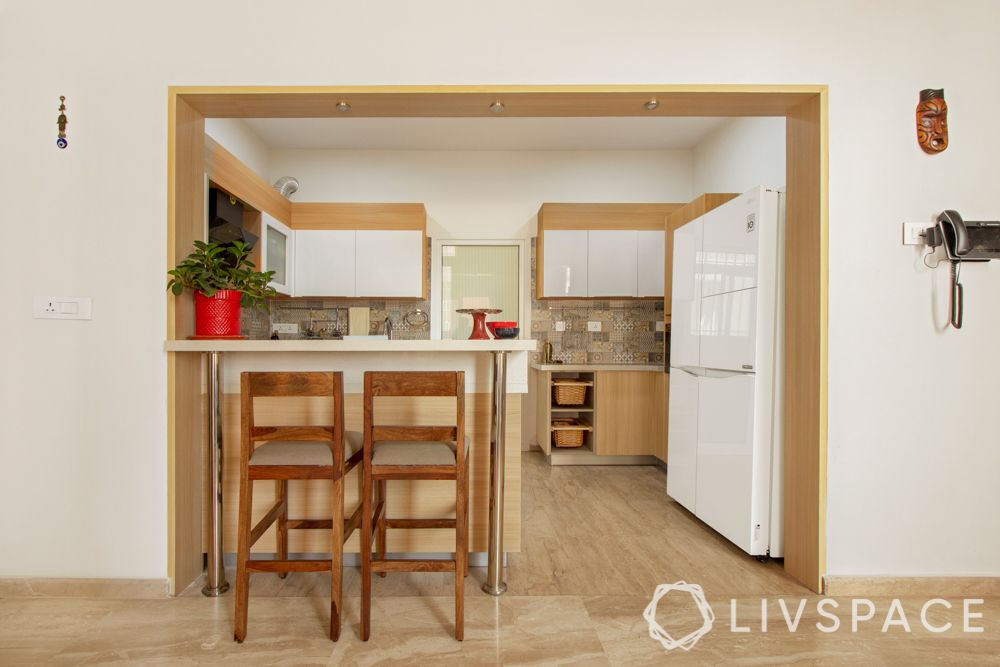 Confused about all the island and peninsula talk? Don't worry, this is not a lesson in geography! A peninsula is nothing but an island that is attached to the wall; which means that it is not a standalone block. Just like islands, peninsulas or G-shaped kitchens (as they also go by) give you extra counter space while creating a seating area, too.
Ideal for: Families that host regular social gatherings.
Expert recommendation: You can turn the peninsula into a breakfast counter or a home bar.
Pros:
Creates additional space
Useful addition to a narrow kitchen
Can act as a room divider and define spaces
Cons:
Can create blockages in the flow of foot traffic
Since it juts out of a wall, it can restrict access to corner storage
Does not work well for a small kitchen
Here are 25+ Kitchen Designs That Will Inspire You (With Amazing Pictures)
What is the most efficient way to design a kitchen? Say hello to the Golden triangle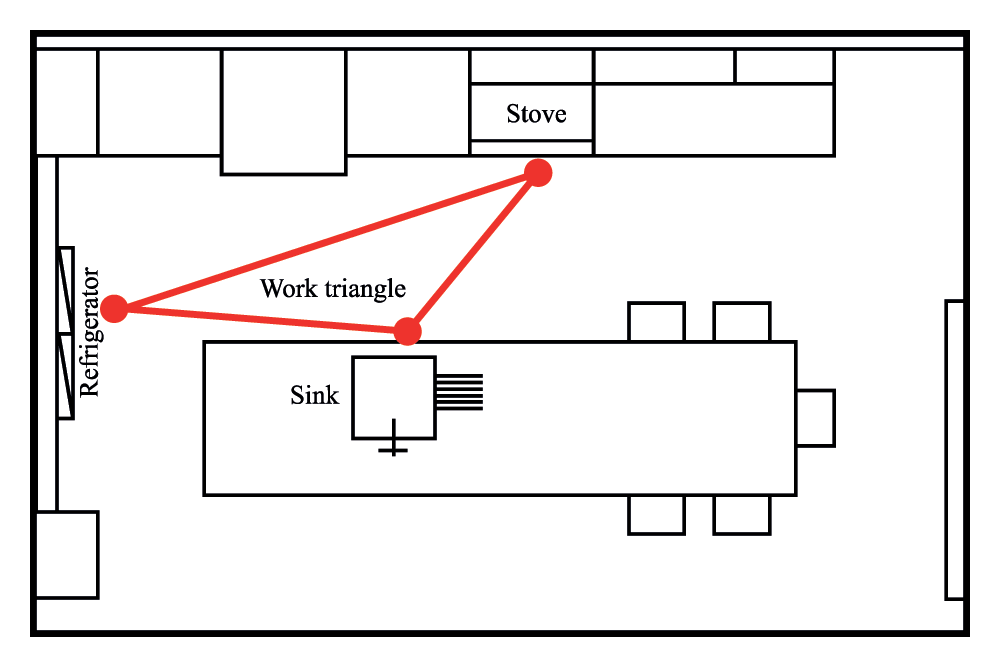 So, what is the golden triangle? Delhi, Agra and Jaipur? Yes, you're right. But we're talking about the work triangle in your modular kitchens which is also called "the golden triangle". Developed in the early 20th century, this concept states that the three primary work areas of the kitchen—the cooktop, sink and the refrigerator—should form a triangle.
Why is it important?
The hob, sink and the refrigerator are the most frequently used areas in the kitchen. Placing them in a triangle allows you to freely move between these areas; there will be nothing to block your flow as you cook (on the stove), peel or chop (by the sink) and retrieve things (from the refrigerator). By ensuring that you don't have to walk too much, the golden triangle makes working in modular kitchens less tiresome.
How does it work?
Let's talk a little bit about mathematics here. So if you hate numbers, forgive us! We'll try to explain the basic considerations very simply.
The distance between any two of the three points of the triangle should ideally be between 4 ft and 9 ft
The total sum of the sides of the triangle should be between 12 ft and 26 ft
This allows enough space to work comfortably at each station—the hob, sink and the refrigerator—and move easily between them
Try to ensure that the triangle is not obstructed by counters, cabinets or islands
Keep entries and exits away from the triangle so that the area can be kept as free as possible
Deconstructing kitchen zones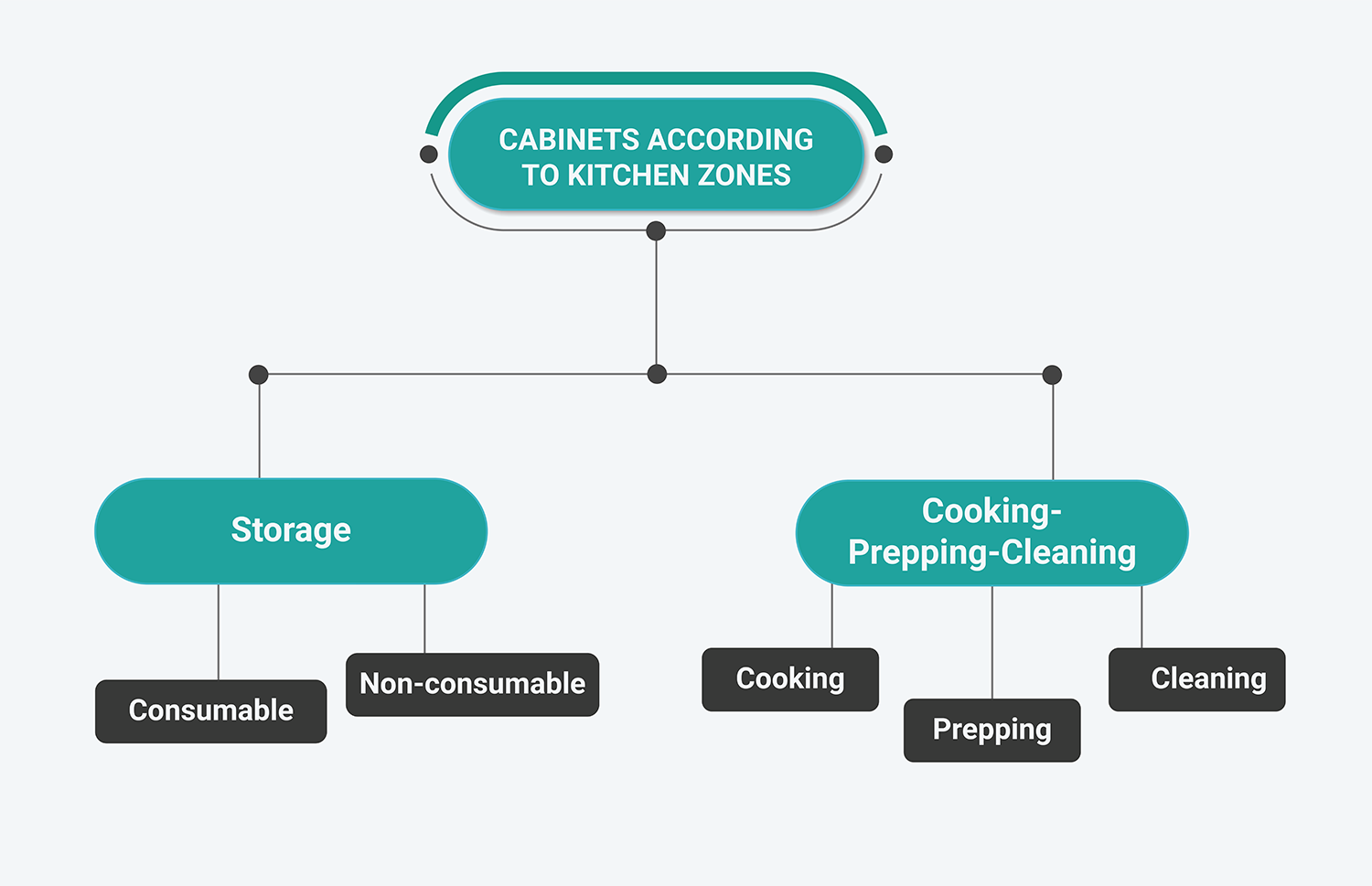 Experts go beyond the golden triangle and demarcate work zones—for storage, prepping, cooking and finally, cleaning. While this approach can be adopted alongside the triangle, it comes especially handy when you're faced with limitations that don't allow you to achieve the triangle. Say you can't change the placement of your sink because the position of the water inlet and the outlet is predetermined, the same could happen with the refrigerator because of the electricity connection. Breaking up your kitchen into different work sites will allow you to maximise the space and its efficiency while customising the design as per your kitchen's restrictions and your lifestyle.
#1: Based on storage
First up, split your storage zone into consumables (food) and non-consumables (other storage).
Consumables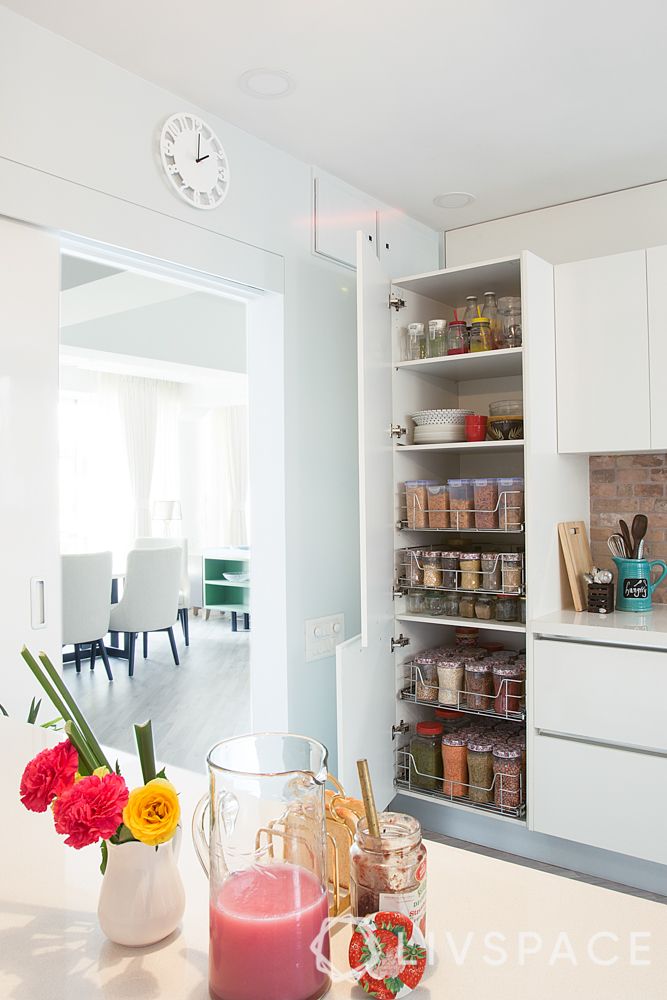 This area is explicitly reserved for storing food items. Ideally, you want to place the refrigerator and the cabinetry to store non-perishable items like canned goods and dried fruits. A great way to go about this is to create a built-in vertical cabinet that caters to all of these needs.
Non-consumables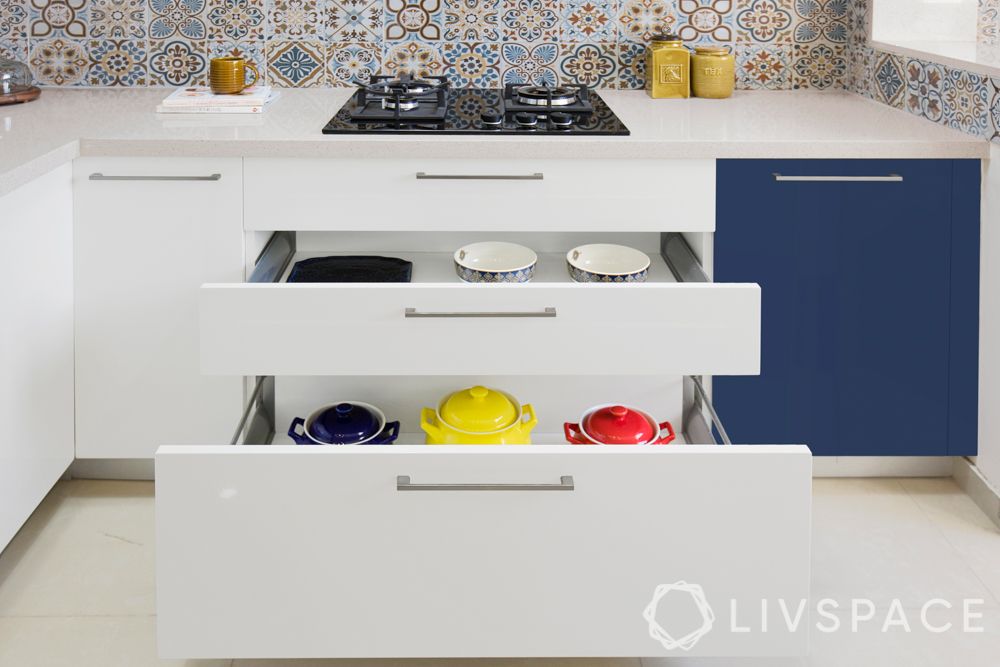 This zone is dedicated entirely for storing utensils – pots, pans, cutlery, kitchen knives, you get the drift. The purpose of keeping these in one place is to make it easier to grab them while cooking. It also negates the need to move from the sink to all ends of the kitchen when putting away clean vessels.
#2: Based on activity
Moving on to the other zones of your kitchen. These include the hob unit, prepping space and the cleaning zone.
Cooking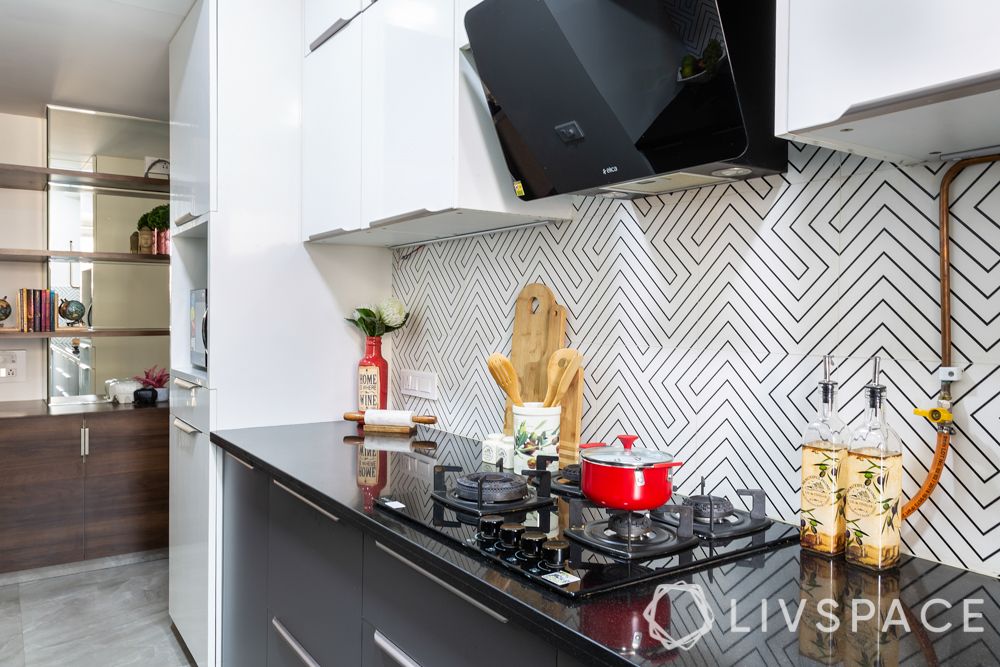 Mind you, this zone is reserved only for cooking—not prepping or chopping. Naturally then, this entire zone is best occupied by the stove, oven and chimney. If you have space for some under-counter cabinets, you could use them to store everyday cooking utensils.
Preparing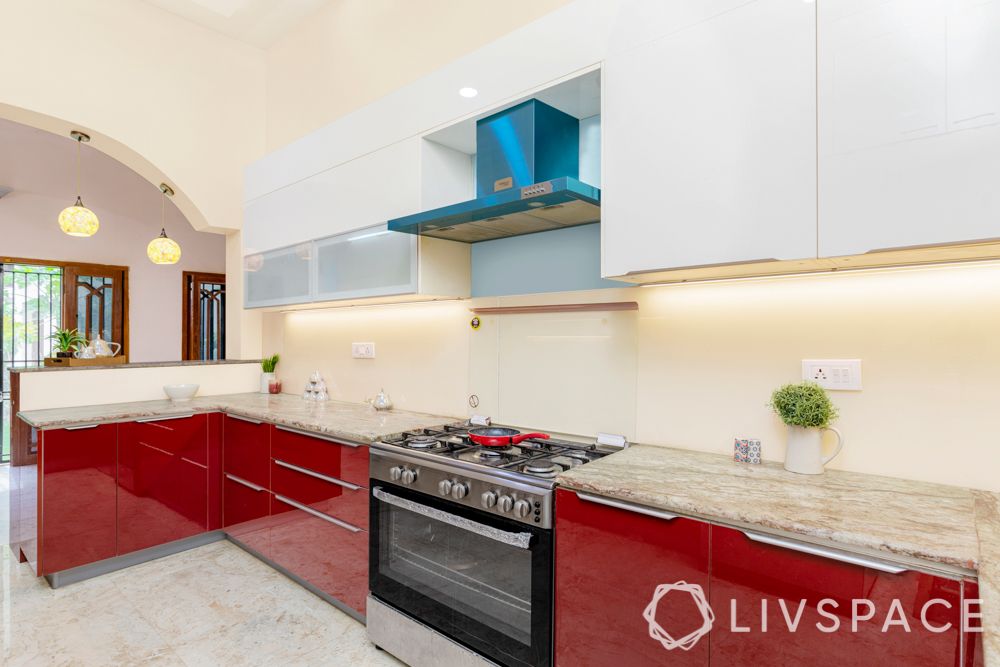 To drop your chopped veggies into the pan easily, your prep station should ideally be to the right of the cooking zone. Additionally, having the prepping and storage spaces flank the cooking zone creates a straight line of efficiency. Your prep corner could include the knife stand, cutting boards, shelving for spices and countertop appliances such as mixers and food processors.
Cleaning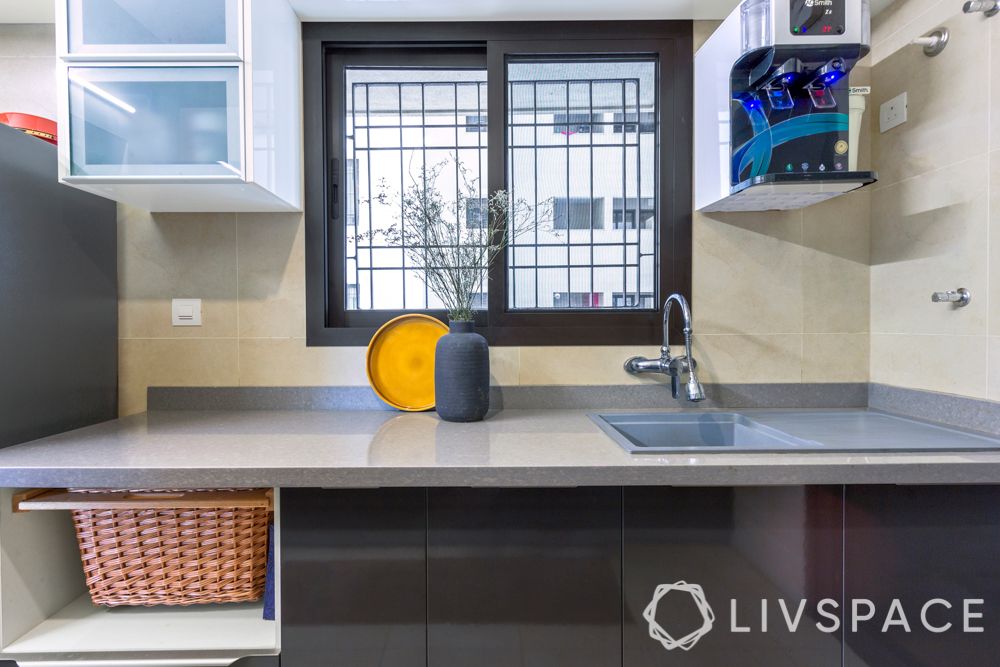 This zone consists of the sink, drying rack, dishwasher (if you have one) and the dustbin. Positioning it at the far end of modular kitchens ensures that dirty dishes are out of the way, giving you enough space to dry utensils. This placement also ensures that you form the much-coveted golden triangle.
Read this for more details: Clearly Demarcating 5 Kitchen Zones Can Make Cooking Easier for You.
Understanding what works for your family
In the experience of our experts, mishaps and injuries can occur if the kitchen is not built to be sensitive to the users' needs. For example, if you add a lot of lower cabinets in modular kitchens meant to be used by an elderly individual, it could give rise to back problems.
We have listed down the prime considerations and included recommendations for various scenarios. Answering these questions will equip you to ensure better safety for all members of your household and identify some cost-saving measures.
Who primarily uses the kitchen?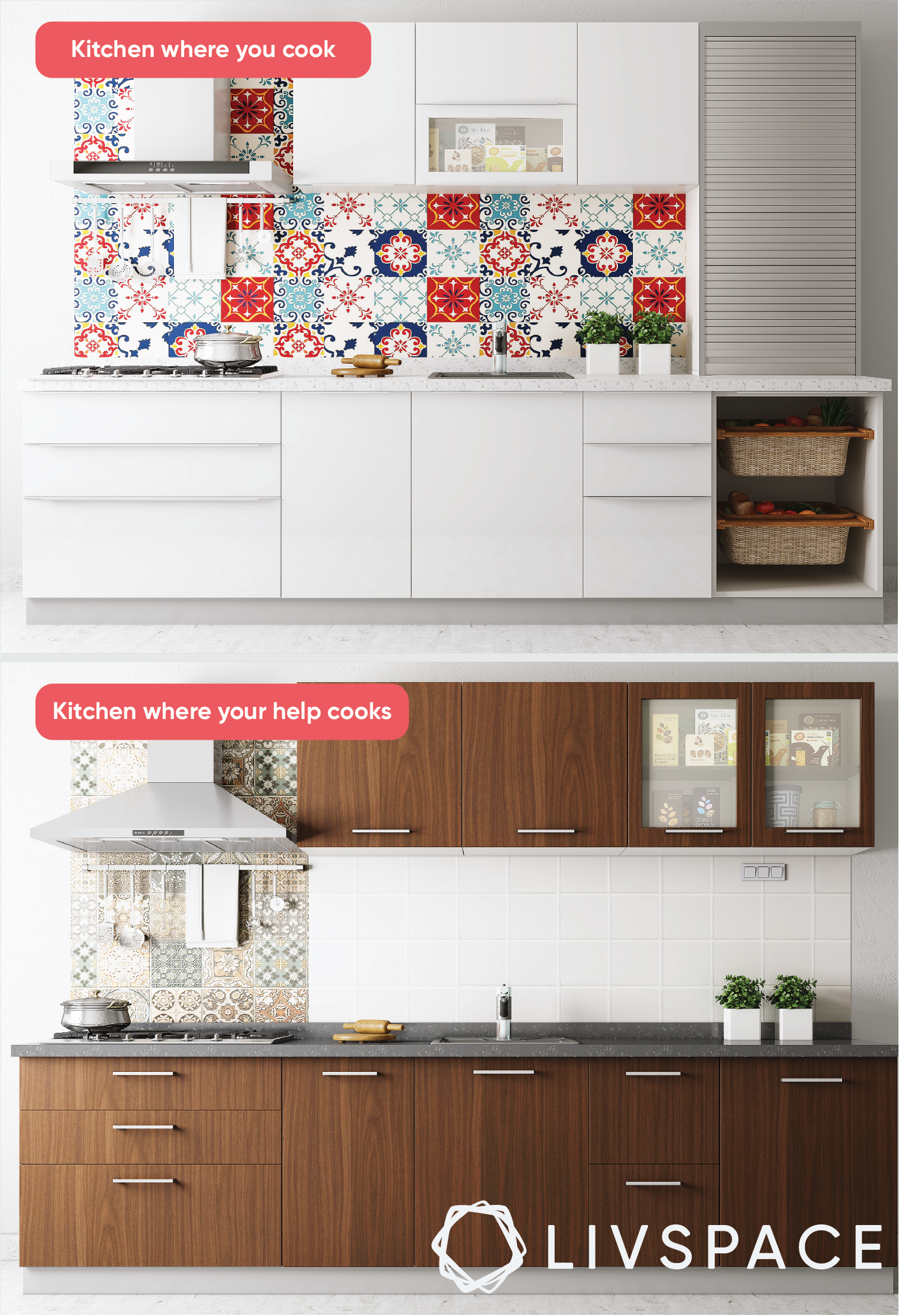 Are you the in-house chef? Or do you simply despise cooking and prefer having your help cook for you? This distinction will set the tone for what you indulge in.
Expert recommendations: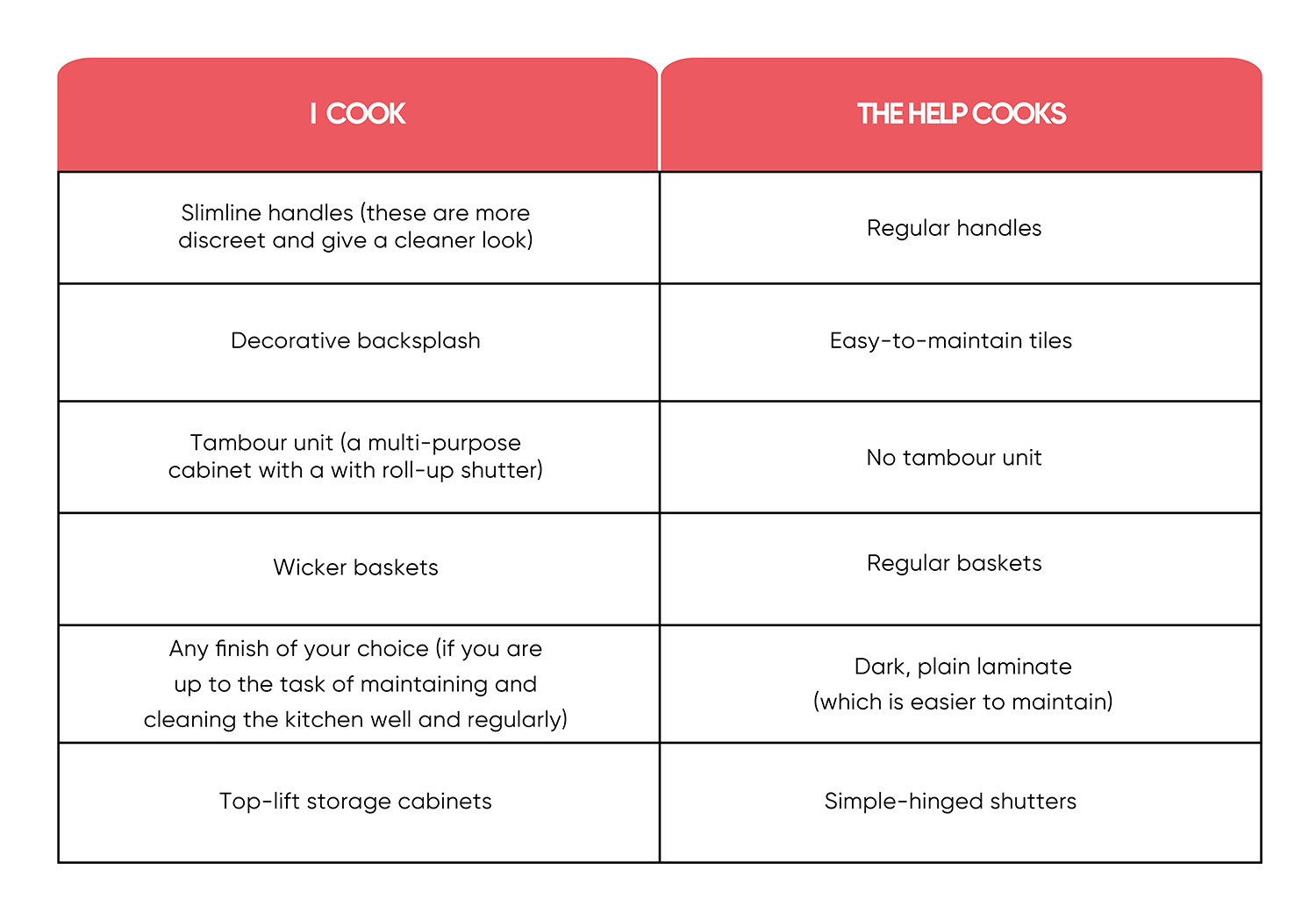 What are your storage requirements?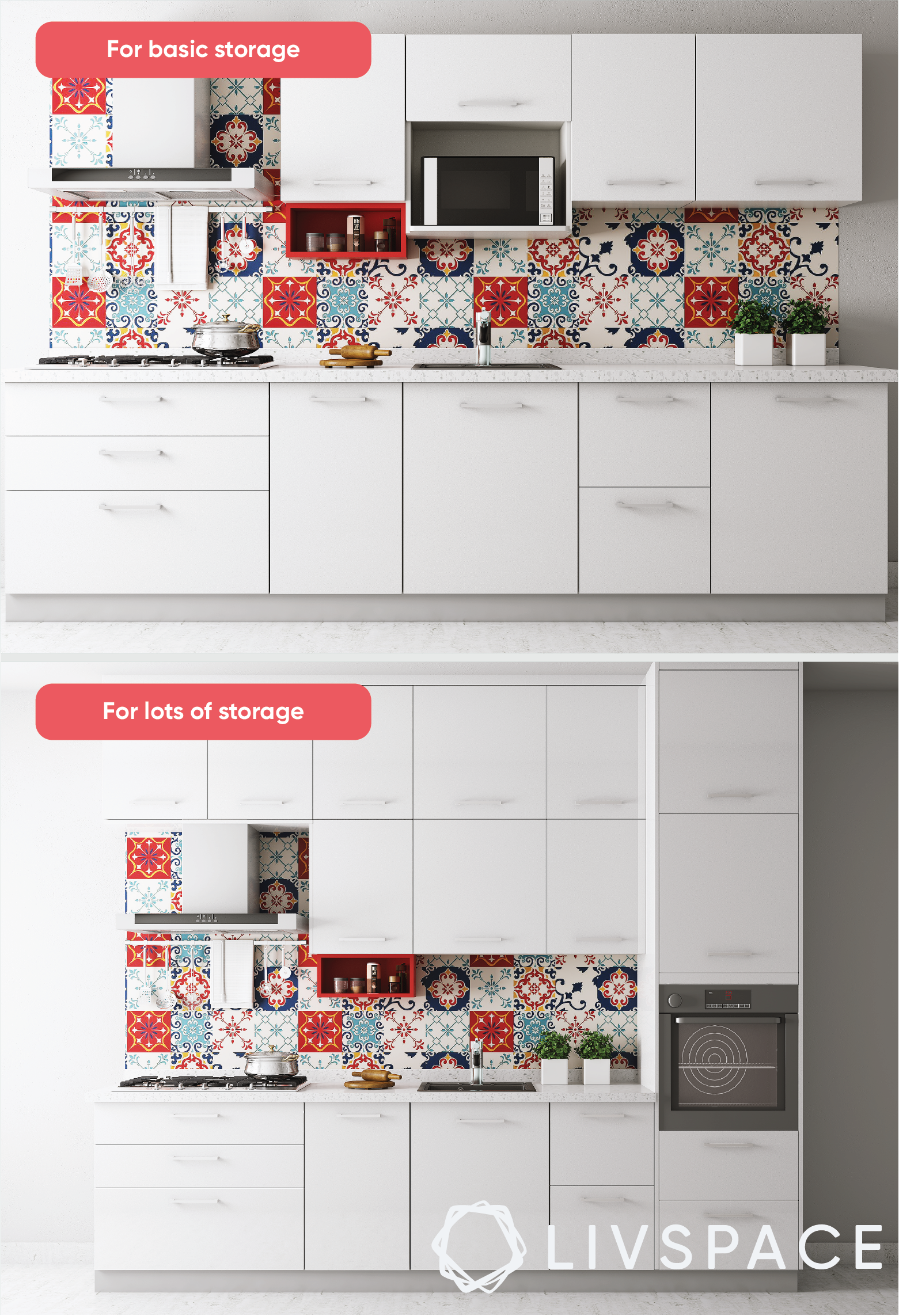 Have you accumulated a lot of things in your kitchen over the years? Do you like to maintain a well-stocked kitchen or would you rather make do with the basics? Have a clear estimate of your storage needs at the very onset.
Expert recommendations: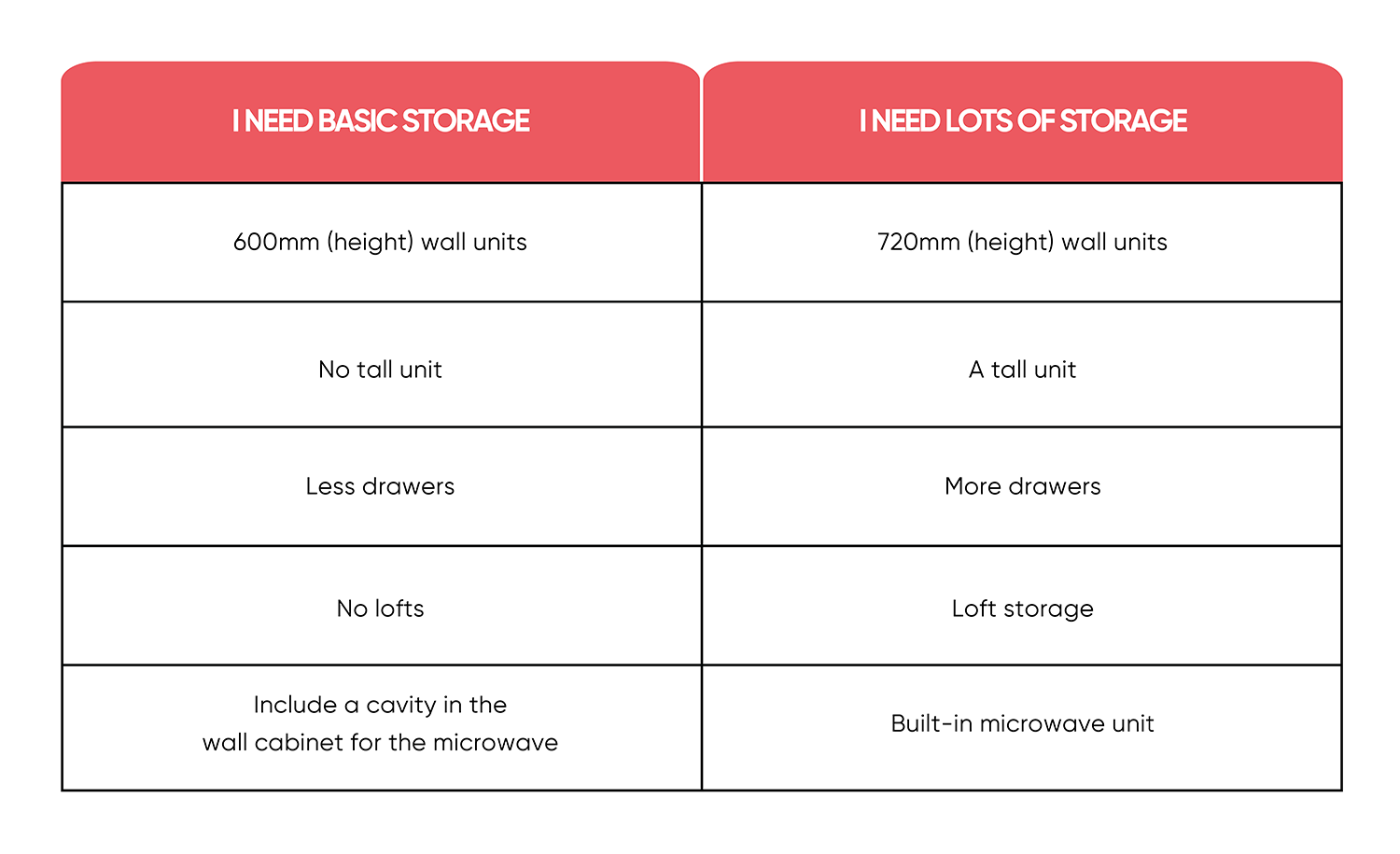 Who spends more time in the kitchen?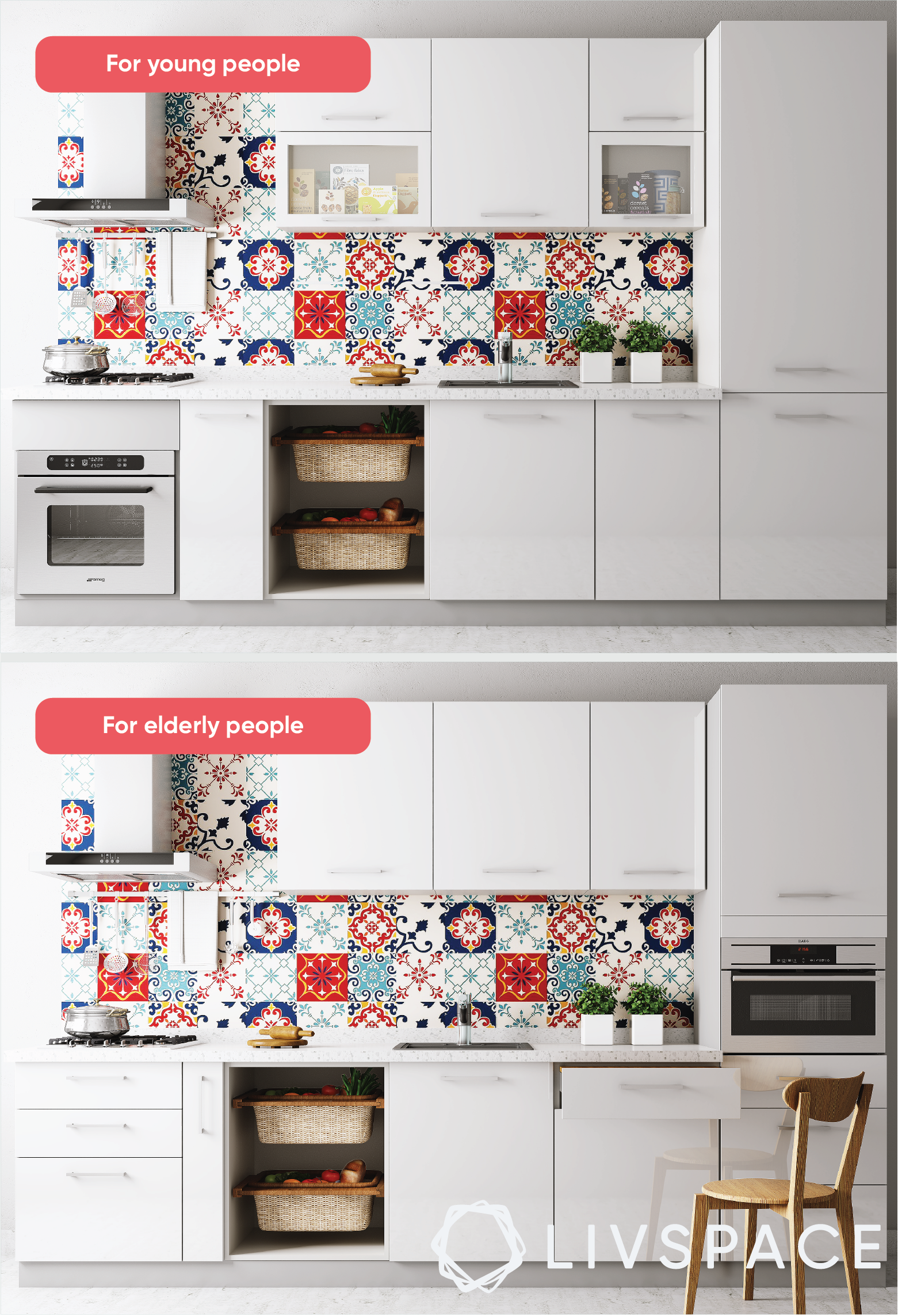 It's imperative to take into account the age of the people who are going to use modular kitchens. Be it elderly parents or curious children making a beeline for the refrigerator, you need to build your kitchen to ensure their safety and comfort.
Expert recommendations: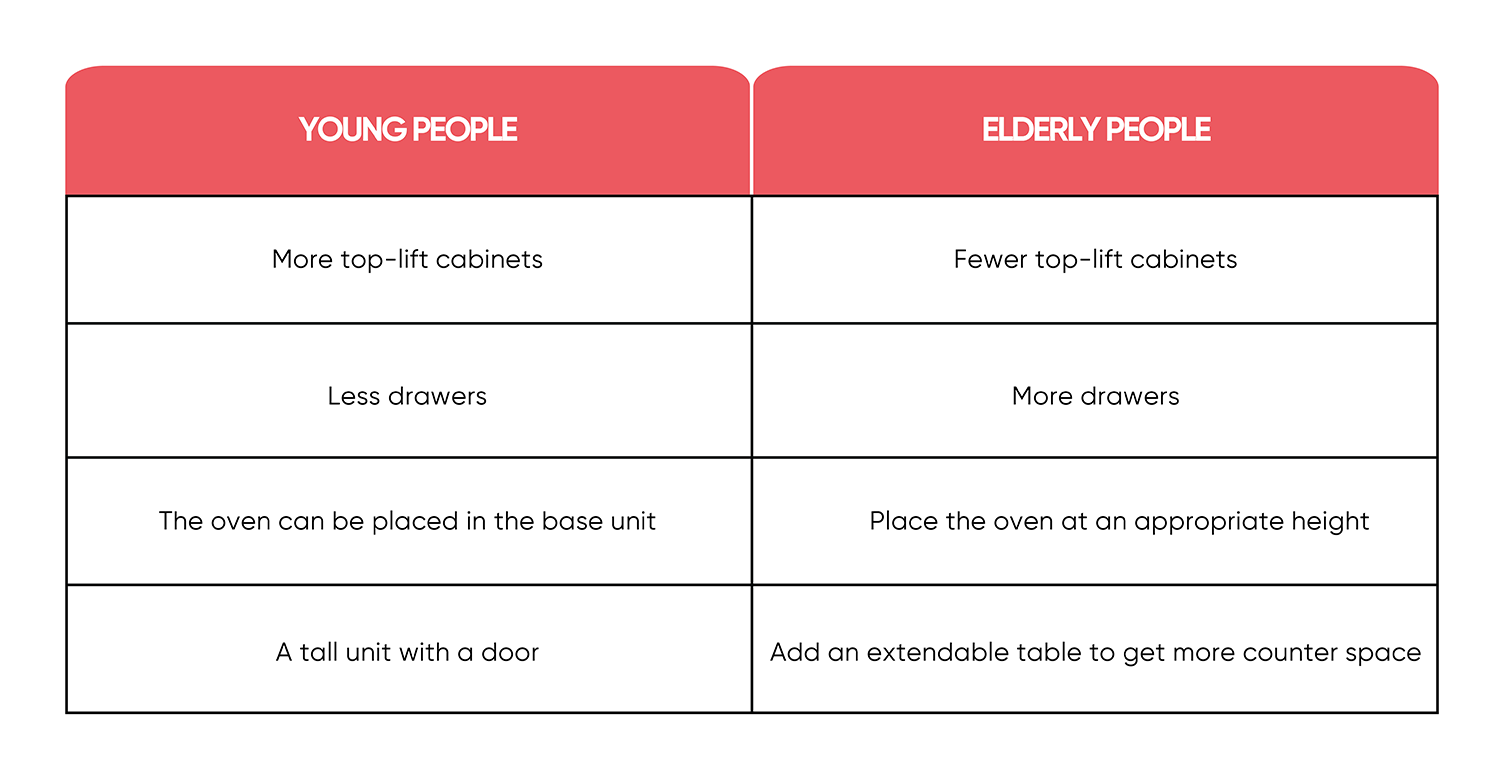 What is your budget?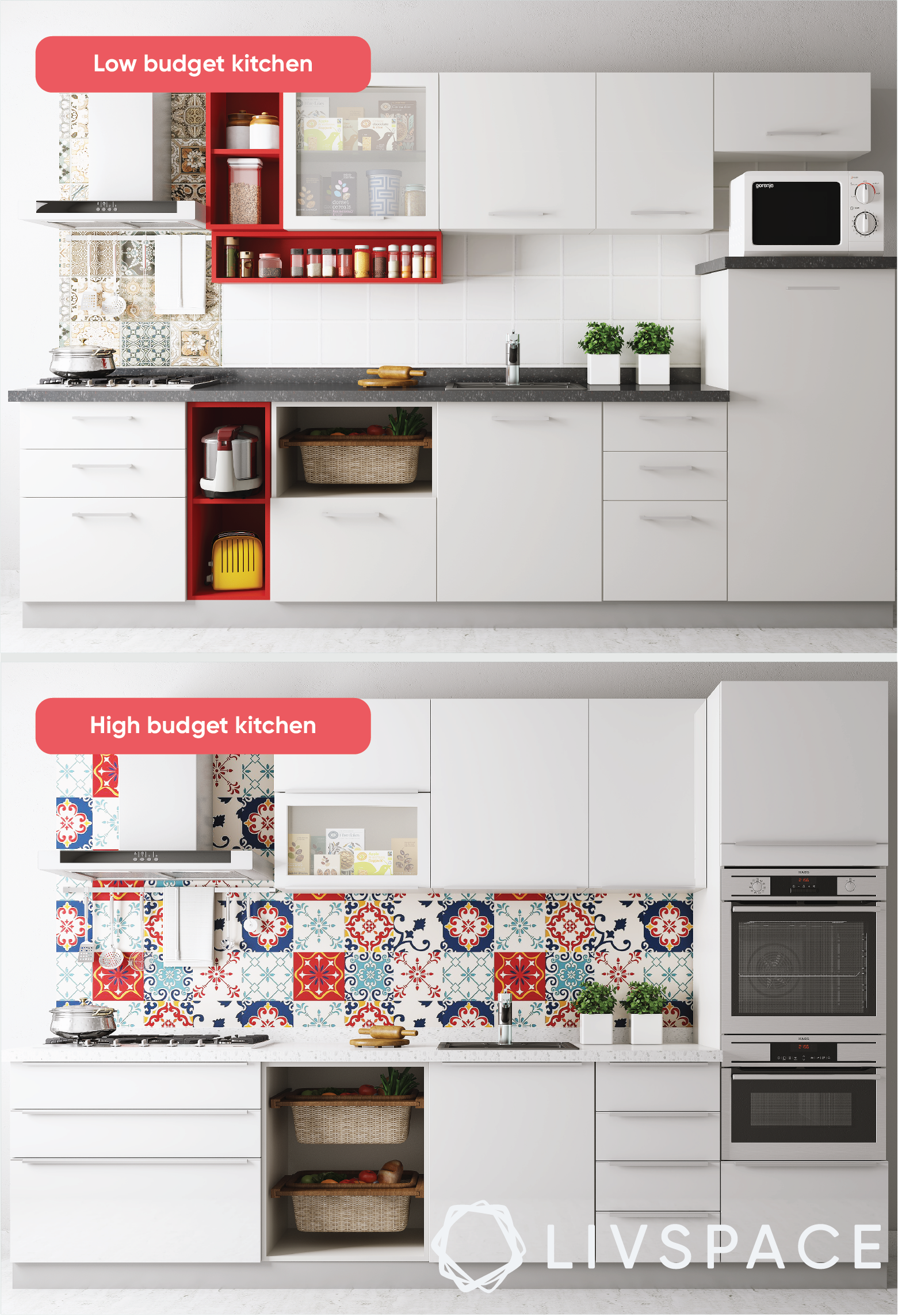 Coming to one of the most important factors that all of us consider before buying anything. Budget. The good news is that there are plenty of options available, making it possible for you to choose quality modular fittings without breaking the bank. Bear in mind though that modular kitchens are frequently-used spaces and thinking too lean can impede the functionality of the space.
Expert recommendations: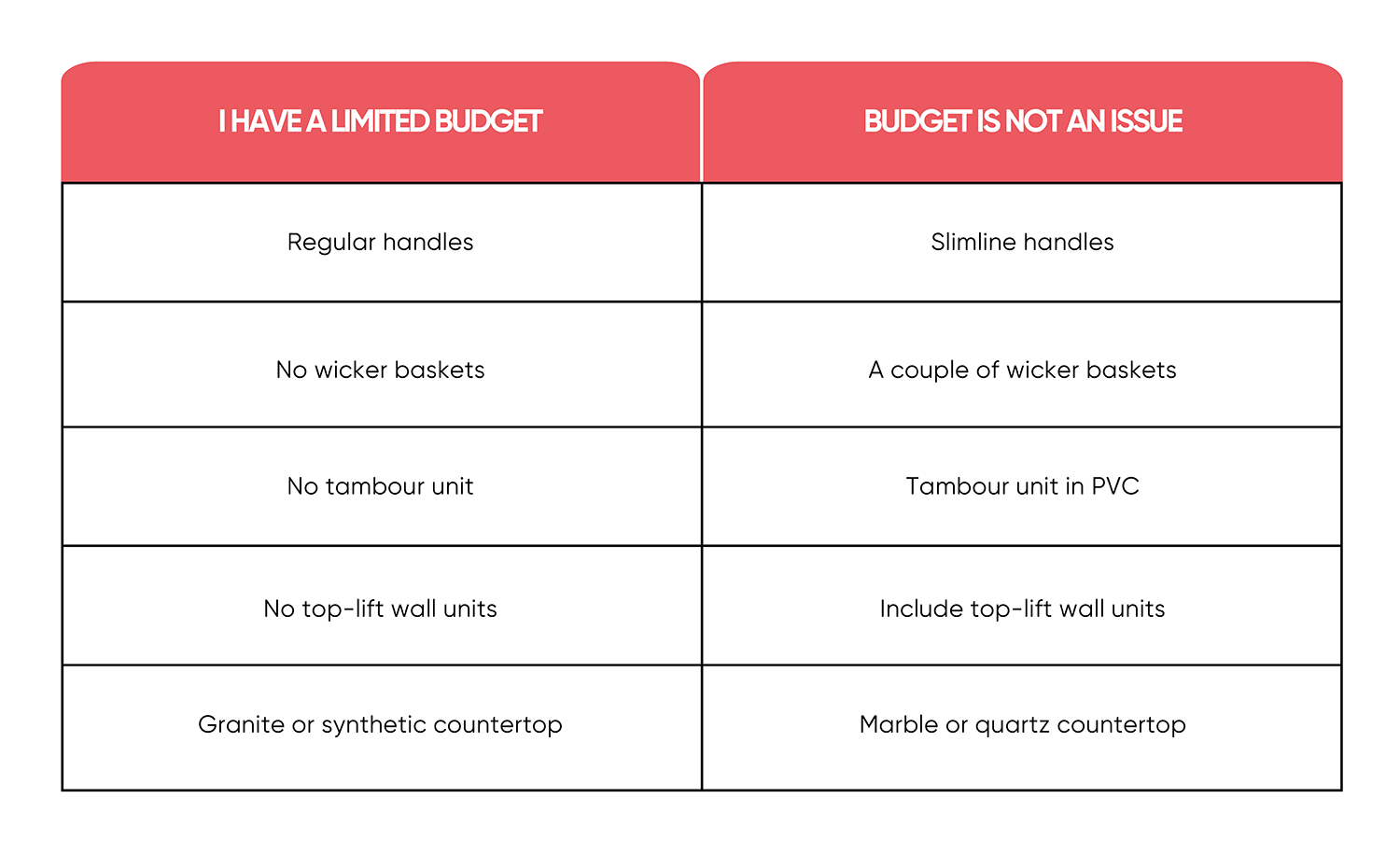 A checklist for planning your kitchen
Here's a little bit of homework that would go a long way in getting a personalised kitchen for your home. Just follow these simple steps and you will be better-prepared for the call or meeting with your designer.
Click some photographs and take a video of your kitchen. Document the entire space
Do you have a floor plan for your kitchen? If you do, you're halfway through
If not, take a graph paper and a plain sheet of paper and measure your kitchen precisely, noting down the width, length and height
Outline these dimensions on the graph paper, considering one square as 50mm or 100mm
Identify the door(s) and window(s), and mark them
Mark the provisions for the water inlet and outlet since the sink will have to be installed there
Mark the location of the refrigerator, preferably near the entry door.
Make a note of your current storage requirements, dividing them into consumables and non-consumables. Based on your family size and cooking habits, estimate how this requirement is likely to change in the coming years
Finally, make a list of the issues you're facing in your current kitchen. It will help your designer be especially cognizant about finding solutions for them
The building blocks of your kitchen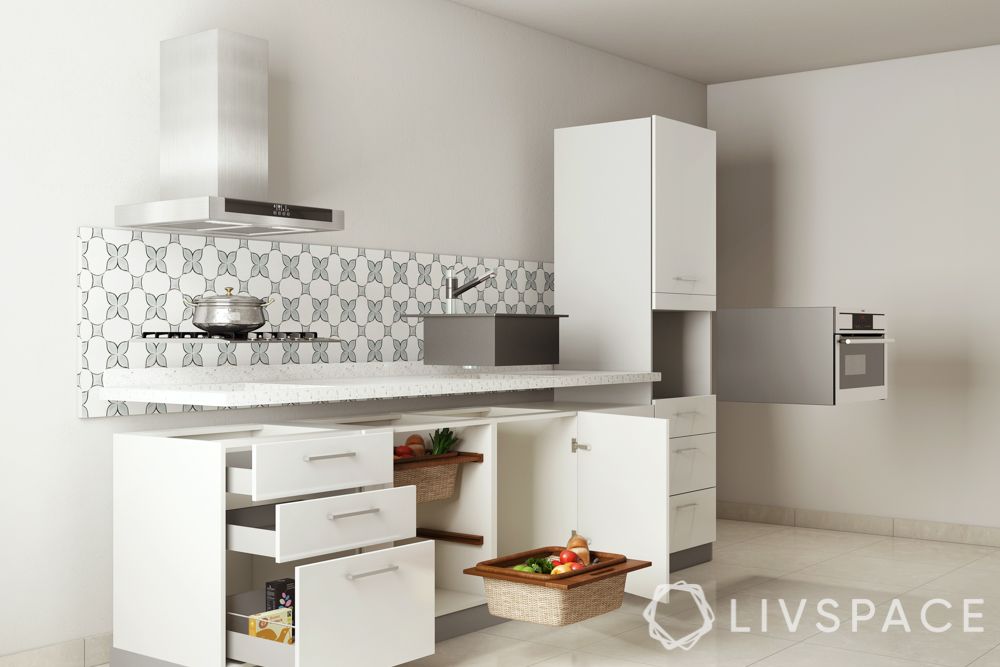 Have you ever bought something only to discover later on that it has been hiding at the back of your cabinet? You can solve this problem by installing the right kind of fittings. So let's put the fun back in cooking by first deconstructing the kitchen and then examining each component. Don't forget to factor in aesthetics, durability, maintenance and cost, to find the right fit for you.
The main components that make a kitchen are:
Cabinets
Countertop
Backsplash
Flooring
Sink
#1: Cabinets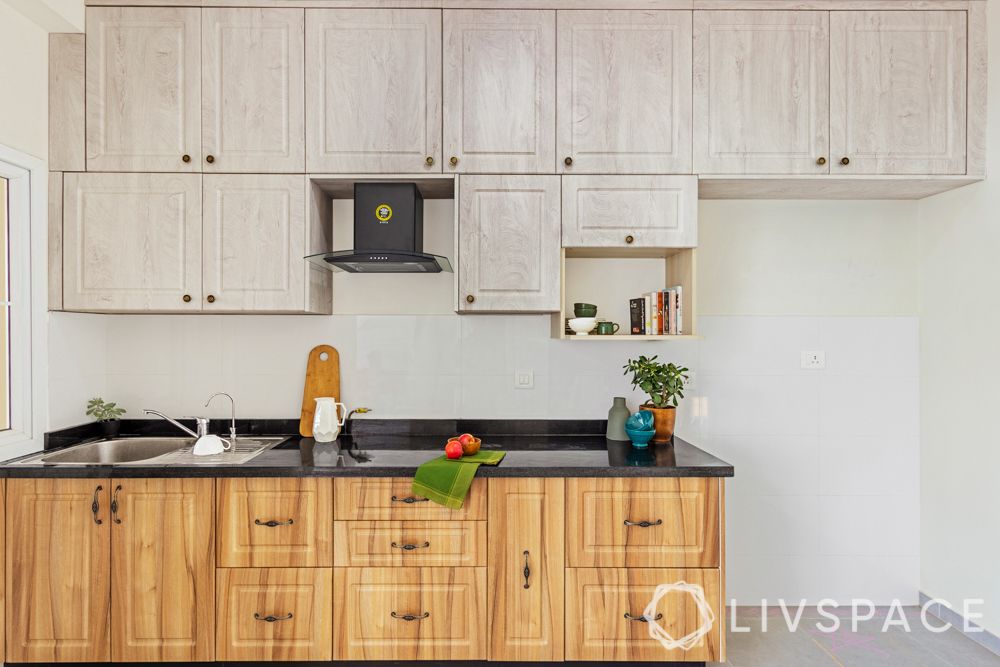 One could debate that cabinets are the most important part of a kitchen. Besides being the first thing people notice about the space, they also bear the maximum load in terms of storage. Remember the kitchen zones? They play an important role in understanding the types of cabinets you'll require.
Cabinets can be divided according to the type of storage and where the kitchen spaces lie. The basic types of cabinets are:
Consumables
Wall unit
Base unit
Veggie pullout
Refrigerator unit
Pantry pullout
Tall unit
Non-consumables
Oven/microwave unit
Roller shutter/tambor unit
Wall unit
Blind units
#2: Countertop for modular kitchens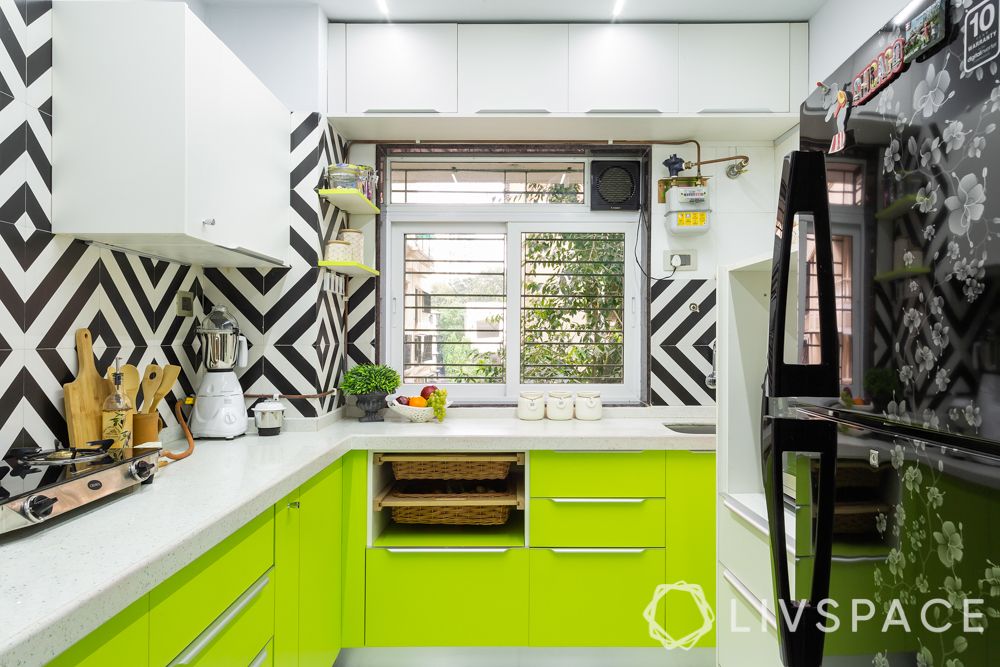 The perfect countertop can be a game-changer for the look of your kitchen. And it's not just about looks. It is expected to be stain-proof, scratch and heat-resistant and extremely durable. The most common choices for Indian kitchens are granite, quartz and synthetic materials such as corian, caesarstone and sile stone. Out of these, granite emerges as the most-popular material.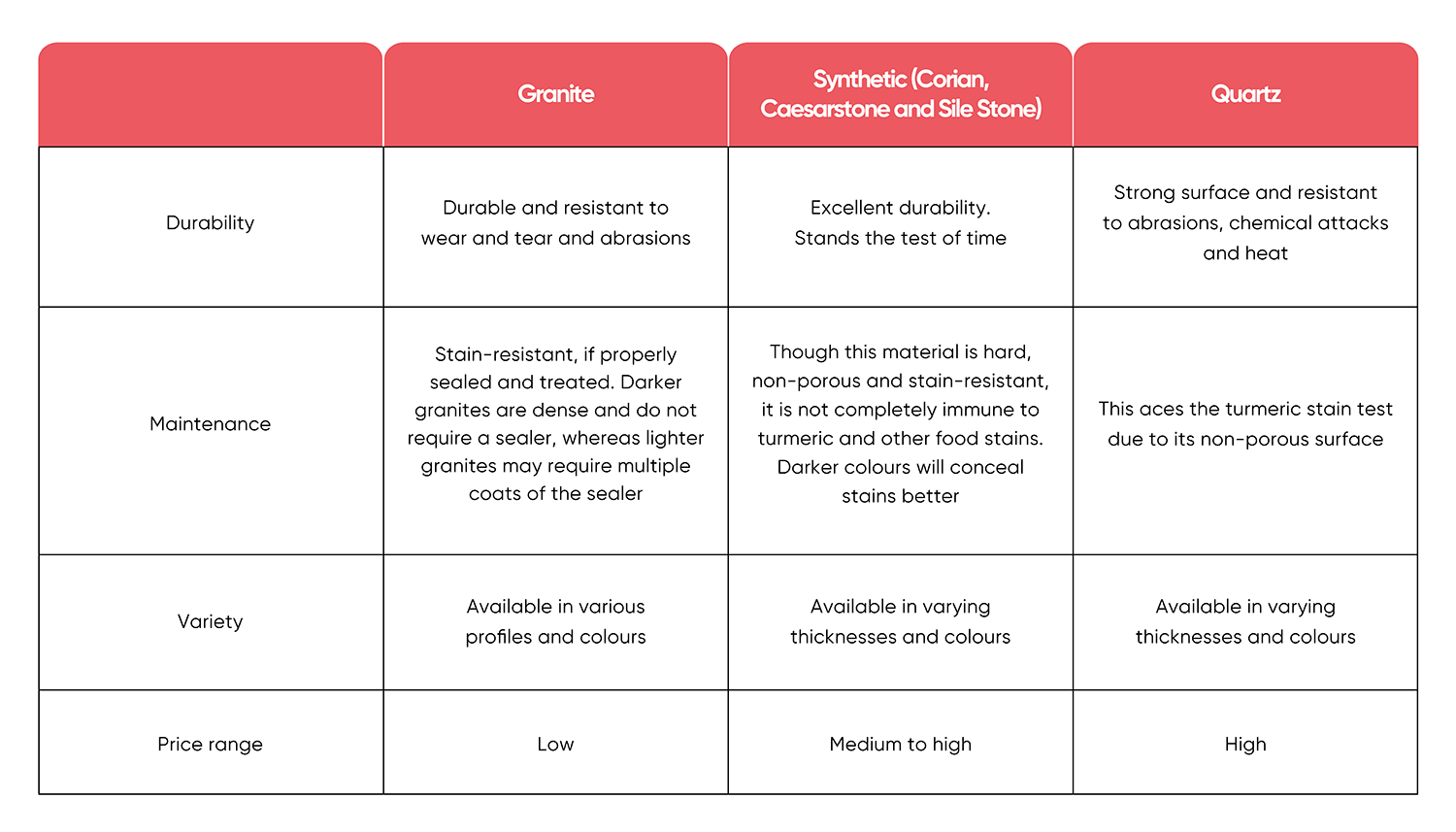 #3: Backsplash for modular kitchens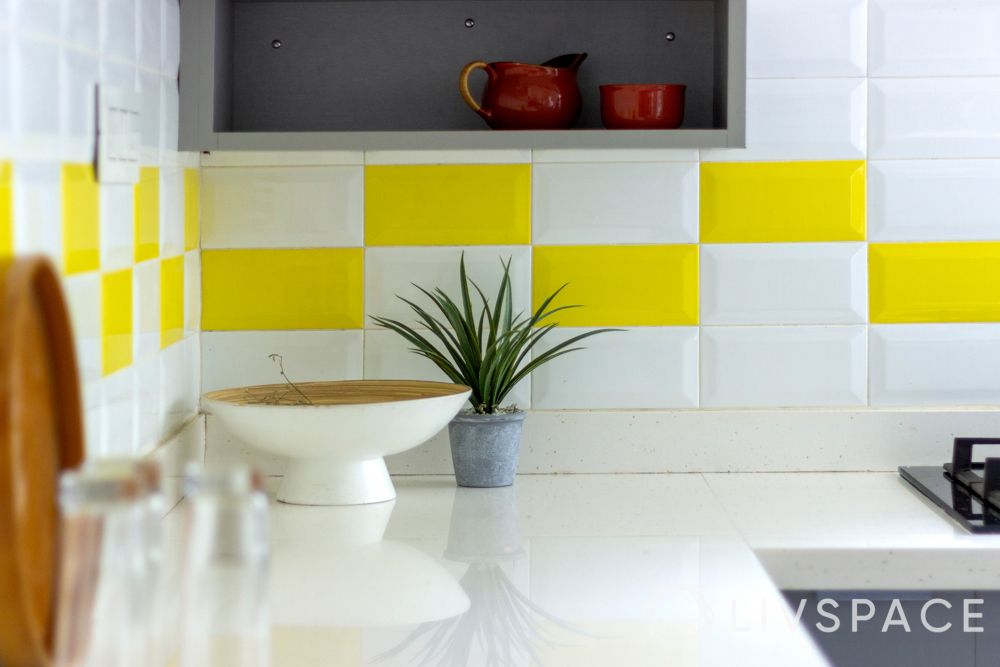 Moving on to the next important aspect of a kitchen—the backsplash. Extremely prone to splashes and stains during cooking, the popular material choices in Indian kitchens for this are ceramic, glass and mosaic tiles for the simple reason that these are easy to clean. You could also use your countertop material here for a more seamless, neat look.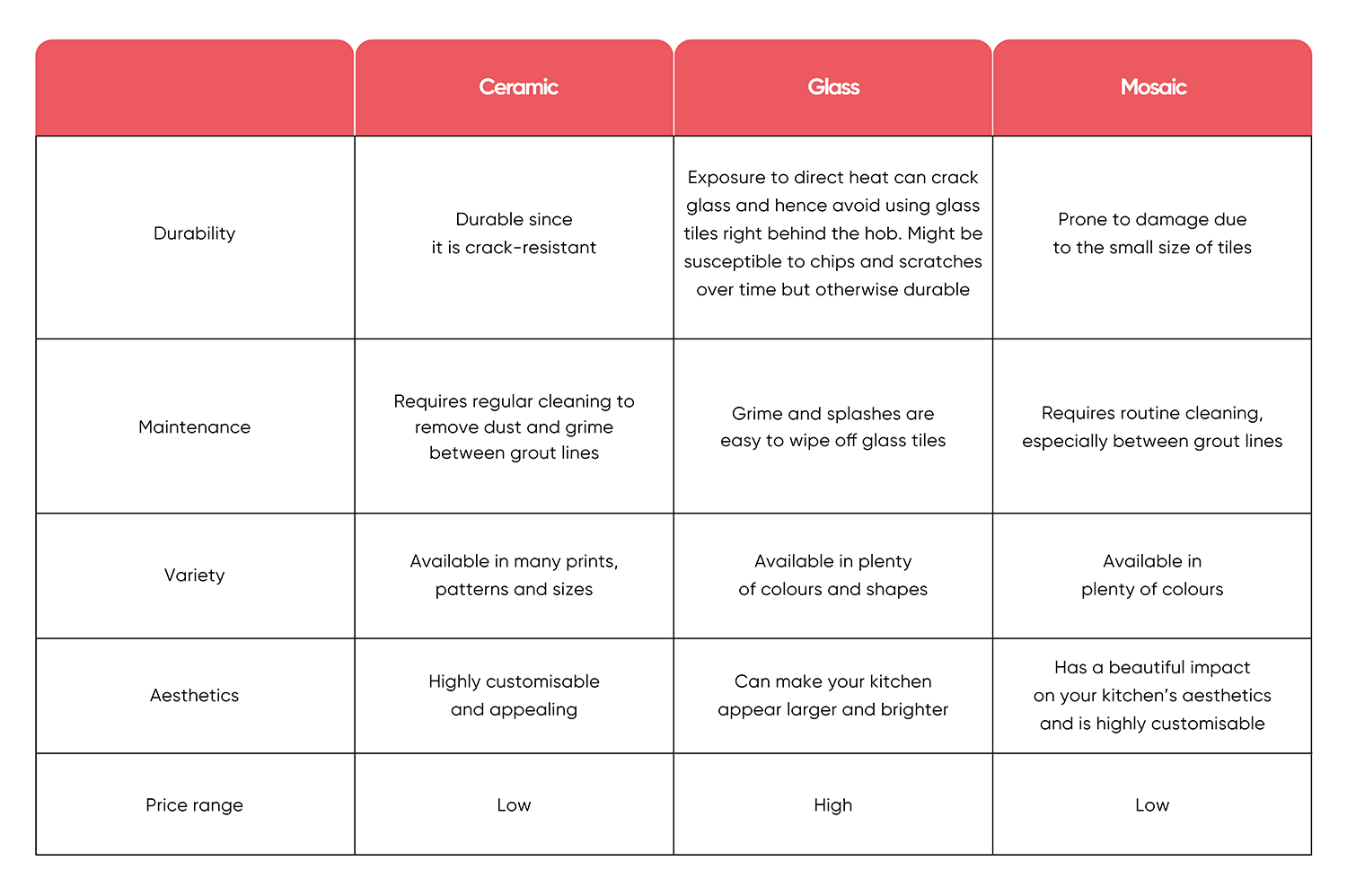 #4: Flooring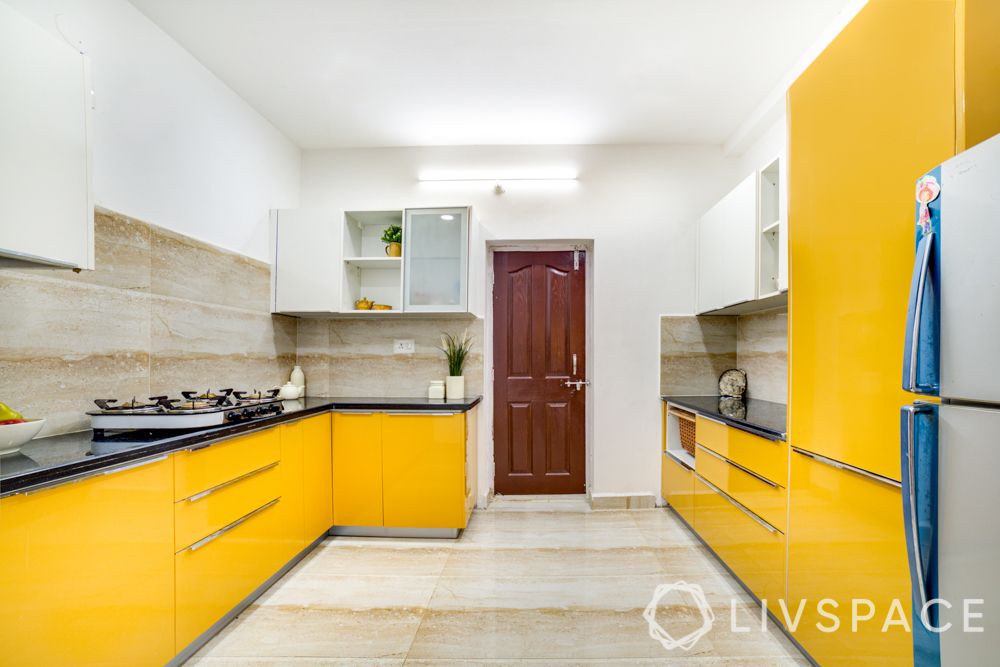 Flooring might not be a very debatable topic when it comes to kitchens, because most builder homes come with flooring that is fairly decent. That said, some homeowners might want to change the flooring for aesthetic or safety reasons. The most-preferred materials are ceramic tiles, marble and granite.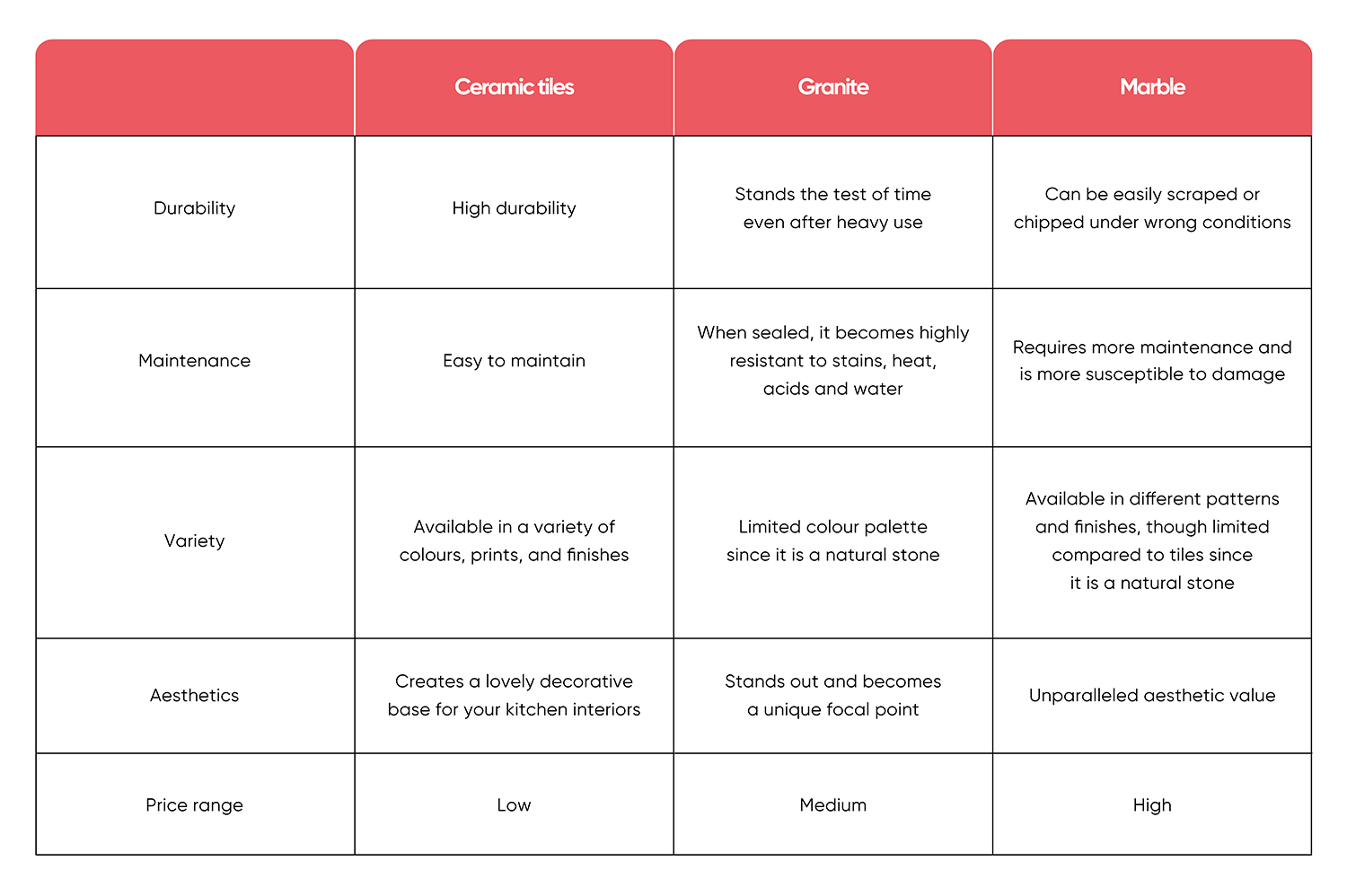 #5: Sink
Possibly the most hardworking member of the kitchen, the sink's importance in the functionality of a kitchen is often underestimated. If you are easily bothered by water spills while doing the dishes or you just don't know where to place your dinnerware after washing, you are probably using the wrong sink. Here are the basic options, segregated by the bowl and installation type.
Based of type of bowl
#1: Single bowl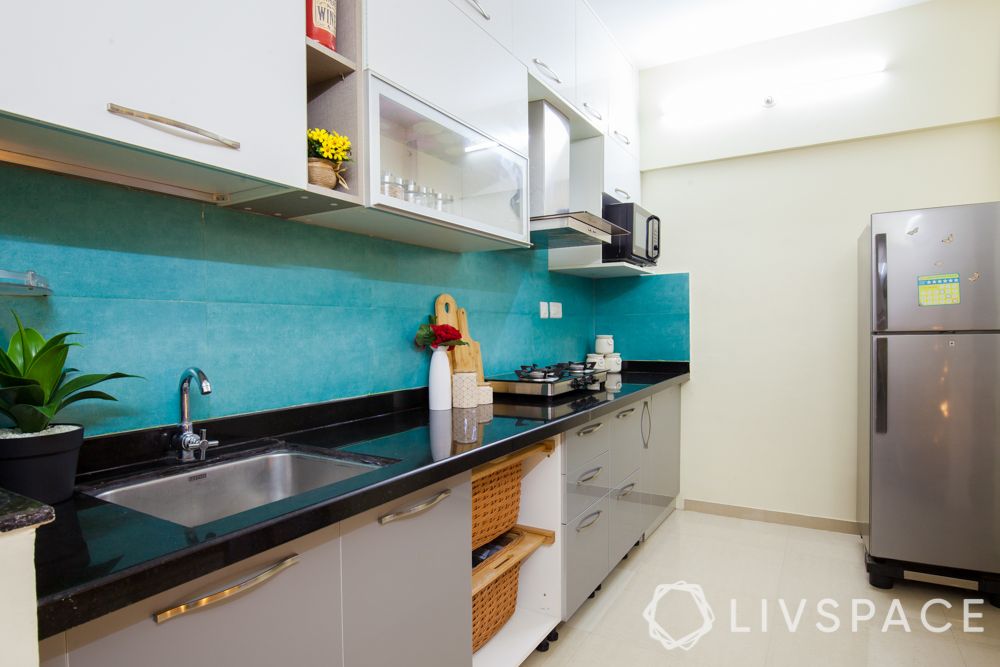 Ideal for washing plenty of large-sized utensils at once
Though this type of sink suits nearly any kind of kitchen, it is better suited for smaller ones where countertop space may be scarce
#2: Double bowl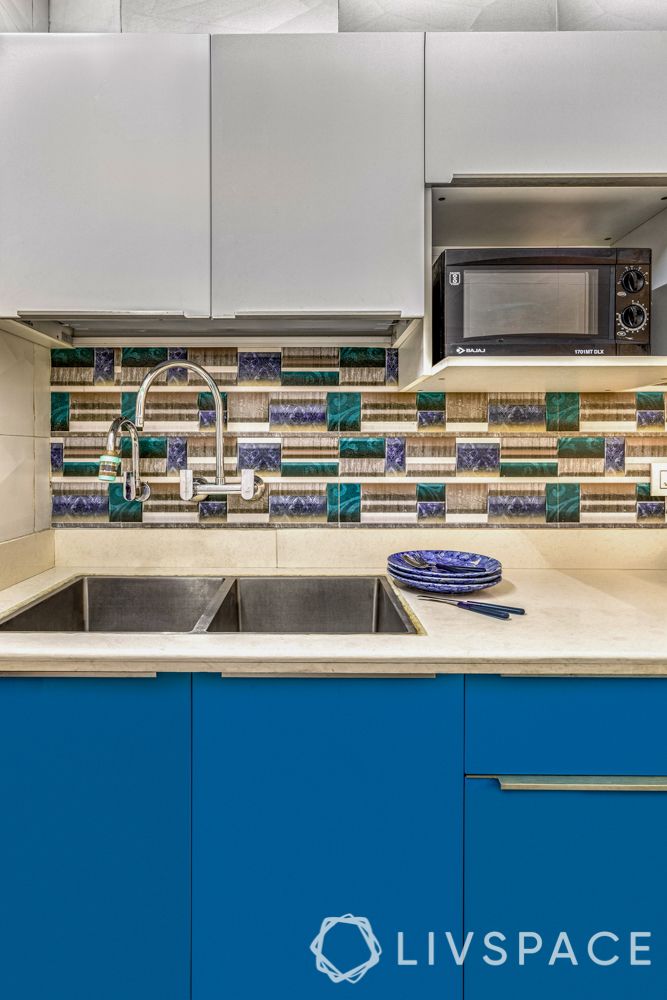 This sink has two basins—one large and one small—allowing you to prep for cooking and washing in the same space
Most homeowners swear by double-bowl sinks since it makes multitasking easier
This is also a great choice when there are two cooks in the kitchen
#3: Sink with a drainboard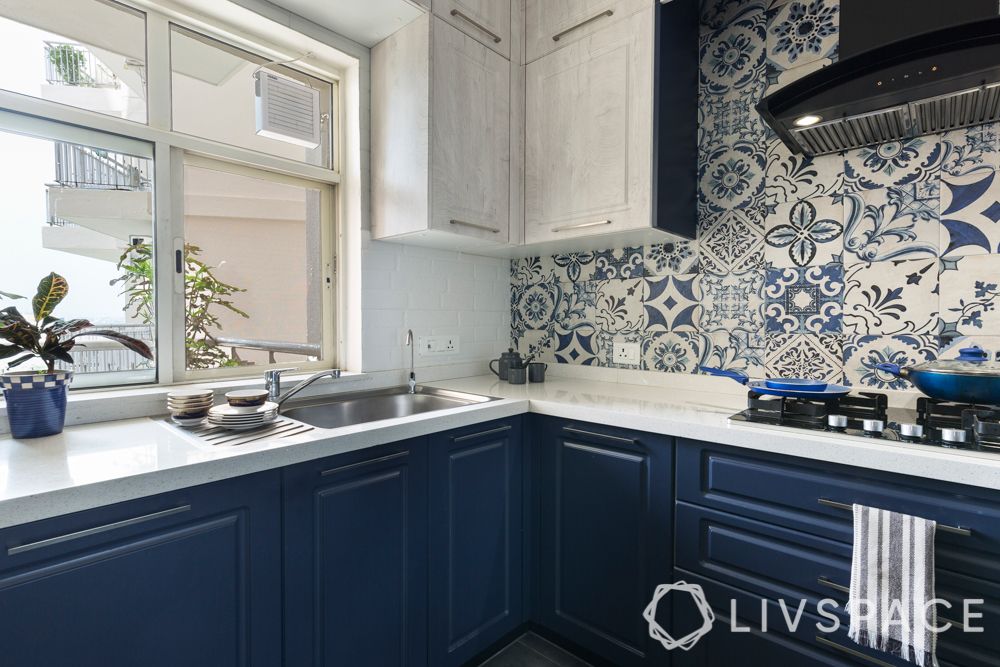 Comes with a drainboard and hence occupies more space on the countertop
Provides space to dry utensils and drain vegetables
Based on type of installation
#1: Top-mount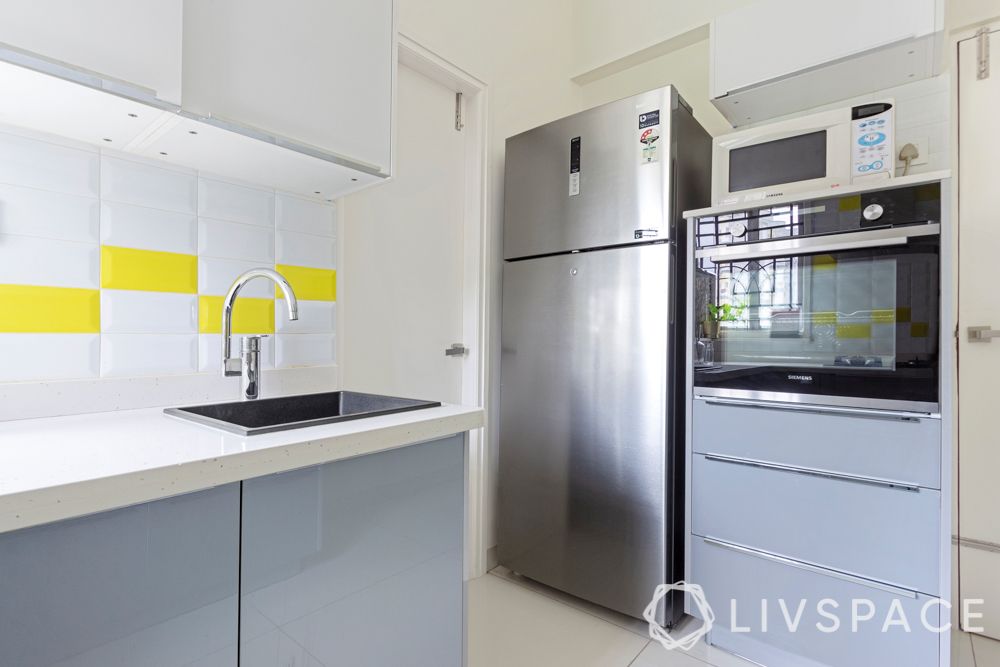 Also known as the drop-in or self-rimming sink, this variant is commonly-found in Indian kitchens
Simply put, it has a ridge that fits over the countertop
It is easy to install and is relatively cheap
#2: Under-mount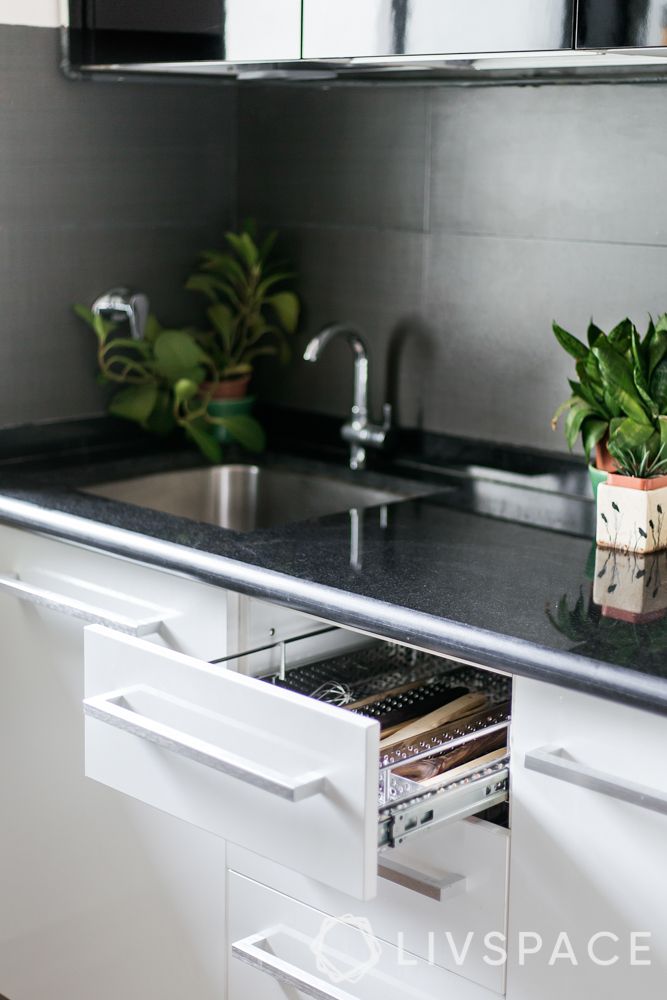 Recessed below the countertop, the sink essentially rests underneath the counter
Easy to clean since there are no crevices where dirt or grime can get accumulated
We have tried to cover all bases when it comes to kitchen design and this guide should be able to answer all your questions. Here are 17 Stunning Kitchen Tile Designs That You Need to See Right Now!
We love to hear from you! Write to us with your comments and suggestions at editor@livspace.com.