We refurbished this Indian bedroom into a brand new avatar!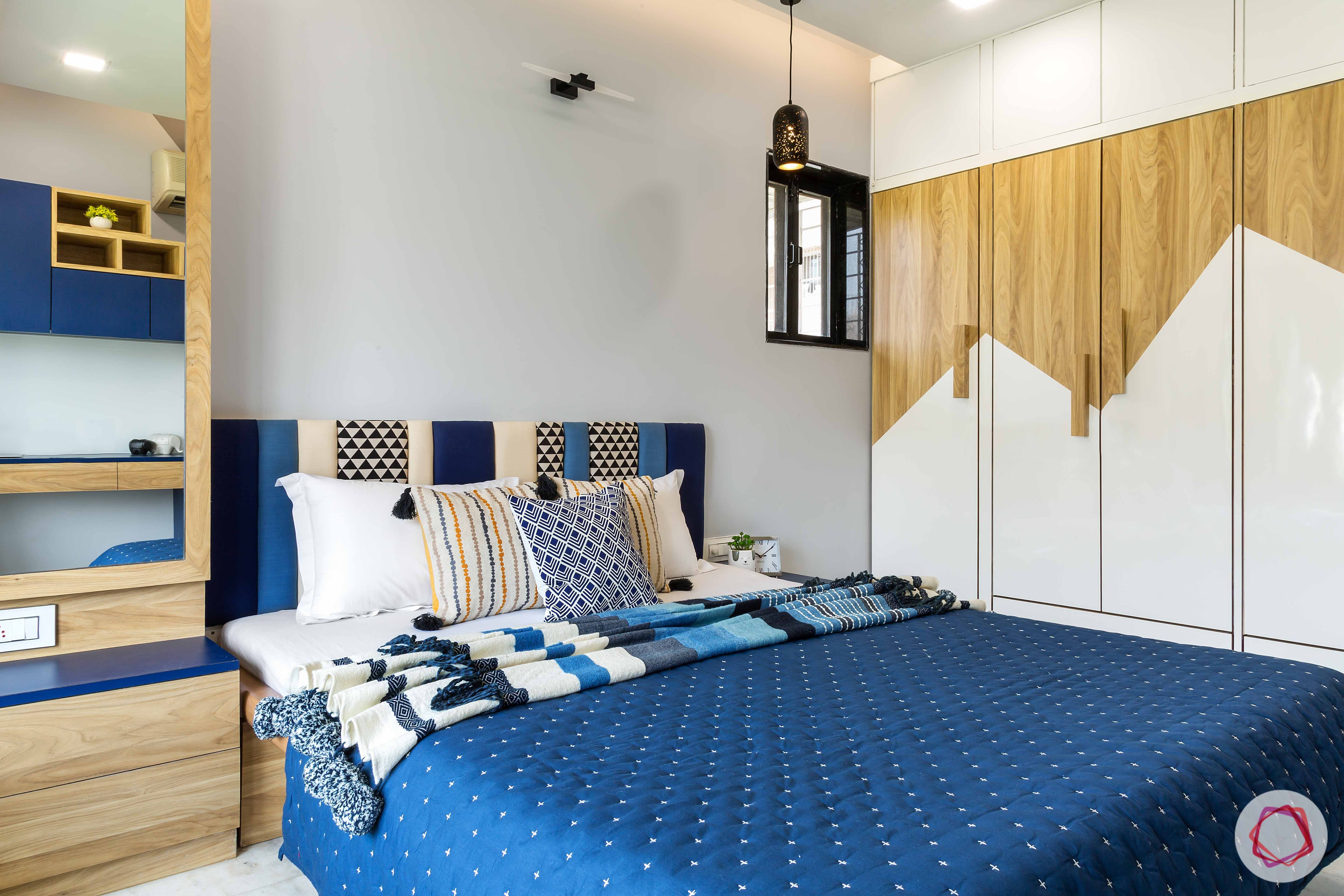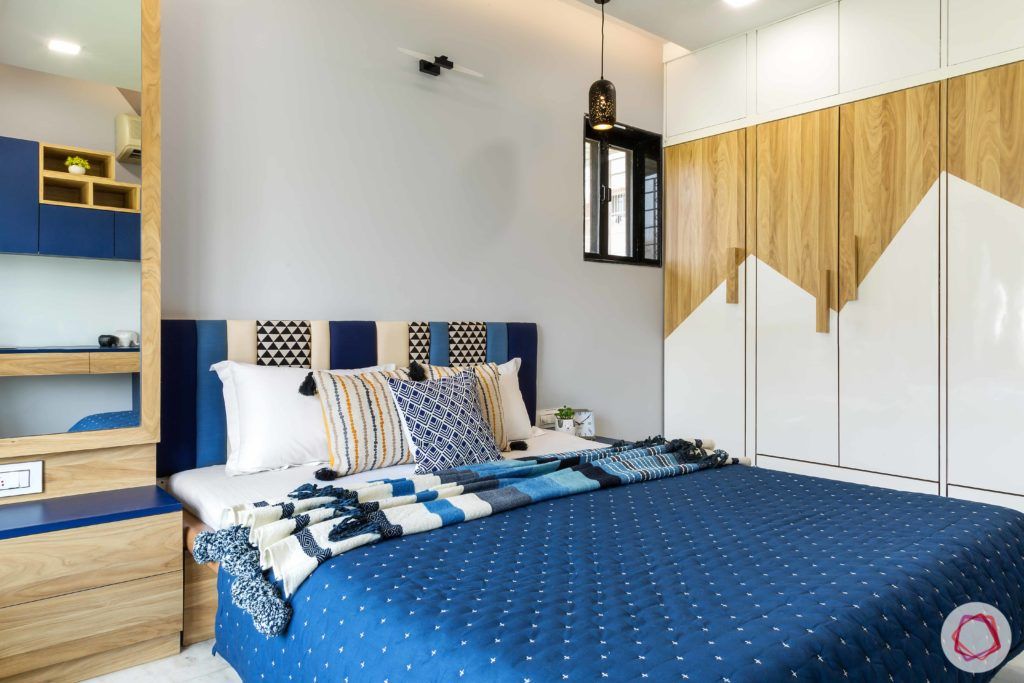 ---
Who livs here: Rushabh Dave with his wife Kavita, their son Krishay and his parents
Location: Vishal Susheel, Vile Parle East, Mumbai
Size of room: 154 sq ft approx.
Design team: Interior Designer Sakshi Shetty and Project Manager Dipesh Gurav
Livspace service: Kid's Bedroom Design
Budget: ₹₹₹₹₹
---
This story is a perfect example of how everything falls into place when everyone is on the same page. For Rushabh and Kavita Dave, it was getting increasingly important to let their son, Krishay, feel like a growing kid. He was growing up and the parents wanted to give him his own space. Kavita was particular about letting him have his own study table and a room befitting of a growing kid. Previously, the couple had renovated their master bedroom through an individual contractor. This time they hired Livspace and felt the difference. In Kavita's words, "I was glad I did not have to run after the carpenters for little things."
Sakshi Shetty, the designer assigned to this project, was very forthcoming and started giving design solutions in accordance with the ideas of each member of the family. From the grandparents to the parents and the kid himself, each person was invested in this. At the end, the result is amazing and you get to see a bedroom makeover that is worthwhile. Read on.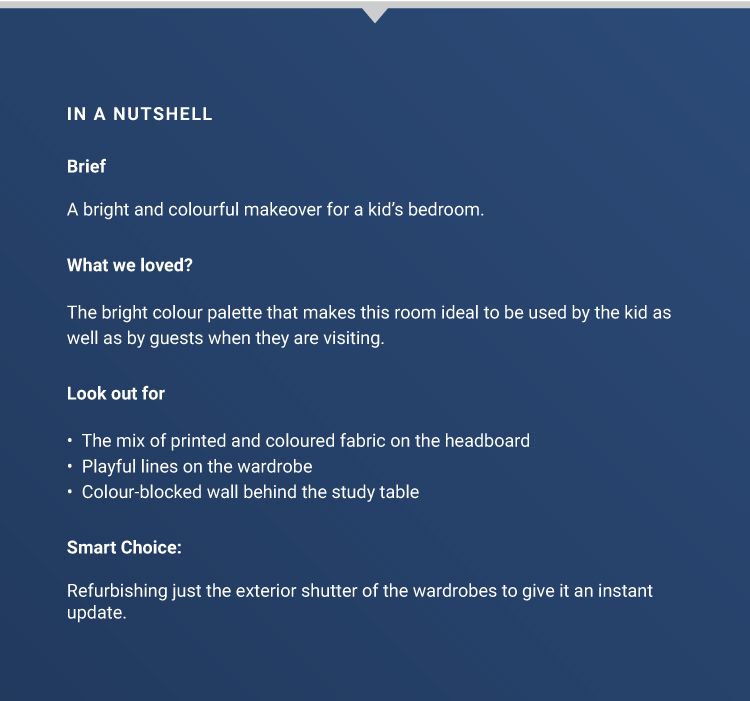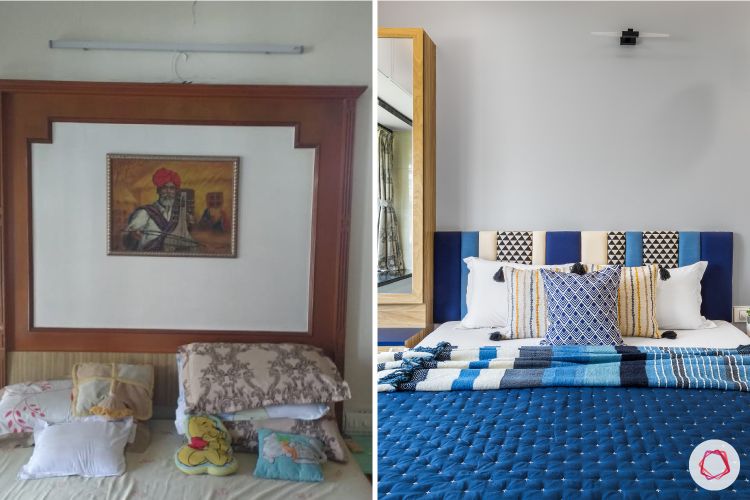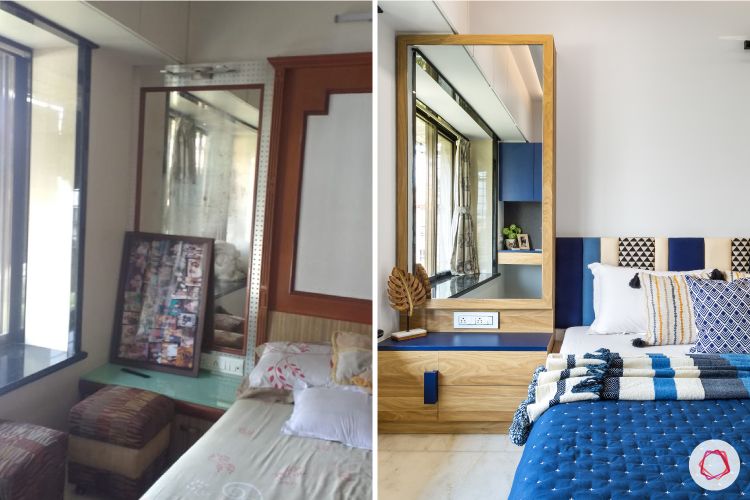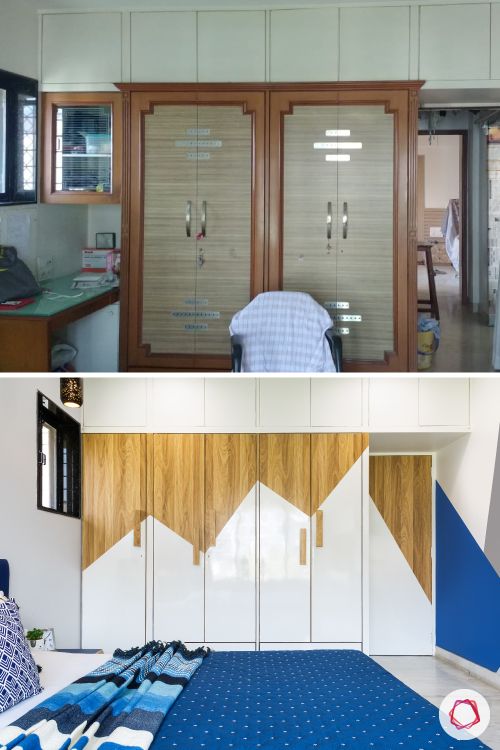 Indian Bedroom: Let's Talk Refurbish
The first piece of furniture you notice when you enter this bedroom is the bed and let us tell you, it is a refurbished piece. One look at it and you will be surprised to see how fresh and bright it looks. Thanks to Sakshi's unique thinking, the headboard is sure to catch eyeballs! She wanted to go quirky with the headboard by giving it fabric panels in various prints and colours. And Kavita readily agreed! She hates the idea of perfectly matched things and would rather pick random things and put it together.
Another addition to this bed is the dresser-cum-storage unit that is standing right next to it. This is a functional unit with ample storage behind the mirror shutter. Sakshi has also given drawer and cabinet storage at the bottom. This unit has light laminate finish combined with blue matte finish.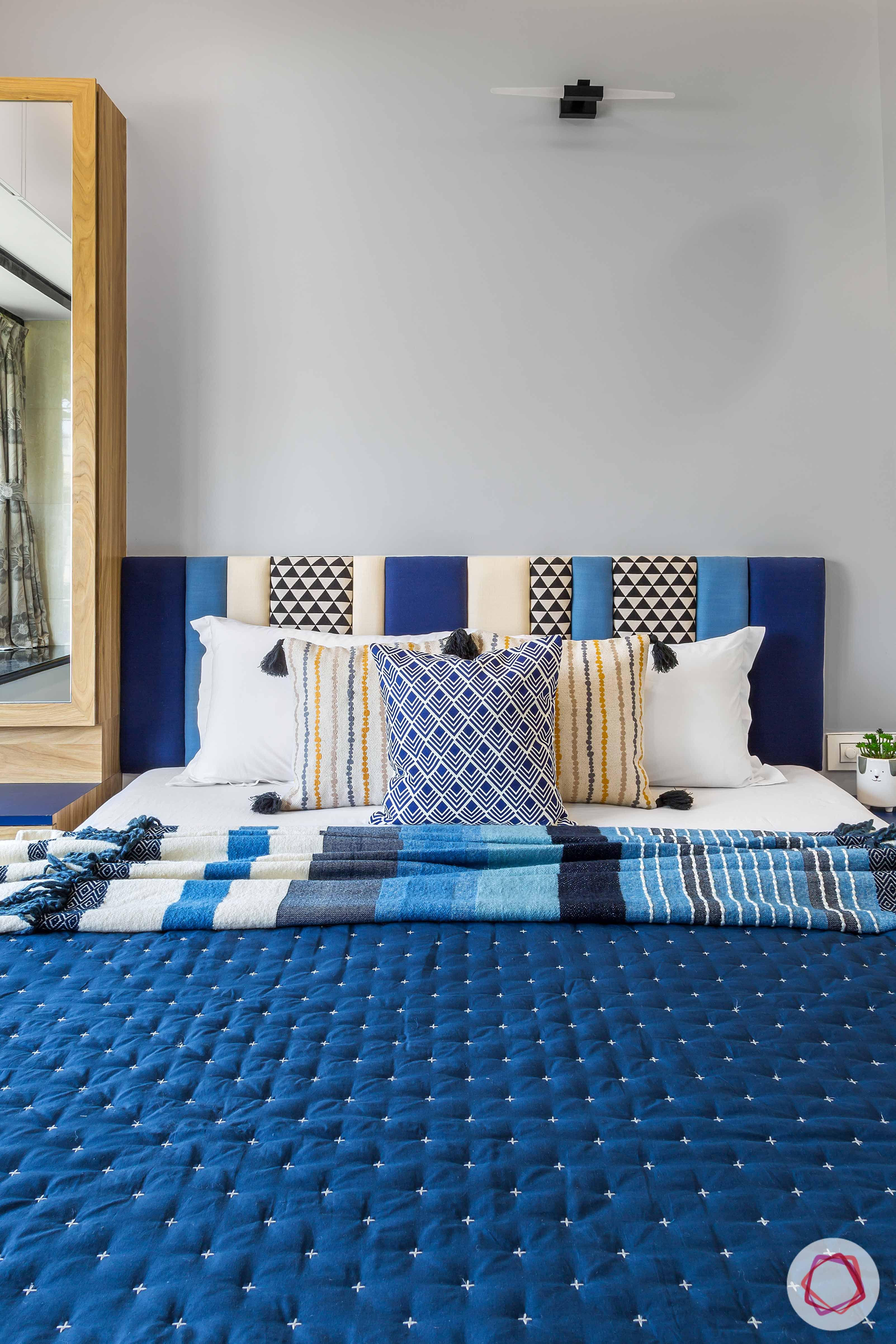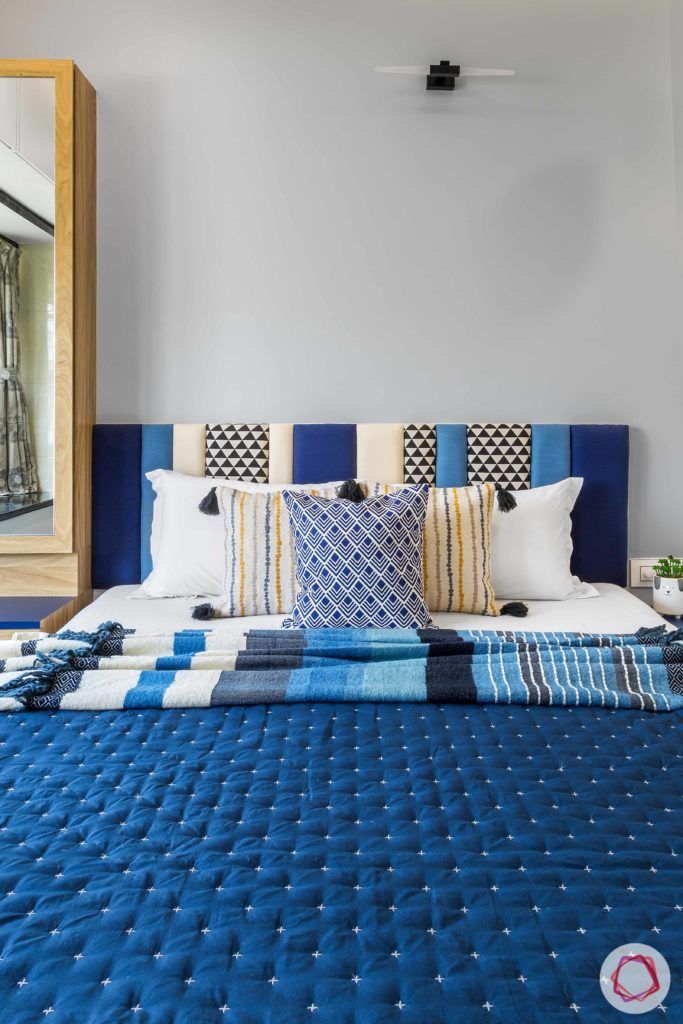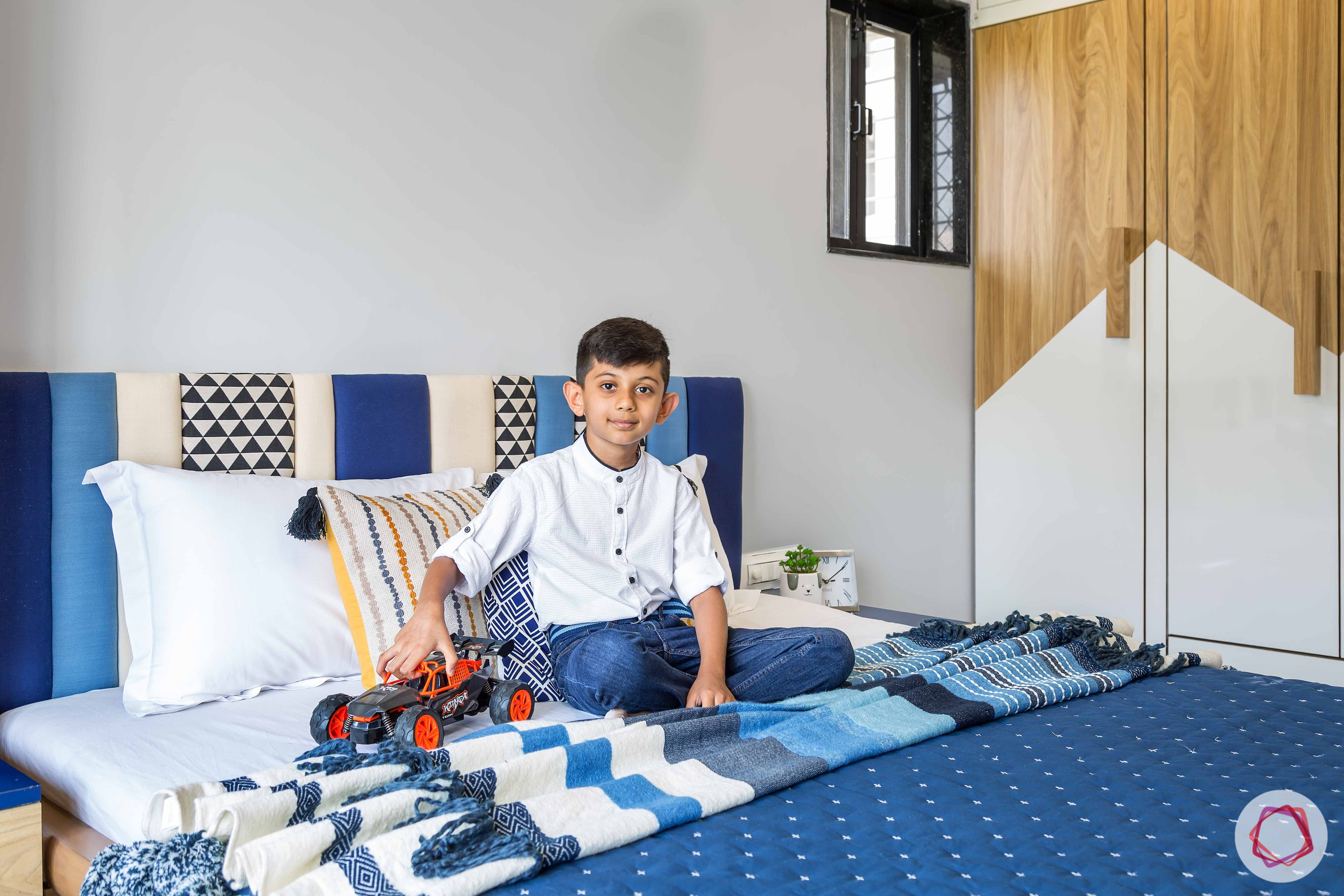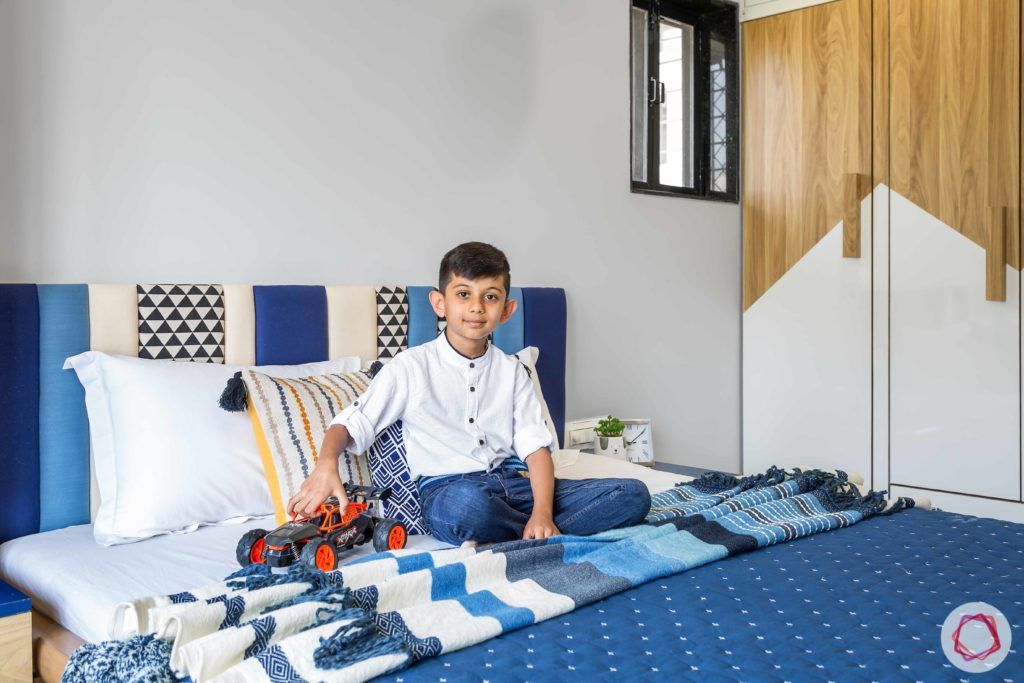 "We had gotten our master bedroom renovated through local contractors and this time around we wanted to engage a professional interior designer. It has been a great experience getting our room renovated through Livspace. Sakshi and Nausheen have been very supportive and receptive to our inputs. I wanted Sakshi to experiment with the design and I gave her complete freedom. She is a great designer and she respected our opinions. All of us were equally involved in the process and we love the outcome."

-Kavita Dave, Livspace Homeowner
Indian Bedroom: Brand new shutters for the wardrobes
What is the smartest idea that was executed in this bedroom makeover? It is the wardrobe shutters, if you ask us. Although these wardrobes look brand new, there's a small secret behind them. Since the wood used for the older wardrobes was of excellent quality, Sakshi decided to retain it. But, we simply love her idea of changing just the shutters for these. There's a slight reference to the mountains in the way the laminates are placed on these wardrobe shutters. Also, they are perfectly aligned and extended to the room door. She has also provided extra storage by adding lofts atop them.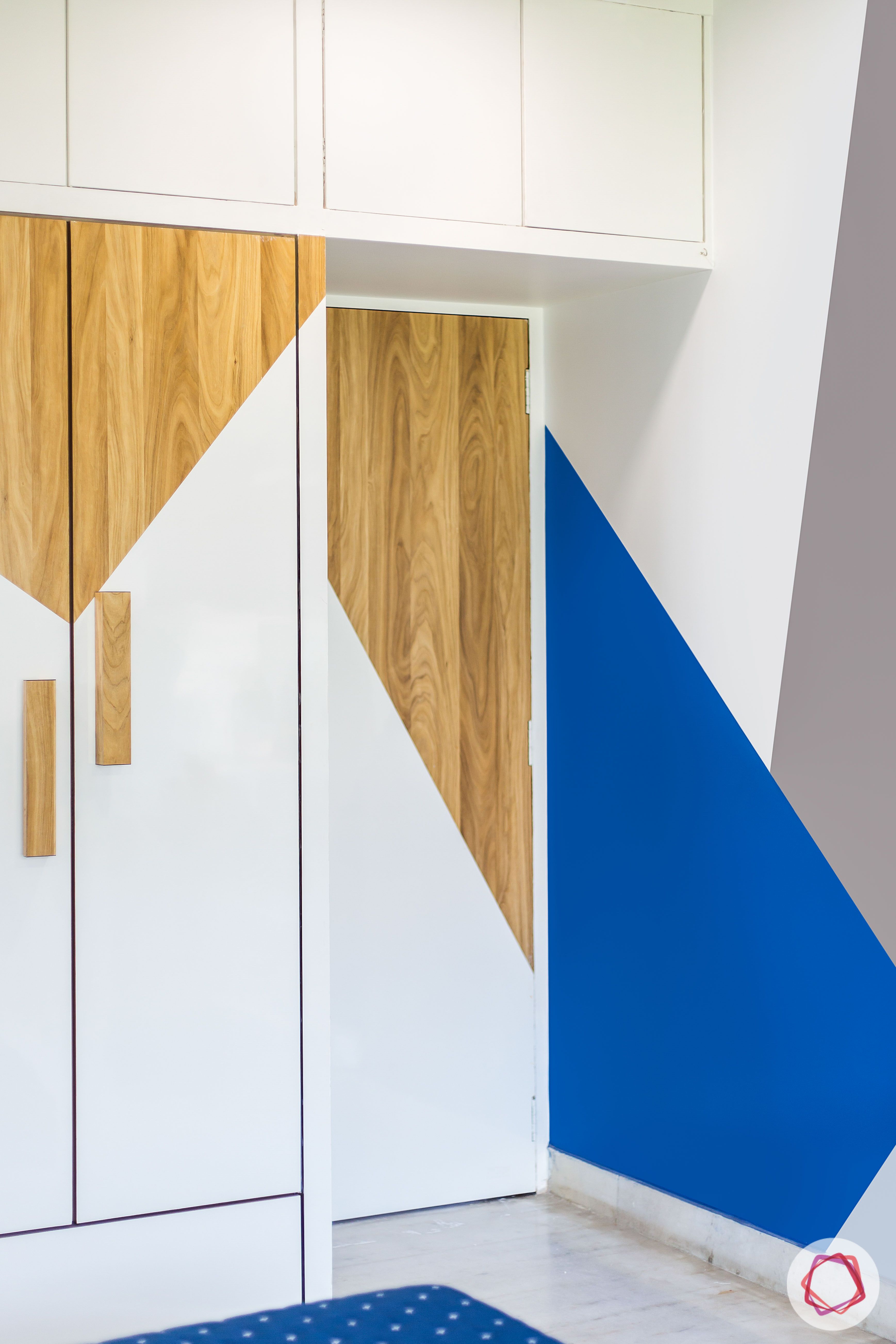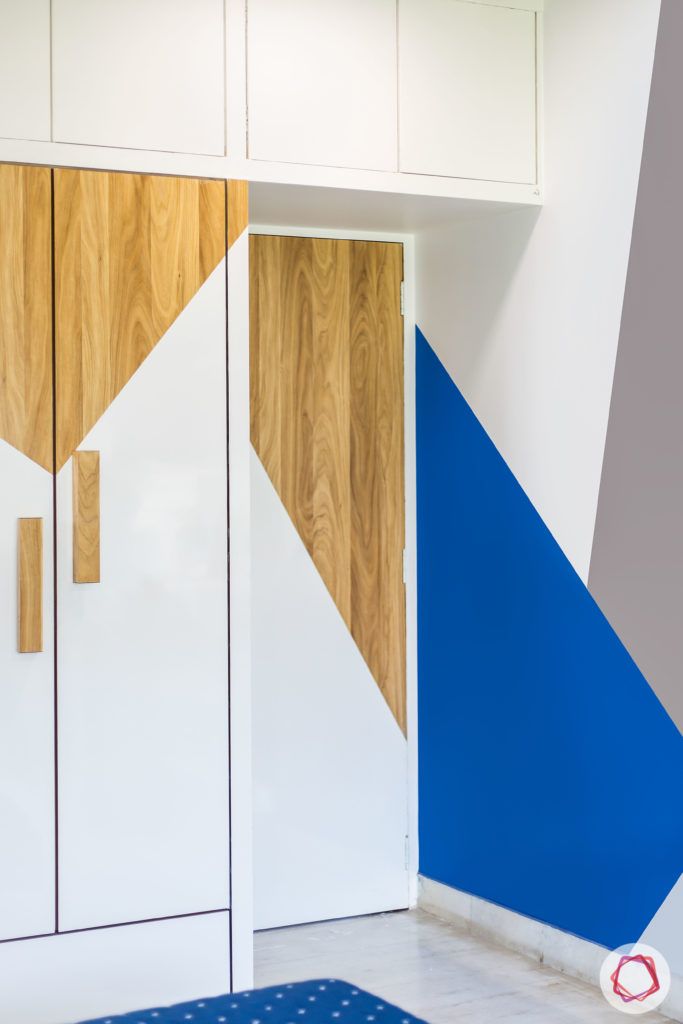 Indian Bedroom: Polished window seating
Krishay's bedroom receives enough sunlight and there is window seating to maximise the benefit of this. Although this feature was already present in the earlier layout, Sakshi made it look better by polishing the slab. Additionally, she has added lofts in this area to provide for maximum storage in this bedroom makeover.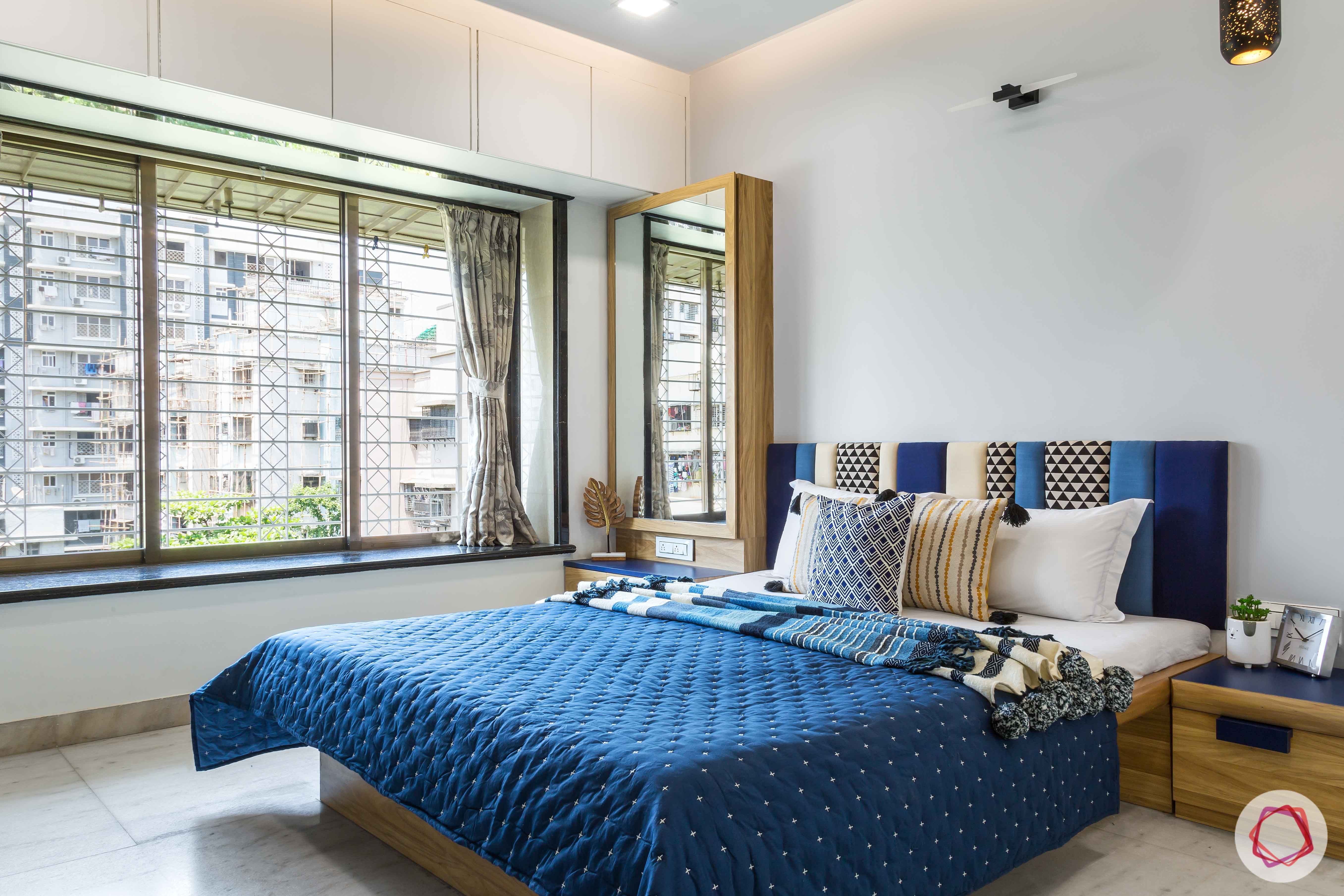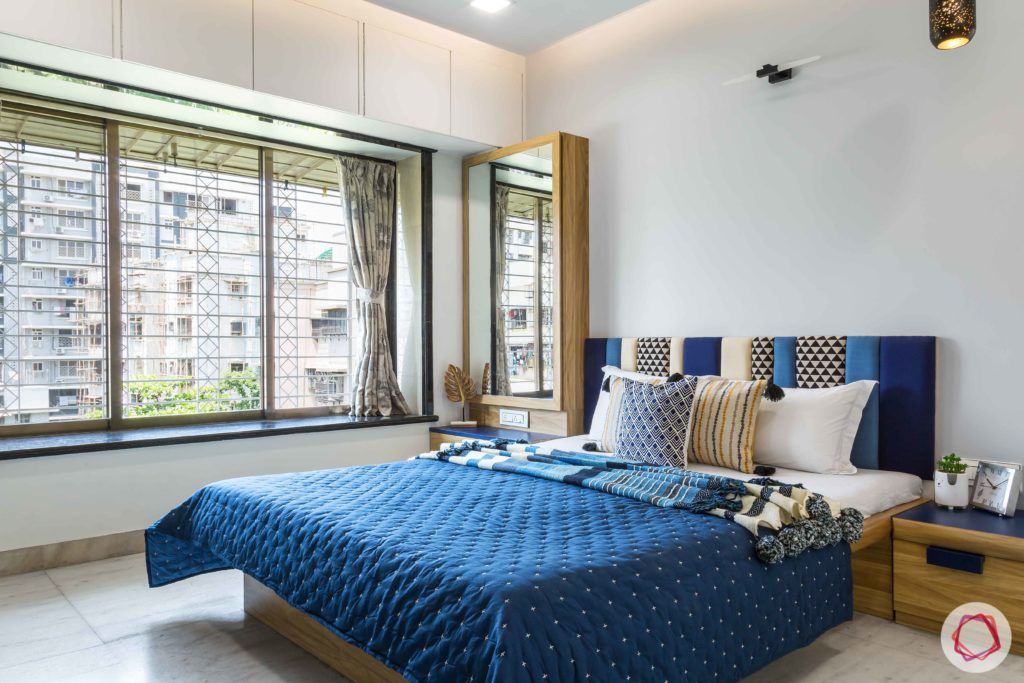 Indian Bedroom: Functional study table
Welcome to the most essential piece of furniture in this bedroom makeover. Kavita and the entire family was very particular about providing for a dedicated study table for Krishay. This is the major premise of giving his room a makeover. For a growing kid it is important to feel responsible and this requires a dedicated place for them.
The study unit that you see here has laminate finish and also sports matte blue panels. It is a full-fledged study table replete with cabinets, shelves and drawers. Kavita wanted this unit to accommodate two people comfortably so that Krishay can take his lessons from tutors and her. Sakshi has also highlighted the console wall with colour-blocked strips of wall paint.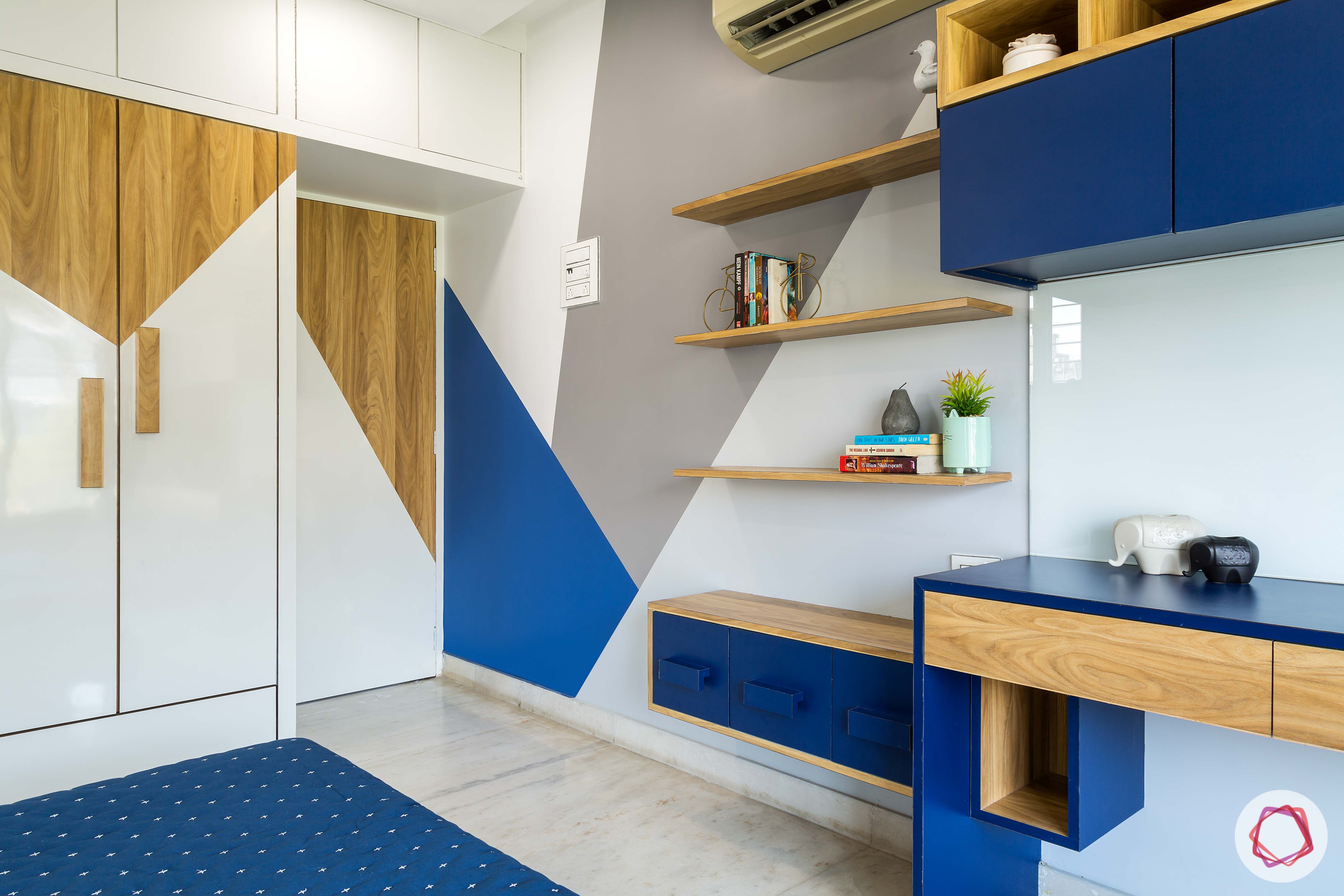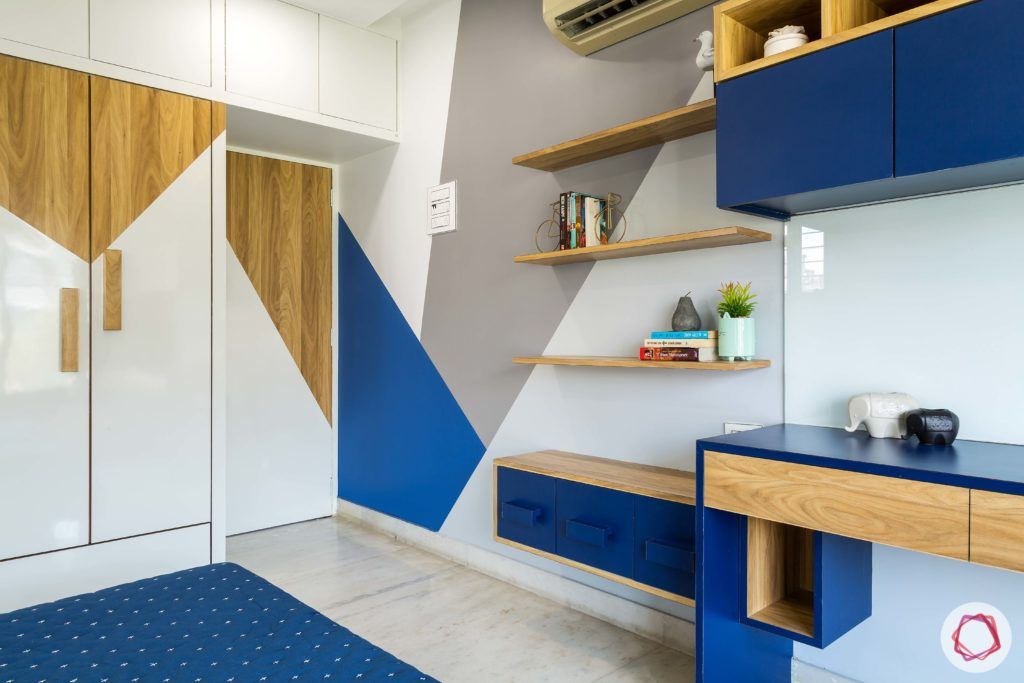 "Rushabh and Kavita Dave have been amazing and easy clients to work with. From our very first meeting, they were clear about wanting to retain their old furniture and give it a new look. This was a fun project for me as a designer, since I could experiment with designs and patterns. Everyone was highly involved and in the end it turned out to be perfect!"

– Sakshi Shetty, Interior Designer, Livspace
Did you enjoy looking at this makeover? We have another teenager's room makeover for you. Take a look at this: Design Alert: Teen Room Makeover Done Right!
Send in your comments and suggestions.