A home is not large or compact on the basis of its square footage. It really comes down to whether it is enough to meet all the requirements of the homeowners or not. And if you have unique requirements like the Guptas did for their 3BHK interiors, you will need an interior designer as well versed as Dalina Singh. By working with the clients across each and every stage of the design process, Dalina created a little piece of heaven for the Guptas, right in the heart of Noida!
This Noida home actually presents an interesting case study for space optimisation. On paper, 1,480 sq ft is not small. But with the kind of requirements the family had, Dalina had to rearrange the house and tap into space they never knew existed! That shows just how much a professional designer can change the way interiors are done. So we caught up with Dalina to dig out all the design secrets she used for the 3BHK interiors of this home. Deets coming up right here…
Somreeta Sarkar: What is so special about this home's design?
Dalina Singh: When I first started working with Atul, I realised that he had some innovative ideas for his home. I planned to work with his ideas and my expertise to create a modern home interior that the Guptas could be proud of! The bottleneck here was to do all this without cluttering the space. That is when I thought of opting for some civil changes. My plan was to find hidden nooks and unused spaces within the home. And to find these, we needed to make some well-thought out civil changes to the 3BHK interiors.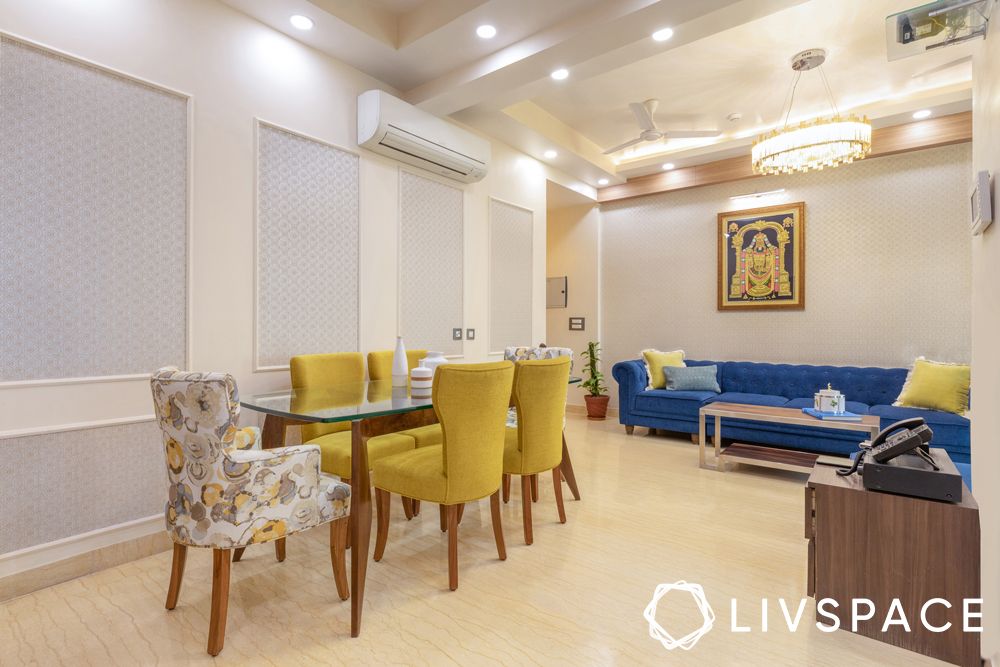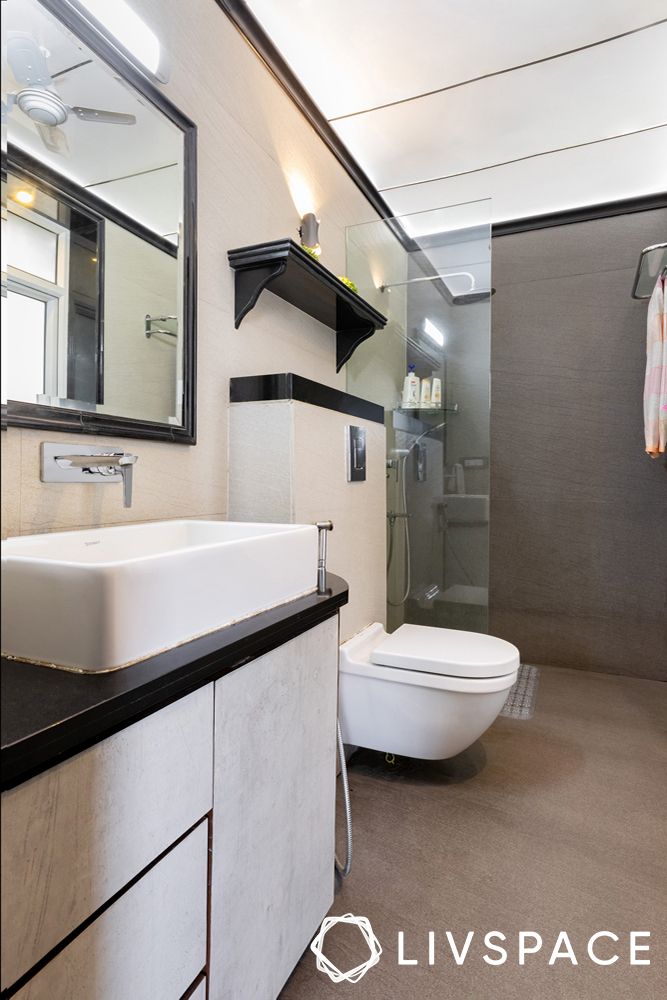 Somreeta S: This home is over 1,400 square feet. Yet you say that you had to look for 'unused spaces'. Why?
Dalina S: To be honest, there is no such thing as a 'large enough' home. It all depends on personal choices. The Guptas' vision for their home was unique with a very clear set of requirements. This made us look for unused and hidden spaces. For instance, one of the things that he was quite specific about was that the bar and pooja units should both be in the living room but shouldn't face one another. This would have been impossible if we didn't do some civil changes.
See that cute little corner with the modular bar unit? That was actually a small balcony attached to the living room. We pulled the balcony inside and converted it into a lounge-cum-bar area. Also, notice the door near the dining area? We pulled that out to create a small alcove for the pooja unit. The client was very happy with the final result as both these units seamlessly fit in with the design. At the same time, neither were in proximity to one another.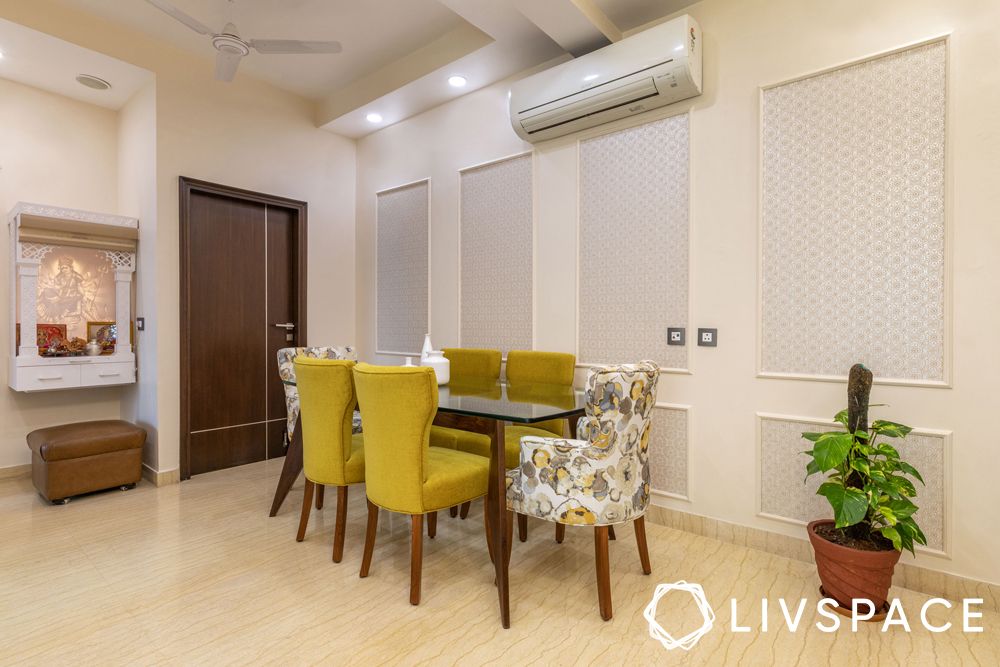 Somreeta S: What civil changes did you make?
Dalina S: Atul's vision for a modern home interior was a challenge, but civil work came to our rescue! As I mentioned earlier, the balcony converted into a lounge-cum-bar area was one of the major civil changes.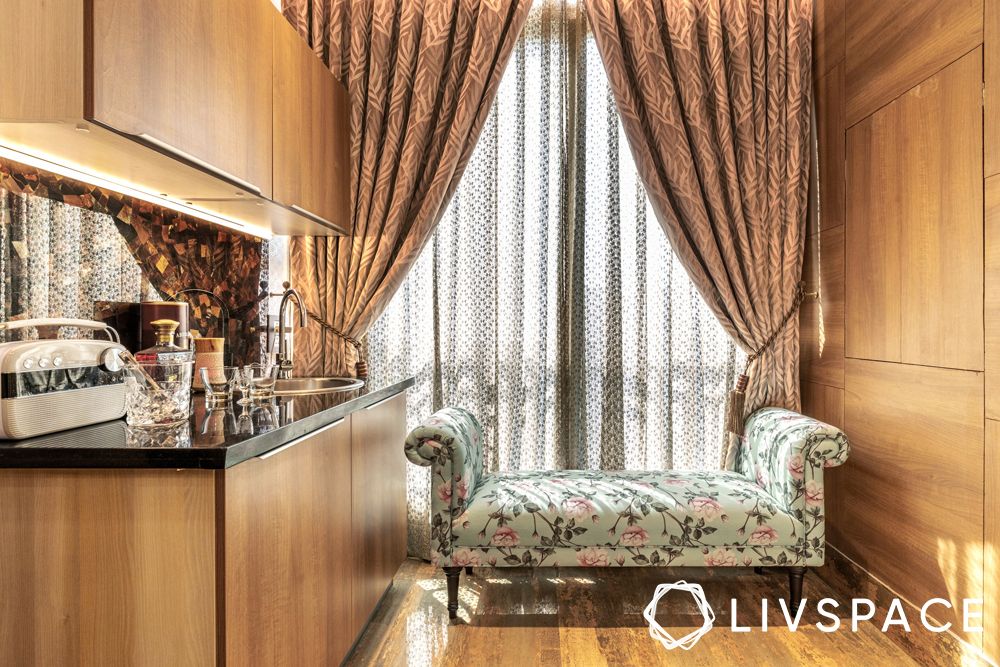 The second change that we made was in the bathroom. The Guptas were very clear that their son should have his privacy. This was a challenge for me as his bedroom didn't have a bathroom. So the common bathroom was integrated into the son's bedroom so that he has his personal space.
The final civil change was in the kitchen. The Guptas did not want to compromise on storage. We made the kitchen easy to use by ensuring that all the base cabinets were drawers. But it still wasn't sufficient for the family in terms of storage space. Then we noticed that there was this small balcony attached to the kitchen, which didn't really serve any purpose. To create a utility room, I included this balcony in the kitchen, enlarging the available space.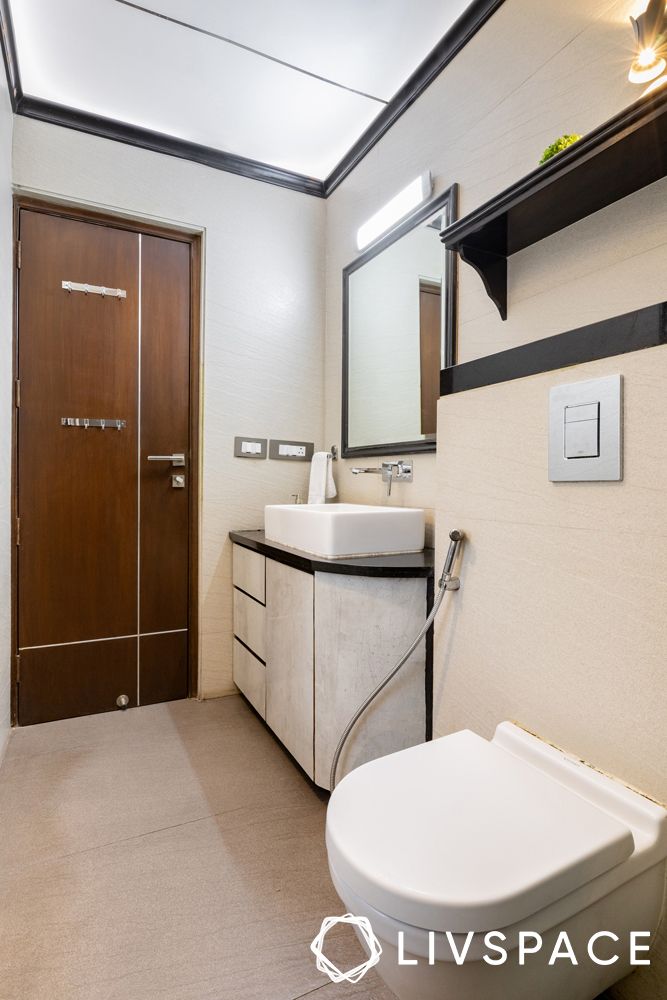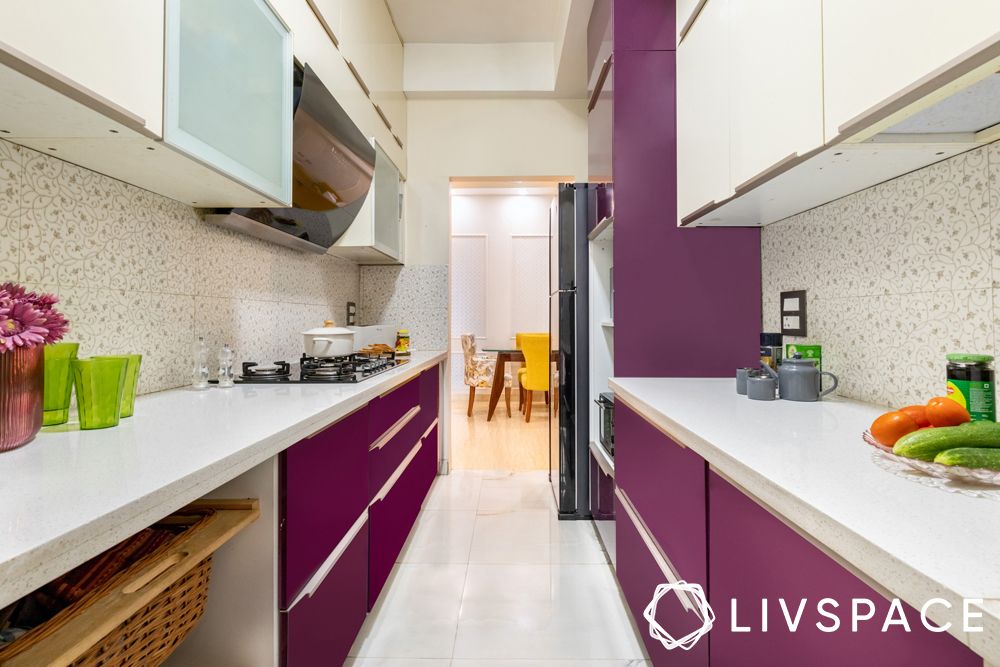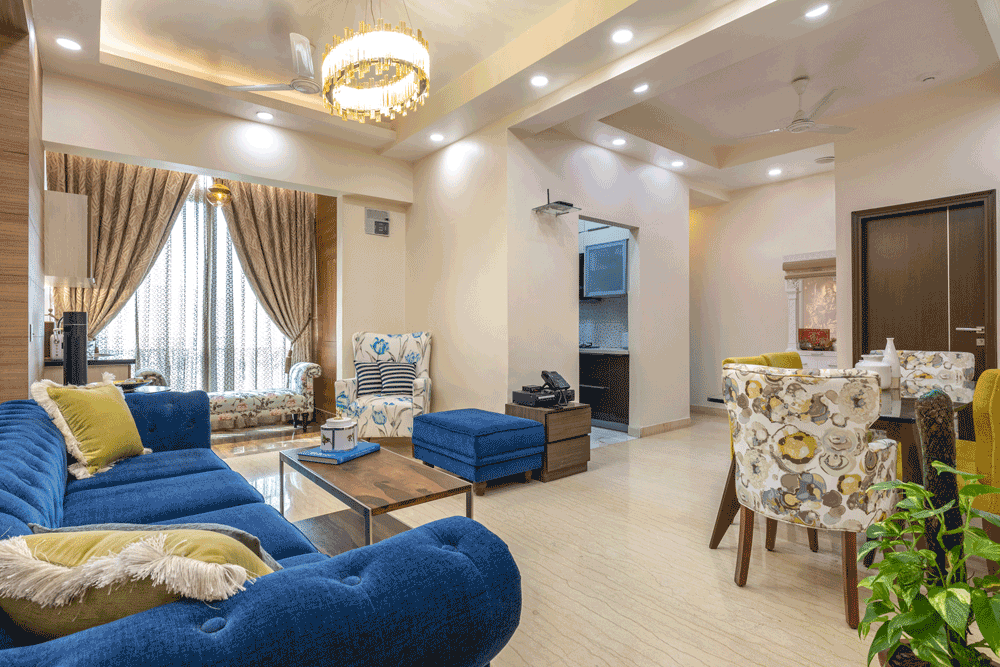 Somreeta S: How did you manage to give the family plenty of storage in a minimal setup?
Dalina: The Guptas wanted functional storage spaces added in every single room of their home. They were very particular that their visiting daughter should also have enough storage in her bedroom. While her bedroom already had a wardrobe, I also added vertical wooden modular units beside the bed to create extra space for her. The thing that I love about these units is the fact that they look completely decorative.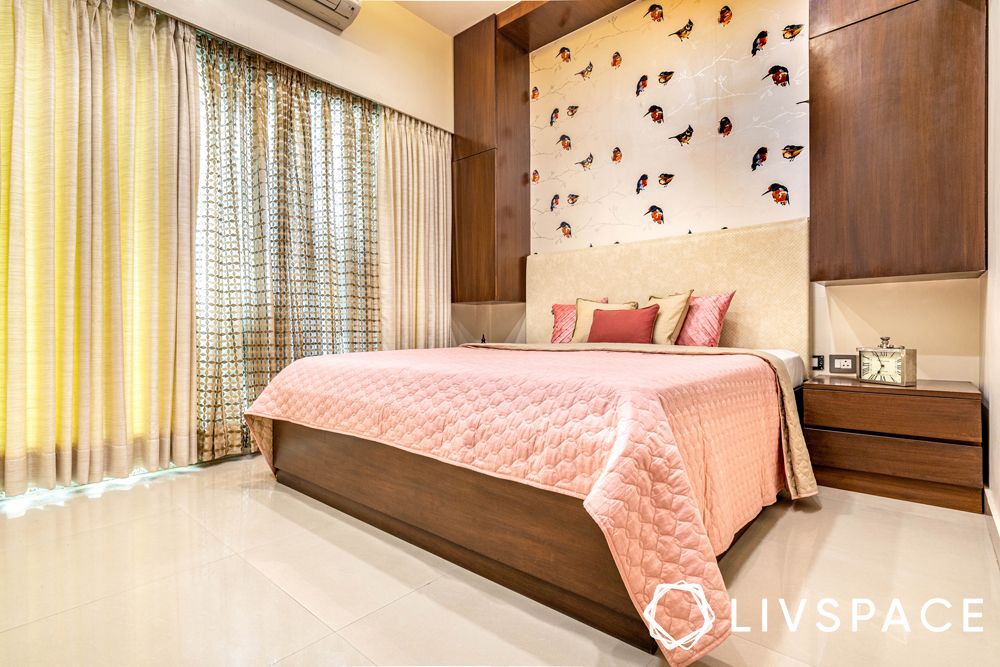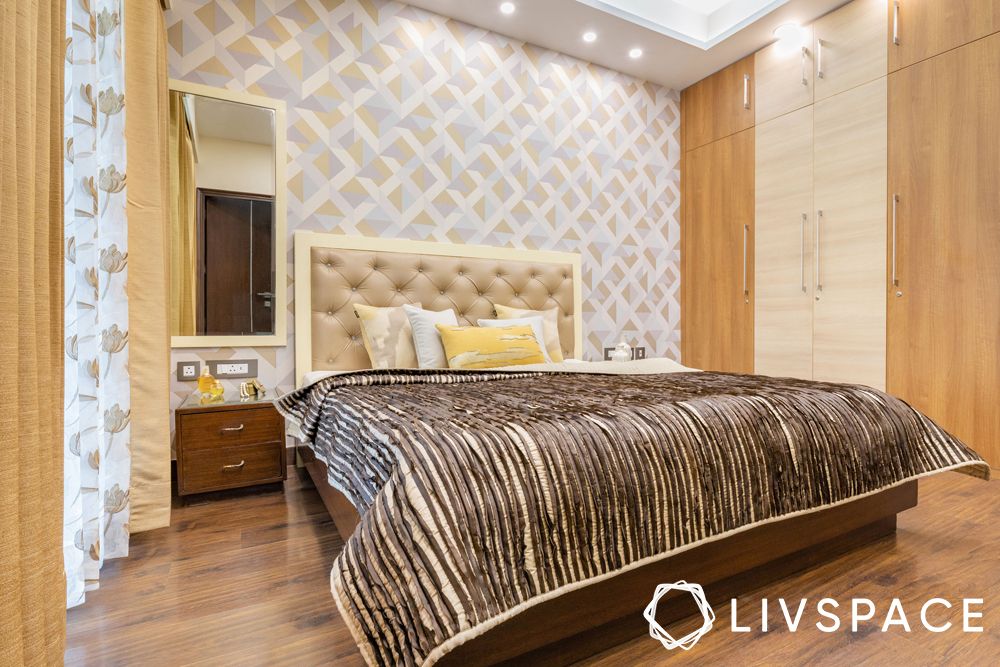 Similarly, in the master bedroom, I added wall-to-wall and floor-to-ceiling wardrobes, covering two walls.
Somreeta S: How did you manage to do all this within the given budget?
Dalina S: The most exciting part of this 3BHK interiors for me was the number of things we achieved in this budget! Nobody should have to compromise on their home design due to budget constraints. So we opted for modular storage units from the Livspace catalogue that were cost-efficient. Not everybody knows this, but customisation is more expensive than buying furniture that is made as per pre-decided dimensions.
The vertical wooden storage units in the daughter's bedroom are from our catalogue; we have just used it in an interesting way to make it look decorative. Similarly, the bar unit too is modular and picked from our range of affordable storage units.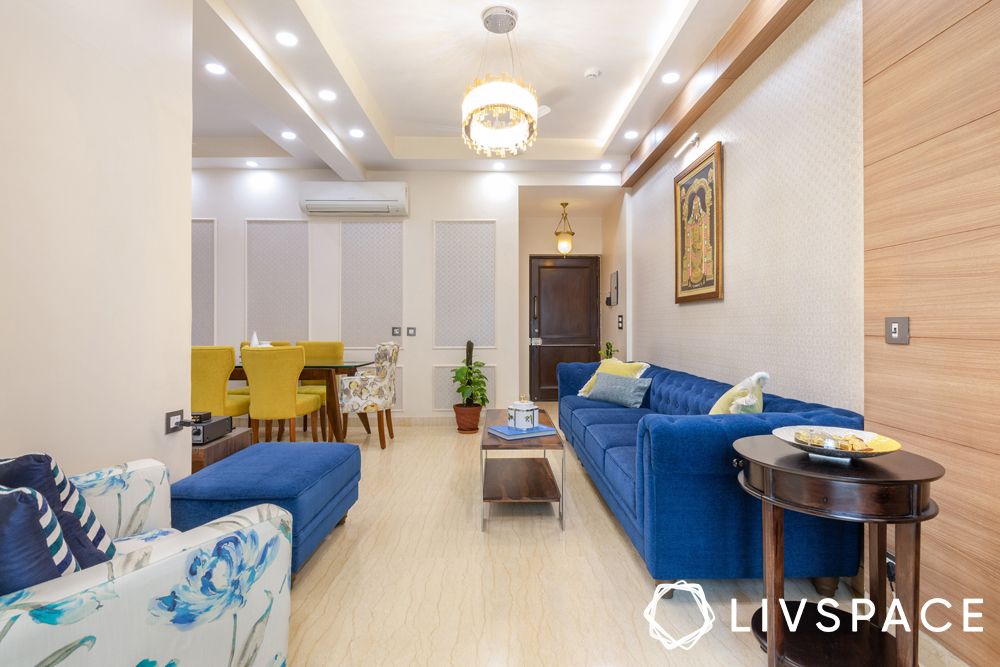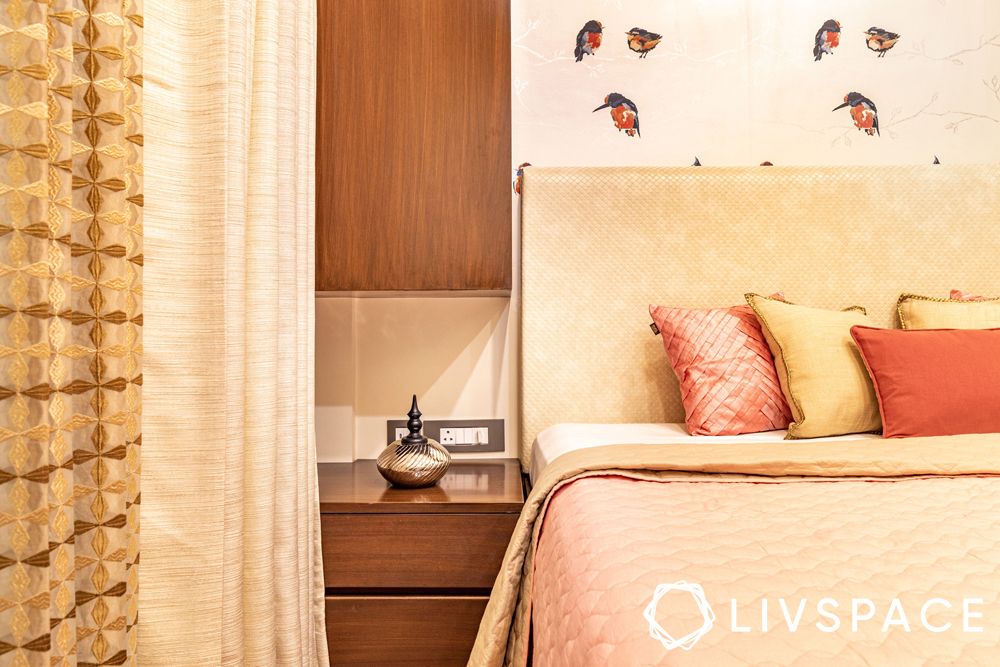 Enjoyed reading about how we transformed these 3BHK interiors into a classy space? Also, find out how we designed this cute 2BHK under Rs 10 lakhs.
Keep the suggestions and comments coming at editor@livspace.com