What do you think makes a home perfect? The size? Or, the design? In reality, a home can be called perfect only when every member living in that home feels comfortable and happy. And as we say this, the home that comes to our mind is R Iniyan's 4,800 luxurious penthouse in Noida. While this flat is definitely high on both glamour and comfort, there is another reason why it stands out. Livspace designer Dalina Singh's minute attention to detail and personalisation of every room takes this home to the next level. Come, let's take a tour of this gorgeous penthouse interior design.
#1: This Penthouse Interior Design Has a Partitioned Living Room for a Spacious Look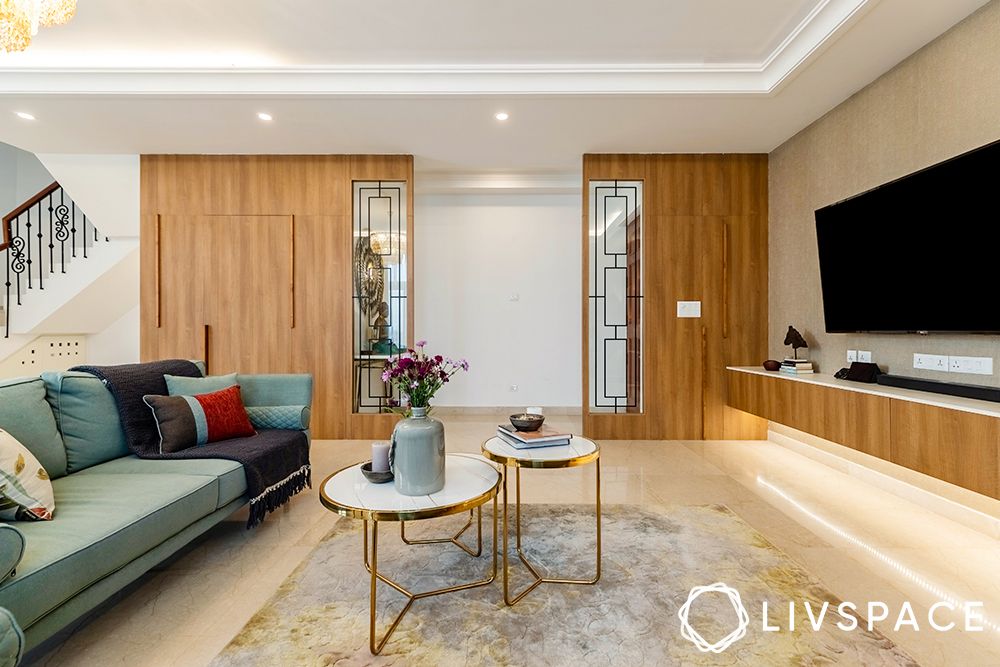 The first thing that stands out in the living room in this 4BHK penthouse in Noida is the unconventional colour combination. In addition to this, the living room is spectacular due to two reasons; the partition and the storage options. Considering the massive size of this room, Iniyan asked for a partition that would demarcate the entire living room from the entrance.
Dalina achieved this successfully with the help of contemporary furniture options. The wooden partition segregates the living space from a concealed area which has a storage shelf inside. Another similar storage shelf has been hidden under the staircase. This ensures maximum storage without affecting the aesthetics of the penthouse interior design.
#2: This 4BHK Penthouse in Noida Features an Elder-Friendly Parents' Bedroom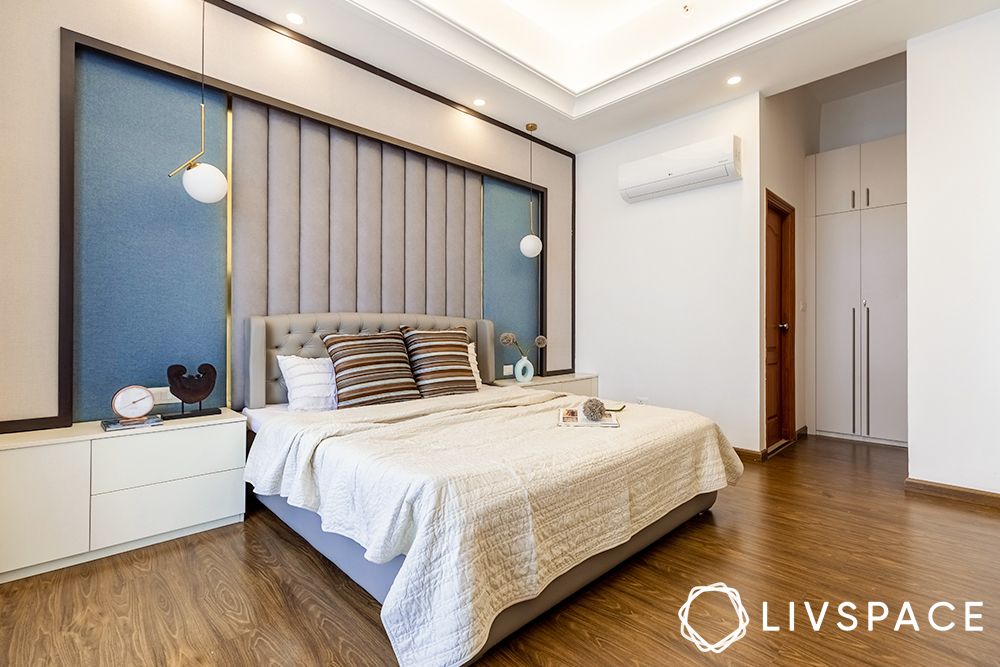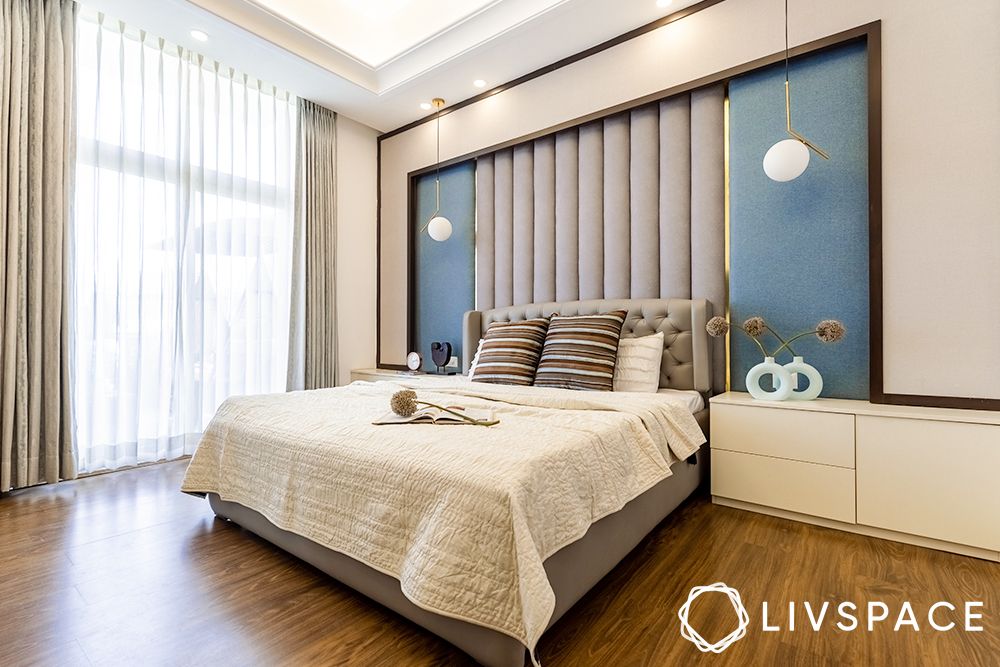 When you have elders living with you, their safety, comfort and convenience should be of paramount importance while designing their bedroom. Situated on the ground floor of this 4BHK home design in Noida, Iniyan wanted this bedroom to be simple in design and easy to navigate. Accordingly, Dalina installed minimal furniture in the bedroom so that the elders won't knock into anything. The bed also has a soft fabric headboard for added comfort. While the room already had tons of natural light flowing in, Dalina added recessed and pendant lighting in this penthouse interior design to improve visibility.
#3: A Home Office That Is Also a Library and an Entertainment Zone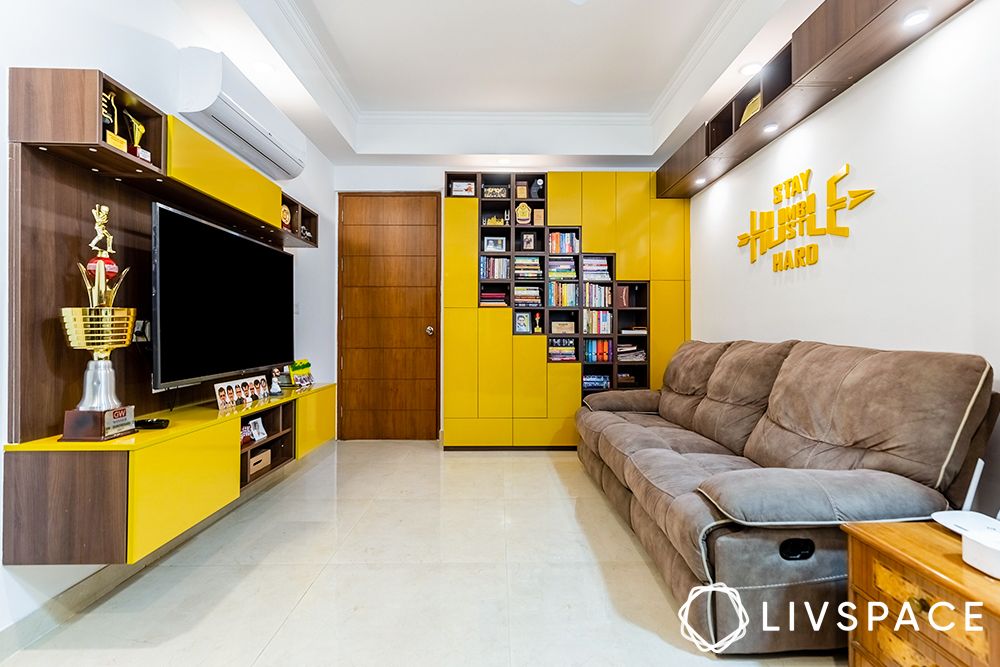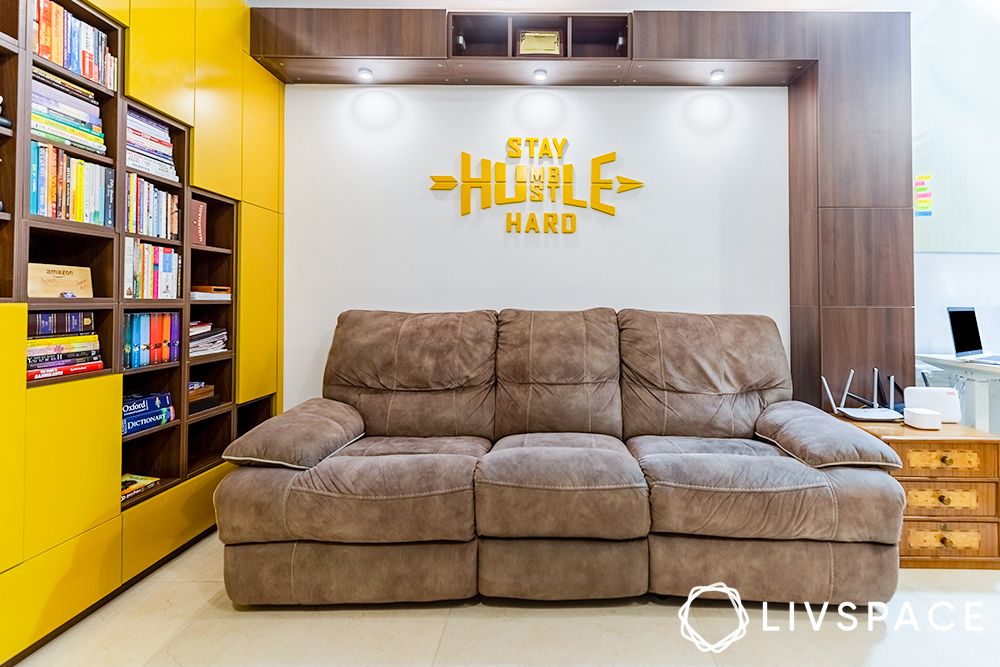 The COVID-19 pandemic has changed the way we live and work. Now, a home office is a must-have in every home. Iniyan wanted a workspace in his penthouse interior design where he could not only work in privacy but also binge watch his favourite movies and cricket matches. Dalina converted one of the rooms in this 4BHK full home interior into a "mancave" for Iniyan. This space is well-equipped with a desk, a comfy sofa, a TV unit and a gorgeous library.
#4: A Quirky Blue Kids' Room for the Anti-Pink Daughter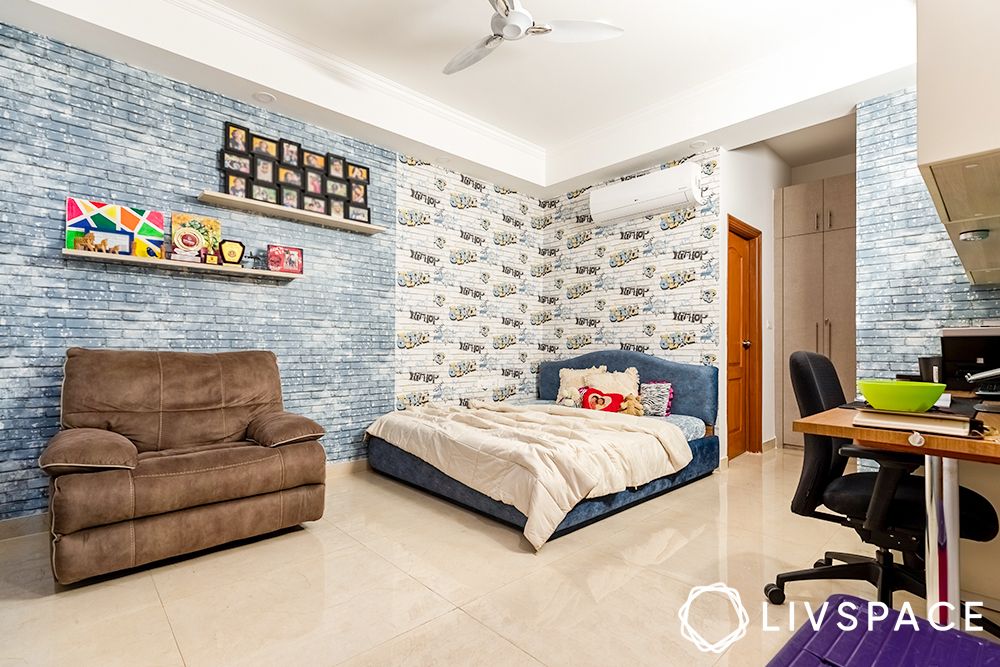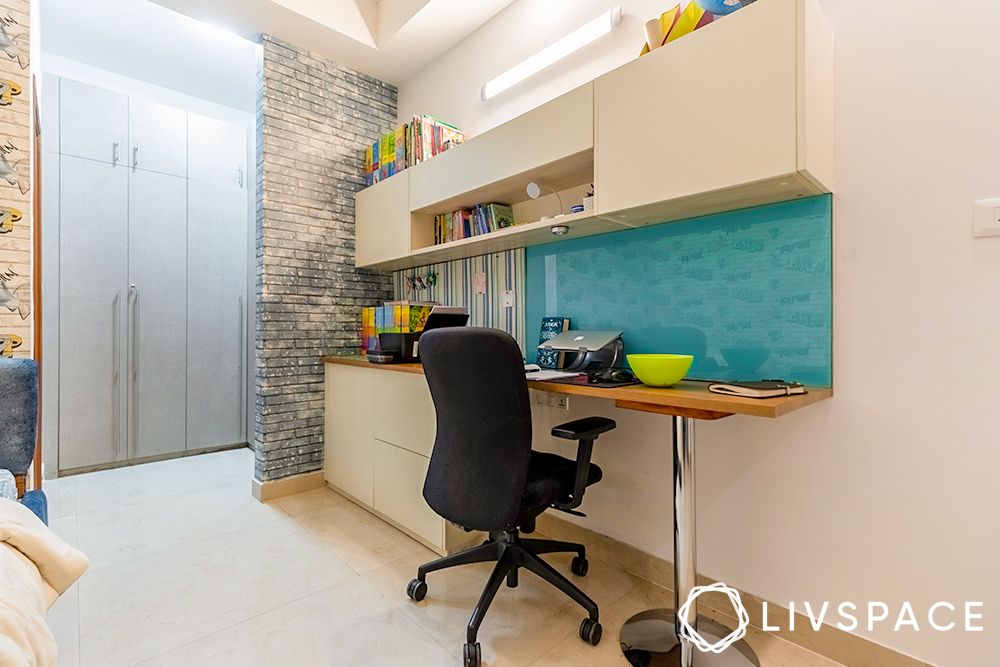 We strongly believe that colours should never be gender-specific, and so does Iniyan's young daughter. In Iniyan's words, his daughter was "one of those anti-pink brigades" and wanted her room to be done up in blues and wallpapers. Accordingly, Dalina ensured that the kids' room in this 4BHK penthouse in Noida has a quirky and fun theme that is perfect for a growing girl. We particularly love the brick-like designs on the wall, that give this room a rustic touch. One of the things that was a must in this room was the study unit. Due to the COVID-19 situation, the family wanted a well-equipped workstation for the daughter. While the study unit is packed with storage, its sleek design ensures that there is enough walking area in the room for a growing child to play.
#5: Penthouse Interior Design With a Private Master Bedroom That Has a View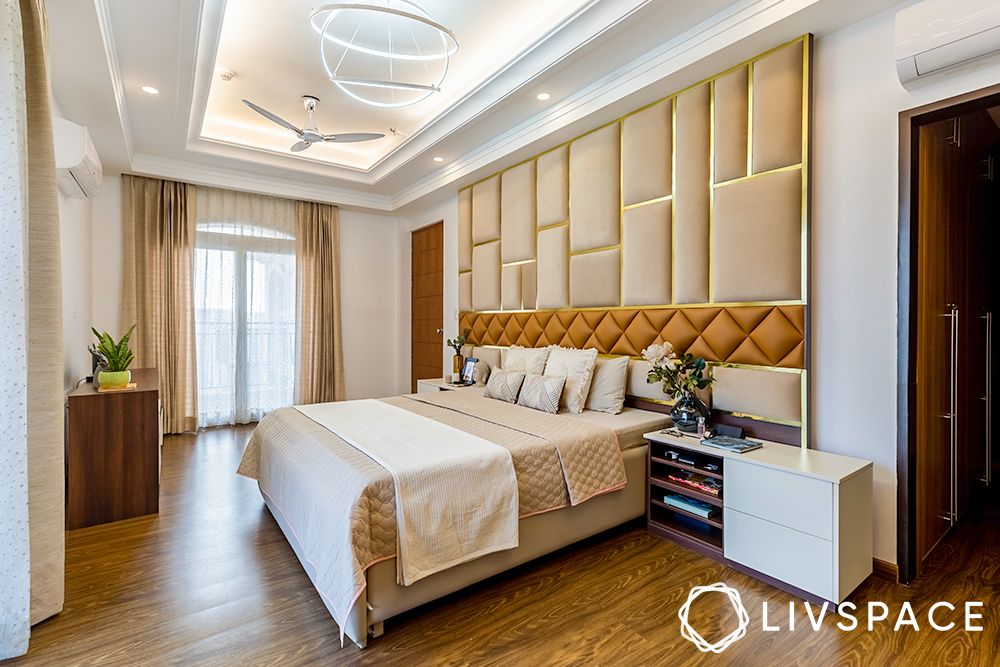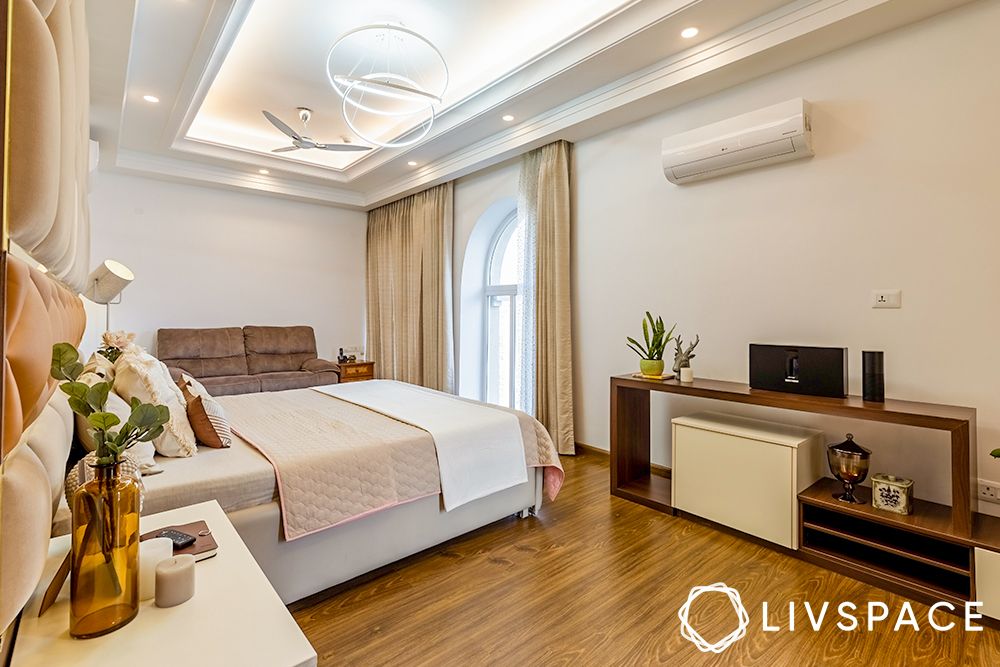 If you are looking for 4BHK master bedroom ideas, you must bookmark this room. Situated away from the other rooms in the penthouse interior design, Iniyan and his wife wanted their master bedroom to be a private space. Additionally, with two large floor-to-ceiling windows, they wanted their room to have very simple decor that wouldn't overpower the amazing view. The intricate panelled floor-to-ceiling headboard, wooden flooring and multiple lighting options helped in creating a warm and cosy ambience.
#6: Vastu-Approved and Elder-Friendly Pooja Room in This 4BHK Penthouse in Noida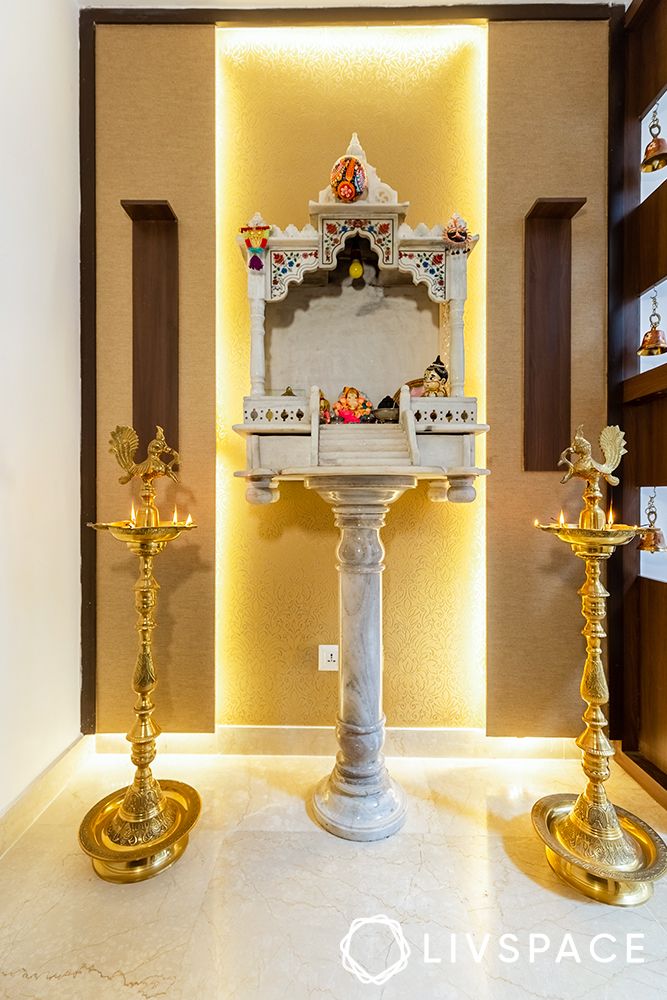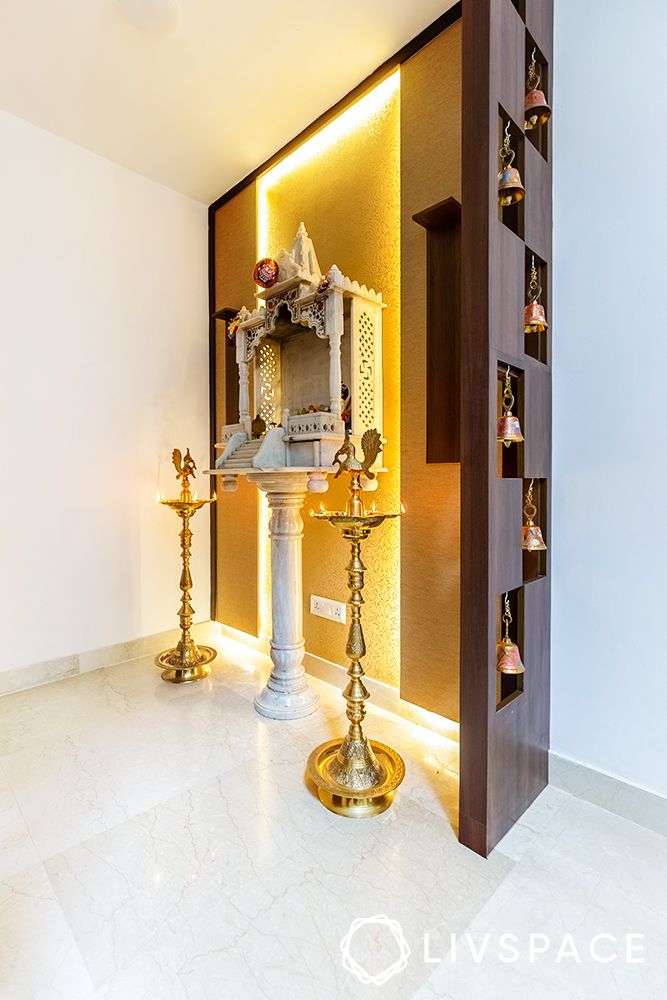 An Indian home is incomplete without a pooja room. To get the most out of your mandir, it's best to design it as per pooja room vastu principles. Therefore, on finding a vastu-friendly corner in their penthouse interior design, Iniyan and his family decided to convert it into a pooja room. One of their requirements was to have a mandir design that was elder-friendly. Accordingly, the tall pooja unit is designed to be at the perfect height such that the elderly parents can comfortably stand and pray, without squatting.
#7: Breathtaking Outdoor Spaces in This 4BHK Home Design in Noida for Some Family Time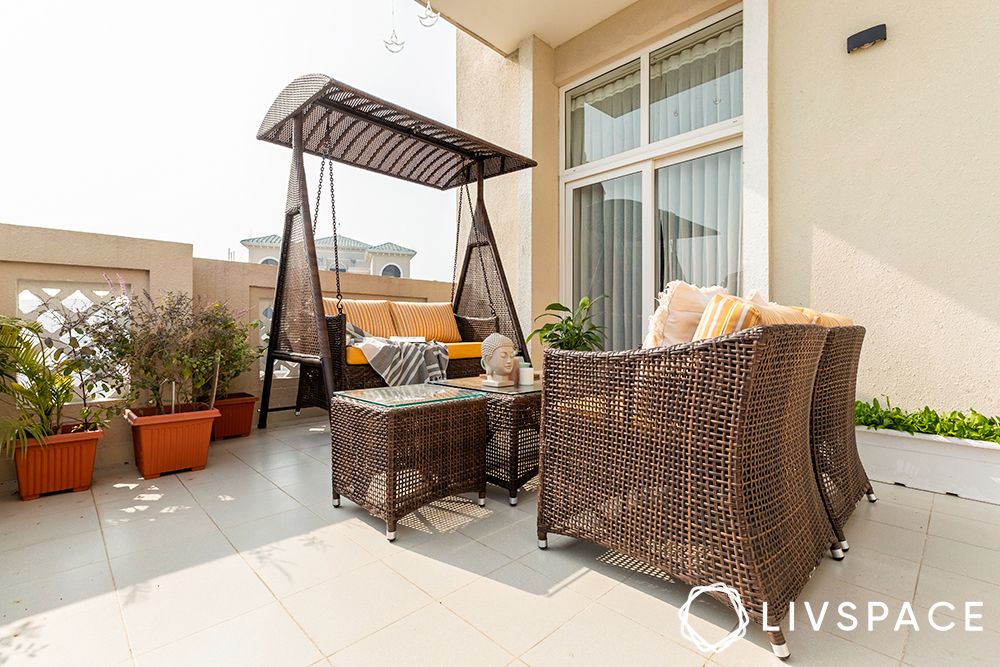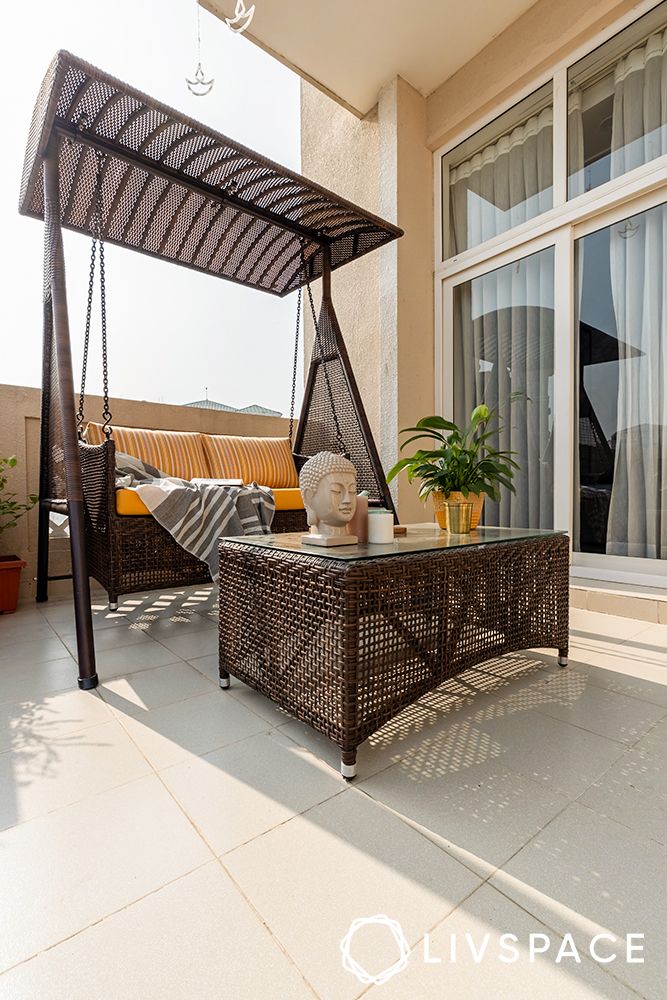 The perfect place to spend some quality time with both family and friend—this big balcony in Iniyan's penthouse interior design received plenty of sunshine, while having enough shade and a great view. As such, Iniyan had a lot of plans for this space. He wanted shades and plants. However, the main thing that he wanted was a low-maintenance space where he could sit out and relax with his loved ones. Therefore, Dalina provided extra seating in the form of two armchairs and a large jhoola. All the furniture in this 4BHK penthouse in Noida is rattan, giving this entire space a quaint look.
If you liked R Iniyan's penthouse interior design in Noida, check out this villa in Bengaluru that is perfect for a millennial couple.
How Can Livspace Help You?
We hope you found our ideas useful! If you want beautiful interiors for your home, then look no further. Book an online consultation with Livspace today.
Wondering how our customers feel about working with Livspace? You can check out the Livspace reviews here!
Send in your comments and suggestions to editor@livspace.com