Over the years, the way homes look has changed a lot. What your grandparents liked in their home decor may no longer be relevant today. Today's millennial homeowners have a distinctive style that is influenced by global trends when it comes to interior design. Dattatreya and Niharika's modern classic villa design in Bengaluru is one such home that perfectly reflects their contemporary tastes. Let's take a tour of their gorgeous home and see what makes it the perfect millennial modern classic villa interior design.
#1: Fun Spaces to Entertain Guests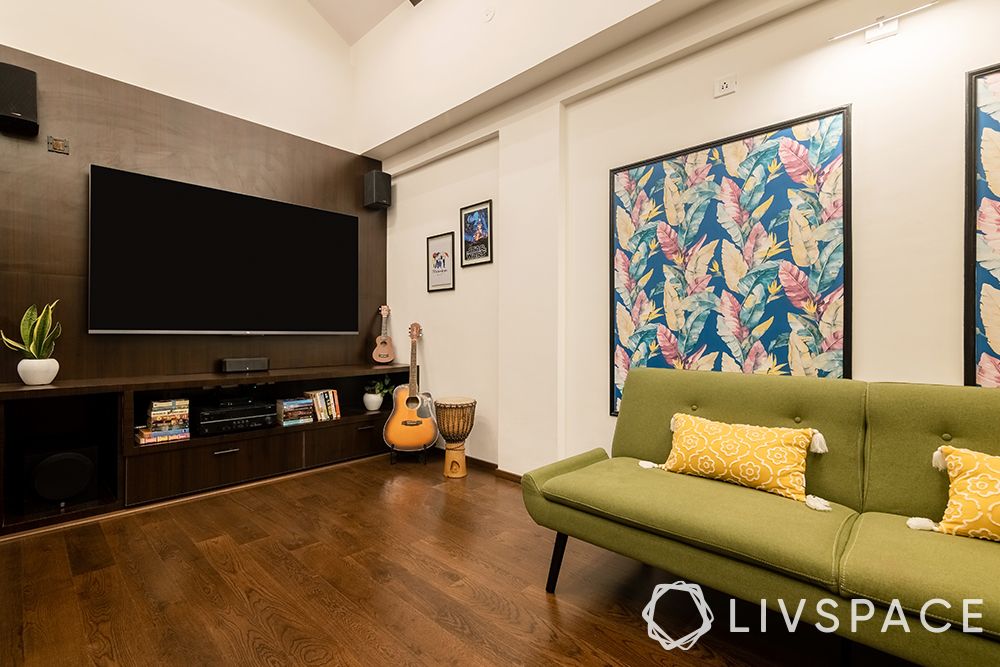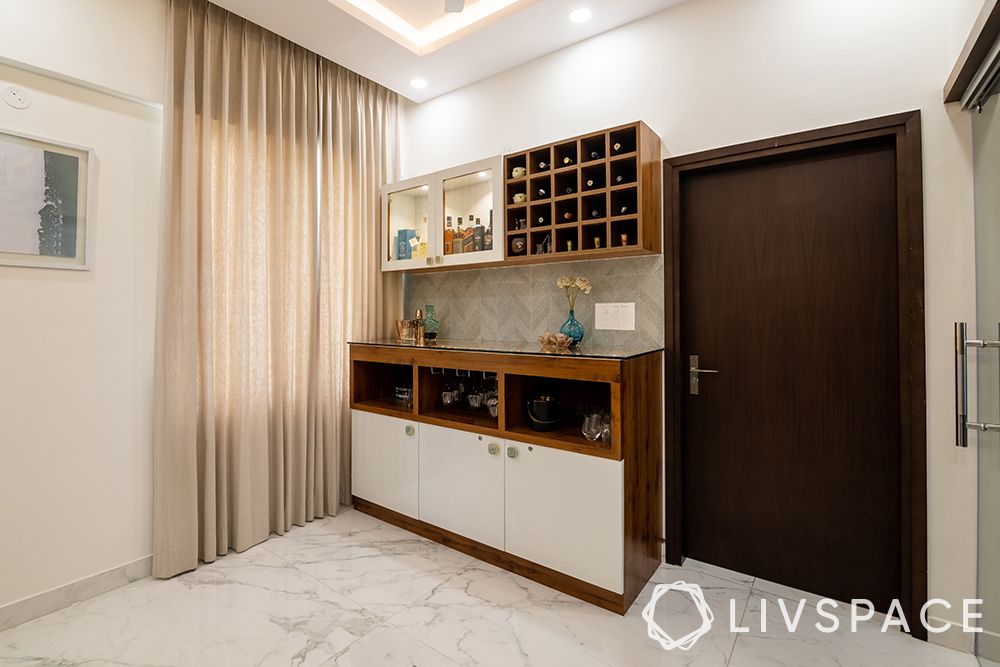 Most young millennials love hosting house parties and inviting friends and family over. Moreover, after the pandemic, this trend has grown even more popular. So, if you're someone who loves entertaining, it's important to have some segregated spaces for your guests. For instance, Dattatreya and Niharika's modern classic villa design has a separate audio-visual room with an entertainment unit, seating and ample open space that is perfect for hosting and entertaining guests. In addition, the couple also invested in a double-ply home bar. A convenient addition for house party lovers, this bar has a premium look due to the handmade resin knobs, glass countertop and cove lighting.
#2: Because Millennials Love to Travel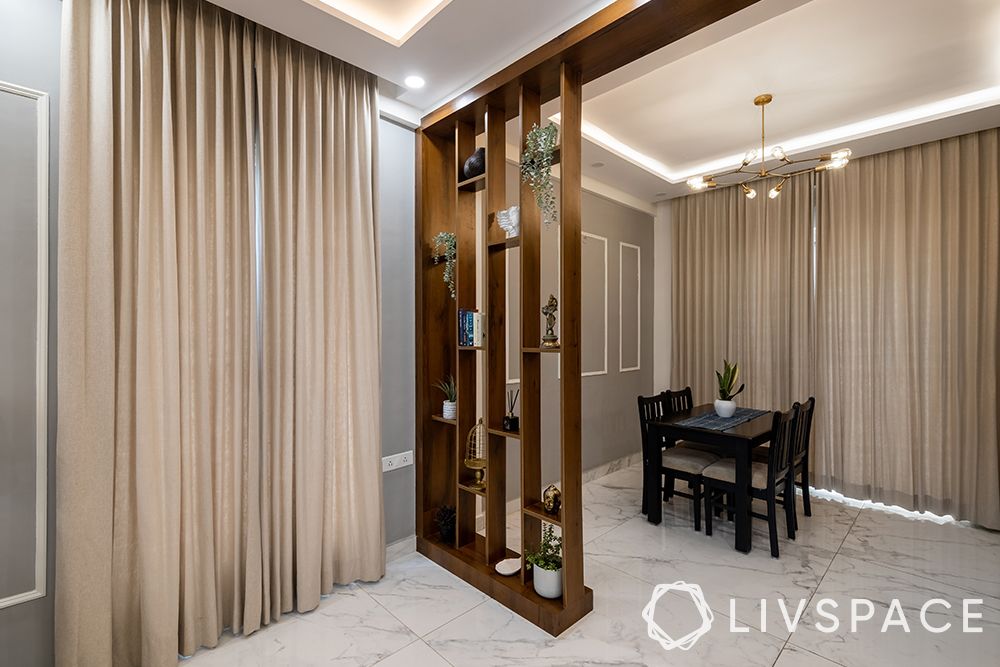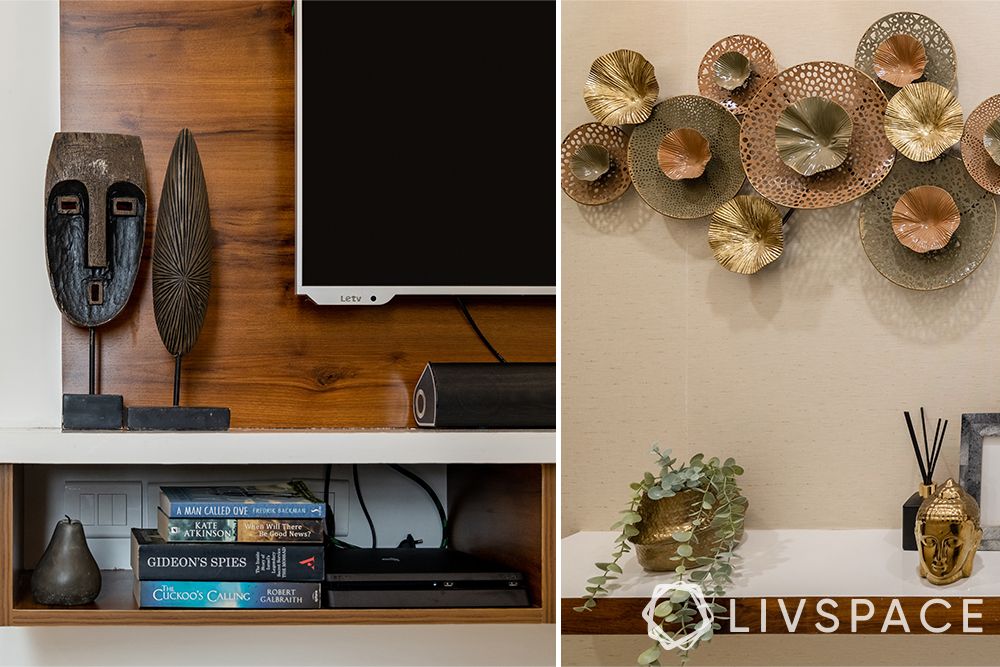 If there is one thing that almost all millennials share, it is the love for travel. And while travelling, who doesn't like to pick up some souvenirs and mementoes? While most of us tend to stuff these items in a closet, a better idea would be to display them beautifully for your guests to see. Both Dattatreya and Niharika love to collect artefacts and fridge magnets from the places they visit. To ensure that all their travel souvenirs would be there for their guests to see, our designer Ankita Gupta gave them a partition made of wooden panels with display racks where the couple can keep their souvenirs. In addition, every free surface in this modern classic villa design, be it an empty wall or a countertop, has been used to display gorgeous mementoes.
#3: A Space for Some 'Me' Time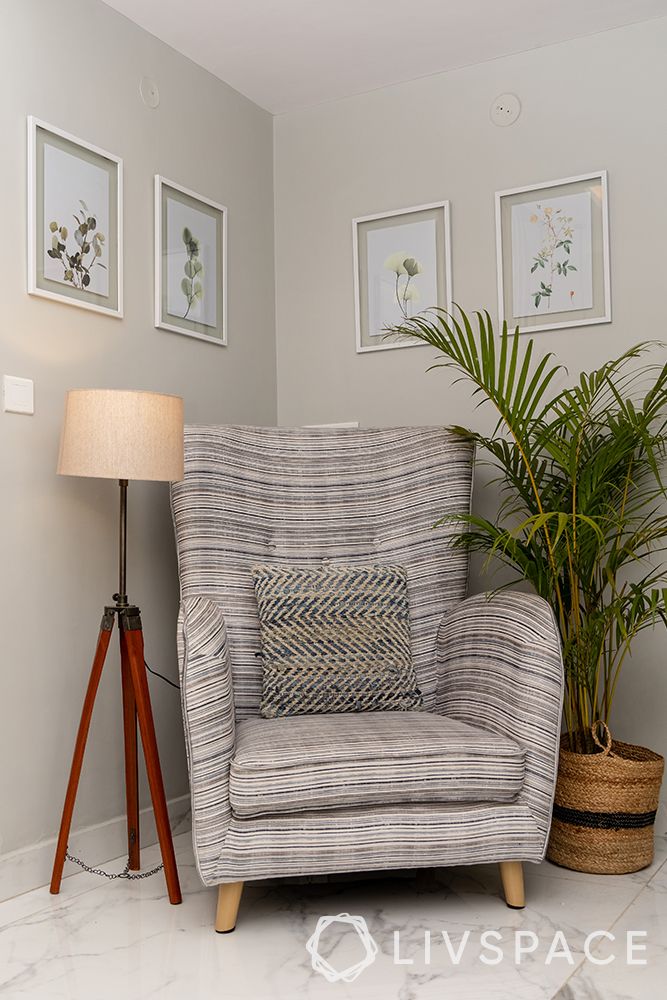 Most young millennials live away from home and family. Considering the busy lifestyles most of us lead, it is important to always have some 'me' time, doing something that you love. For Niharika, a published writer and an avid reader, her 'me' time involved a place in her modern classic villa design where she could sit back, relax and read her favourite books. So, we created a cosy little nook for her in the bedroom of this modern classic villa interior design with the help of a super-comfy armchair, ample lighting and a dose of greenery.
#4: A Low-maintenance Kitchen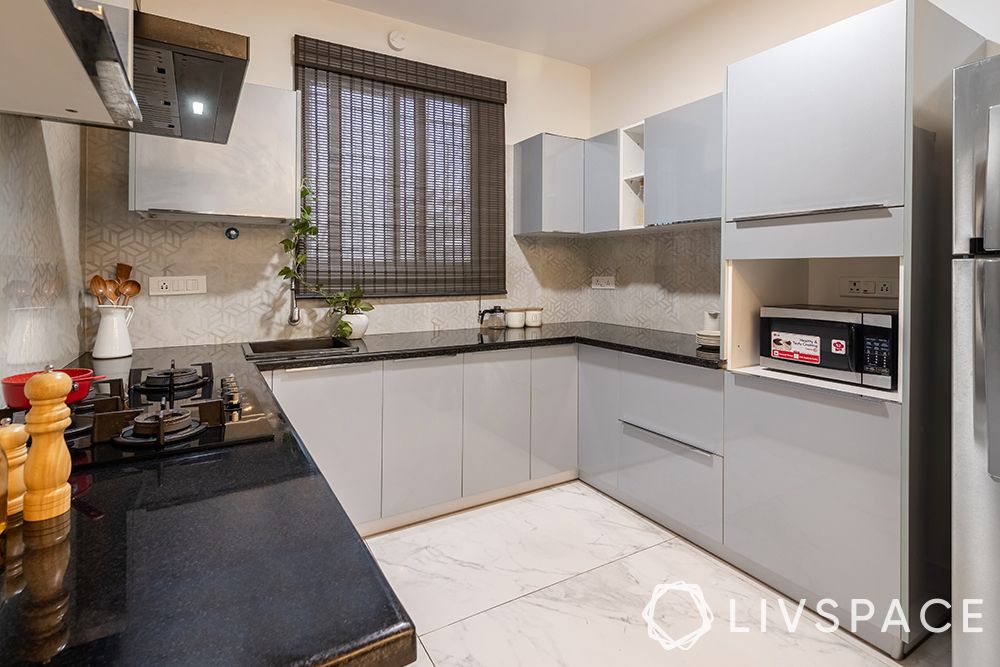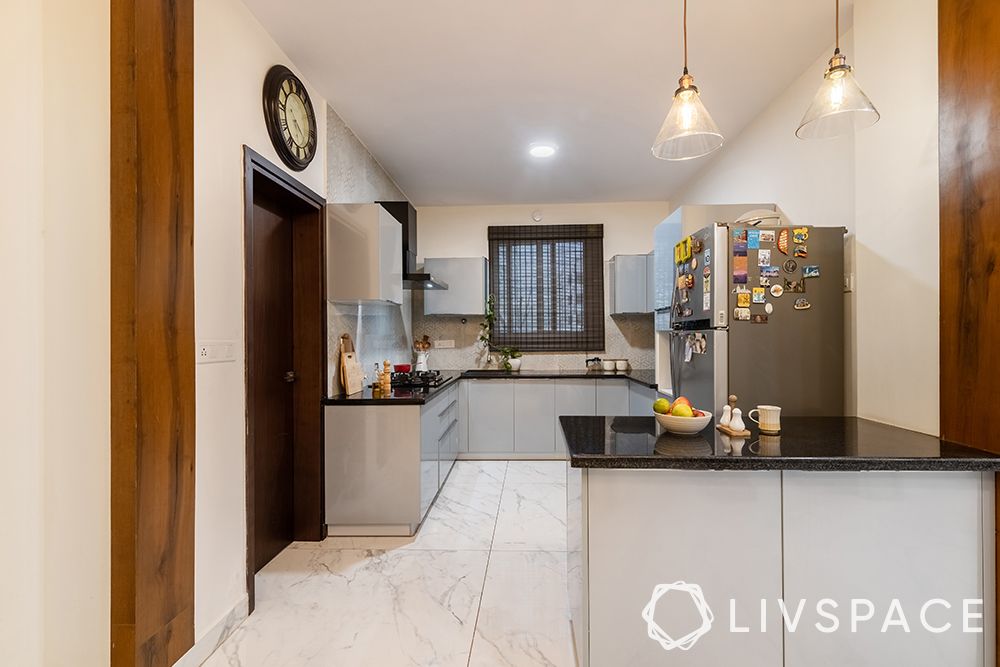 Let's face it — nobody has the time to clean their homes every single day! But nor can you have a dirty home now, can you? The solution is simple — opt for low-maintenance finishes. Choosing easy-to-clean materials is especially important for your kitchen, which witnesses maximum footfalls and can get dirty quite easily. As such, Dattatreya and Niharika selected laminate for their kitchen, given that it is one of the most easy-to-clean materials in the market. Apart from maximum storage, Ankita also gave them a breakfast bar in their modern classic villa design, which makes it convenient to cook and eat simultaneously on busy mornings.
#5: Working From Home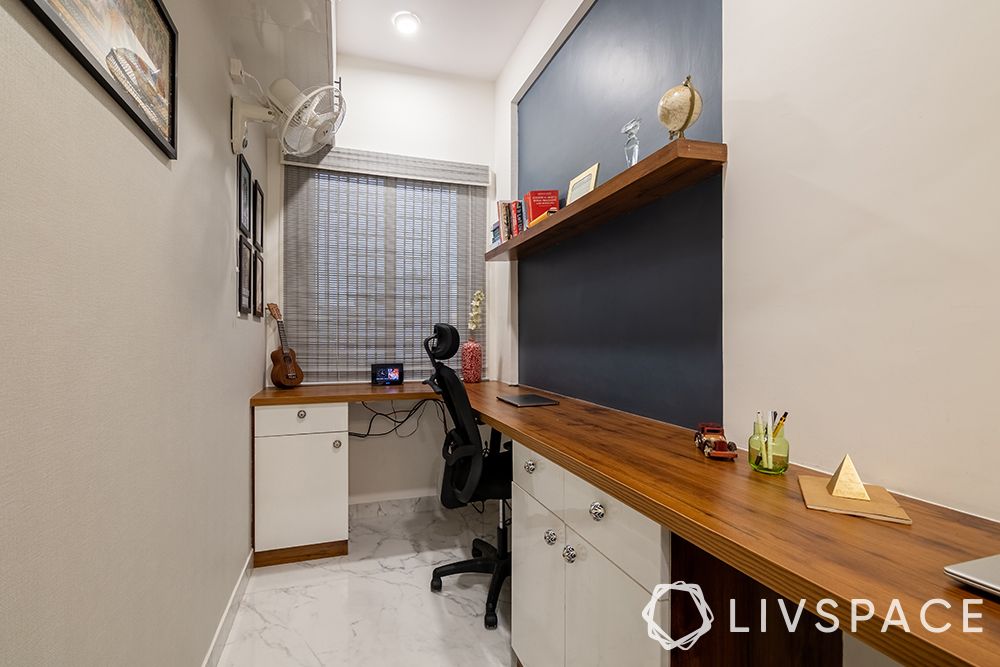 Before March 2020, people had hardly even heard of the concept of working from home. Now, it is a part of our lives, especially with more and more companies choosing to move towards a permanent or hybrid work-from-home model. Be it a space in their bedroom to work in or a separate home office, most homeowners have created a space for work within their homes. Niharika and Dattatreya's modern classic villa design comes with an L-shaped home office with ample space where two people can comfortably sit and work simultaneously. We love the design and how it reminds us of an actual office space!
#6: For the Plant Parents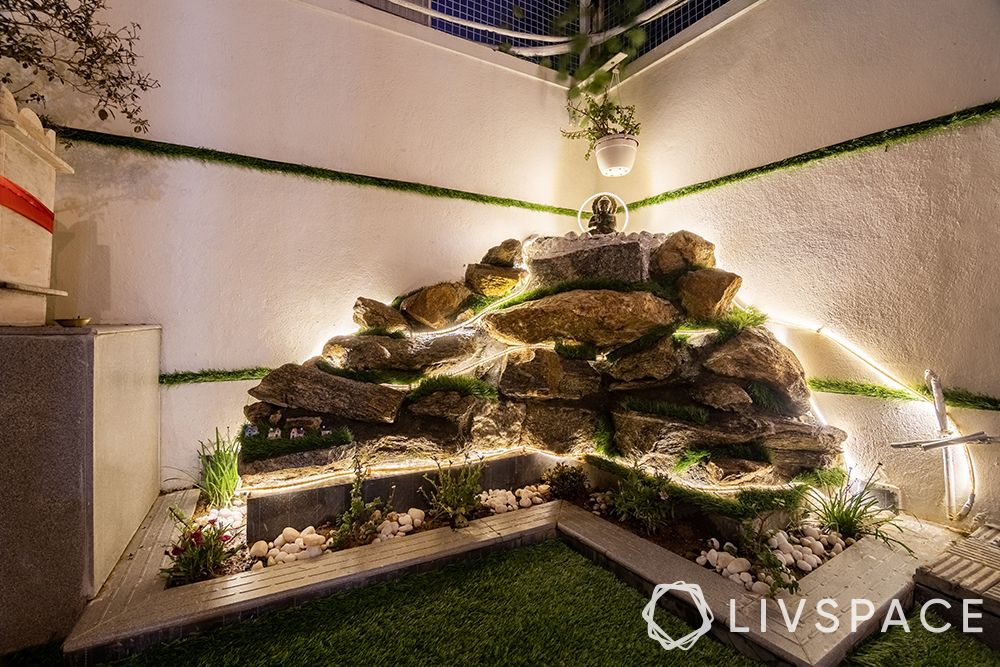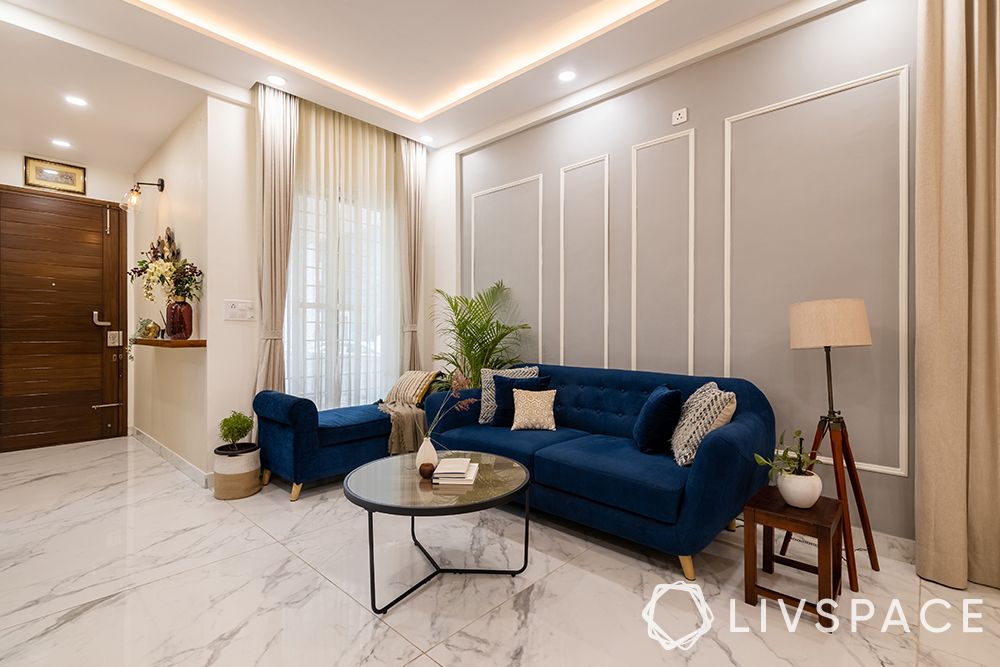 Another post-pandemic effect is that now, most millennials are proud plant parents. And with the popularity of succulents, even forgetful people can now have plant babies without accidentally killing them! Dattatreya and Niharika love gardening and they decided to show their love for greenery both inside and outside their modern classic villa design. Ankita did some landscaping in the backyard by using the stones that were present during the construction of the home, along with incorporating appropriate lighting and a Buddha statue, giving it a stunning zen vibe. Inside the villa, she created spaces throughout the home where the couple could place their plants.
This modern classic villa design is a great example of a stunning, millennial home. If you liked this home design, also check out this Mumbai apartment that we designed for a young millennial couple.
How Can Livspace Help You?
We hope you found our modern classic villa design ideas useful! If you want your home to be just as beautiful, then look no further. Book an online consultation with Livspace today. Delivering safe home interiors has been our No. 1 priority. Click here to find out how interiors are being delivered following all safety protocols.
Wondering how our customers feel about working with Livspace? You can check out the Livspace reviews here!
Send your comments and suggestions at editor@livspace.com