A noticeable trend in the real estate market these days is that more and more young people are buying homes. In fact, it's becoming increasingly common for people to buy their first home in their late twenties or early thirties. Meghna and Nikhil, too, were looking for a contemporary interior designer when they stumbled upon Livspace.
Our designer, Saniya Gabhare, who is also a millennial, told us what it feels like to design a home for 30-somethings.
"Designing for a young couple like Meghna and Nikhil was a privilege. They came prepared with mood boards from Pinterest and had clearly read up about design. It's very heartening to have so much involvement in a project."

— Saniya Gabhare, Interior Designer
We caught up with the contemporary interior designer to find out what the right formula for a millennial's home is and how this 2BHK in Thane fits the bill!
#1: A fuss-free and functional home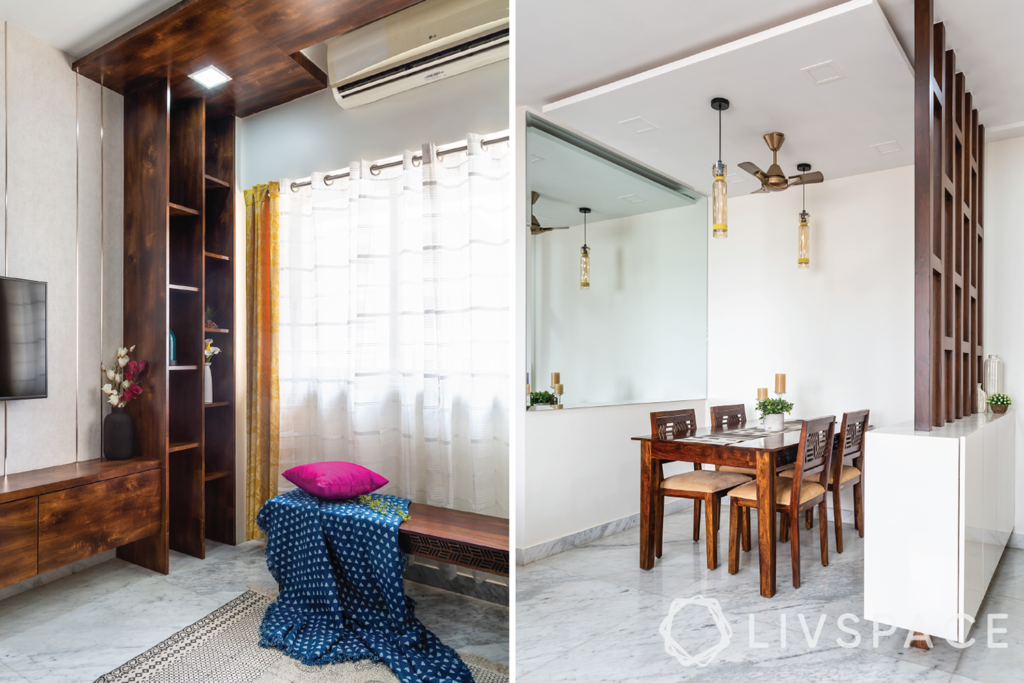 You might have heard the word 'functional' quite often and sometimes out of context. As a contemporary interior designer, Saniya defines it as a type of design where everything exists for a purpose. Meghna and Nikhil's home is a fitting example of functionality because every aspect of this home has a carefully designated purpose. Even the partition that was designed to carve a foyer has storage space at its base. The ceiling panelling is an extension of the bookshelves, making it a cohesive unit. Also, we see very little 'frills', and hence, we can safely call this home fuss-free, too!
#2: The classic Chesterfield and other comfy elements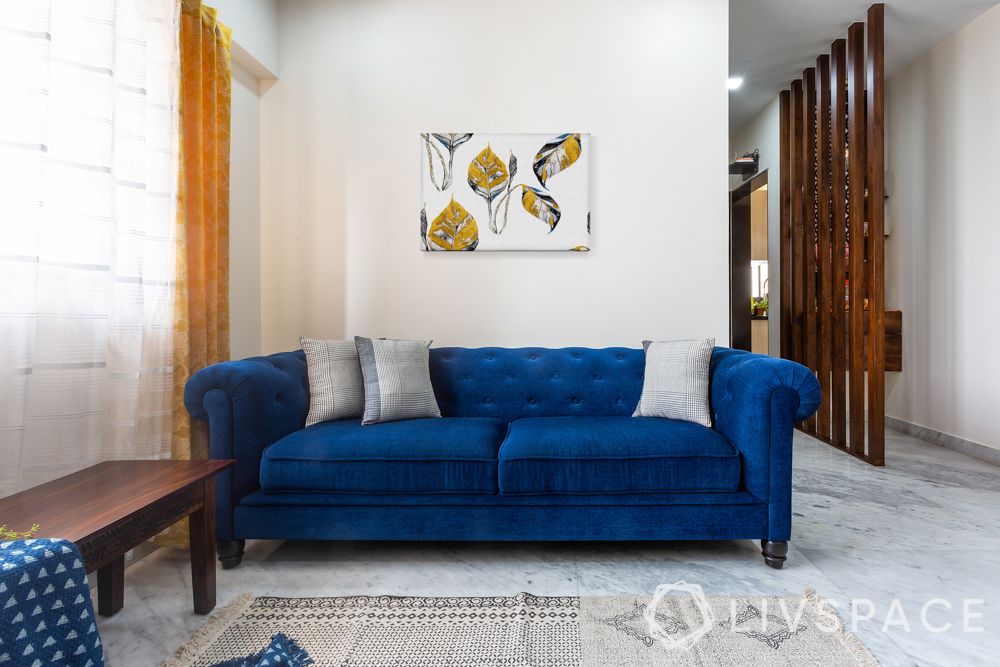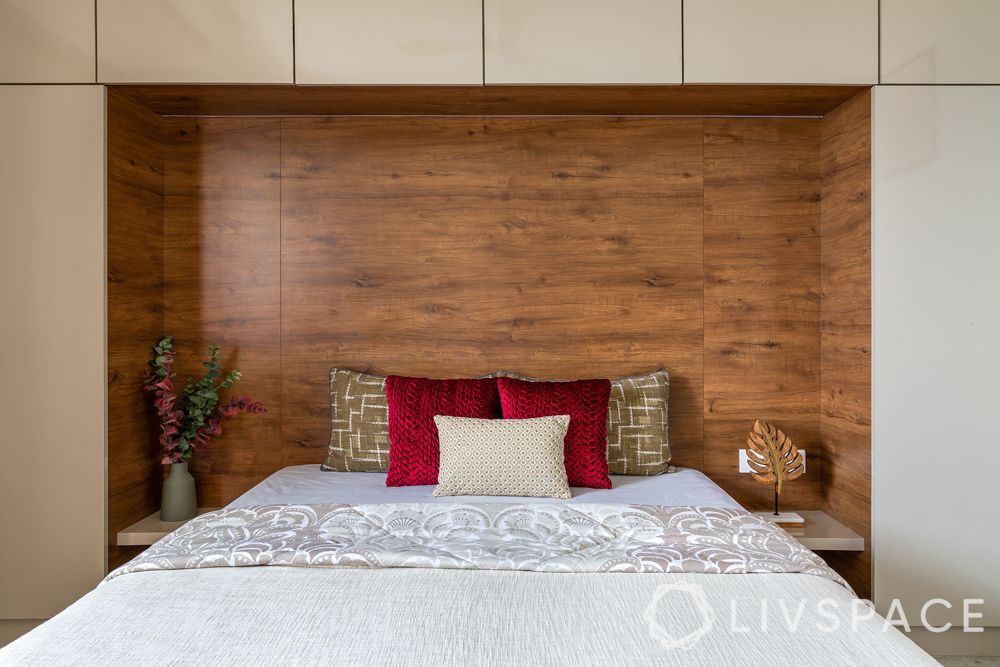 Millennials live on their couches. It's no wonder that their favourite one is Chesterfield. While this couch is not (strictly speaking) modern, young people like Meghna and Nikhil prefer it for its comfort. Speaking of comfy elements, is there any millennial who does not have an excessive number of cushions at home?
#3: Easy-to-clean surfaces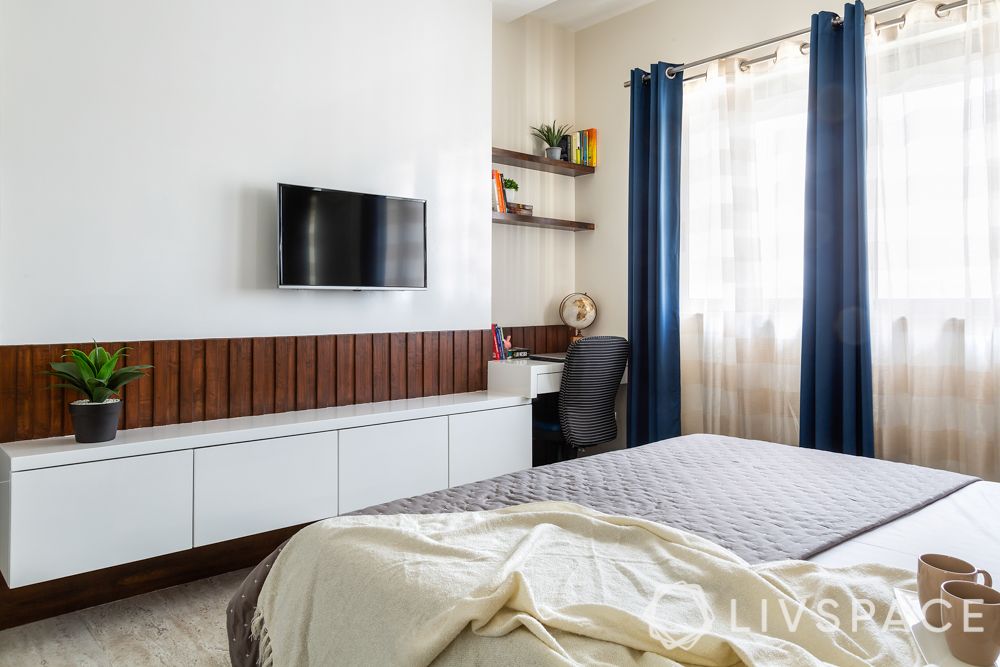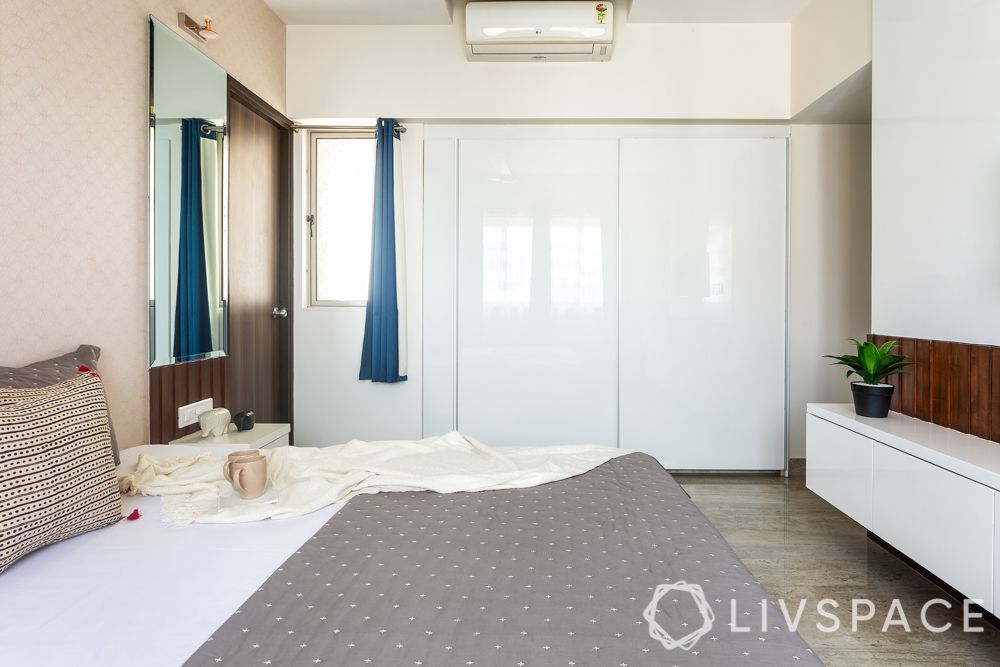 Being a millennial also means that you are in that phase of your career where the next big leap might take you places. A phase which involves long working hours, leaving you with little time for home management. Hence, you need a home that is easy to clean and maintain. As a contemporary interior designer, Saniya understood this very well. Thus, she only used easy-to-clean materials like acrylic and high-gloss laminate finishes.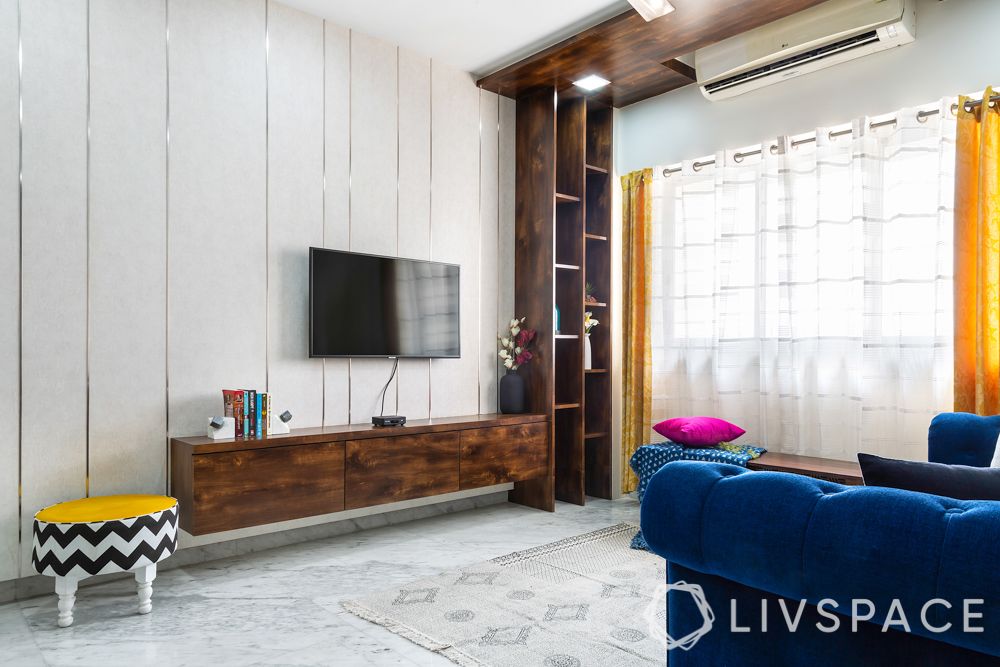 PRO TIP: Millennials are also woke and care about the planet; So they prefer using sustainable materials like wovens and linen for furnishing.
#4: Space-saving and practical designs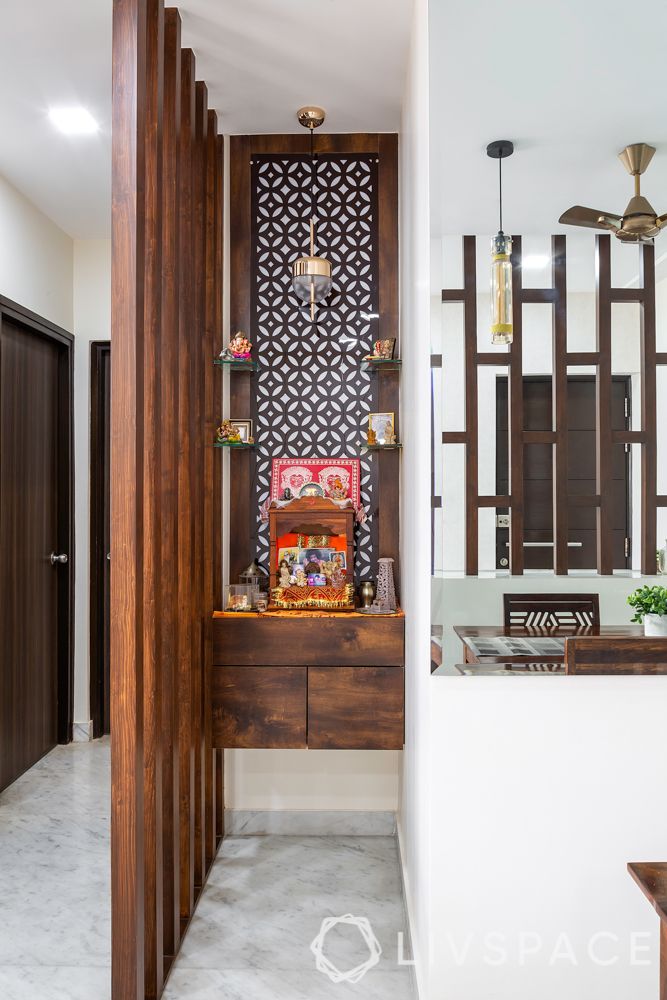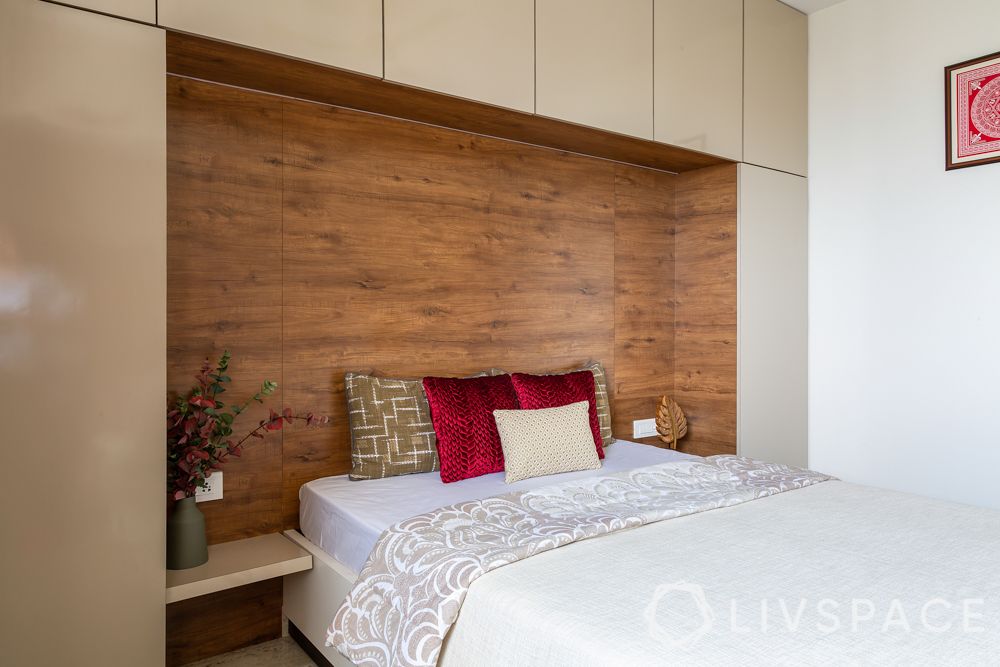 Being tech-savvy and doing research on your own ensures that you have some context when it comes to interiors. And Meghna and Nikhil did plenty of that. According to Saniya, we can see this good sense and practicality in their home. They knew how much space they had and what they wanted to do with it.
They factored in the compactness of their 2BHK and made recommendations accordingly. For instance, their pooja unit is literally snuck into a nook that was created within the partition in-between the living and dining rooms. Also, their second bedroom has a U-shaped storage unit around the bed that does away with the need to fit a wardrobe within the limited space.
#5: Bright pops of colour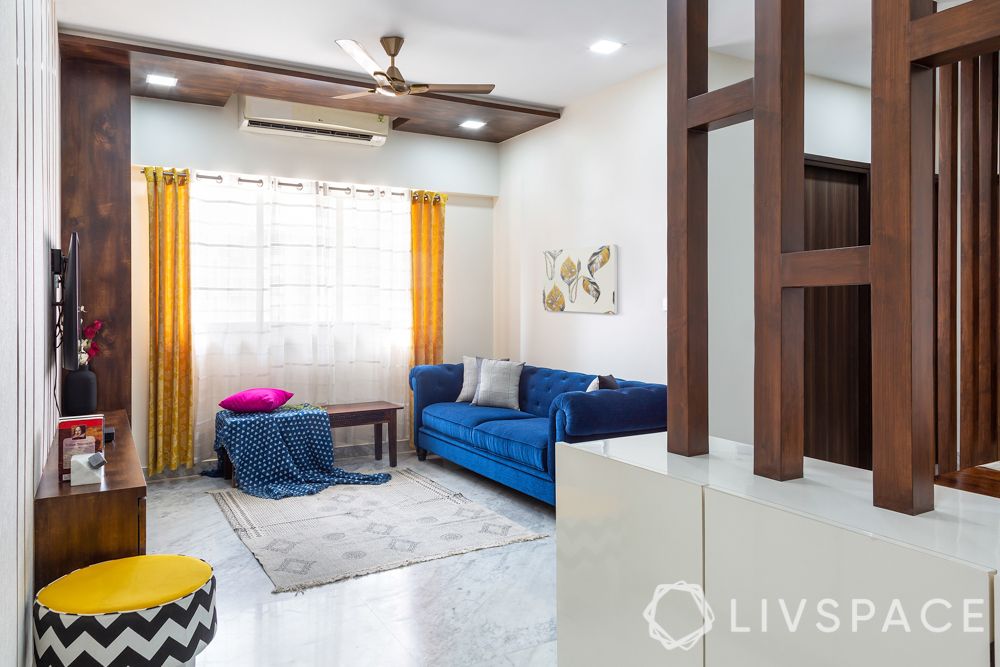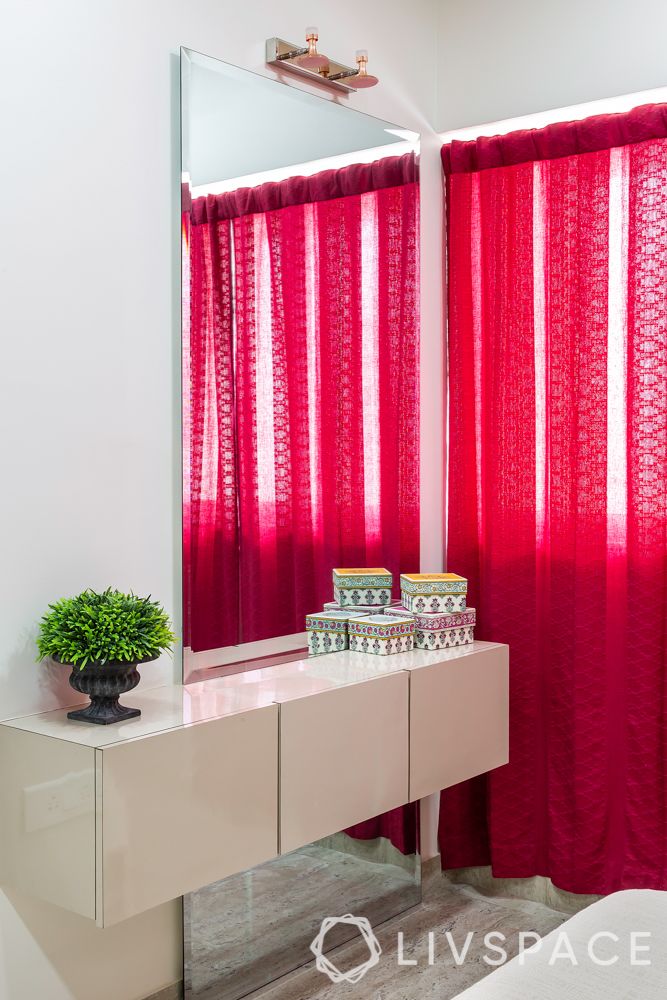 There are some homes where you know that the designer has tread with caution. But when it comes to millennials, there is more room for experimentation. Colour, in particular, is something that a contemporary interior designer would use in a home for 30-somethings. And Meghna and Nikhil's home is no exception. Since it's mostly soft furnishings that add pops of colour, they can change the colour scheme whenever they want.
BONUS TIP: Space for Growth
When you buy a home as a 30-something, you are still in the growth phase of your life. You are still making memories, so consider having an empty wall to hang all those photos. You might go for that dream vacation and bring back many travel curios. So, naturally, you'll need a console to keep them on. More than anything else, you'll need space to grow. So your home interiors must account for this space. In short, your home should be designed in a way that it can grow with you.
If you enjoyed reading about this home, also explore how we managed to fit in all the needs of a 5-member family into this 2BHK in Mumbai.
We love hearing from you! Write to us with your comments and suggestions at editor@livspace.com