We absolutely love a home that calls for a magnificent and large scale modern villa design. Simply because there is always a sea of design ideas to draw inspiration from. Just like this home tour that features a Mumbai residence that is one of a kind. Although, the maximum city has minimum space, this home beats the odds. Find out why!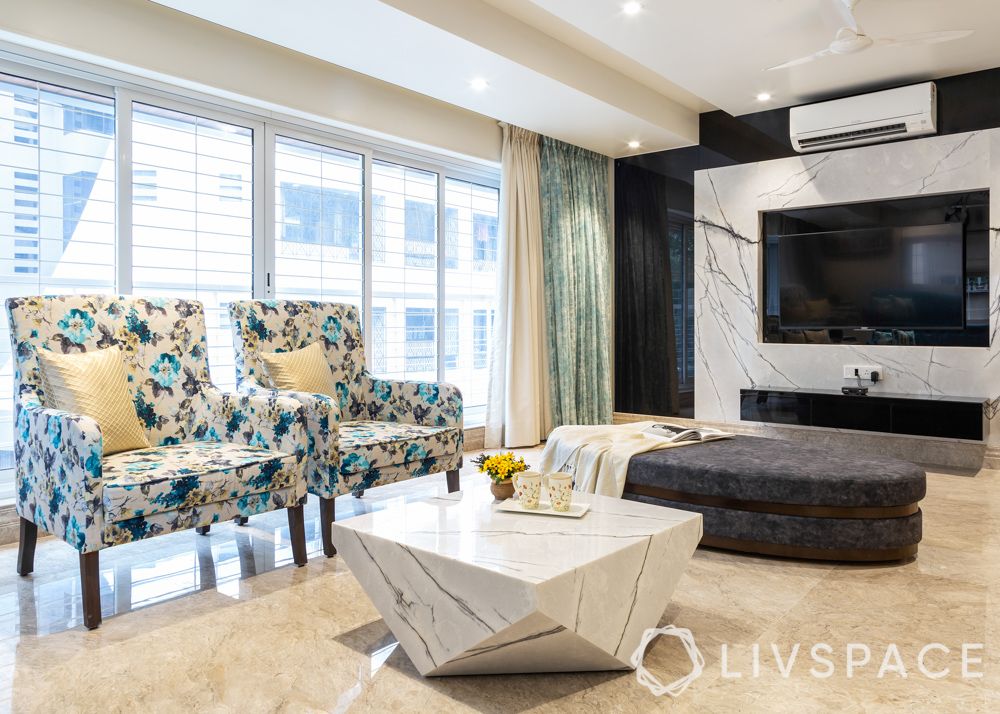 ---
Who livs here: Irshad Ahmed and his wife Tasleem, with their three children
Location: Chembur, Mumbai
Size of home: A 5BHK spanning 4,500 sq ft approx.
Design team: Interior Designer Vishakha Dsouza
Livspace service: Full Home Design
Budget: ₹₹₹₹₹
---
Residing here are Irshad Ahmed, his wife Tasleem and their three kids. They moved into this 4,500 sq ft in the suburbs of Eastern Mumbai in 2019 and their new home was fully furnished and had complete interiors. However, the family wanted interiors that are to their liking and decided to redesign every nook and corner with Livspace Mumbai after a recommendation from a friend.
Designer Vishakha Dsouza's years of experience and eye for design was the perfect match for this project. Moreover, the focus of this design is the abundant use of marble in almost every room and high-quality custom made furniture.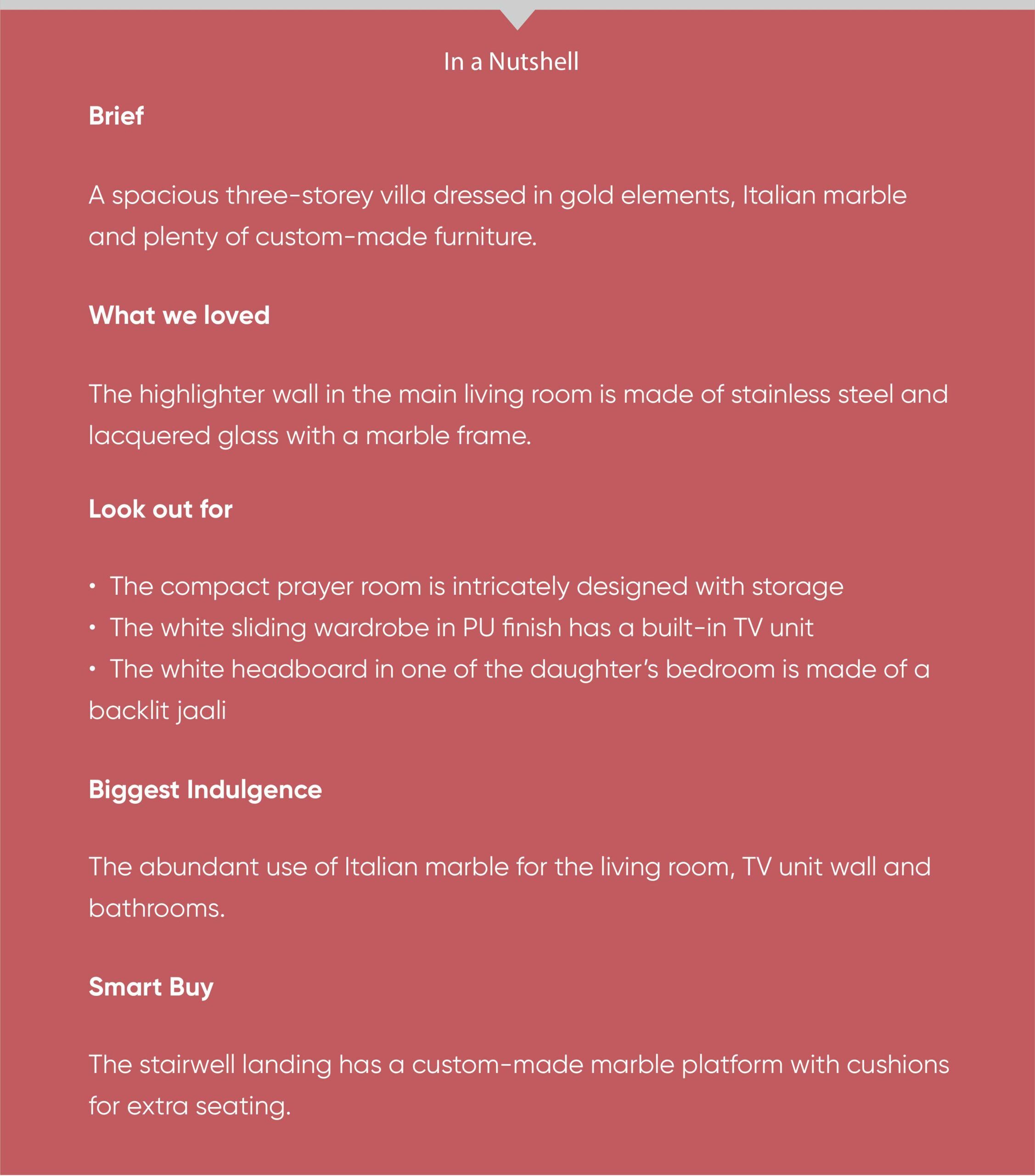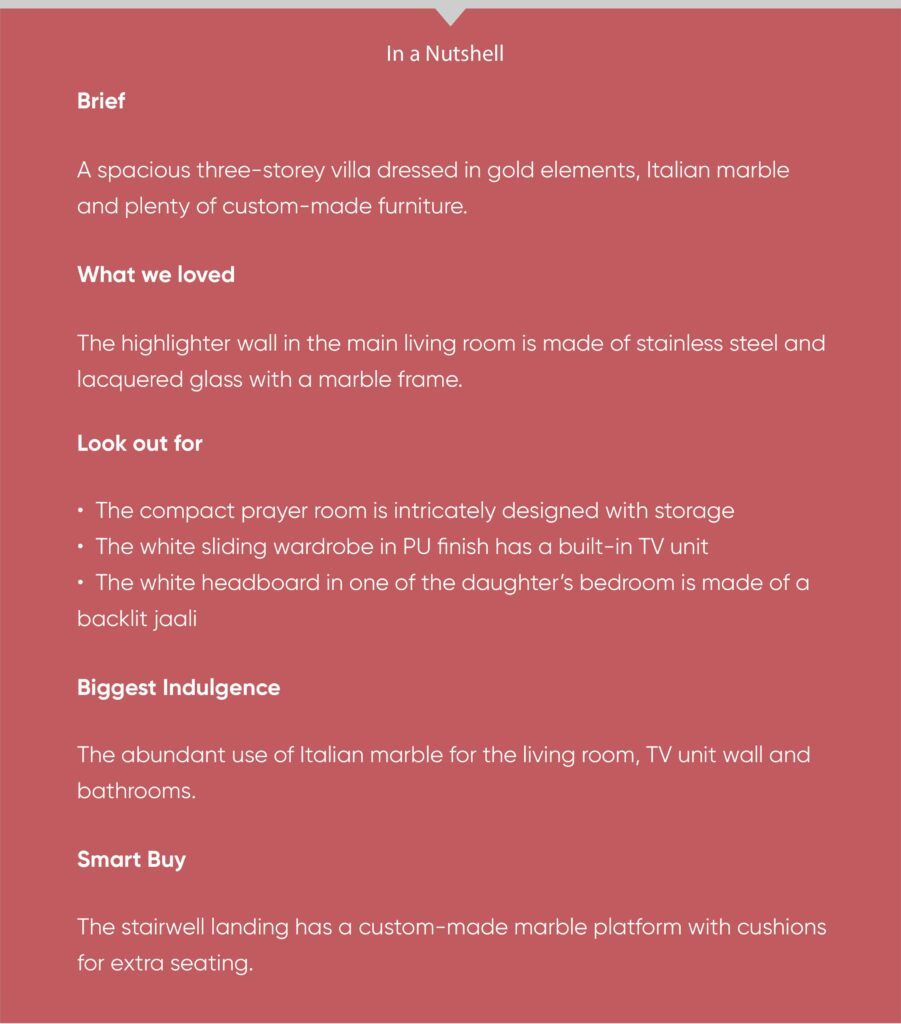 Property Overview & Design Details of a Modern Villa Design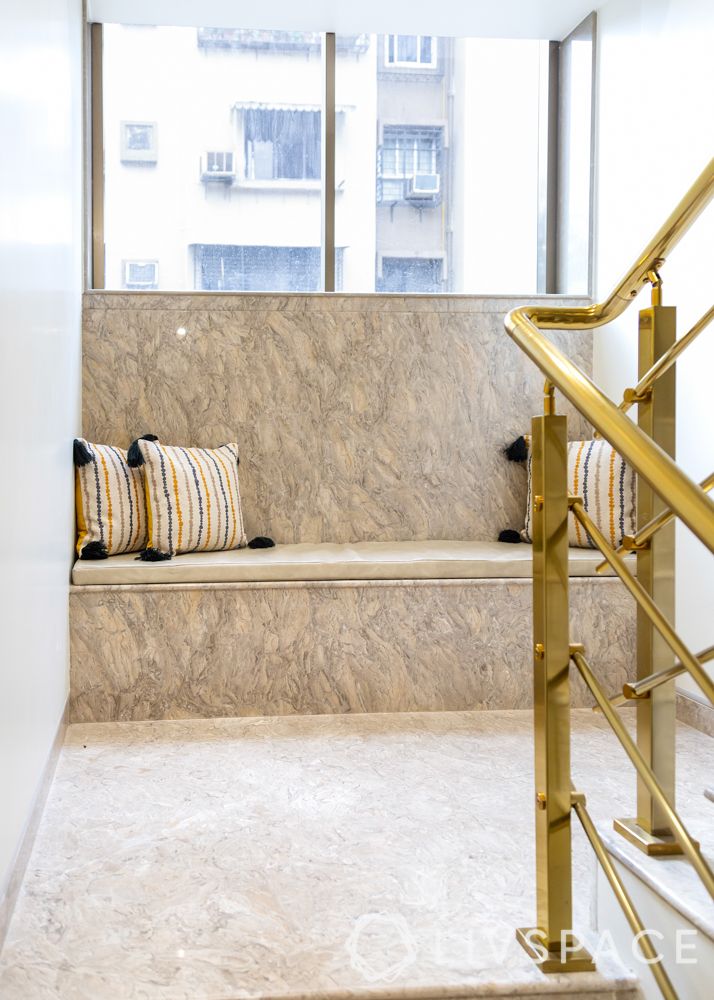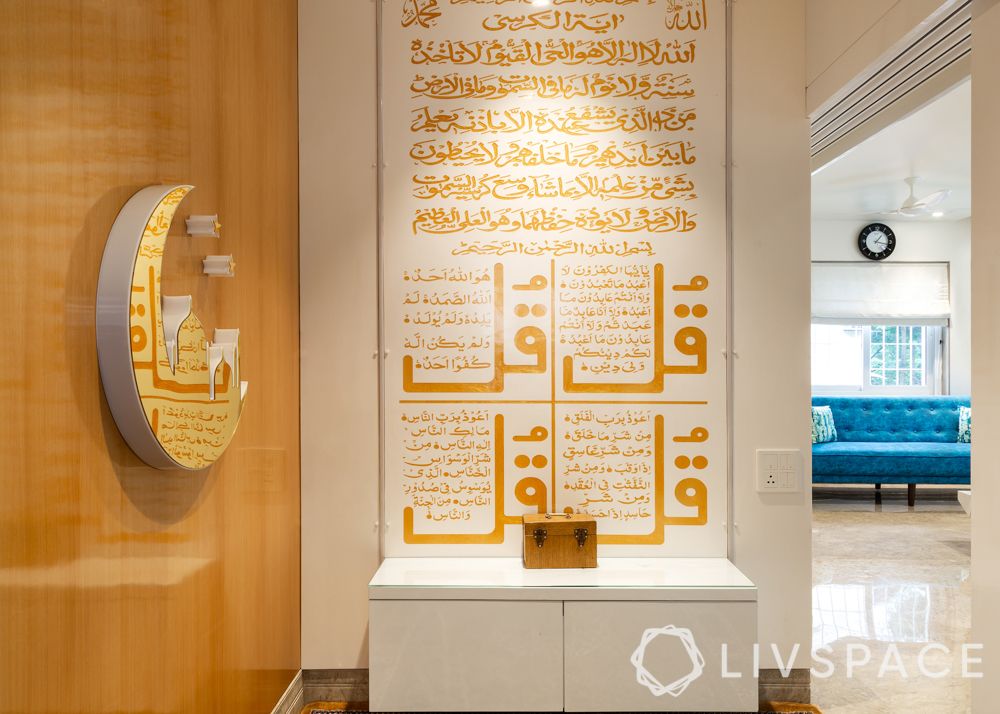 The three-storey villa is located in a well connected area of Chembur. Not only is the 4,500 sq ft home spread across three-floors but also, has a living room on each floor. Consequently, the home has five bedrooms-one master bedroom, three kids bedrooms and one guest bedroom. Moreover, the home has features like, useful seating nooks, a glorious prayer room and entryways with mirrors and lanterns.
Living Rooms in a Modern Villa Design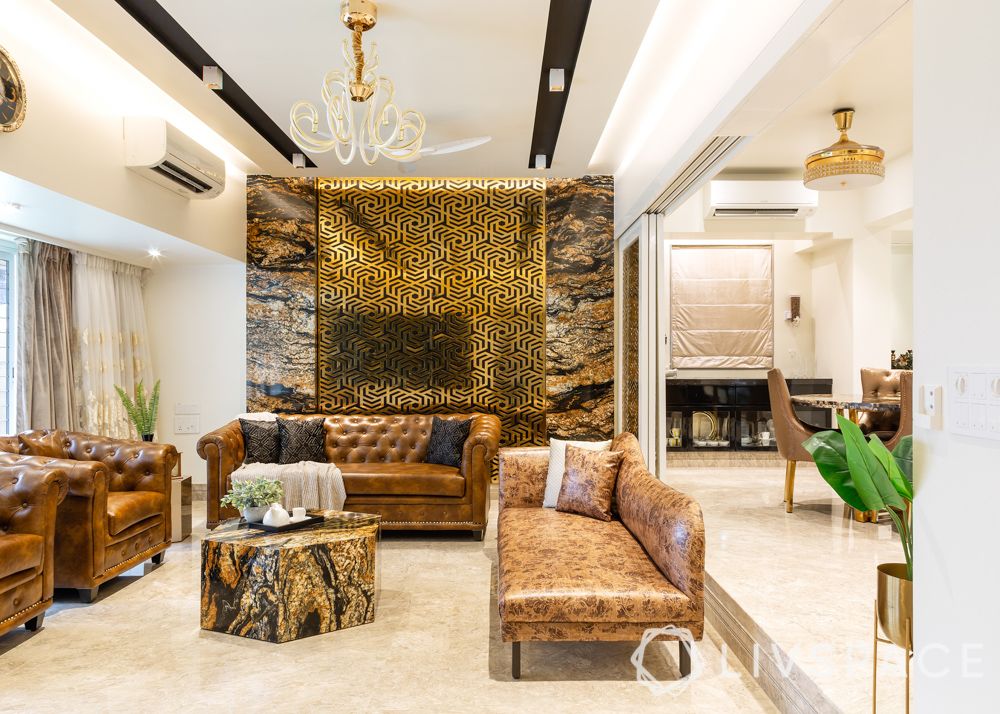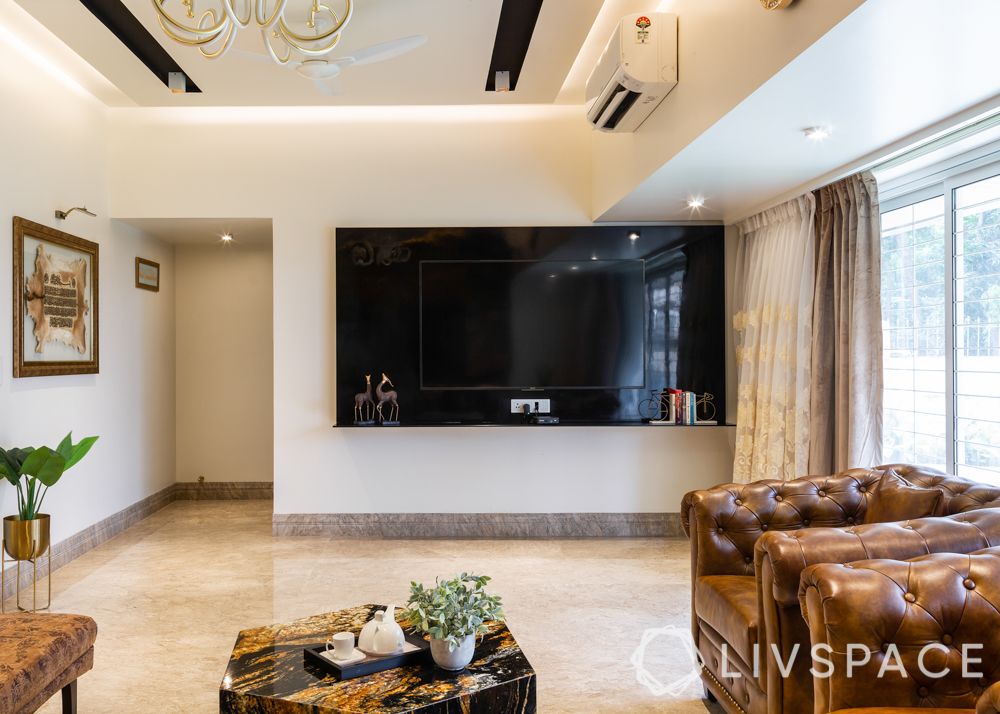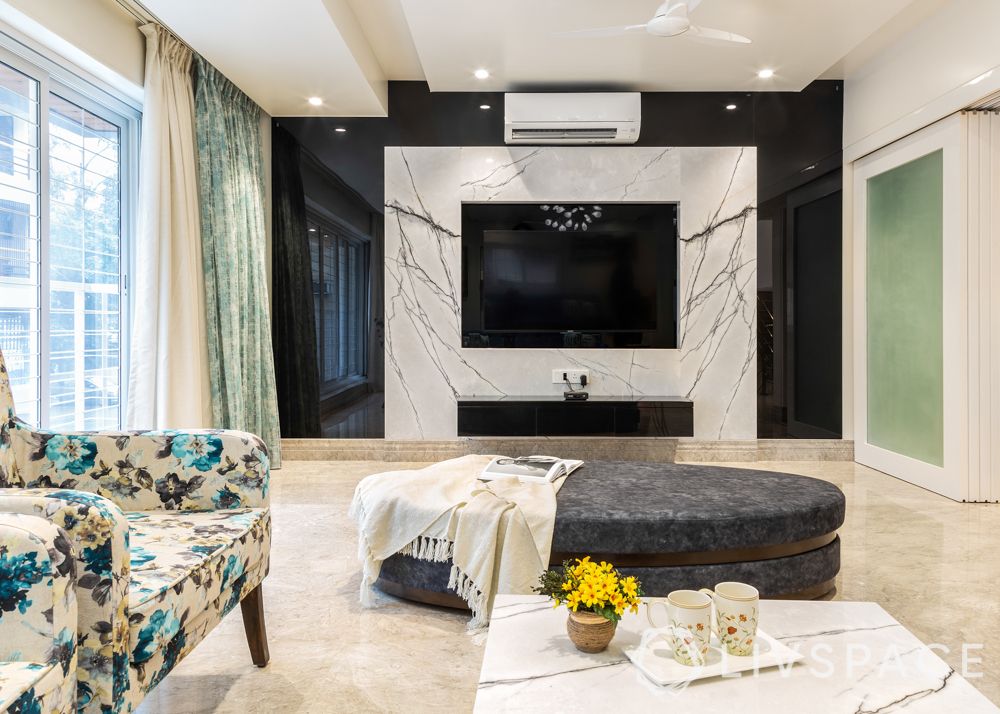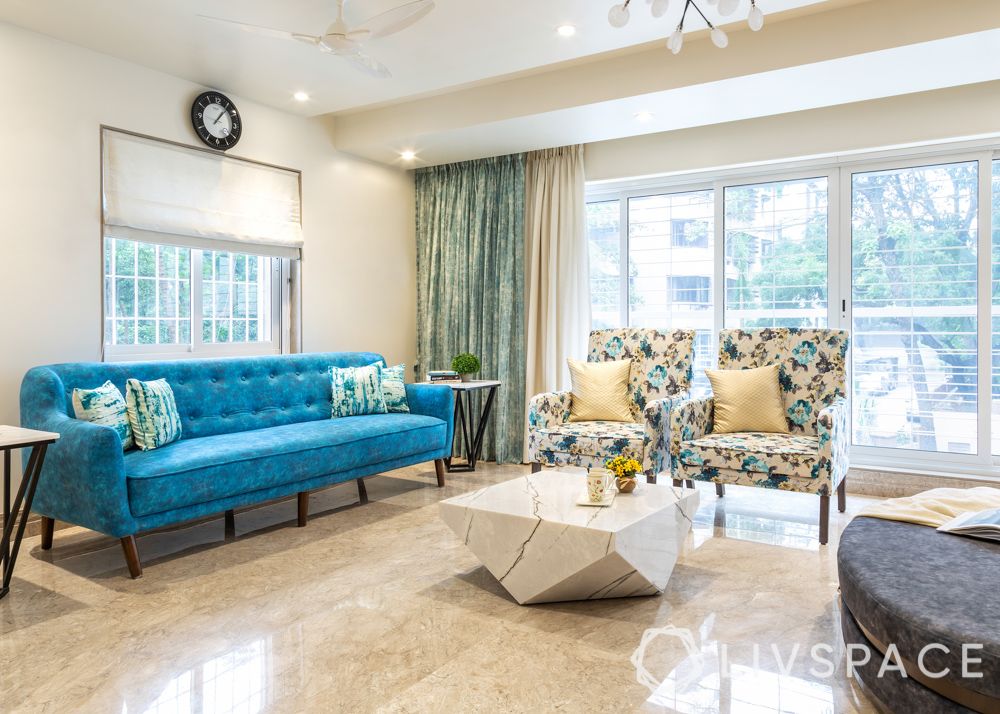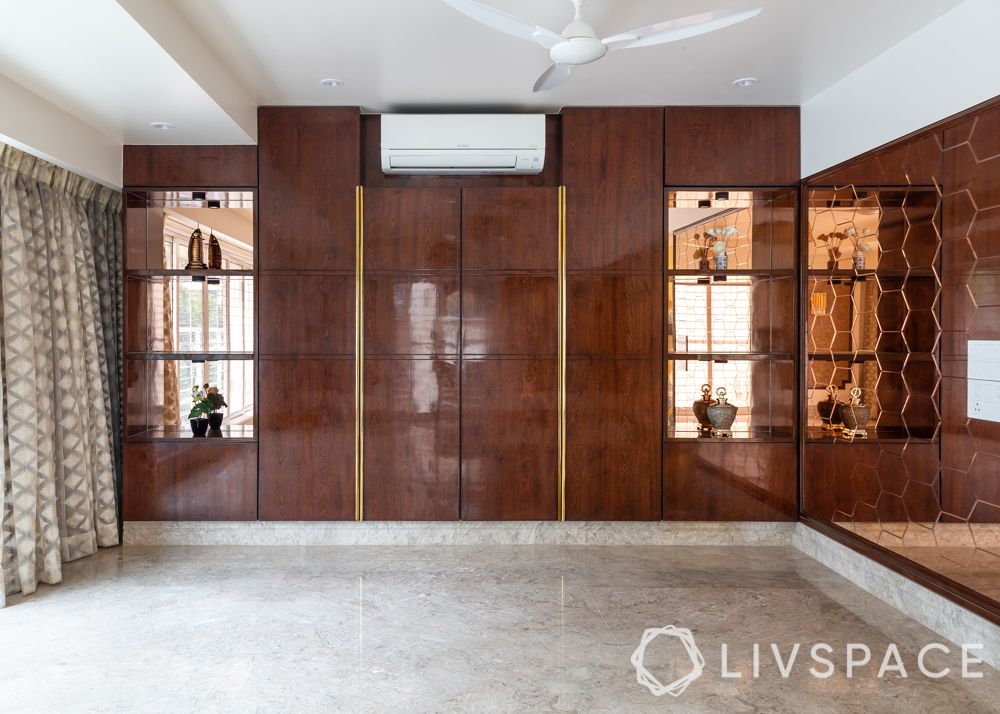 With three living rooms in one home, there is scope for a unique design in every living room. The living rooms have custom-made furniture that will last them a long time. However, what steals the limelight are the wall treatments in these rooms. Consequently, the main living room has a wall with gold stainless steel and lacquered glass with a marble borders. However, the living room on the first floor has a feature wall made of marble. Lastly, the living room on the second floor is designed for floor seating and has storage made of wooden veneer and hexagonal mirrors.
Kitchen & Dining Room in a Modern Villa Design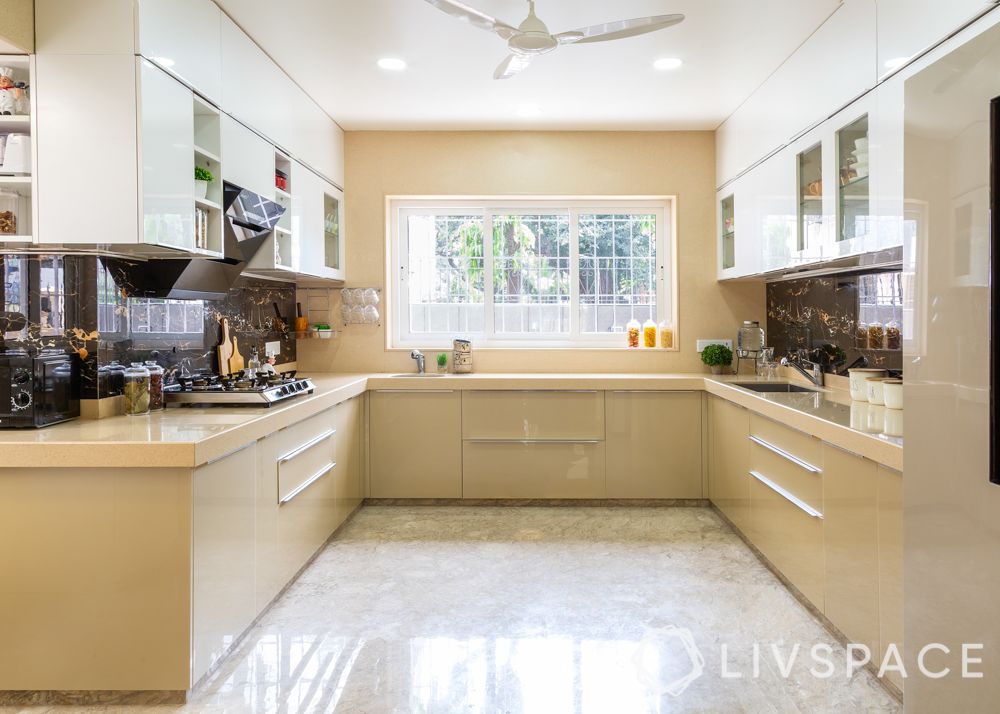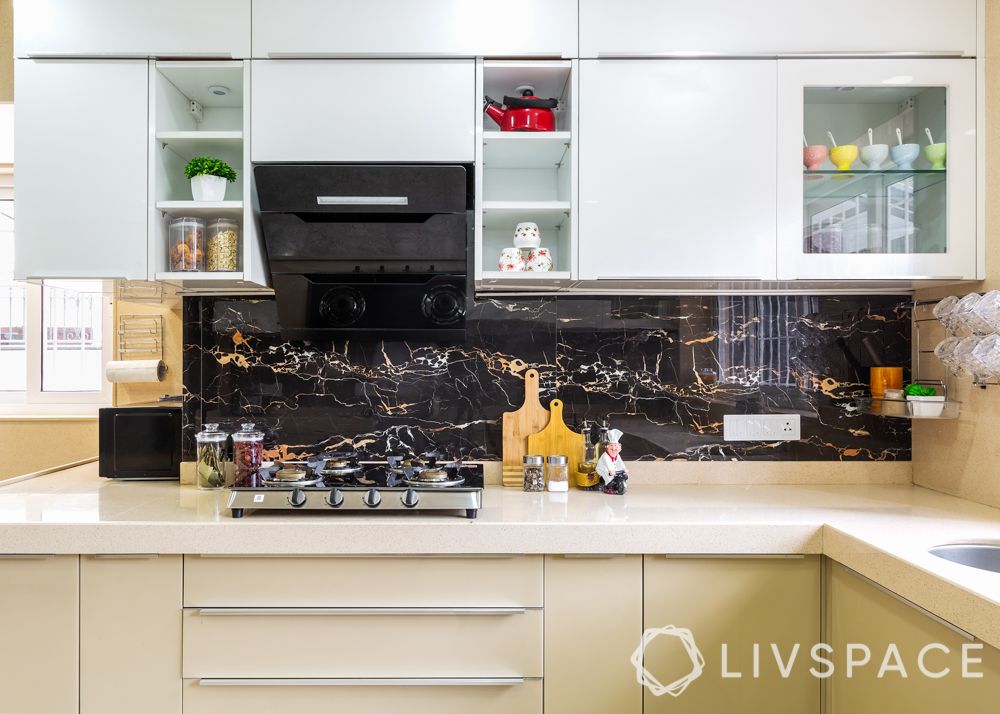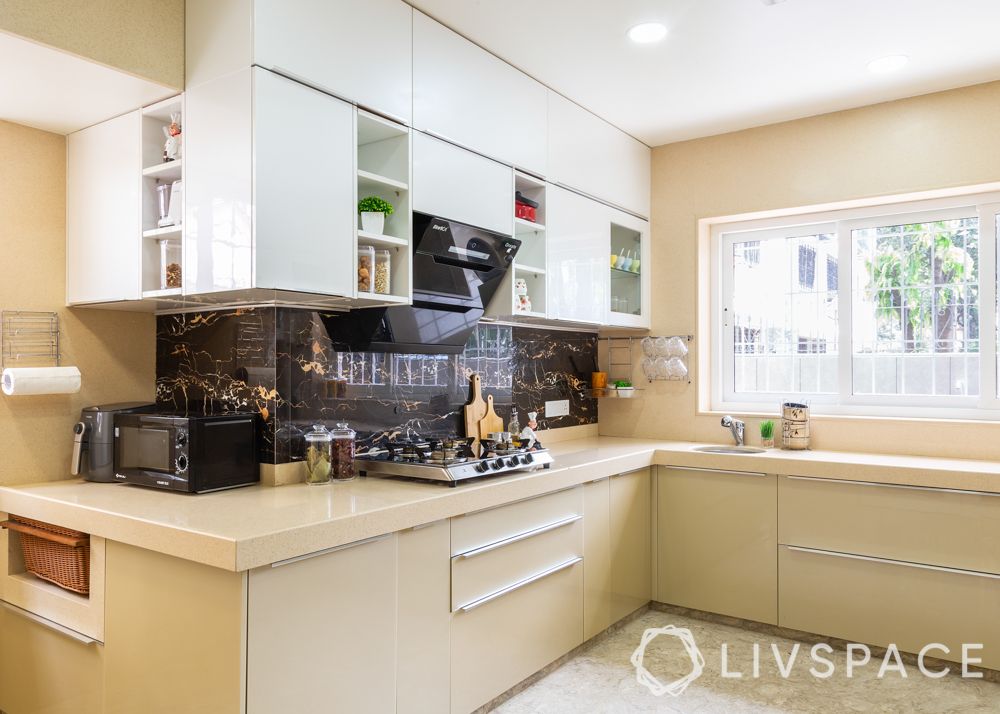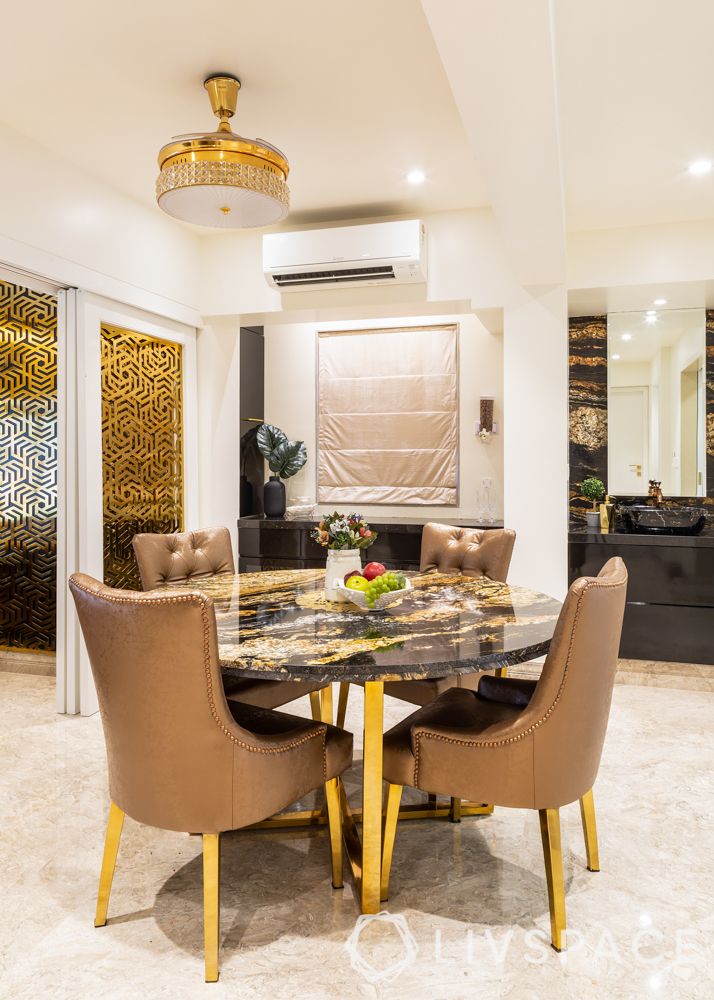 The semi-modular kitchen is a U-shaped spacious kitchen with plenty of counterspace. It also happens to be Tasleem's favourite space in the home. Separating the kitchen from the dining room are sliding glass and gold metal jaali doors that also happen to separate the dining room from the kitchen.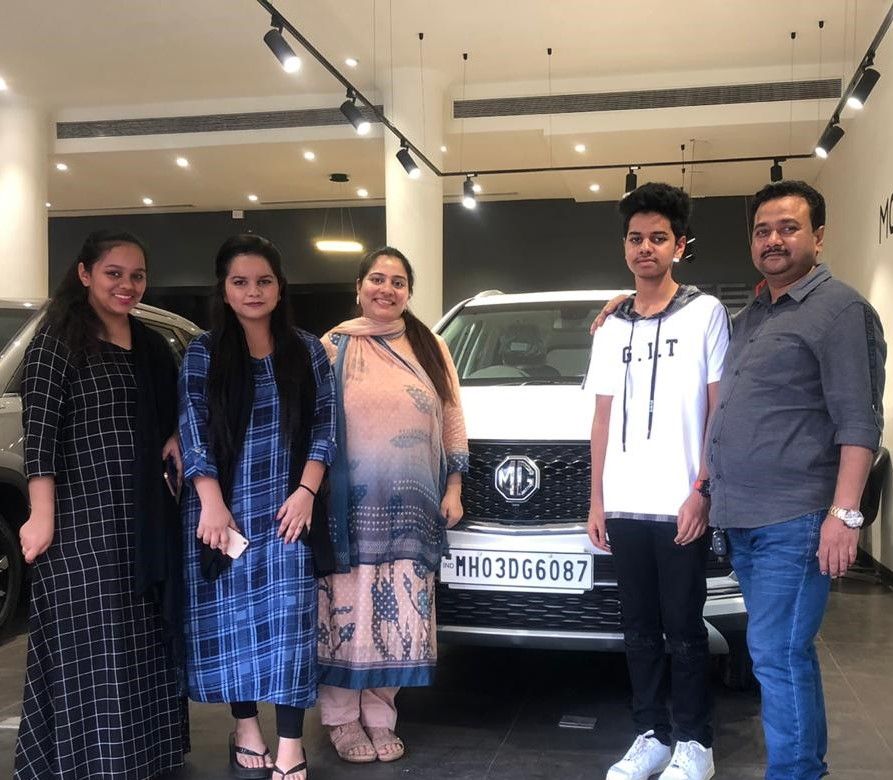 "We heard about Livspace from a friend and decided to go ahead with Vishakha's designs. She is an exceptional designer. Her ability to understand exactly what we wanted and accommodate our requirements made this process all the more easier. We couldn't have asked for a better designer".
– Tasleem Ahmed, Livspace Homeowner

Master Bedroom in a Modern Villa Design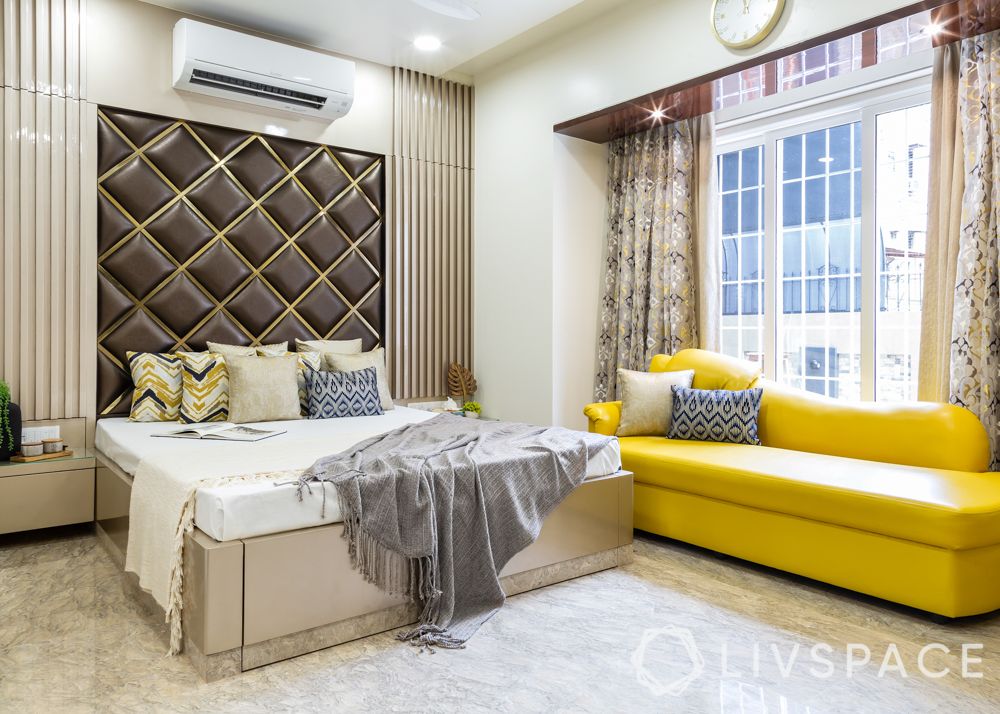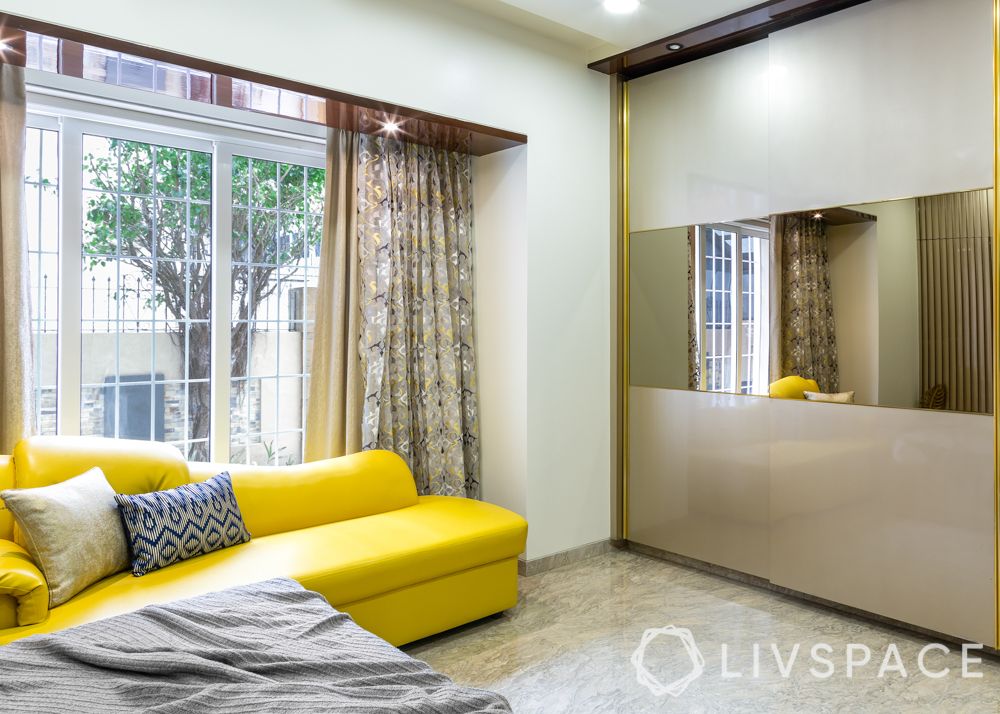 Irshad and Tasleem's room is dressed in glossy browns and yellows. The cushioned headboard has gold detailing while the sliding wardrobes are in glossy PU finish. The bright yellow sofa is not only a statement piece but also adds seating to the room.
Daughters' Bedrooms in a Modern Villa Design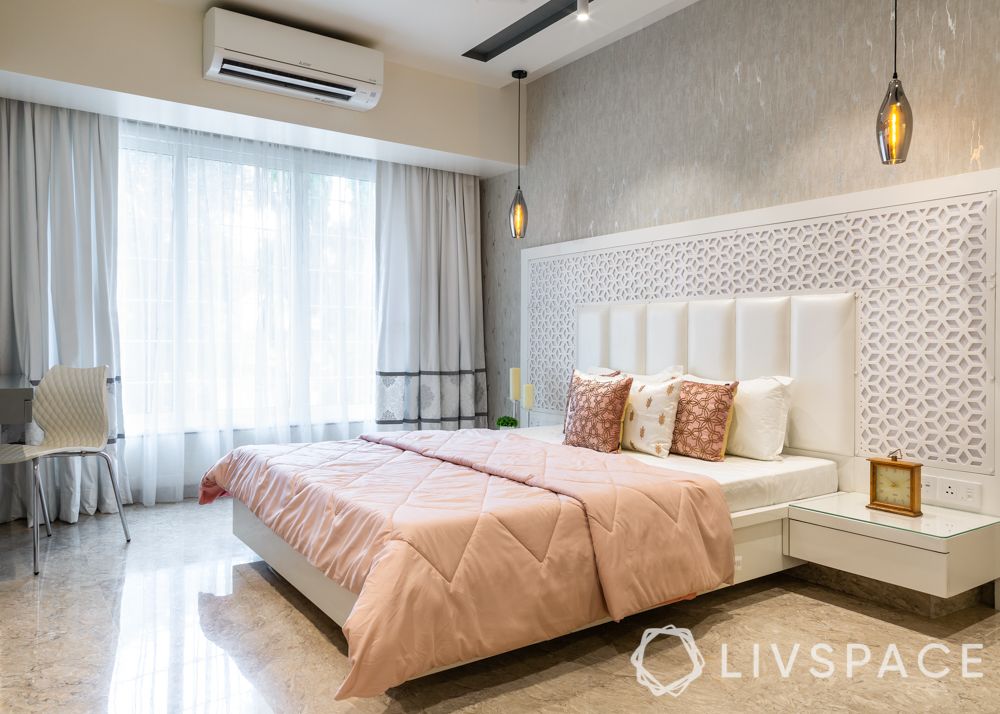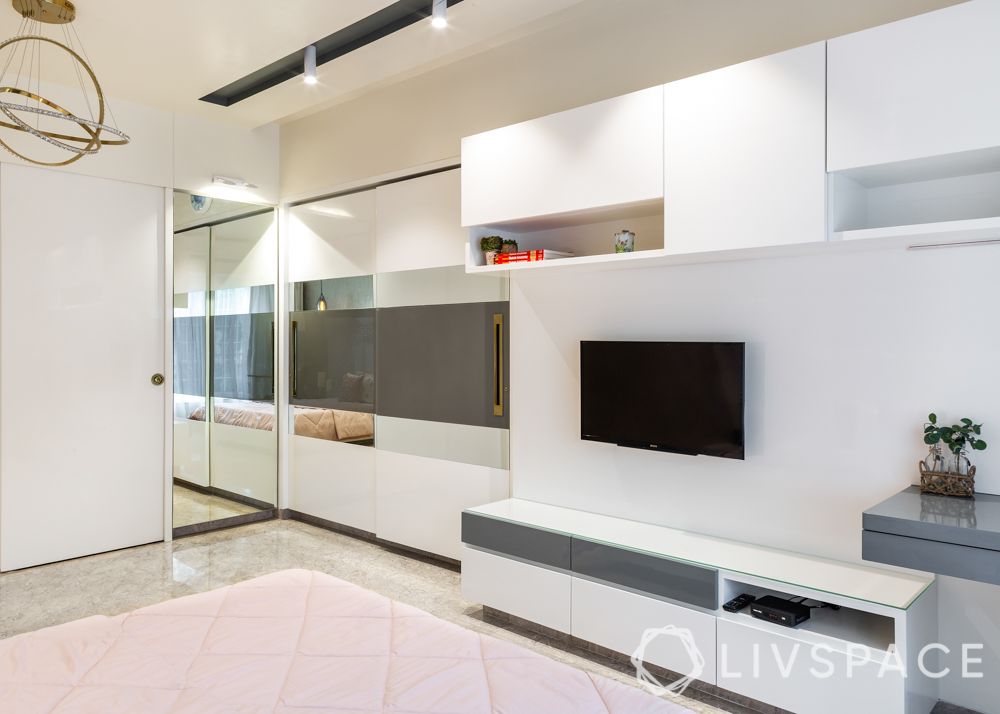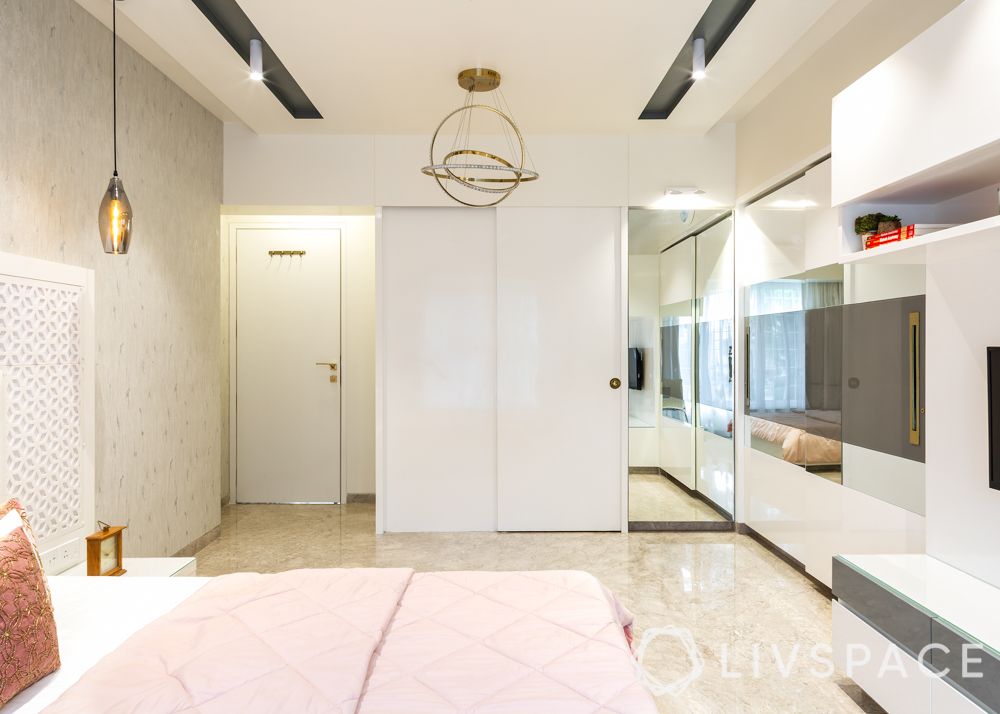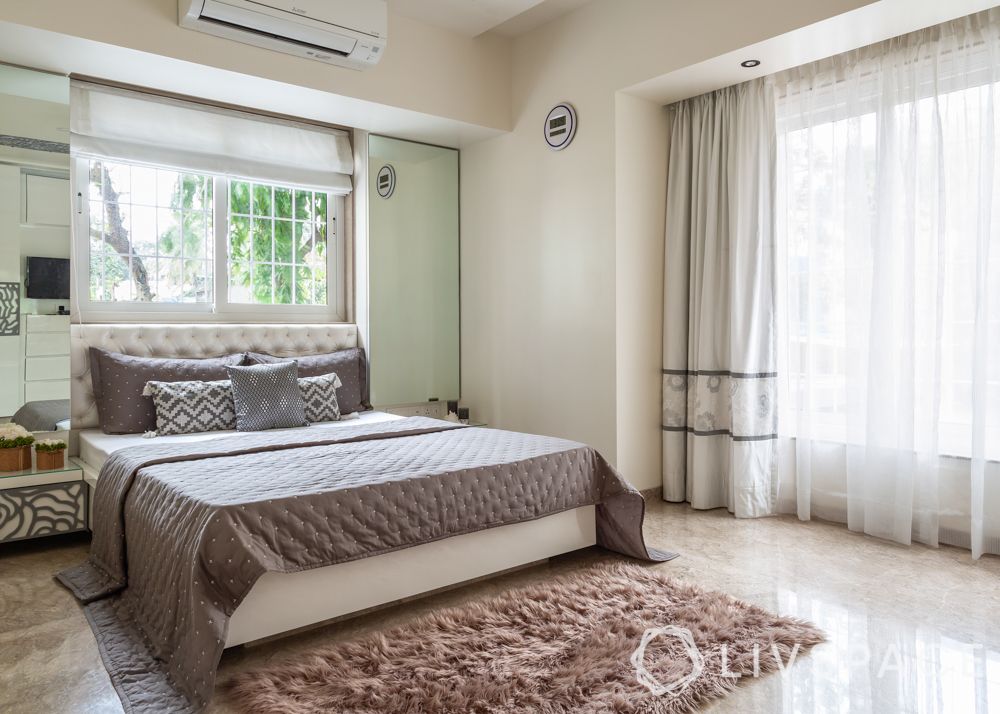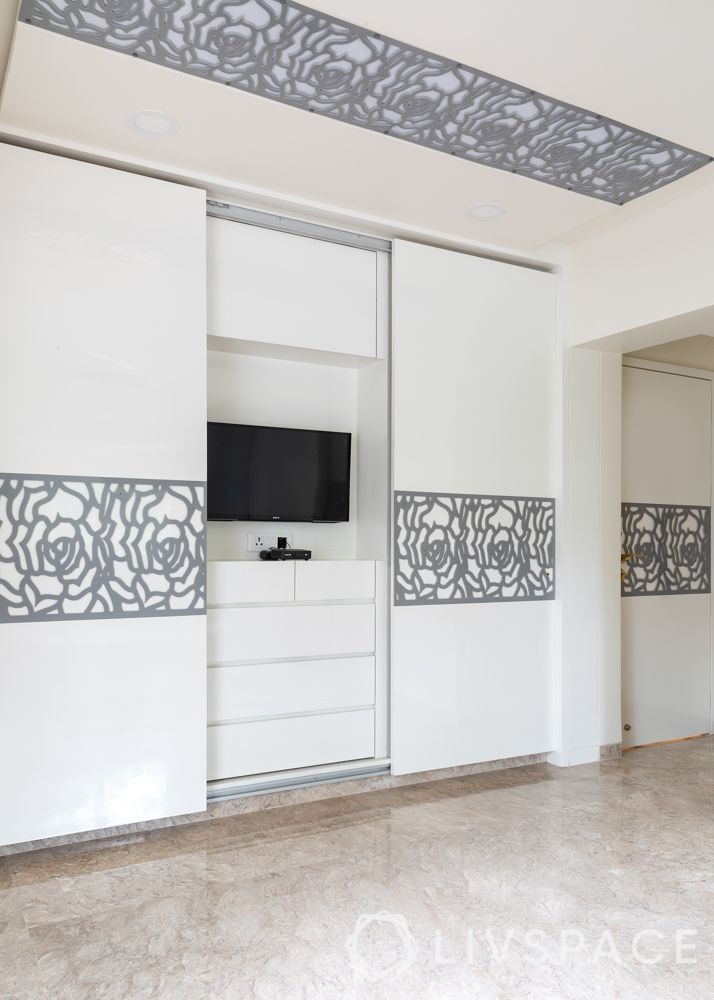 Their daughters' rooms are designed in classy, timeless white themes. However, if you look closely you will notice that their rooms are contrastingly different. One bedroom has a floating bed with a backlit jaali headboard. Whereas, the focal point of the other bedroom is the grey jaali in a pretty rose design. Both rooms have sleek PU finish wardrobes and study units.
Son's Bedroom in a Modern Villa Design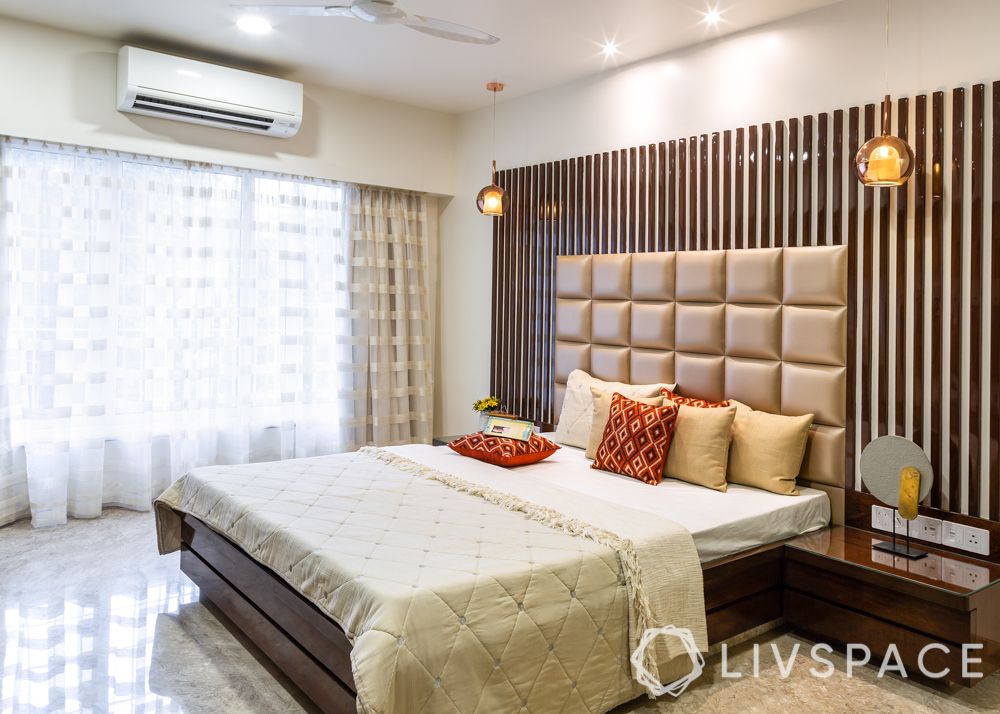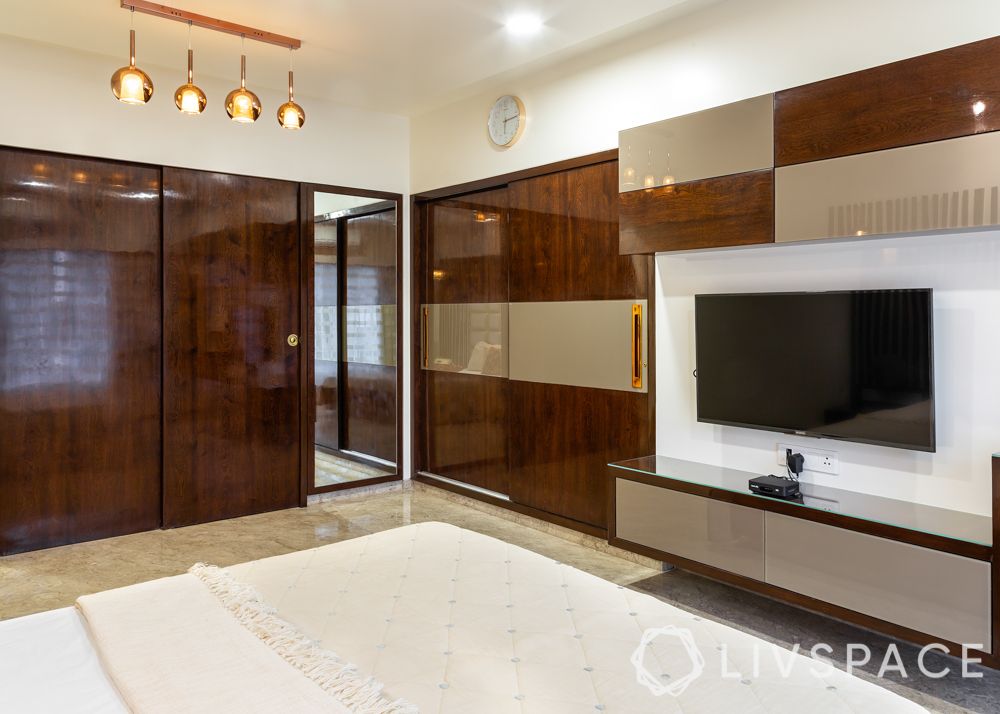 With glossy wooden veneer finish taking over the design, the son's bedroom is in a dark wooden theme. Subsequently, draw the curtains and this room goes from bright and beaming space to a warm and toasty bedroom.
Guest Bedroom in a Modern Villa Design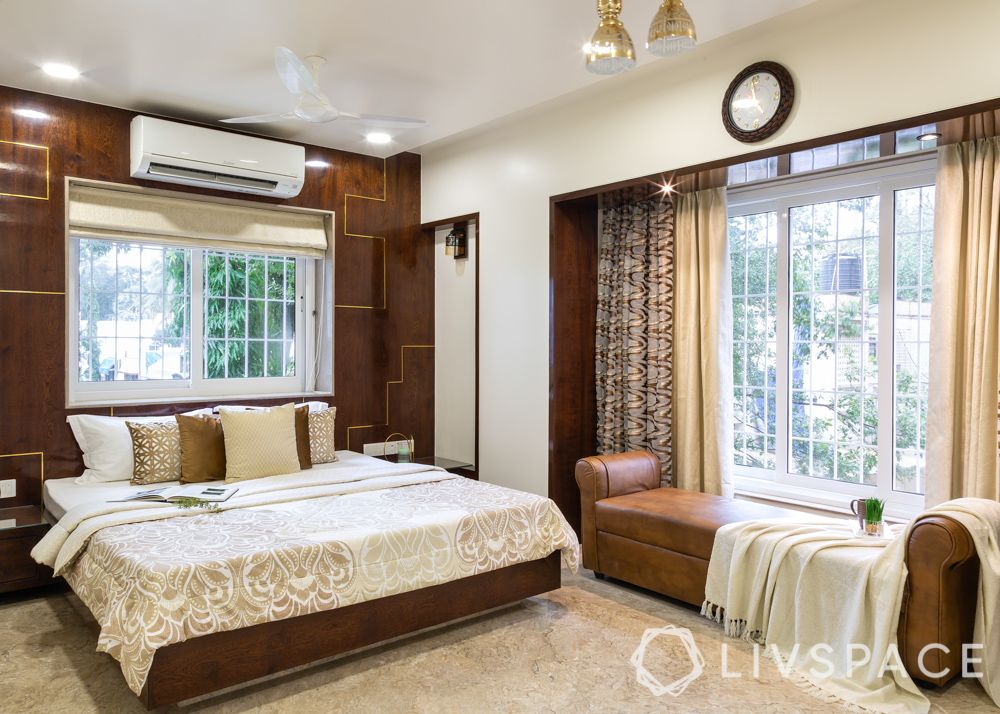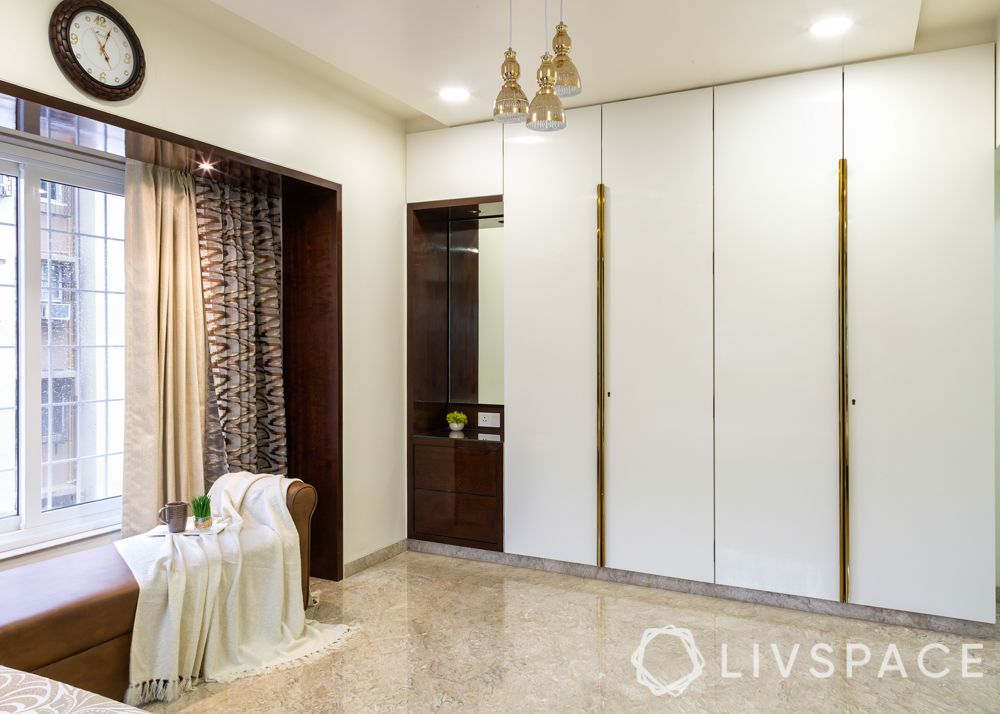 Since the Ahmeds have plenty of family and friends over, they wanted the guest bedroom to be designed with great detail. However, the feature wall is entirely made of wooden veneer and has gold detailing. The white PU finish wardrobes are in white to balance out the colours in the bedroom.
3D Bathroom Designs in a Modern Villa Design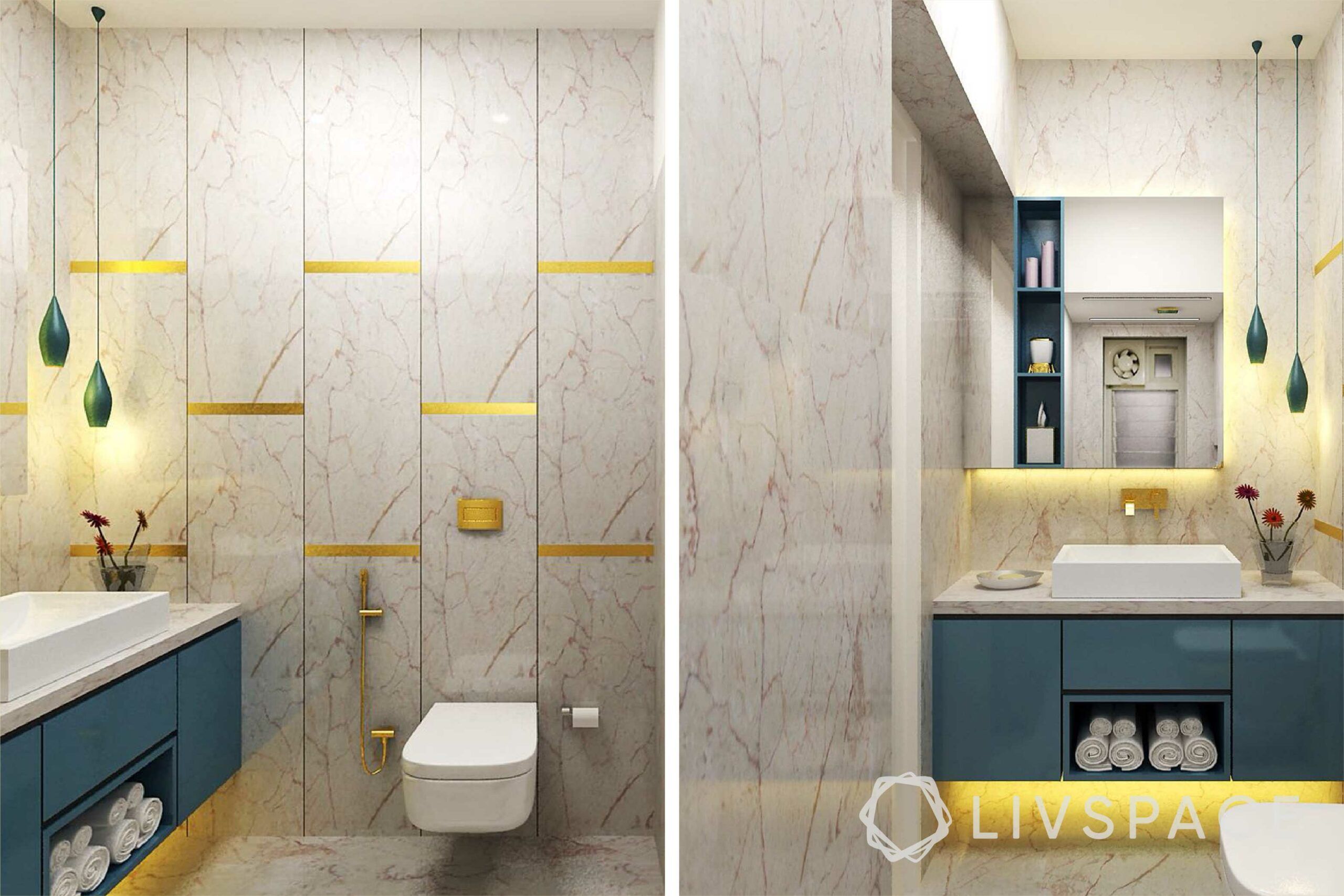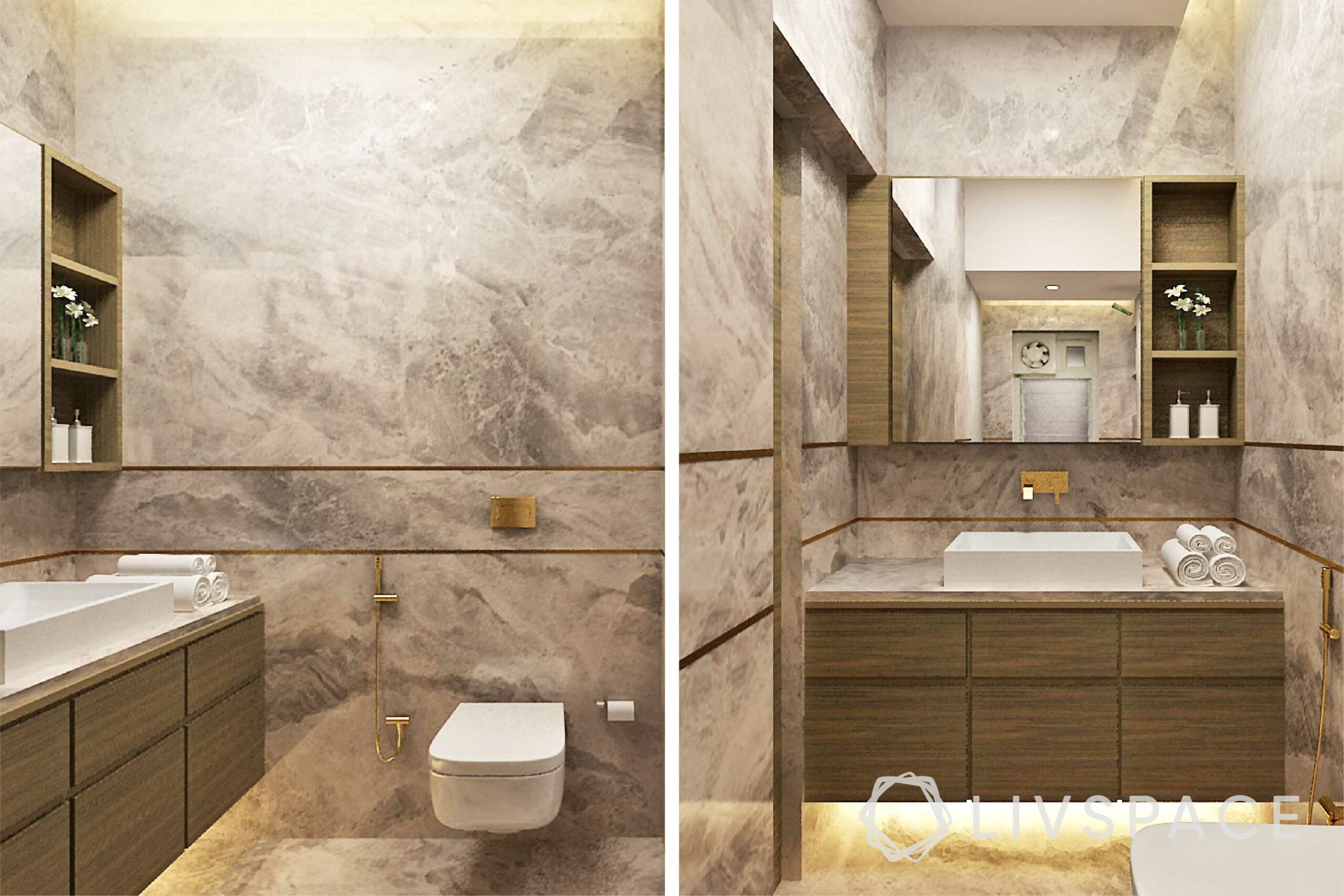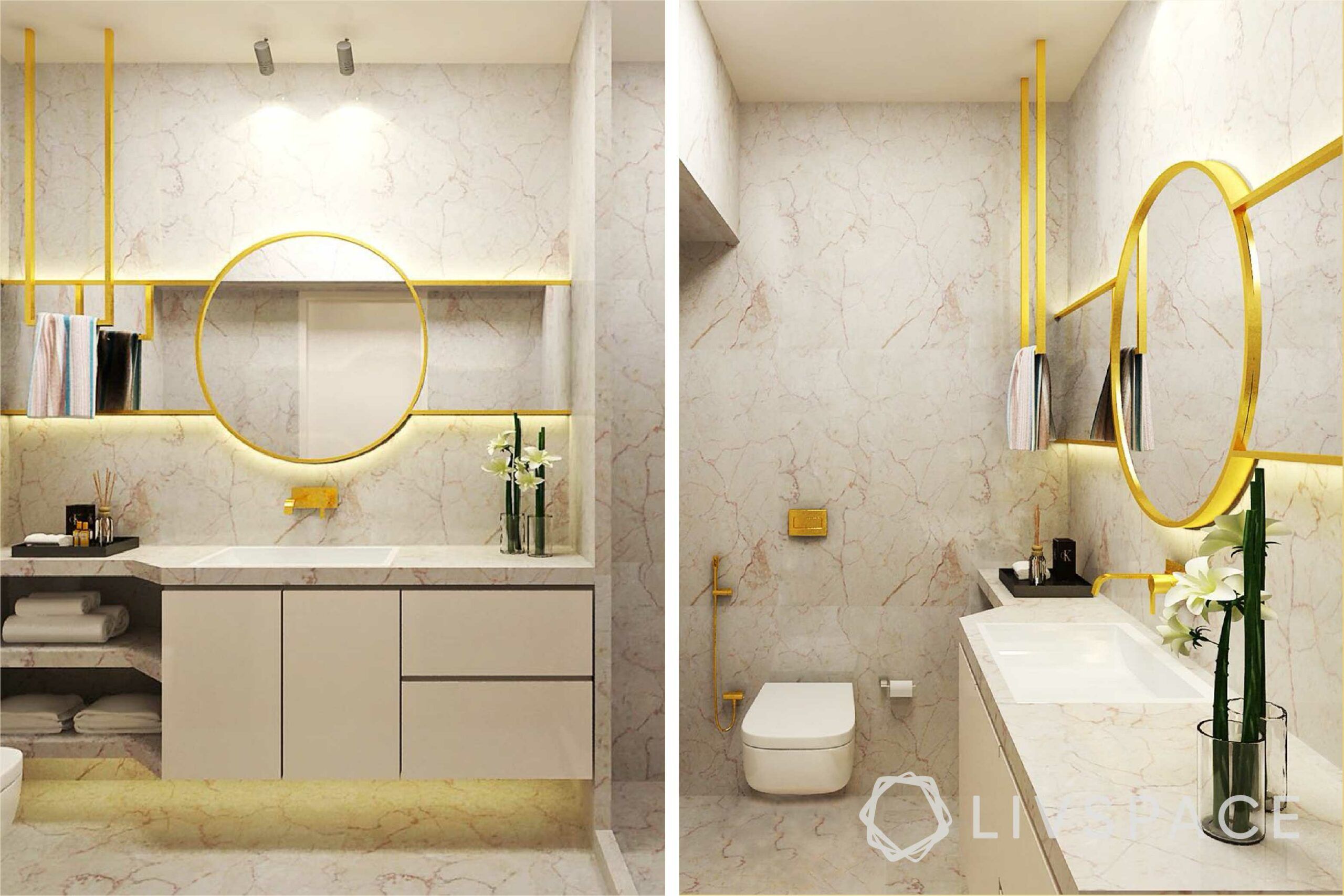 Keeping the family's privacy in mind, we have only included the 3D designs of the bathroom. Subsequently, these bathrooms are in complete Italian marble with a variety of lighting choices from the Livspace catalogue.
"Designing Irshad and Tasleem's home was a one-of-a-kind experience. Besides, some design necessities were unique and giving the homeowners what they want is of utmost importance here. Planning colours and designs with the family helped me understand their requirements but it brought us all together and was a fun process, too!"
– Vishakha Dsouza, Interior Designer, Livspace
If you enjoyed reading this, take a look at A Trendy New Look for This Sprawling Bungalow
Send in your comments and suggestions.