We have received a lot of love from namma Bengaluru and it's time to show you why! Homeowners from every walk of life have approached us with various requirements for their homes. Some came for a full home design, some to get swanky new kitchens and wardrobes, and some to refurbish their dated interiors.
Every time, our designers have gone the extra mile to give them their dream homes. Here's a snapshot of our work in the city. Our designs for home interiors Bangalore have left 1000s of homeowners happy for their unique styles and the way it addresses each of their unique lifestyles.
A contemporary design for a young working couple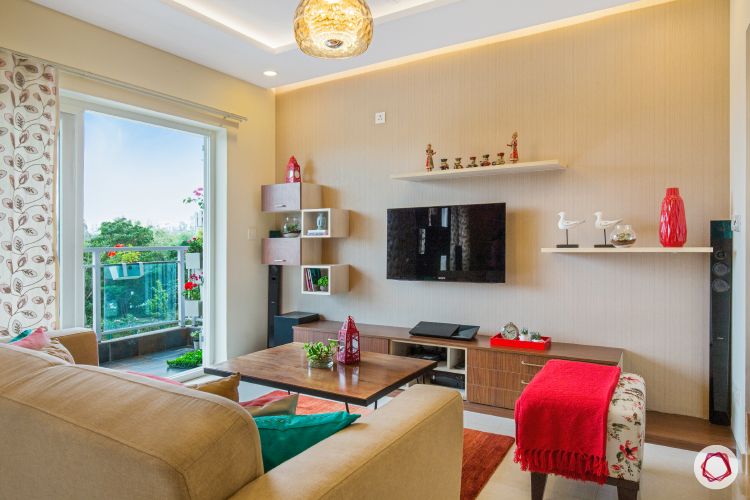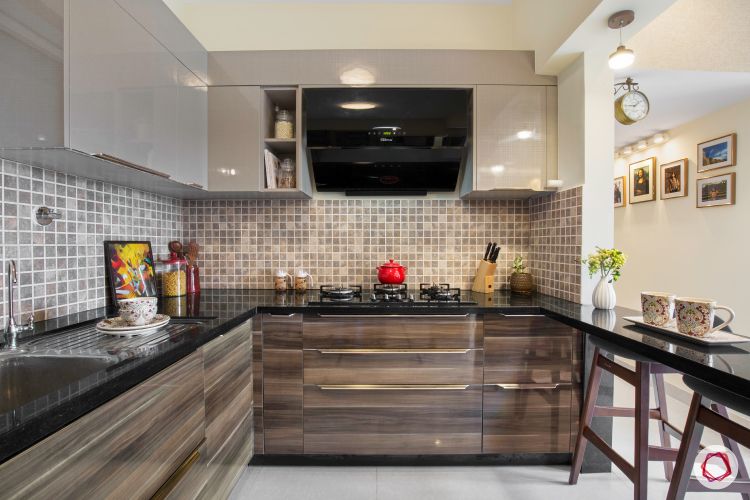 Property: SJR Prime Corp., Harlur
Livspace service: Full home design
Price: ₹₹₹₹₹
What did the couple want?
For Alok Ranjan and his wife Ratika, it was very important to feel comfortable and peaceful at home. This working couple spends the week working and wanted the little time they spend at home to be special. They wanted a contemporary design with a lot of wood finishes for a sense of calm at the end of the day. It resonates with so many of us, doesn't it?
How did we achieve this?
Our designer churned out some amazing ideas to suit their requirements – from neutral colours that complement the warm wood tones to ample storage with storage and display racks, a breakfast counter that overlooks a lovely lake, fully equipped modular kitchen and a bedroom that is a wonder in wood with wooden flooring, wooden bed and a wood finish wardrobe.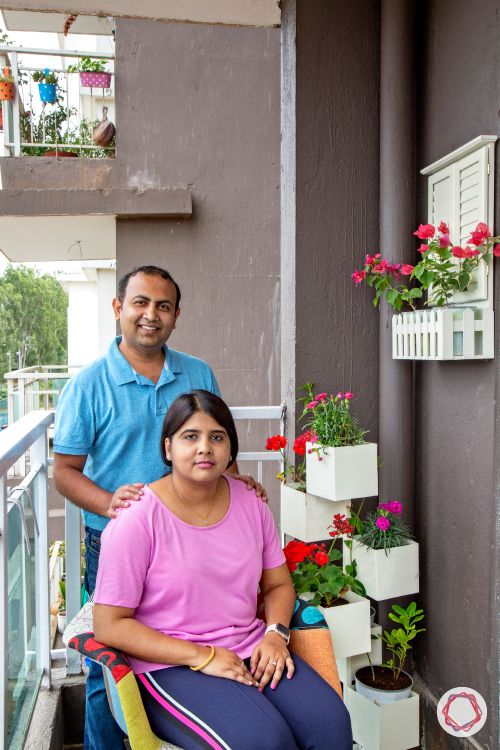 "Our designer was very understanding and it was easy to explain our concepts and ideas to her. The entire team at Livspace was cooperative and supportive. Since we were clear about what we wanted for our home, it was a smooth experience. We love spending time in our new home!"

– Ratika & Alok Ranjan, Livspace Homeowners
For more details on the style, vibe and finishes, read this: Spacious & Warm with a Modern Interior Design.
An uber-functional & clutter-free home for a travel-loving duo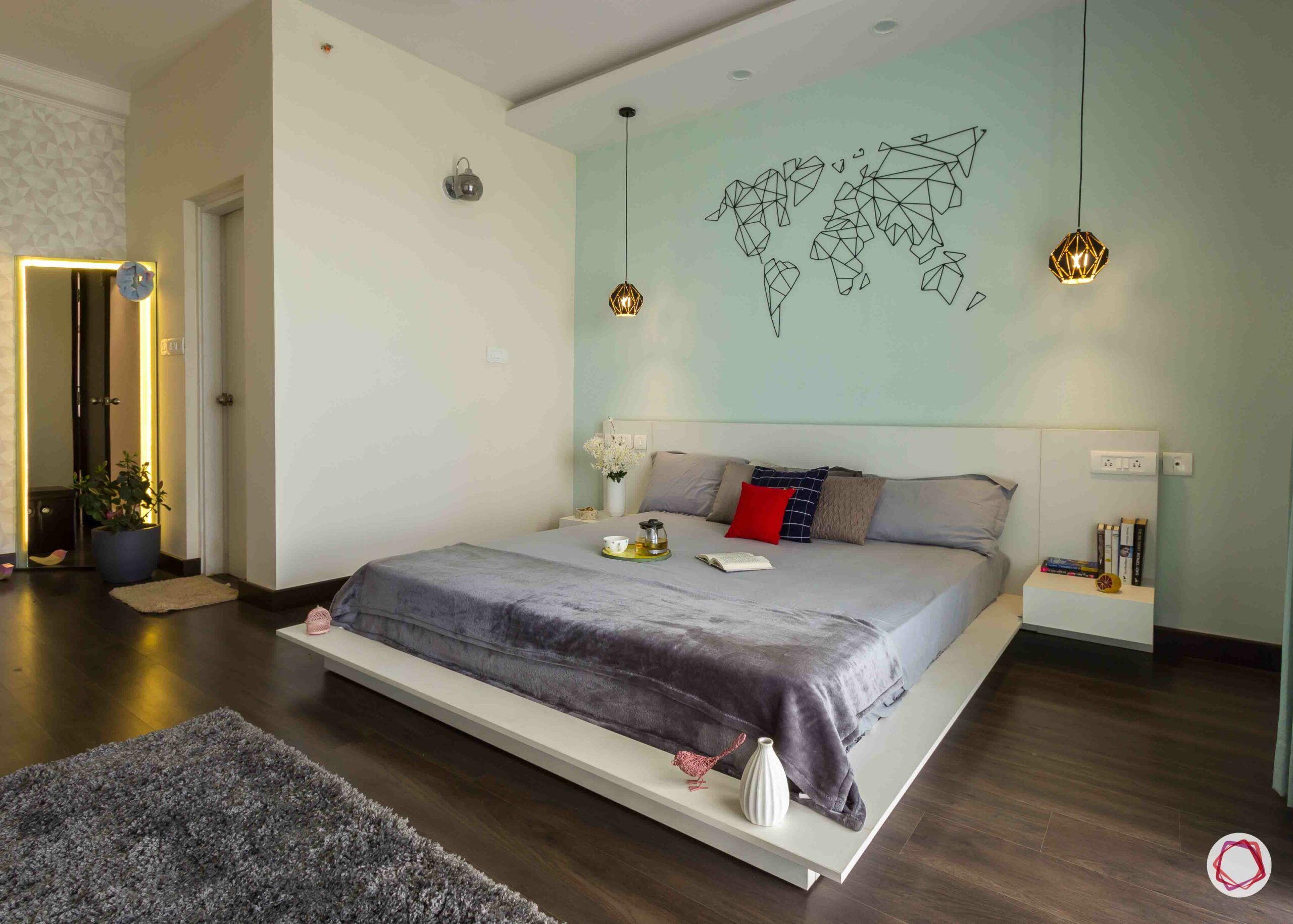 Property: Eastwood Township, Harlur
Livspace service: Living room, kitchen & one bedroom design
Price: ₹₹₹₹₹
What did the couple want?
Like most homeowners, they wanted functional, space-saving or clutter-free. That said, Soumya Jain and his wife Tanvi wanted their brand new home to be also be focused on design and comfortable living. The software engineer duo who has been married for three years revealed in a discussion with us, "Aesthetics is important to us. We want to feel happy in our space."
How did we achieve this?
With elegant finishes, swanky elements, and bits of the couple's globetrotting fervour around the home, Sangeetha sure whipped out a magic wand! Some of the design highlights include: a backlit TV unit in the living room, a step-like crockery cabinet in the dining room and a metal accent piece of the world map on the bedroom wall.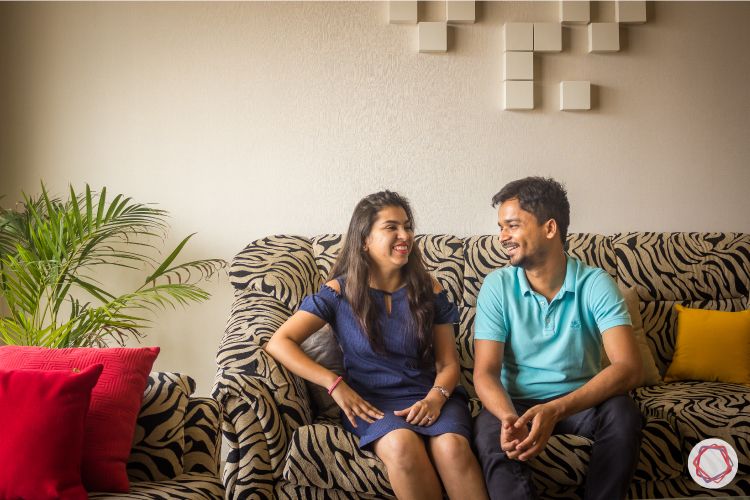 "We loved our experience with Livspace, especially their professionalism. Our designer Sangeetha did an amazing job designing our home. When we first approached Livspace, we didn't have a clear idea of what we wanted, except that our home has to be modern. But after discussions with the design team, things gained structure and we felt confident that things would go smoothly. And it did!"

– Soumya and Tanvi Jain, Livspace Homeowners
For more details on how we designed this dream home, read: A Modern Home for a Young Globetrotting Couple.
Making storage a breeze for a family that travels extensively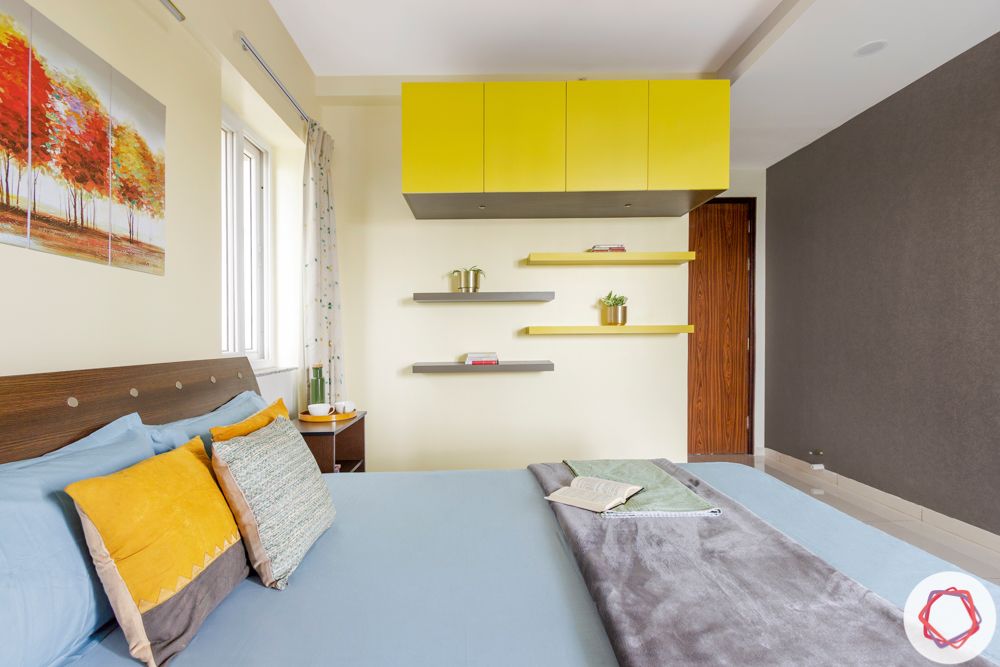 Property: Alembic Urban Forest Apartment, Whitefield
Livspace service: Full home design
Price: ₹₹₹₹₹
What did the family want?
A home complete with unique colours for each room, not-so-obvious storage, and a breezy vibe. Imagine you are strolling right now besides lush trees, wooden huts and pebbled pathways. Does it sound like your happy place? For Manisha and Lovedeep, the couple residing at this home, it is! And it's no wonder the Bengaluru-based couple, who are ardent travelers, wanted home interiors in Bangalore that would always make them feel they are always on a holiday.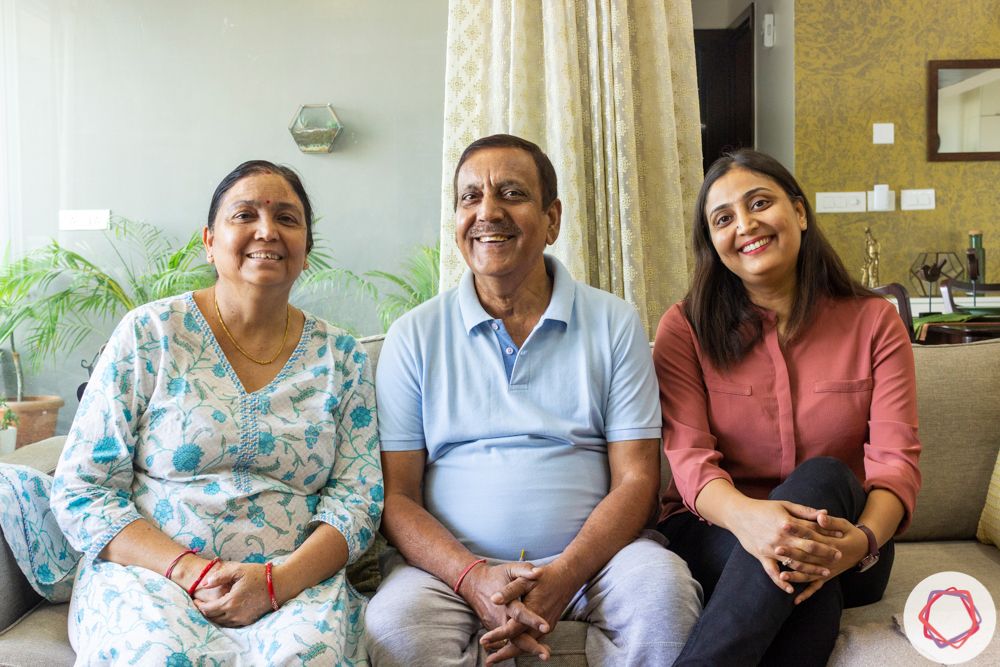 How did we achieve this?
While splashing the 3BHK with nature-inspired elements, we love how our designer transformed Manisha's additional requirement of having not-so-obvious storage. In fact, we are sure you would have to look closely to see all the storage cabinets that are cleverly crafted around the home. Do not miss the bright yellow lofts in the bedroom that were given just for suitcases for this travel-loving family. This home also comes equipped with a high-gloss laminate kitchen in peppy yellow!
For more details on materials used and finishes, read: Classy 3BHK That's High on Concealed Storage.
The classy and trendy bachelorette pad in Harlur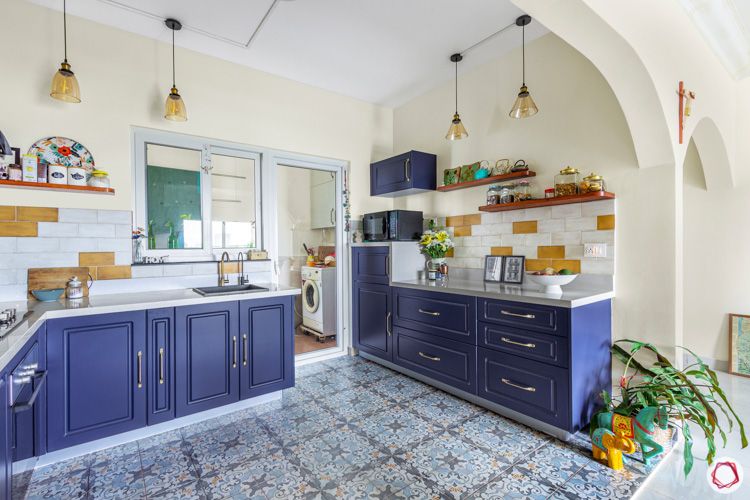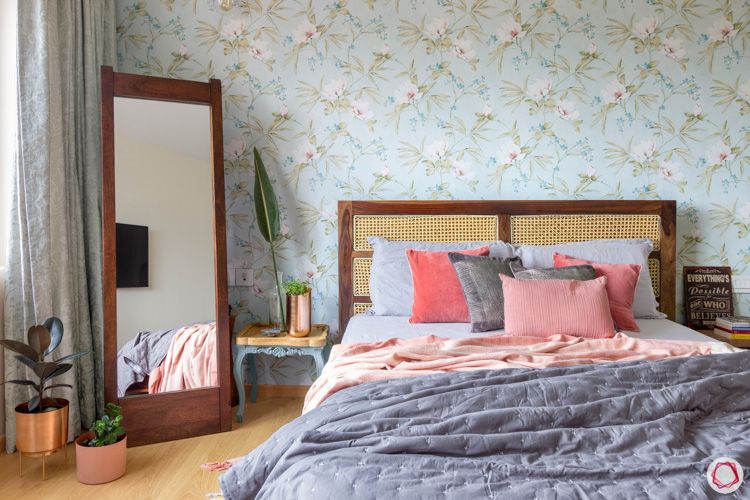 Property: Shriram Chirping Woods, Harlur
Livspace service: Kitchen, wardrobes, sofas and wallpapers
Price: ₹₹₹₹₹
What did she want?
While Shereen wanted to set up her home by herself, she approached Livspace for a few things to complete her dream loft. Our home interiors in Bangalore with a clutter-free kitchen, comfy seating and storage-heavy wardrobes is what she came to us for.
How did we achieve this?
It certainly helps when the designer and the client's sense of design matches perfectly. Teaming up with designer Pravar Chaudhary, this home is a win for its unique design and style. It's got quirky glass accents, soothing wallpapers and a kitchen that will lure you with its unique design. The home is drizzled with remnants of Shereen's travel adventures too. Her open kitchen is the showstopper here! But you should also check out the walk-in wardrobe and subtle floral notes in her bedroom.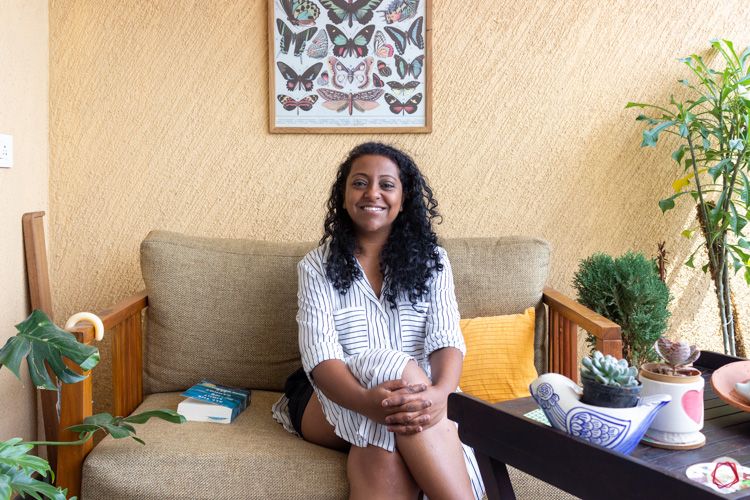 For more details on how this dreamy design came into being, check out: Vibrant 3BHK for a Travel Enthusiast.
Combining style with comfort for bachelor friends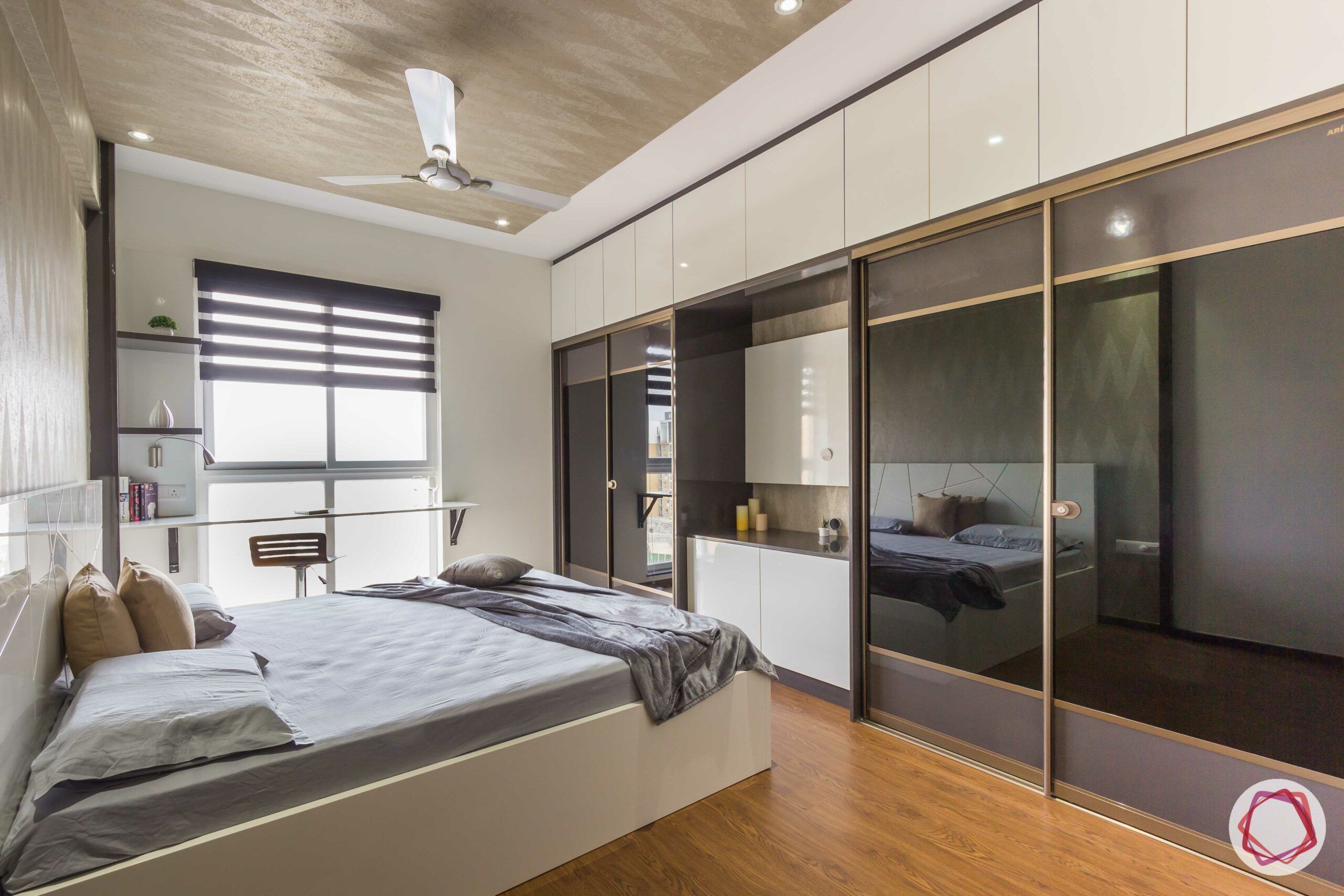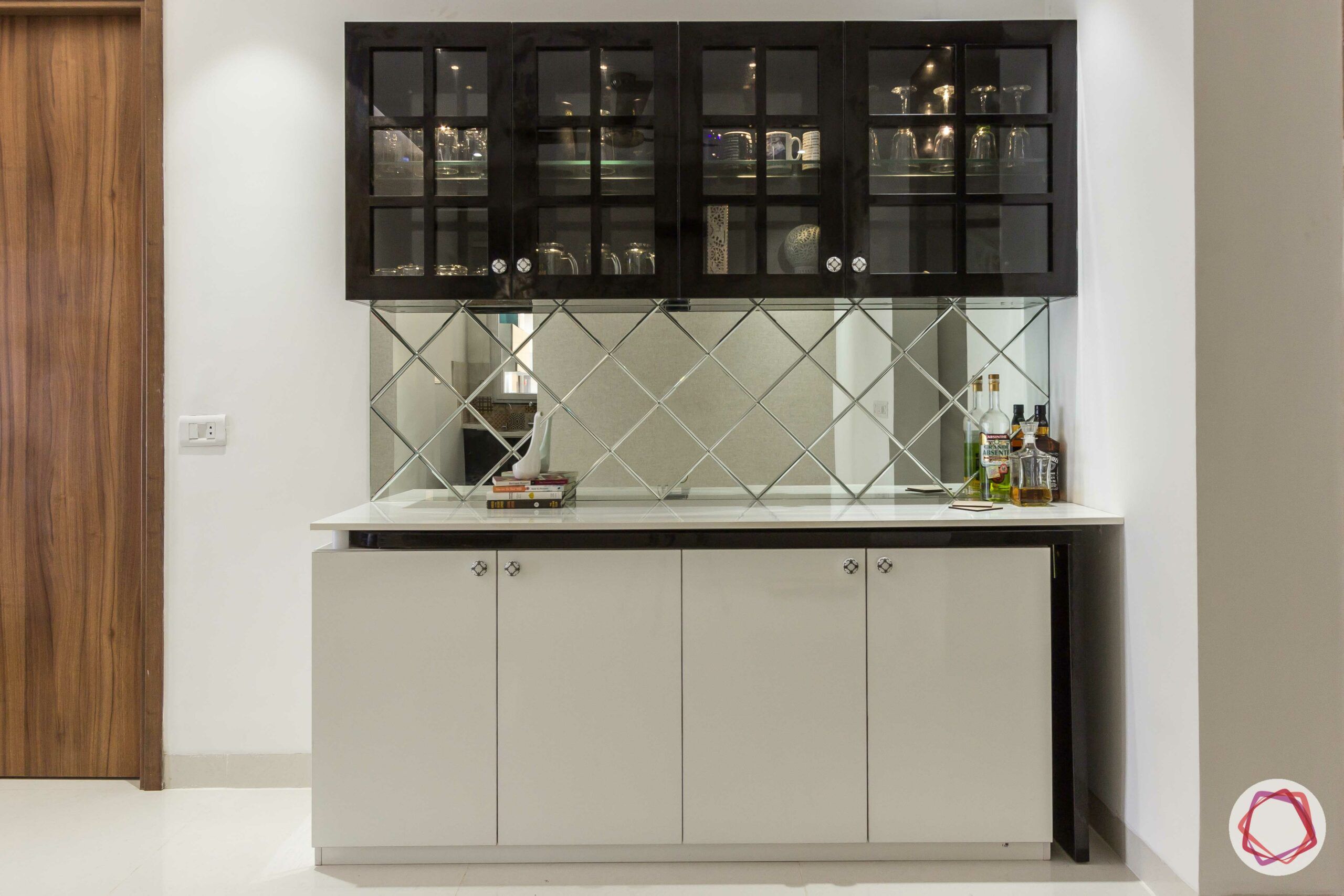 Property: SNN Raj Greenbay, Electronic City
Livspace service: Full home design
Price: ₹₹₹₹₹
What did the friends want?
Bachelor pads have been notoriously known for its next-to-nothing style. But this home interiors Bangalore proves that times are indeed changing and it is possible to create a home combining style with comfy interiors. When Ravi Prakash, a data scientist by profession, bought his flat on the sixth floor, he had a few things in mind: a place where he could relax and unwind, work and host friends.
How did we achieve this?
Keeping a neutral colour palette, like he wanted, we love all the sleek elements that make this home a chic and not-so-cliche bachelor pad! The combination of laid back, comfy interiors and an effortless urban style makes for a perfect bachelor pad. We also gave them a trendy bar nook to whip up cocktails during those parties. With mirror panelling on walls and anti-scratch acrylic finish for kitchen cabinets, this home is both stylish and low maintenance.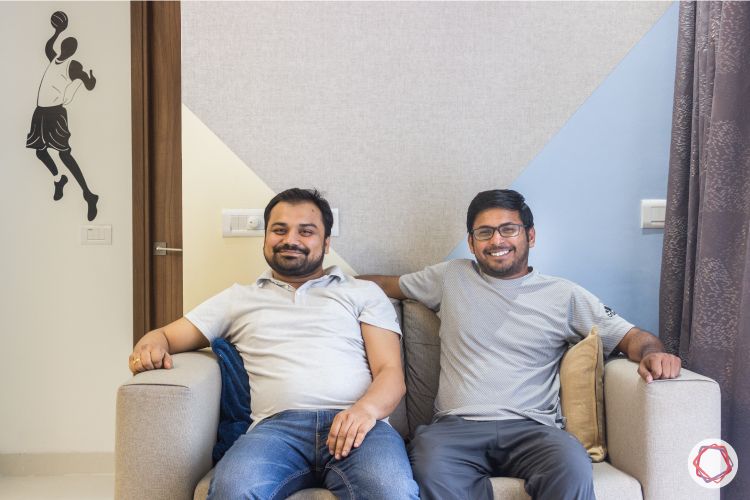 "I heard good reviews about Livspace from a few friends and decided to get my home done from them. I'm glad I did! I had a vague idea of what I wanted and the designer Sushritha converted and built it into a design I love."

– Ravi Prakash, Livspace Homeowner
For more details on the design and execution, head to: A Swanky and Sleek Bachelor Pad Comes to Electronic City.
Rustic charm for a countryside villa in Kengeri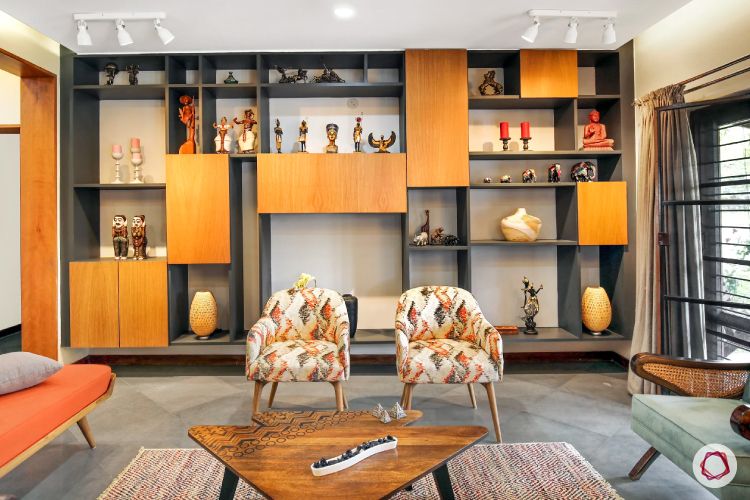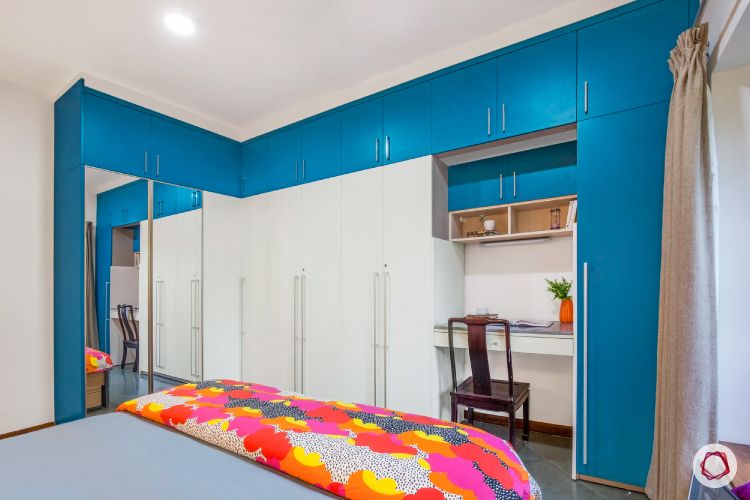 Property: Independent Villa in Kengeri
Livspace service: Full home design
Price: ₹₹₹₹₹
What did the family want?
A home design with rustic charm built to suit a family of four. Also a beautiful terrace seating which gives the home a country-like feel. While they wanted a spacious layout with a classic look in the common areas at home, for their bedrooms they opted for a more modern vibe.
How did we achieve this?
Designer Iesha Parekh, gave them a design that replicates the warm aesthetics of the exteriors by sticking to a natural palette and soothing textures in this home interiors Bangalore. She put forth a tremendous design for the display rack which is quite the blend of storage and display and looks stunning too! Abundant storage options for every room and wardrobe accessories designed to cater to the family's varying needs are other highlights of this design.
For more details on this colonial-style villa, explore: Countryside Home Gets Ample Storage.

Personalised haven for a young family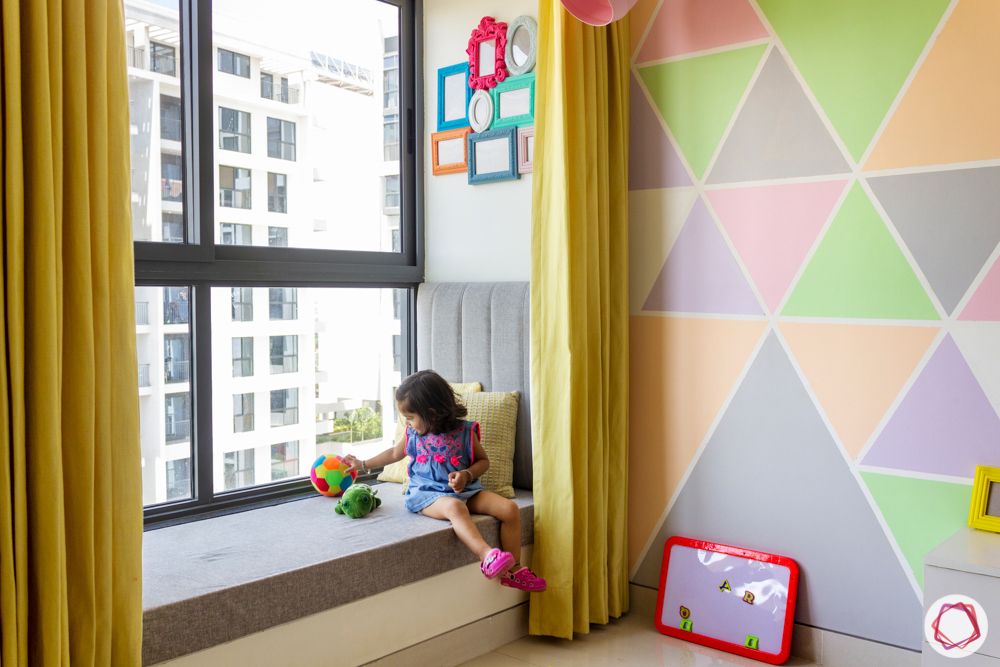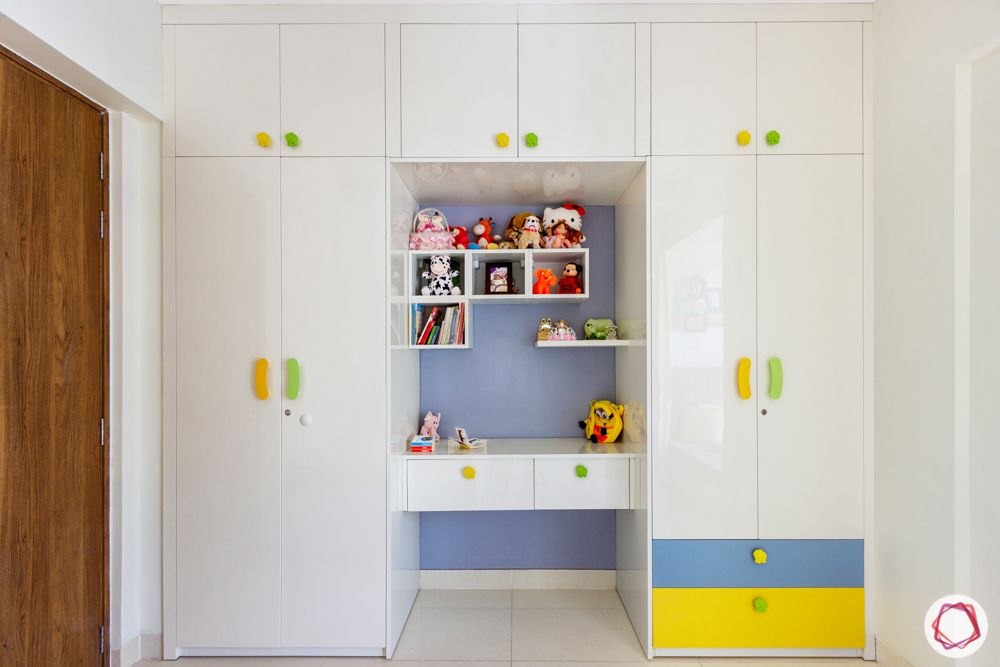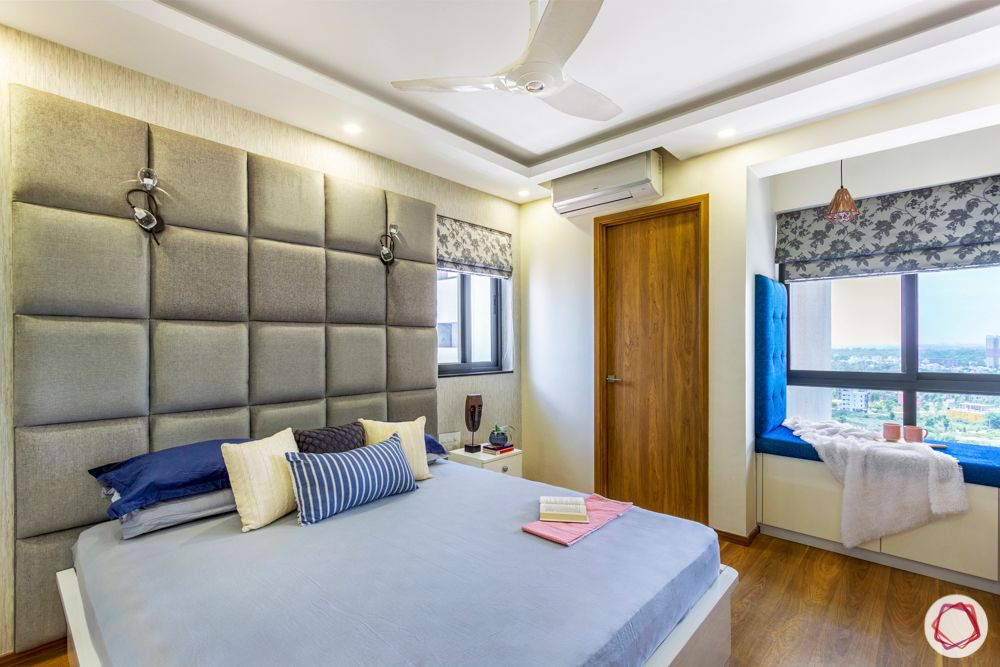 Property: SNN Raj Etternia, Harlur
Livspace service: Full home design
Price: ₹₹₹₹₹
What did they want?
As a mother and go-getter, residing in Bengaluru, Neena has always wanted a home that exhibits her personality while being a safe and secure place for her daughter, Myra. A personalised home dressed in elegant interiors with pops of bright colours and unique patterns is what she had in mind when she came to us.
How did we achieve this?
Two spirited Livspace designers, Sneha and Rajalakshmi took up the task of personalising this 3BHK. With fresh and original ideas, they mapped out a fabulous design while accommodating all the client's needs. Keeping in mind that a toddler is going to goof around at home, the designers have designed every room with enough movement space for Myra. Moreover, from civil construction to picking out the curtains, the designer-pair made sure not to compromise on any detail. Do check out how we customised the wardrobe for little Myra and how every room features lovely window seating. Their smiles are proof of a job done right!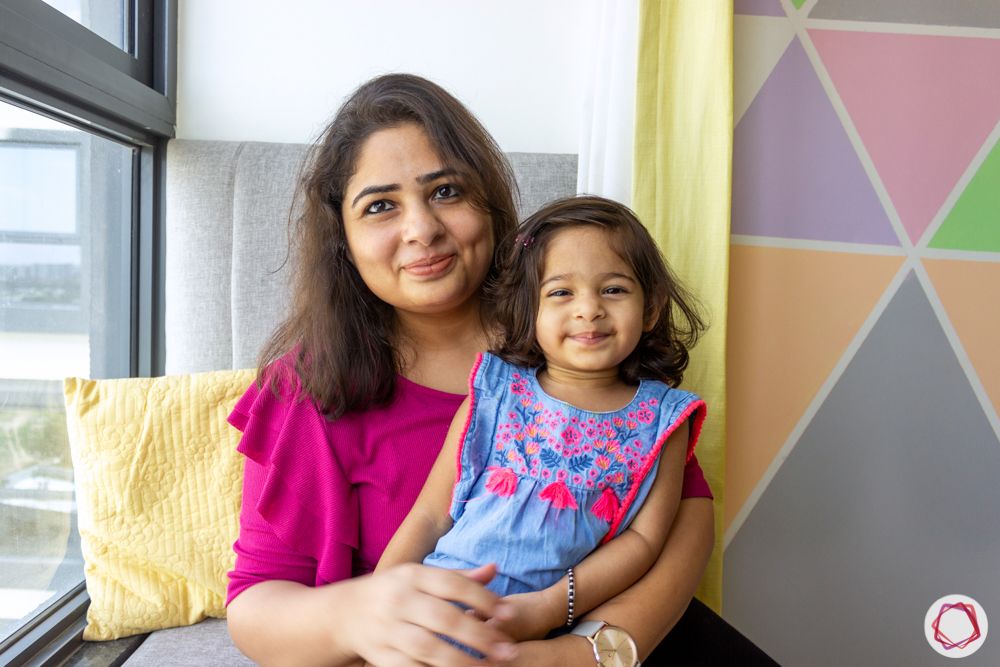 "Sneha and Rajalakshmi were very attentive and accommodating throughout the process. After all the planning and discussions, the design turned out to be just to my liking and I'm very happy with the result."

– Neena, Livspace Homeowner
For more details on how we personalised this home and the kind of materials we used, read: Colourful & Child-friendly Interiors for a 3BHK.
From new homes to magical makeovers
Complete makeover for a 10-year-old home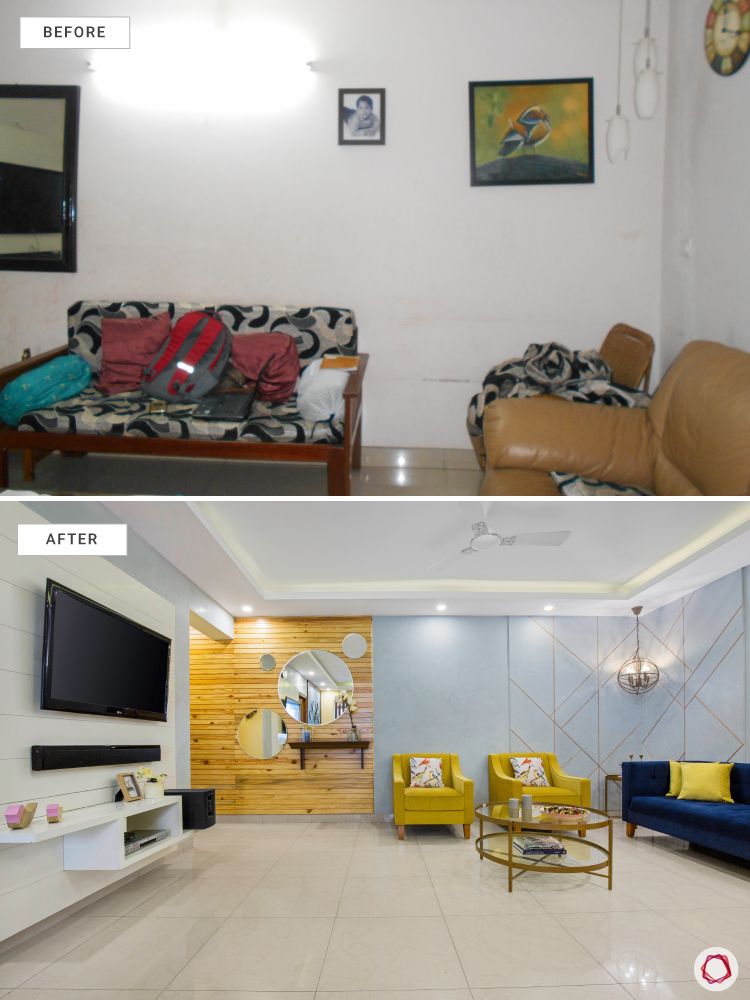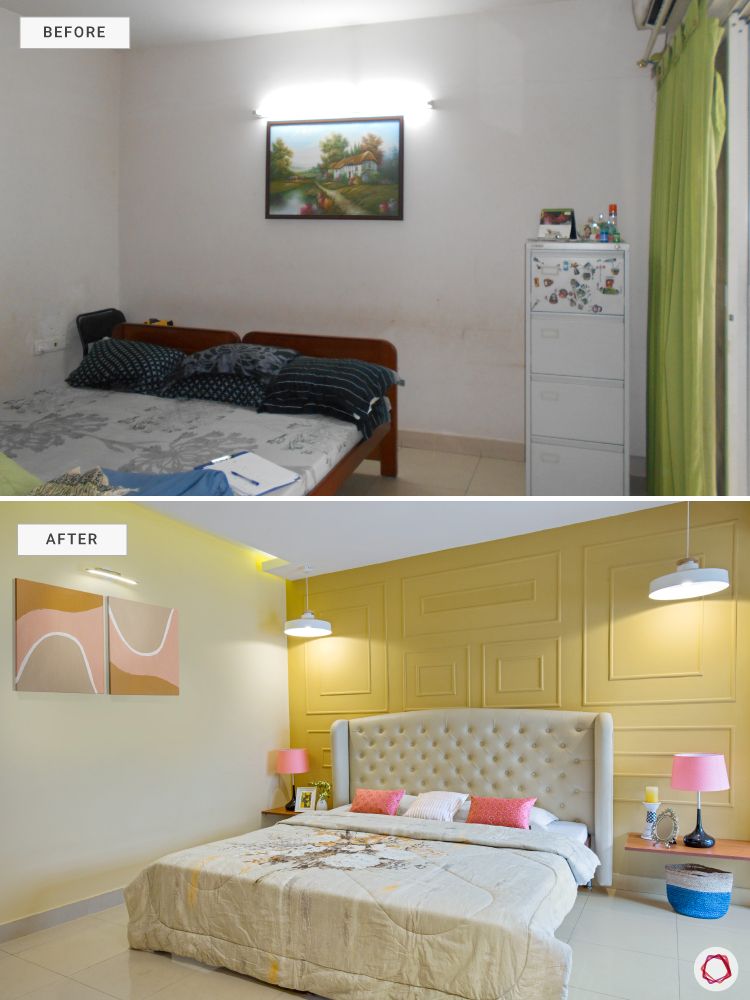 Property: Purva Riviera, Marathahalli
Livspace service: Living room, dining room and master bedroom
Price: ₹₹₹₹₹
What did they want?
Ten years of living in the same space, Sujatha Narayanan wanted something different from the conventional for her home. When the family approached us for home interiors Bangalore, they were eager to renovate the living and dining room along with the bedroom in the first go. Thus, the game plan by Mona mostly revolved on making the space more welcoming, bright and spacious with, of course, a clutter-free design.
How did we achieve this?
Mona NV, Livspace interior designer has put together a marvelous combination for the family with decor and accessories paired well. Feast your eyes on this pretty home, renovated not just to function well, but also takes the colour game up a notch. The living room was refurbished into a brand new look and the bedroom wears a look that you would not believe it ever could.
"After seeing Livspace designs online, I was keen on getting interiors from them. So I didn't bother contacting any other designer for my project. I love the designs Mona created for my home. My friends and family also find it appealing."

– Sujatha Narayanan, Livspace Homeowner
For more details on how this makeover turned out, check out: Home Makeover: A Transformation You Won't Believe!
One room makeover for an organised space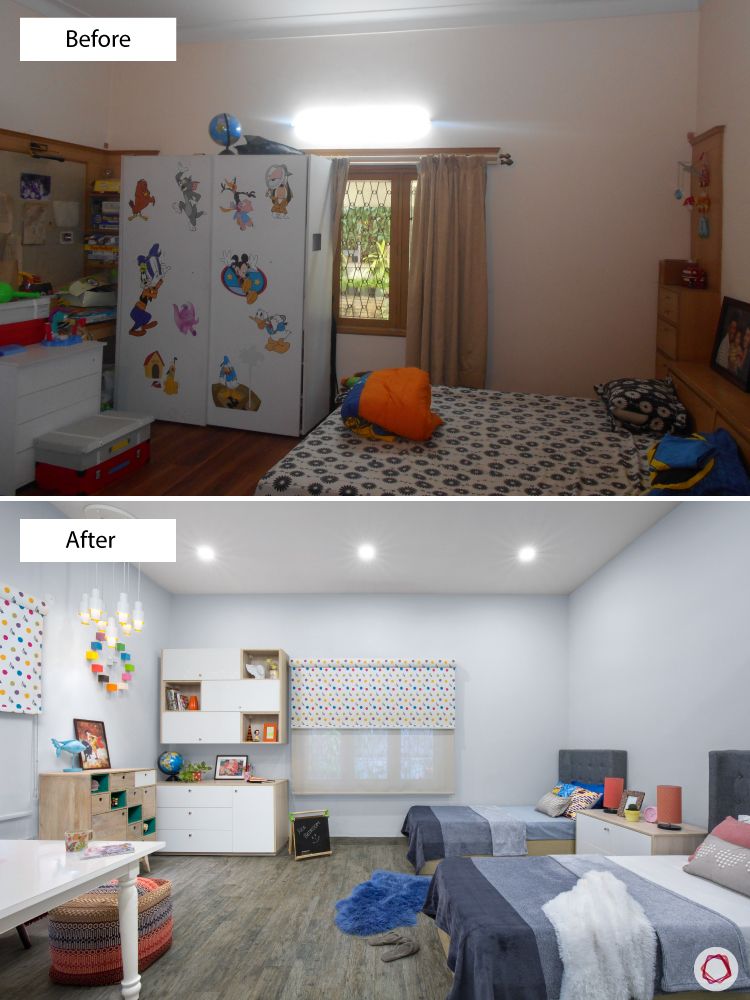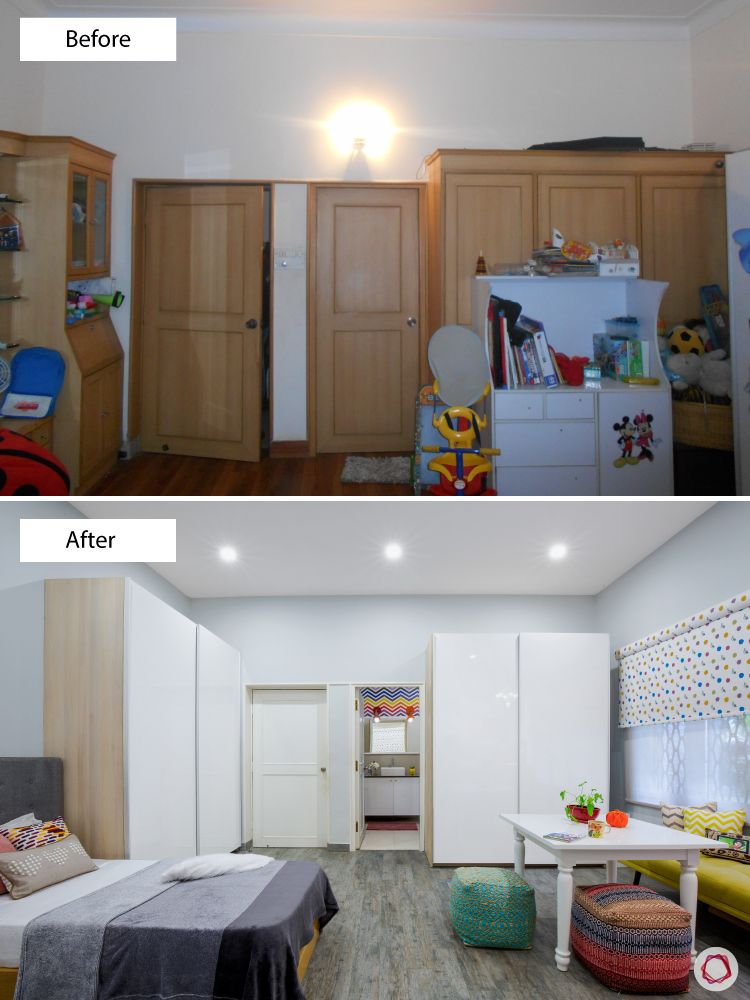 Property: Independent home in Jayanagar
Livspace service: Kids room design
Price: ₹₹₹₹₹
What did they want?
For Lavanya and her family, this was just the beginning of the renovation of their home interiors Bangalore. Their kids owned a huge room that was a little cluttered and a little disorganised. A desire to give the little ones their own space that they would love to stay in, brought the family to Livspace. They wanted a complete makeover for the kids' room, with ample storage and coloured accents.
How did we achieve this?
While Ami, their designer was clearly told that they want a neutral room with no loud colours, she also had to take into account that it was going to belong to naughty siblings. She put on her thinking cap and churned out a design that they love. A lot of civil work involved which was done first. The flooring and tiles in the bathroom and the bedroom were completely redone. Installation was done at once and we handed over the home to them on time, with minimum delay.
"We had already seen Ami's work for a friend's home, so we were convinced with her skills before starting out. But the expertise she showed during the design process for our kid's room was extraordinary. We are very happy with the quality of Livspace products as well. It was a a good experience to get our interiors done through Livspace!"

– Lavanya Devatha, Livspace Homeowner
For more details on how this room looked and how we transformed it, read: This Kids' Room Makeover is Goals.
A dazzling kitchen makeover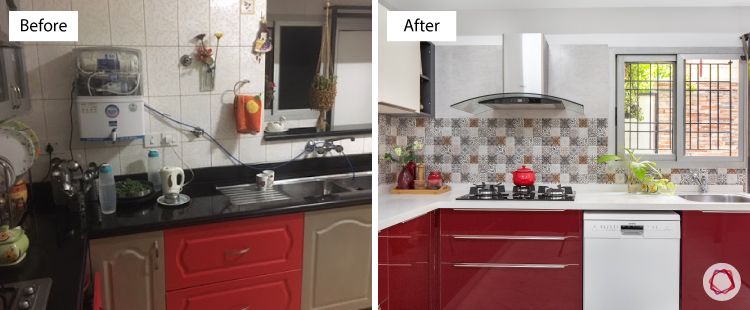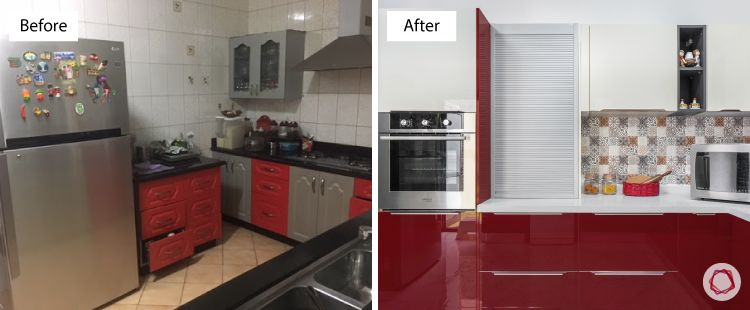 Property: Sobha Malachite, Yelahanka
Livspace service: Modular kitchen design
Price: ₹₹₹₹₹
What did they want?
For our clients, Rama and Ramesh, getting their kitchen redesigned was the first step to giving their home a facelift. A fully-equipped modular kitchen that looks bright and cheery, and is easy to work in is what they wanted. Also, their main reason for getting the renovation done was that they spend a lot of time here and this had to be a more organised space.
How did we achieve this?
Smitha, their designer gave the couple a combination of open and closed shelves for the wall units and played around with cream and slate grey for the same. The backsplash sports Moroccan tiles, for which the credit goes entirely to Rama and Ramesh, for their excellent aesthetic sense. She also equipped this kitchen with bottle pull-outs, tandem drawers, D-trays and so on. Also, do not miss the roller shutter beside the tall unit with built-in appliances. It takes care of all the peripheral appliances that would otherwise end up occupying unnecessary counter space.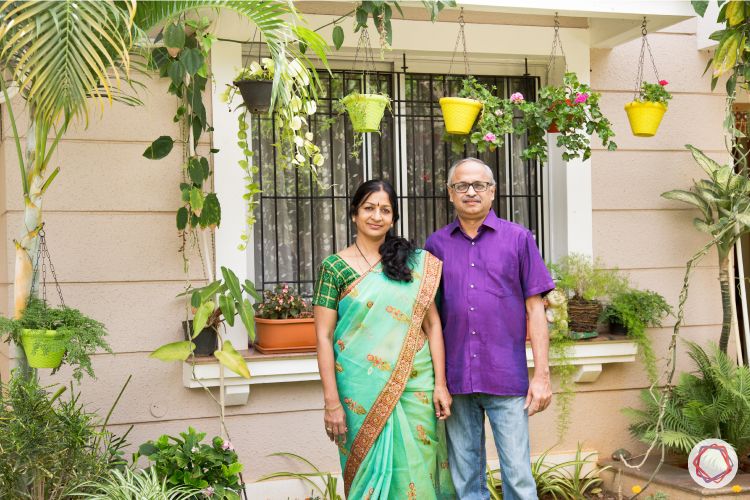 "We loved Smitha's detailed inputs like having D-trays and roller shutters in the kitchen. We never thought these would prove to be so useful in our daily lives. Our kitchen was handed over to us in a very short time span and that is exactly what we needed. Everyone who visits our home, compliments us for our kitchen. We love what Livspace has done!"

– Rama & Ramesh, Livspace Homeowners
For more details on how this kitchen got a complete facelift and what materials we used, read: This U-Shaped Kitchen Gets a Makeover You Will Love.
We also designed various sizes of homes:
Big, spacious homes with contemporary design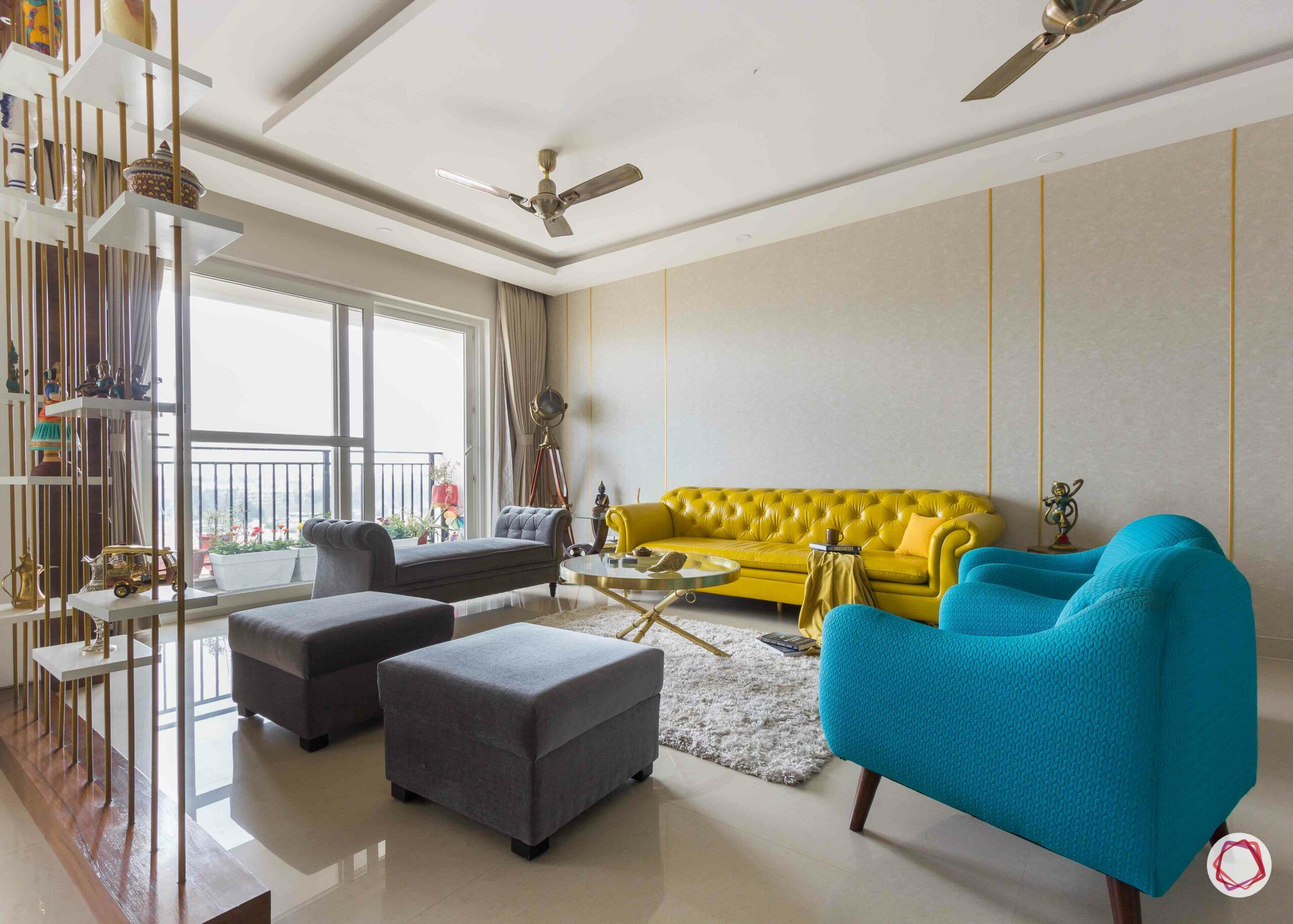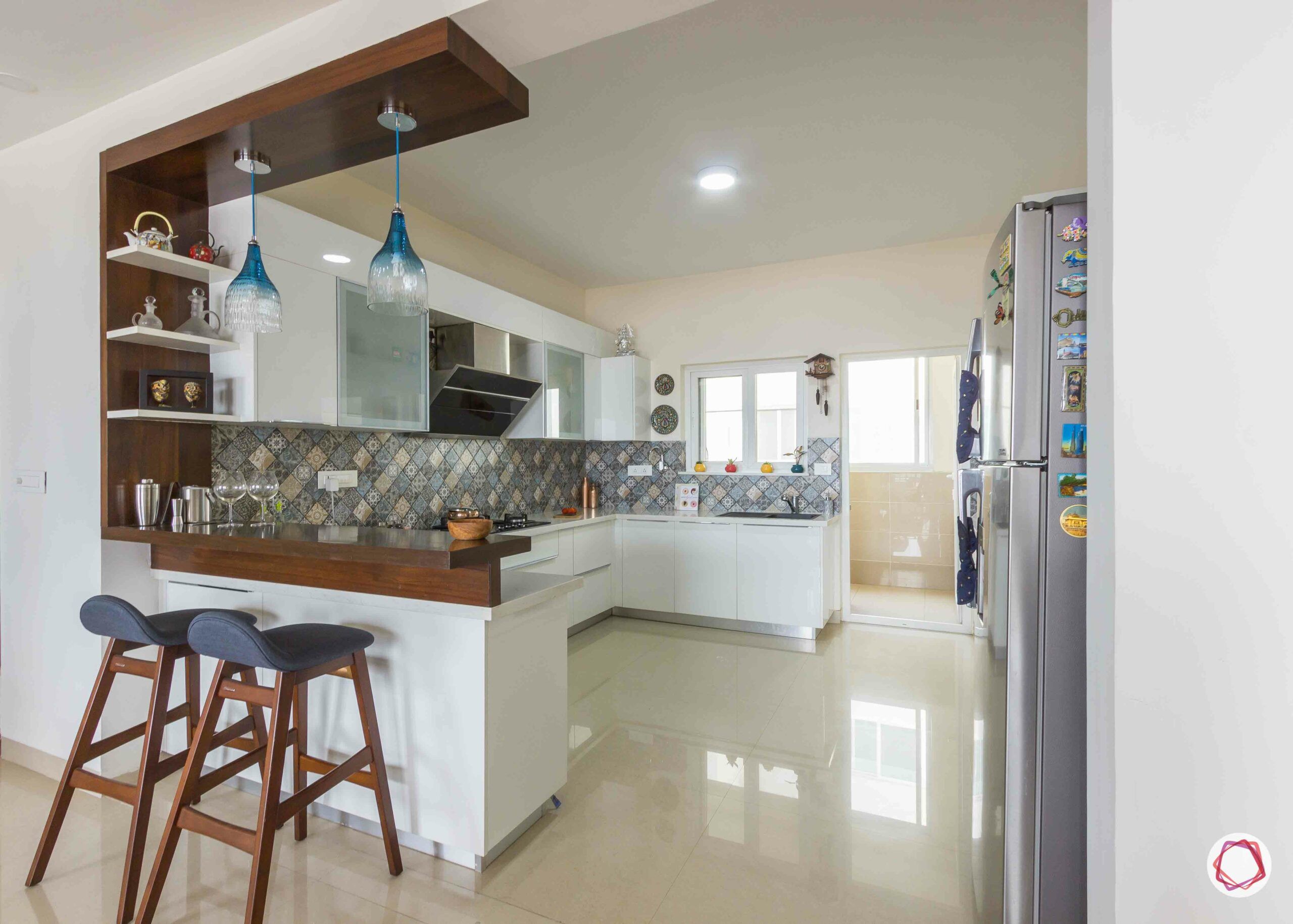 Property: Adarsh Palm Retreat, Sarjapur
Livspace service: Full home design
Price: ₹₹₹₹₹
What did the family want?
Having settled well in Bengaluru for the past seventeen years, this couple decided to get their new home designed by a professional. All they wanted was a home that exudes positivity and has minimum but essential furniture. A contemporary home with unique designs with subtle hints of glamour and a spacious look is how they want it to be.
How did we achieve this?
Shreya Mehta, their designer is great at understanding what her clients want. The spacious layout of this home allowed her to display her potential brilliantly. With bright pops of colour and subtle gold hints in the living room to a fourteen-foot-long crockery unit, this home has some striking elements to showcase. Do not miss the stately living room with versatile seating in pop colours and an open kitchen that gets some definition with a cosy breakfast counter.
"We really appreciate the efforts of our designers Shreya and Radhika along with the entire team for designing our dream home. Shreya was always running around with us to select the smallest of things. Livspace has been very professional and they delivered what they promised at the right time. Everyone who visits us, compliments us for our beautiful home. We are so glad we associated with Livspace for our interiors."

– Payal Malhotra, Livspace Homeowner
For more details on aesthetics, finishes and materials, read: Colours Meet Class at this Adarsh Palm Retreat Home.
Compact homes with a 'wow' factor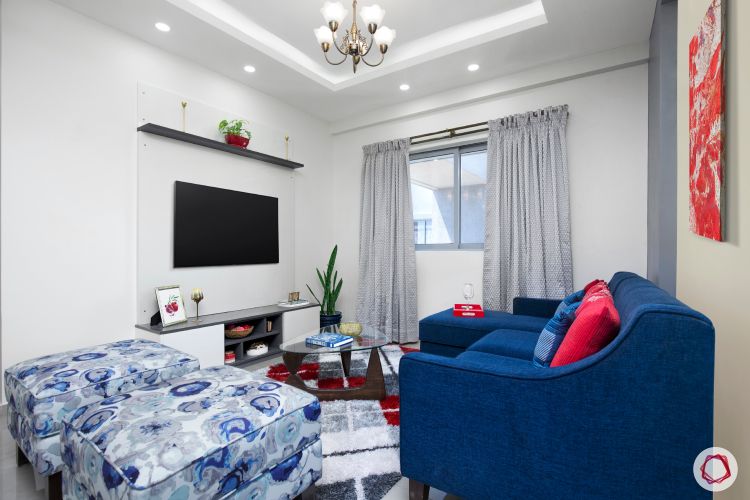 Property: Goyal Footprints, Hegde Nagar
Livspace service: Full home design
Price: ₹₹₹₹₹
What did they want?
Our client, Uday Kumar, approached us to design this apartment that he had acquired and now wanted to give it a new face. A design that opens up the space and has a "wow" factor is the kind of brief that the client gave our designer.
How did we achieve this?
The way the designer has designed the home, keeping in mind the space constraints and aesthetic preferences is something that is worth noticing here. Harmony in the colour scheme maintained throughout the home, the jaali divider in the foyer and bright interiors that reflect light and make it look spacious are some of the key highlights of this home.
"I was looking for someone who could give me modern designs within a short time span, without needing my constant involvement. The designs at the Experience Center were amazing and it helped me finalise Livspace to design my home. Smitha and her team deserve appreciation for the dedication and hard work that they put in for this project."

– Uday Kumar, Livspace Homeowner
For more details on how we opened up this compact space, read this: Small Wonder: Transforming a 1BHK into a Dream.
Modish and minimal kitchen & wardrobes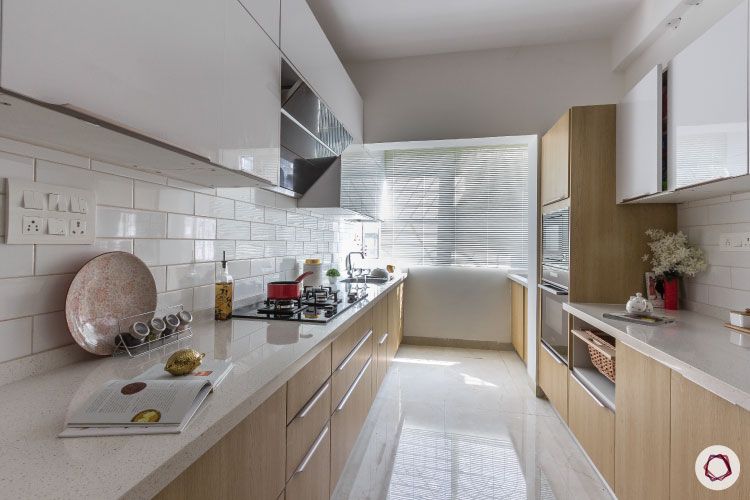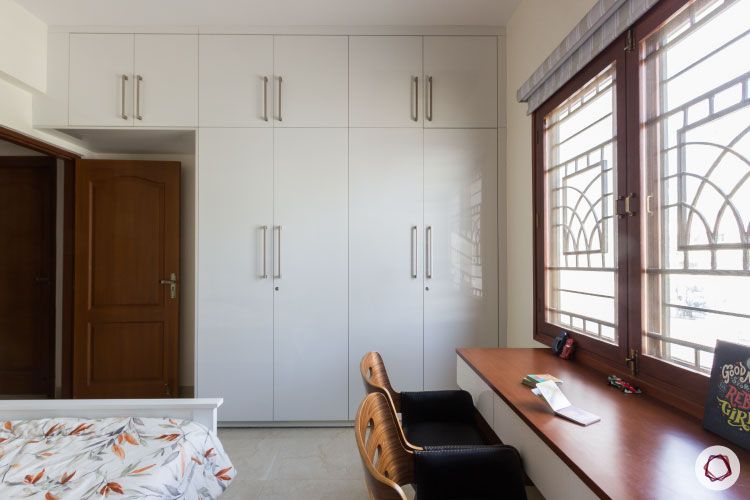 Property: Purva Paradise, Domlur
Livspace service: Kitchen and wardrobes
Price: ₹₹₹₹₹
What did they want?
There's something about white interiors that always transports you into a happy place. Pair that with minimal settings and you've got yourself a modern chic home. That's exactly how Lekha and her husband Mahesh Srivastava wanted their 15-year-old home in Purva Paradise, Bengaluru to be done. "We wanted a breezy and low-maintenance home since we both have busy professional lives," said the couple.
How did we achieve this?
Once you walk into the living room, you can't help but marvel at how beautifully well-lit the space is. Their original flooring seemed dull, so Uma replaced them with vitrified tiles that resemble Italian marble. For the membrane-topped off base units, Uma chose wheat oak to complement the white base palette of the kitchen. The metallic white wall units flaunt acrylic finish. White brick tiles for the backsplash and a Kalinga stone countertop add to the softness of the space. The kids' room features a metallic white wardrobe. Notice the sleek finish? It's been done up in an anti-scratch acrylic.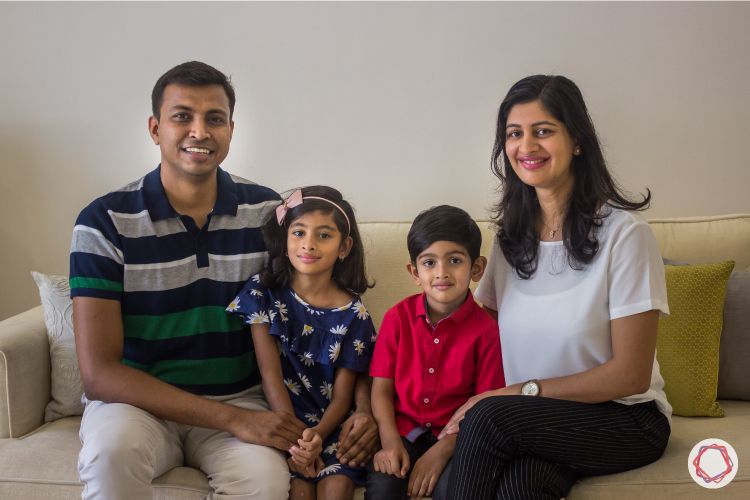 "We checked out a few vendors to undertake our renovation project, but we were only impressed after visiting Livspace's Design Center. We loved the finish and quality of the furniture at Livspace. Our designer Uma Kari shared a similar sense of aesthetics and understood our design requirements to the T. We wanted a beautiful minimal home and that's exactly what we got."

– Lekha and Mahesh Srivastava, Livspace Homeowners
For more details on how we carried out this project, read: 15-Year-Old Home Gets a Chic Makeover.
One for a vastu-conscious family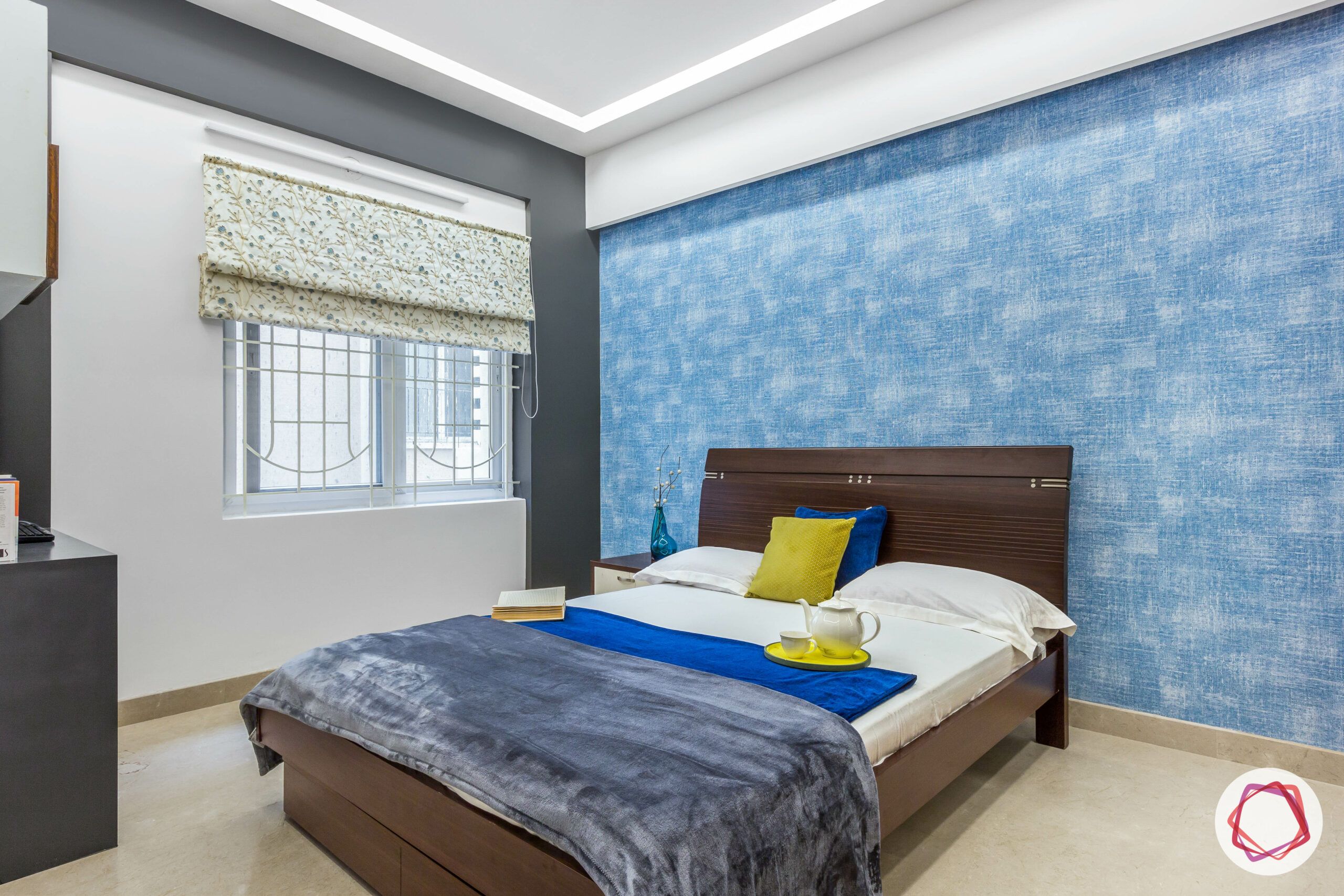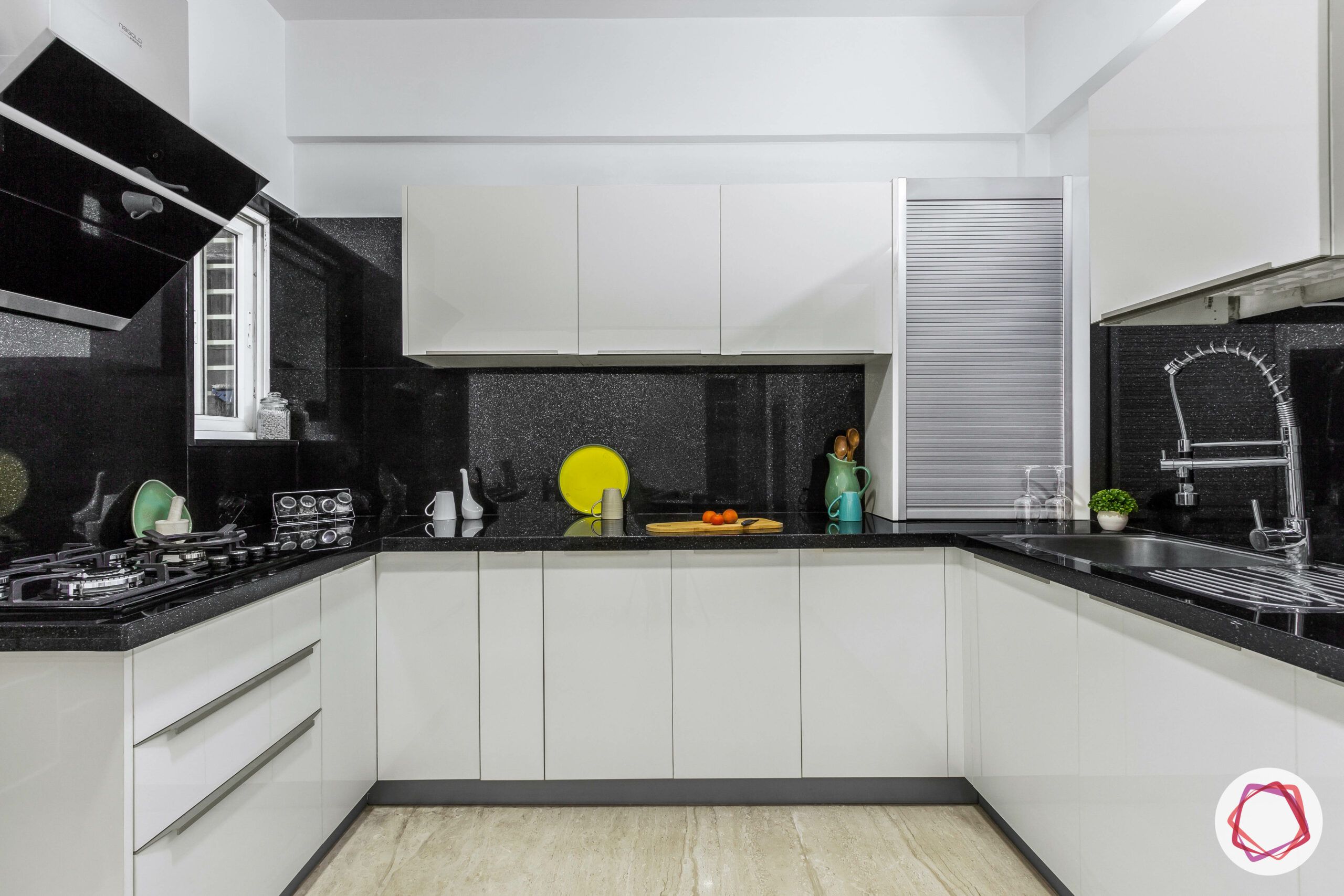 Property: Subhodaya Castle, Domlur
Livspace service:
Price: ₹₹₹₹₹
What did they want?
After living in Indiranagar for almost a decade, the Varma family decided to move to Domlur and found their perfect home there. What's next? Getting their dream home interiors, of course. A contemporary home done up in white, with a vastu-compliant design is what they asked for.
How did we achieve this?
You'll spot cozy white recliners in comfy leatherette upholstery in the living room, that are perfect to relax in. The TV unit wall sports a stone-finish wallpaper that the family will use as a projector for movie-time. On the other end of this space lies an exposed brick accent wall that the family wanted to utilise as a display area. Richa suggested white acrylic finish for the base and wall units complemented by black kalinga stone for the countertop and backsplash. White is the ideal colour to fill a space with more light than it actually enjoys. Since this kitchen is vastu-compliant , the hob is in the south-east direction.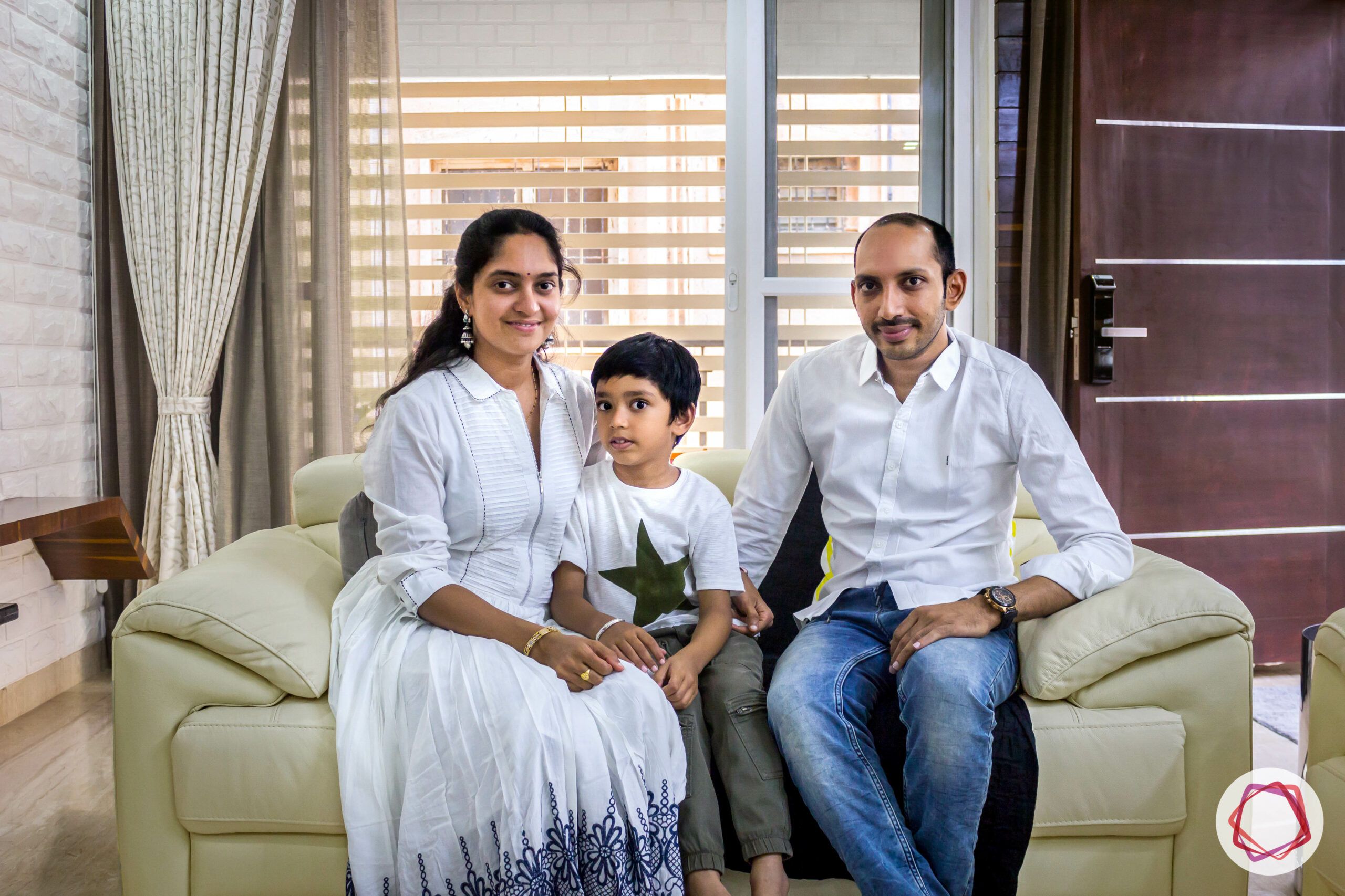 "It was a wholesome experience with Livspace. Our major requirement was getting vastu-compliant interiors and Richa made sure that she stuck to that. With her around, it was very easy to get our ideas across and she gave us some amazing designs to choose from. We love neutral colours and this has turned out to be our dream home. We would definitely recommend Livspace to our friends and family!"

– Suman & Deepthi Varma, Livspace Homeowners
For more details on how this sprawling home got a great design, read this: Vastu-compliant 3BHK Done up in Warm Whites.
Want more? Check this out: Decor Trends Ruling Namma Bengaluru in 2019.
Send in your comments and suggestions.