Laid-back interiors in a neutral palette!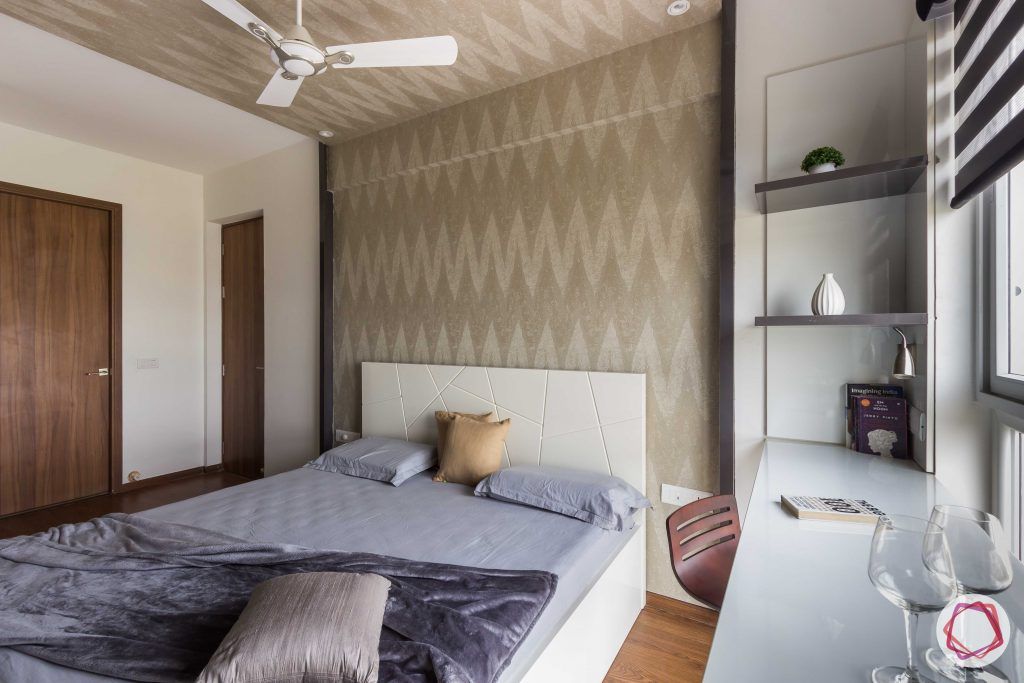 ---
Who livs here: Ravi Prakash
Location: SNN Raj Greenbay, Electronic City, Bengaluru
Size of home: 2BHK spanning 1.305 sq ft
Design team: Interior designer Sushritha Surya PS and Project Mangaer Tamim Almas
Livspace service: Full home design
Budget: ₹₹₹₹₹
---
Bachelor pads have been notoriously known for its next-to-nothing style. But this home in SNN Raj Greenbay, Bengaluru proves that times are indeed changing and it is possible to create a home combining style with comfy interiors. When Ravi Prakash bought his flat on the sixth floor, he had a few things in mind: a place where he could relax and unwind, work, and host friends. So when Ravi, who works as a data scientist, heard good reviews about Livspace from a few of his friends, he decided it was time to pay a visit to our Design Centre on Lavelle Road.
He described his dream home to our designer Sushritha Surya PS and she set to task immediately. Keeping a neutral colour palette, like he wanted, we love all the sleek elements that make this home a chic and not-so-cliche bachelor pad! Here's the tour:
A comfy living room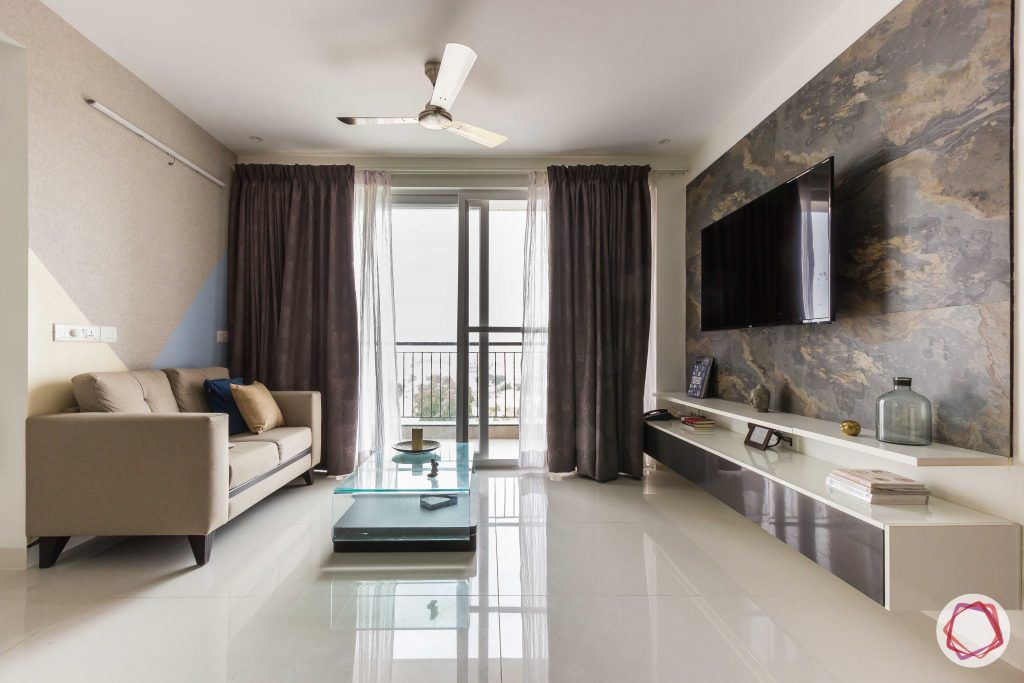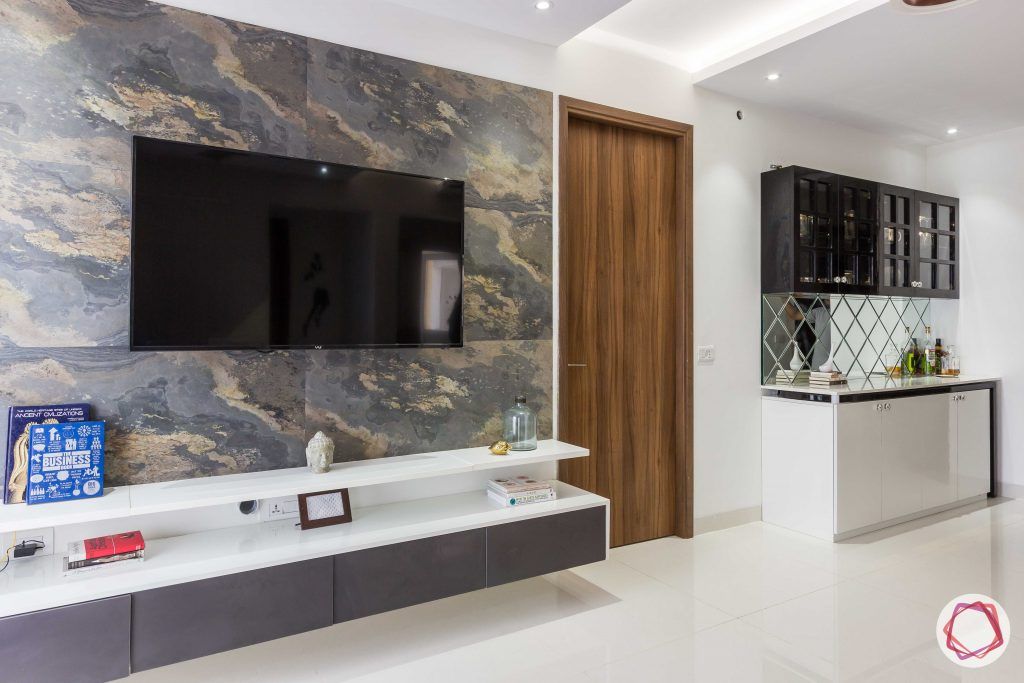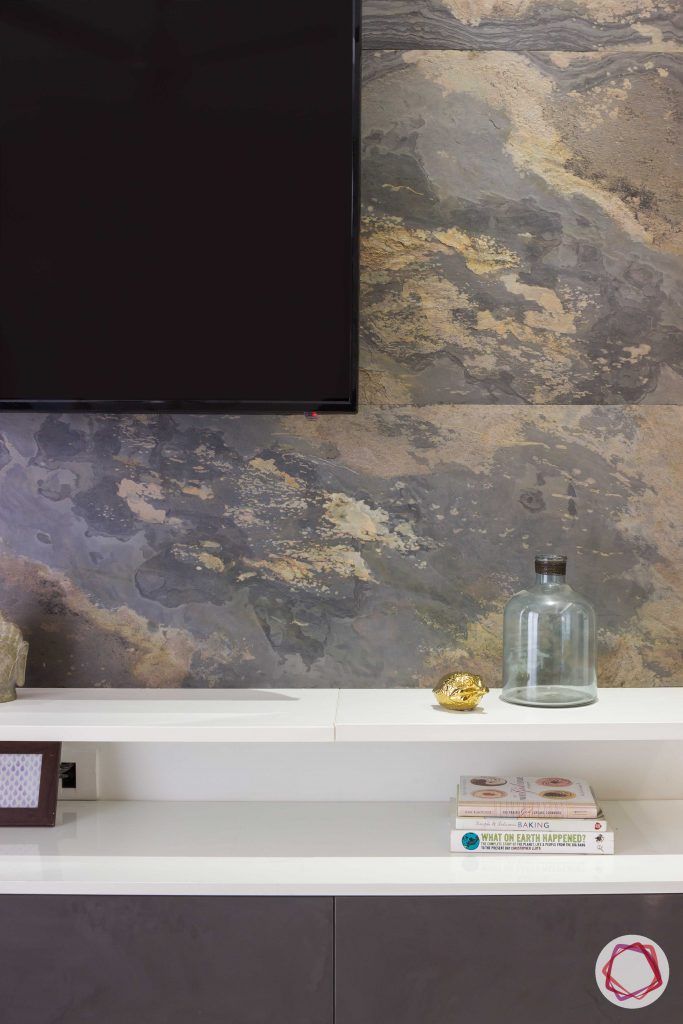 The living room is a beautiful marriage between comfort and style. Of course, the focal point here is the sleek TV panel. Ravi didn't want a typical panel for the TV. As a result, a stone veneer with a modern tint fit the bill perfectly. Sushritha thought it was a good idea to introduce a rustic element to the space. It ends with a frosty white and grey unit for essentials that's been done up in laminate.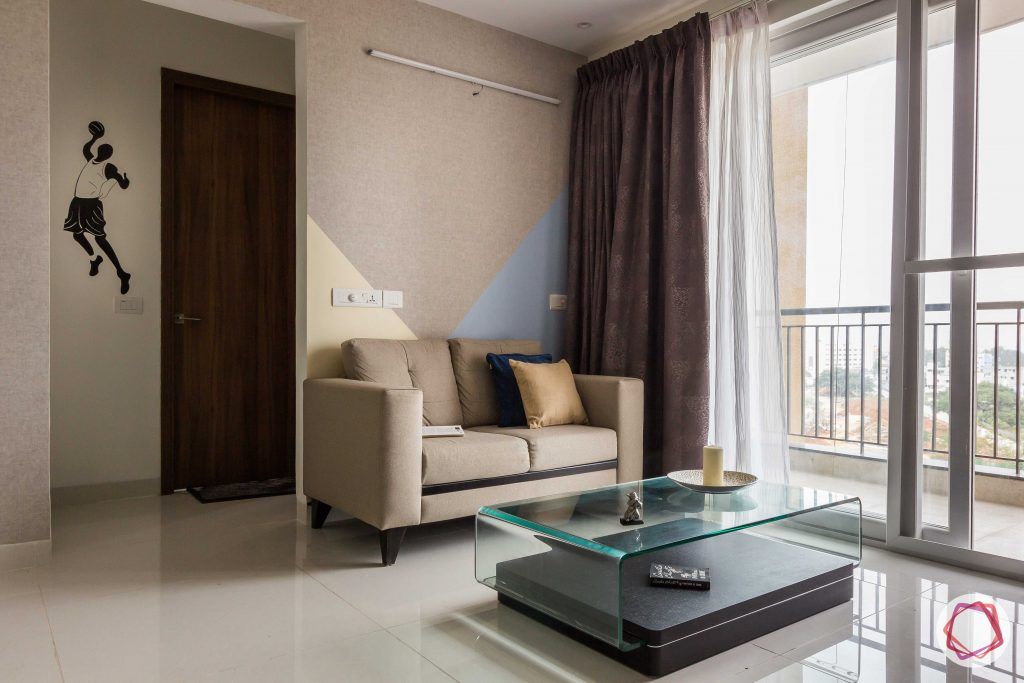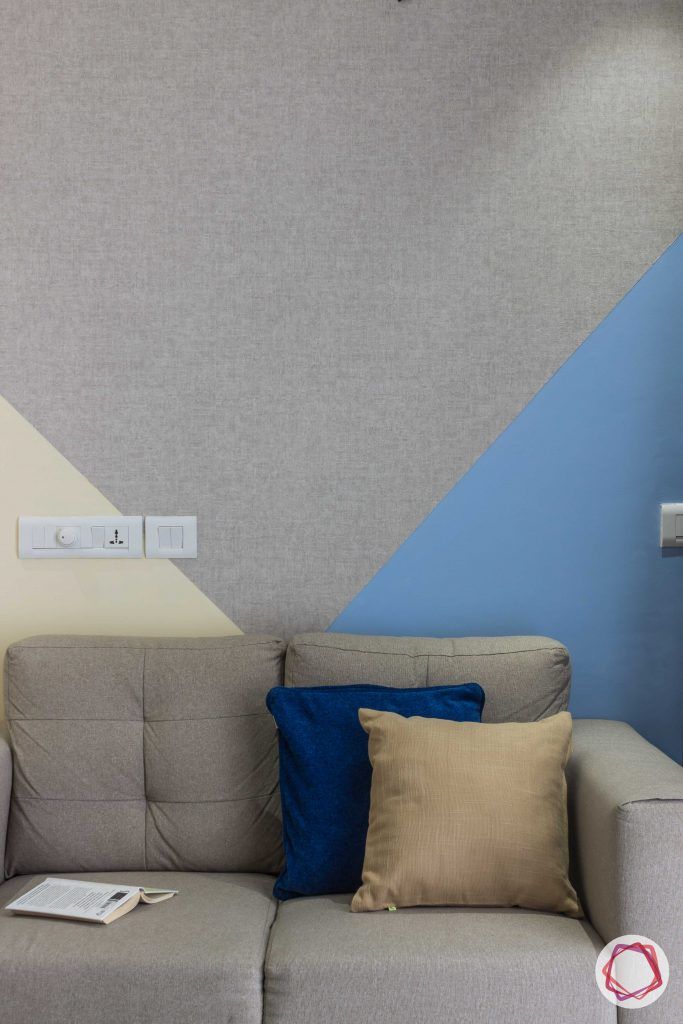 The next thing that catches your eye would be the artistic wall behind the sofa. For a bit of dimension, the accent wall is a mix of wallpaper and paint. We love how the colours grey, pastel blue and light blue are separated by diagonal lines. Doesn't it give the space a vibrant appeal?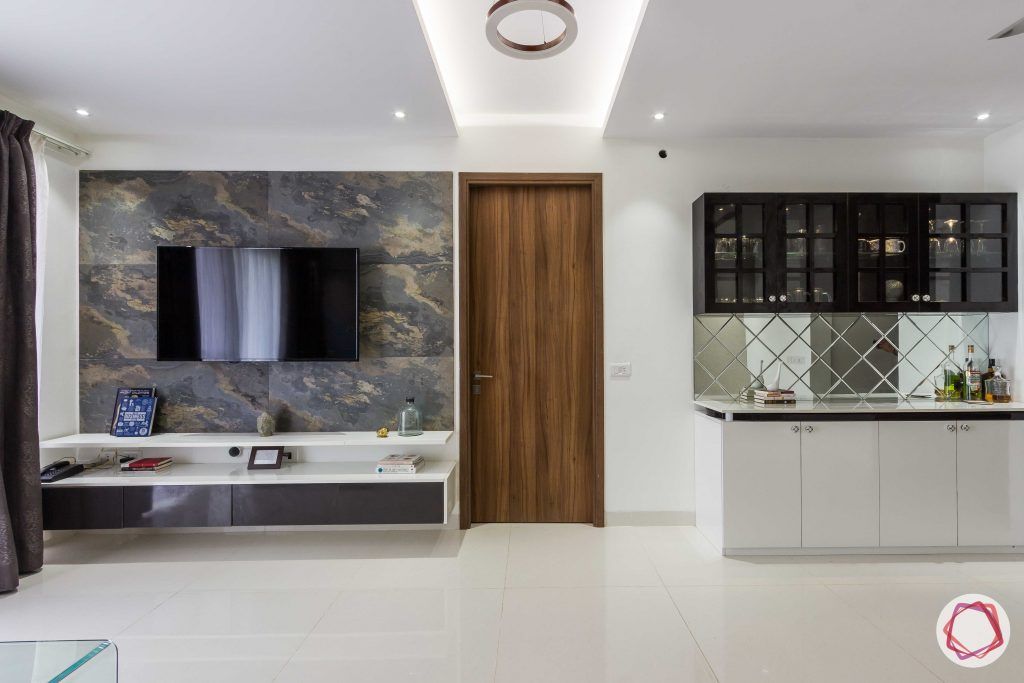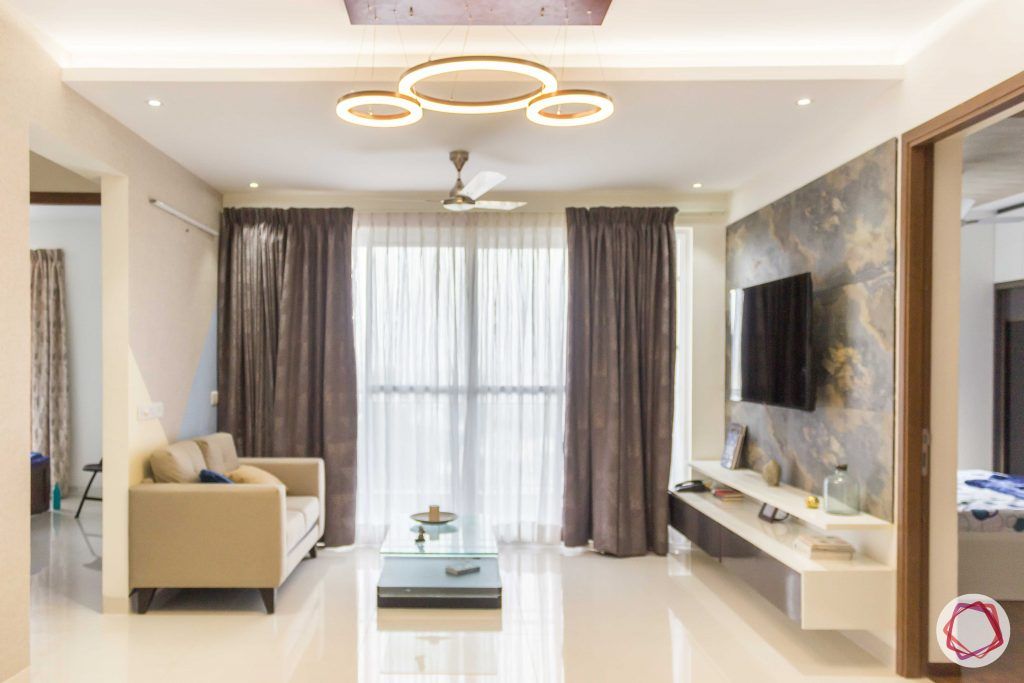 When it came to lighting, Ravi didn't want a typical chandelier or a fixture. So, Sushritha crafted an accent lighting piece with different circle sizes. This acts as a subtle partition between the living and dining area.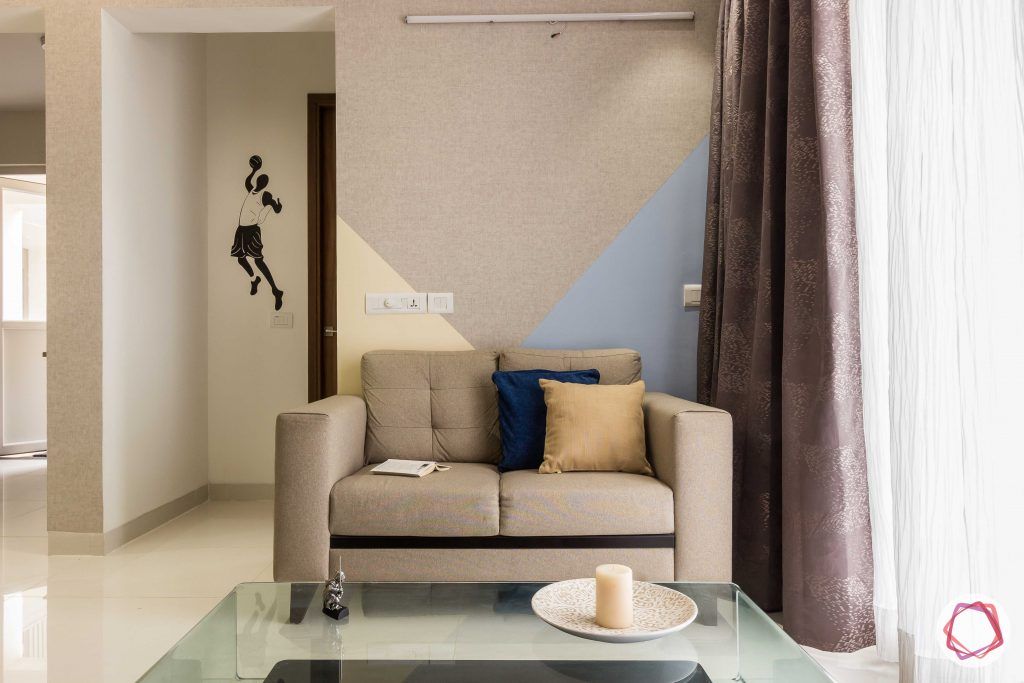 If you sneak a peek into the passage beside the sofa, you would notice a sporty wall decal. We love this pop of personality!

Whip up a cocktail in style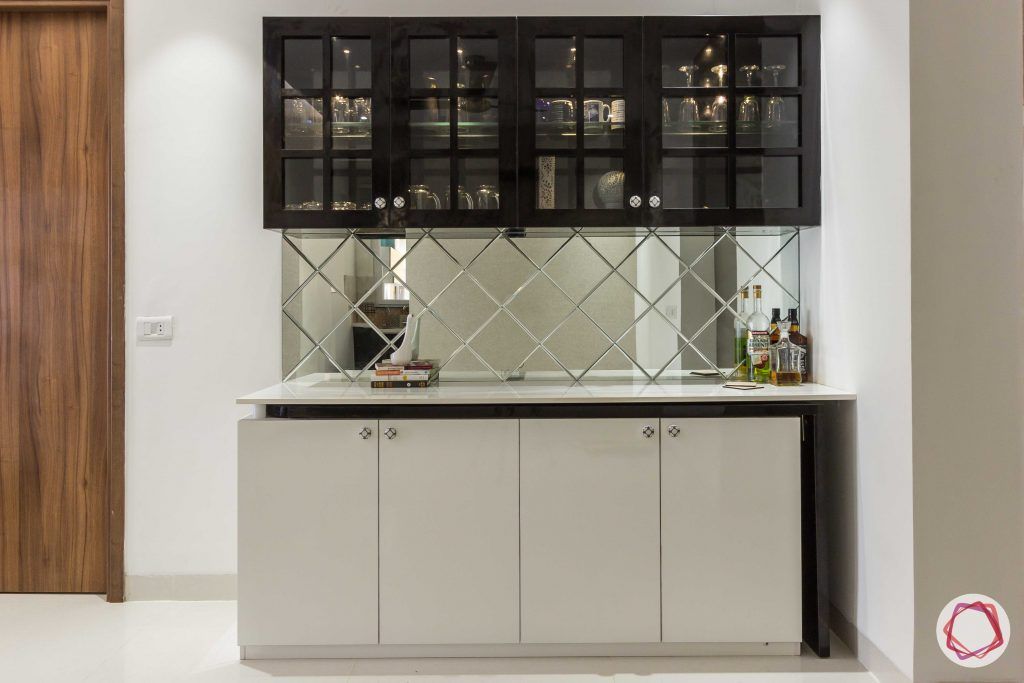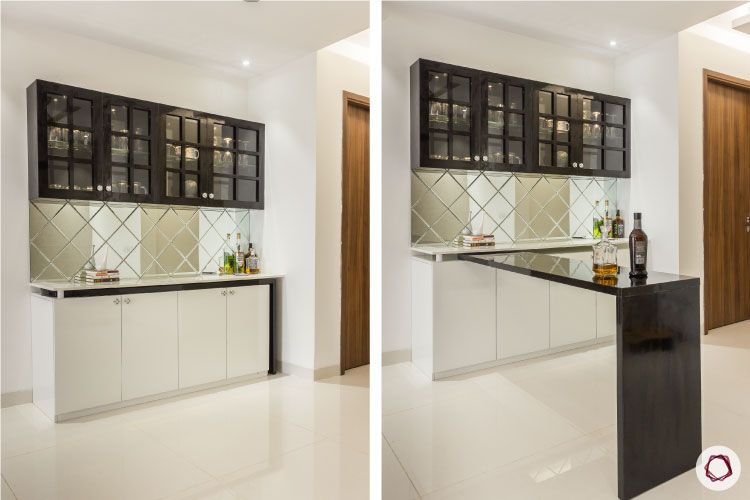 In conversation with us, Ravi revealed the bar nook was his favourite part of the home. And we can see why! With a frosty white base cabinet and high gloss black wall unit, the bar is every bit of polished artistry. The diamond mirror panelling between these units elevate this into a chic nook. The knobs on the cabinets too are diamond-shaped as well. Spotlights fitted into the wall cabinet adds a touch of warmth.
But that's not all. Ravi wanted extra space to whip out drinks when he had guests over. Also, since space was a constraint in the corner, the solution had to be nifty. So, Sushritha added a pull-out L-counter in black that snugs in comfortably under the bar table. We love this touch of class to the space!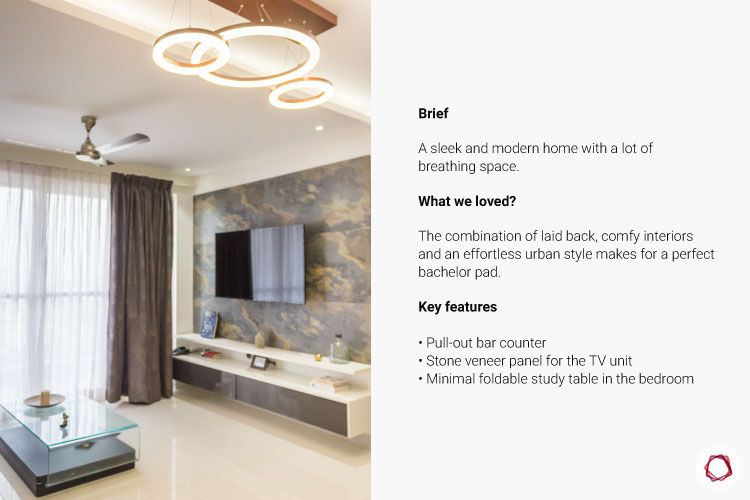 A fuss-free kitchen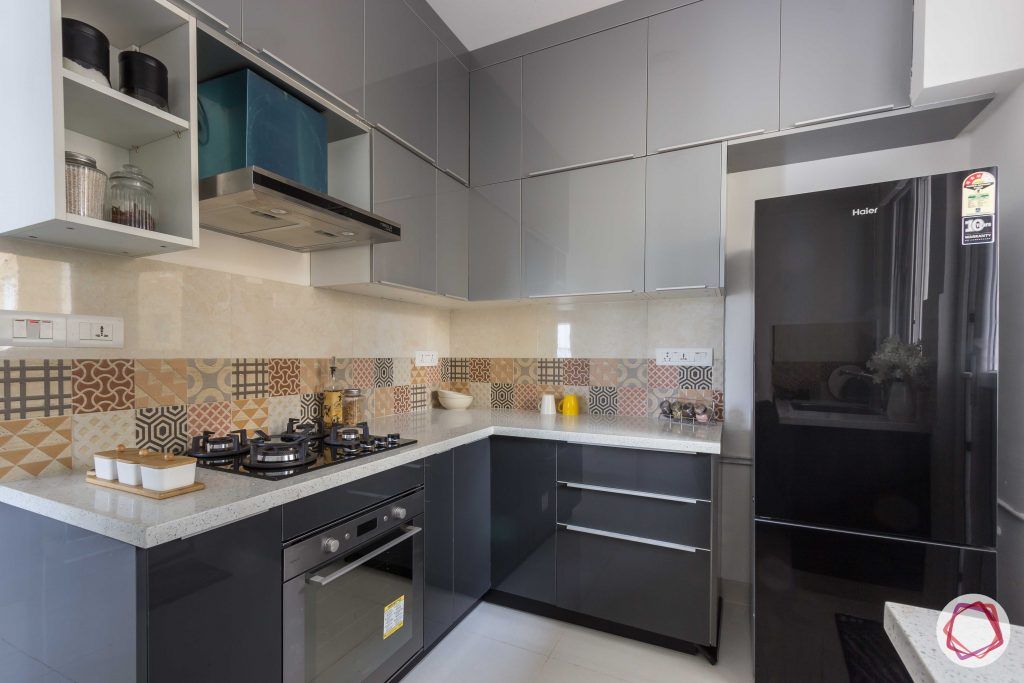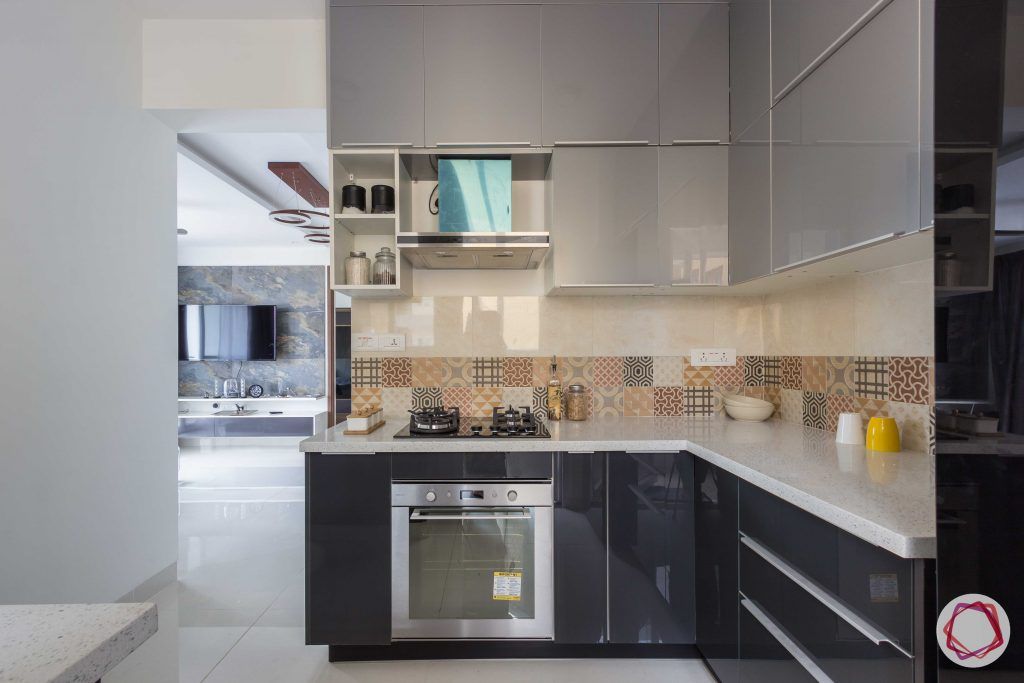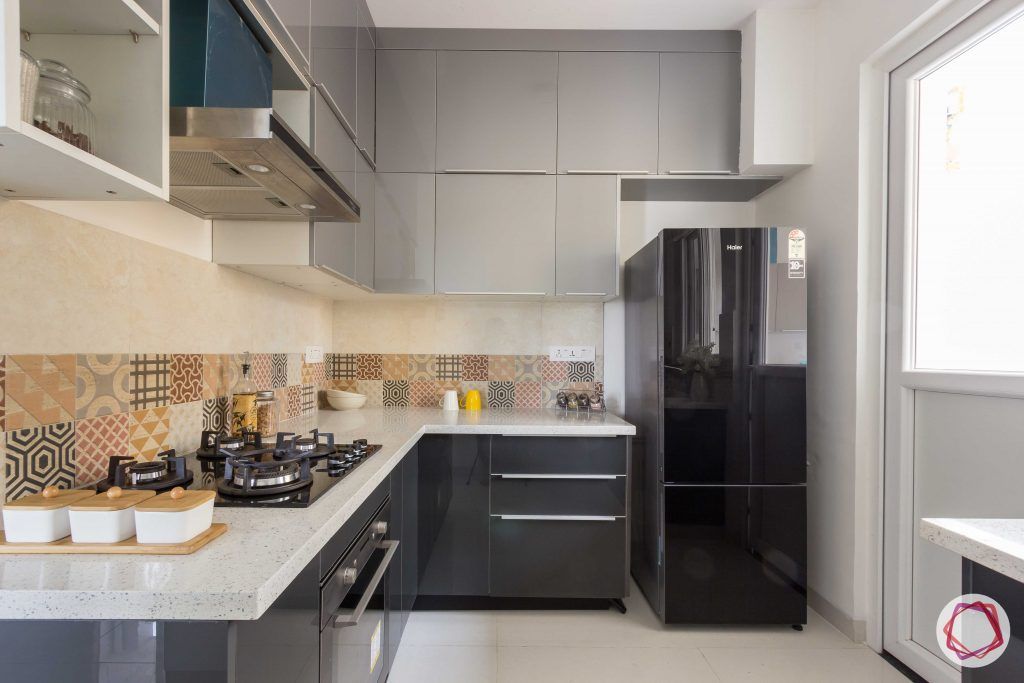 Posh and compact describes Ravi's newly done up kitchen. He was particular about the colours for the kitchen: only hues of grey and white. As a result, Sushritha put in grey base units and metallic silver for the overhead cabinets and lofts. Ravi is partial to all things sleek. So, all the cabinets have been topped off with an anti-scratch acrylic finish and fitted with profile handles. The white quartz countertop helps to enhance the space.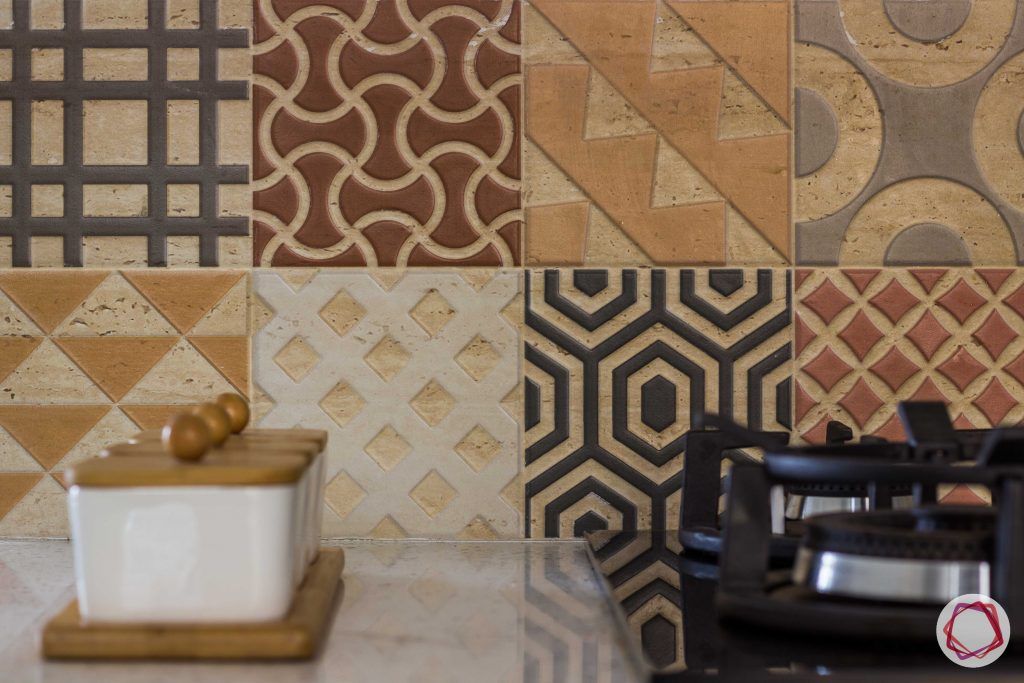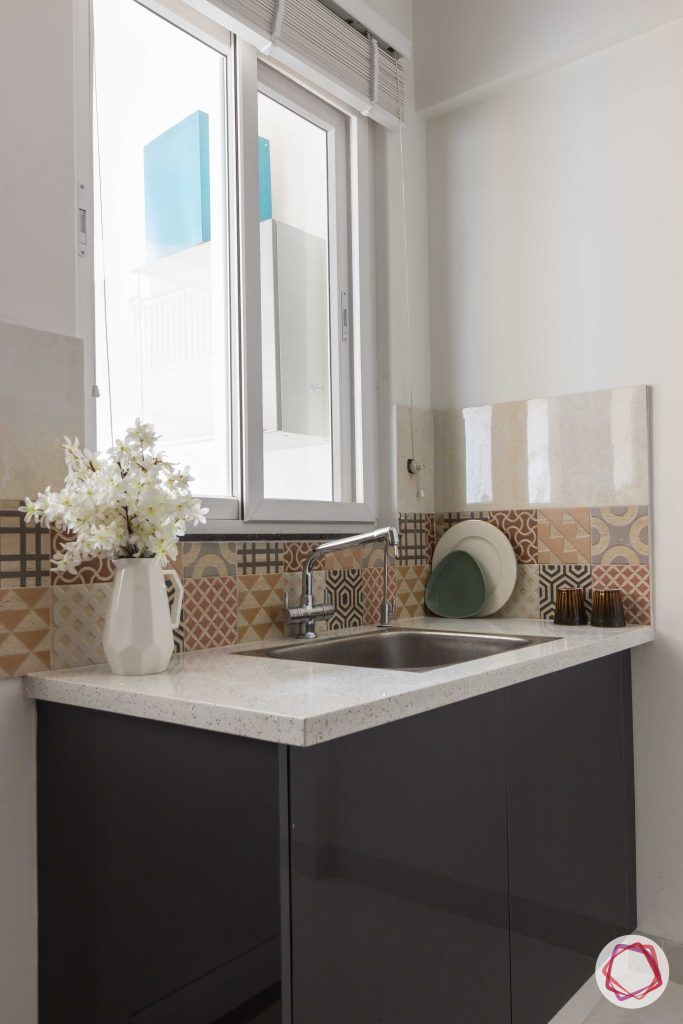 Because of the neutral colours, Sushritha thought it was a good idea to put in a pop of design. As a result, the top half of the kitchen wall is a light brown hue while the bottom half features patterned tiles. Since saving space and keeping things clutter-free were priorities, Sushritha crafted a storage unit under the sink to fit in a RO unit.
An urban statement bedroom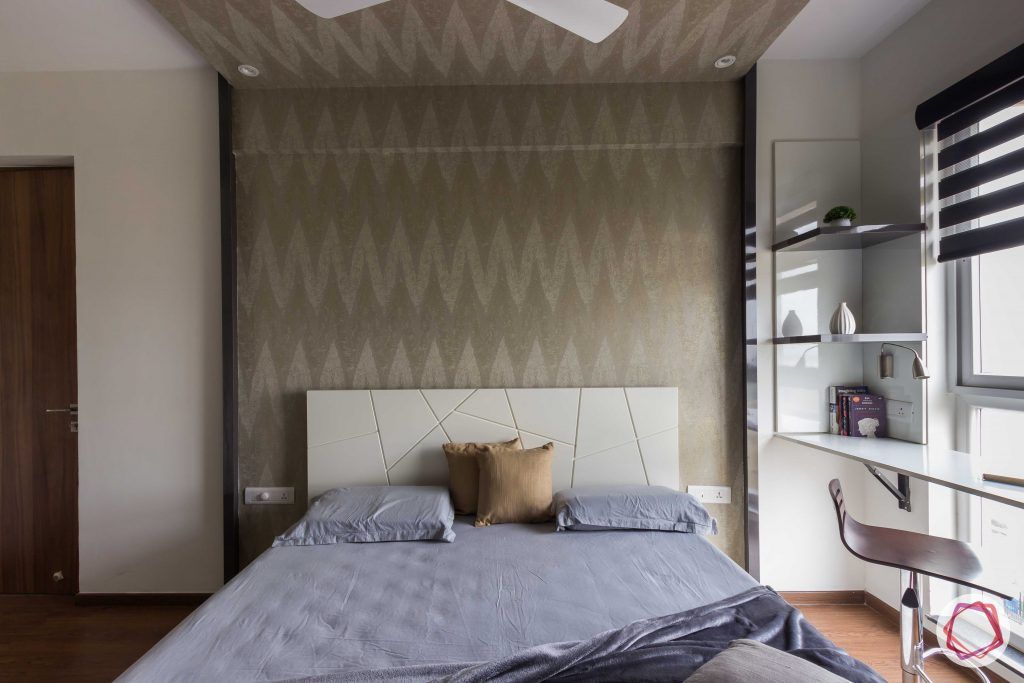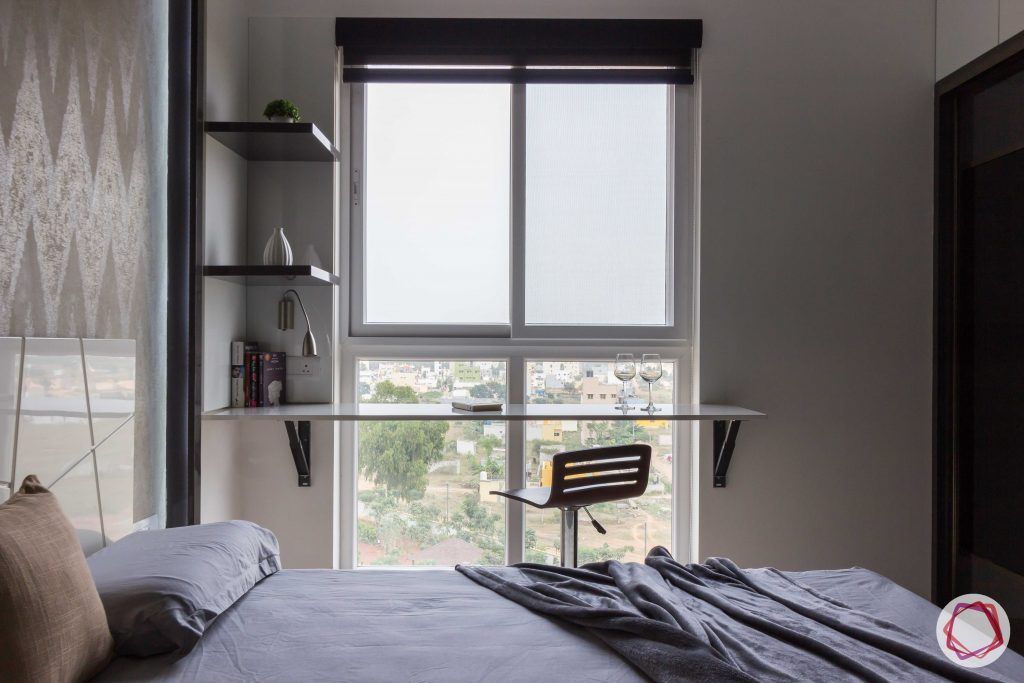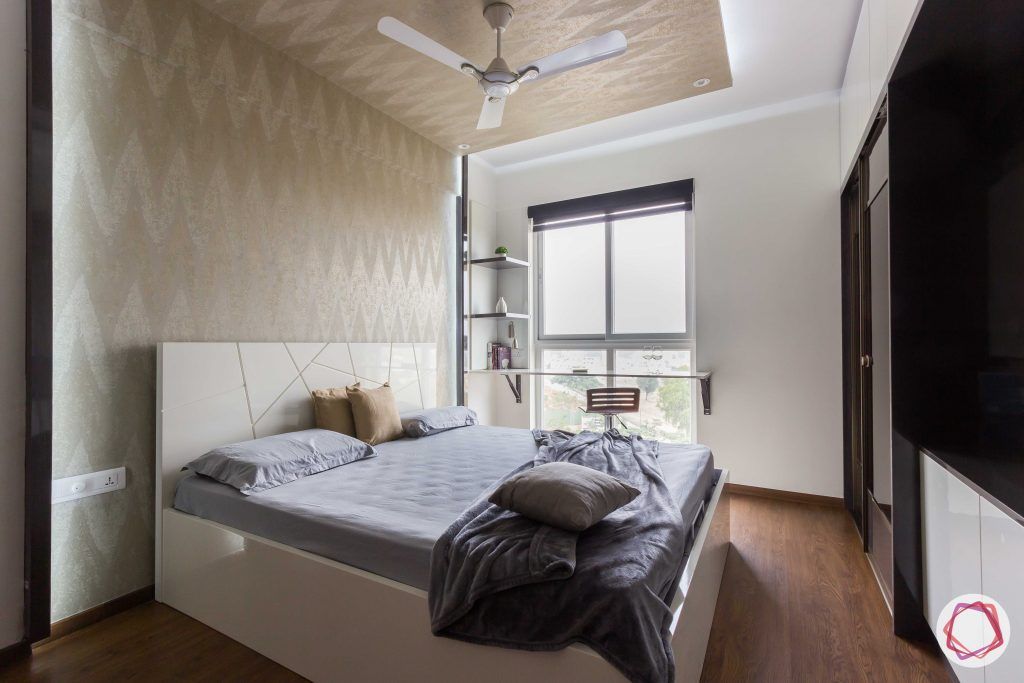 The master bedroom is the very definition of casual and chic interiors. A subtle neutral-toned wallpaper with a slight metallic tint and diagonal lines take the centre stage in the bedroom. We love how it extends through the false ceiling. To keep things in flow, the headboard sports similar diagonal lines.
If you look carefully, you would notice dark columns beside the bed. These have been fitted with cove lights. As a result, you can have elegant bedside lighting during the night.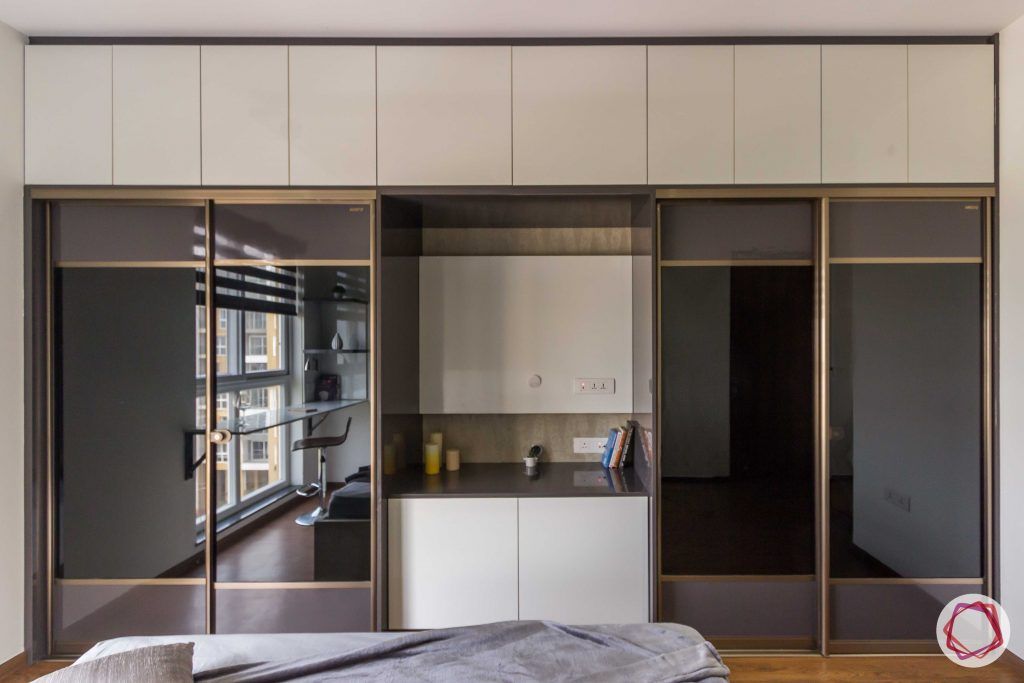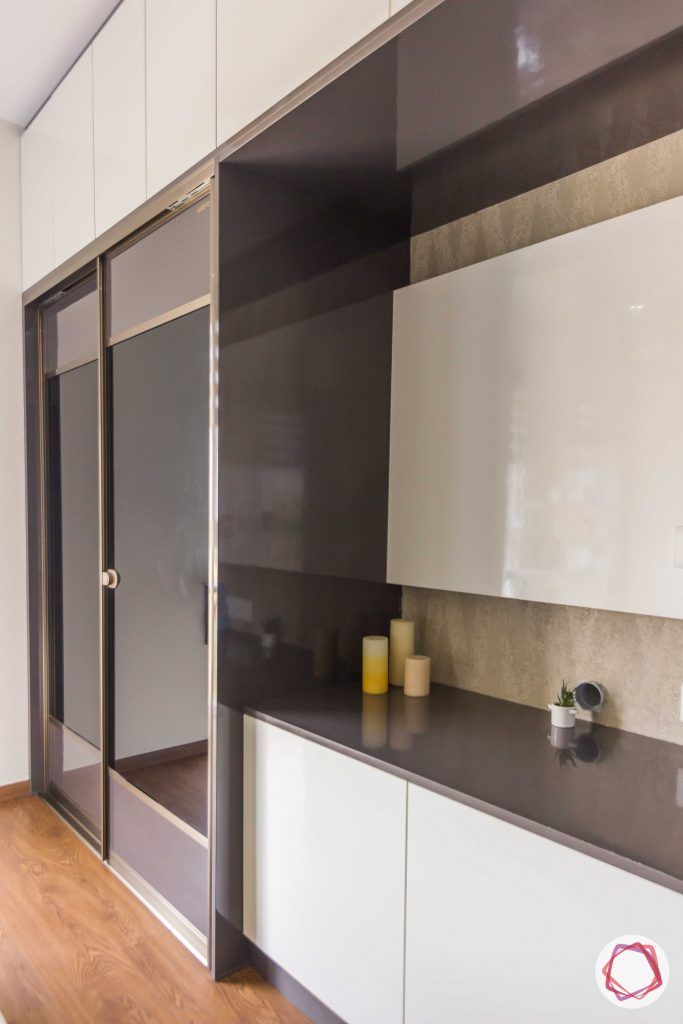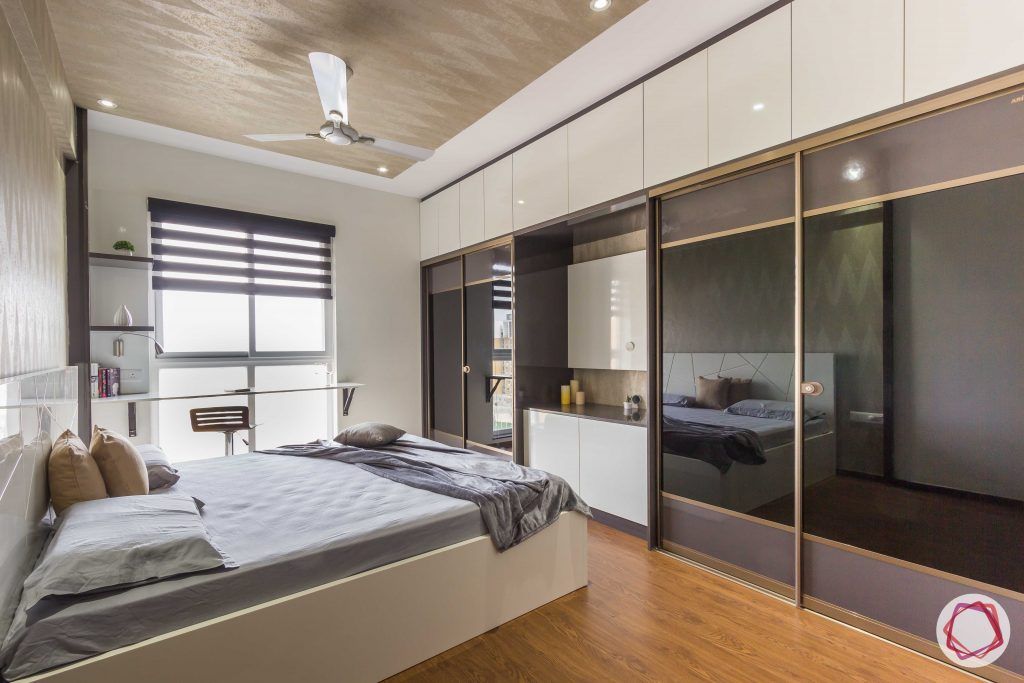 You can't ignore the massive floor-to-ceiling wardrobe. The beautiful sliding door wardrobe features grey tinted mirror and rose gold frames. In between the wardrobe, Sushritha crafted a nook for the TV unit. Sporting the same wallpaper and a frosty white laminate, the unit also has separate storage for books, music and other essentials.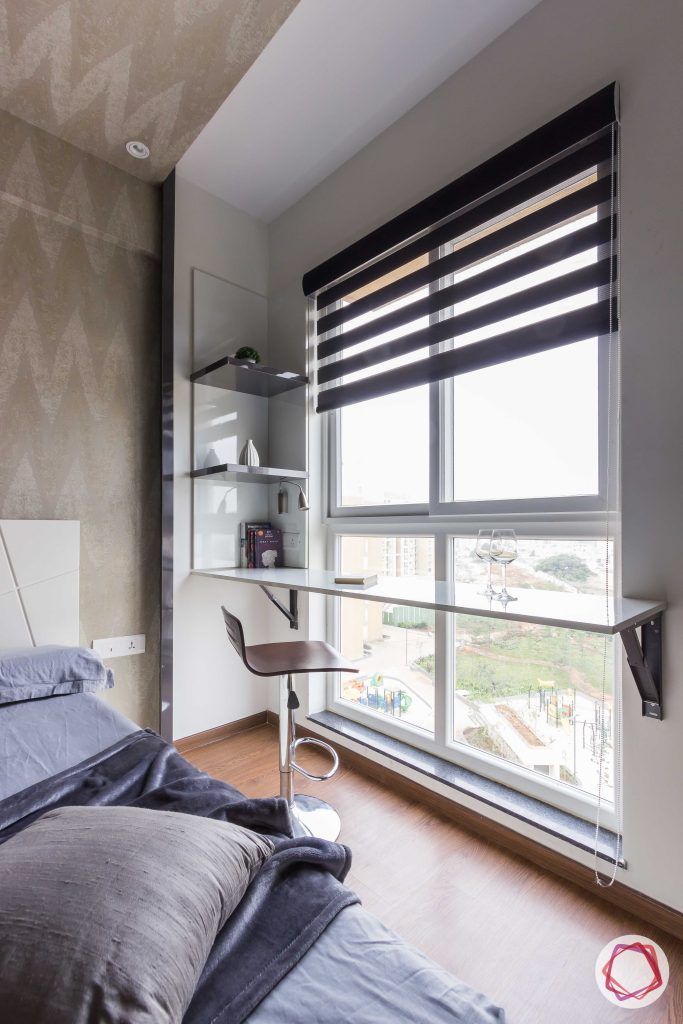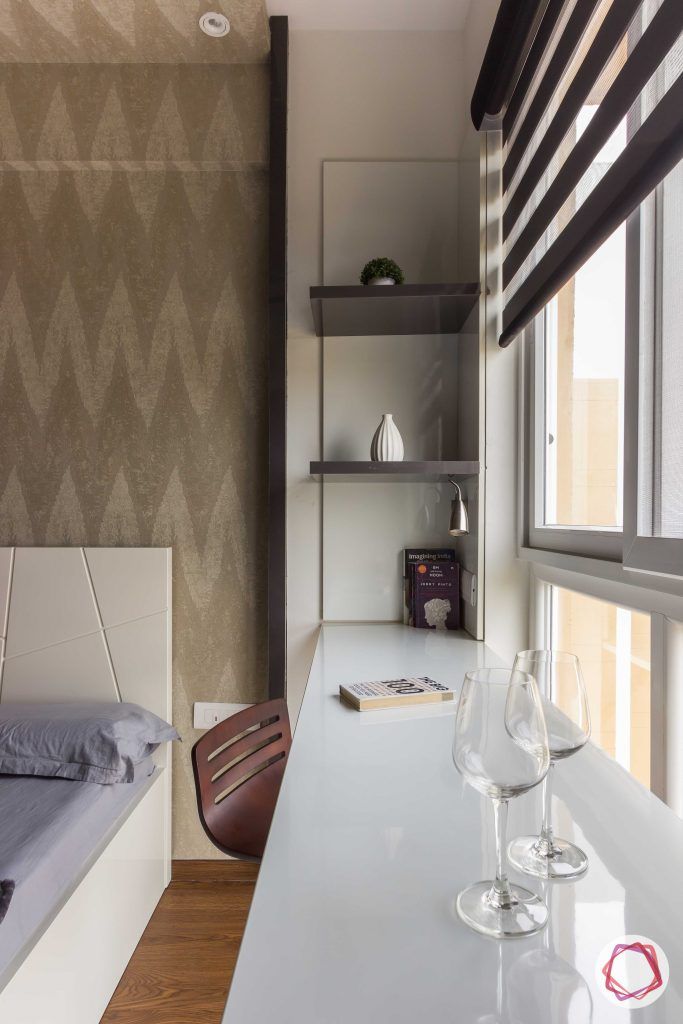 Take a moment to notice the smooth study table beside the bed. This is foldable and can be pushed down. Sushritha also added wall-mounted ledges to stash collectibles. A rotatable focus lamp makes a perfect addition to the study.
Beach side in your bedroom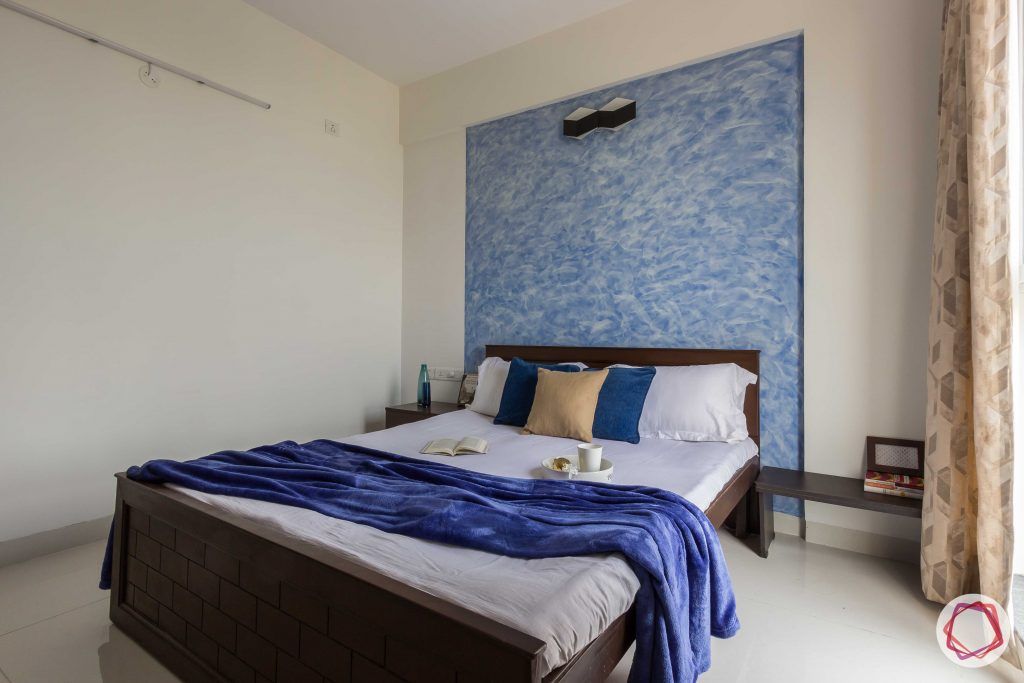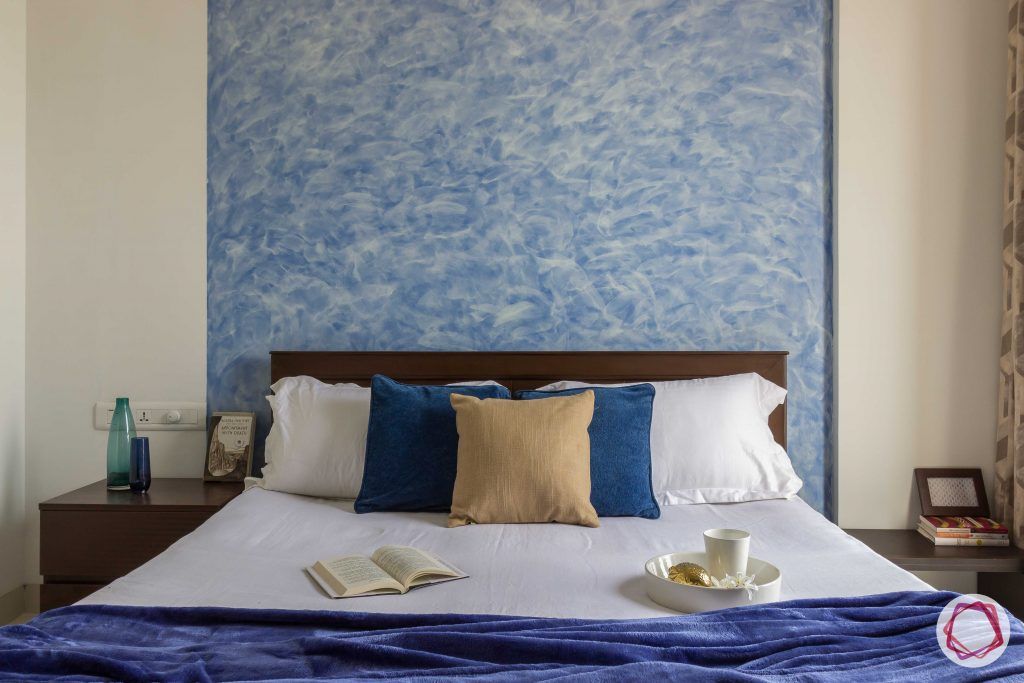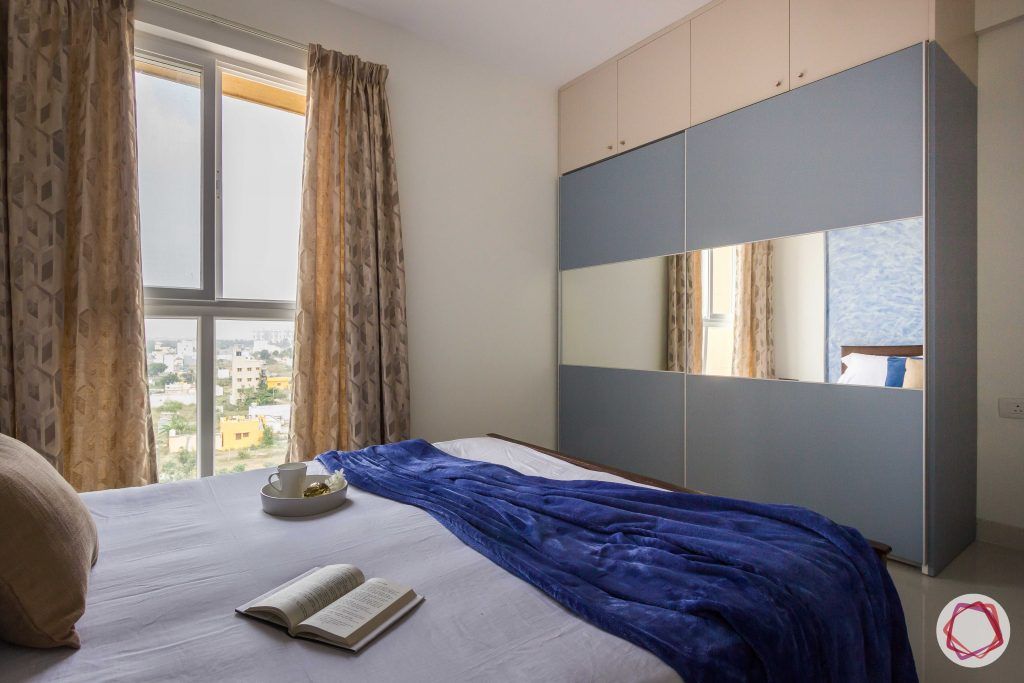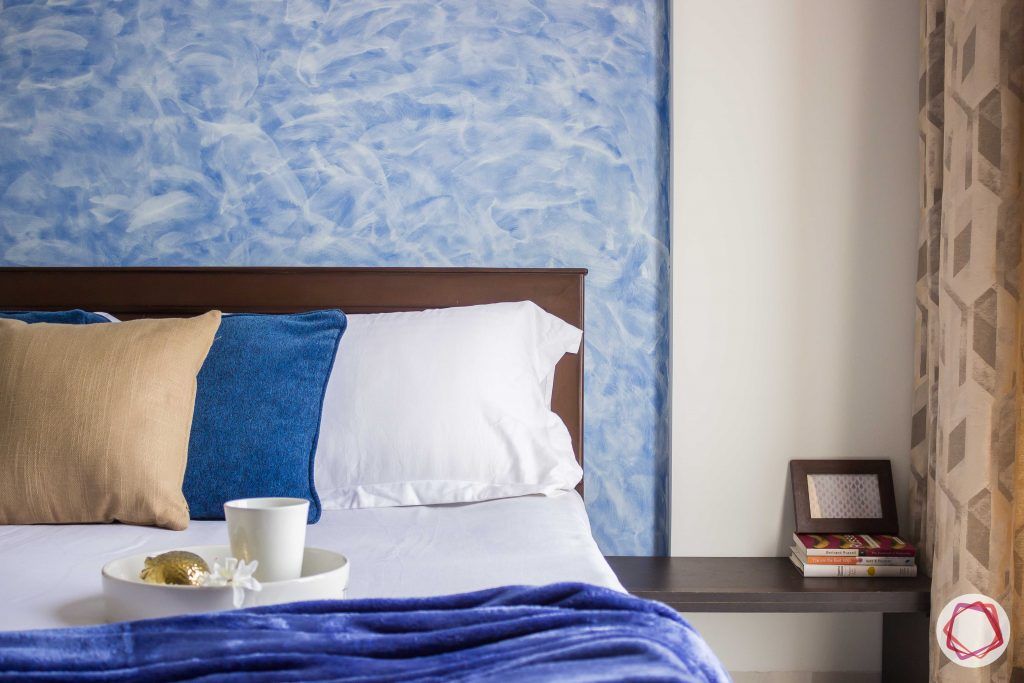 Bedrooms with soothing colours – a combination that's sure to win hearts. The guest bedroom is an ode to colours of the sea with a centre wall mimicking waves. The light blue hue is also used for the sliding door wardrobe, which has been topped off in a membrane finish. Doesn't it perfectly match with the cream-toned lofts? A mirror panel runs through the centre of the wardrobe.
"I had a wonderful experience designing Ravi's home. He was the ideal client, always cooperative and patient throughout the process. It was a pleasure designing a bachelor pad in neutral colour palette."

Sushritha Surya PS, Interior Designer, Livspace
If you enjoyed this home, take a look at An Urban Chic 3BHK You Will Love
Send in your comments and suggestions.