Himanshu Wali was looking for interior designers for his 4BHK apartment in Gurgaon when he found Livspace. He wanted a designer who would have a vested interest in his home. For Himanshu, his flat is where he and his family like to go to escape the city bustle and relax. He wanted his multigenerational home to make everyone in his family feel happy and at home. And that's why he chose Livspace.
"Livspace completed the project in time and to our utmost satisfaction. The interior designers guided us really well. We are very pleased to have our interior design done from Livspace; quite a happy experience for us." — Himanshu Wali
Watch the full video of this 4BHK apartment in Gurgaon: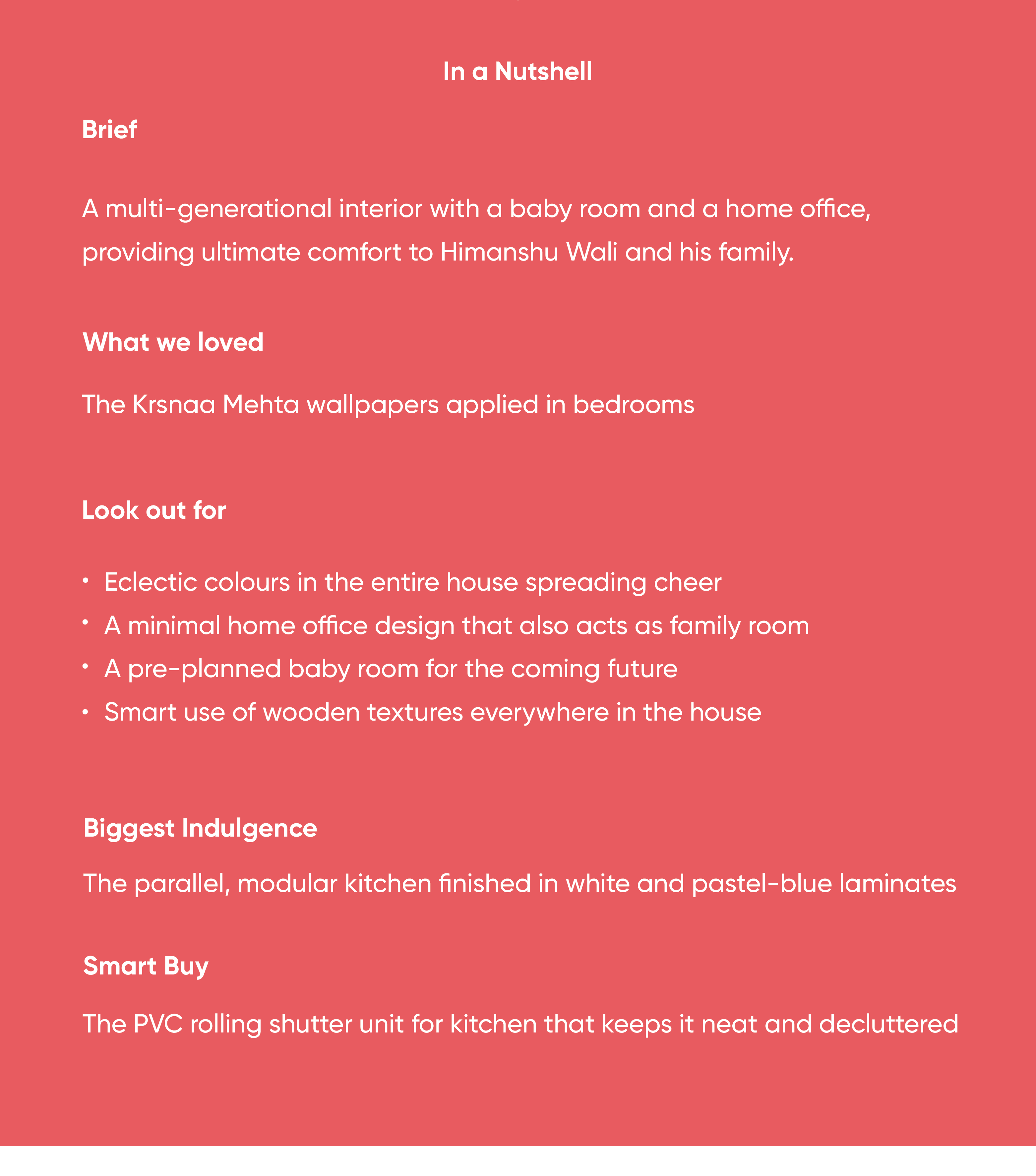 Our needs and tastes have come to be rather complex these days. We don't like to be categorised so simply; we want to be able to pick different styles instead of following a singular concept. This was also the case with Himanshu and his family. Our designers knew that to deliver a successful design for him would mean to preserve the identity of every member in this 4BHK apartment in Gurgaon. Let's find out how that was done.
#1: Eclectic Living Room Design
Let's jump on a comfort trend here. Eclectic designs are a mix of various elements from diverse design styles that combine in a cohesive and aesthetic way. A case in point is this living room design where the colour of the sofa spreads cheer, the wooden texture gives a soothing effect and the white ceilings keep the room bright. And together, this was a happy rendition for this 4BHK apartment in Gurgaon.
#2: A Simple Foyer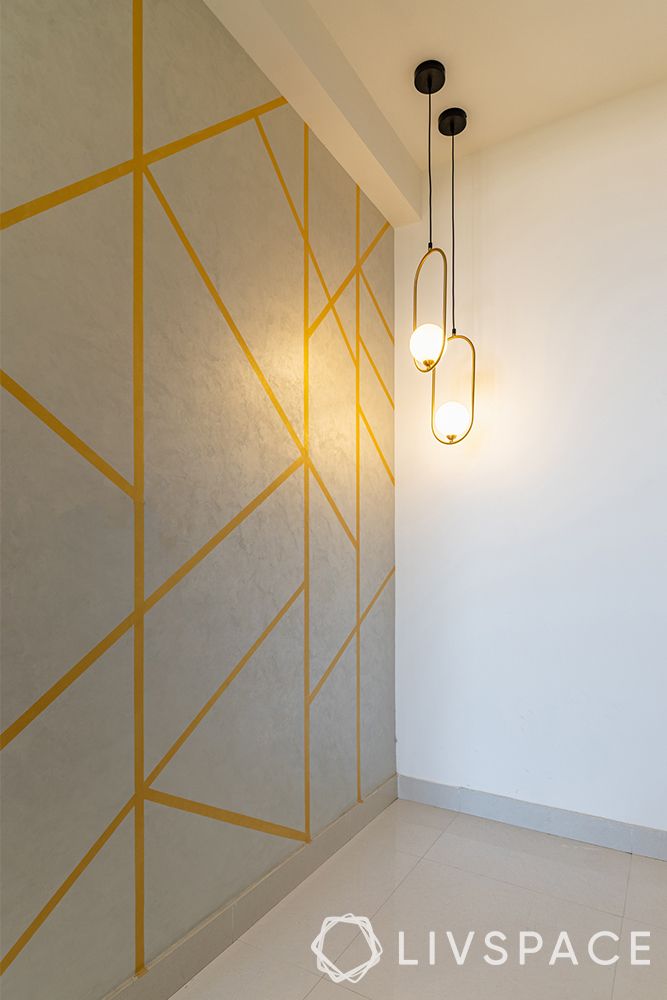 Although minimally decorated, this foyer achieves a lot to support the interior design of this 4BHK apartment in Gurgaon. With its lively wallpaper, it introduces the tone of the living room inside. And with its industrial pendant lights, it showcases style and affluence.
#3: A Bright and Airy Kitchen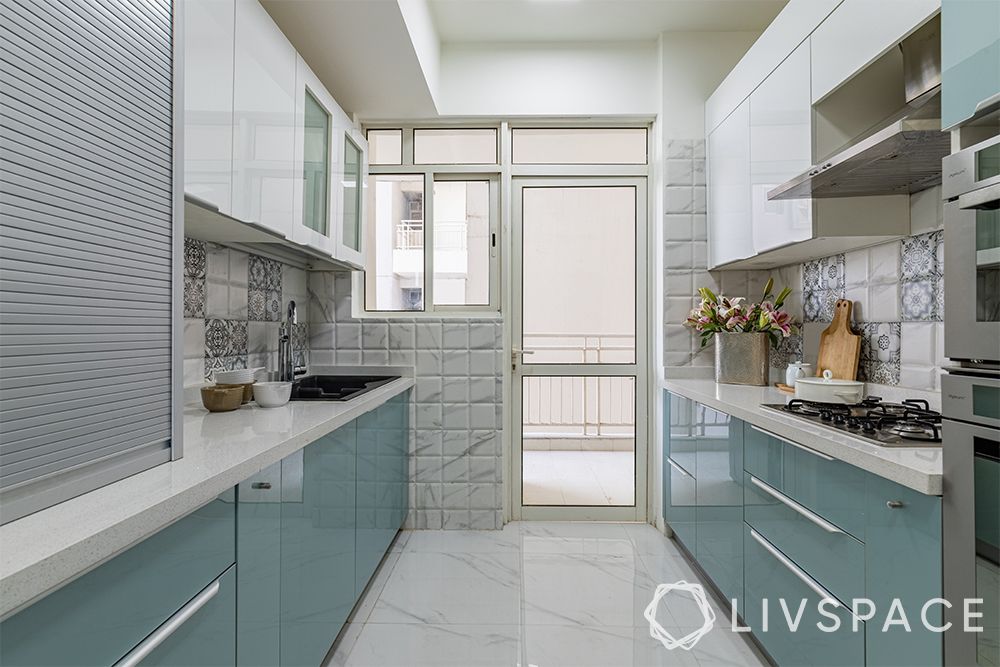 Surfaces and finishes in the house play a major role in determining the maintenance practices that one will need to follow. And that is why this 4BHK apartment in Gurgaon is furnished with smooth easy-to-clean finishes. This reduces the efforts by the owner to maintain the white kitchen in spic and span condition. There are tiles on walls towards the wet area of the kitchen for protection against water.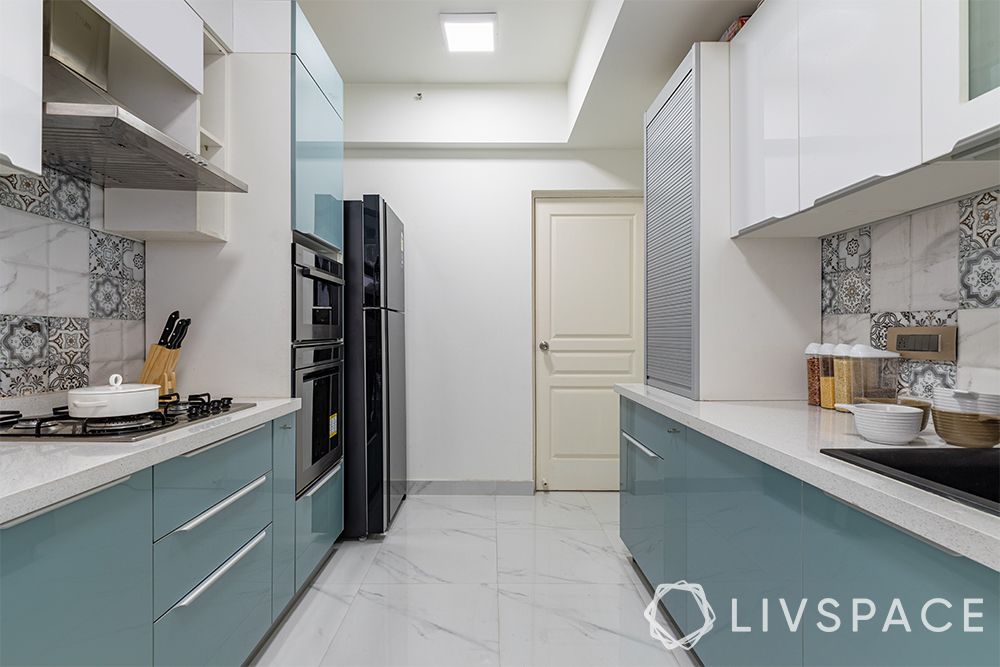 All the appliances, even the water purifier, hide behind the shutters in this 4BHK apartment in Gurgaon. And especially notable is the rolling shutter for kitchen. These kinds of modular solutions help in keeping the space organised,thereby increasing its utility.
#4: A Warm and Cosy Master Bedroom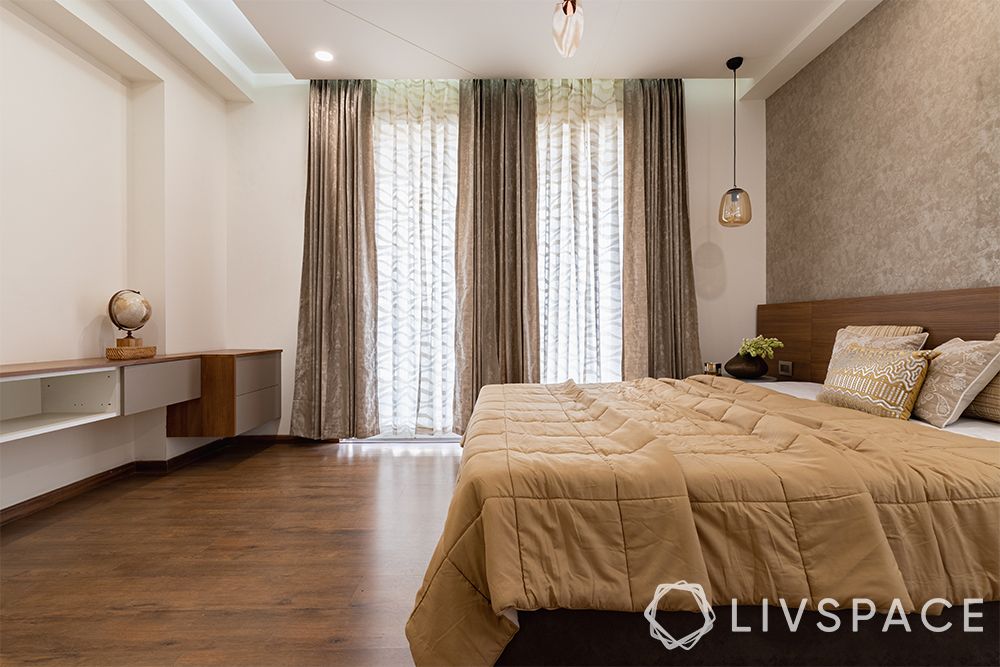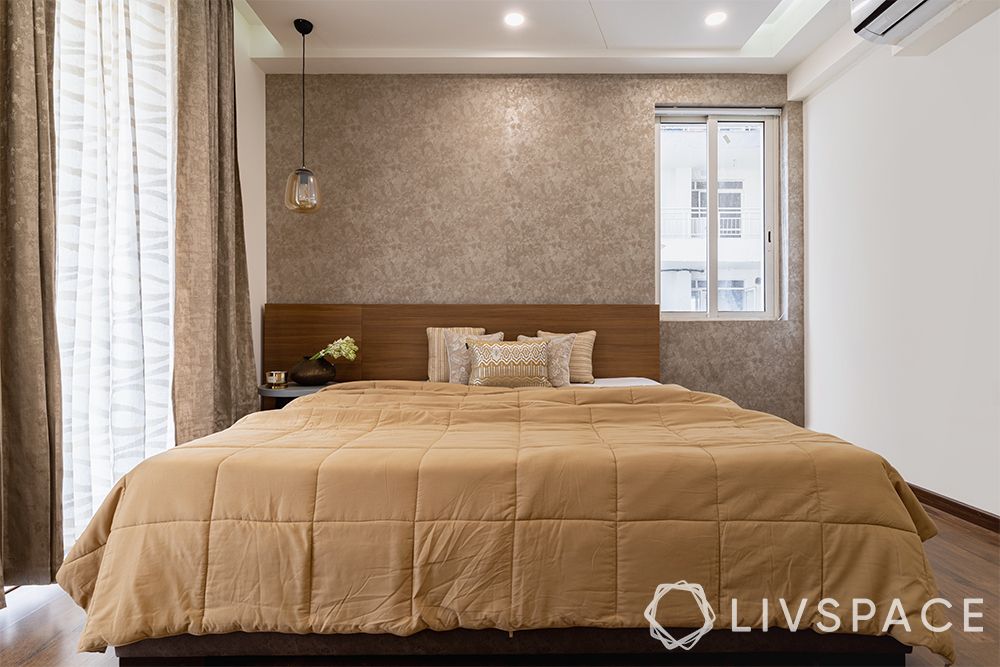 This modern master bedroom design relies on its neutral colour scheme and wooden textures for a cosy feeling. Himanshu needed this part of his 4BHK apartment in Gurgaon to make him forget the city bustle outside. Therefore, the spaciousness of the room is decidedly maintained to ensure a calming vibe. The tall curtains supplement this intention by making the bedroom false ceiling seem higher.
#5: Traditional Parent's Bedroom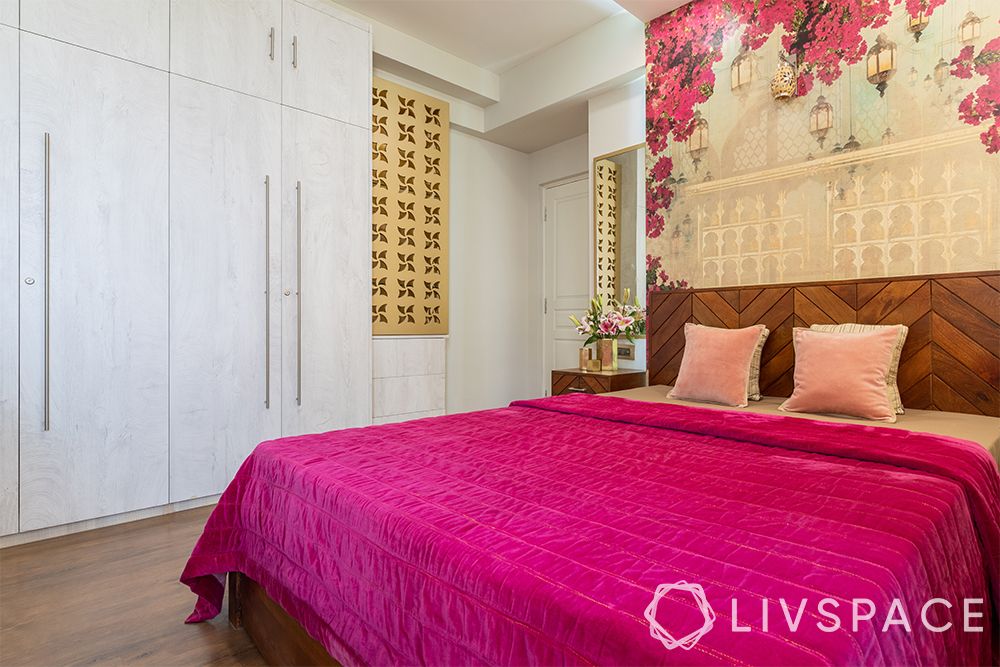 Himanshu's parents have a taste for traditional aesthetics and hence chose this lively wallpaper from the Krsnaa Mehta collection. The wooden textures complement the spirited tones of pink in this 4BHK apartment in Gurgaon. The white laminates also help in making the room brighter.
#6: A Cheery Baby's Room in This 4BHK Apartment in Gurgaon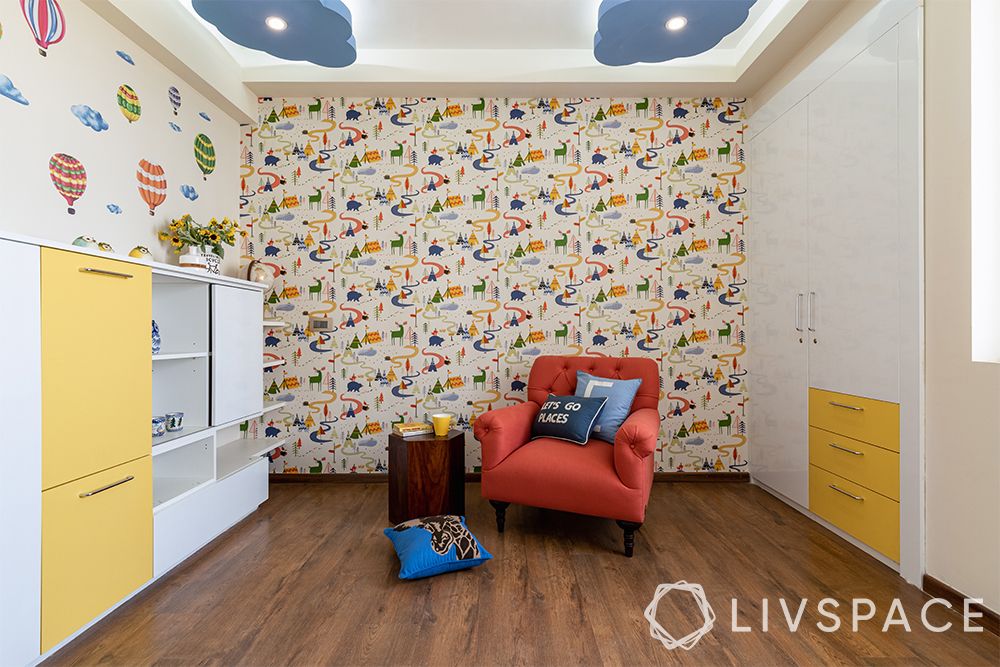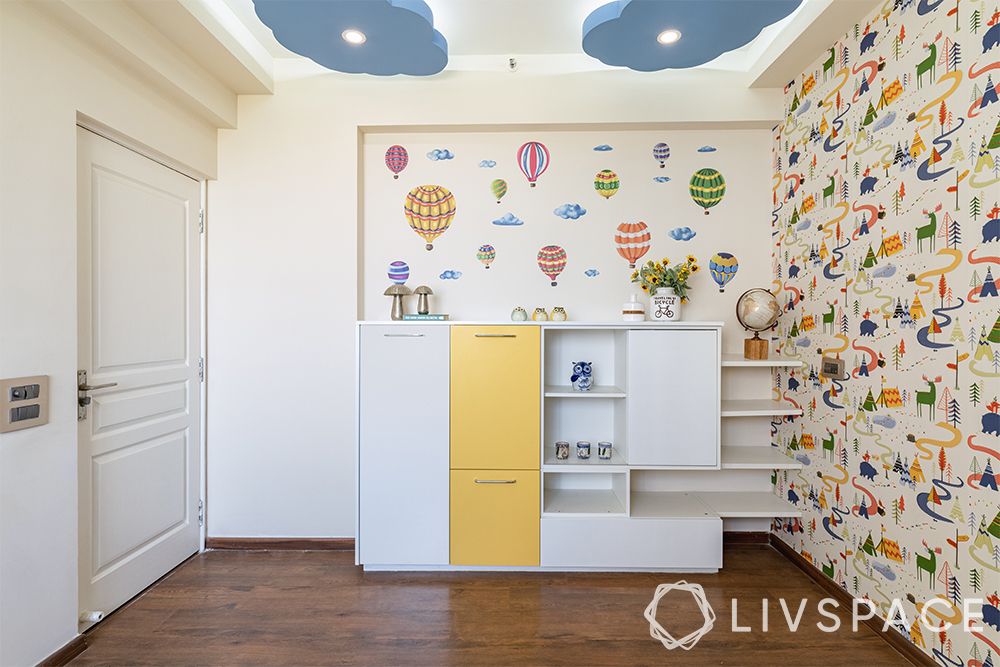 Since the couple is planning a baby, they decorated one of the rooms of their 4BHK apartment in Gurgaon as a nursery. The family personally chose lively wallpapers for this room to achieve a joyous look. Additionally, our designers went with a gender-neutral yellow to brighten up the space and a blue-coloured bedroom false ceiling design to add fun to the room.
#7: A Flexible Home Office Setup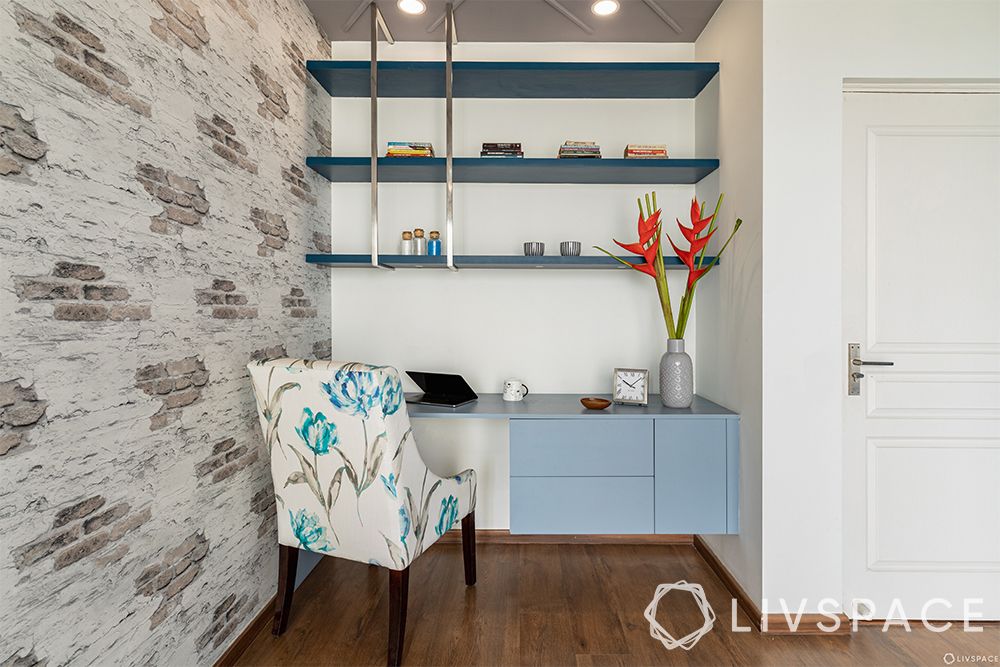 This room has as simple and minimalistic design as possible because it had to serve as an office during the daytime and a family room in the evening. The peaceful shades of blue for this home office setup ensure a sense of tranquillity. Meanwhile, the brightness in the room induces activeness and focus to help during the office hours.
We hope seeing this 4BHK apartment in Gurgaon gives you satisfaction and design inspiration tools! The family-focused design of this house is remarkable and a Livspace speciality! For more such wholesome ideas, read 10 Brilliant Interior Design Ideas for Small Houses from This Dreamy 3BHK.
How Can Livspace Help You?
We hope you found our ideas useful! If you want your home to be just as beautiful, then look no further. Book an online consultation with Livspace today.