Bangalore house doused in pristine whites for a happy family!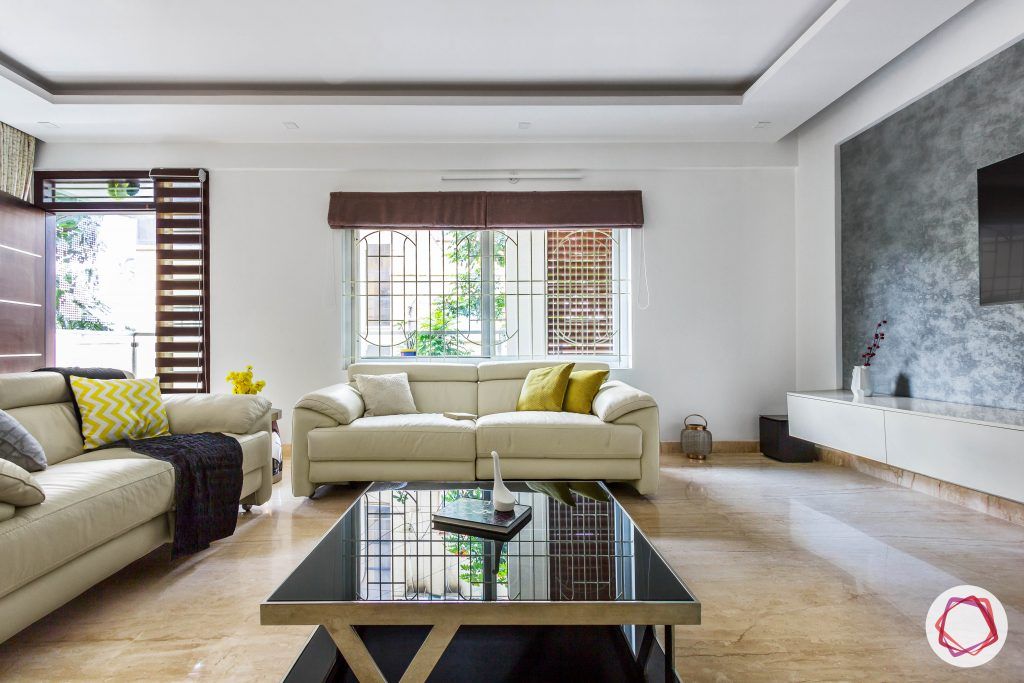 ---
Who livs here: Suman Varma with his wife Deepthi and their son Aarush
Location: Subhoyada Castle, Domlur, Bengaluru
Size of home: A 3BHK spanning 2,000 sq ft approx.
Design team: Interior Designer Richa Singh and Project Manager Pankaj Chandak
Livspace service: Full home design
Budget: ₹₹₹₹₹
---
Mixing wonderful whites with some texture and gloss, this home is best described as beautifully contemporary with a modern twist. After living in Indiranagar for almost a decade, the Varma family decided to move to Domlur and found their perfect home there. What's next? Getting their dream home decorated, of course. In stepped Livspace and took up the responsibility of turning this Bangalore house into a space which the family could call their own.
Richa Singh, the designer assigned for this project loves designing contemporary homes and was really happy to meet the couple. From the beginning, they were clear about having no loud colours at home. They envisioned their Bangalore house as a serene space, filled with neutral colours and completely vastu-compliant. Keeping these things in mind, Richa started giving them design suggestions and everything was finalised in merely two days. Read on to find out what this Bangalore house holds in store.
A Modern Living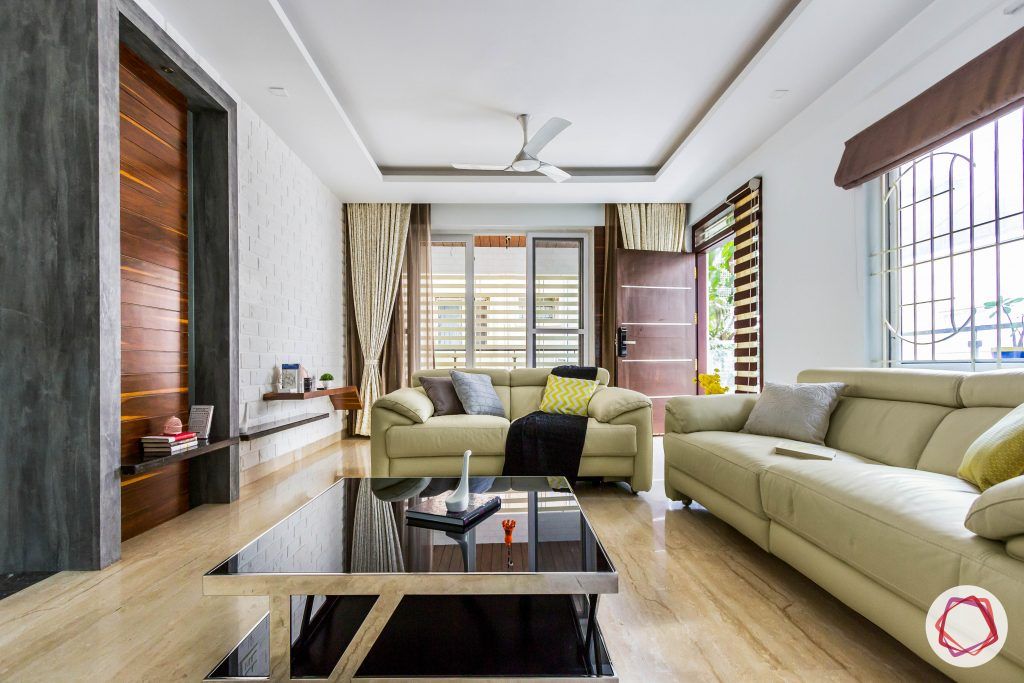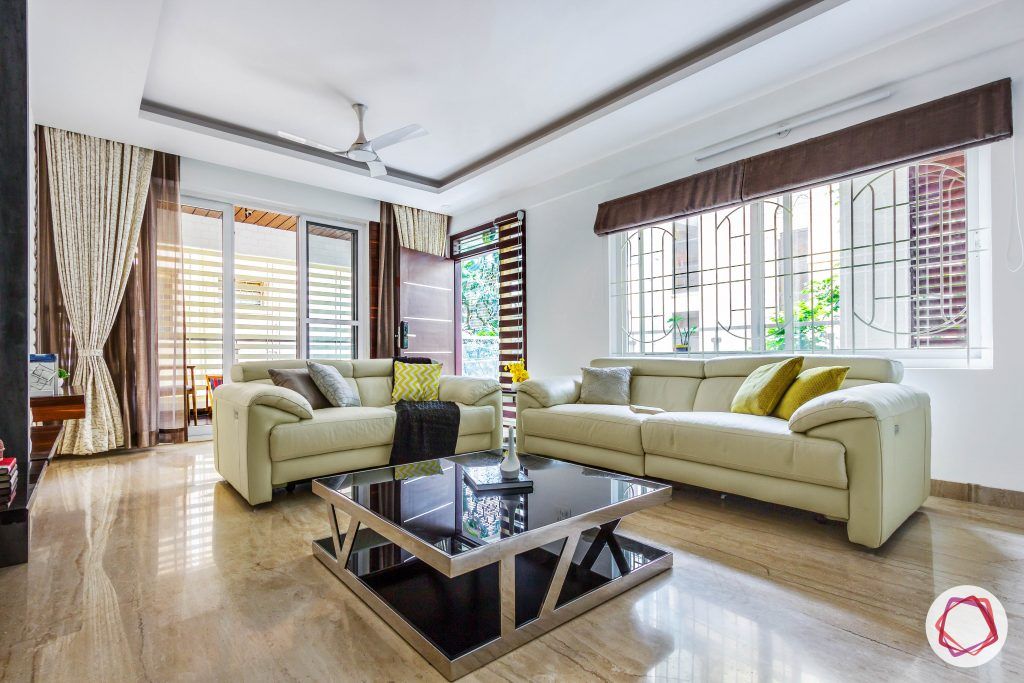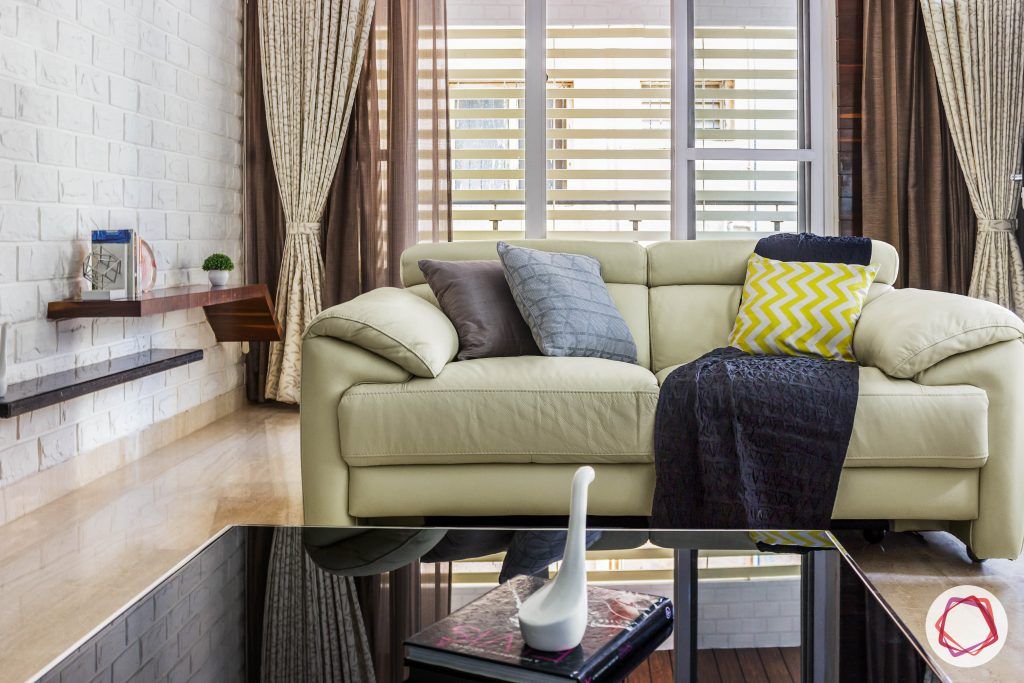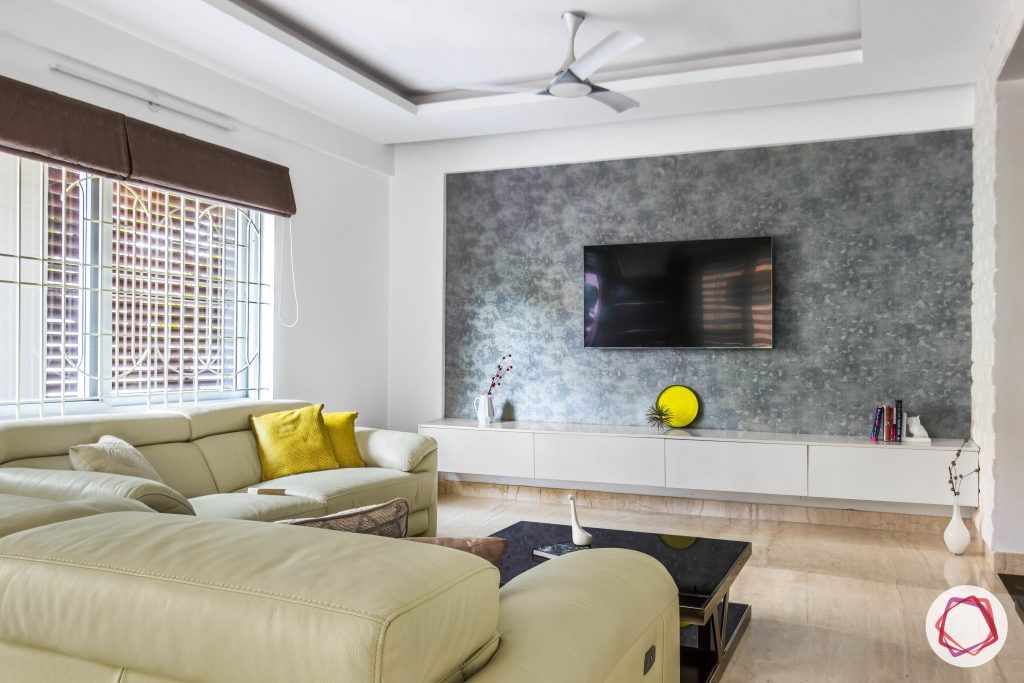 The couple wanted this space to serve the dual purpose of a formal living room and entertainment room in the future. Hence, you'll spot cozy white recliners in comfy leatherette upholstery that are perfect to relax in. The TV unit wall sports a stone-finish wallpaper and is going to be used as a projector for movie-time. On the other end of this space lies an exposed brick accent wall that the family wanted to utilise as a display area. We love how welcoming and soothing this room in this Bangalore house feels!
Sleek & Monochrome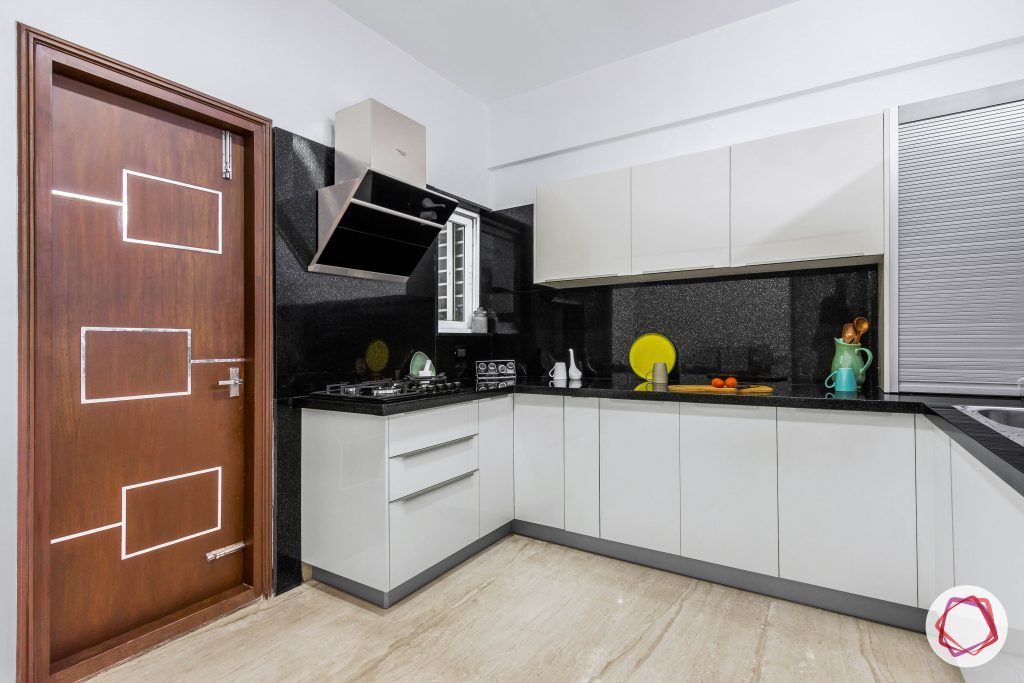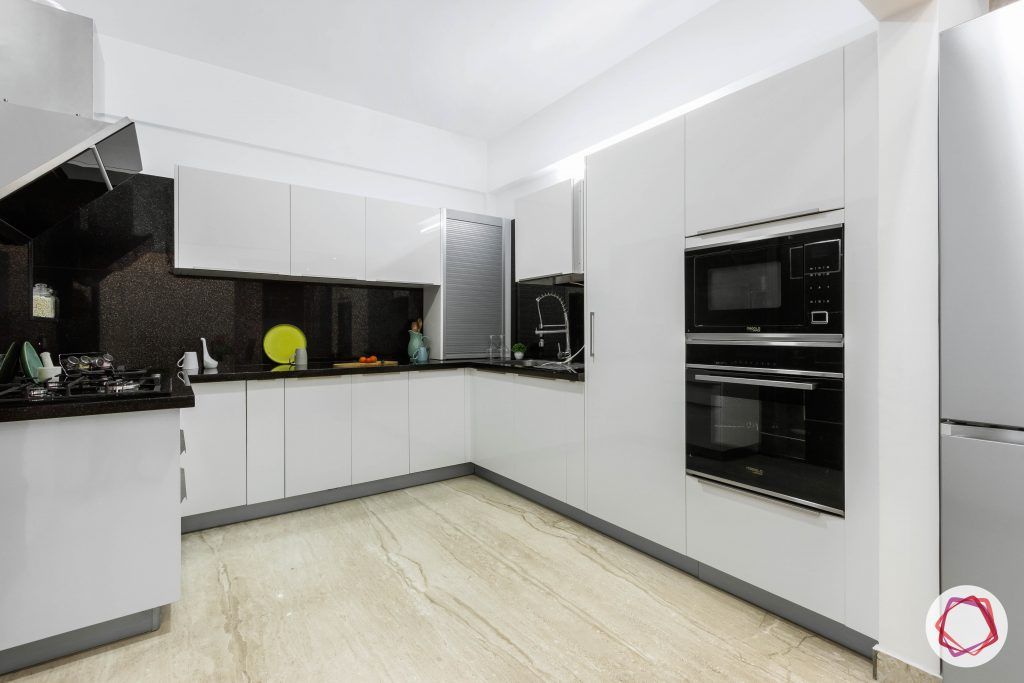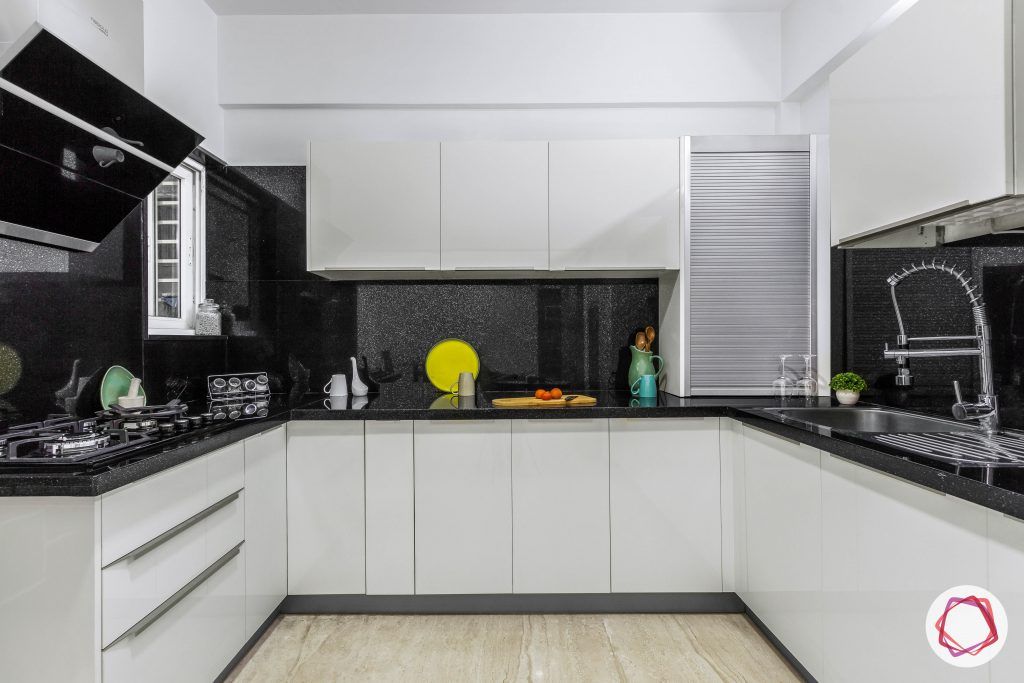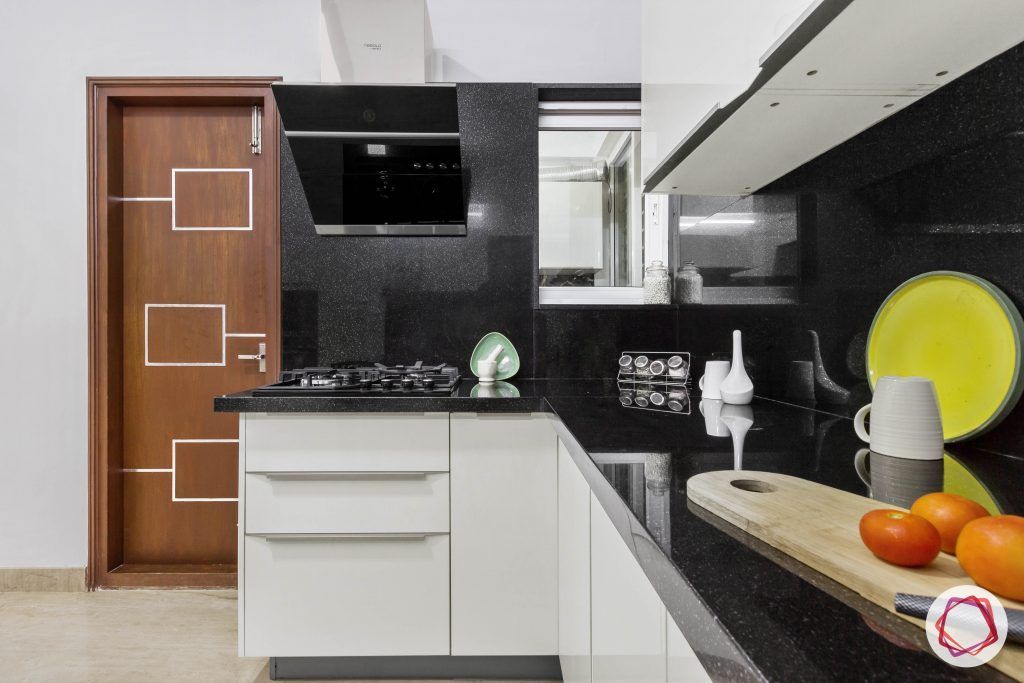 From the very beginning, Suman and Deepthi were sure that they wanted a monochrome kitchen. Richa suggested white acrylic finish for the base and wall units complemented by black kalinga stone for the countertop and backsplash. White is the ideal colour to make the most of the light available. Since this kitchen is vastu-compliant , the hob area is created in the south-east direction.
Talking about the modules, Richa tells us that she has given basic modules like drawers, bottle pull-outs, spice trays, cutlery units and roller shutter for appliances. This kitchen also houses a built-in microwave oven unit that injects some fun and lots of comfort into baking!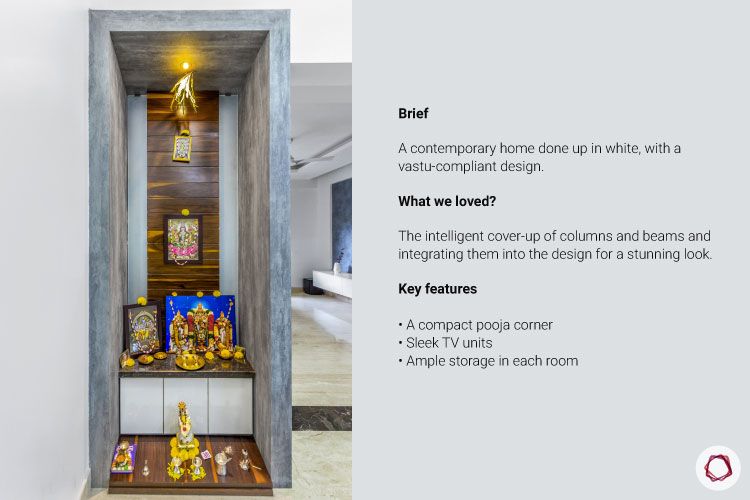 Snug & Comfortable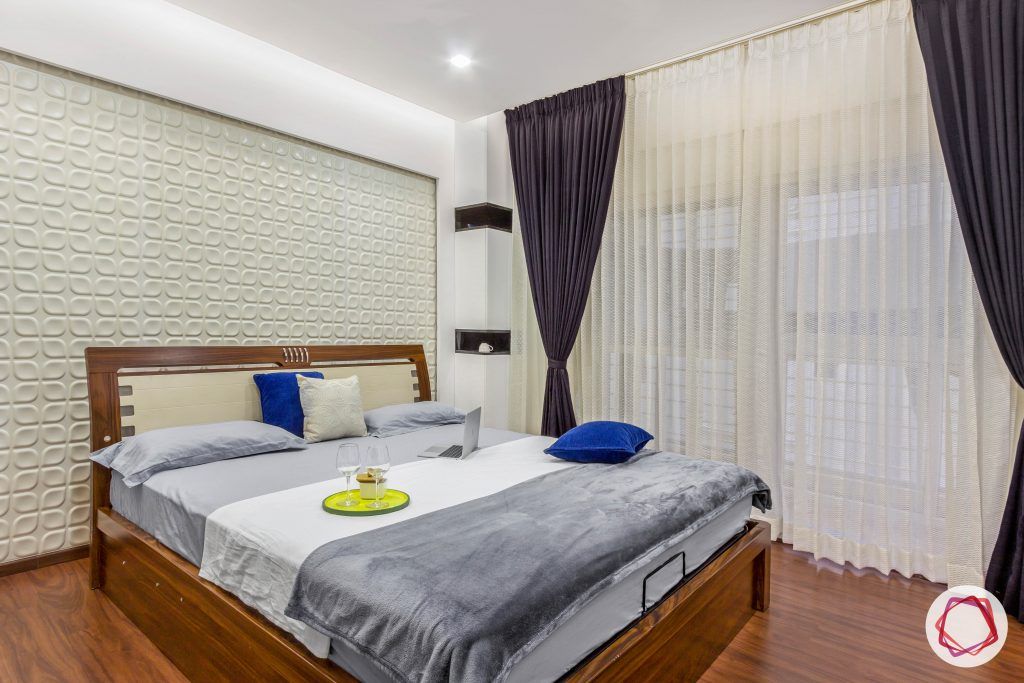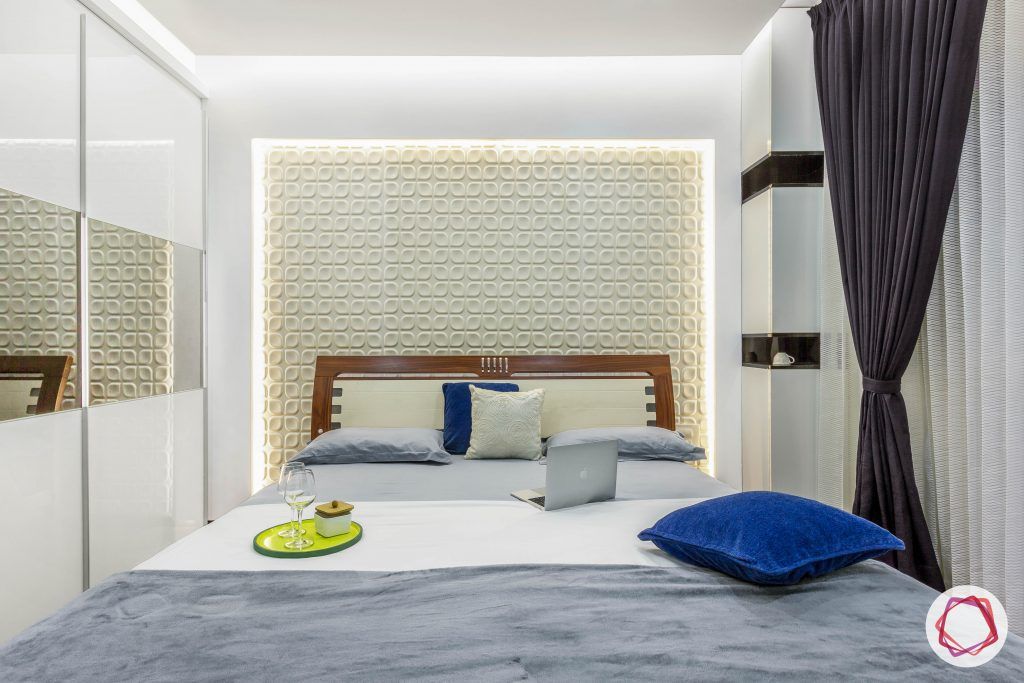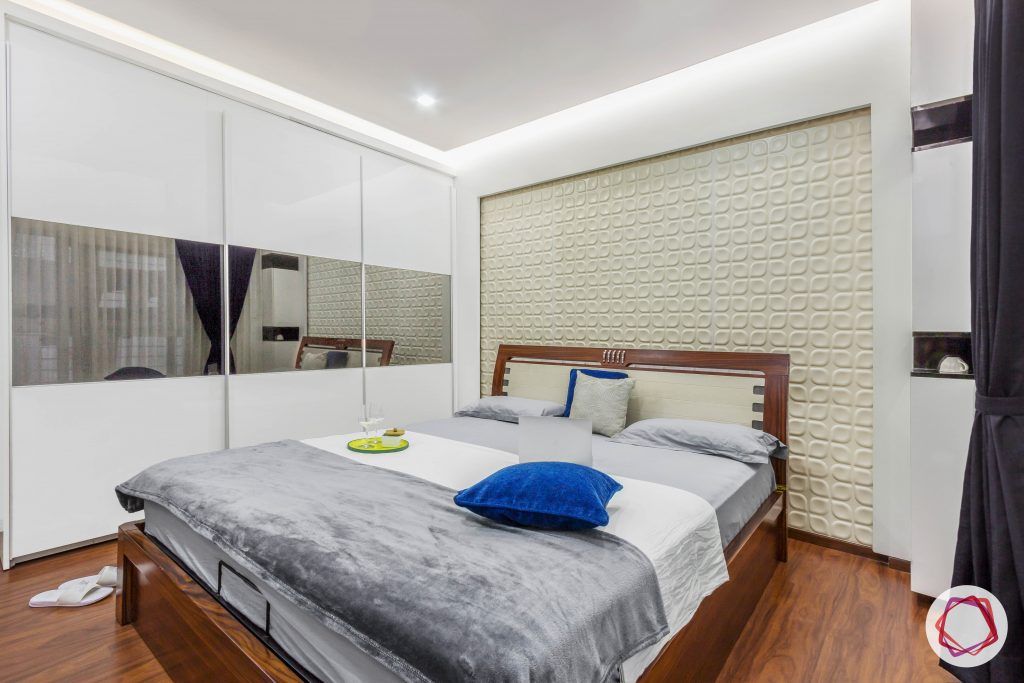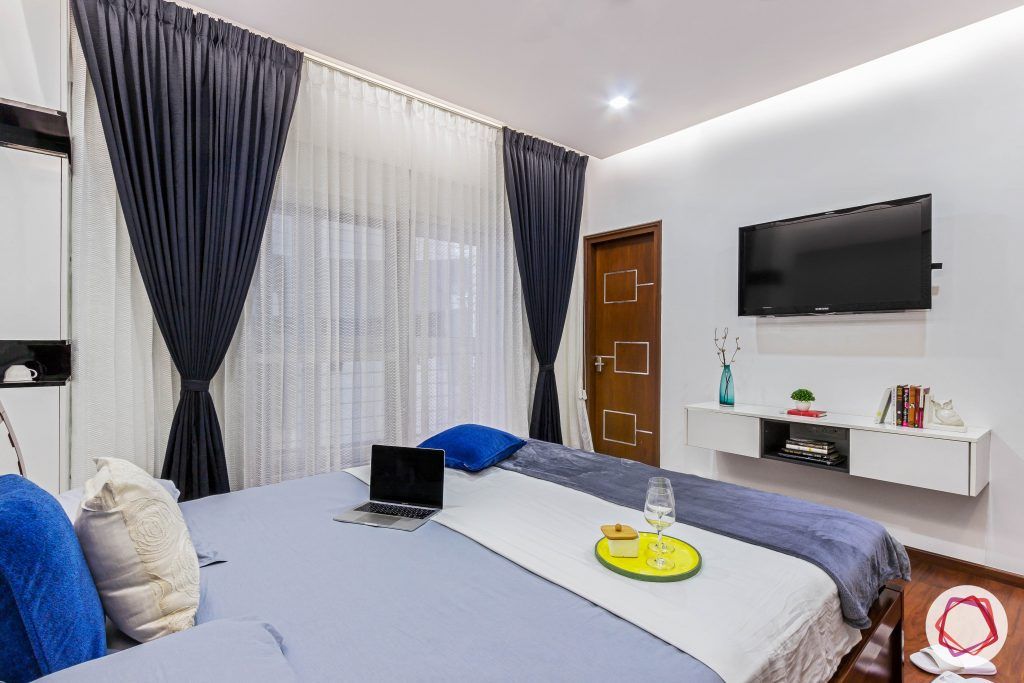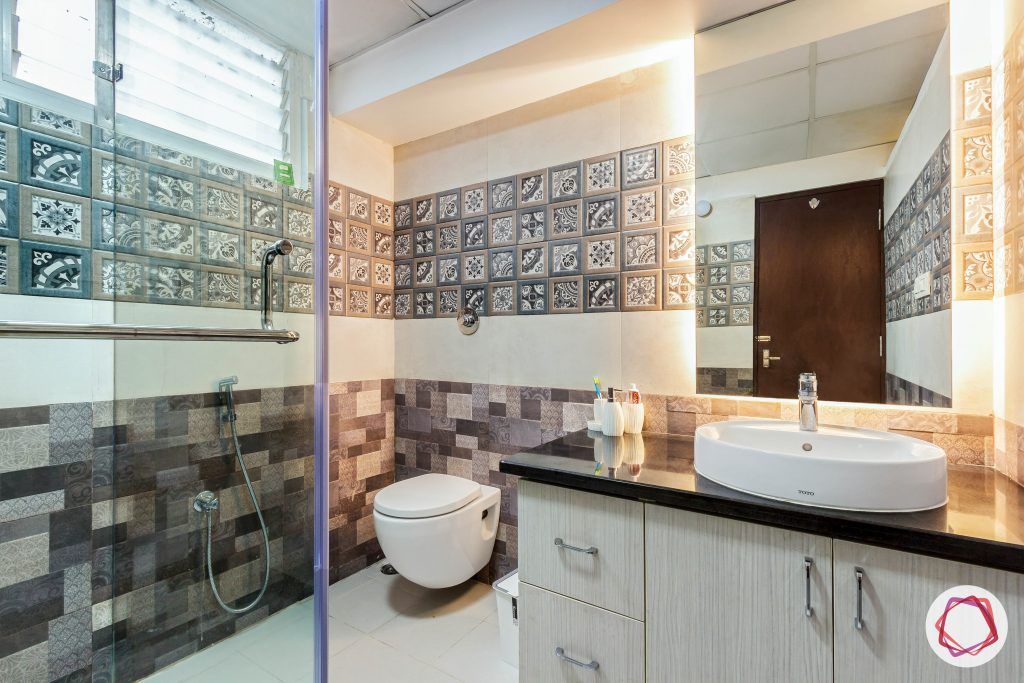 The master bedroom in this Bangalore house is a treat in white, literally. The idea was to utilise every inch of space and still make the room feel comfortable. It's easy to work with a colour like white in such cases because darker colours can look heavy at times. Richa gave the couple a 3D wallpaper behind the bed with LED strips around it to add an element of design to it. The wardrobes have glossy sliding doors with a black lacquered glass panel running in the centre. The warm wooden flooring and bed are in perfect tandem with one another and complete the room.
Serene Guest Room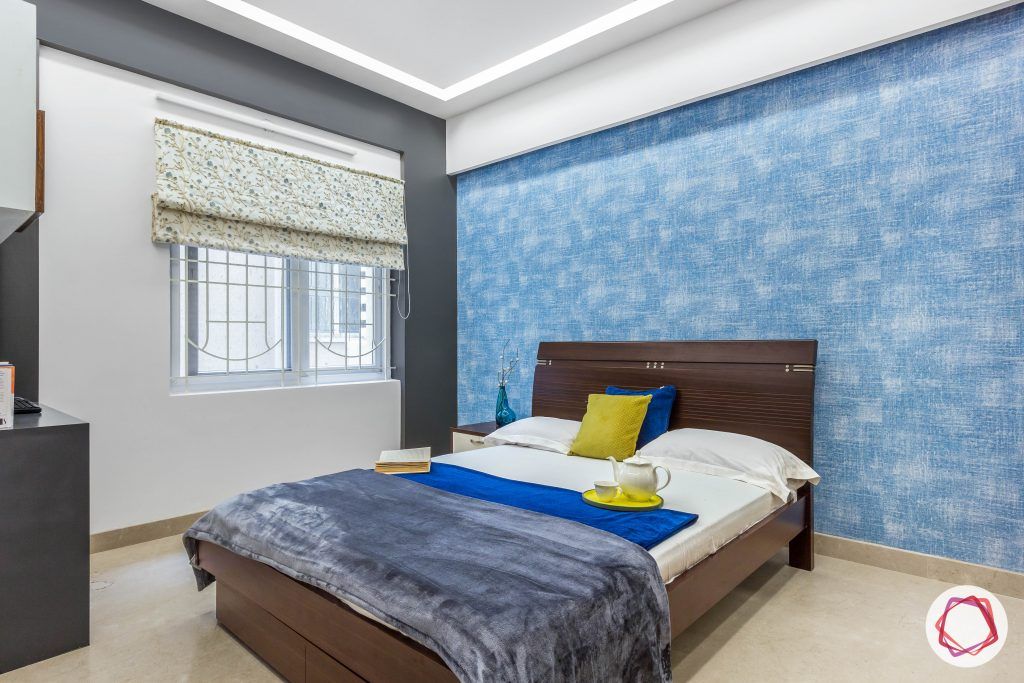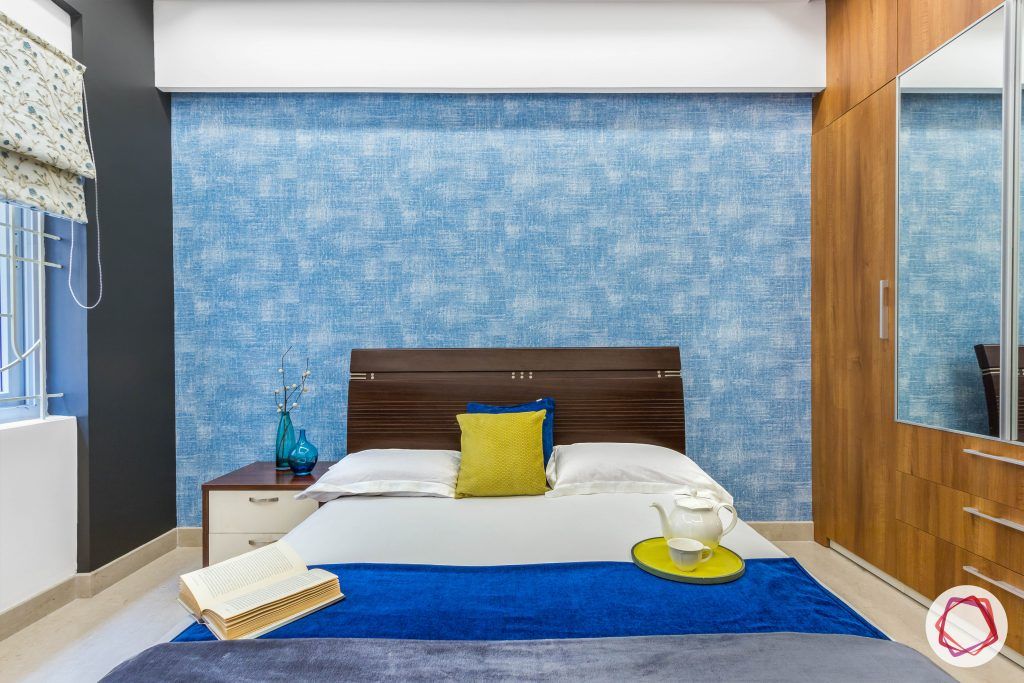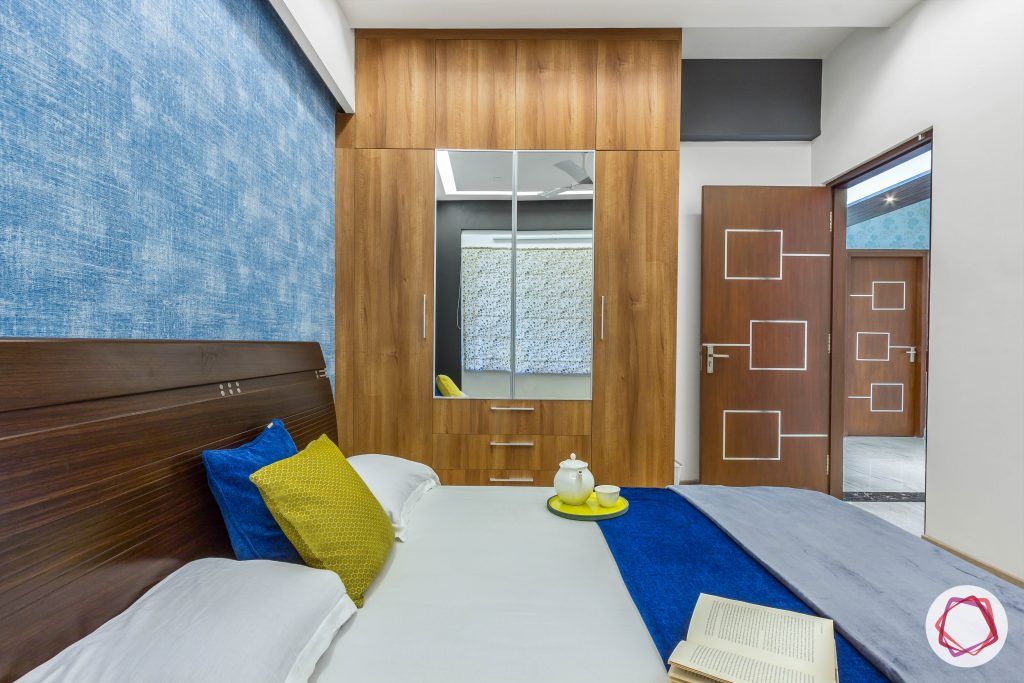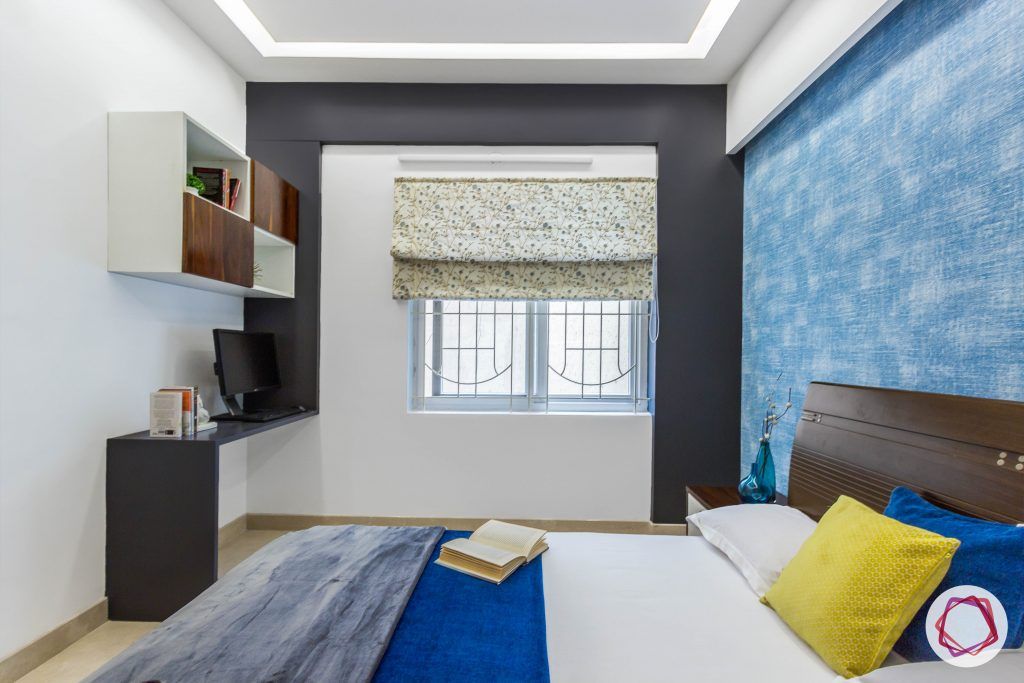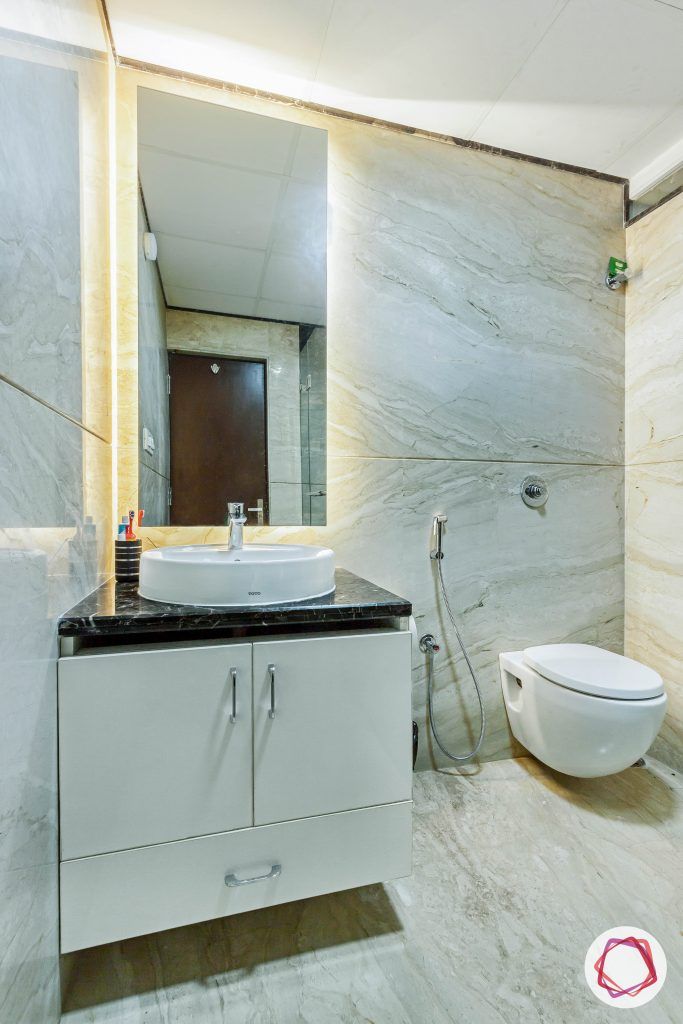 This home has one of the brightest guest rooms in a Bangalore house that we've seen in a while. We love how Richa has given a blue textured wallpaper behind the bed and dark grey panels along the window that continues to form the study table. The wardrobes here are simple veneer swing door ones with lofts and two mirror shutters. The rest of the look is very simple, with fuss-free furniture in place.
One for Playfulness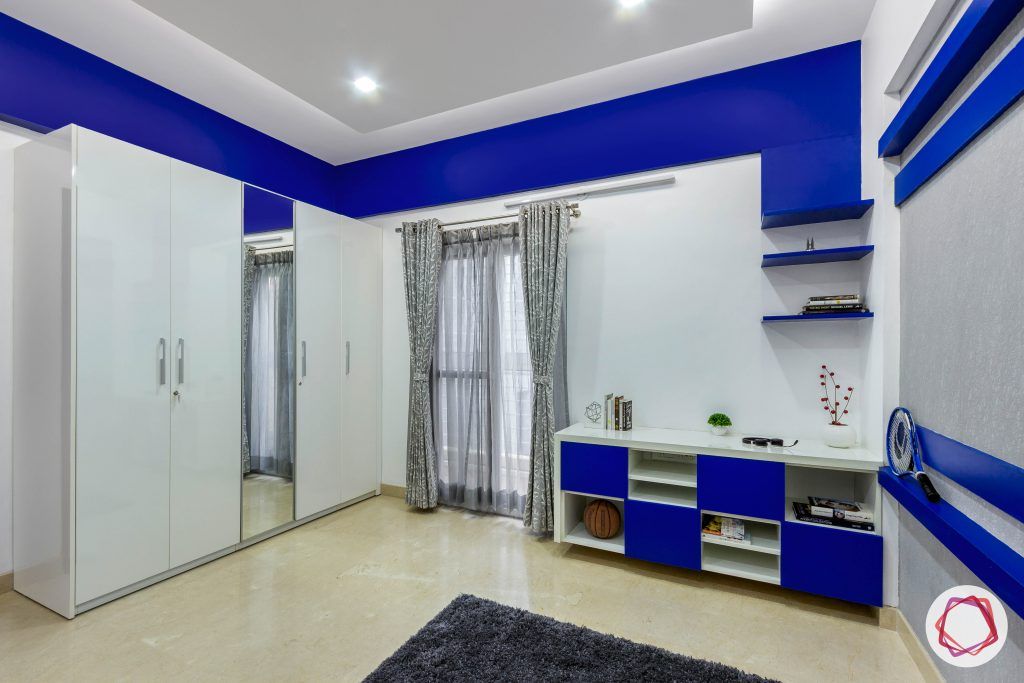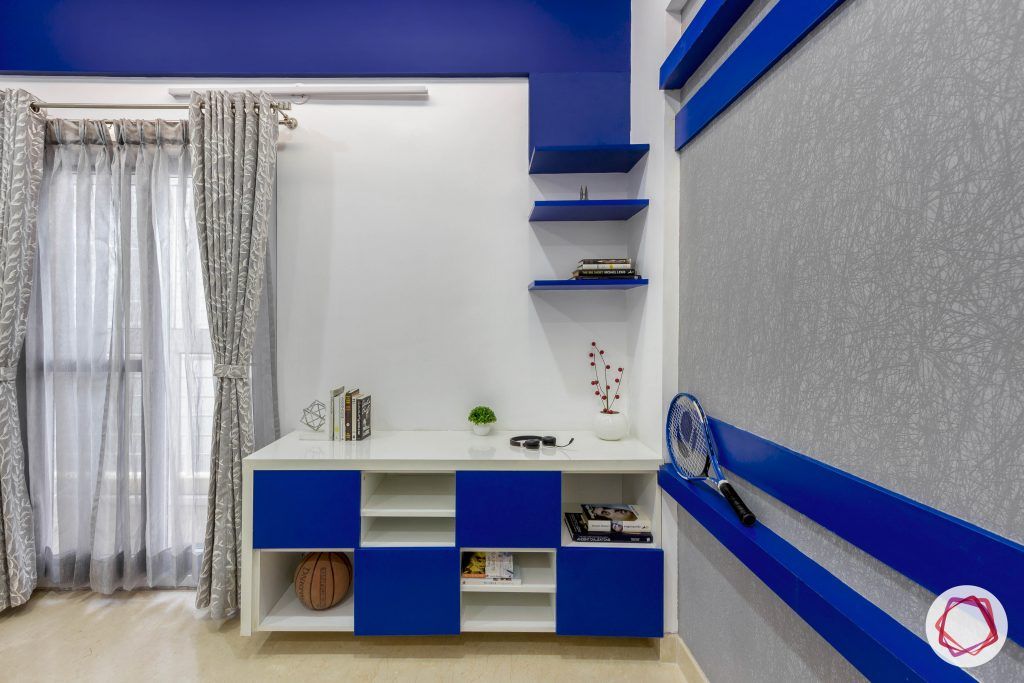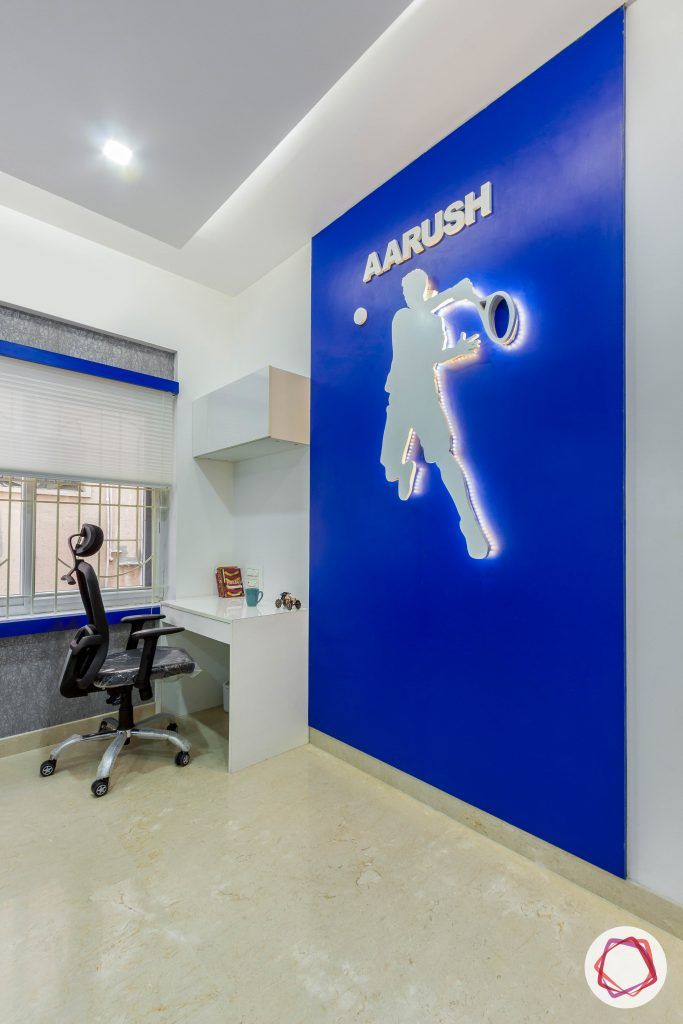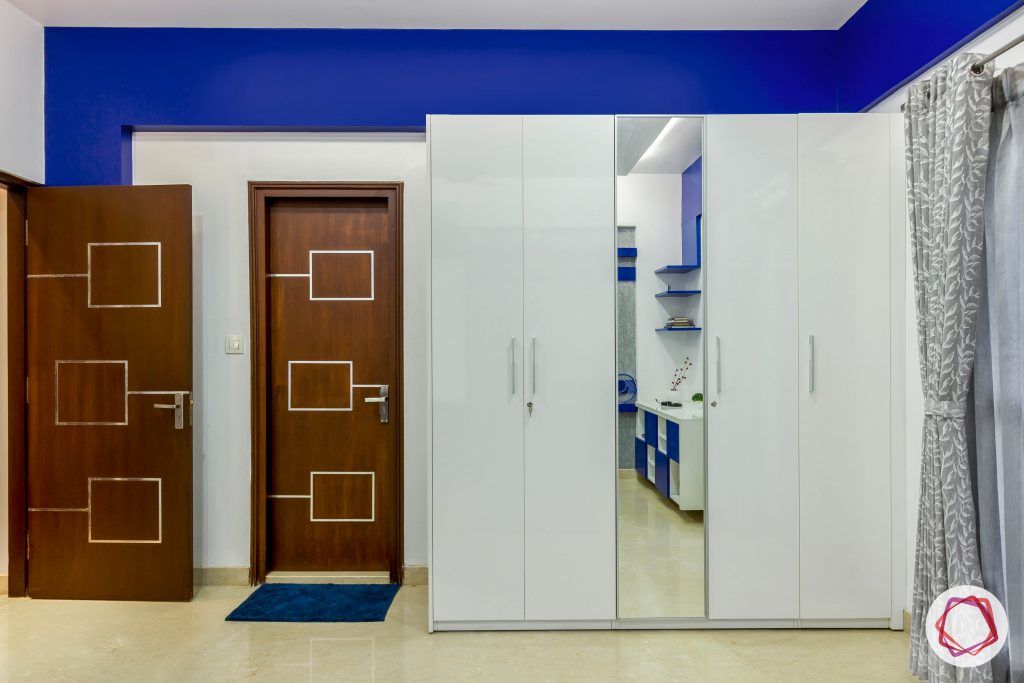 Finally, a splash of bright blue in one of the rooms at home. And, we must say, Richa has outdone herself. Suman and Deepthi wanted their son's room to look lively and have everything that he needs — a study corner, lots of storage and a spacious layout. Do not miss the customised wall that Richa created for the rising tennis star with his name on it. We love the energetic vibe going around this room!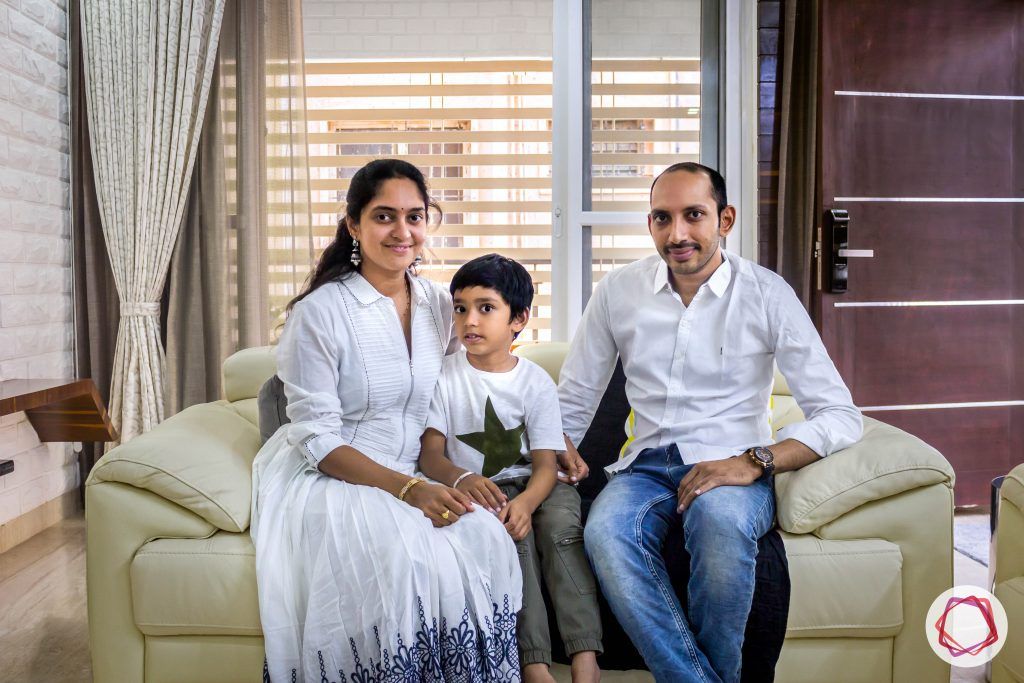 "It was a wholesome experience with Livspace. Our major requirement was getting vastu-compliant interiors and Richa made sure that she stuck to that. With her around, it was very easy to get our ideas across and she gave us some amazing designs to choose from. We love neutral colours and this has turned out to be our dream home. We would definitely recommend Livspace to our friends and family!"

– Suman & Deepthi Varma, Livspace Homeowners
---
Working on this Bangalore house has been quite rewarding. I personally love working with white as the base colour for interiors, hence, I took a keen interest in designing this one. The only challenge in this home was the number of beams projecting from the walls in every room. I had to make sure that I cover them up and integrate them into the design. I completely enjoyed working for the couple since they were very understanding and open to new ideas."

– Richa Singh, Interior Designer, Livspace
Also, check this out if you want to look at another unique Bangalore house: A Swanky and Sleek Bachelor Pad Comes to Electronic City.
Send in your comments and suggestions.