One of the most elegant and stylish flats in Gurgaon.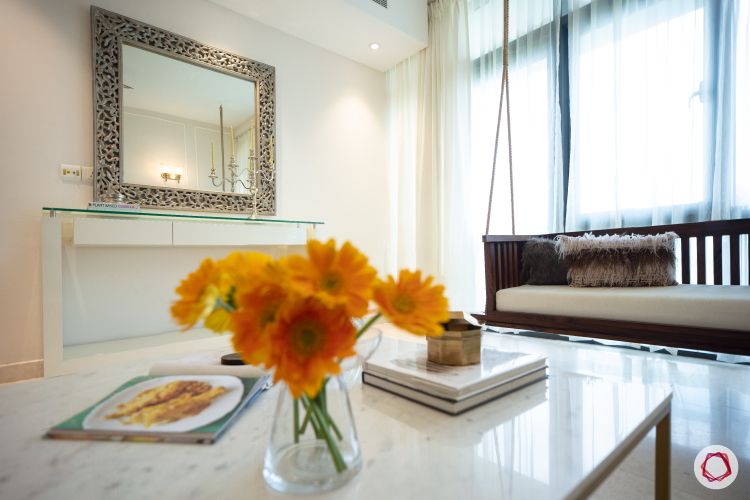 ---
Who livs here: Sonia Bhatia with her husband Rishi and their son Anhad
Location: Ireo Grand Arch, Sec 58, Gurgaon
Size of home: A 3BHK spanning 2,200 sq ft approx.
Design team: Interior Designer Richika Chopra Anand and Project Manager Richa Bhardwaj
Livspace service: Living room and bedroom design
Budget: ₹₹₹₹₹
---
There's something about this home that sends you into a dream state. Maybe it's the calming whites, the relaxed decor or just the lovely people who welcome you inside. Sonia and Rishi wanted to build a vacation home and it happened to be at Ireo Grand Arch in Gurgaon. So, while people in Delhi go into a frenzy over the weekend, you will find this couple chilling around with their friends right here.
Enter Livspace designer Richika C Anand, to begin the journey in crafting a home that is filled with subtle colours and lots open spaces. Just what Sonia and Rishi Grover need to unwind. Since this is a holiday home, the couple did not have major requirements. All they asked for was simplicity accompanied by straight-lined furniture and some stand-out elements that bring this home to life! Take a look.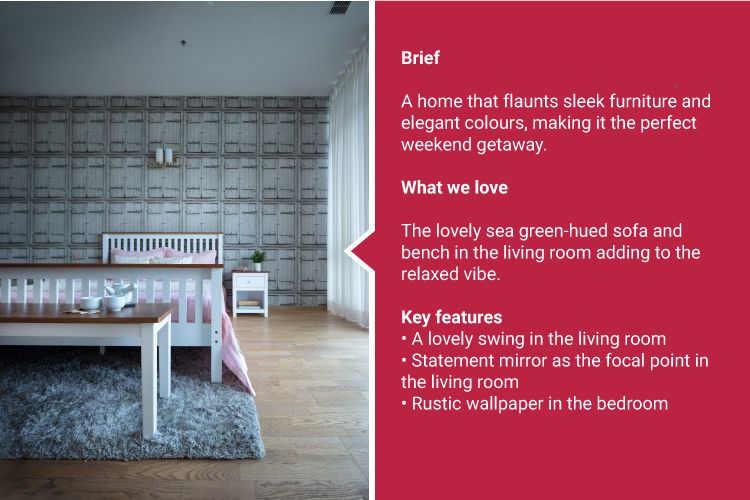 Interiors for Flats in Gurgaon: Understated Beauty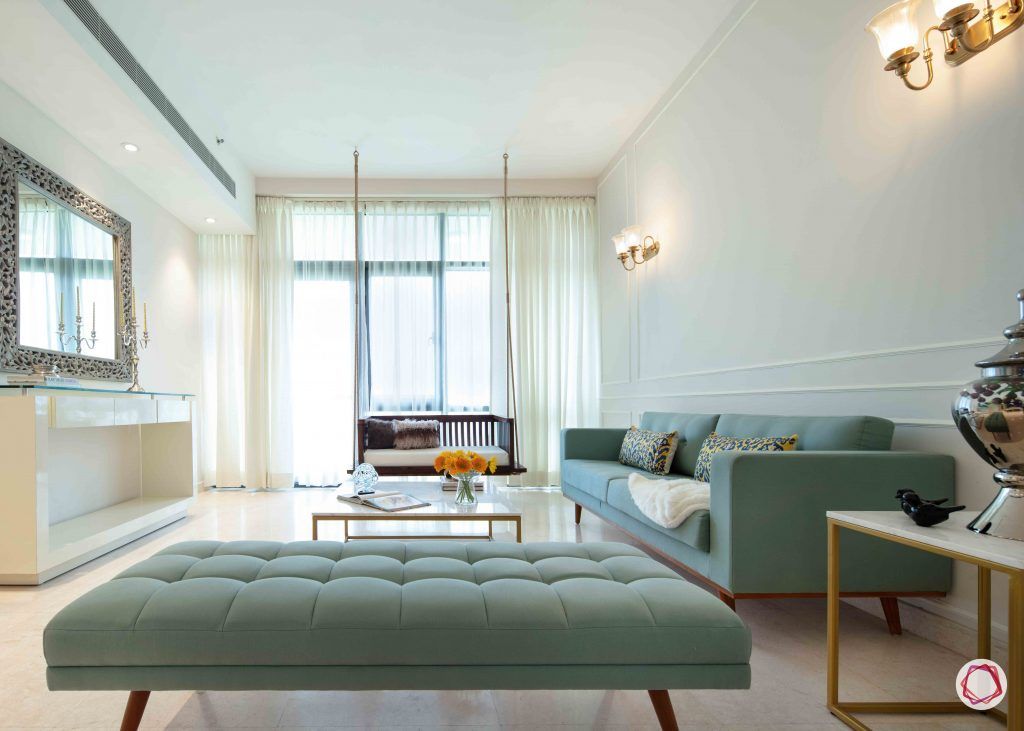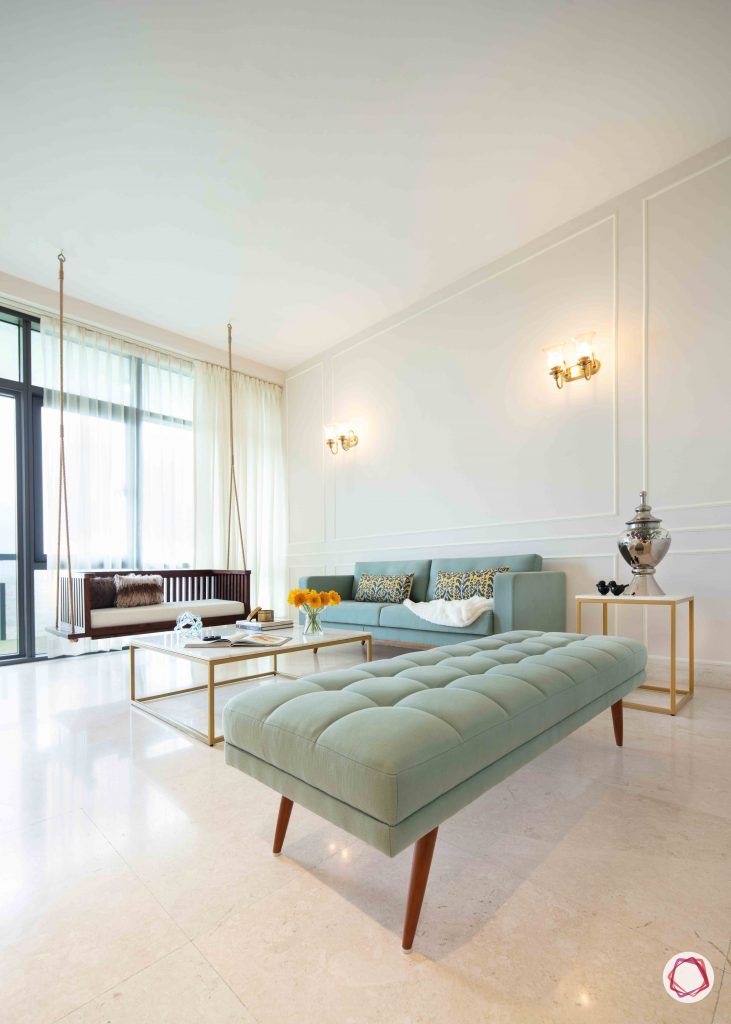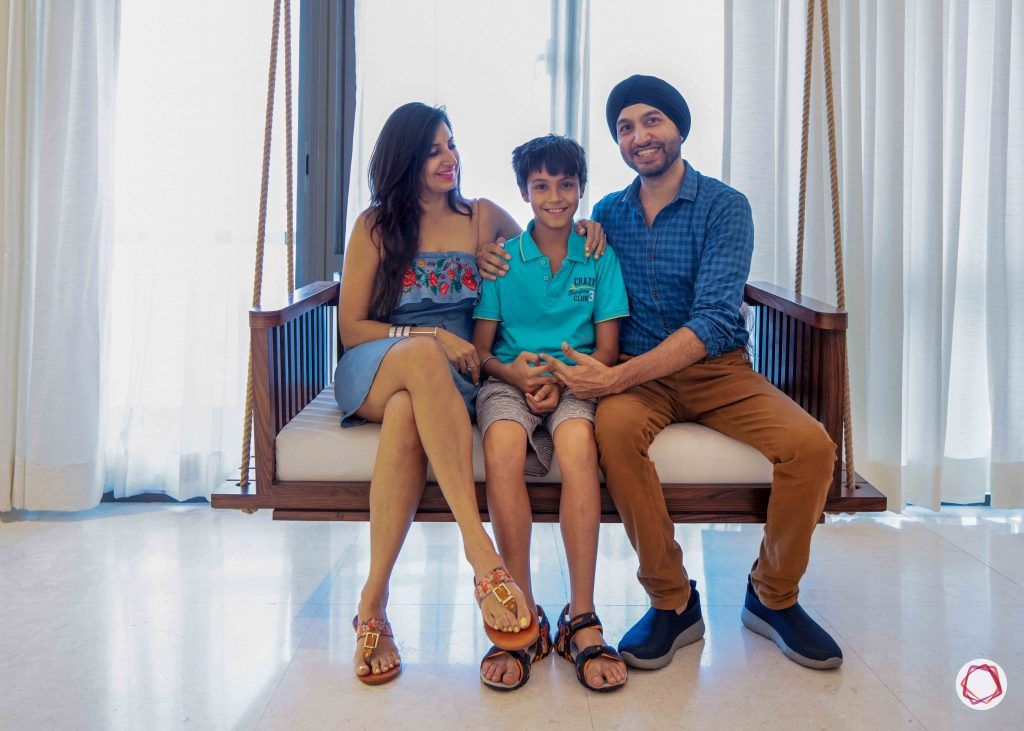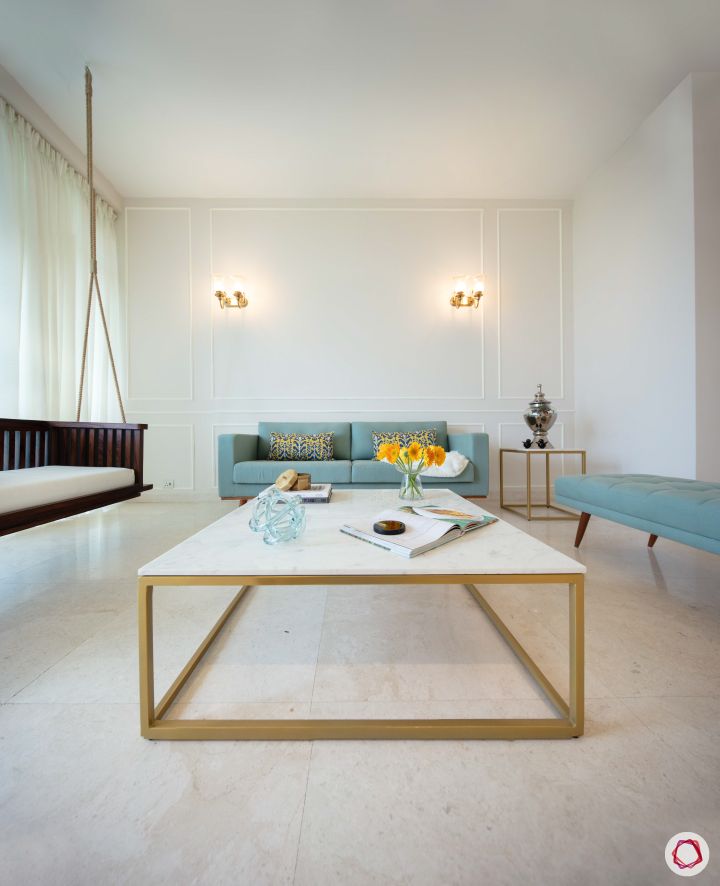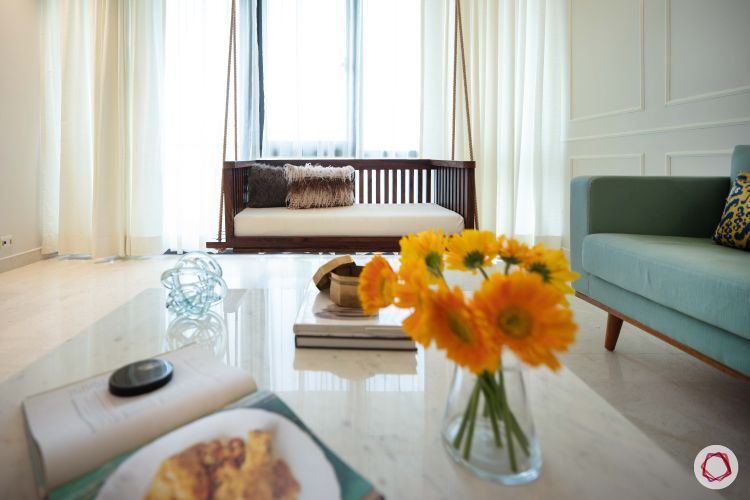 Living rooms are where most of the action takes place when you're having people over. Since this home is dedicated to throwing weekend parties and some me-time for the couple, the living room has very classy colours.
Sonia was very keen on getting sea green upholstery for their furniture in this room. Richika gave them versatile seating with a combination of a sofa, a bench and a lovely swing. She thought that the swing will add to the vibe around the house. The walls also flaunt interesting trims that add a nice detail to it. Do not forget to notice the statement mirror that sits right above the console table which is meant to be used for displaying artefacts.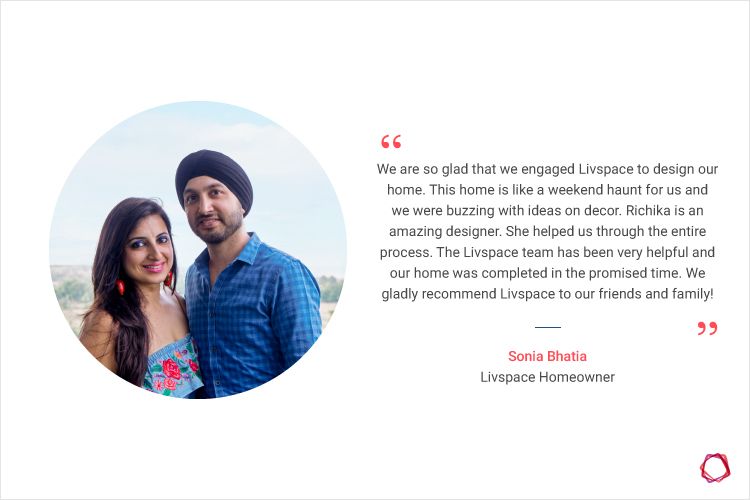 Interiors for Flats in Gurgaon: Insta-worthy Bedroom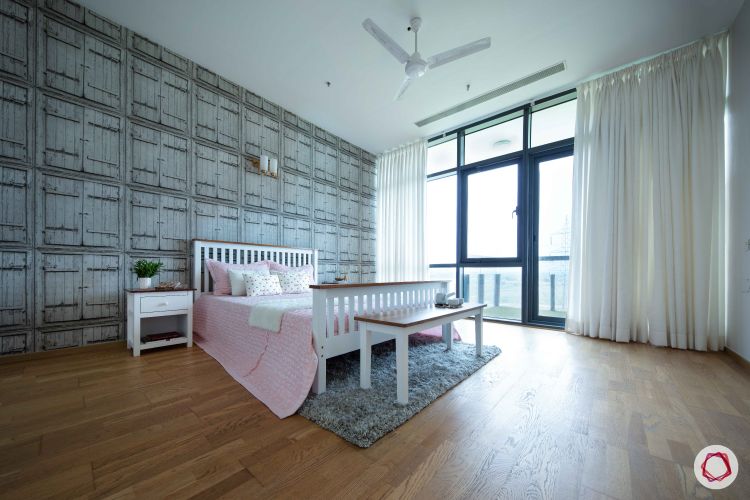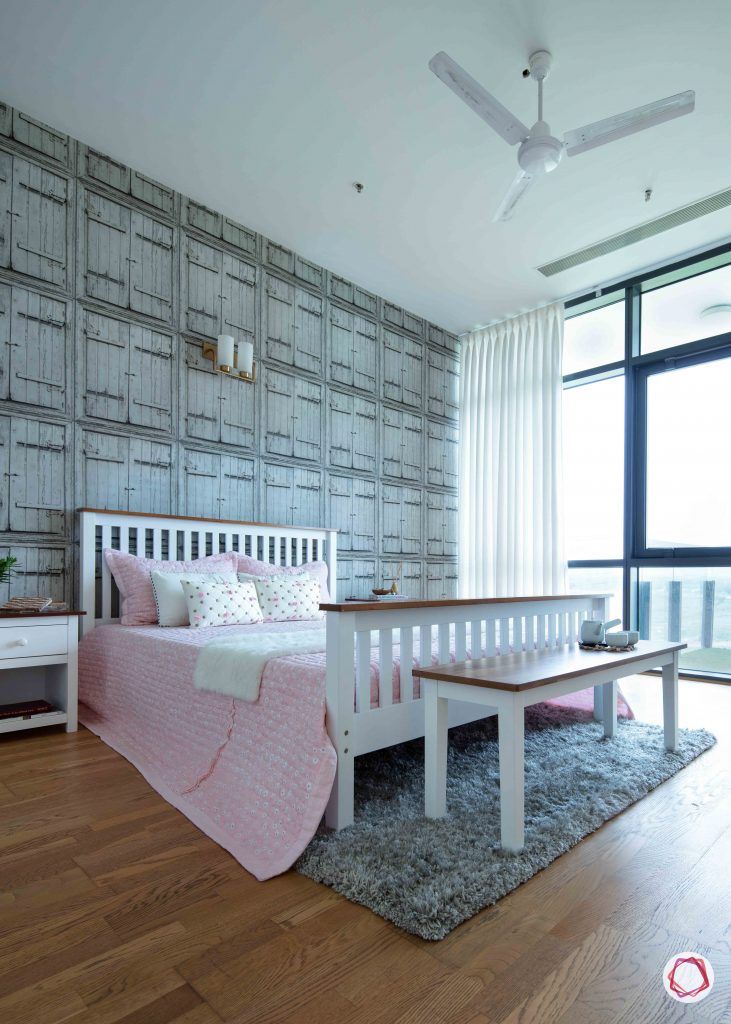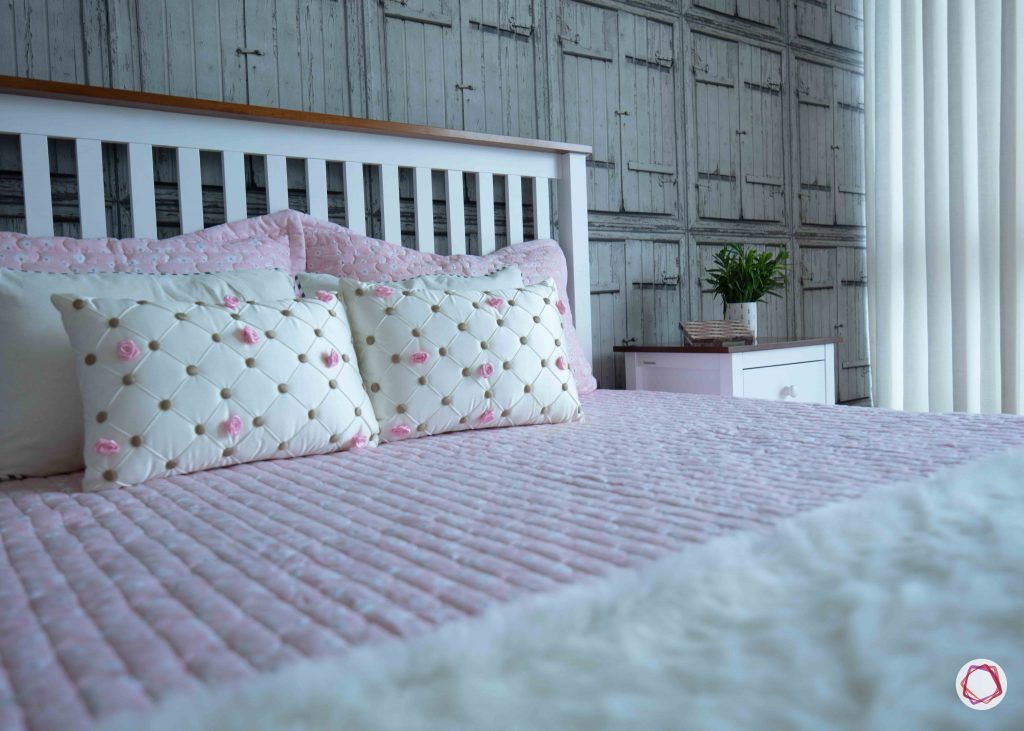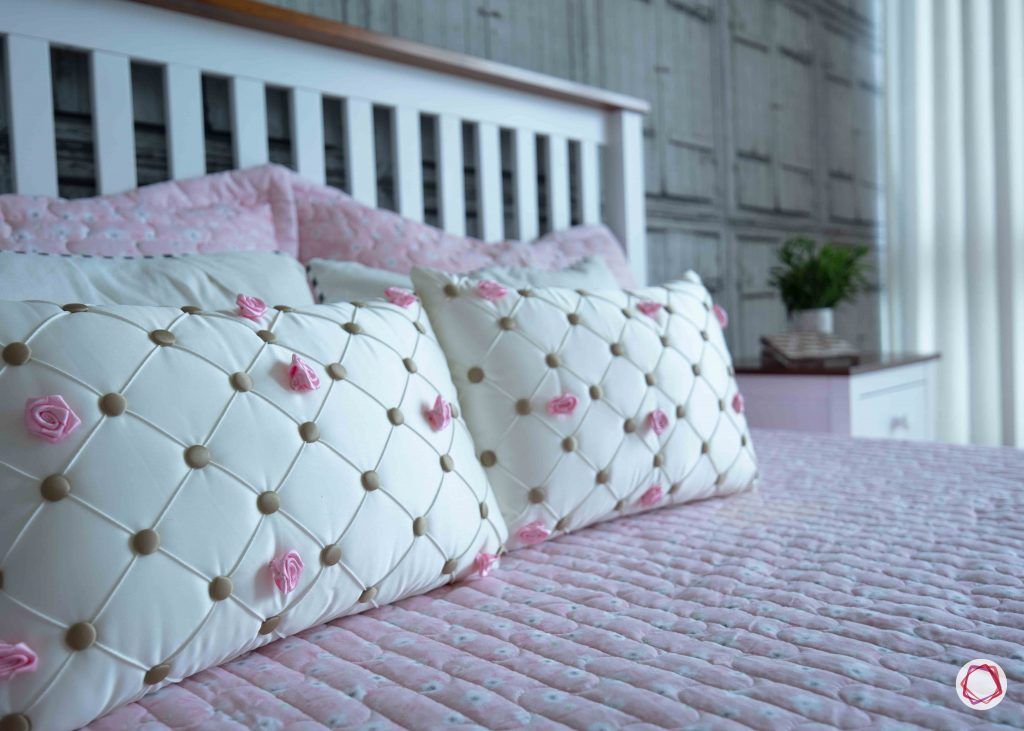 Doesn't this bedroom make you feel like slipping into a world of dainty dreams? We love the rustic touch that the wallpaper adds to this pretty room. Richika made sure that she gives them sheer white drapes in both the rooms so that it opens up the space even more and looks dreamy. The bed was an existing one and it matches the theme of this room perfectly.
"It was amazing to work with Sonia and Rishi, since they are very creative and came with their own set of ideas. It's always a delight to work for such clients. I enjoyed every bit of it and built a great rapport with them and they loved the designs I suggested."

– Richika Chopra Anand, Interior Designer, Livspace
While this home was about living and bedroom design, if you're looking to design your kitchen, then take a look at A Kitchen Makeover For A Passionate Chef.
Send in your comments and suggestions.