Victorian style interiors are possibly one of the most lavish interior design styles of all time. Hence, when Sumedh wanted his dream home to have a Victorian appeal with a modern twist, our designers ramped up their game!
This Pune home has a Victorian-inspired space that retains its contemporary aesthetic perfectly. Let's take you on a tour of this beautiful 3BHK, and you can take some actionable tips for your own home renovation:
1. Be Smart About Choosing Your Colour Palette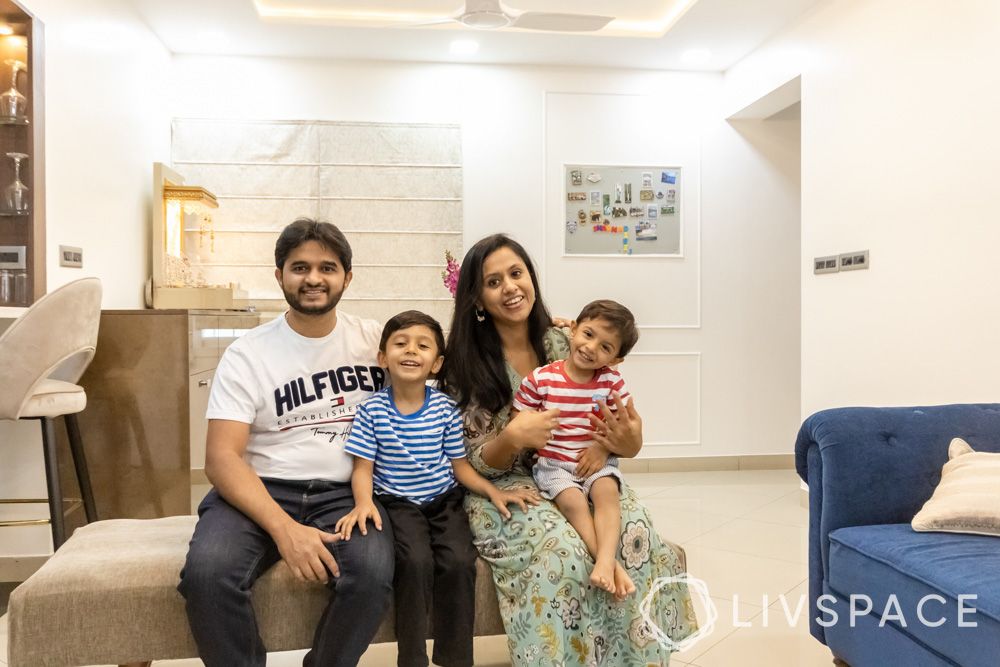 Traditionally, Victorian design is associated with deep hues and dark colour palettes. But don't be afraid to go for more subdued shades. Opt for unassuming silhouettes and light pastel shades like this Pune home does.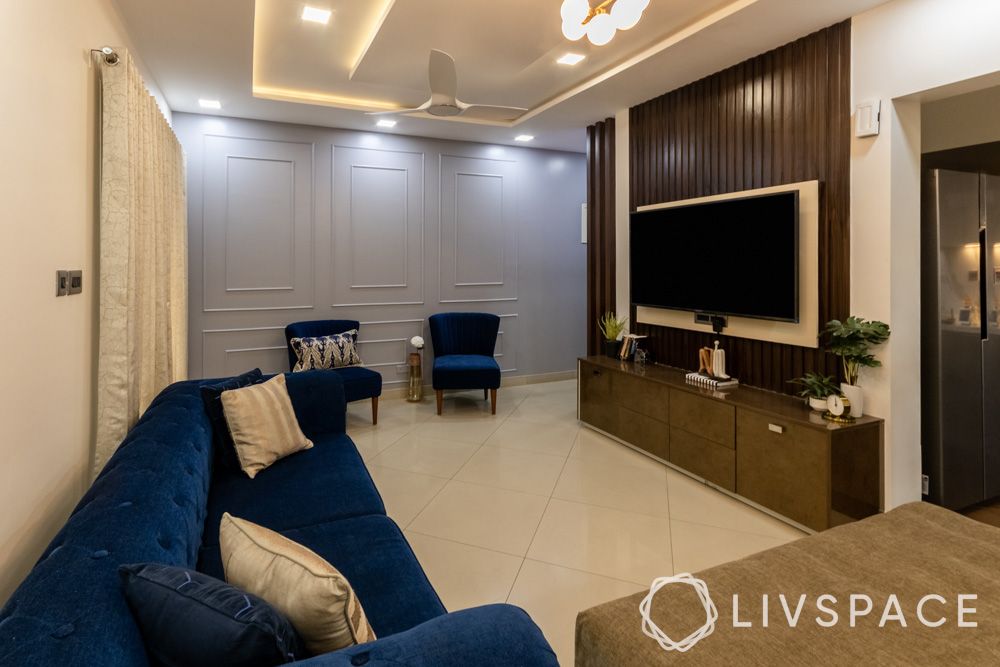 It contrasts the light colours with the wall panels, as you can see in the living room and the bedroom. That helps create a tone-on-tone look, thereby letting the Victorian aesthetic ease gently into the contemporary home.
2. Go Quirky With Wallpapers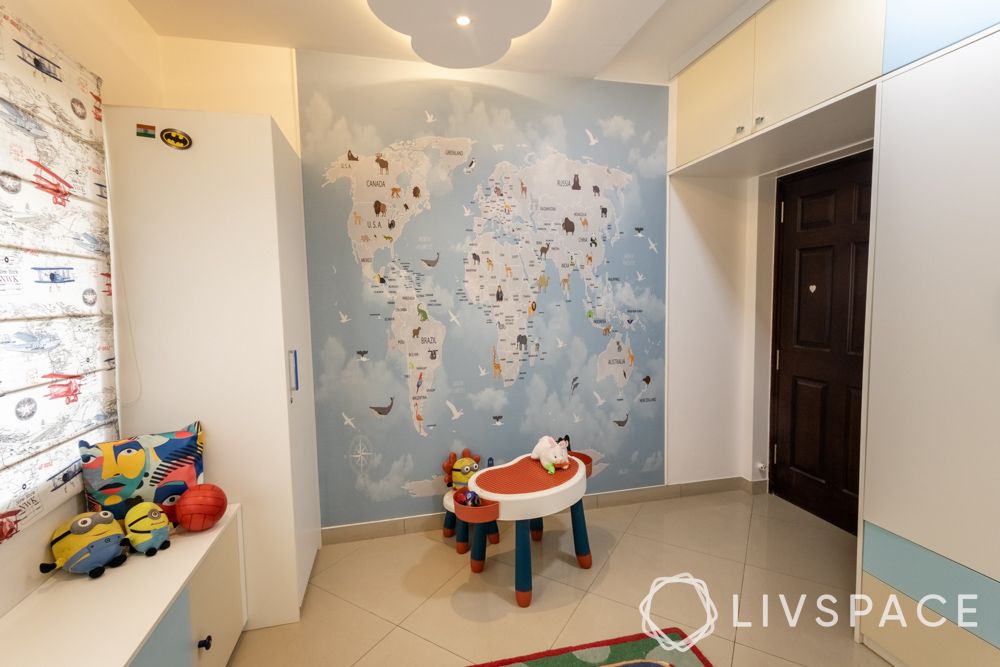 Take a look at this map-themed wallpaper. It might not be the typical kid's room decor, but it's definitely something that Sumedh's two sons love.
Victorian decor is a lot about having fun with floral wallpapers and intricate designs. If you don't want to go all out with floral, you can still have a lot of fun with wallpapers.
3. Say Yes to Luxurious Lighting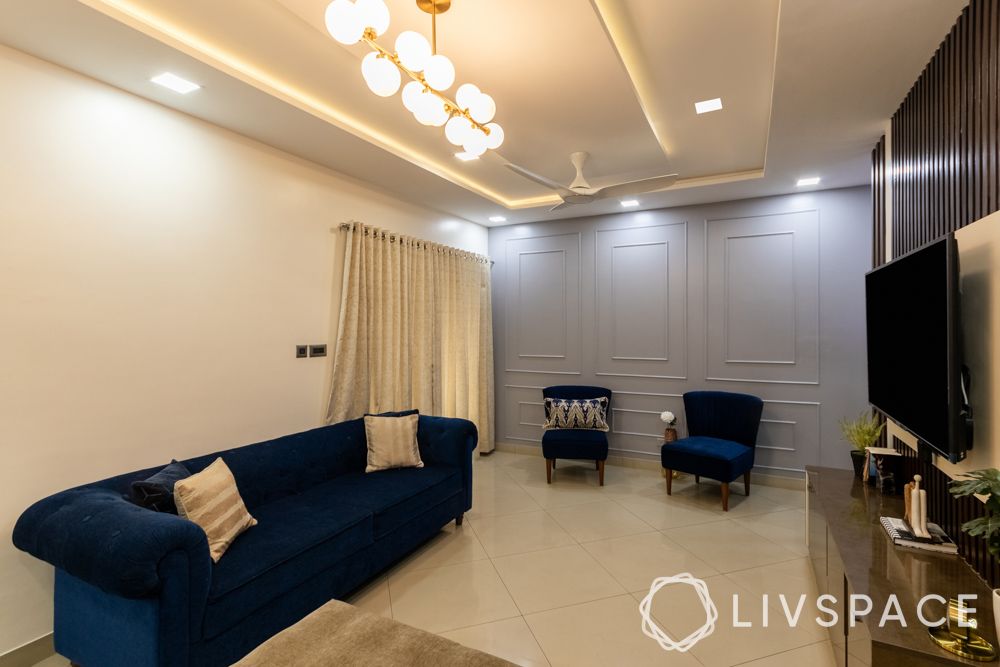 A modern Victorian space will always focus on luxurious lights, and so does this 3BHK design in Victorian style. This Pune home's Victorian interiors took the opportunity and invested in some stylish light fixtures to draw your eye upwards.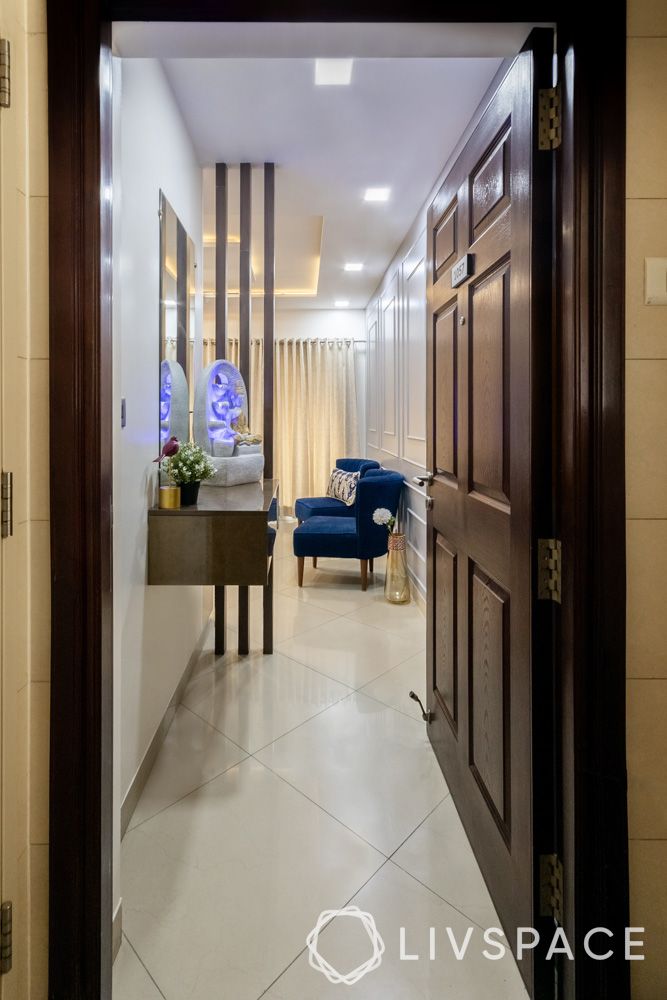 One look at the lights, and you can say that these Victorian-style interiors use lights as jewellery. However, ensure that you don't have plenty of light fixtures that are competing. Find designs that are compatible and help you strike a cohesive look.
4. Consider Colour Blocking (But With Furnishings)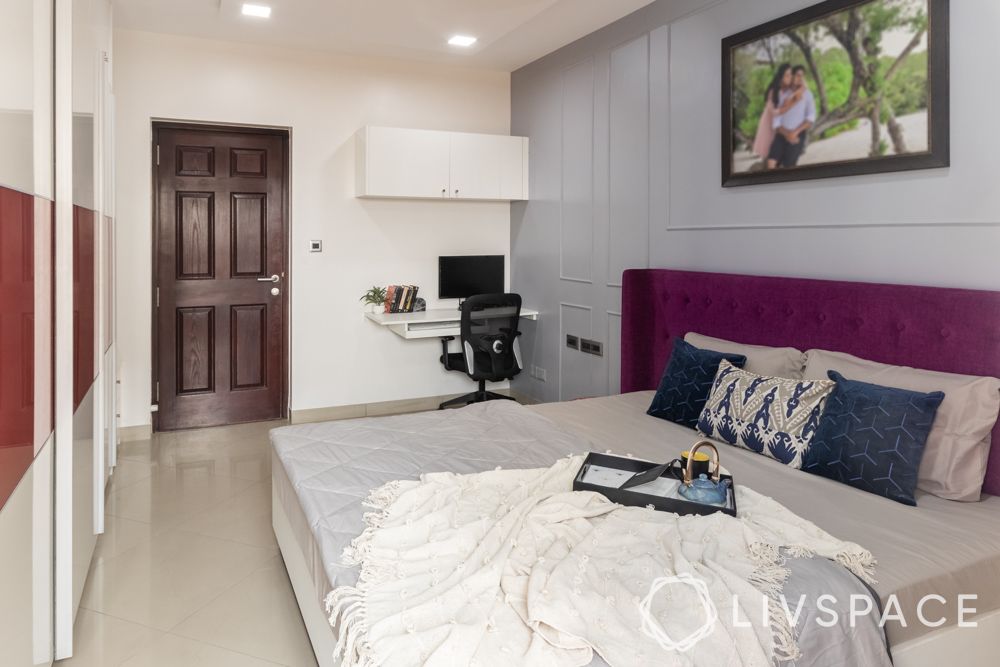 Opt for more modern features like wall panelling and colour blocking to get Victorian interiors that retain the glory of the magnificent era while imparting a contemporary aesthetic.
Colour block a room with bright-coloured furnishings and add visual interest. For instance, take a look at the vibrant headboard in the master bedroom, the shade of red running through the wardrobe or the wooden wall panelling of the TV unit accent wall in the living room.
Also Read: The Best Living Room Designs of This Year
5. Create Drama With Upholstery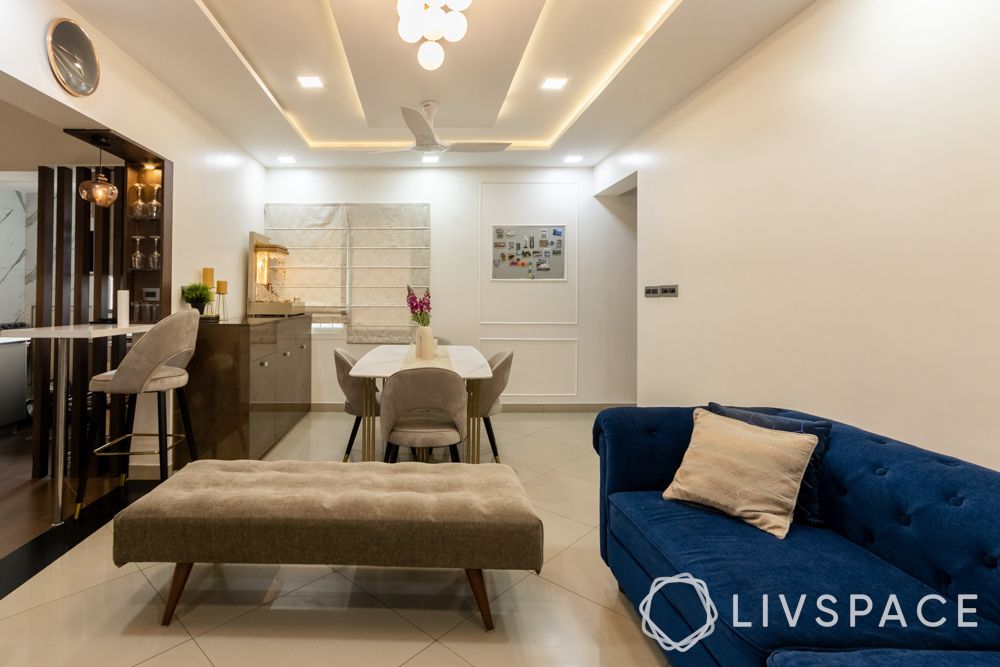 Victorian interiors need drama to thrive on, so opt for tufted upholstery that renders a sense of creative tension in the space. See the blue sofa set, the light-brown diwan and the dining table chairs? They add interest and intricate detailing, which are characteristics of Victorian interiors.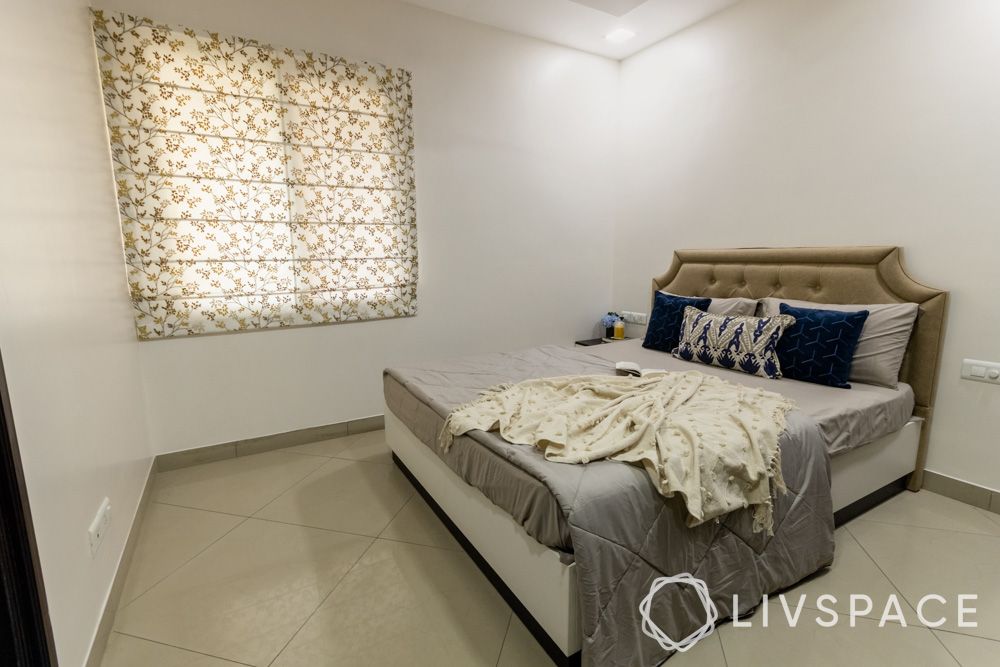 Moreover, the second bedroom also uses a tufted and intricately designed headboard that takes the spotlight. In our opinion, it's a terrific idea to combine dynamic furnishings to play off the otherwise minimally decorated room.
6. Play Plush to Your Advantage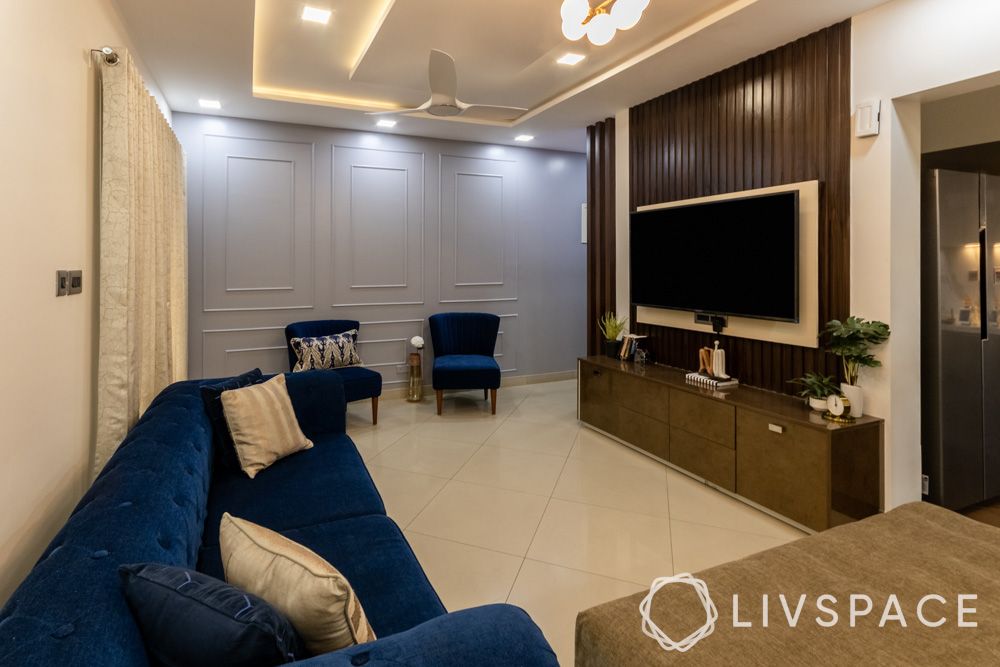 If there's one word we associate with Victorian interiors, it's how plush they really are. Create an environment of luxurious cosiness with bright furnishings, patterned fabrics and a clear sense of sophistication. Take some ideas from this beautiful Victorian style interior design.
7. Add Detail With False Ceilings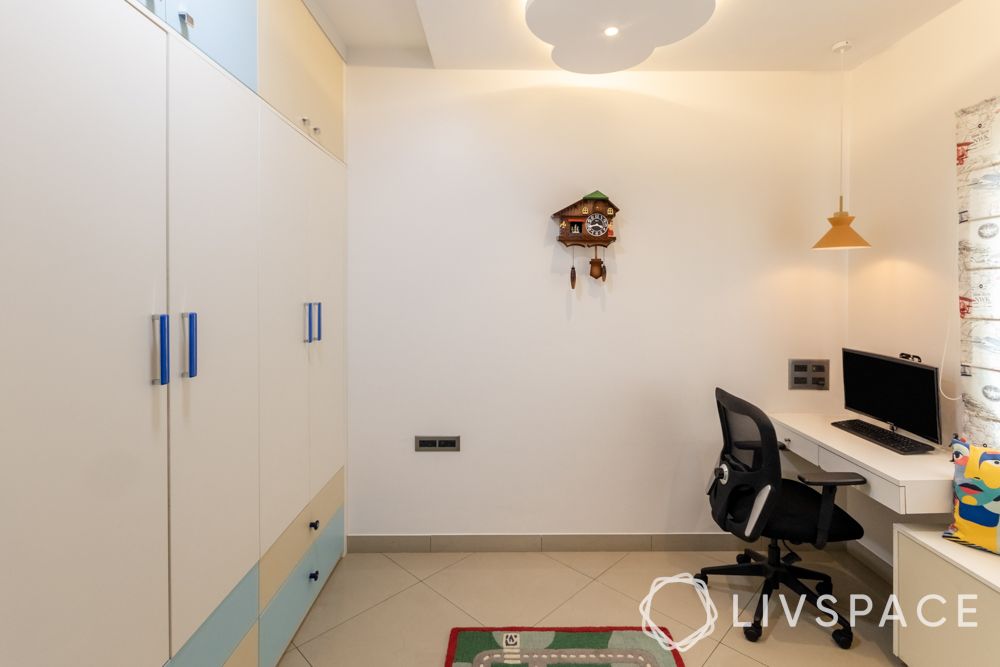 What's Victorian decor if not ornate, intricate and detailed? So, how can you even design Victorian style interiors without adding visual details? This family used false ceilings to add details and give the interiors a bold, uplifted look.
8. Make It Functional and Hide Away Clutter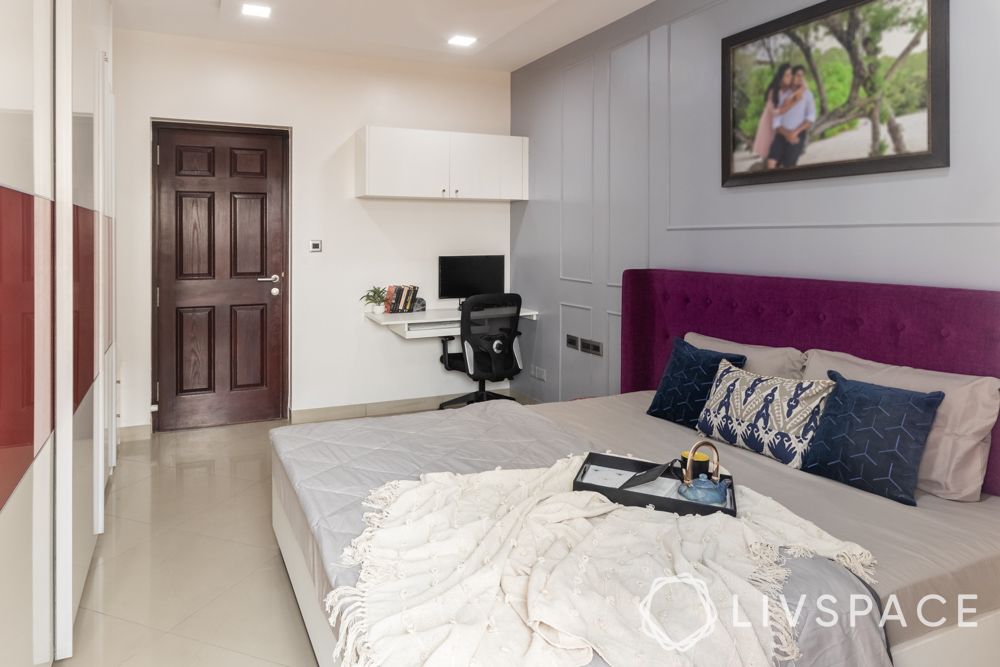 Gone are the days when your office was for work, and home was for relaxing. Now modern spaces are being re-envisioned to be a mix of both. While office spaces are being reinvented to be more fun and more relaxing, homes are being designed with a home office set up (or two, as in this case).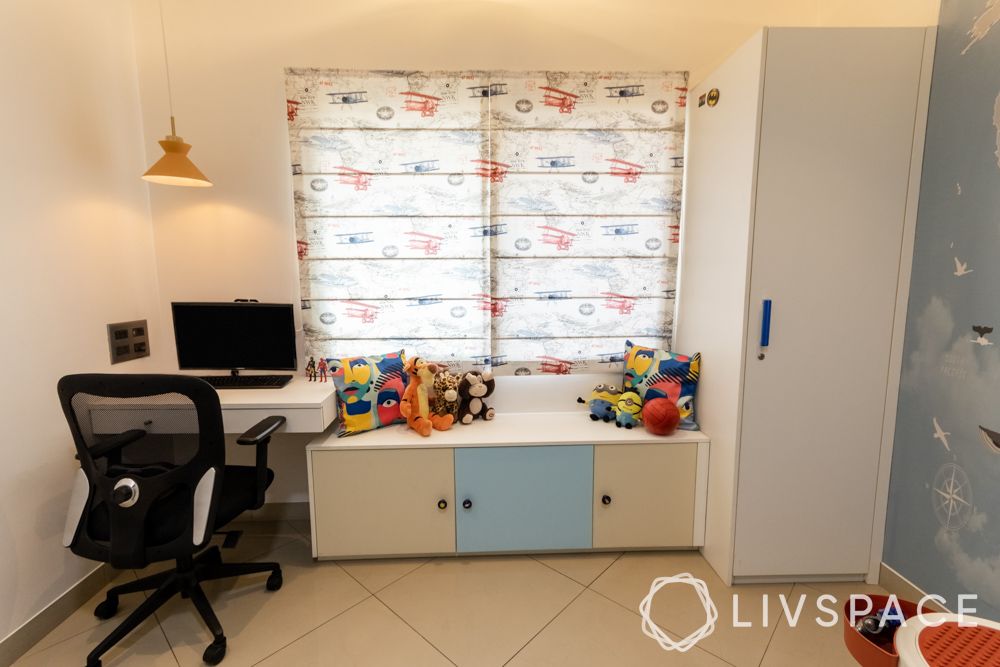 Both the work from home desks have kept things sweet and simple. However, there's one thing you might miss at first glance: the upper head cabinets for storage and the seating-cum-storage unit featured beside these desks. They help you hide clutter in a modern home while ensuring that they're stylish and functional at the same time.
Also Read: How to Create a Calming Home?
9. Go Modern With Your Kitchen
What's striking about the Victorian style interiors of this 3BHK Pune home is how it works in a modern aesthetic effortlessly without going too overboard with the Victorian influences. One case in point is the modern kitchen: all-white and all modular.
However, it still incorporates some important Victorian elements that you can miss at a glance. Victorian kitchens were usually large. They were designed to host more people and entertain.
Despite the space restraints that come with modern real estate and life in the 21st century, this Pune home has a large kitchen with a breakfast counter that's perfect for intimate meal times and a bit of entertaining.
Plus, Victorian decor might be in the rearview mirror, but most interior designers will agree on how it's still prized for its equal importance to form and function. With its own appliance garage (for dishwasher, washing machine and oven), it's a completely functional kitchen all set for the modern times.
How Can Livspace Help You?
We hope you have plenty of ideas to go Victorian with your modern home. If you want help with your beautiful interiors, then look no further. Book an online consultation with Livspace today. Have any thoughts or suggestions you'd like to share with us? We're all ears! Drop us a line at editor@livspace.com.