Mirror, mirror, on the wall – who is the grandest of them all? This royal and traditional home in Noida!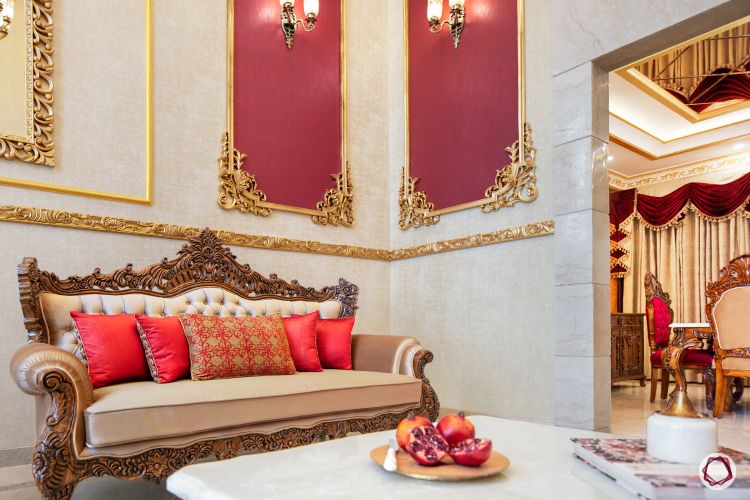 ---
Who Livs here: Uttam and Sakshi Kumar with their two sons and his parents
Location: ATS Pristine, Sector 150, Noida
Size of home: A villa with 3 floors and a terrace spannin 10,000 sq. ft. approx.
Design team: Interior Designer Ashima Razdan
Livspace service: Entrance hall, living and dining room
Budget: ₹₹₹₹₹
---
IN A NUTSHELL


Design Brief

A palatial villa that pays homage to the Victorian era

What We Loved

The use of glass and mirrors that create a mystical aura

Look Out for

— Shimmering red and gold wallpaper
— Use of solid wood and marble for the furniture
— Intricate work on the wall panels


The shimmer of gold and glint of glass has set this sprawling villa in Noida apart from its neighbouring properties. While most new homeowners are experimenting with new age concepts like minimalism and Scandinavian decor, the Kumars have settled for a villa that is unabashed in its grandeur. In between the mirrors on the wall and the glass ceiling, this traditional home looks like a palace of illusions.
Let us take a tour to fathom the secrets of this mirage-inspiring Livspace home.
Also Read: Designed Within ₹13 Lakhs, This 1,200 Sq. Ft. Noida Home Is a Pastel Paradise
#1: This Traditional Home Goes Bold With Red and Gold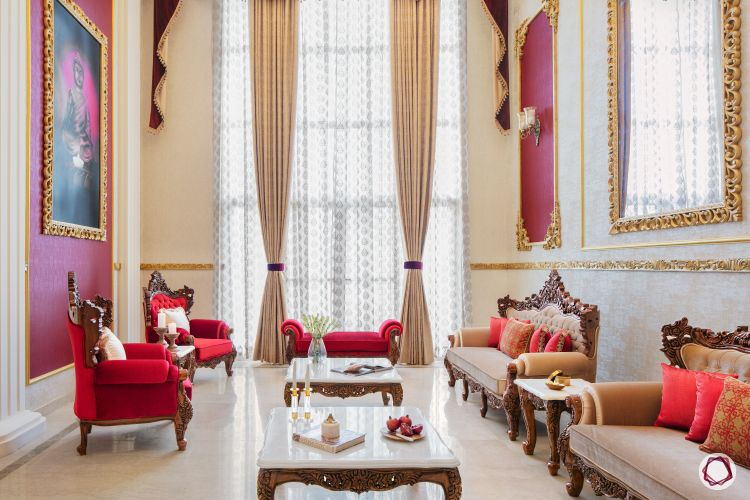 This traditional home resembles the sets of classic period dramas dating back to the 19th century. Hence, copious amounts of Victorian red and gold have been used consistently in the living and dining space to fit the grand scope of things. The walls and sofas are a mix of red and gold. The dual-layered heavy gold and sheer white curtains do justice to the enormous windows.
#2: Plush Wallpapers for a Royal Look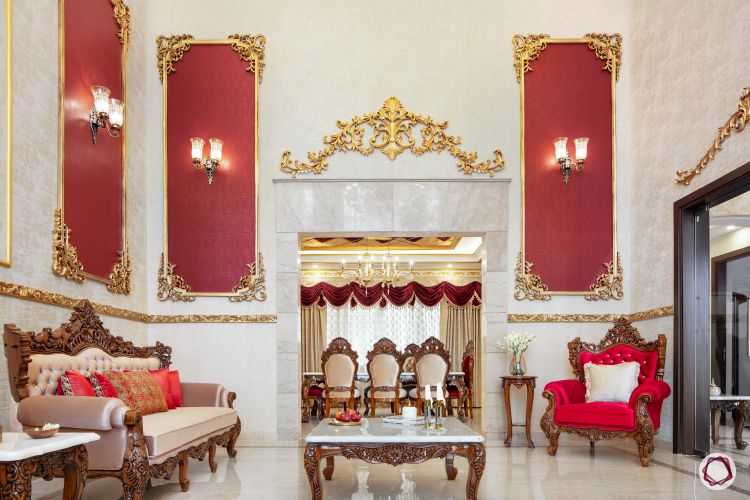 It is interesting to note that there is not a shred of paint on the walls of this traditional home; the entire place has been done up in wallpapers working around the colours red, muted and matte gold. The wallpaper has a slight gleam adding to the richness of the plush premises while the red panels on the walls and quaint lighting fixtures brew a strong infusion of old world charm.
#3: Tons of Glass That Will Remind You of Rajasthani Palaces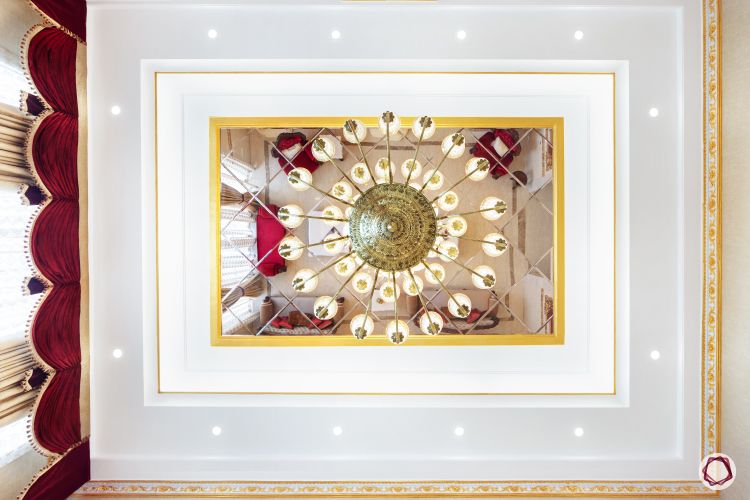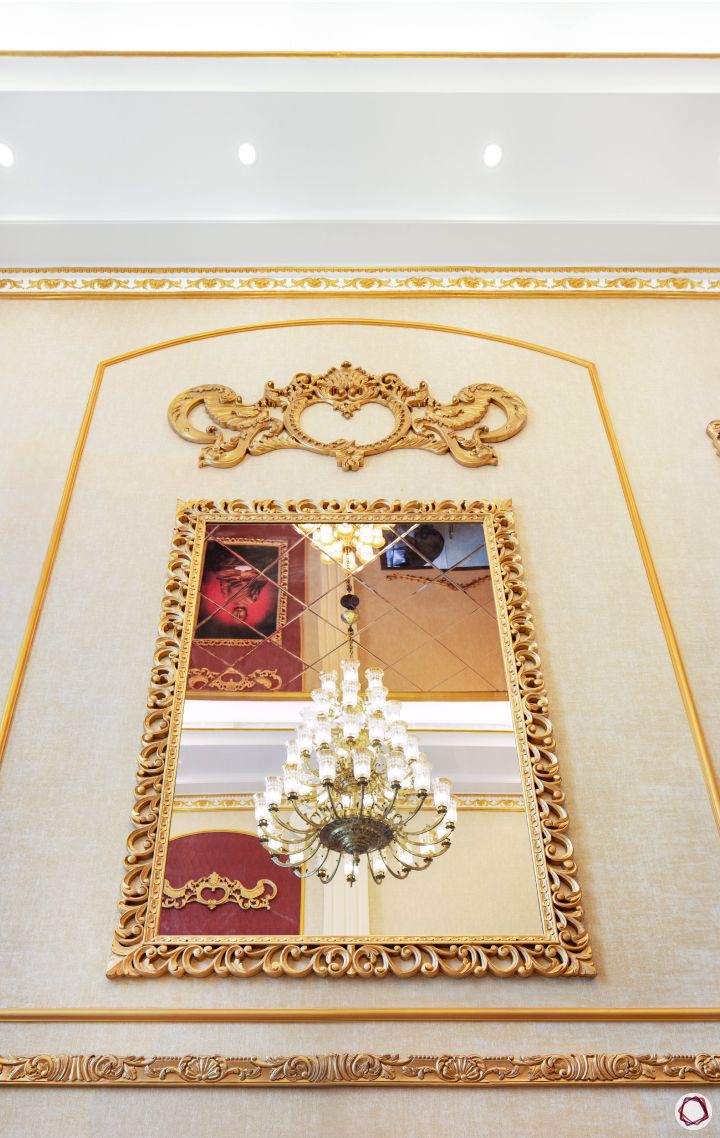 The Kumars' household mimics the legendary Rajasthani palaces with jharokas and shimmering chandeliers. Gold-rimmed mirrors have been placed strategically to reflect the grandeur of an elaborate chandelier. The 23 foot ceiling is adorned with shards of coloured glass.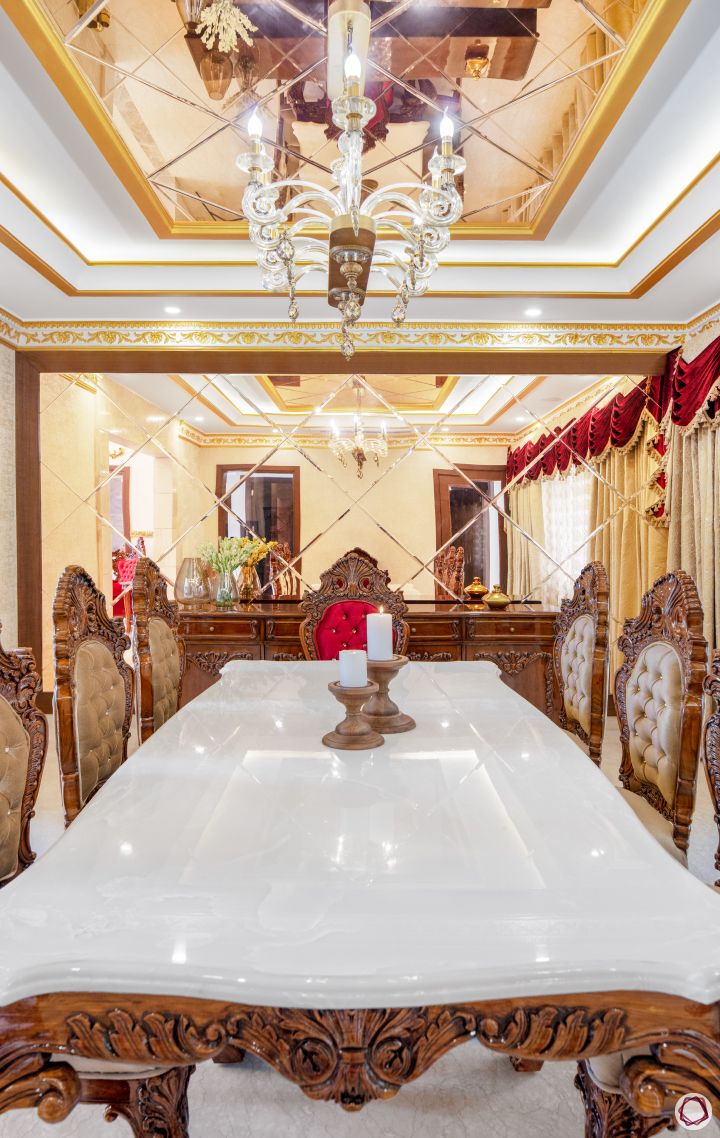 The chandelier in the dining room is a slightly contemporary version of the one in the living room. The dining room also has a wall-length mirror that creates optical illusions.
#4: Vibrant Velvet Meets Solid Wood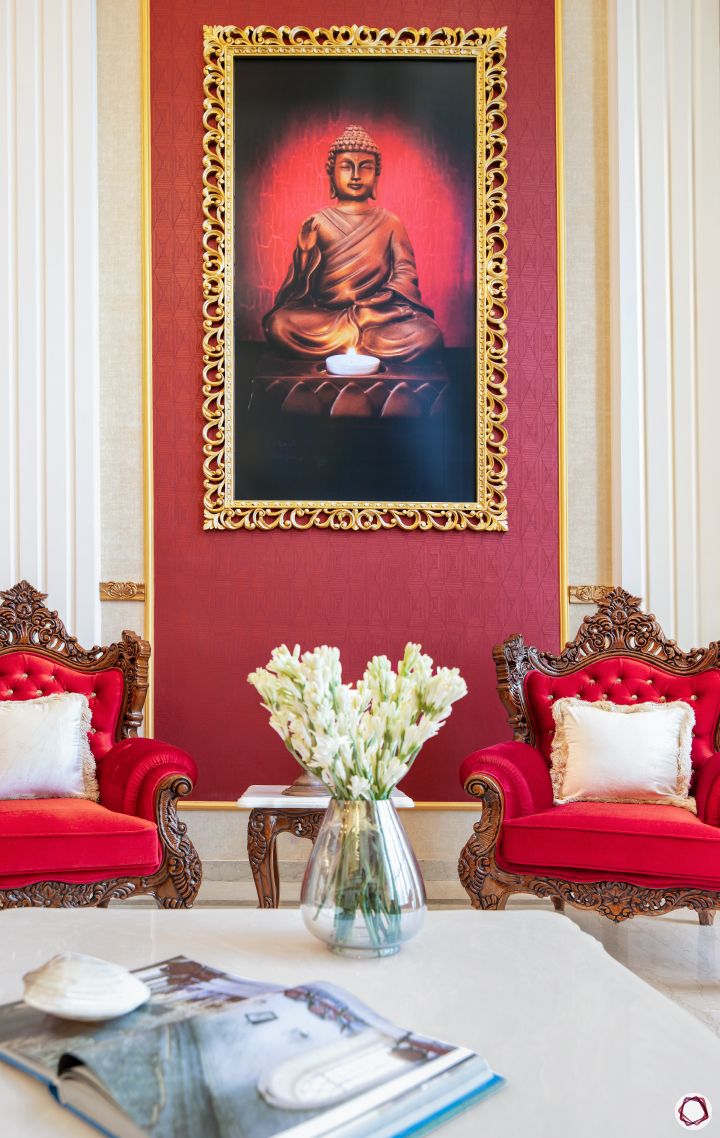 The upholstery on the sofas and dining chairs is rich velvet, giving the space an air of regality. White marble table tops enhance the splendour of this traditional home. Nothing other than high-quality wood could have set off the positively imperial settings of this house. The baroque borders of the wall panels and mirrors also comprise solid wood with gold polish.
"Mr Uttam Kumar and his wife Sakshi decided to swim against the tide by opting for an ornately traditional home when everyone these days goes for contemporary designs. They liked the colour scheme at once and the design process evolved organically from there. I feel privileged to have had the opportunity to work on this one of a kind project."


– Ashima Razdan, Interior Designer, Livspace
Also Read: Designed Only Under ₹11 Lakhs, This Home in Cleo County, Noida Is Minimal and Amazing
How Can Livspace Help You?
We have delivered over 75,000+ happy homes
Our expert design team can give you your dream home design
We promise high-quality and durable materials
If you want beautiful interiors for your home, then look no further. Book an online consultation with Livspace today. Additionally, you can also visit us at the Livspace Store in Noida. Have any thoughts or suggestions you'd like to share with us? We're all ears! Drop us a line at editor@livspace.com.
Disclaimer: All contents of the story are specific to the time of publication. Mentions of costs, budget, materials, finishes, and products from the Livspace catalogue can vary with reference to current rates. Talk to our designer for more details on pricing and availability.
Please note that the designs showcased within the story are subject to availability and will vary based on the year the homes were designed in. Consult our designers for more details on the latest designs.