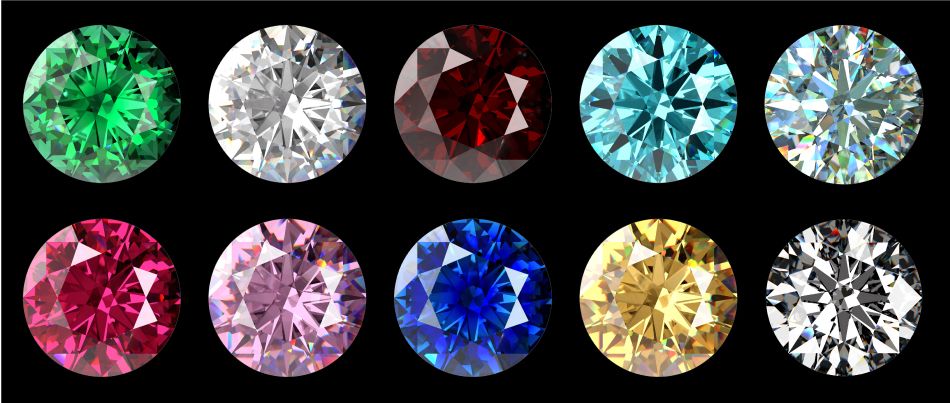 Jewel tones, if we were to look at colours as a family, are the more extravagant cousins of everyday colours. In fact, there's a jewel tone for nearly every colour on the spectrum. Red transforms into ruby and blue into a cool sapphire. Moreover, forest green becomes a luxe emerald and yellows, a sunkissed amber. Hence, jewel-toned interiors are far from outdated– if anything, they're a timeless interior design choice. Here are some of our favourite jewel inspired interiors, along with how to achieve the look:
Jewel Toned Home Decor #1: Glam Up the Walls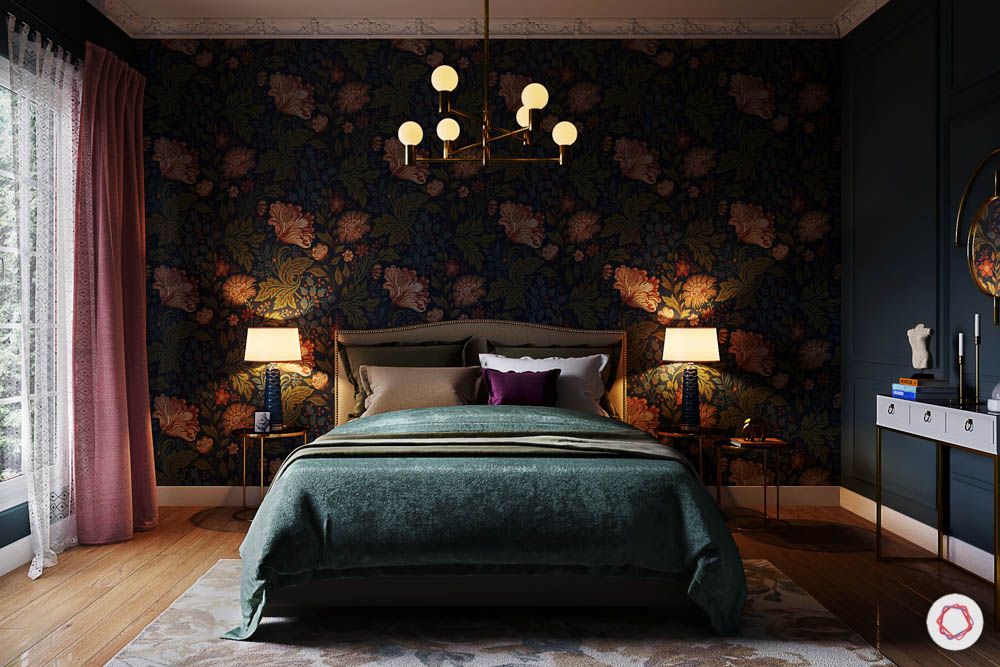 For a distinctly regal touch, a dark sapphire blue is the way to go; floral wallpaper featuring similar tones takes the drama up a notch. This backdrop will make anyone feel they're living the luxe life!
Jewel Toned Home Decor #2: Match Colour and Texture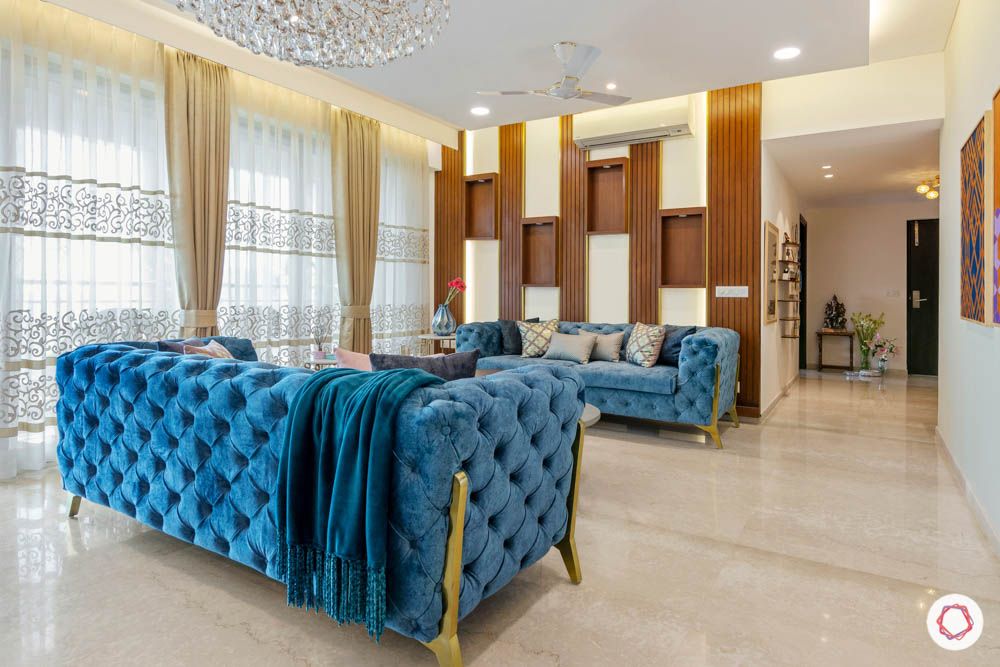 In this home, the topaz blue quilted settees are rimmed by gold legs and framed by an equally luxe interior setup. Therefore, to keep the focus on the settees, all other colours have been paired down to neutral or white.
Jewel Toned Home Decor #3: Use Jewel-toned Splashes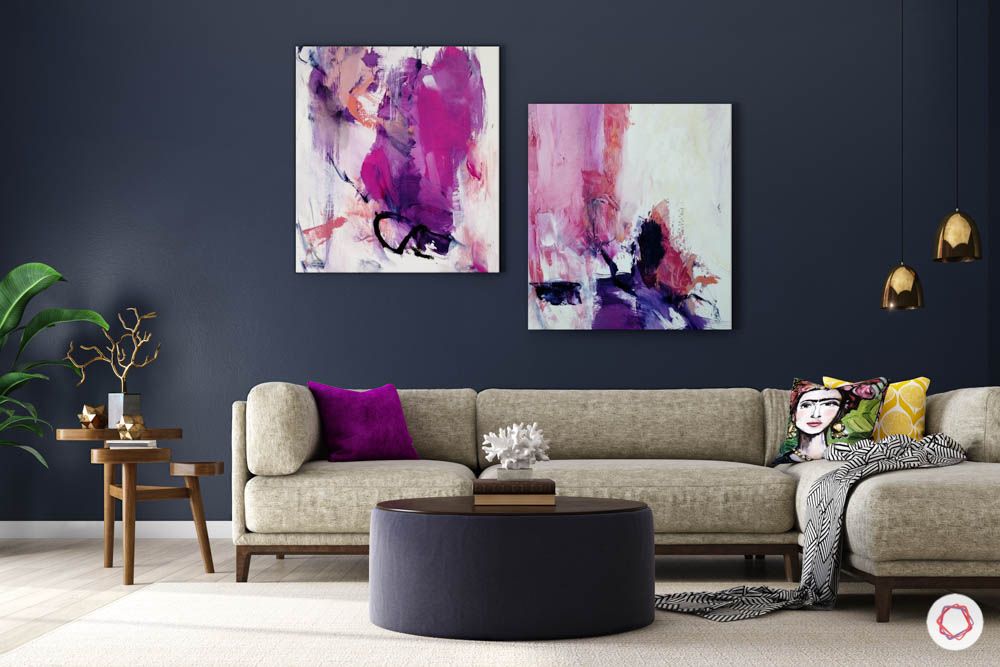 A clever way to introduce jewel toned interiors without overwhelming a compact space is to bring it in splashes and touches. Furthermore, in this room, the pared-back wall is flanked by ametrine-hued wall art and complementary cushions.
Jewel Toned Home Decor #4: Mirror it Up
As if jewel tones weren't enough, this bedroom also features floor-to-ceiling mirrors that extend the grandeur of the space. Despite being vivid in colour, the wall ties in well with the soft furnishings on the bed and the floor.
Jewel Toned Home Decor #5: Pack a Punch with Accessories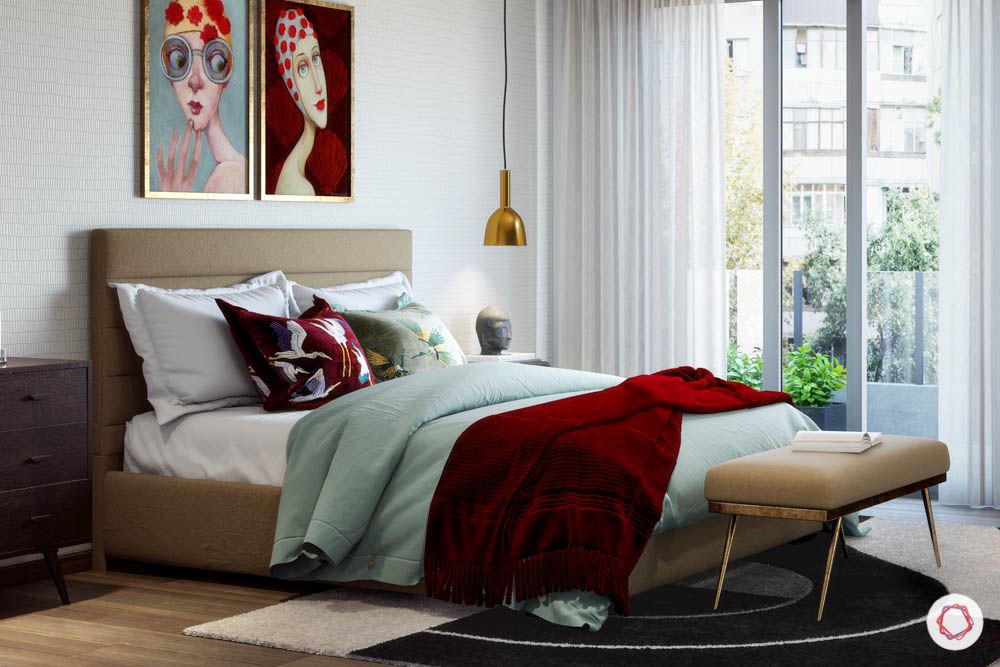 A rich ruby hue dominates in this bedroom, in the form of the armchair, throw blanket and artwork. In contrast, the muted mint hues both complement and elevate the jewel toned palette.
Jewel Toned Home Decor #6: Turn Up the Soft Furnishings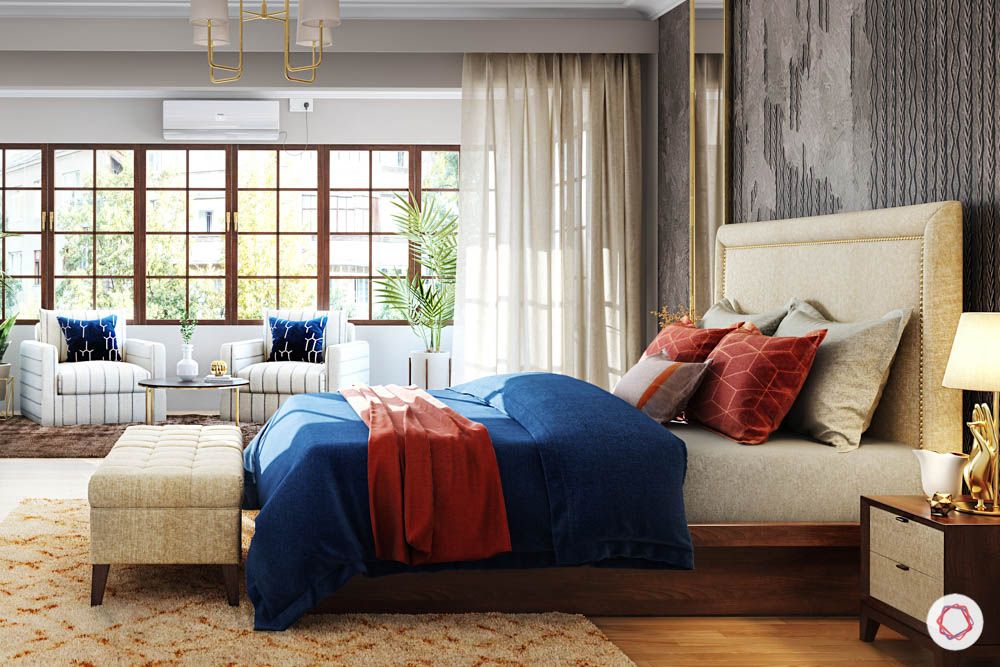 Neutral furnishings and walls make the perfect base for the vivid jewel tones used in the soft furnishings. Subsequently, the quilted pouffes ensure the colours are cleverly diffused.

Jewel Toned Home Decor #7: Channel Jewels Through Upholstery
A sure shot way to channel jewel toned interiors without breaking the bank is to bring the colours in through upholstery– specifically, seating. Moreover, in this room, the green garnet sofa ties in with the ottoman and is enlivened by the amber armchair.
Jewel Toned Home Decor #8: Throw in Some Gold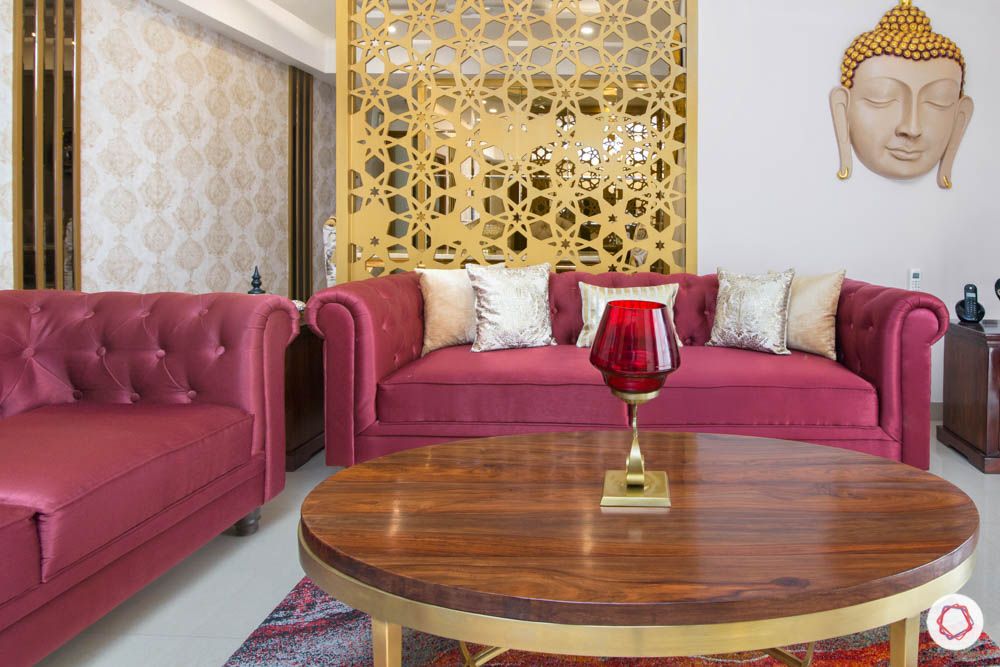 Nothing spells luxe quite like gold and jewels– and, like this living room setup displays, gold and jewel tones look stunning when paired together.
Jewel Toned Home Decor #9: Use Colour Harmonies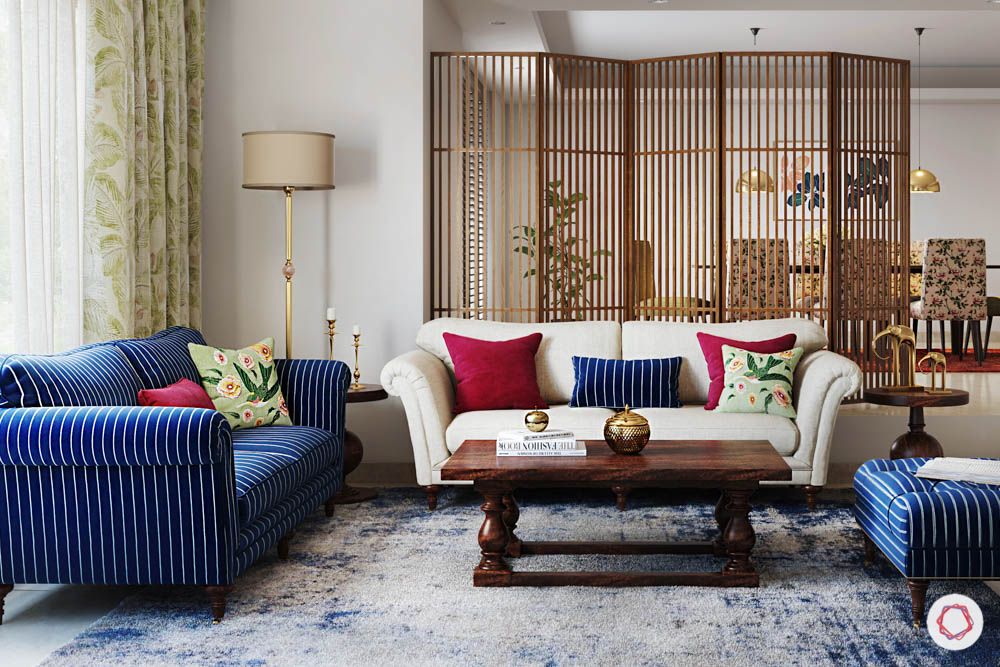 This living room displays a triadic harmony of blue, red and touches of yellow, representing a colour harmony that isn't conventional but still attractive.
Jewel Toned Home Decor #10: Opt for Vibrant Furniture
Jewel tones don't often mean muted colours– they can also be quite carnivalesque, as in this living room. A tangerine orange is pared down by luxe gold and regal blue tones.
Jewel Toned Home Decor #11: Brighter and Bolder Colours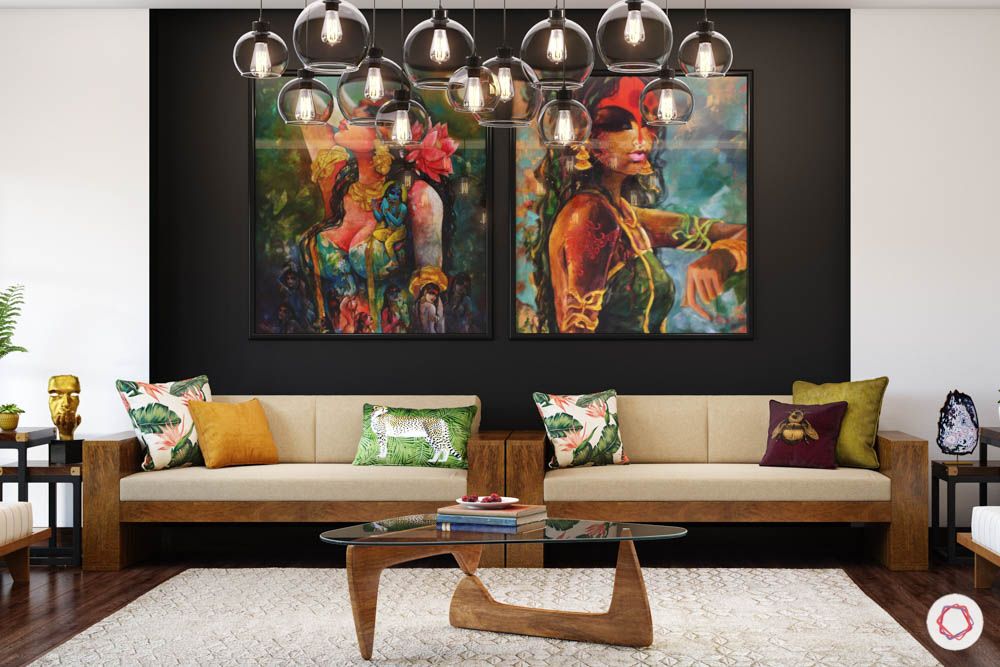 There's no upper limit to how bright you want your colours to be. However, in this room, the jewel tones are focused on in the artwork and touched upon across the room in the form of throw cushions.
Jewel Toned Home Decor #12: Neutral Interiors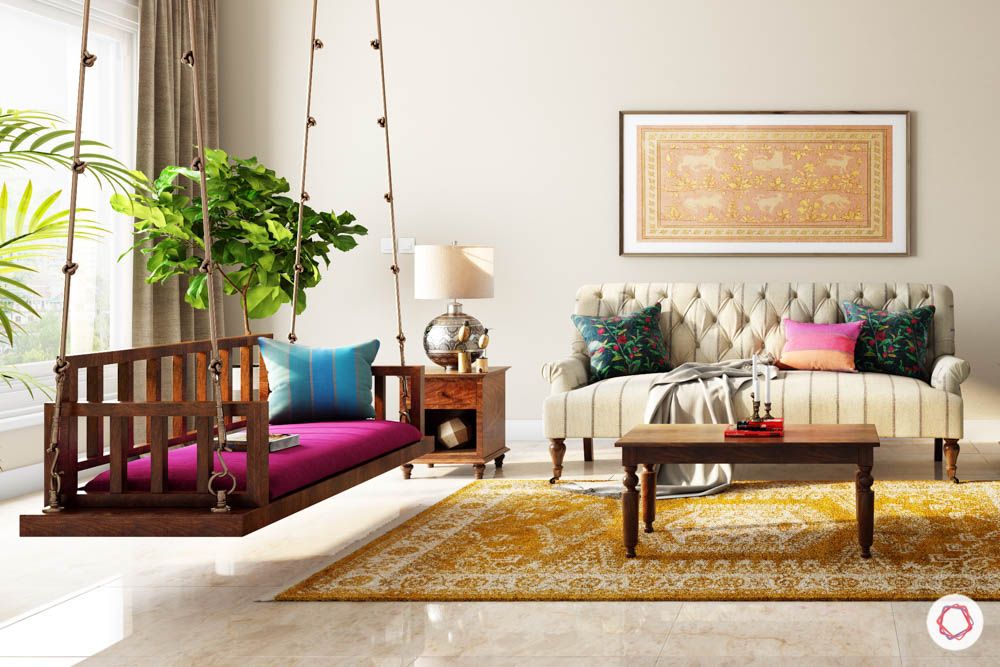 In this room, the traditional swing and facing armchairs hold all the jewel tones, allowing the rest of the space to be decidedly neutral.
Jewel Toned Home Decor #13: Play with Fabrics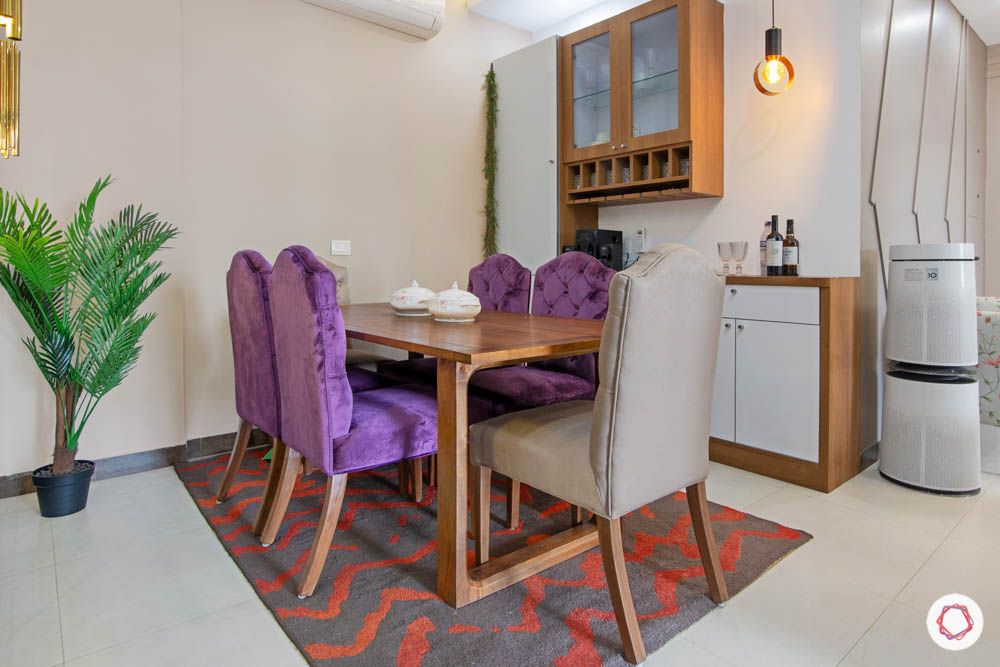 For a touch of pizzazz to already intense jewel tones, introduce stronger textures. Consequently, in this dining room, the chairs are decked out in an amethyst velvet that ties in with the adjoining space.
Jewel Toned Home Decor #14: Use Lighter Colours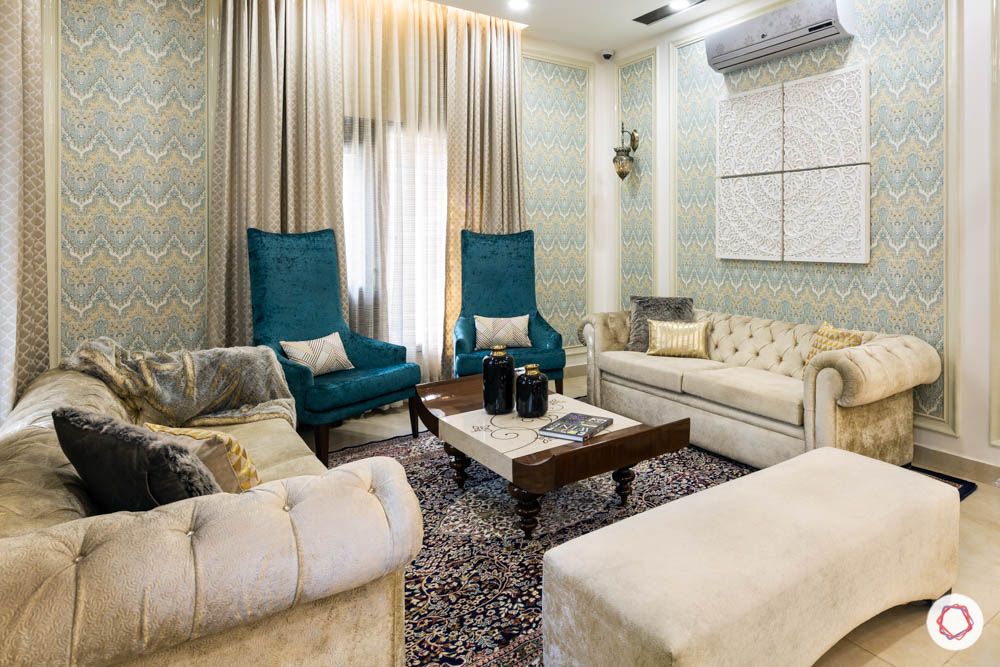 Lighter colours often provide a sense of grandeur and airiness. In this living room, plush velvet meets milky opalescent colours that are also reflected in the wallpaper.
Jewel Toned Home Decor #15: Accessorise with Curtains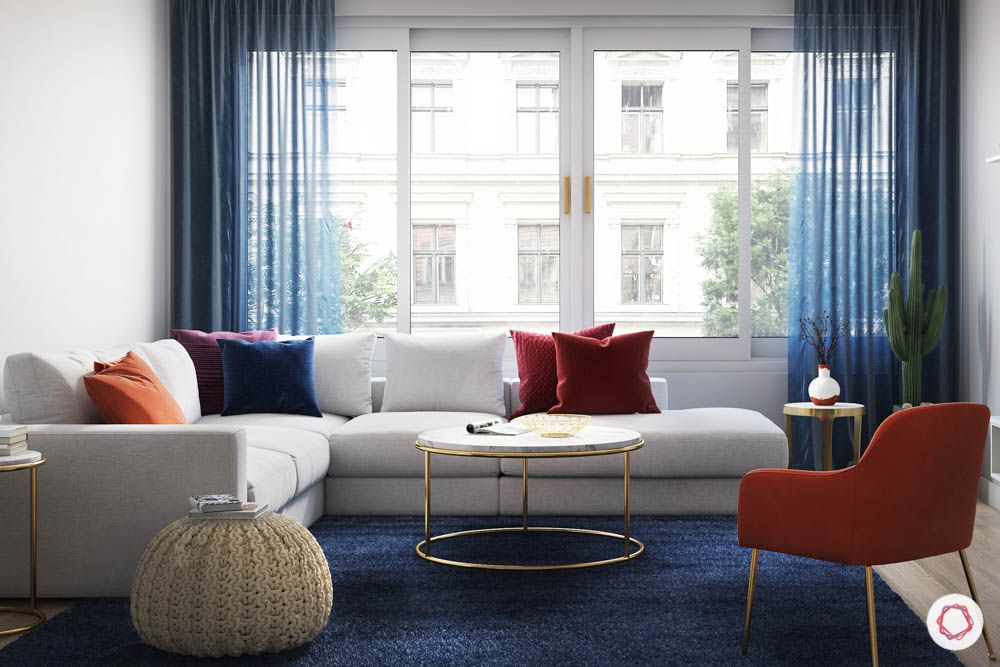 Jewel toned interiors can also be achieved by way of rugs and curtains, as in this living room. Subsequently, gold tables and chair legs add pizzazz.
If you found this article helpful and you are wondering what else you can do with your home interiors? Take a look at: What's Hot in Interiors This Year?
Send in your comments and suggestions.