There is something incredibly comforting about returning home after a long day of work and collapsing on our cosy bed. Not only is your bed a safe haven, it is also an important piece of your bedroom décor. Often, people tend to downplay the importance of an elegant bed, thereby destroying the look of the bedroom. So, here we have compiled a list of beautiful bed decor for every type of bedroom.
Types of Bed Decor
Bed Decors Idea #1: Wooden Four Poster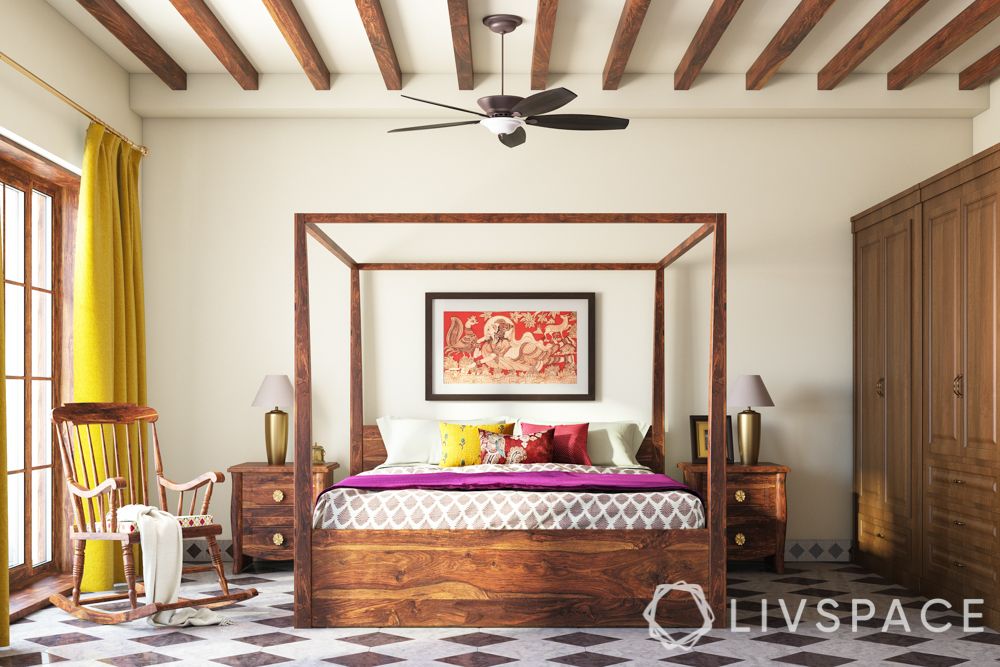 What's better than a four-poster bed? A wooden four-poster bed! If you love everything vintage, then go for a spacious four-poster bed in solid wood. Keep it simple with neutral bedding and some pops of colour in the form of pillows.
Bed Design Idea #2: Dazzling Jewel Tones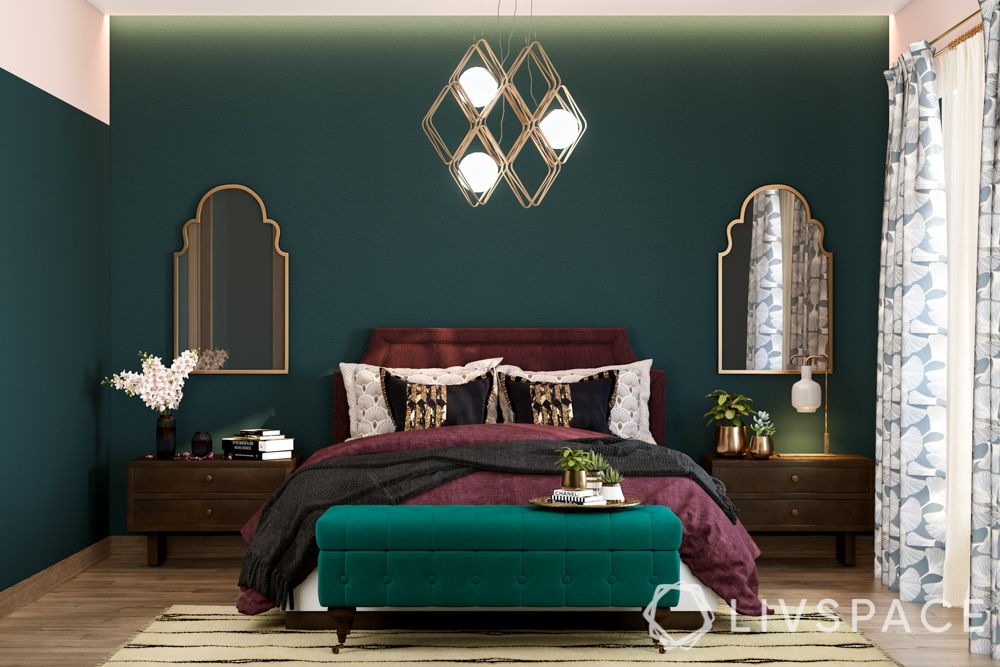 We can't take our eyes off this stunning jewel-toned bed! From emerald greens to ruby reds, this is the perfect bed decor inspiration if you want something bold and glamorous.
Bed Decors Idea #3: Unique Curved Headboard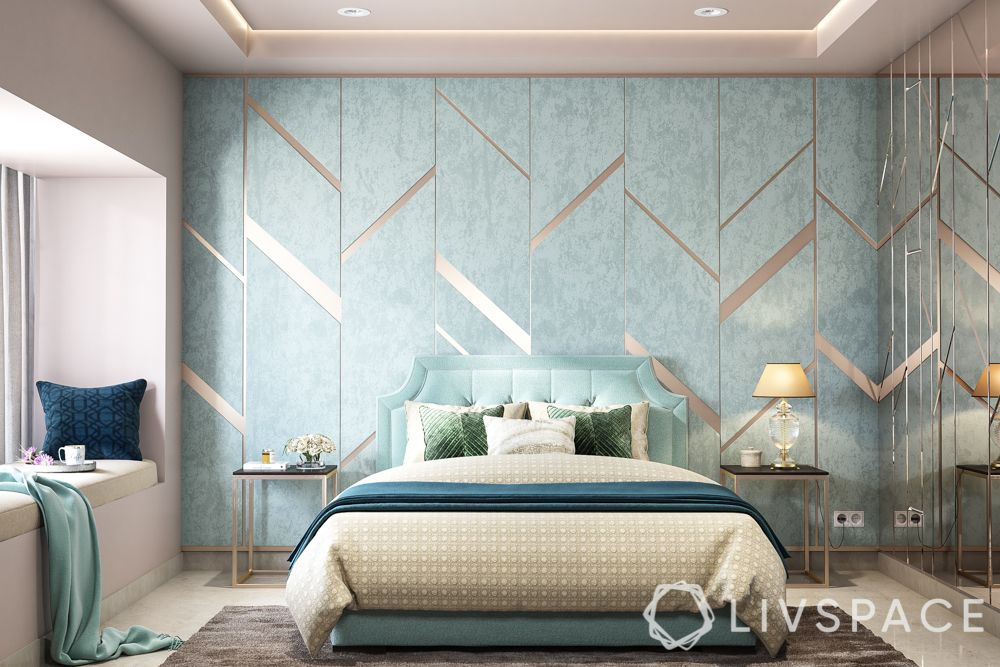 The headboard is an important component of your bed as it can completely change the look of the bed. Thus, if you have a basic bed but want to add a unique element, go for a curved headboard. These are not only comfortable but also look gorgeous.
Bed Design Idea #4: Magical Fairy Lights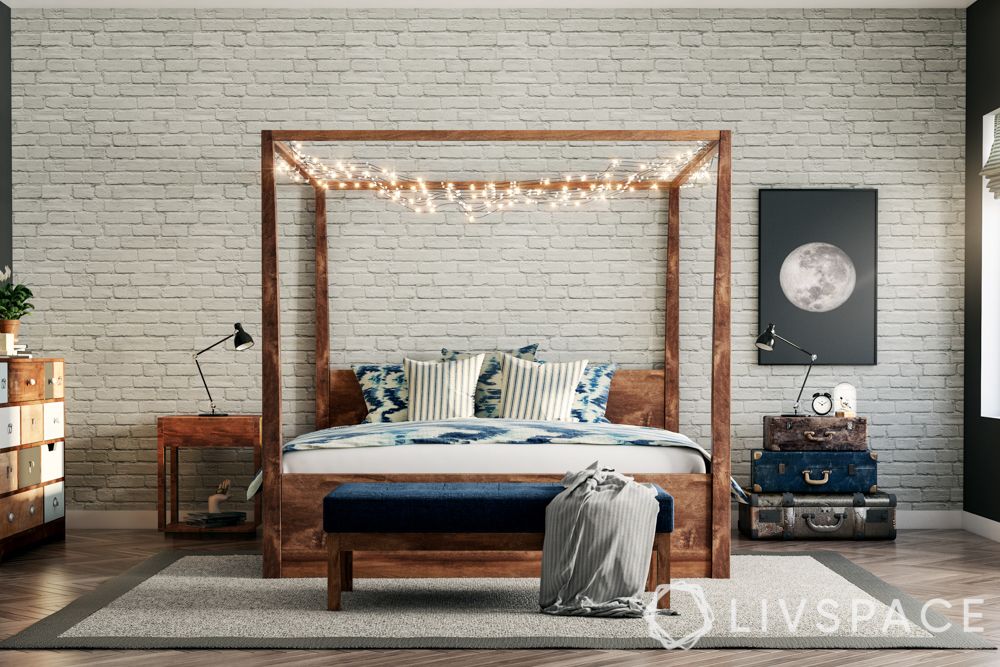 Want to add some oomph to your bed without spending too much? Just hang some pretty fairy lights like a canopy. These are cheap, easy-to-implement and can instantly change the mood in your room!
Bed Decors Idea #5: Sleek and Contemporary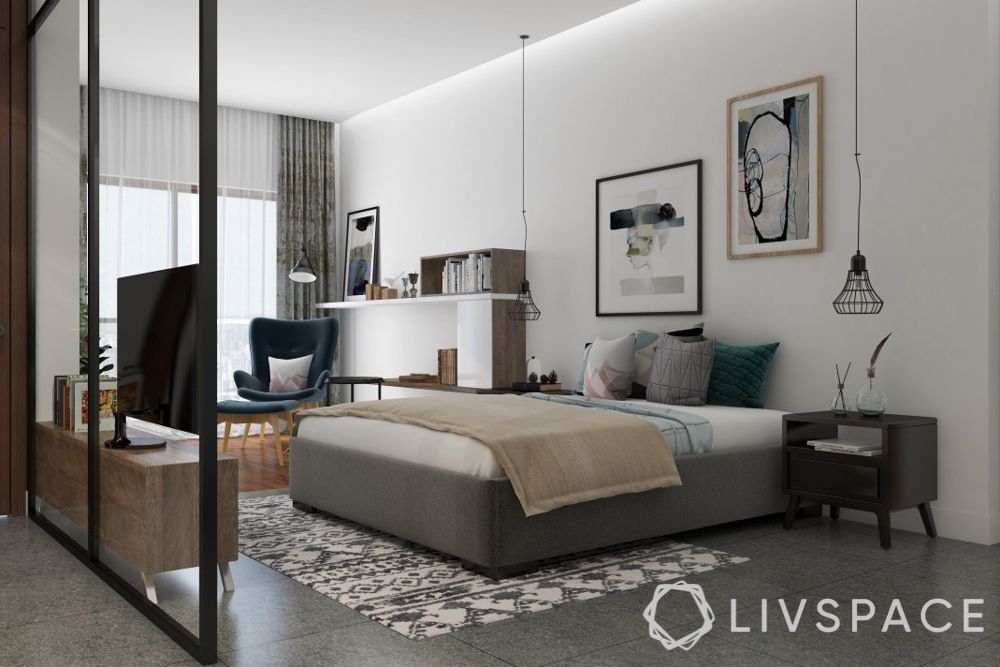 Considering that most of us live in modern apartments, it makes sense to choose a bed decor style that is contemporary. This simple bed is sleek, elegant, and comes with ample space. Choose neutral bedding in shades of grey and white to keep it modish.
Bed Design Idea #6: Modern Pastels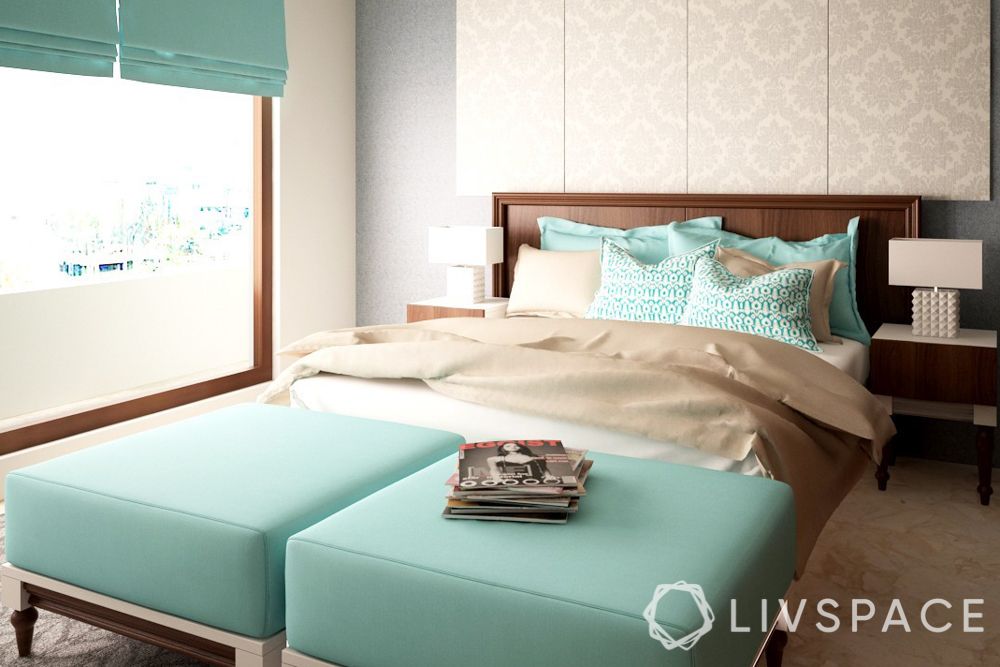 Pastels were a hit in 2020 and will continue to be so in 2021. This mint-green bed is a breath of freshness! The combination of neutral hues and pastel shades can never go wrong!
Bed Decors Idea #7: Fun Naval-Themed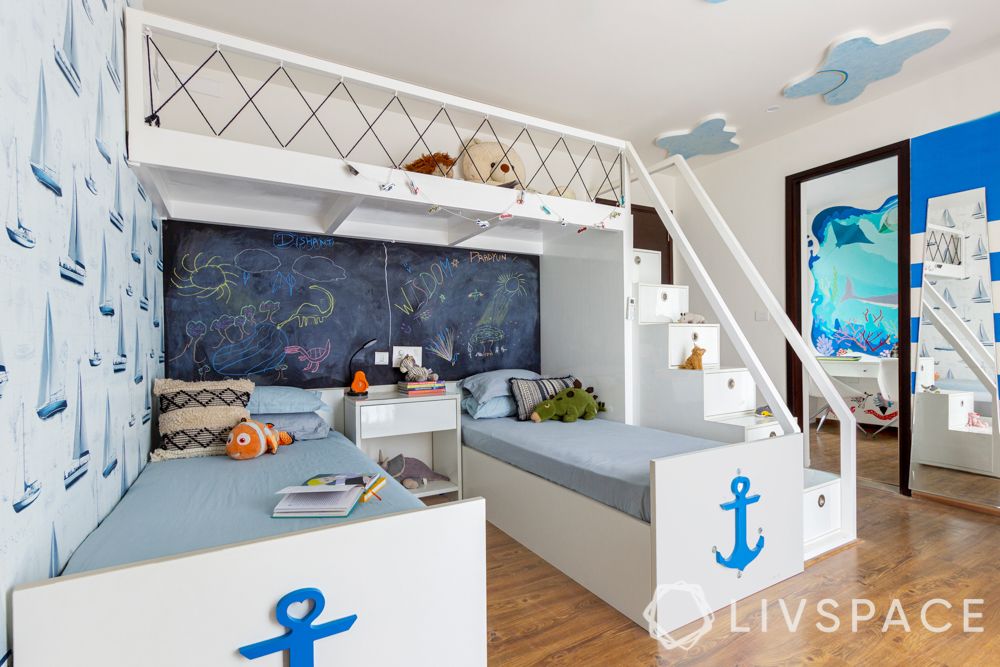 Looking for bed decor ideas for children? Your kids will love these navy-themed bunk beds! These beds are cute and perfect for a child's room.
Bed Design Idea #8: Headboards and Ottomans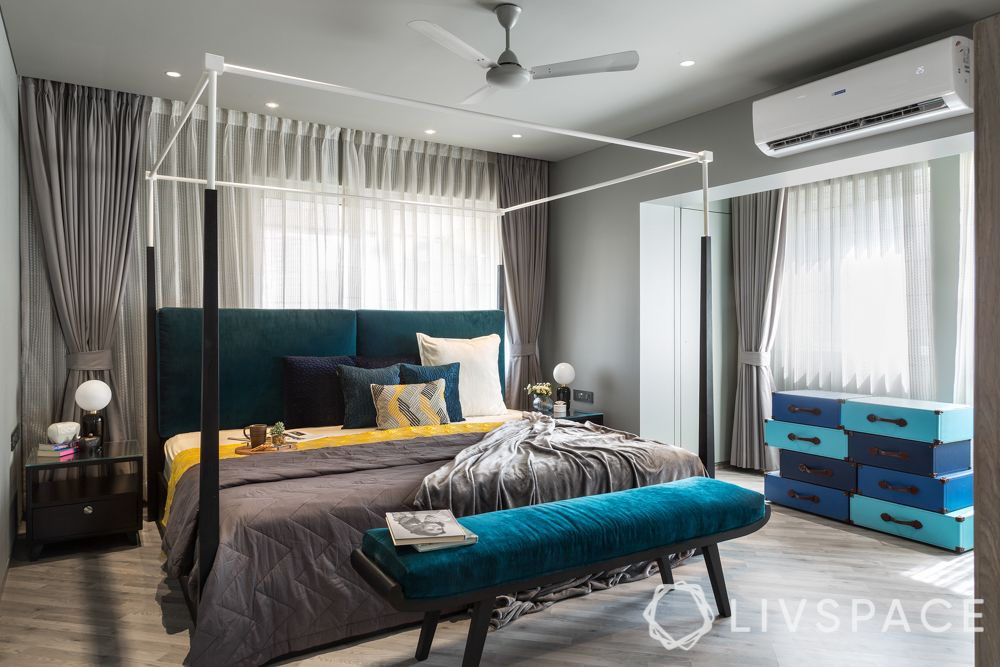 An easy way to dress up your bed is to add a striking headboard and an ottoman. We love how this teal headboard and ottoman set adds a touch of opulence to this bed's overall aesthetic.
Bed Decors Idea #9: A Dreamy White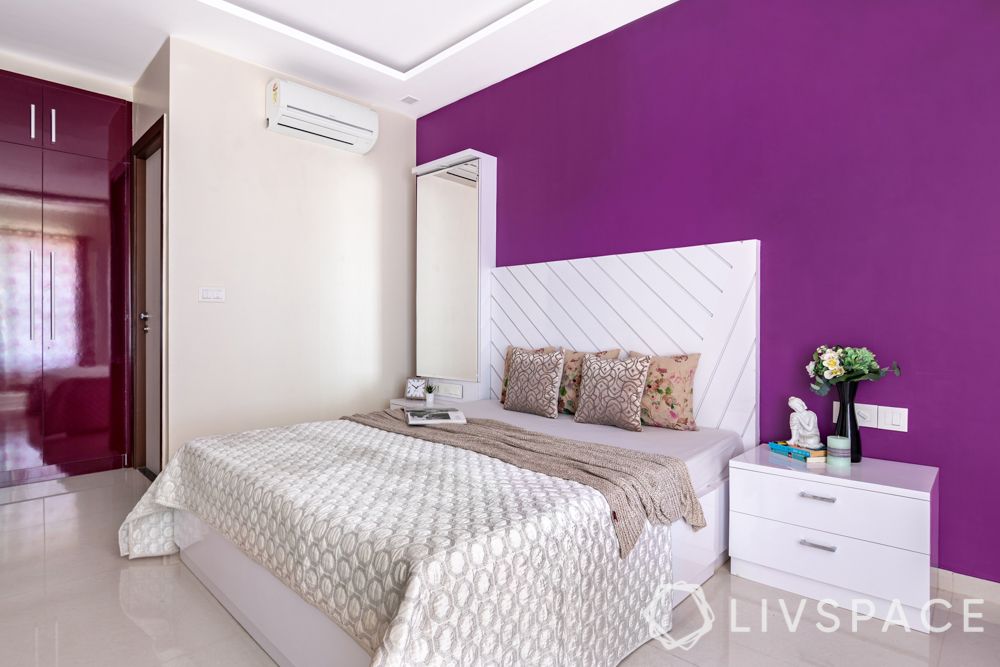 Nothing spells elegance as well as the colour white! If minimal is the look you want to go for, get yourself a pristine white bed! Pair it with beige bedding to keep it simple yet refined.

Bed Design Idea #10: Space-Efficient Platform Bed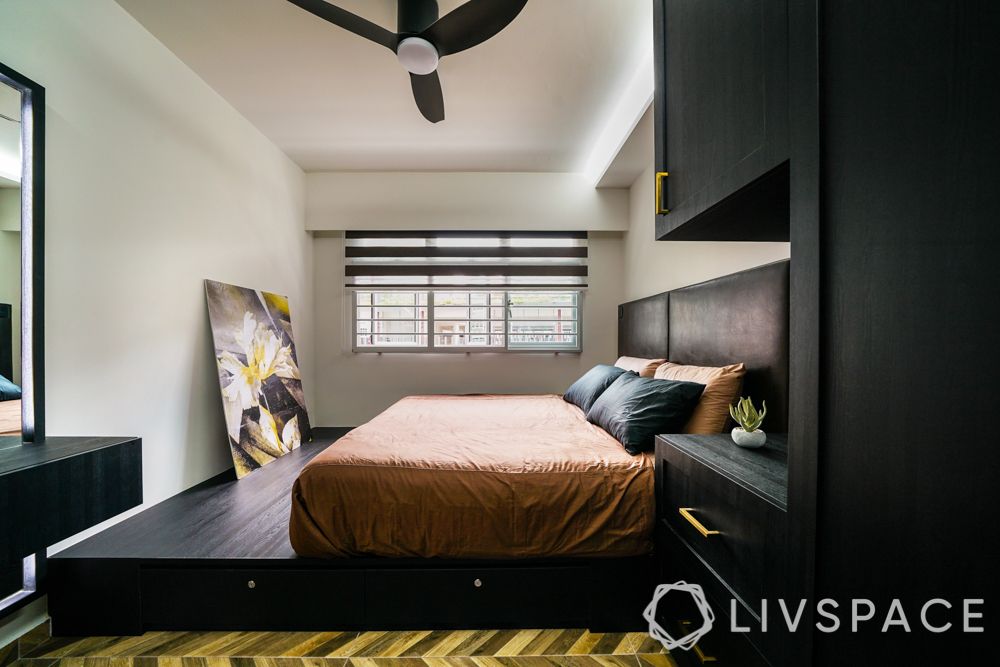 If you want to add some drama to your bed décor, why not opt for a platform bed? Platform beds not only look fashionable but are also a great option for compact bedrooms.
If you want to add some drama to your bed décor, why not opt for a platform bed? Platform beds not only look fashionable but are also a great option for compact bedrooms.
Bed Decors Idea #11: Traditional & Old-School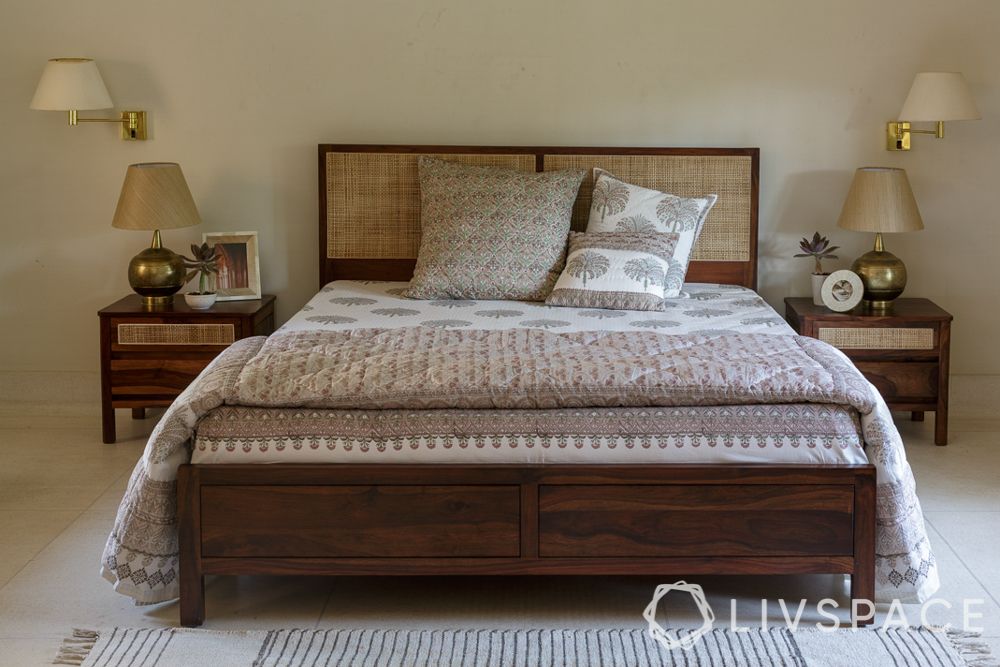 While we love modern designs, there is something special about a traditional bed. If you have a vintage bed from your grandma's times, give it a makeover with some ethnic bedding and traditional Indian side tables. This will lend some old-world charm to your room!
Bed Design Idea #12: Functional Sofa-cum-Bed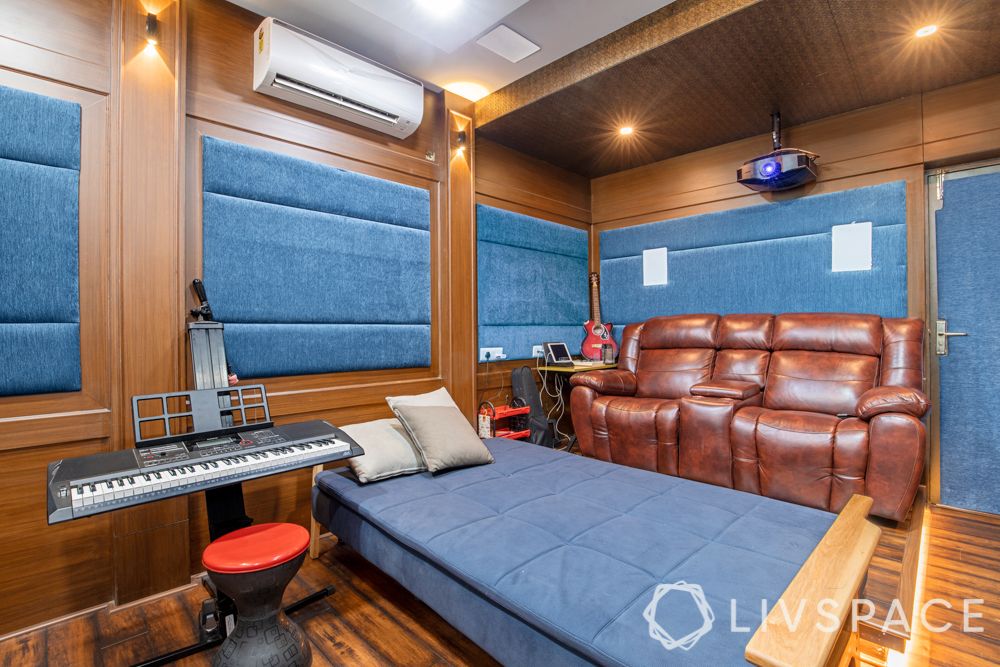 Another innovative bed decor idea is a sofa-cum-bed. This is also a great idea if you lack space but need both seating and a bed. Nothing beats the combination of design and utility on this one!
Bed Decors Idea #13: Pretty Ombre Drapes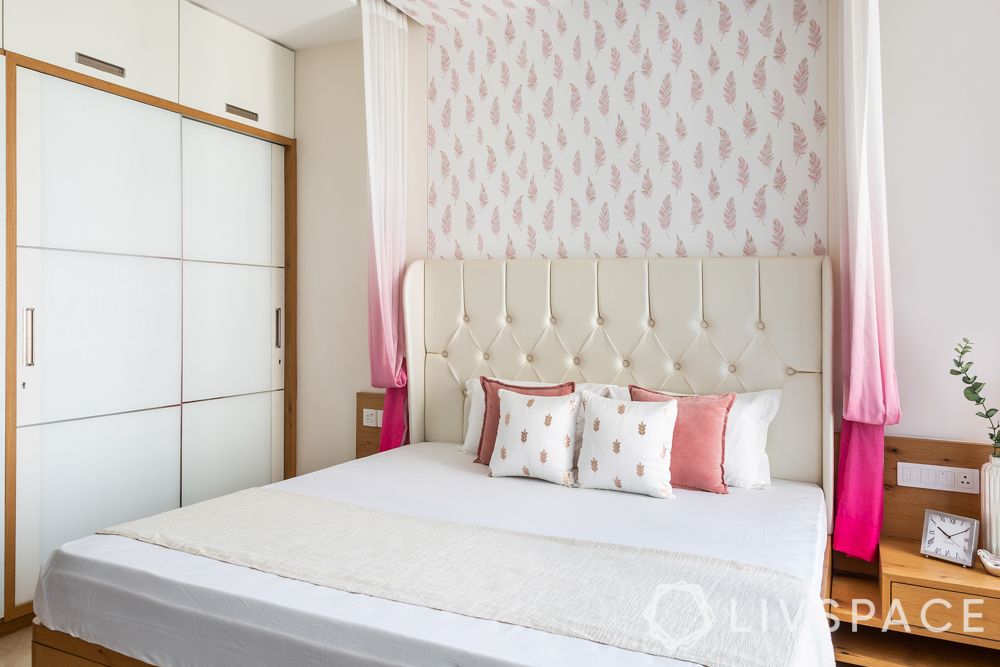 Getting a new well-designed bed might not be a feasible idea for everyone. If you already have a bed and just want to beautify it, add some pretty ombre drapes. These pleasant pink drapes are what sweet dreams are made of!
Bed Design Idea #14: Elegant Overhead Lighting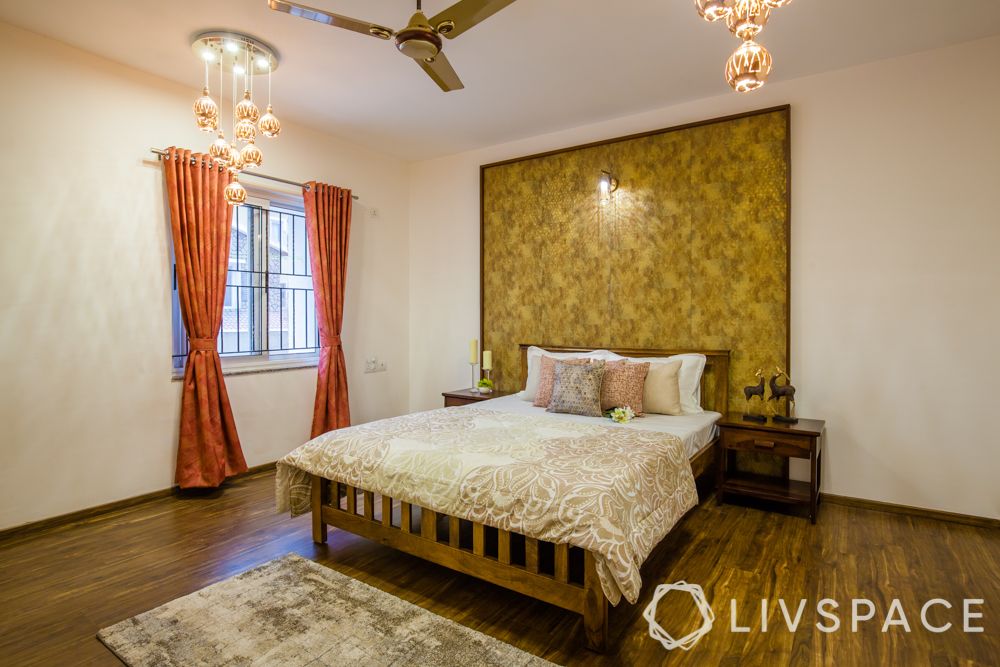 Are you an avid reader and love to curl up in bed with your favourite book? Then protect your eyes from strain by installing a bright pendant light above your bed.
Bed Decors Idea #15: A Play of Blues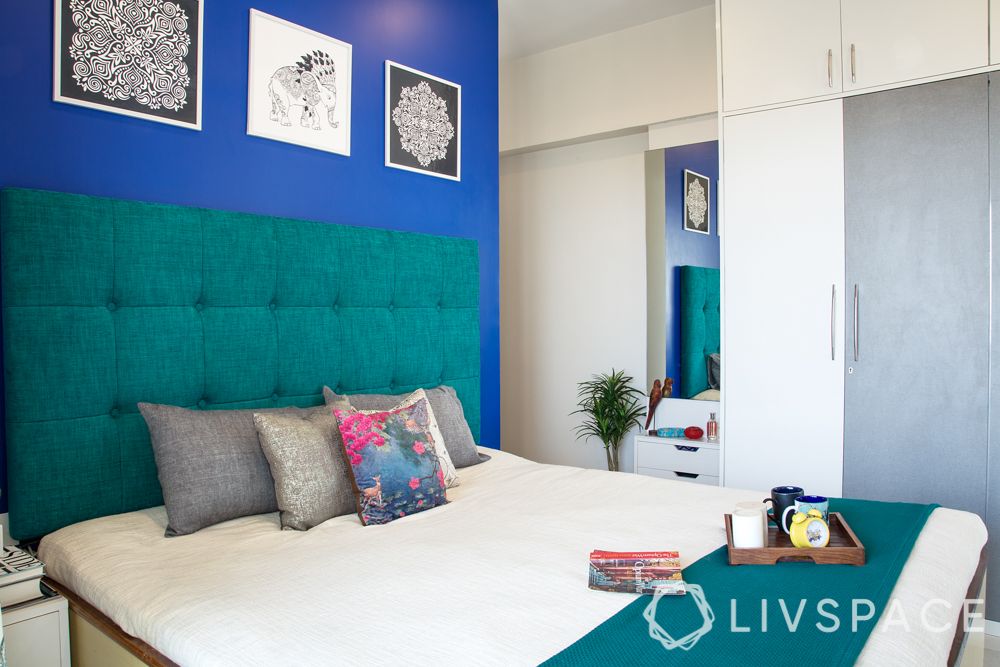 Blue is one colour that can brighten up any bed or bedroom. For example, take this stunning teal-toned bed! Paired with the royal blue wall and neutral bedding, this bed gives off distinctly Moroccan vibes.
What are the Essentials of a Bed Design?
A great bed is not only about the decors. There are multiple components that go into making an awesome bed. Here are the essentials of a bed that is comfortable and conducive to a great night's sleep.
#1: The Bed
Obviously, the bed you choose plays the primary role in ensuring you are well-rested. Now, there are several types of beds you can choose from. The decision, at the end of the day, depends on your taste and requirements. Here are some of the most popular bed styles:
Four-Poster Bed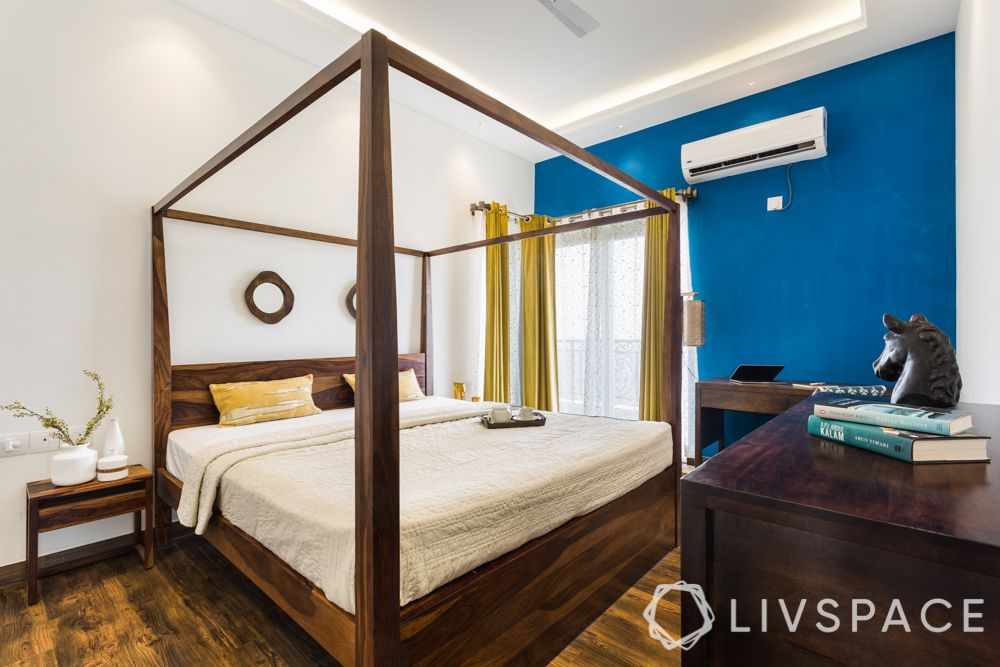 Dating back to the Middle Ages, the four-poster bed has significantly evolved in design over the years. Cosy and chic, the four-poster bed is a great option if you want to add some old school charm to your bedroom.
Open-Frame Bed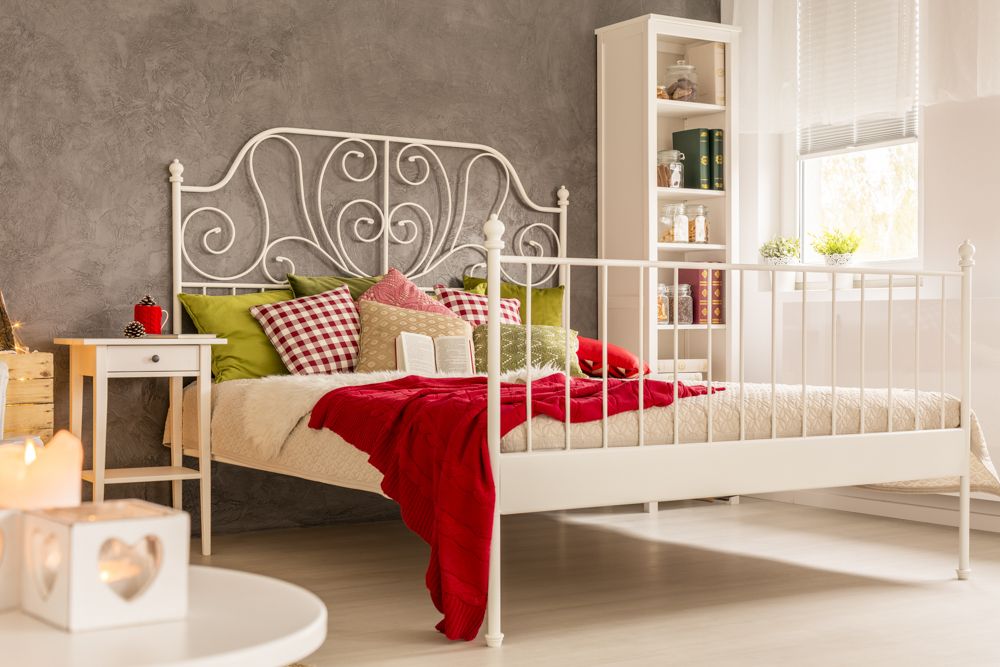 Love contemporary but still want a rustic touch? An open-frame bed is the perfect crossover of modern minimal and Victorian styles. These beds fit in with almost all interiors and are very spacious.
Bunk Bed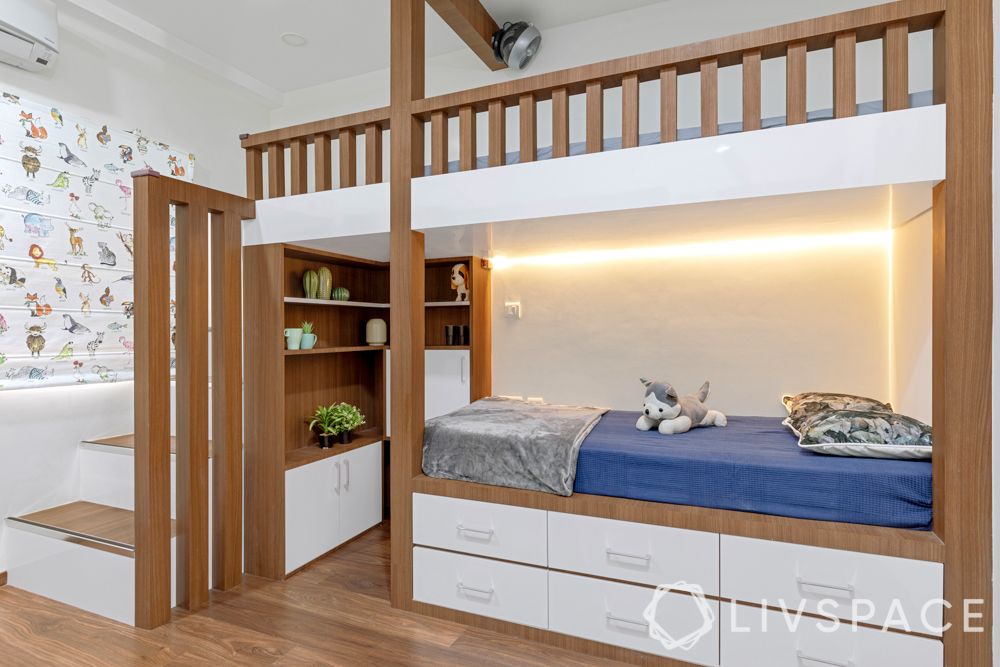 Bunk beds are commonly seen in kids' bedrooms. These cute designs are compact, do not take up too much space, and come with plenty of storage. Bunk beds can also be designed according to a particular theme to make them fun and quirky.
Wooden Bed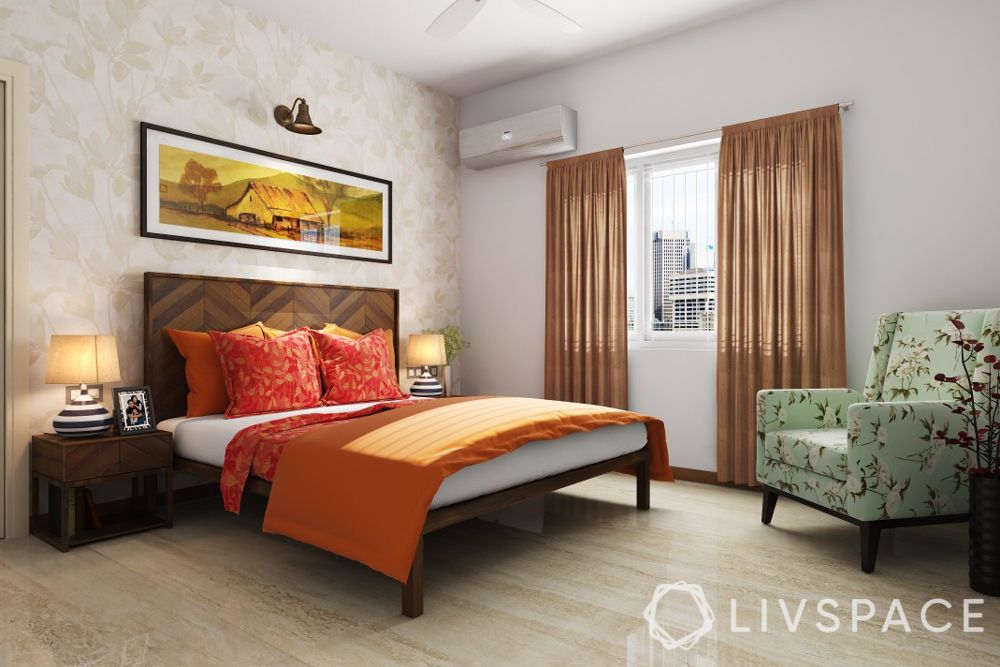 This is probably the most common type of bed decor, especially in older houses. If you are looking for a bed that is sturdy and long-lasting, then a wooden bed is the best option. Plus, solid wood beds look warm and inviting. What more could you ask for from a bed?
#2: The Bedding
While the bed itself is important, the bedding is what actually decides the complete look of a bed. Here are the important components of bedding:
Bedsheet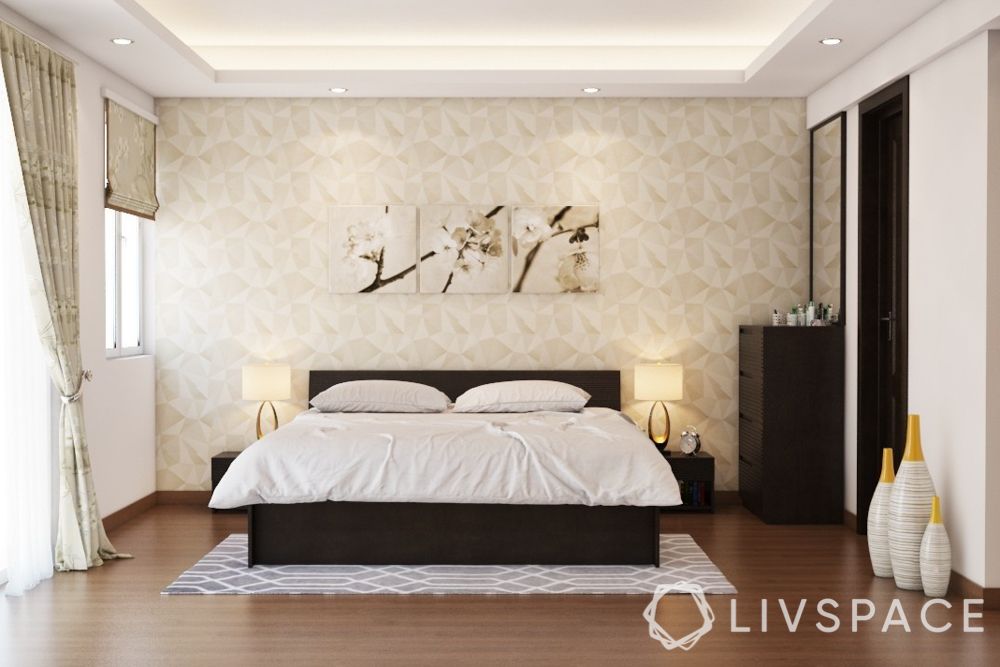 The bedsheet, also known as the fitted sheet, covers the mattress. This layer keeps the mattress clean and ensures your comfort. It is important to find a bed sheet that is the perfect fit for your mattress to ensure optimal comfort.
Duvet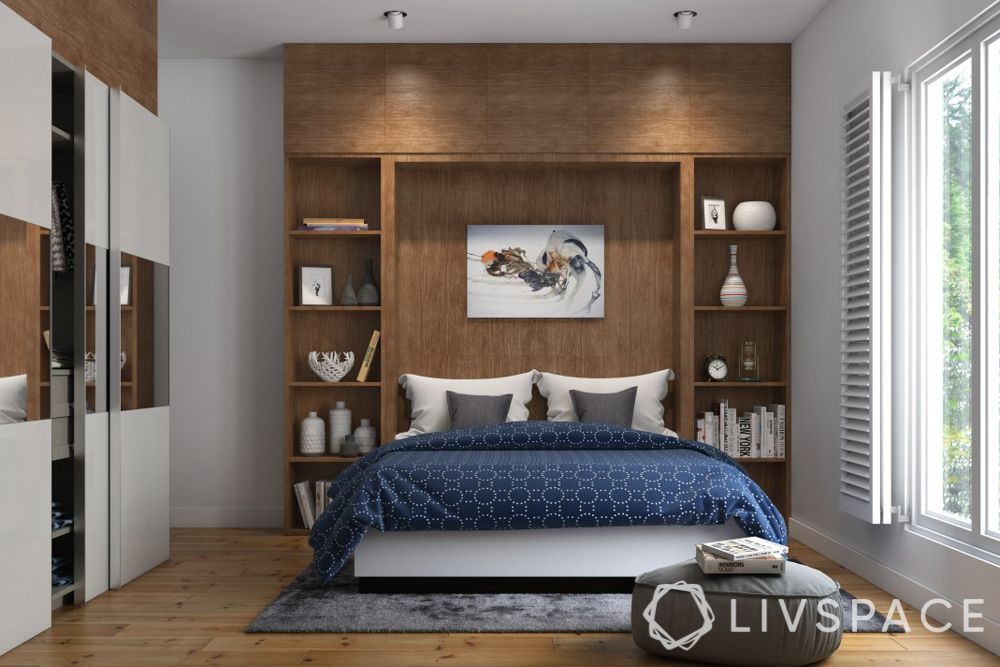 Unlike a blanket which is generally made of wool, a duvet is stuffed with down, for warmth, and sewn together. Duvets come with attractive duvet covers which can transform the look of your bed.
Pillows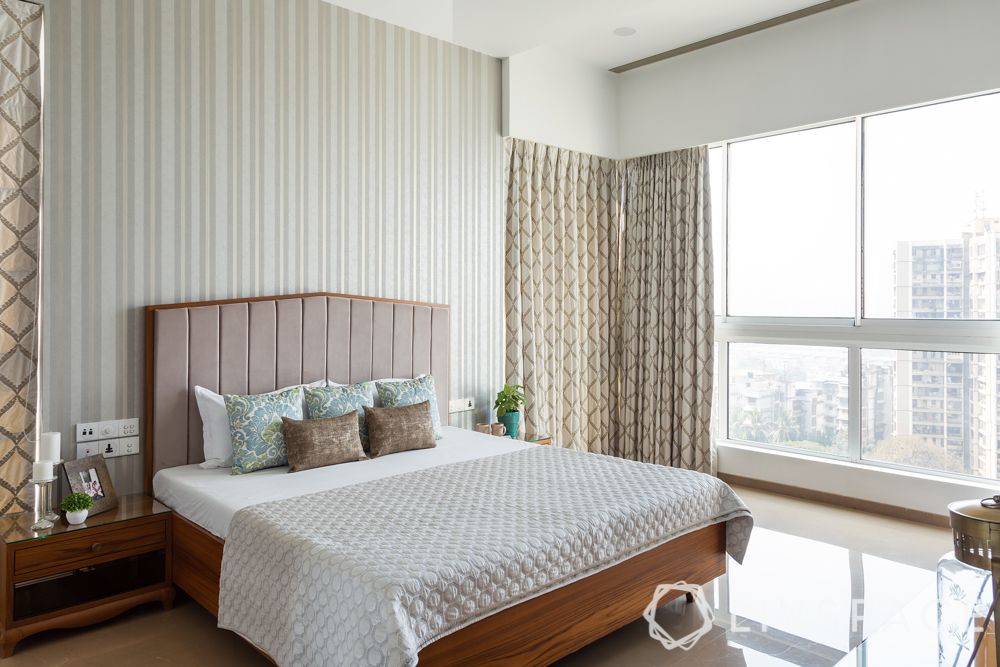 A pillow is more than just for resting your head while sleeping. Apart from a sleeping pillow, you can use Euro and Bolster pillows to support your head and back while sitting up. You can also add throw pillows in attractive prints to further beautify your bed.
#3: The Headboard
Headboard designs can make or break the look of a bed as well as a bedroom. So, here are some of the most popular headboard styles:
Cushioned Panel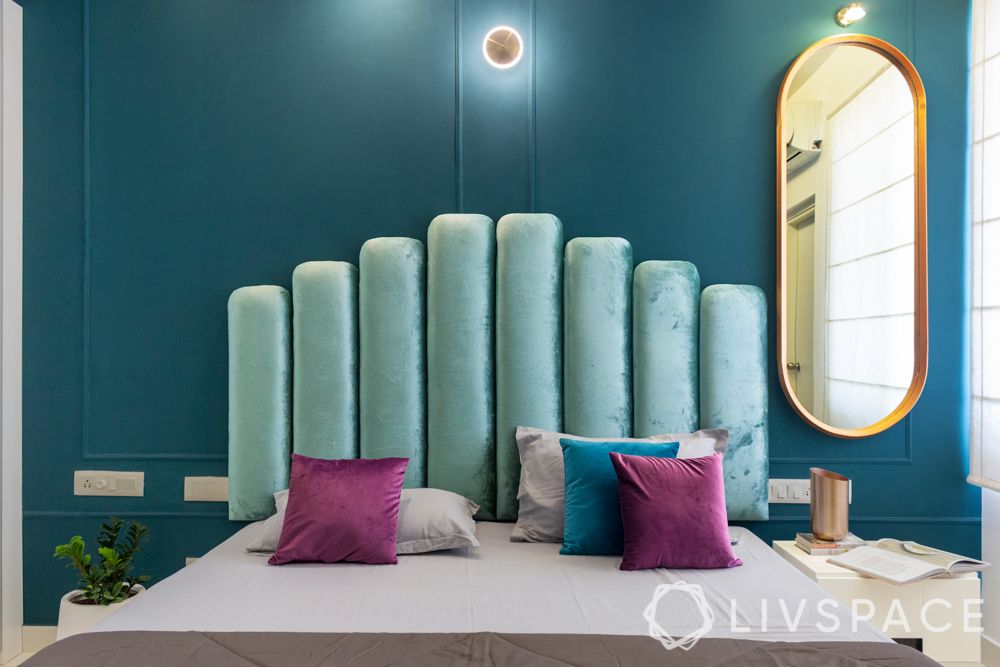 Headboards need not be basic and formal. Vertical slats in upholstered velvet are a unique twist to the traditional velvet headboard design. The playful blue colour is just the cherry on the top of this stunning piece!
POP Design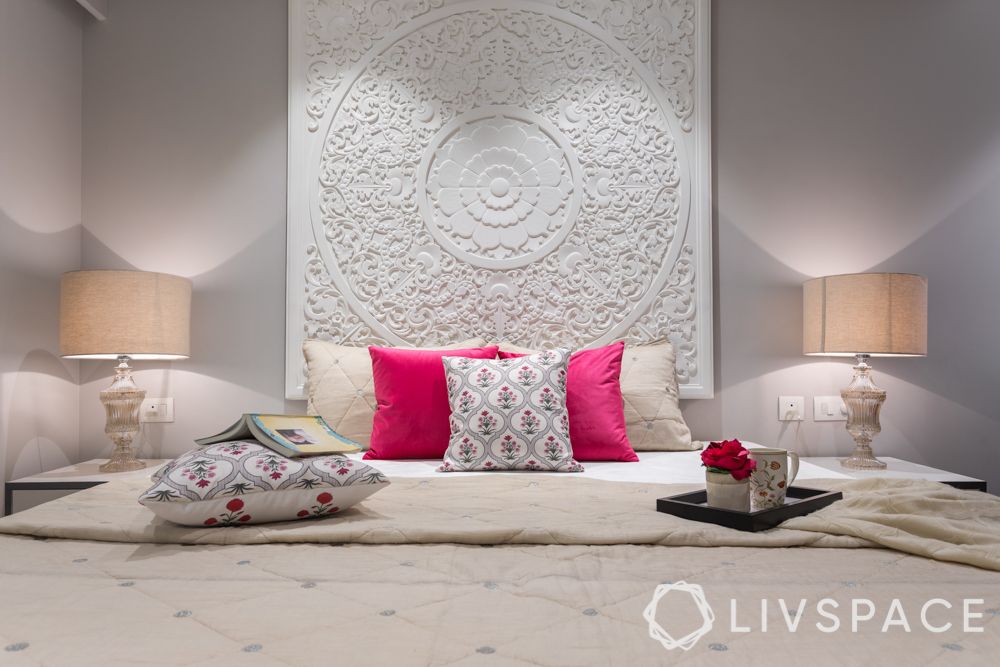 Looking for something innovative? Then why not get yourself a headboard made of POP (Plaster of Paris)? This stunning POP headboard hangs all the way from the ceiling. The intricate floral motifs give off a soft and romantic vibe.
Velvet Upholstery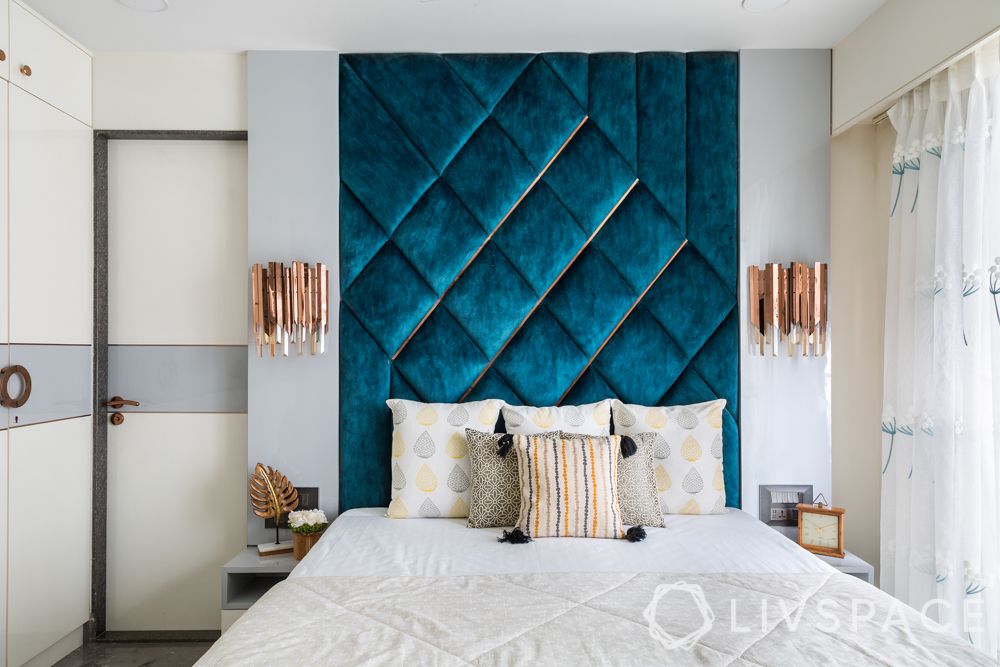 Nothing represents royalty like velvet! If opulence is what you love, then this Prussian blue velvet headboard is the perfect option for you!
Rustic & Eclectic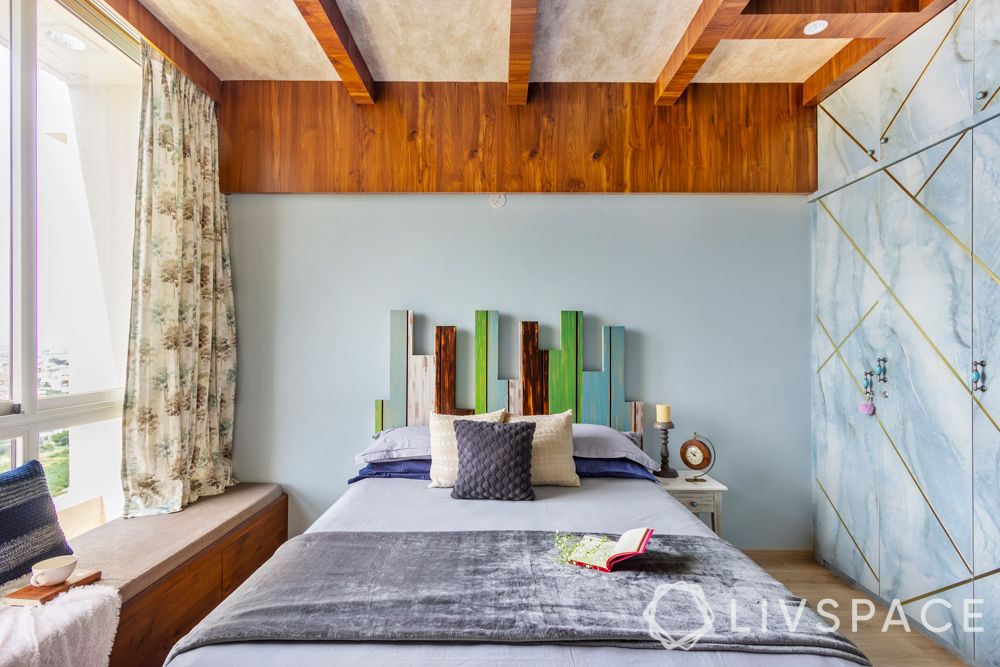 If you love quirky bed decors, then this eclectic headboard is for you! Fun and colourful, this headboard design is both rustic as well as contemporary.
Liked these bed decor ideas? Then you might enjoy our top bedroom design tips!
Send in your comments and suggestions.