The benefits of open-plan homes are many – the house looks more spacious than it is, light flows from one room to the other and the possibilities of seamless entertainment become endless. However, a time comes when you'd also like to spaces for specific tasks – when budgets are tight but change comes a-calling, it's time to get crafty with some unconventional hall dining partition designs.
#1: Place a bookshelf or display unit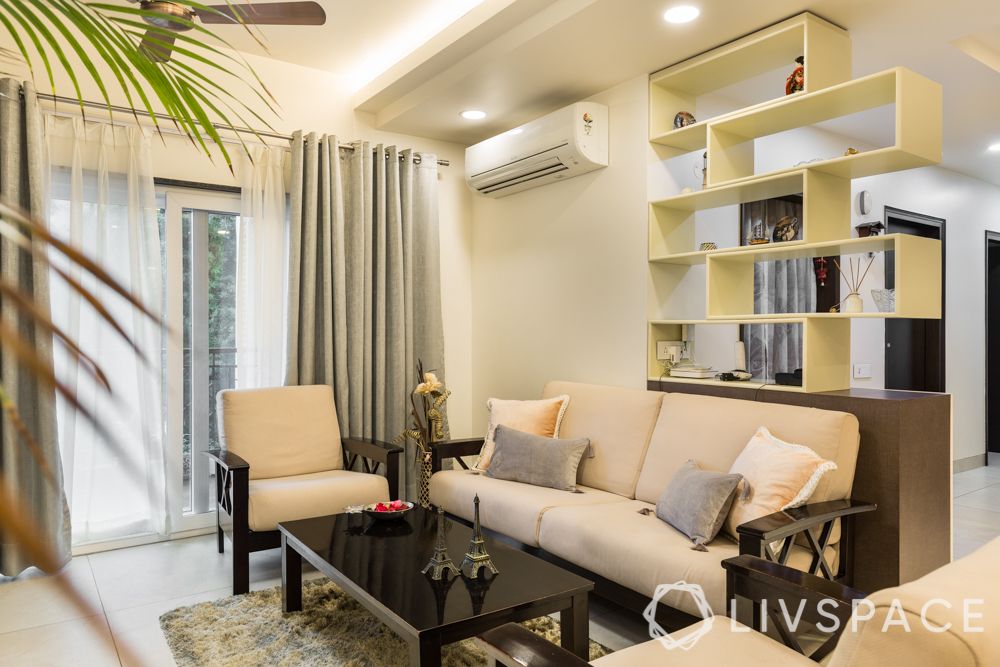 This peek-a-boo living room to dining room partition idea is quite an unconventional hall dining partition in that it efficiently demarcates spaces without using a bulky, opaque wall to do so. To up the ante on style, consider getting a lattice bookshelf or an industrial version, depending on which fits in better with the rest of the decor. With options like these, you're allowing light and ambient sound to spill between rooms but have successfully identified them as different spaces. Win-win!
#2: Use a wooden frame as a divider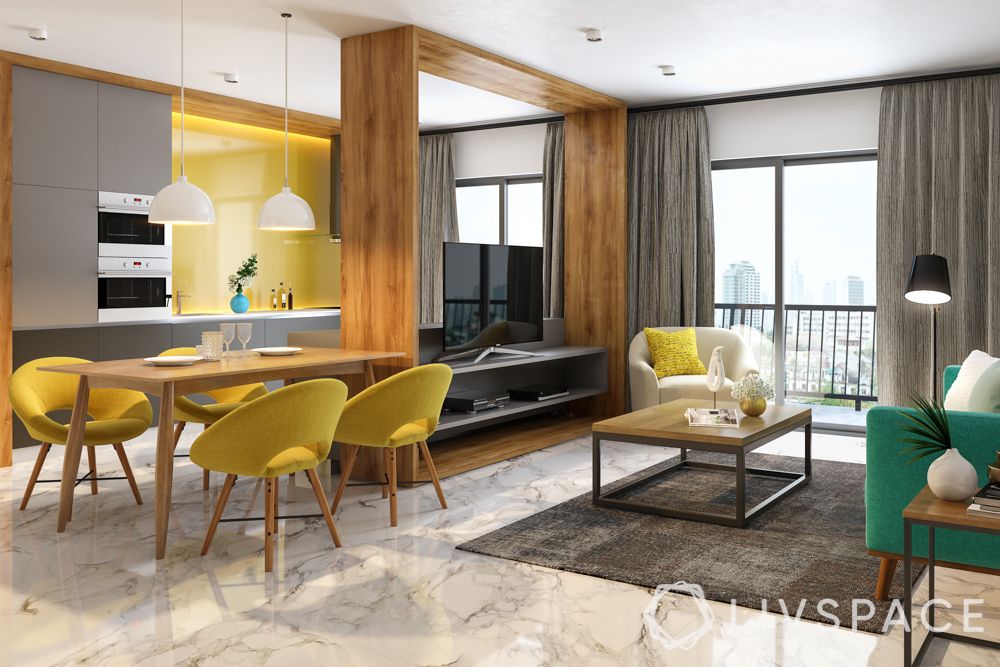 With wooden frames, the benefit is the seen-but-not-seen illusion that divides a space. Wooden frames ensure privacy and demarcation of task areas without actually being opaque or blocking natural light and sound. You can opt for foldable wooden frames if you'd like to merge the areas once in a while– Chinese-style folding screens make great talking points while doing their job. Alternatively, get a semi-permanent divider upon which to arrange plants, trinkets and decor pieces.
#3: Swings can create a subtle and pretty divide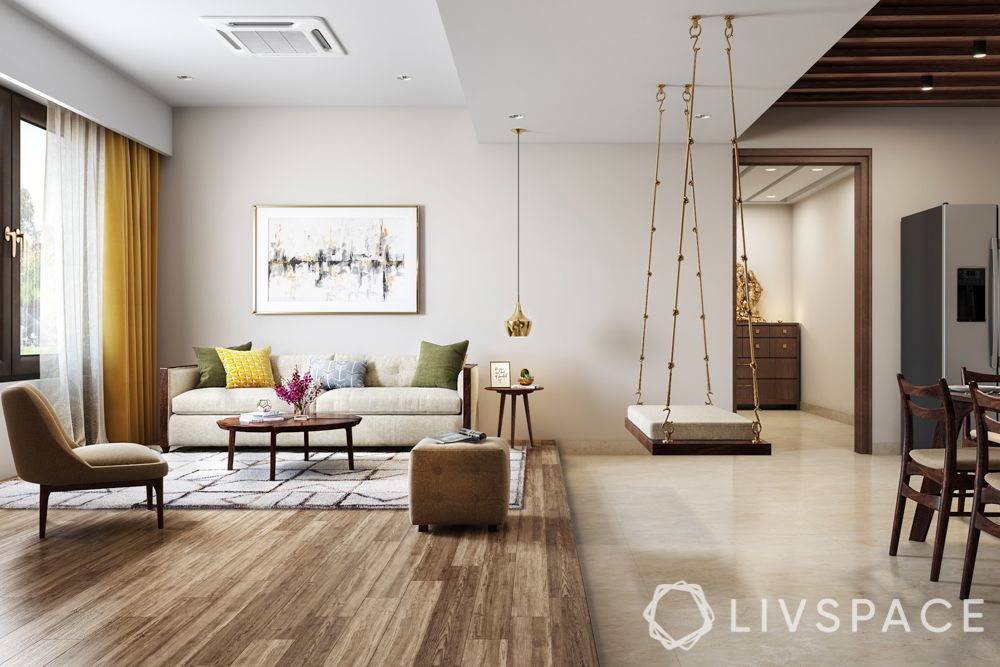 Adding a swing is a great way to break up a single space into two or more task-oriented areas. Unlike other hall partition ideas, this idea doesn't obstruct vision but forms the illusion of a break in space nonetheless. For an eye-catching installment, consider opting for a colourful swing. However, if vintage or browns are more to your taste, then an antique or ethnic-style swing, with or without a backrest, will do just fine.
#4: Hang some planters to go au naturel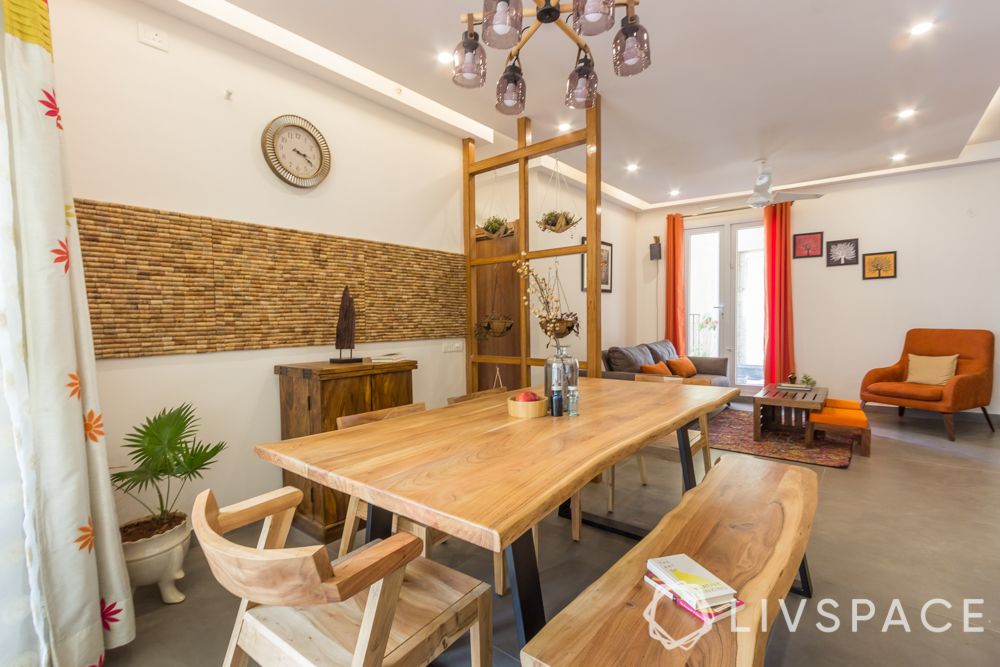 Hanging gardens make for a lovely divider between living room and dining room because they bring a pop of lush greenery into the space and naturally clear the air. Designing your hanging garden is just as interesting– you can opt for climbing vines along ropes or decide to get an opaque divider covered with tiny potted plants. A word of warning though, consider picking plants that thrive indoors and don't need much water because if not, your divider may begin to look sparse and it could also result in water and soil residue dripping all over your clean floors!
#5: Place a storage-cum-partition in the form of a magazine rack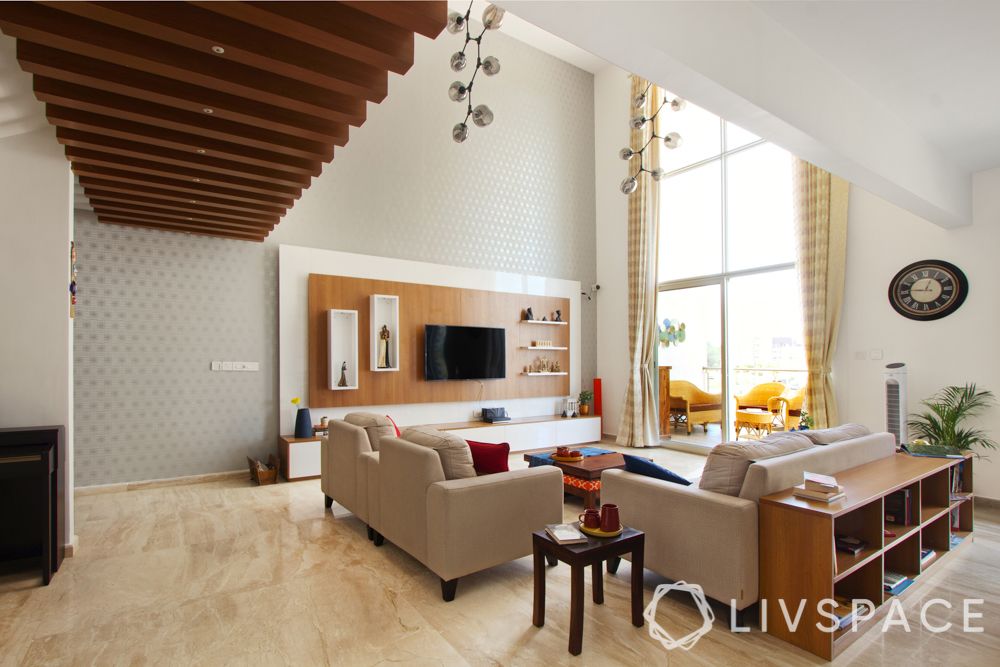 This is an excellent idea for homes that require a lot of storage. Open plan layouts benefit the most from a partition that incorporates a shelf design. You can get a customised storage-cum-partition unit for your living and dining spaces. This will ensure that you have ample storage space and open shelves for display. Make sure you put the most interesting pieces of decor here, since this is going to be the centre of attraction.
#6: Play peek-a-boo with a glass partition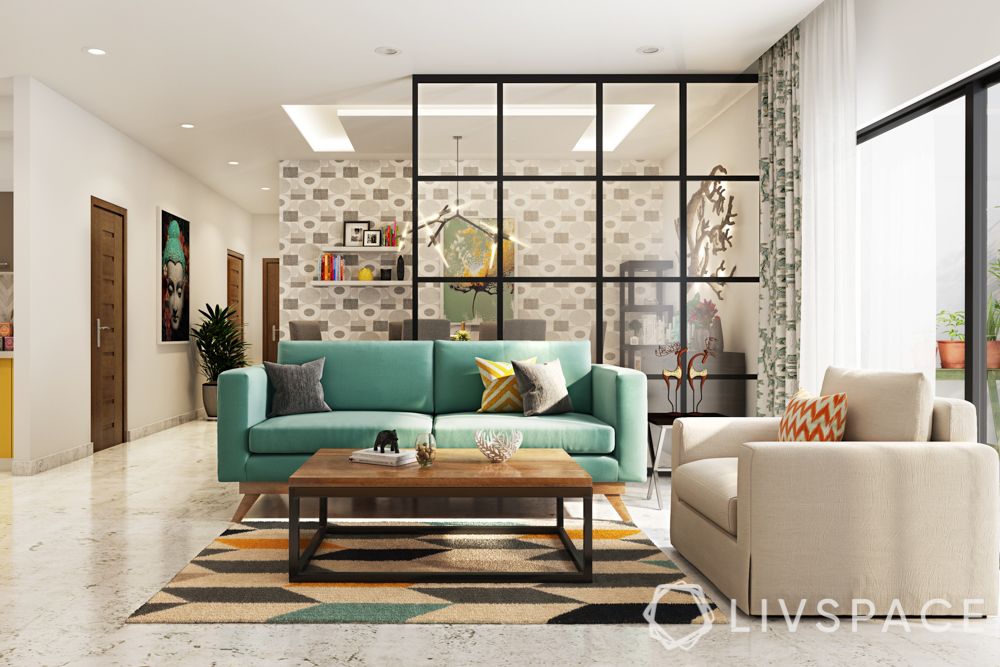 Another stunning idea for your home – glass partition designs between living dining are perfect if you love dividing zones but not separating them completely. This contemporary partition design is sure to add a charming detail to your home interiors. You can also add some nice trims and frames to this partition. If you love simple, dainty dividers, then this will appeal to you the most. You do not have to worry about matching it with your interiors as glass goes with everything.
#7: Think out-of-the-box by using steps as partition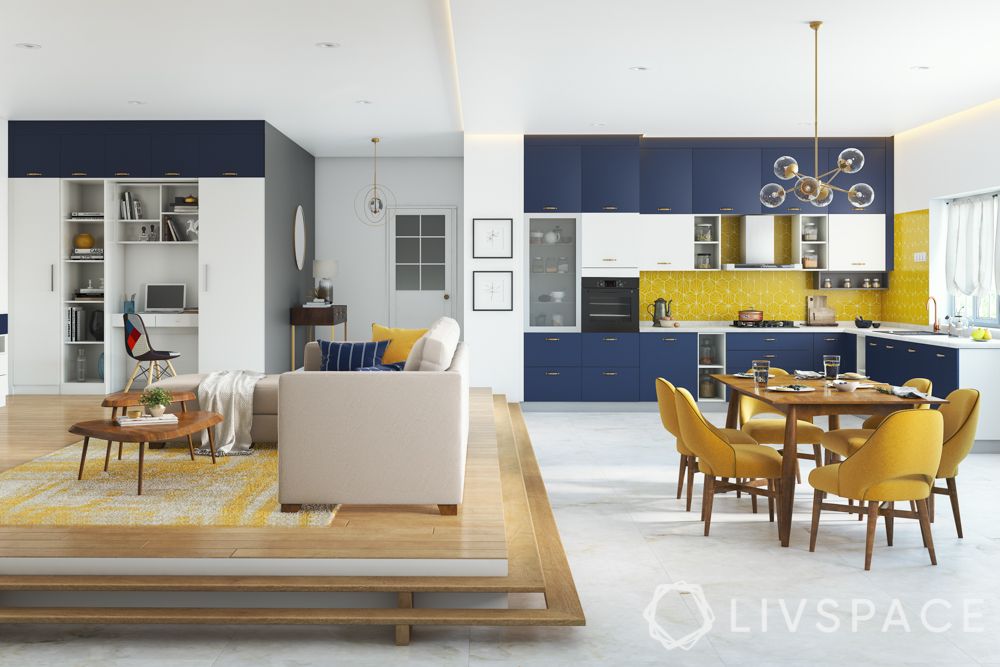 Now how unique is this idea? Ever thought steps could create a division in the areas at home? Look at this contemporary partition design that incorporates stairs. All you need to implement this idea is to get a carpenter to build some steps in your living room and place all your furniture there. An elevated living room is ready and is separated from the rest of your home.
#8: A collapsible jaali partition that is so versatile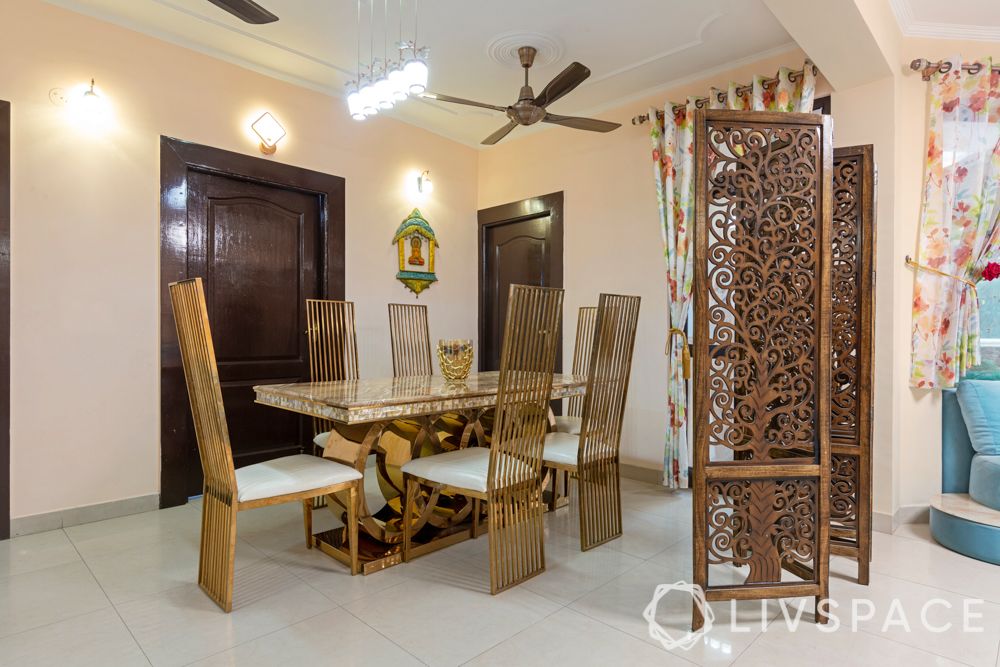 This one's for everyone who does not want a permanent partition at home. A collapsible partition is perfect for those days when you have a gathering at home and you need open space. You can fold the partition when you do not need to use it as a divider. Opt for a material that does not wear out easily and choose good quality hinges that do not rust.
#9: Closely placed wooden slats give you complete privacy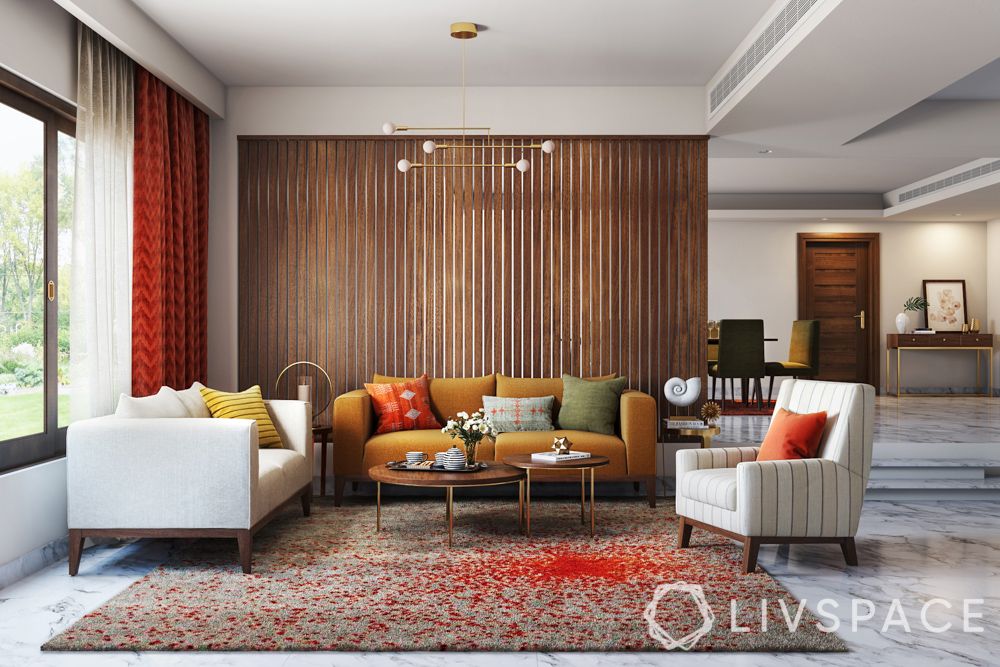 Partition designs between living dining areas can leave homeowners spoilt for choice– there's just so many! A good way to start is to analyse how often you'd like the spaces to be divided, how cluttered or reduced the rooms may look if you get an opaque or permanent divider and how in keeping with your current decor your choice is. Now you're well on your way!
#10: Get a laser-cut panel in a creative pattern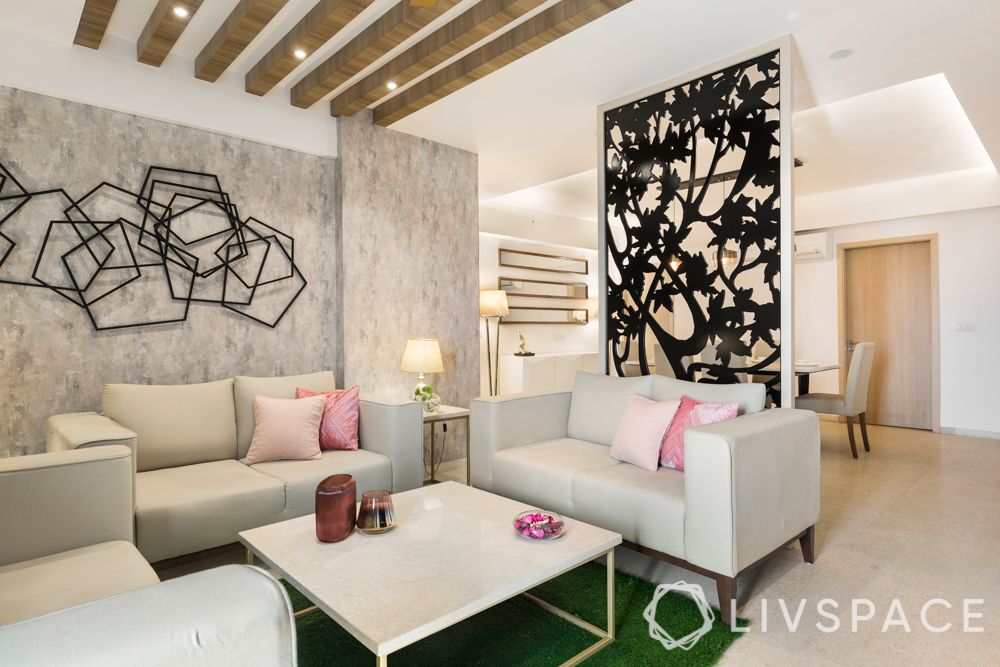 Looking for modern partition designs between living dining? Gone are the days when we put up carved wooden panels at home. It's the era of laser-cut wood or acrylic panels that can be cut out in any desired shape. These panels can be used as a hall dining partition and it will give an almost exclusive look to this space. We love how the above home has got a glass and laser-cut panel in stark contrast to the rest of the area.
#11: How about a bar unit as a partition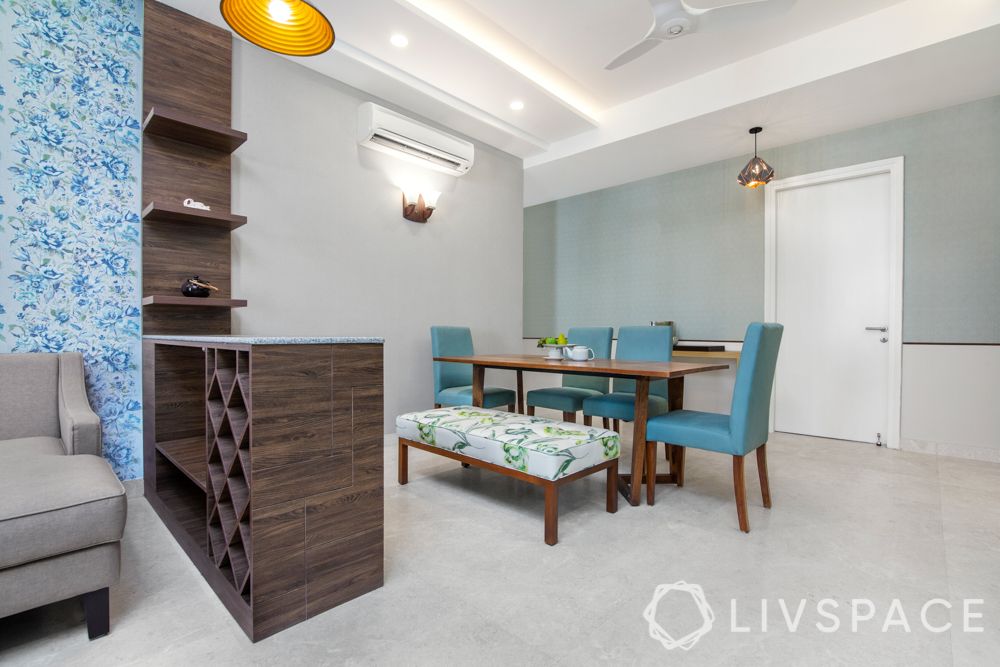 With shrinking sizes of apartments these days, it is important to utilise every inch of space. This hall dining partition idea is perfect for people who do not want to waste any space. You can use a bar unit to divide the space between the living and dining rooms. The bottle rack-cum-bar table is an excellent example of using space intelligently. Here are some Bar Designs to Host a Smashing Soirée.
#12: Shine on with a metallic divider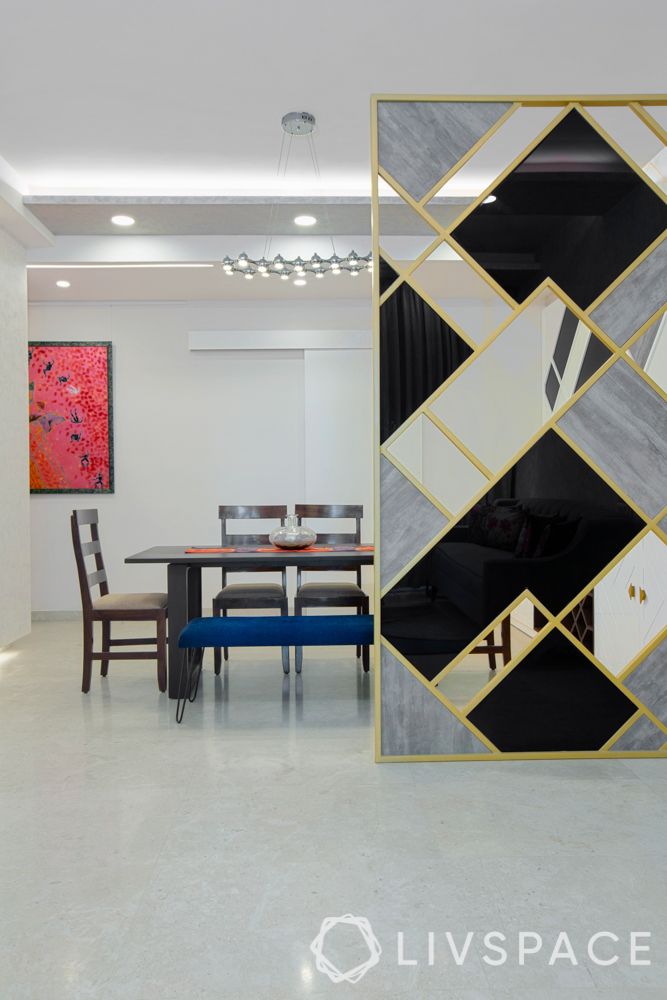 For everyone who loves some sheen at home, a metallic panel is a great hall dining partition. Of course, such panels do not provide complete privacy but they are a great decorative addition. You can combine it with glass for extra gloss.
If you loved reading this. You can also take a look at this: Steal-worthy Divider Designs For Living Rooms.
How Can Livspace Help You?
We hope you found our ideas useful! If you want your home to be just as beautiful, then look no further. Book an online consultation with Livspace today. Delivering safe home interiors has been our No. 1 priority. Click here to find out how interiors are being delivered following all safety protocols.
Send in your comments and suggestions to editor@livspace.com