Nothing like having friends and family over for a tipple and some delectable food, right? While there are plenty of bar cabinets available in the market, why choose something basic when we can give you a home bar design that's personalised, unique and chic?
Check out 20 home bars we designed for our lovely customers and get ready to be inspired.
#1: A Home Bar Design With a Stylish Display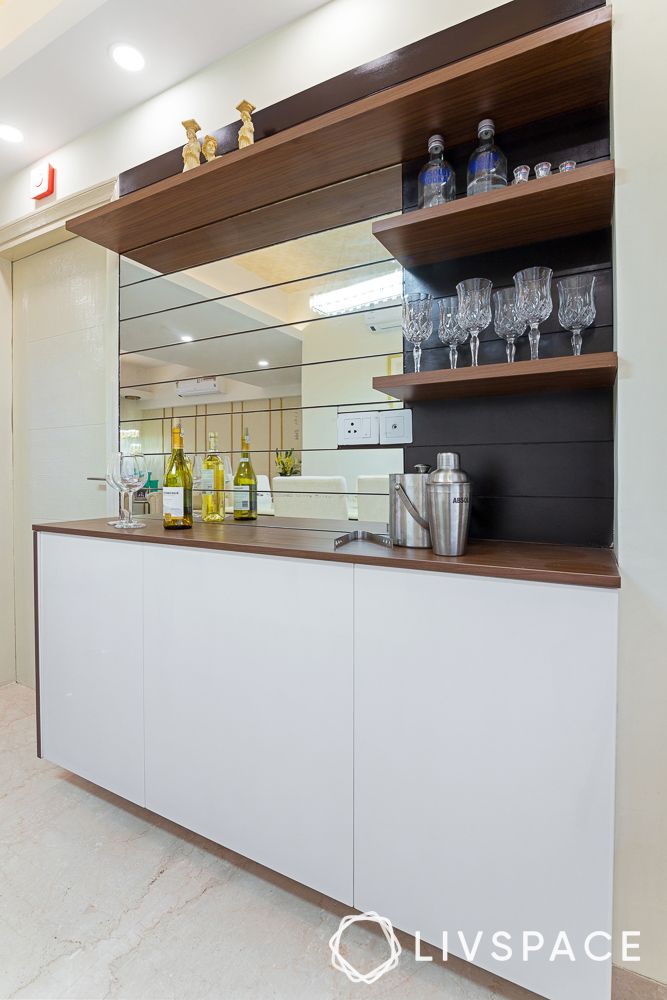 Almost every home is furnished with a crockery unit. So, why don't you take advantage of the same and double it up as a bar? You can also create a zone to stash your liquids. The sleek wooden shelves can help you display your wine glasses, fancy bottles or even some pretty decor.
#2: Home Bars With a Gorgeous View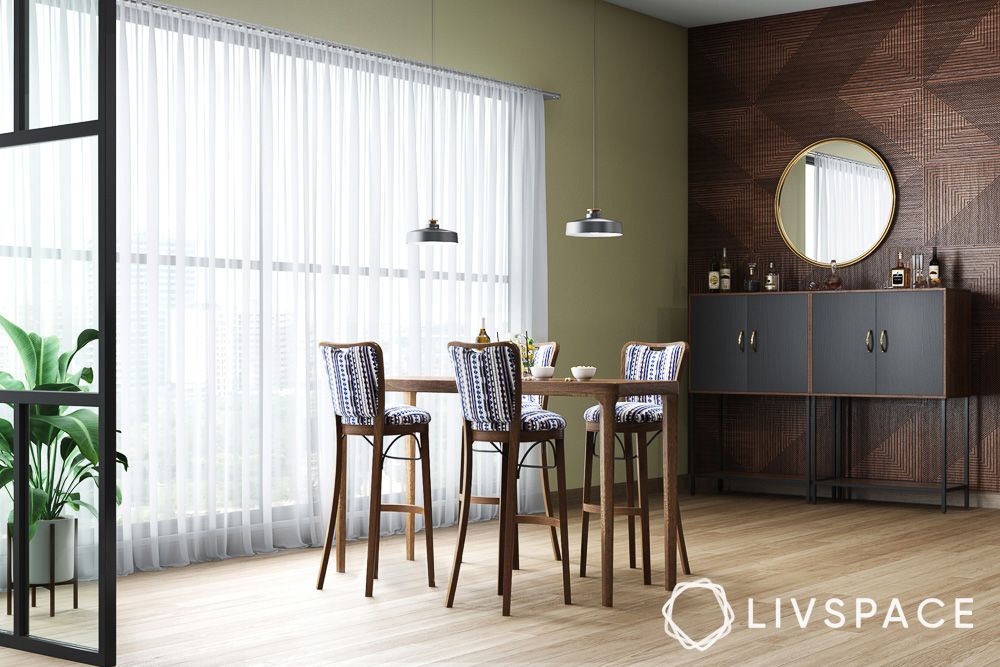 There's nothing quite like sipping your favourite brew while admiring the beauty of the city. This compact bar counter for your home is perfect if you want something that doesn't take up too much space. In addition, the dark wood finish pairs perfectly with the chocolate-brown textured accent wall, creating visual depth.
#3: A White and Classy Home Bar Design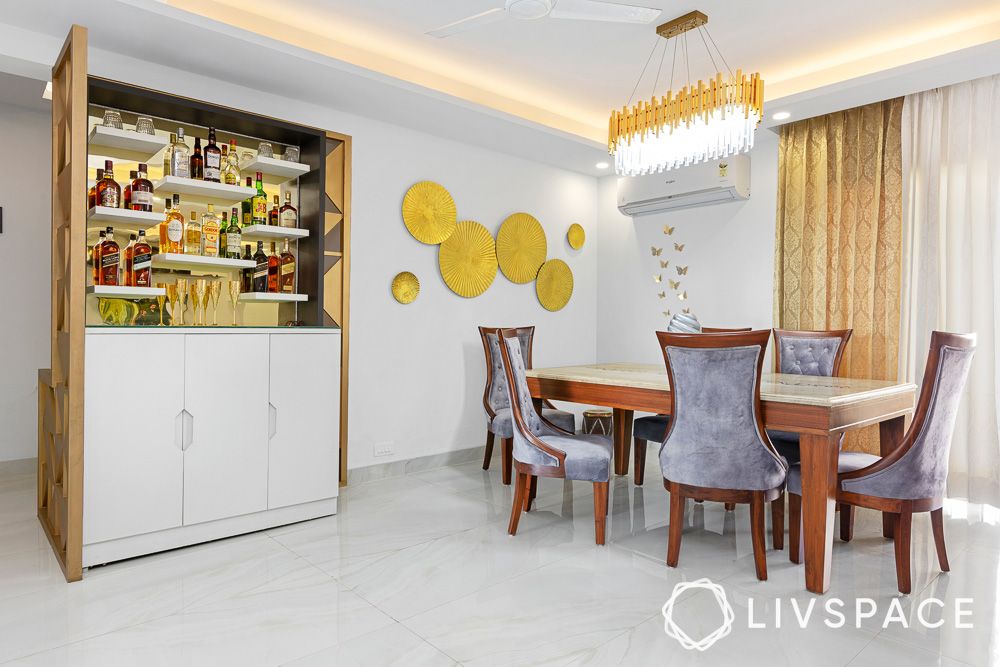 Simplicity is beauty, and this white home bar design is a point in case.
If all-white is not your taste, add some drama with gold accents in the form of panels.
#4: Quirky Home Bar Ideas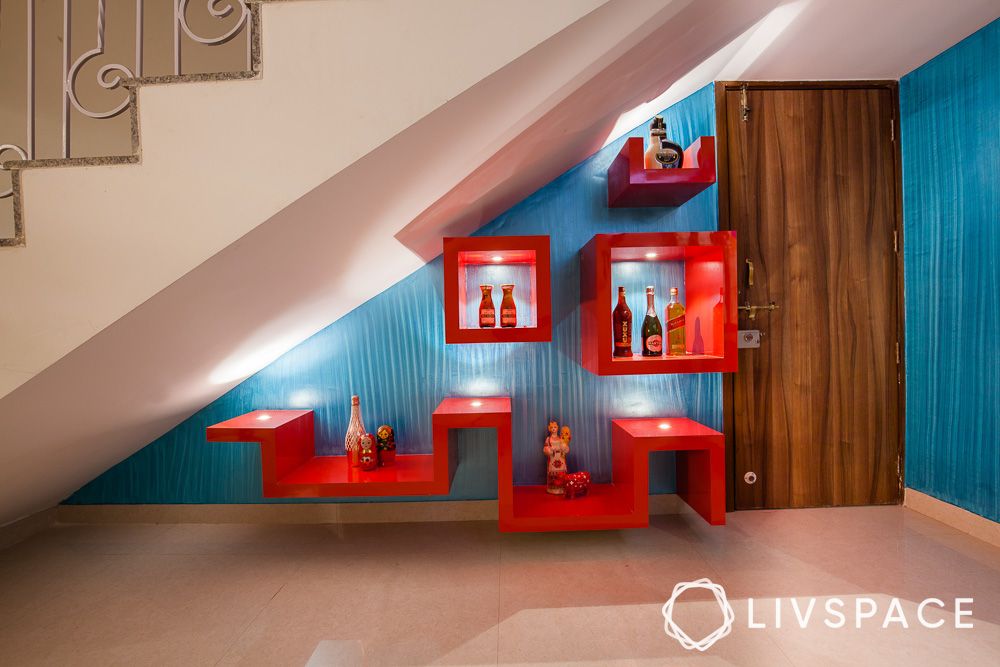 While glamorous bar design ideas are common, quirky ones like the one above are equally popular. This particular home bar design is a great option for compact spaces. So, if you're looking for a mini bar that'll fit into a small space, choose any empty wall in your home and add some shelves.
You can also use the space under your stairs. Anyway, spandrel isn't utilised in most homes and can be an innovative way to add in a bar unit.
Also Read: 7 Steps to Building a Stylish Home Bar
#5: Tuck Your Home Bar Inside a Niche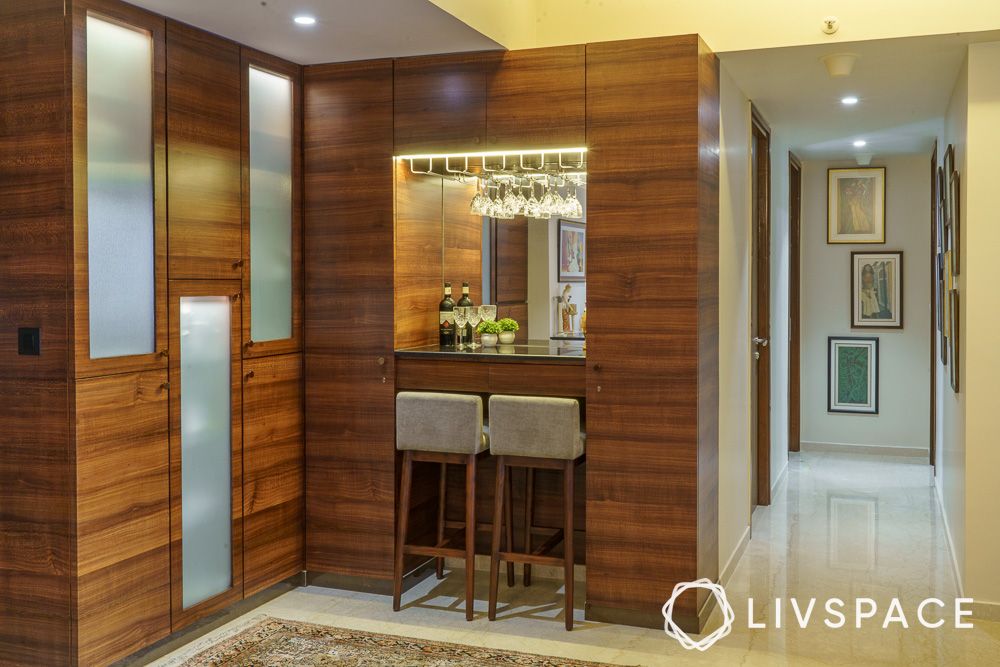 For those who like privacy, a mini bar inside a niche can work wonders! Don't forget to add some seats and have ambient lighting help set the mood.
#6: Traditional and Old-School Home Bar Designs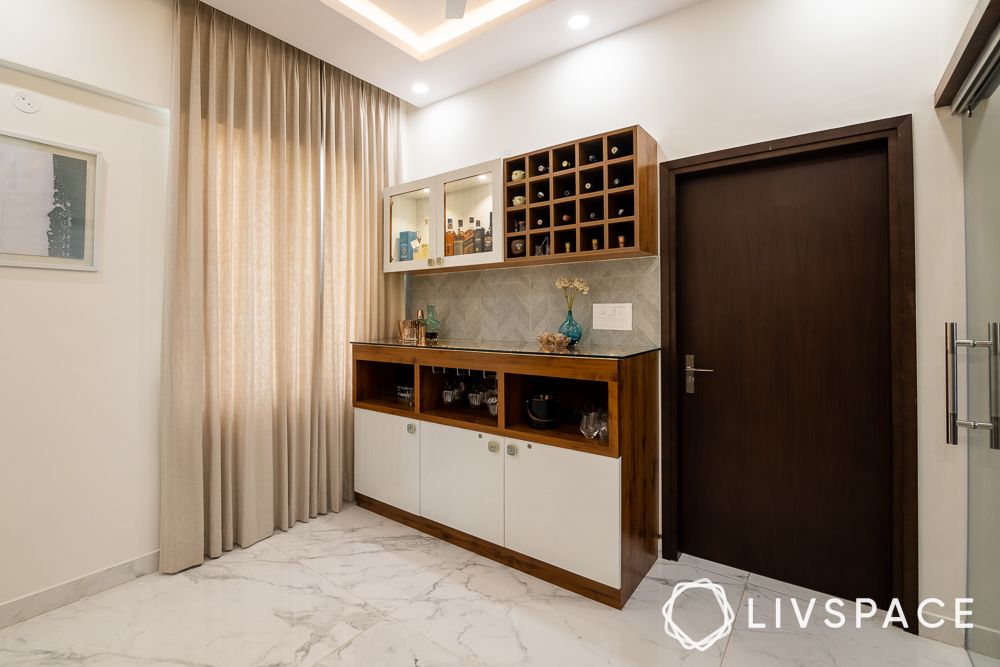 Not everything has to be unique and modern. A traditional home bar design in wood, with display racks for your glasses and closed storage for your expensive bottles, is a great option. Additionally, you can also use your countertop space for preparing drinks and displaying decor.
#7: Bold and Vibrant Bar Unit Designs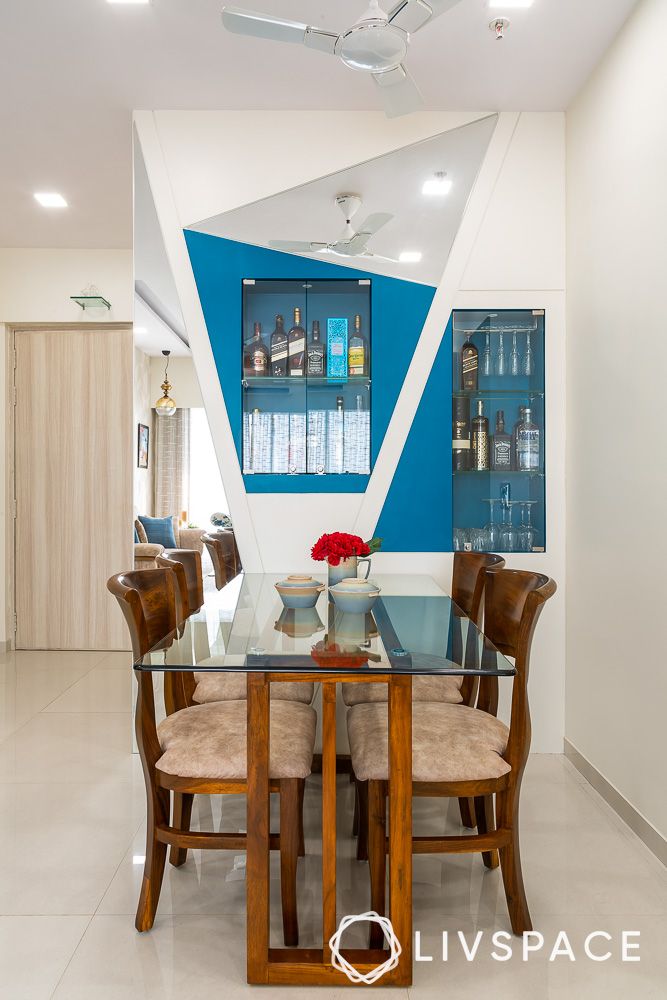 When it comes to unique bar decor ideas, this one's a winner! The home bar design has been built into a niche in the wall. The combination of the blue paint and mirror panels gives it a striking look.
#8: A Counter Design That's Both a Bar and a Display Rack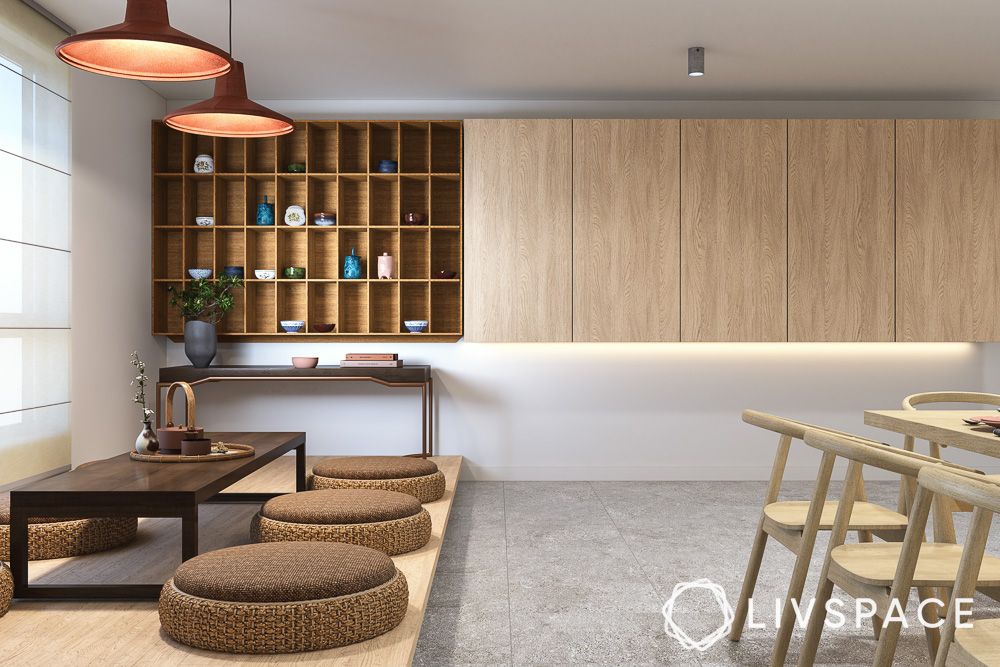 When you have a compact home, it's best to optimise the space on your walls and use them for storage. This type of wall-to-wall storage cabinet provides ample space.
Opt for open shelves for half of the space and convert it into a bar unit. The rest of the cabinets can be used to store expensive bottles, crockery and other items.
#9: A Private Corner to Enjoy a Drink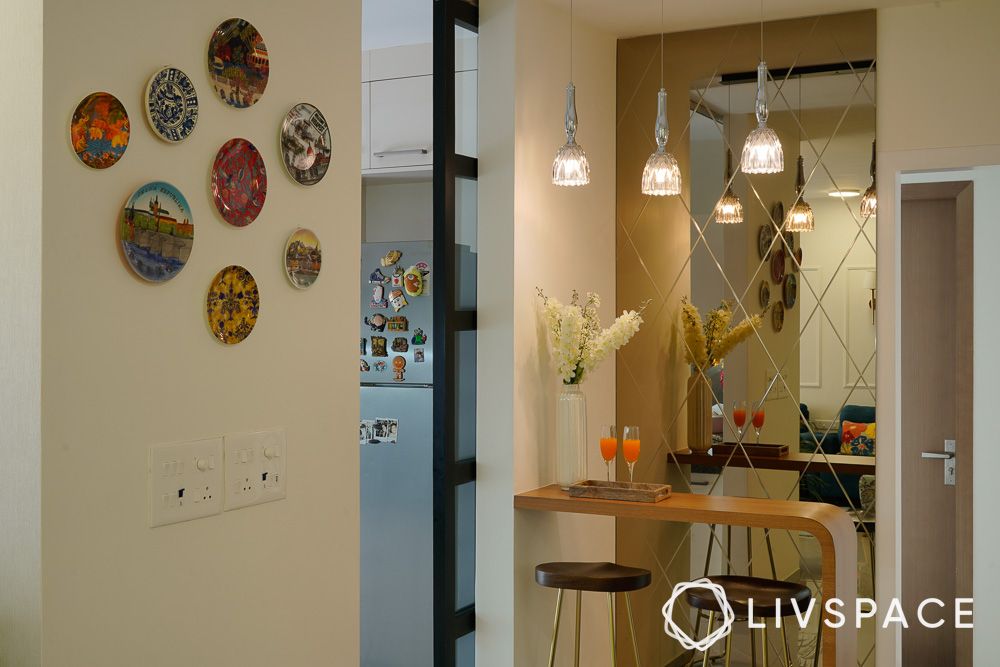 Not everyone has the space for a complete bar cabinet. However, you can enjoy a drink even without one! If you have a niche somewhere in your house, use that space to fit in a sleek table where you can keep a bottle or two. Also add some chairs to help you sit back and relax.
#10: A Home Bar Design Inside a Wall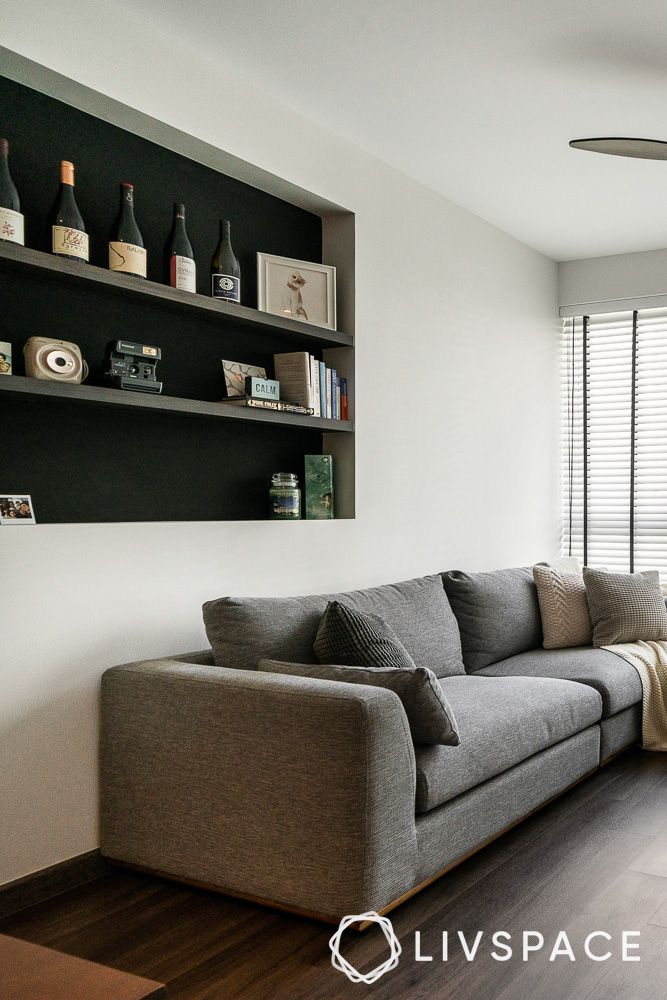 If you're looking for small home bar designs, P this image! If you don't already have a niche in your wall, ask your designer to create one for you and use that space to display your prized alcohol collection.
#11: A Home Bar Design Reminiscent of One in a Pub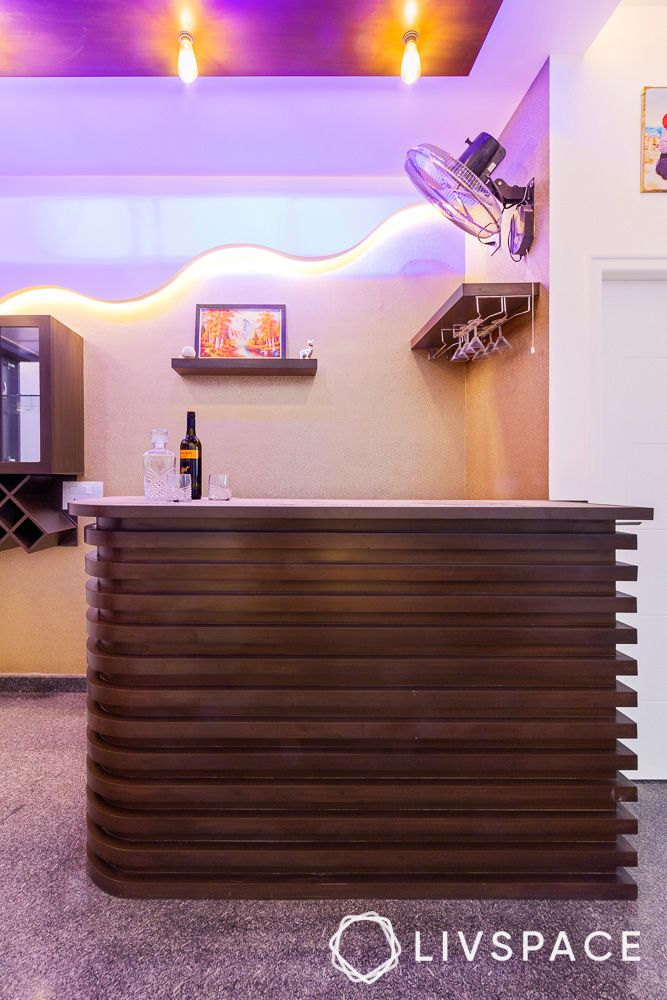 If you're someone who loves to party and wants to recreate a similar setup in your home, this bar counter design is the one for you. While the design itself is basic, the lighting creates a party-like atmosphere.
#12: Colours of Happiness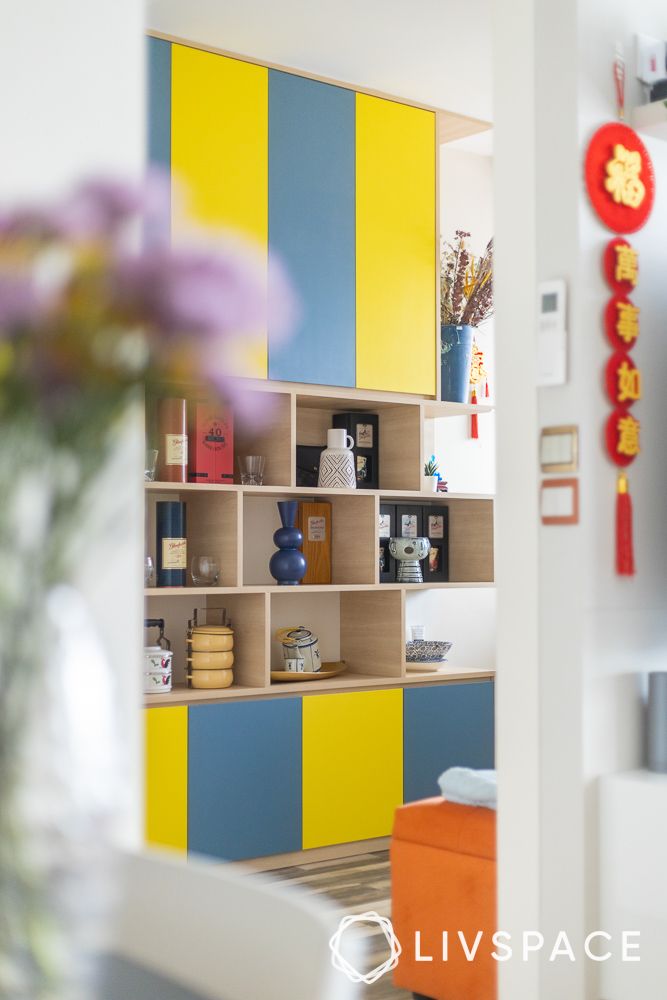 Generally, bar cabinet designs either feature dark colours like wooden brown or light ones like beige and white. However, if you want to add a fun element, opt for a home bar in vibrant hues of blue and yellow. Such a unit can serve the dual purpose of storing your bottles and displaying your decor.
#13: A Vibrant Blue Home Bar With Storage
Not everyone's fond of displaying their alcohol collection. If that's also the case for you, it's recommended to opt for a closed home bar design. A type of unit like this will not only help hide away your bottles, but also double up as a storage cabinet. Moreover, consider a vibrant colour like blue to elevate the look.
#14: Play Peek-a-Boo With This House Bar Design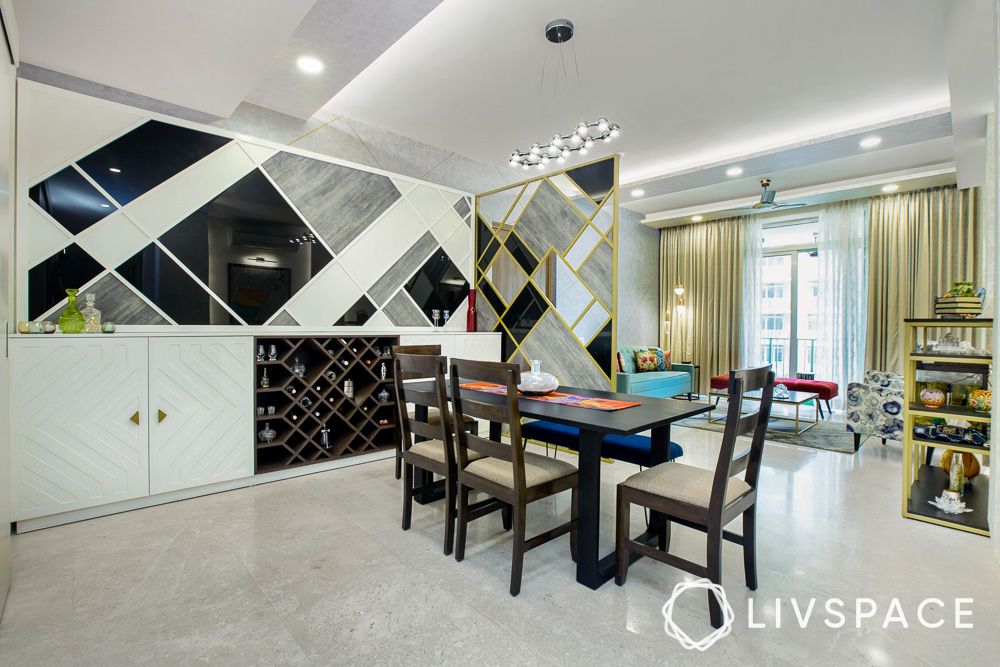 Bold and beautiful, this home bar design stands out due to its striking colour combination. While the majority of the unit features closed cabinets, an open rack for bottles has been carved out in the middle.
Planning to invest in a new wardrobe? Find out how much it will cost you with our wardrobe cost calculator.
#15: A Unique Home Bar Design to Display Your Bottles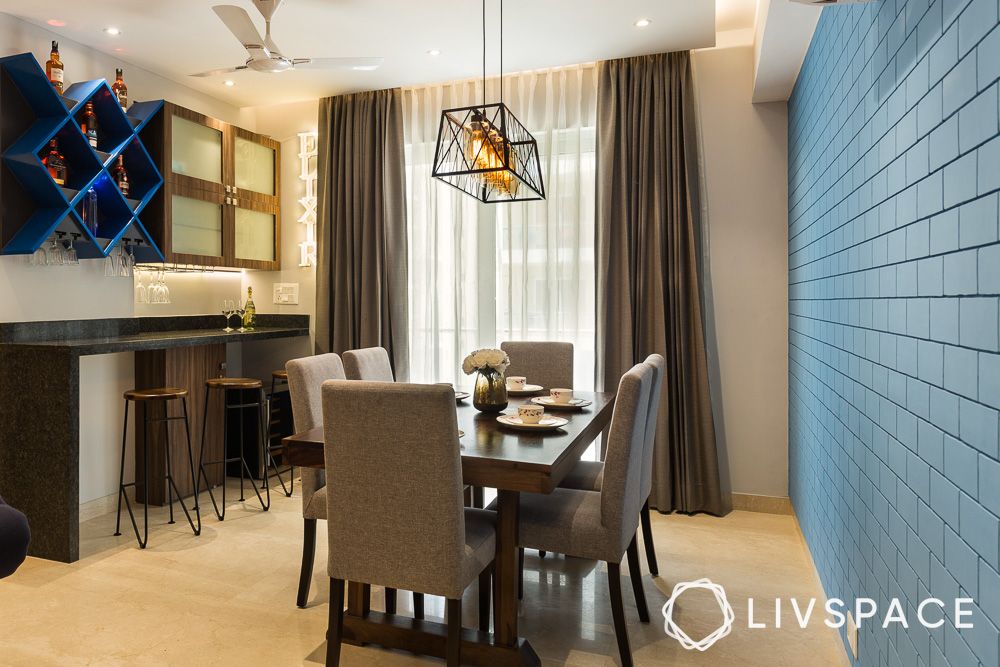 If you have a swoon worthy collection of bottles, why not display them? A grid-like wall-mounted mini bar for home with a sleek table and bar tools is a modern and convenient option. Additionally, you can also consider a closed cabinet for your glasses.
#16: A Minimal Veneer Bar Counter for Your Home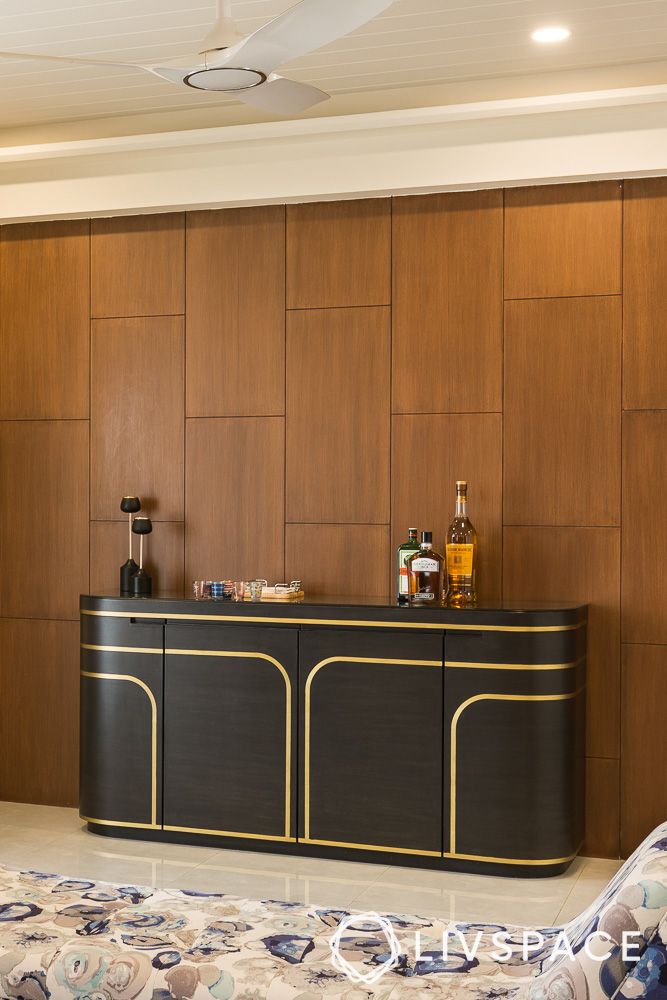 If you want something that's both simple and glamorous, this type of veneer home bar design will look remarkable in your living room. While the design in itself is quite minimal, the dark wood colour and gold trims give it a luscious look.
#17: Sleek Bar Ideas for Compact Homes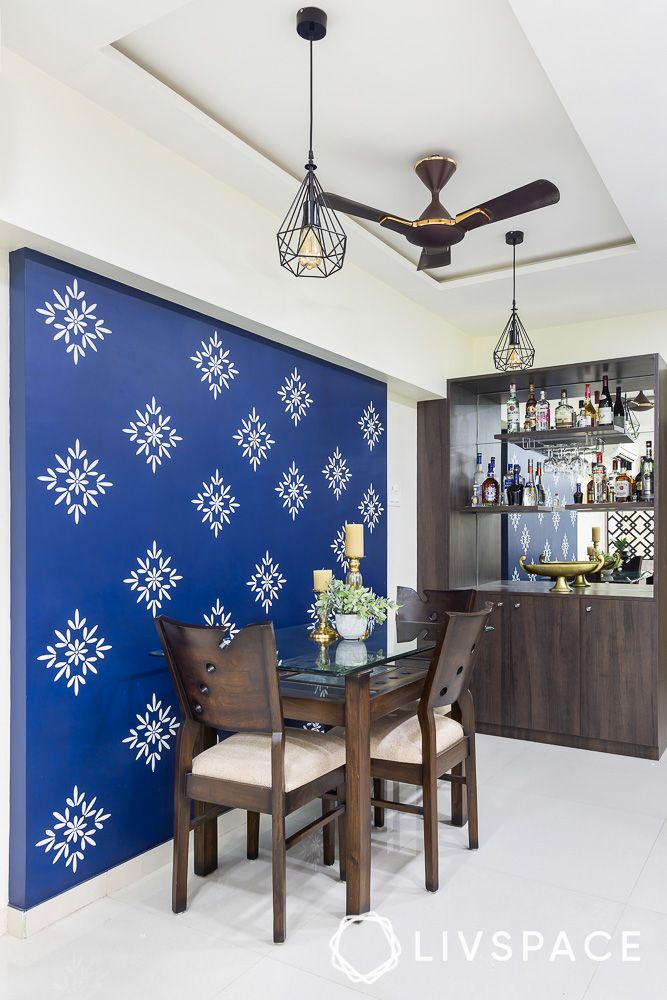 Bulky furniture is a strict no-no when you have a compact space. In such a situation, a sleek home bar should be customised to fit into a niche to ensure maximum space-efficiency. In addition, you can also opt for an economical stencilled accent wall that adds a decorative element to your space.
#18: A Home Bar Inside a Cosy Lounge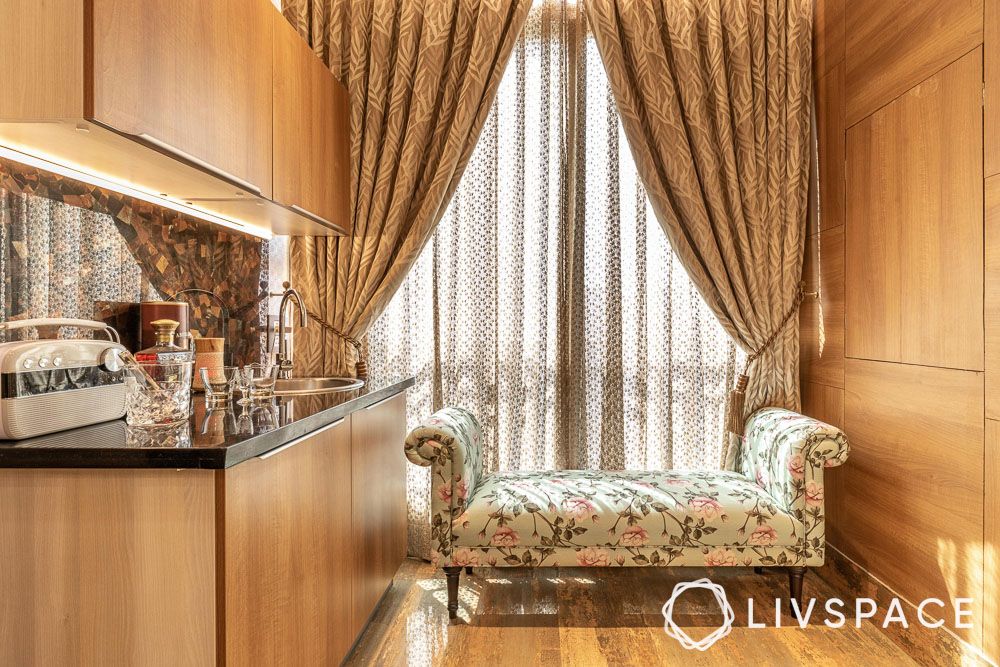 Fancy some privacy while enjoying your favourite single malt? Carve out a private space for yourself, which you can convert into a lounge with a home bar. Don't forget to add some cosy seating!
#19: Play off Open Shelves and Closed Storage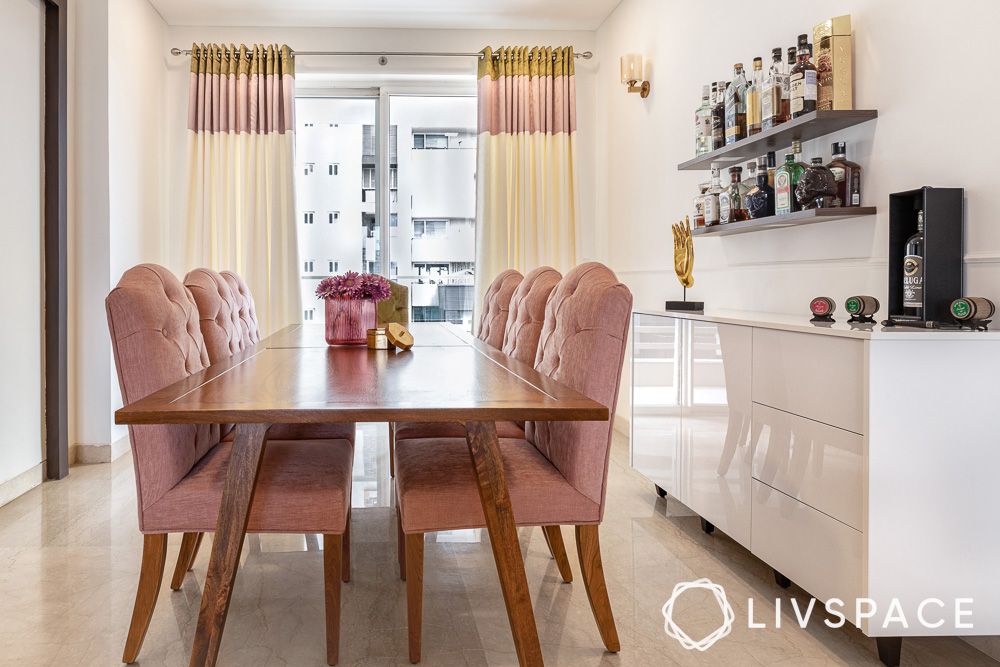 Not everything has to be fancy – simple home bar design ideas will always remain evergreen. A combination of open shelves to display your bottles and a closed cabinet to store more expensive options and glasses is a winner!
Also Read: How to Set Up a Luxurious Bar at Home in 12 Simple Steps
#20: A Mirrored Home Bar Design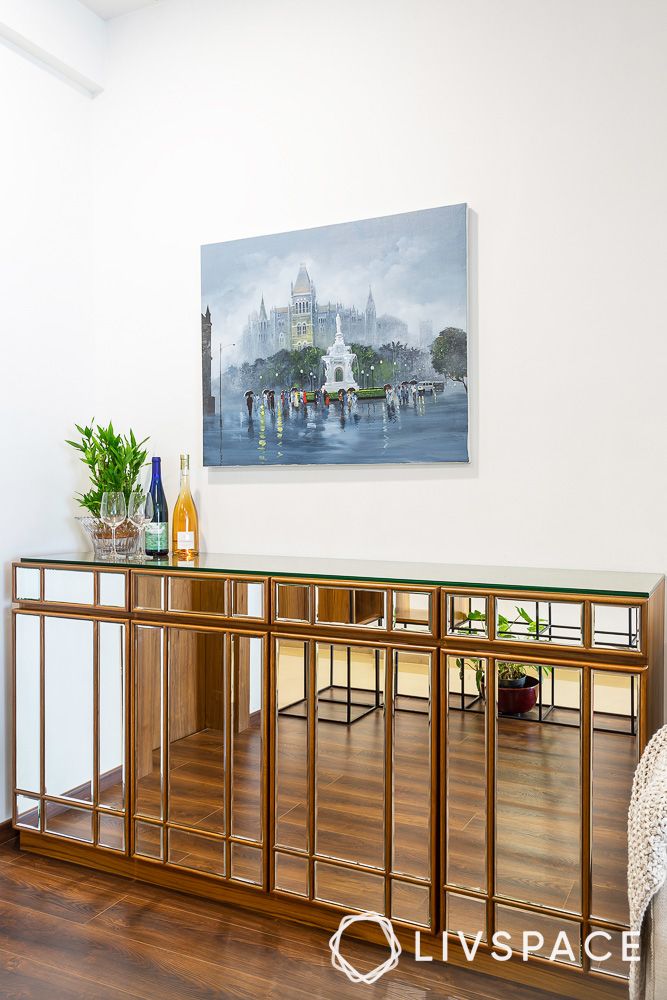 A space-saving hack that every designer will tell you is to use mirrors to create the illusion of space. As such, why not go for a home bar design in a mirrored finish? This is not only perfect for small spaces, but will also look very glam.
How Can Livspace Help You?
We hope you found our home bar design ideas useful! From modular designs to customised ones that fit perfectly your requirements, we have 20lac+ catalogue products for you. Book an online consultation with Livspace today. Have any thoughts or suggestions you'd like to share with us? We're all ears! Drop us a line at editor@livspace.com.
Disclaimer: All contents of the story are specific to the time of publication. Mentions of costs, budget, materials, finishes, and products from the Livspace catalogue can vary with reference to current rates. Talk to our designer for more details on pricing and availability.