Nothing like having some friends and family over for a tipple and some delectable food! While there are plenty of bar cabinets available in the market, you can get one with a personalised feel. Here are some home bar designs we designed for our lovely customers to take inspiration from.
Home Bar Design #1: A Stylish Display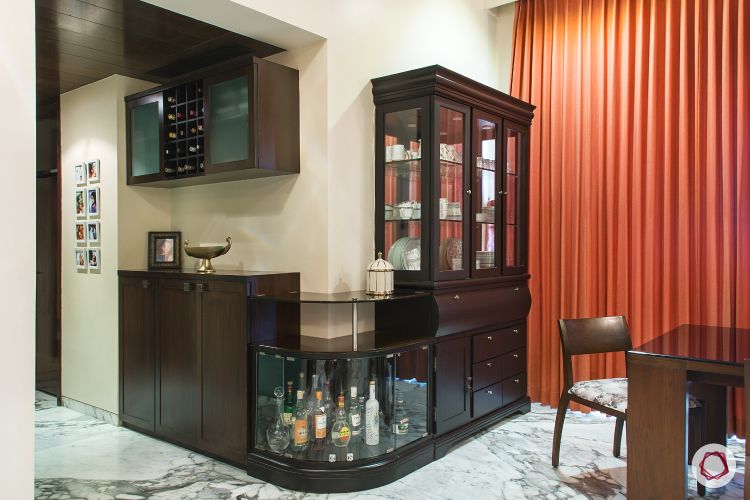 Almost every home furnishes itself with a crockery unit, so why don't you take advantage of the same and create a zone to stash your liquids. The combination of wood and glass in this picture gives it an elite feel.
Home Bar Design #2: Enjoy the View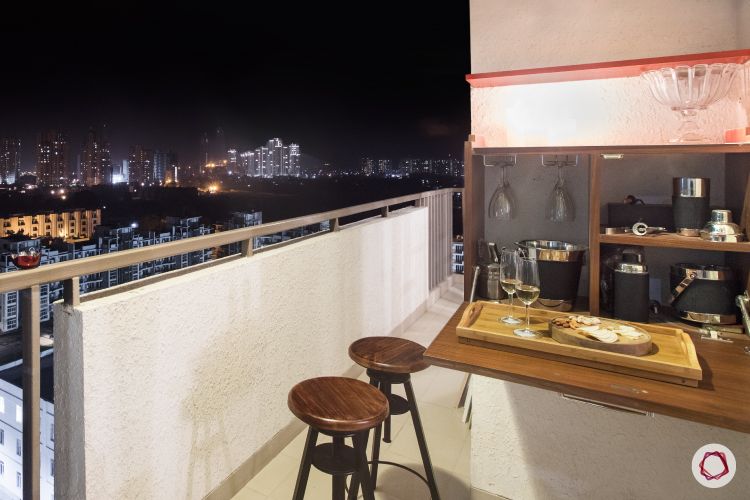 Nothing can compare to sipping your favourite brew while you devour the beauty of the city. A compact yet beautiful bar unit with a pull out cabinet works wonders when you have to spend some quiet time.
Home Bar Design #3: Keep it Classy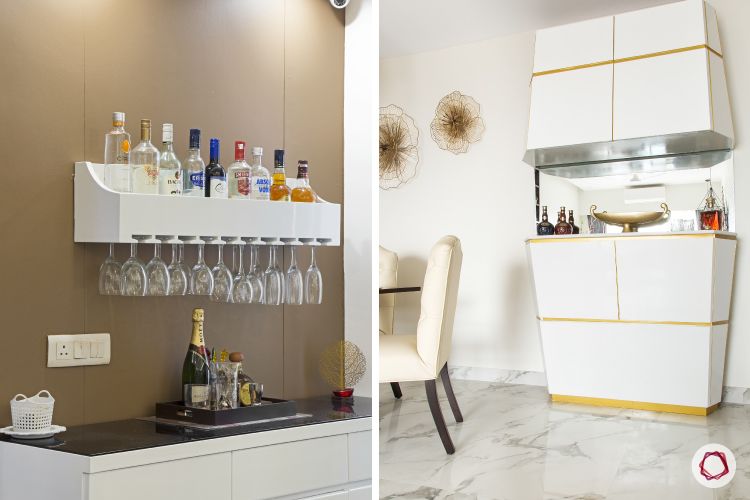 You can go for a simple glass holder rack or a personalised bar unit, shaped like a cocktail shaker. Either way, white amplifies the peaceful mood you want to set while you sip your drink.
Home Bar Design #4: Go Quirky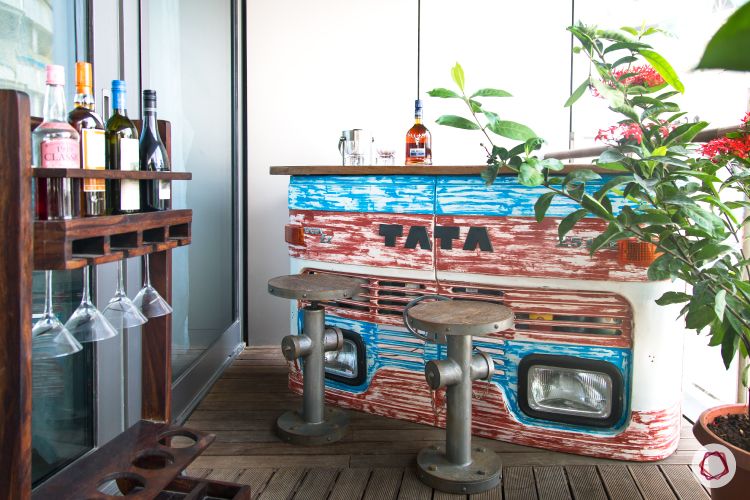 We added an element of quirk at this by recycling a truck face. It is, by far, the most intriguing setup that can start a conversation among your guests. Simple seating with an effective punch is what this bar counter is!
Home Bar Design #5: Tuck it in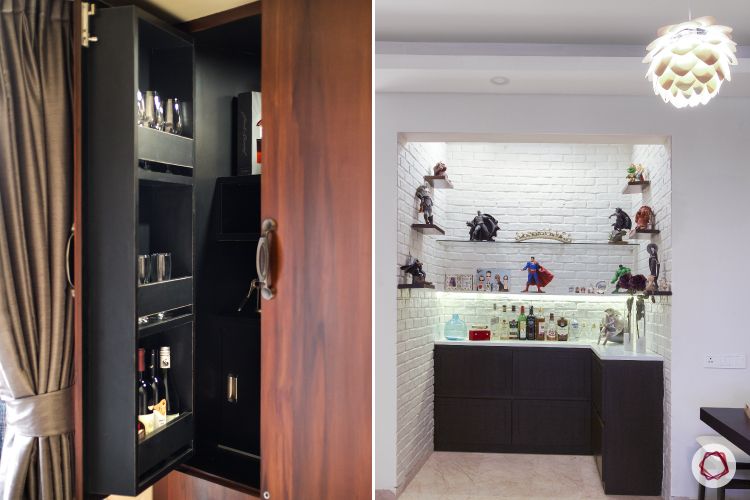 For those who want to hide away their collection from the common eye, probably a bar inside the wardrobe or a niche can work well. Steal a drink from time to time without having to worry about the guests!
Home Bar Design #6: Go Old School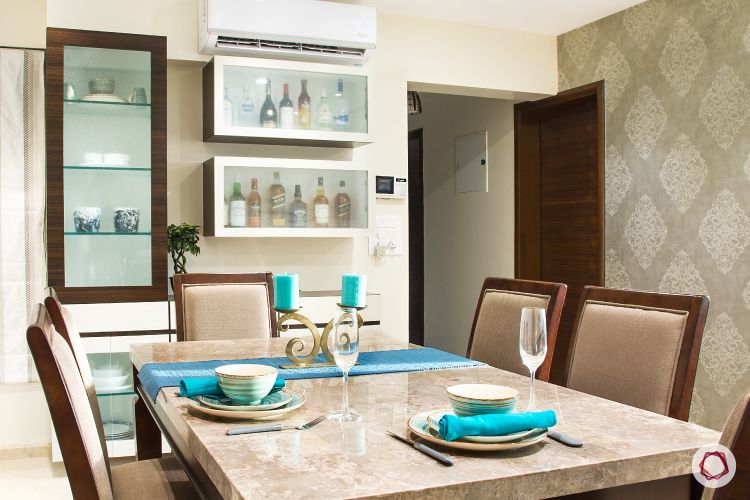 A simpler way to get in a bar unit is with wall mounted cabinets that don't eat up space yet hold your collection. Sturdy and safe, this design can help when you have kids running around the place.
Home Bar Design #7: A Bold Move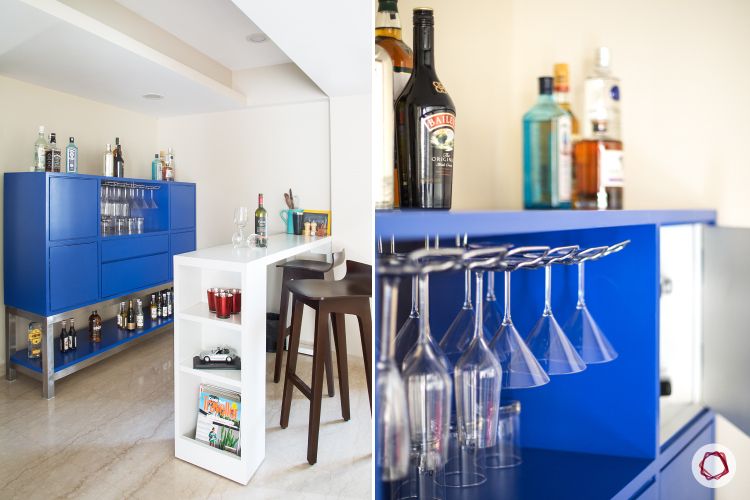 Dare to give it a striking look? Then try adding some bright colours like blue, orange and red. This catches the eye and invites a person to instantly take a seat. This custom bar unit has been designed to host a crowd!
Home Bar Design #8: Simple Elements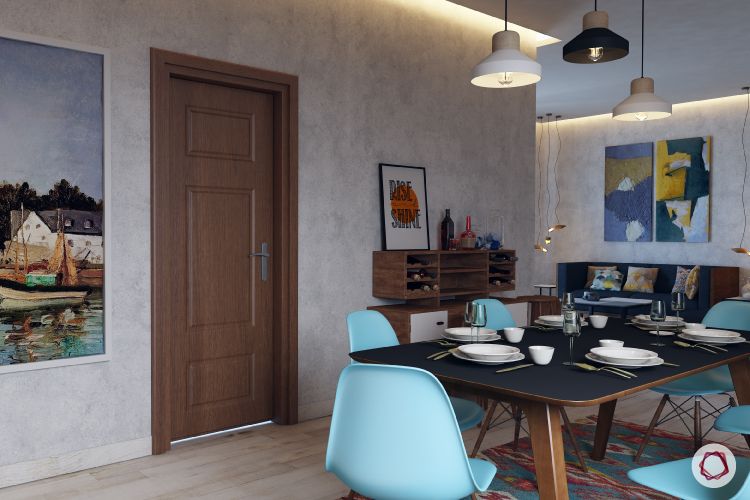 If you love to collect spirits, then you can opt for a wine rack that store bottles easily. Add some bar stools and voila, your bar unit is ready for use.
Spend some quality time relishing your favourite drink at home. Let us know which of these home bar designs are your favourite!