We can assure you that there is no other element in a home that can bring glamour and luxury into the design like a home bar. Blame it on the Great Gatsby influence of entertaining at home if you will, but a bar unit sure adds a unique quality.
Whether you are looking for a mini bar unit or a full-scale maximal home bar, here's how you can enjoy the pleasures of going out with the comfort of staying in.
STEP 1: Start with flooring
Here we have opted for light wooden flooring for a warm and toasty look. Worried about guests spilling their drinks on your fine choice of flooring? You can opt for waterproof vinyl flooring. This wooden composite plank flooring is highly durable, waterproof and easy to clean.
Here are some other flooring options:
Ceramic and porcelain tiles are your best option for waterproof flooring and low-maintenance.
Laminate flooring resembles wooden flooring and is easy to install
Marble flooring is high on maintenance and can be porous, making them the least satin-resistant. However, it lends a sense of luxury to the design.
Granite flooring is an amazing hypoallergenic option. However, it is harder to install as it is a heavy material.
STEP 2: Paint the walls
Moving on to the backdrop of the setting, you can opt for a light beige colour for a neutral background. Another stunning option is to go for a royal shade like emerald green or crimson red to give your bar a trendy restaurant vibe. However, if you have a compact space, opt for light and neutral colours.
STEP 3: Cover walls with veneer panels for texture
If you feel like your walls could do with a little more pizzazz, opt for cost-effective veneer wall treatments. Veneer panels come in many designs and are a great way to add texture to an otherwise boring wall.
You can also opt for wallpaper, wall trims, POP patterns, or any of these stunning wall designs.
STEP 4: Create a gallery wall
If you are in the process of setting up your bar then we're sure you have a few beer posters to add to a gallery wall. Personalise this space with pictures and posters of your favourite artists, bands or even collectibles from around the world. You can also opt for a neon sign to make it a fun space.
STEP 5: Place bar cabinets
Here we have placed two bar units for a larger space like this one. However, your storage units will depend on the space available and how much storage you require. A bigger unit will impact the room by reducing the space available for seating or even a mini fridge.
These modules come in a variety of materials that are waterproof and durable like:
Plywood, laminate, MDF, particle board, acrylic, membrane, glass and many more.
STEP 6: Place a bar table or counter
Be it a local pub or home bar, the standard height for a bar table or bar counter should be 40-46 inches from the floor. Your ideal height should be 42 inches approximately. This specific height accommodates people who prefer to stand while they have a drink as well! Here we have opted for a wooden bar table that is 42 inches in height.
STEP 7: Add seating
Seating for a home bar is a must. Unlike your local pub, you will want your guests to be seated and comfortable. The standard bar stool heights should be 30-36 inches to fit under a bar table that is 40-46 inches in height.

STEP 8: Seating designs and options
We have opted for upholstered high chairs in a stunning royal blue and pattern colour. However, we have a sea of options to choose from when picking out your bar stools. They come in a variety of colours, materials and styles.
Take a look at some of the options you have:
Backless stool
High armchair
Revolving swivel chair
STEP 9: Stock up on spirits
The charm of a home bar comes from its grand and colourful display of bottles. It's important to store distilled spirits at room temperature or at 15 degree Celsius approximately. Keeping them in cooler spaces help preserve them longer and retain their original flavours. However, spirits under 15% should be refrigerated.
STEP 10: Embellish with mirrors and decor
An optional element to add to a bar space is a mirror. A mirror opens up the space and reflects light. Here, we have opted for a round mirror to soften the edges of the square bar unit. Take a look at exciting new mirror designs to find the perfect match for your bar.
STEP 11: Lighting options
Keep in mind that lighting for a bar sets the mood for the space. You can opt for ambient lighting here. We chose two minimal pendant lights for this space. However you can pick from any of these designs for your home bar. Take a look at 12 pendant light options for 12 moods.
STEP 12: A final touch with plants
Finally, you can opt for plants to give your bar a homely feel. Plants are a sure shot way of adding colour and life to any space.
But wait! What about designing a home bar for a compact space?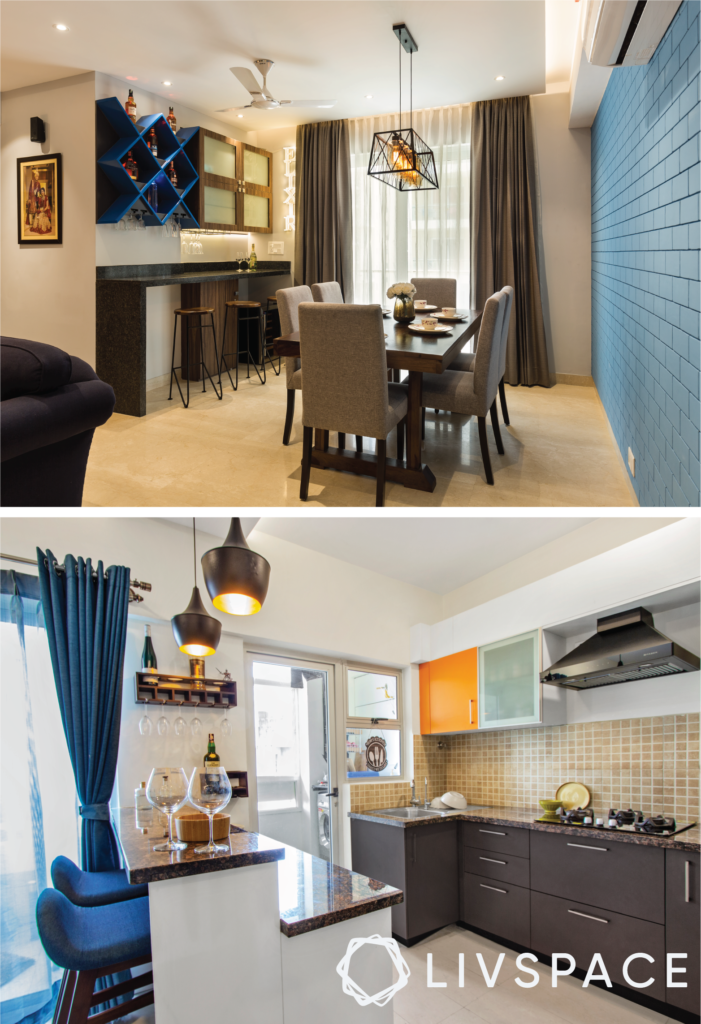 If you don't have the time, space and effort to set up a home bar, here are some quick and easy hacks for you:
Turn your breakfast counter into a bar unit by adding bar stools to it
Find an empty vertical space by the dining table and put it to use
Fix a compact, multi-purpose wine bottle and glass rack on the wall or a sizable diamond shape one for more bottles and glasses
Add a bar unit in storage units for crockery and cutlery to utilise the space better
If you enjoyed reading this article, take a look at Bar Designs to Host a Smashing Soirée for some inspiration.
Send in your comments and suggestions.