So, you've finally decided to design/decorate your bachelor pad? A sleek and stylish home becomes exceedingly important for any independent individual. Why you ask? The answer is simple. Whether it is coming back to a place after a long, tiring day at work or simply working from home in your own comfort. Whether it is about sitting and relaxing by yourself on a quiet evening or hosting your friends over the weekend, it your home that is going to be in focus. Therefore, before you give in to just living in four walls, rethink and consider designing your own personal bachelor pad. Read on to find out what you can do. We are sure you will not regret it.
Bachelor Pad Essential #1: Exposed Brick Wall
Exposed brick walls are a sure-shot giveaway of that raw, rustic vibe in interiors. If you have a wall that you can turn into an accent wall, then use it to your advantage. Be in the living room, bedroom or even the kitchen, an exposed brick wall can do wonders to your home. We especially love this element used in the kitchen of this #livspacehome. A rustic wall like this one is perfect for big and small bachelor pads alike.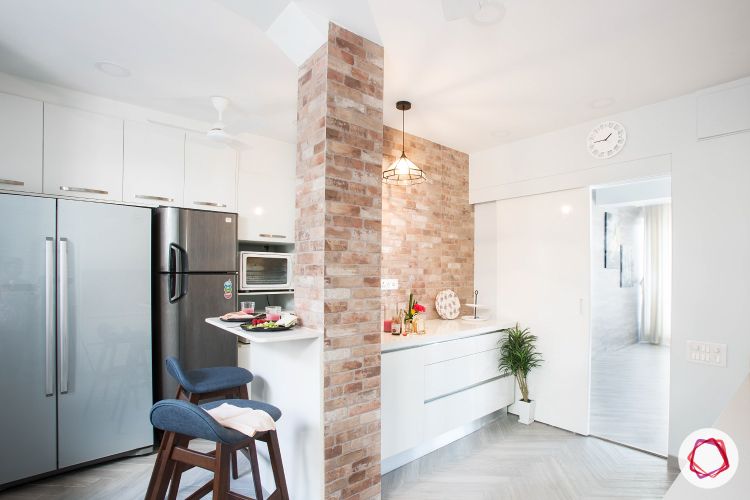 Bachelor Pad Essential #2: Quirky Posters
Do you possess an innate talent? Maybe photography? Well, your bachelor pad is the best way to display your creativity. First, take printouts of your favourite shots and get them framed. Second, create an interesting collage in one of your rooms using these frames. Alternatively, you could also display your collection of posters from your favourite sit-coms or series and see how you get your guests talking.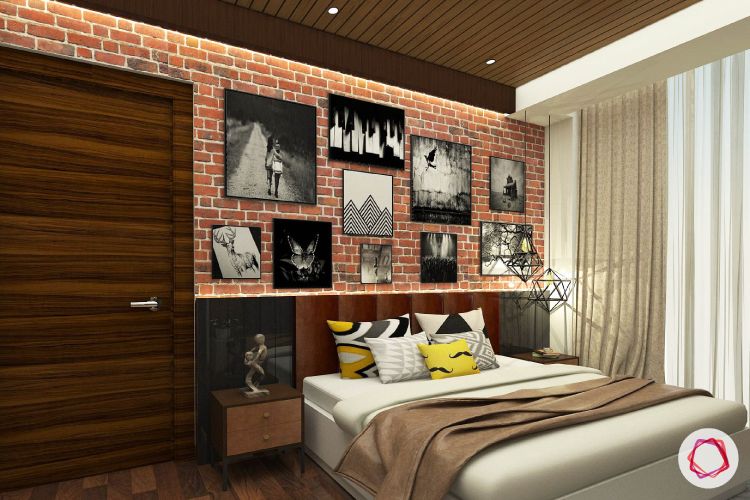 Bachelor Pad Essential #3: Up on Display
So you have an envious collection of movies and you don't know how to showcase them? Fret not. We've got you covered. Opt for wall ledges or simple shelves (because, hello minimalism!) and place all your CDs and books up on display out there. Bonus tip: If you play an instrument like the guitar, you can create a feature wall of sorts by hanging them up too!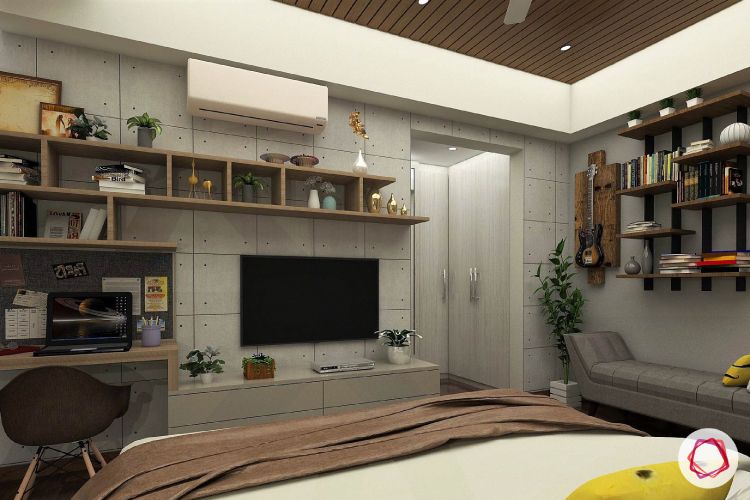 Bachelor Pad Essential #4: Entertainment zone
Calling all the superhero fans out there! If you and your friends are movie buffs or just enjoy binge watching some series, then this one's for you. Get an artist friend to paint your wall with your favourite superheroes or get one customised by us. You can also buy wall decals if you'd like. The choice is yours. All we're saying is that an entertainment room in a bachelor pad is indispensable.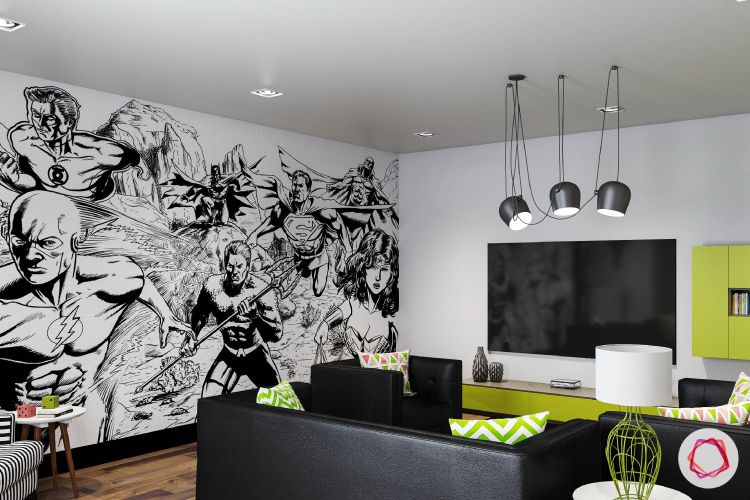 Bachelor Pad Essential #5: Head to the bar
Well, if you've ever dreamt of having a bachelor pad or grown up watching those sit-coms, you know that the bar is where all the action takes place. So, while designing your home, do not miss out on keeping some space and budget for creating that bar nook. Check out this #livspacehome, where our client opted for an electric blue cabinet for his bar. You will thank us later when your friends are fighting for a spot in here!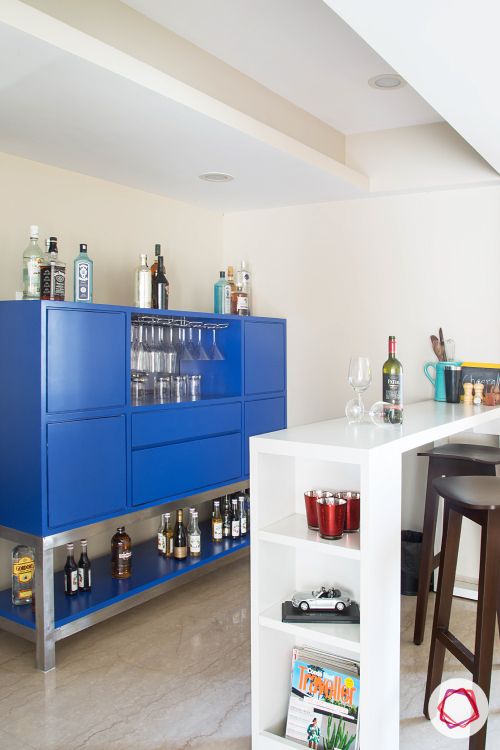 Bachelor Pad Essential #6: Introduce leather
While buying furniture for your bachelor pad, think no further than chic leather sofas. Leather and bachelor pads go hand-in-hand and we think you must get your hands on a leather sofa, daybed, ottoman or even a couple lazy-boys. Dark walls and industrial finishes paired with this material will create an enviable statement at home.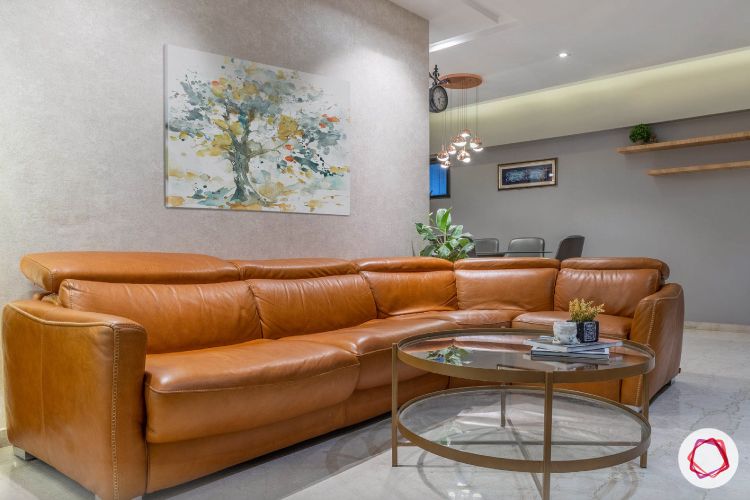 Bachelor Pad Essential #7: Go minimal
What is the one thing that most bachelors hate doing? Maintaining and cleaning their home, right? Yes we know there are always exceptions, but going by the majority, we suggest you go minimal. While choosing furniture, opt for simple, no-frills pieces that allow easy accessibility for cleaning underneath. Basically, make sure everything is mounted on legs. Also, stick to basic furniture, because the lesser the clutter, the easier it is to clean.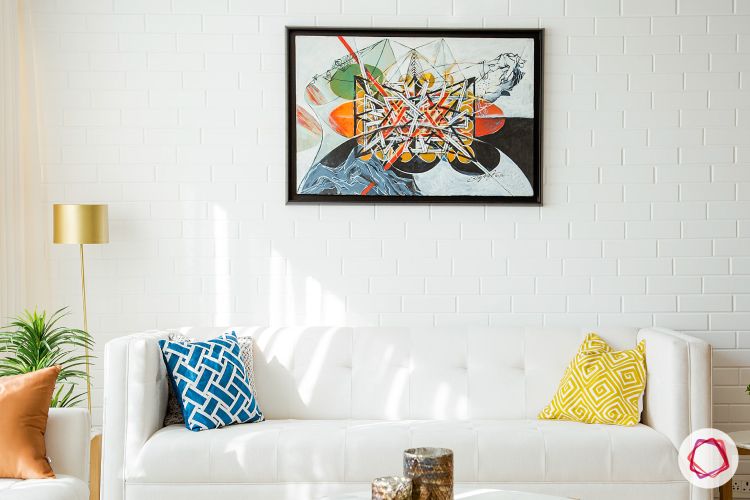 Bachelor Pad Essential #8: Get organised
Now, coming to the bachelors who love keeping their things organised. You need something that has space for all the little things that you have, right? A full-fledged TV unit with dedicated shelves like this #livspacehome is your go-to option. See how neatly the home theatre system, set-top box and books are stacked in this one. You will love how organised your bachelor pad feels after getting this home.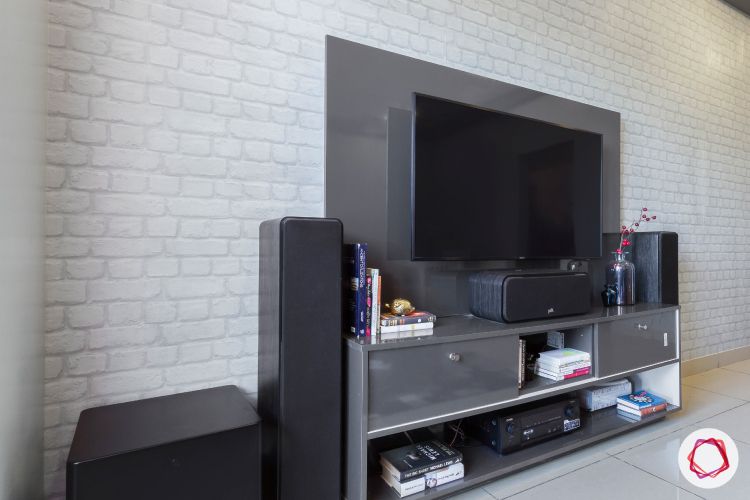 These are just some of the bachelor pad essentials according to us. Like every other list, this list is also subject to individual taste and preference. Just make sure you have fun designing your home.
Want to look at a home that we designed? Check out how A Swanky and Sleek Bachelor Pad Comes to Electronic City.
Tour this bachelor pad:
Send in your comments and suggestions.